Day 2 - Disneyland Park
This morning we were up at 7am, we were showered and ready to leave the room by 7.30am and we were both flagging!
Last night the fire alarm had gone off at 5am so we were out of our rooms with our pjs on and down to reception (which is quite a long walk without the lift, as soon as we got down there we were told it was a false alarm and we were back to bed. I went off like a log again but unfortunately Mam was up for the rest of the morning! (Another great thing about the room, she could watch TV in the living room with the sliding doors closed and make cups of tea in the kitchen without disturbing me
.
We headed downstairs and as the first bus wasn't until 8.20am we decided to add breakfast for that morning, it was nice continental style I'm not a huge morning eater so had an egg and some pastries and yoghurt but Mam really made the most of the fresh fruit.
We sat outside and called my Dad to tell him off today's plans while waiting for the bus, we were first people in line.
We showed our ticket and jumped on the bus and it was here I was ashamed to be British ... A family of 3 tried to get on the bus and take their seats, the bus driver explained you had to pay €2 for an all day ticket, 'oh were just travelling one way' they said to which the driver explained it didn't matter you still had to pay. They huffed and puffed being VERY rude to the driver who sent them into reception and said very kindly he would wait for them to get their tickets so they could catch the first bus. They disappeared and came back still no tickets said reception said they could travel for free, they hopped on the bus and sat down while the driver went into reception to have a word. Turns out reception had insisted on them paying and they had refused and now when confronted by reception and driver they refused to get off the bus ! This whole carry on took an hour ! And the poor bus driver had no choice but to drive with the rude Brisitsh family to the park and try and stop them getting off the bus on the other side ! They sat in front of the driver the whole time calling the French every name under the sun very loudly which made everyone so uncomfortable it was just so uncalled for !
Anyway ! We arrived at 9.20am and headed to Starbucks for some bottles of water and a hot drink, we carried our drinks to the entrance and were in the queue to the gates at 9.45am.
When the turnstiles opened everyone bottle necks to the front so we nipped down the right side of the crown which was deserted and got in a head of the mass!
We popped over to the town hall were I picked up a birthday badge.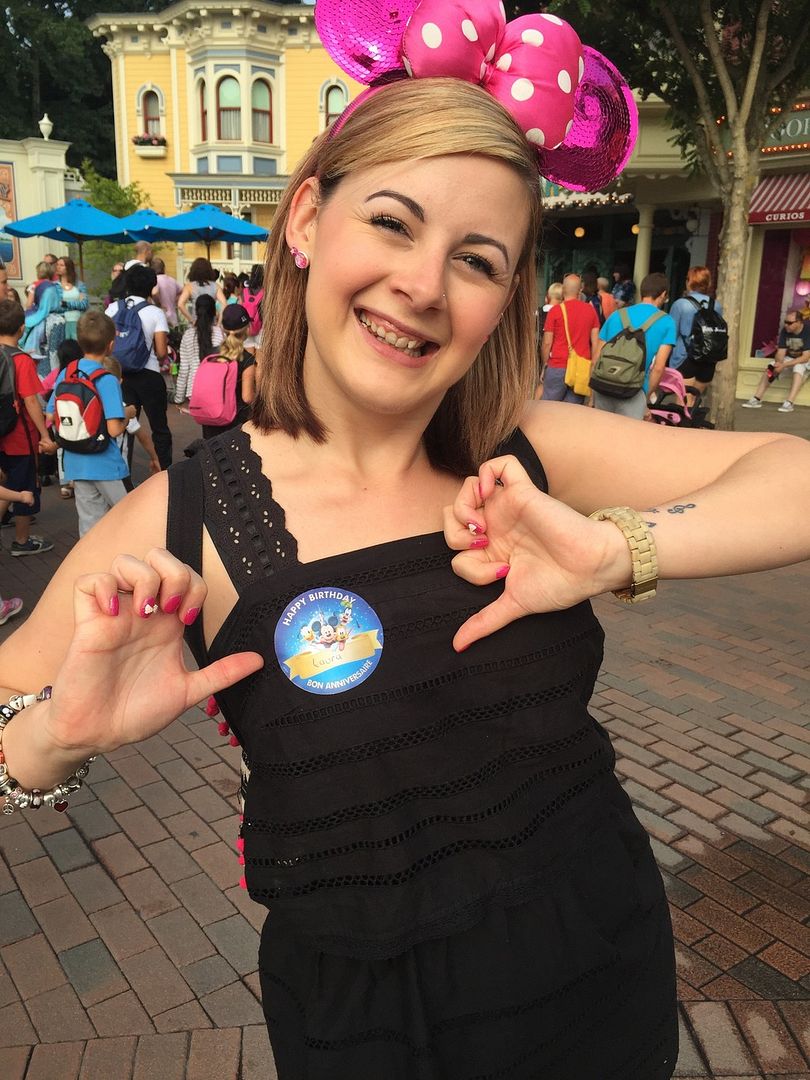 We were on a mission now it was no stopping, over to the frontier land gates, we had one mission and it was to be on BTMR early so there was no long waits later in the day.
The heat was rising already and it was slowly creeping up to the 30 degrees it was gunna be a hot one!
We were quite close to the rope for frontier land but there was a few groups ahead, I knew we could dodge them and as the announcement sounded and the cast member started to barrier walk forward we were off ! I can't help get competitive for no reason and the adrenalin kicks in, I grabbed my Mams hand like I was the parent and dragged half skipped (obv not running :p) in the funny little way and it paid off as were the first people, in the front of the train that day !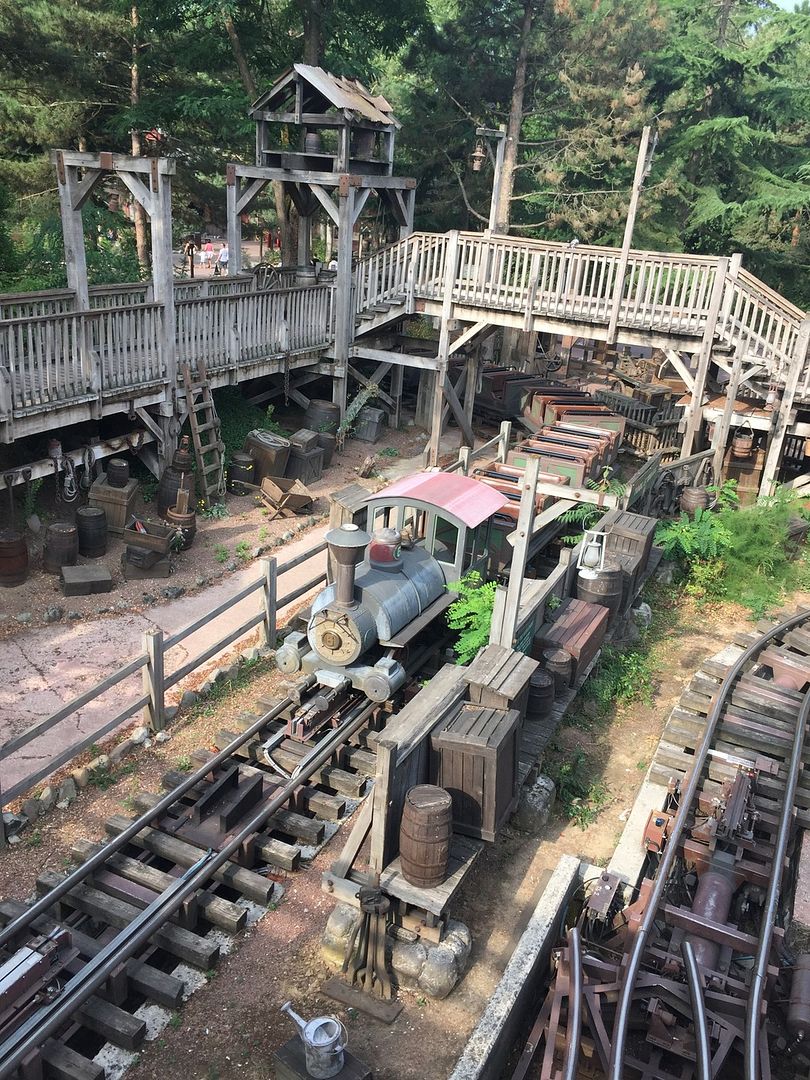 A great ride as usual my Mam had forgotten how fast it was and we had a good giggle all the way round!
As we exited the queue had gone up to 70 minutes !
We headed to Haunted Mansion next which was a 10 minute wait, I love this ride but it still really spooks me out !
Next up was a toilet stop ! I think all that excitement getting to us and gave me a chance to cool my hands and arms under a cold tap as it was hot hot hot by now !
We walked up to POTC as its one of our all time faves but it was experiencing problems and closed so we passed through fantasyland and picked up some Peter Pans Flight FP for 13.40pm.
We walked through fantasyland at a bit more leisurely pace taking in the scenery.
We headed for space mountain next and with a 15 minute wait time we were in luck !
Another great ride I love the take off, but there was a boy in our carriage who had fainted in his seat and now stuck and the cast members were struggling to get him out ! They closed the ride while they felt with him. Poor guy!
We headed to Star Wars next, we waited 30 minutes for this, it was great but seems really dated now they've done the refurb on the WDW one.
It was really hot and sticky now and coming up to lunchtime, we had start to flag so decided we would take a break for some lunch, with nowhere in mind we headed over to mainstreet and decided to stop at Victoria's Deli next to the ice cream shop.
This was a lovely hidden gem and I'm not sure why but I've never noticed it was here before!
I had the hot turkey sandwich with a diet coke and a Nutella brioche and my Mam had a pot of the curried potatoes and chicken with a coke and a piece of chocolate cake.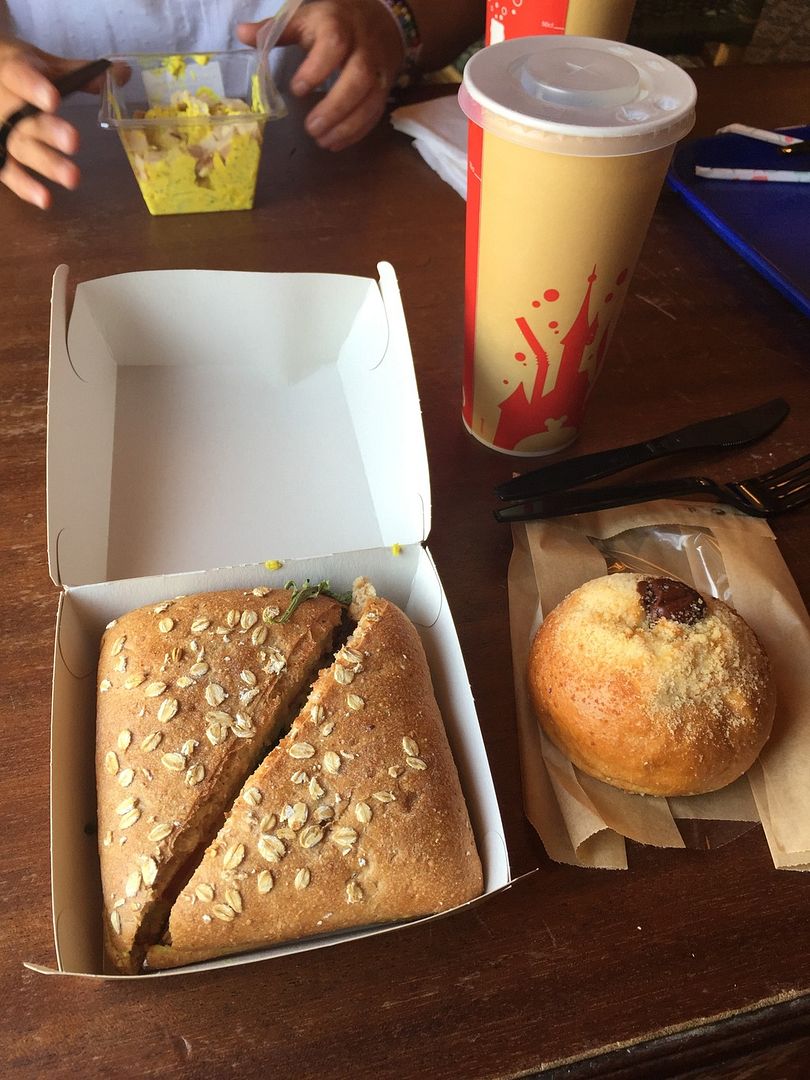 The food was great and we sat in the window watching the world go buy circling what we had done in the programme! It gave us a great chance to chat and cool off the temperature was nearing 35 degrees now !
We decided to pay a visit to the dragon next stopping in the way at my favourite picture spot to get some photos ! I hate other people in my photos and this place is a great little secluded area that is always empty!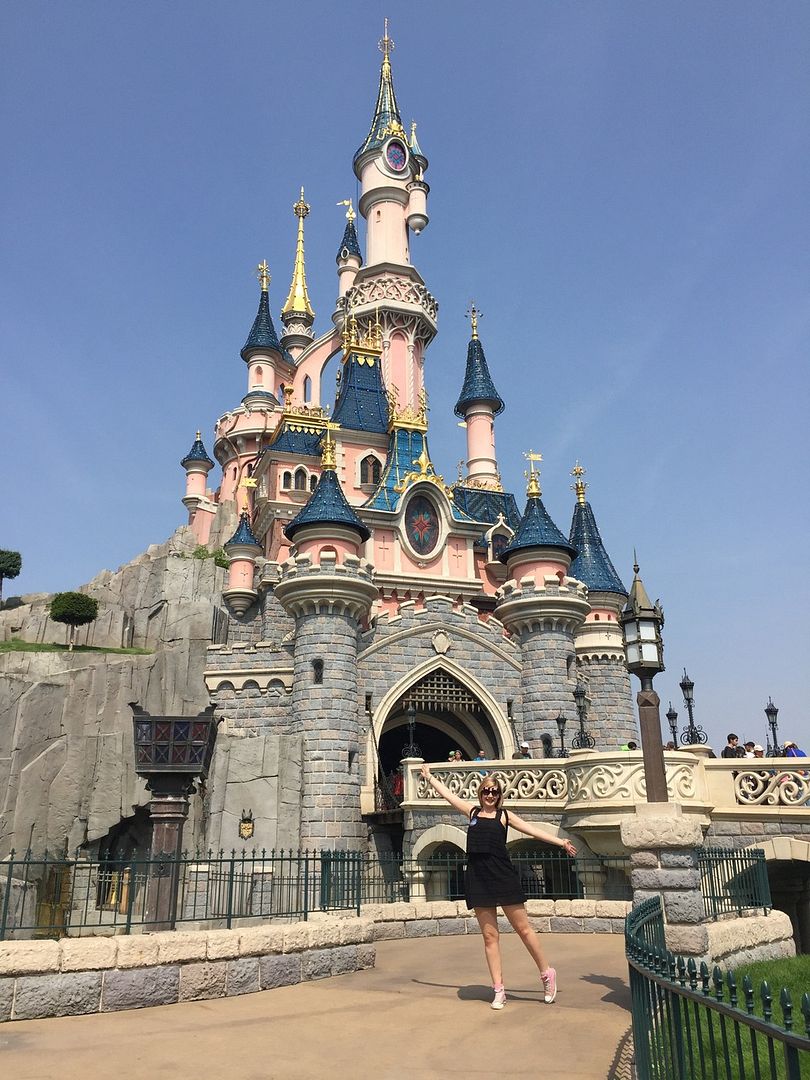 I decided it would be great to stand on the railing however on the way back down I want so careful and ended up ripping a big hole in my dress on the bum ! Nvm !
We saw the dragon who was just waking up and we wandered round by the waterfall and up to the castle shops to have a look !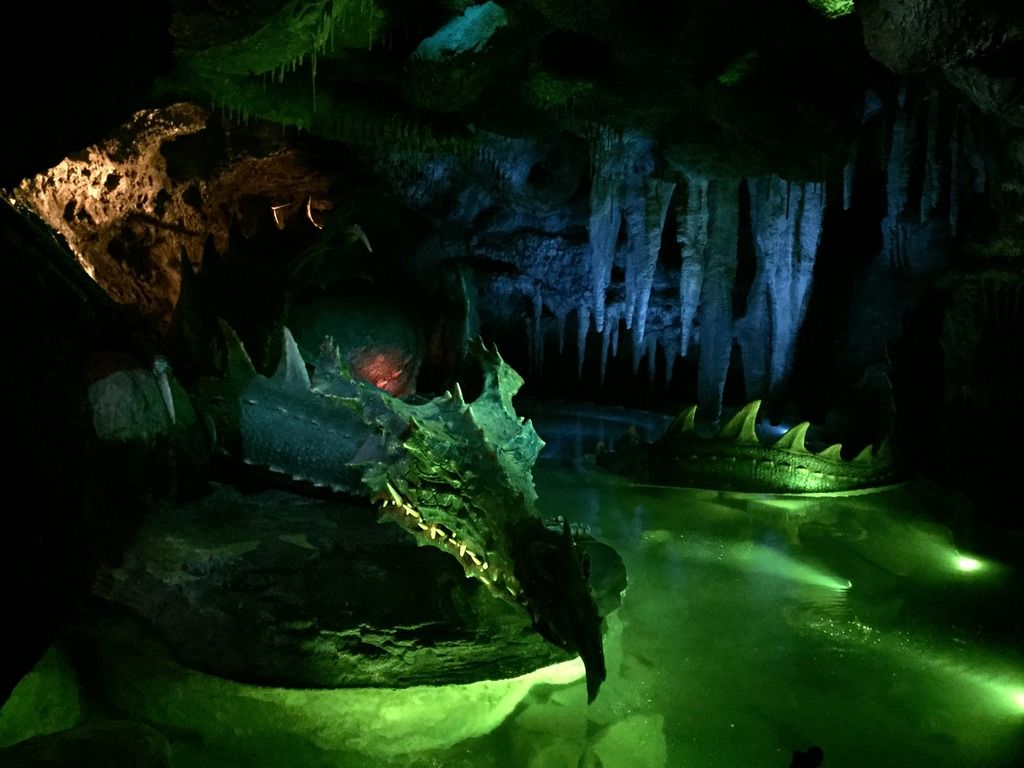 I loved this crystal ornament I wouldn't have it personally in my house but could appreciate how much work had gone into it!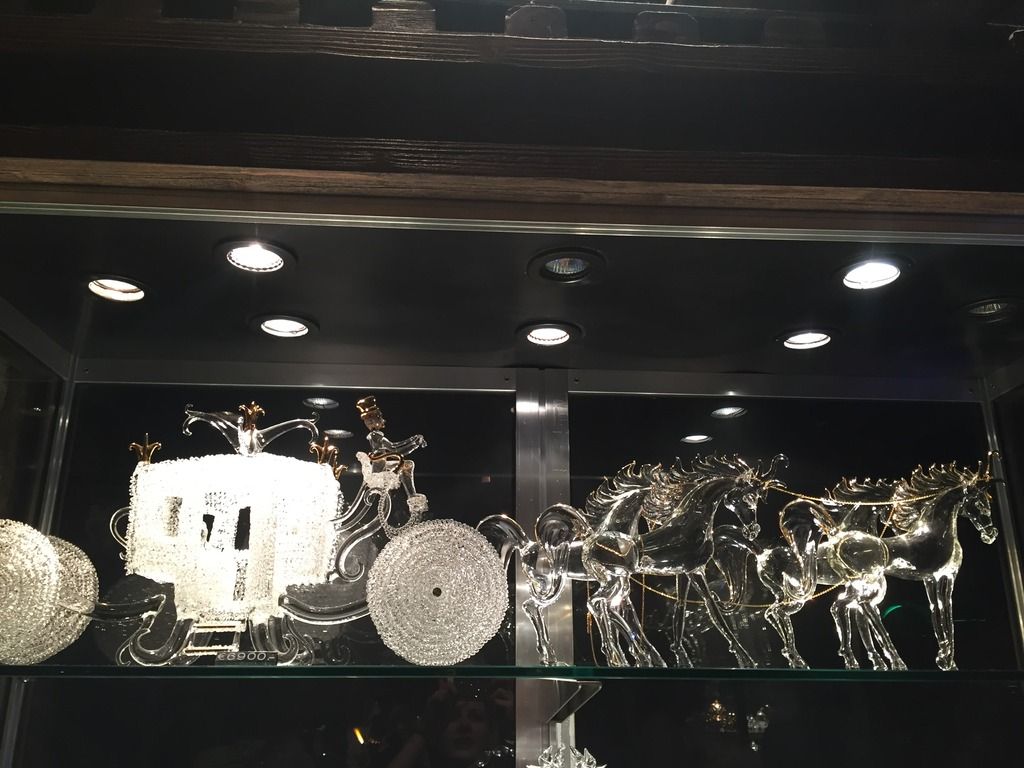 We popped into the jack and the beanstalk shop because I had a challenge, I had read on the Dunn that Disney were selling Mickey and Minnie in the style of Mary and Burt from Mary Poppins and not only will I be on tour with Mary Poppins the theatrical show for the next two years (I work as costume assistant) my cousin is OBSESSED with the movie and I knew she would love them!
Challenge complete I found an odd few scattered on the shelves and was even more pleased to find a Minnie in a pink Mary outfit which is perfect as our Mary in Jolly Holiday favours a pink dress instead of white !
We headed from here to the Mad Hatters Tea Cup ride which was so much fun, we waited about 10 minutes and I got some lovely photos.
By this time our peter pans flight FP was up so we headed off where in front of us in the queue was the cutest family of Disney Bounders, the children were dressed as Smee and Michael from Peter Pan and they were just the cutest!
We headed off in search of Indiana Jones next, my Mam had last visited DLP in 2008 and she didn't think she had made it on this one so it was a must do! It was also our longest wait of the holiday at 50 minutes and was the first time we saw some serious queue jumping!
I group of huge teenagers literally just pushing people out of the way, we tried to stand in front of them but they cursed at us and jumped the railings! A CM spotted them and followed them into the crowd full of threats to kick them off the ride and kick them out of the park but nothing was done and turns out after there ride they pushed from back to front a second time and were in a ride behind us! Nothing was done! Some of the CM just laughed!
It was a great ride however as usual although it really bashed my head around lol!
My mam was so surprised by the loop she screeched all the way round!
We had noticed POC was up and running again so we headed here next, the wait was about 40 minutes and again a huge portion of groups, families, adults pushing in ! About 5 people we clouted past us but the family behind us desperate to get further we did that thing were we made ourselves so much wider with our arms lol.
It was great to pass Blue Lagoon on this ride and show my Mam were we would be eating later that night! A great ride the big drop still take me by surprise.
It was 4.00pm at this point and we were again flagging with the heat and crowds getting to us we decided to head over to Main Street and get a place for the 5.30pm parade, glad we did as it was sooooo busy we ended up on a curb further up towards the castle, I headed to the Gibson Girl Gelato place to get us ice creams.
It wasn't too busy in here so expected a small wait but I ended up waiting for nearly an hour and completely missed the frozen welcome parade ! It was so understaffed in here and the poor CM behind the till was frantically trying to serve, work the till and replenish stock!
We had chocolate brownie and peanut butter cup with a wafer, 2 scoops and I have in my notes it came to €4.99 which I didn't think was bad at all as they were huge and so filling!
The pavement was full now and I didn't have too much longer to wait to the parade it was just a shame that the CM made everyone stand just before the parade started as I would of loved to enjoy it sitting down resting my legs!
The parade was great and as we had done the KTK tour in WDW in Nov I noticed a lot more American Disney things they had introduced like the scents. We could smell the flowers when Alice in wonderland passed by and the paints with Pinnochio
The whole thing is so fun and so colourful we really enjoyed it!
We made a dash straight over to Buzz next as on the app the waiting times for this hadn't gone below 70 minutes, but with a quick escape from the parade we managed it in only 30.
I won which I was pleased as my Mam is such a competitive person we had bet that whoever lost had to buy a round of drinks when we left from the vendor opposite! Hehe it was a diet coke for me
.
It was ticking over to 7 now and with our Blue lagoon reservation at 8 we decided to try and fit something else in while we still had some time!
All the rides had huge lines but I had spotted the princess pavilion with only a small queue, I though it would be nice so I strolled over to a CM standing at the front and asked how long the wait would be, she sneered and asked me were my child was ! I was shocked and said we didn't have any children with us and she laughed, I felt a little humiliated I'm not gunna lie, she then went on to say very abruptly that if we wanted to meet the princesses we had to book and if we hadn't booked we had no chance, I said ooookkkaaaayyy, I hadn't remembered reading anything on here about booking but it was fine I said thank you and started walking away, as I was about to leave she called me back, I'm in luck here I thought, I spun back around and all she said was 'oh and happy birthday I guess' in a really sarcastic tone ! Happy birthday I guess ! I was really humiliated, even more so that there was a line of people witnessing the whole thing ! I have been to Disney including WDW and DLP about 13 times in total and I had never ever came across someone so rude in all my life! I took her name down as a reference and in still building up courage to complain.
Never mind off we trotted and we laughed at how rude she was, she surely hadn't been watching and Disney movies and she will not be getting her happily ever after I'm sure!
We headed on over meet Mickey Mouse, his line was only 40 minutes long so this we had time for.
We loved watching the old cartoons play in the cinema here and it was a lovely little break from all the hustle and bustle.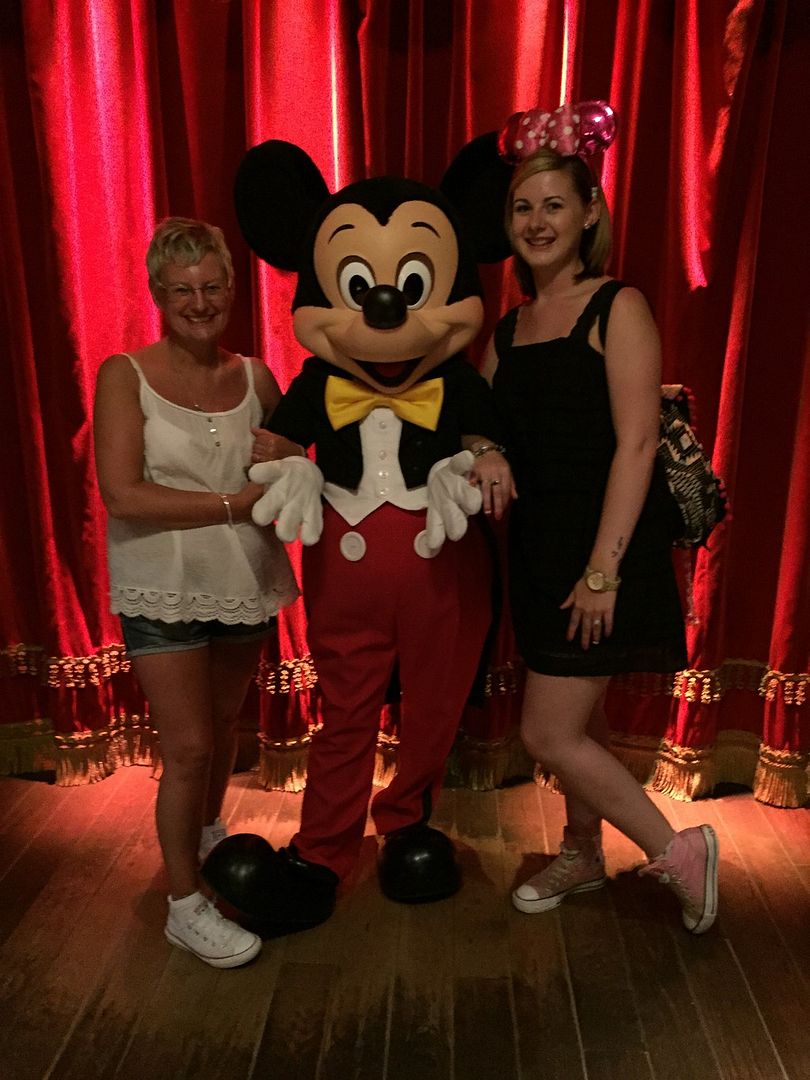 He was as charming as ever and we got some great piks.
We arrived at our reservation bang on 8pm and were shown to a water edge table, the waiter laughed as I exclaimed 'YES!' And said they always get requests to sit here!
I had eaten here back in 2013 with my OH and LOVED it! And I knew my mam who lives seafood would love it too!
We started with the Caribbean Salad for me and the prawn cocktail for Mam, lovely as ever.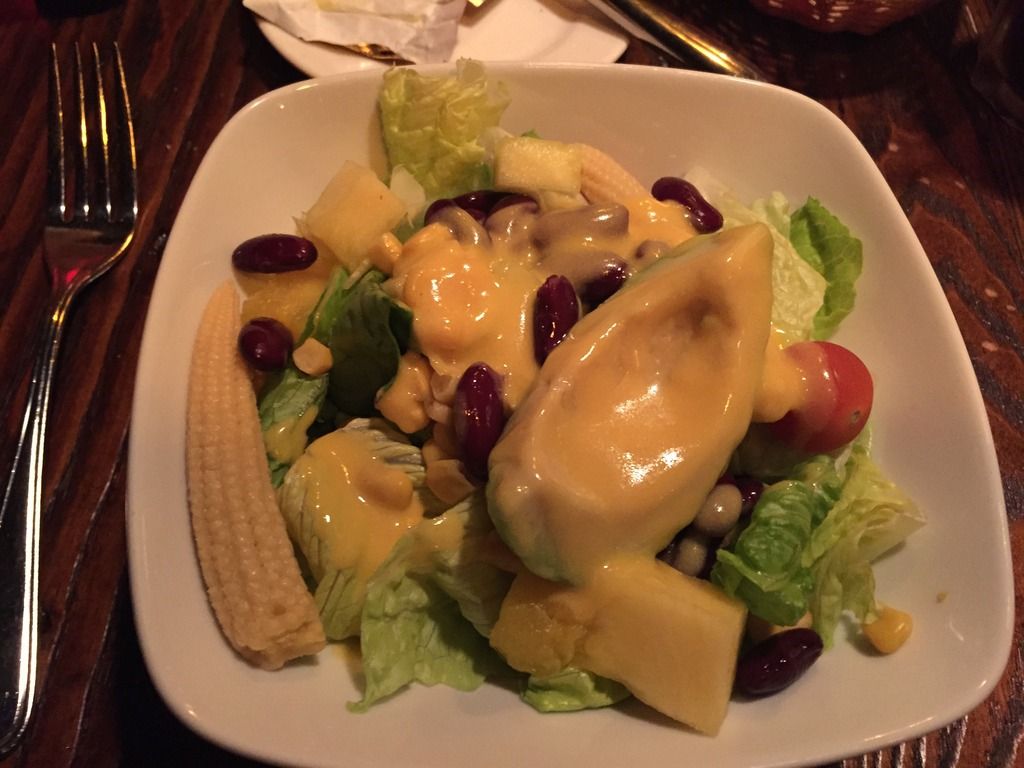 Next I had the Caribbean chicken and Mam had the Salmon we loved them both!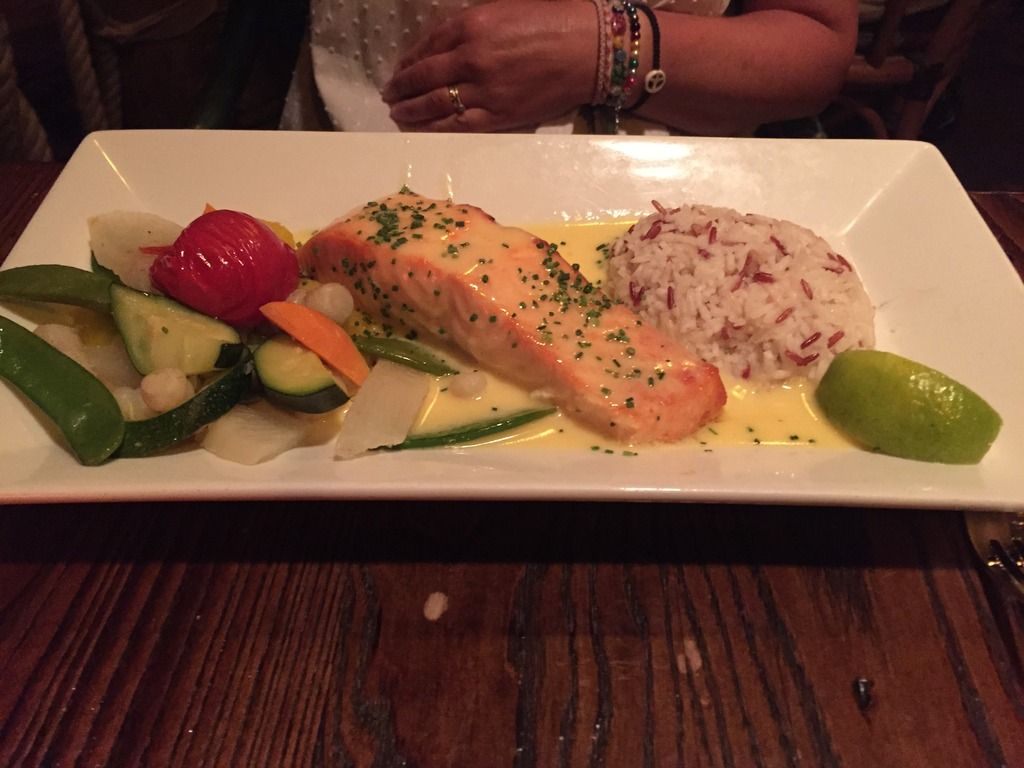 We loved watching the boats float past and just as we were thinking about leaving a chorus of Happy Birthday started I looked to the right and saw it was indeed for me with a huge ice cream cake from the waiter!
My mam had asked for it when I had nipped to the toilet as we arrived, it was massive and after I had blown the candle out the waiter just chopped it in half and we dove in!
I still can't believe how much we actually managed to finish between us!
It was a great meal and we thanked our server profoundly, turns out he come from Middlesbrough not far from us so he was more than happy to help when my Mam had asked for the cake and so much so he didn't charge us for it either! Needless to say we left a huge tip and thanked and thanked everyone again.
We decided we had one more ride in U.S. Before Dreams so we headed into POC again with a 10 minute wait and looked on to our table as we passed on the water hehe.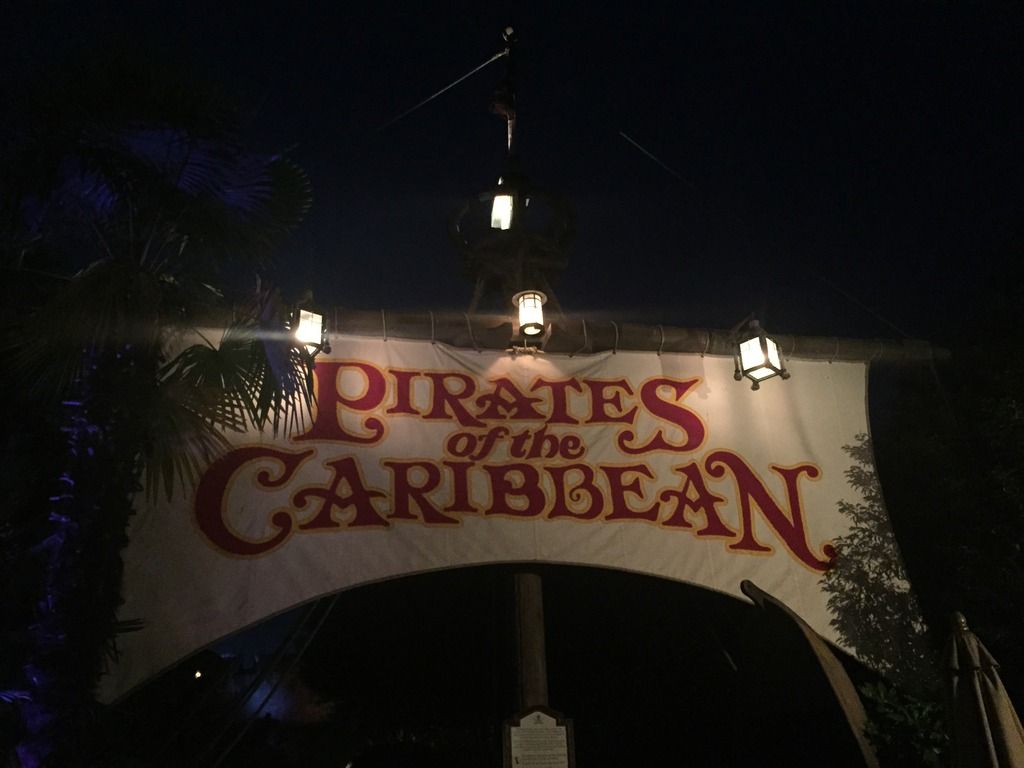 We headed straight to Dreams after this as we sat down in front of the castle the Frozen Fountains were just starting, it was a nice touch but nothing compared to Dreams itself!
I saw the show twice back in 2013 with my OH James and as we both work in theatre we were amazed with the effects, but I hadn't told very much to my Mam and left it as a surprise and big was she surprised, she loved every second of it, it blew her away.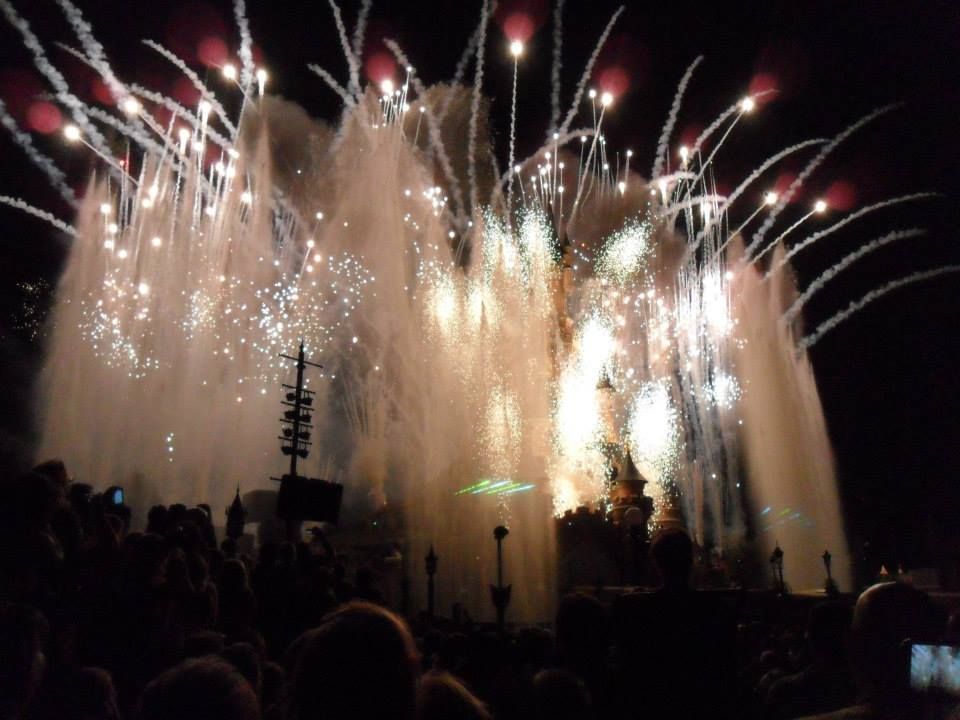 What a great end to a great day, we rushed out of the park knowing our last bus pick up wasn't too far away and we were back in the hotel and lights were out at 1am again!