New England Road Trip – Day 2 – Plimoth Plantation
I woke up every couple of hours during the night but managed to stay in bed until 6am. I made coffee and we all stated getting ready for the day ahead.
The weather was forecast to be heavy rain but peeping out of the window it didn't seem too bad. However I had forgotten we were sheltered by the walk way above and when I opened the door I could see it was bucketing down.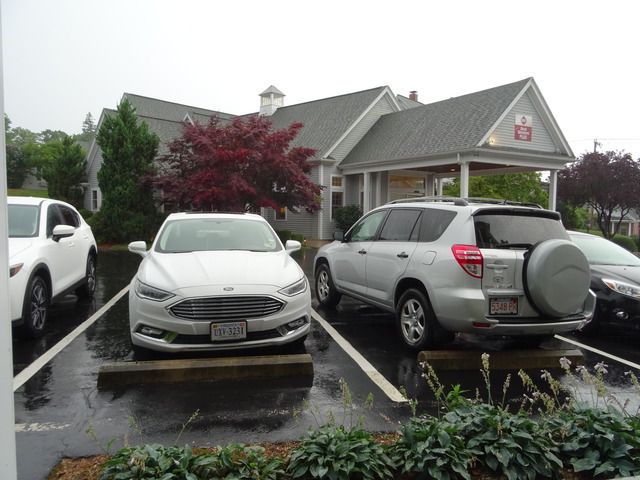 Luckily our room was opposite the lobby and small breakfast room so we made a dash for it. It was still fairly early and the tiny room was quiet. There was a good enough choice for an included breakfast, although DH would have preferred more cooked items.
While we ate we tried to make a plan B as we felt the museum we were planning to visit would be very open to the elements. We found there was a bus tour and some indoor museums in the town but by the time we returned to our room the rain was easing and being our only full day in Plymouth we decided to don our cagoules and risk visiting Plimoth Plantation.
We were amused with the satnav directions which consisted of "Drive 3.1 miles and arrive at destination." (And these were the total instructions it gave absolutely no hints as to which way to leave the car park or which side the attraction would be on.) Well, we were amused this time but hadn't realised quite how maverick this machine would be or the dodgy directions we would get later on in our trip.
We were one of the first cars in the car park as it had only just opened for the day. I mostly enjoyed our visit but found it was smaller than I had expected, or at least it was quicker to get around. It was very interesting with recreations of both Native American dwellings and a copy of how the Pilgrims' village would have looked. Everywhere there were costumed and modern day guides. We loved talking to the modern guides and found our knowledge of American history consisted solely of what we had learnt at WDW.
The costumed guides assumed the character of a 1620 pilgrim even trying out some rather odd accents. But our lack of knowledge made it very difficult to interact with them and made us feel quite uncomfortable. In the end we'd peep into a building and skip it if there was a costumed guide. After that we had a look at the craft work that was going on. In all we were there for about 3 hours including time to get lunch in their rather nice café.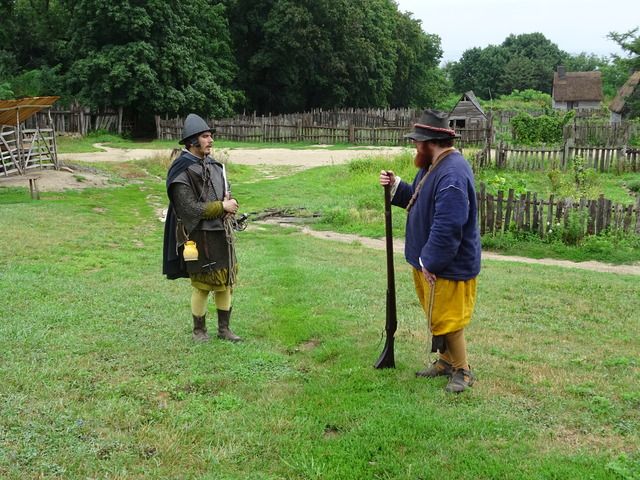 We thought we'd have been at the Plantation for longer so now we needed to find something to do for the afternoon. I had spotted a trolley bus tour stop right outside our hotel but it seemed we needed to buy a ticket on line or at their ticket kiosk in town. It was still a bit drizzly but we decided the walk, mostly along the seafront, would be good and we could get round trip tickets that would be a little cheaper than hop on/off ones.
The tour was a mixture of interesting facts and complete drivel, but to his credit, the driver didn't stop talking for the entire 50 minutes of the tour and we got to see places we otherwise wouldn't. We were most impressed by the Forefathers Monument which wasn't far from our hotel and planned to walk back there before dinner. We also went back to the Plimoth Plantation car park which wasn't a lot busier than earlier in the day.
When we were nearly back at the starting point we could see lots of building and repair work that is getting Plymouth ready for the 400th Anniversary in 2020. Sadly the Mayflower II was away for repair and won't be back until 2019.
After the tour DD and I stopped for ice cream – I did warn her that 2 scoops in USA would be huge but she didn't listen and ended up not finishing it.
We passed a small Harry Potter shop so we had a quick look around before following the seafront back towards our hotel.
After a short rest we walked to the Forefathers Monument in glorious sunshine. It is an amazing statue, absolutely huge, and if our tour guide was to be believed it could be seen from miles away until the tree line grew high enough to obscure it. We did wonder what it would be like to live in the house opposite and have her staring when they open their curtains in the morning.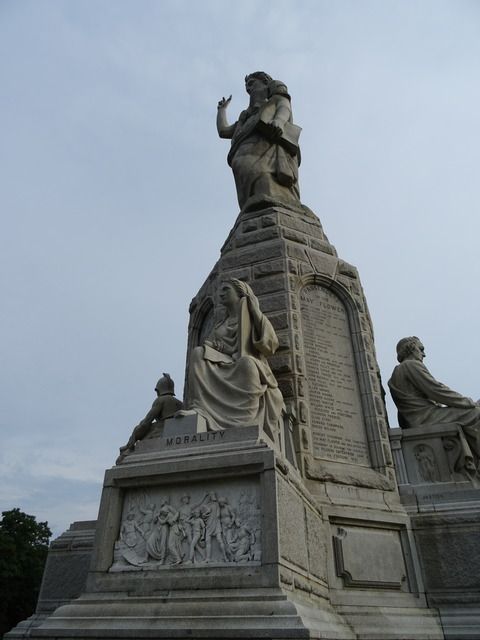 We carried on down the hill and found a pizza place for tea.
We'd been a bit disappointed with the weather today and decided to spend some more time in Plymouth in the morning before leaving for our next hotel.
We did most of our packing before turning in for the night.