DAY 1
This morning's
ADR
had gone through numerous changes, for a long time it was 'Ohana; I wanted at least one meal at each of the Deluxe resorts so Mum could enjoy the hotels, and breakfast at the Polynesian was the only meal that really worked for us. I opted for 'Ohana over Kona as we ate at Kona in 2016 when we were last with Mum and I wanted her to try something new. The thing is I don't really rate 'Ohana breakfast, so eventually I switched to Kona and was looking forward to some Macadamia Nut Pancakes.
But, with only days to go I decided I just had to do Early Morning Magic at Magic Kingdom again, and this meant my reservation at The Wave either had to be cancelled or moved, so Kona bit the dust and The Wave became our first
ADR
of the trip.
The Wave
The Wave is the Contemporary Resort's casual table-service restaurant, it is located on the first (ground to us) floor of the hotel. It slips under the radar quite a bit which is think is a bit surprising as it's so aesthetically pleasing from outside.
The Wave offers both a buffet breakfast and a selection of a la carte options. We had a lovely server who pointed out that the majority of the menu items were actually available on the buffet (something I hadn't clicked onto before), I believe the only things not included were the omelette, the Floridian Eggs Benedict (the buffet does include the 'normal' version) and the Avocado toast. If you opt for the buffet the chef is happy to prepare you egg freshly cooked to order however you prefer, although the buffet does include scrambled eggs.
We all opted for the buffet. The restaurant was very quiet, and made for a much more relaxing start to the day than Chef Mickey's! It was so quiet that for the first time in my life I thought I'd attempt to snap some buffet pictures. I was so pleased I was able to get these, I've always wondered how people manage it! They are not the best, as I was trying to be quick and not get in anyone's way but I am hoping they will be more pleasing for you to see than pictures of our plates!
Lovely fresh fruit, Mum actually cried out in delight when she saw how pretty this looked
A selection of yogurt parfaits, Mum and Nik both loved these, especially the honey vanilla one.
Some chilled items, the smoked salmon was probably the nicest I had all trip and I ate a lot of it! The Deviled Eggs were topped with Boursin cheese.
Cereal
Pastries
Some more baked goods
Some hot food, underneath the towel is freshly baked biscuits, and hidden in the back corner is oatmeal. The sausages were really nice, and I'm not usually a fan of Disney sausages.
More hot items. They had mini flour tortillas to use with he chorizo eggs to make breakfast burritos! I tried the Egg Benedict but I wasn't a fan of the key lime hollandaise sauce. Don't worry, these dishes were replenished shortly after I took this picture.
Of course, Mickey waffles aren't forgotten! The hash brown casserole was delicious, the best breakfast potatoes we had.
Now, let's talk about the sweet potato pancakes! These are The Wave's star item, everyone talks about them but I didn't try them the last time we ate here as I just thought they sounded weird. But this year I thought I would go for it, and WOW, alongside the seasonal accompaniments they were AMAZING! One of the best things I ate all trip.
We all loved our breakfasts. I couldn't fault The Wave, everything was hot and fresh, our server (who I am sure has served us previously at Chef Mickey's) was faultless and even offered us drinks to go. Our
ADR
was at 7.30am so we were finished in plenty of time to make rope drop. This meal was such a success that I was feeling very smug in my decision to do DxDP again and have lots of yummy TS meals ahead of us…
Breakfast came to $73.49 but we used 3 TS credits.
CREDITS USED
6
TOTAL IN $$
110.21
***
I had a Minute Maid Frozen Lemonade from Anaheim Produce on Sunset Boulevard, something to keep me cool whilst we enjoyed Beauty and the Beast. Mum and Nik both had bottles of water, I know, how very dull!
This costs $4.99 or 1 Snack Credit.
***
Mama Melrose's Ristorante Italiano
I often call Mama Melrose's my favourite restaurant but I'm not sure how true that is, but I do know that the strip steak is my favourite dish in Disney and having not visited since 2015 I was very ready to have it again! My mum loves Italian so I was excited to take her here, particularly as the restaurant is so well themed, it really makes me feel as though I am sitting in a movie.
The restaurant's check-in area is usually extremely crowded with people waiting for their tables as they are usually running late, today the lobby was very quiet and our table was ready for us before I even came back from the rest room!
I forgot to take a picture of the menu so had to snap this quickly as we were leaving.
We were brought some bread, and some oil for dipping, Mum wasn't yet properly trained in allowing me to take photos before tucking in!
Mum ordered the Pomegranate Lemonade which you can see in the background of this improved photo of the oil
Of course, the Deluxe Dining Plan includes an appetizer, an entrée and a dessert, but Mum said she didn't want an appetizer, then Nik decided he didn't want one either! Eventually I persuaded them to share a flatbread. The server did say that many people on the DxDP decline appetizers and will take one of the flatbreads with them to go instead, but we declined this kind offer.
We ordered Mushroom Flatbread -
Roasted Cremini and Button Mushrooms with a Roasted Vidalia Onion Spread topped with a Fontina and Asiago Cheese finished with Balsamic Reduction and fresh Herbs
. I have only just discovered I don't have a picture of this! I think I was recovering from the stress of the others not wanting to take one for the team and order a starter just for me to report on! I've had to borrow one elsewhere.
CREDIT
Theme Park Insider
Now, I love mushrooms, but ours was even heavier on the mushrooms than the one pictured. The flatbread just completely flopped under the weight of them, and I anticipated it would have a nice crunch. The flavour of the cheese was completely lost underneath the mushrooms and the balsamic, some of it was peaking through near the crusts and tasted very nice. I don't like balsamic, if we'd ordered this at home I'd have asked for it to be left off but I like to try things 'as they come' on holiday, I hoped it would be just a drizzle but they had used so much that it had soaked through the flatbread and onto the plate! This wasn't a nice dish at all, and I wish we'd ordered the Margarita Flatbread.
Mum ordered Mama's Italian Pasta -
Spaghetti tossed with Roasted Garlic, Tomato, fresh Basil, and Asiago-Herb Crostini
This is available with either chicken or shrimp, Mum ordered shrimp.
She really enjoyed this, the sauce was oil based and she said it was very light. It is a very photogenic looking dish.
Nik had Wood-Grilled Chicken and Penne Pasta -
House-Made Four-Cheese Sauce garnished with Pecorino Ramono Cheese and Parsley
At the time, he seemed to enjoy this but he has just declared that it wasn't cheesy enough! Personally I'm not a fan of the US style of serving pasta with the sauce just dumped on the top, I don't think it's appetising at all.
Of course, there was never any doubt what I would be ordering. THE BEST STEAK IN DISNEY. Charred Strip Steak -
Four-Cheese Macaroni with Pancetta, Aged Balsamic-Shallot Butter, and Chianti Wine Reduction
.
The thicker part of the steak was a little overdone (I had asked for medium-rare) and the macaroni could have been hotter but regardless, this is still my favourite dish in Disney, just delicious. I am pretty sure the pasta served alongside the steak is the same as in the dish Nik had, personally I think it's very heavy on the cheese, so don't agree with him that the sauce wasn't cheesy enough.
I ordered a favourite of mine Tiramisu -
Layers of Mascarpone and Espresso soaked Lady Fingers topped with Cocoa Powder and Whipped Cream
This was horrible! It was just a sloppy messy with no texture what so ever, it was like water. I had one bite and gave up.
Mum and Nik both ordered Chocolate and Cherry Tort -
Made with Ghiradelli Creamy Chocolate infused with Morello Cherries served with Cherry Coulis topped with Whipped Cream
. Black Forrest Gateau is my all-time favourite dessert so I really wanted to try this but there was no way I was letting us all order the same thing!
This was as delicious as it sounds, we all loved it. It was beautifully presented too.
Service was good. Aside from offering us the flatbreads to go the server also filled us in on menu updates, told us all about the available mocktails and was forthcoming with the refils.
Lunch came to $135.75 and cost us 3 TS credits
CREDITS USED
9
TOTAL IN $$
245.96
***
We were desperate for a drink after our Alien Swirling Saucers FP+ it really is as hot as they say in Toy Story Land!. Mum had a Mystic Portal Punch from Woody's Lunch Box. This is
Powerade Mountain Berry Blast with flavors of lemon-lime and tangerine
. She liked this, I thought it was revolting, it tasted like medicine.
***
I wasn't sure how jet lagged we'd be feeling this evening so had kept our options open over where to eat. I had booked a table at House of Blues via OpenTable so if we decided we were too tired for TS we could miss it without consequence. My alternate option was Landscape of Flavours, the food court at Art of Animation - I knew Mum would love their Create-Your-Own Pasta option.
We were feeling okay, so headed to Disney Springs. This was a huge mistake! It was Saturday, one of the car parks was full and the other had an enormous line of cars waiting to go in. I knew even if we did manage to find a space that the area would be heaving, so we resorted to my original plan of visiting Art of Animation.
Landscape of Flavors
My notes begin by saying this meal was a 'disaster'…
The food courts at the value resorts have different order stations serving different dishes, for example, one serves pizza, one burgers, and another pasta. This makes for quite a stressful start to your meal if your party wants different things from different stations, as you all order separately, then meet together to take everything to the till to pay. It also risks things going cold depending on how quickly you're served at the various stations. You can view the Landscape of Flavors menu
here
.
Nik wanted mac and cheese, he had had this here a few years ago and had loved it. Unfortunately, it is only listed as a kids' menu item, but I said I would ask if they could do a full-size portion. Mum decided she'd like the macaroni too, I explained it may only come as a kids' portion and she said this was fine. I sent Nik off to order me a burger and got in line for the macaroni. Unfortunately, they said they only offered it in one size.
The last time we ate here the mac and cheese was freshly baked and served on a plate, even the kids portion made for an adequate meal but this one was served in a tiny pot. I knew straight away that it wasn't going to be enough to make up a meal, so I quickly headed over to station Nik was at to ask him to add on a couple of sides of fries, but it was too late he had been served.
I got inline at the station serving fries and decided to get some chicken nuggets to share. I asked for a nuggets meal, and an extra side of fries. The girl on the till gave me a funny look and asked again if I wanted two fries, I said yes. As I was waiting for the food I realised that all of the meals at this station came with two sides, as I had just asked Nik for a 'cheeseburger and fries', that meal also had 'double fries', so we now had the equivalent of four portions of fries.
I was annoyed at myself for not taking the time to read the menu before ordering as the other side options were coleslaw and Caesar salad, both of which I love, particularly Disney Caesar salad which is more dressing than greens!
When it came to paying the cashier explained that as we had our refillable mugs as part of the dining plan we could sub the mac and cheese in place of drinks with our meals, this was a nice bonus! So, a portion of nuggets, a cheeseburger, four(!) portions of fries, and two sides of mac and cheese was only 2 dining credits.
This all felt like it took a ridiculous amount of time, but it was probably mere minutes. Eventually we sat down with our mountains of fries, and I said I would go and get an extra plate so we could split the meals and I would explain who was having what as we now had various meals on various different plates. Nik doesn't really like to share food.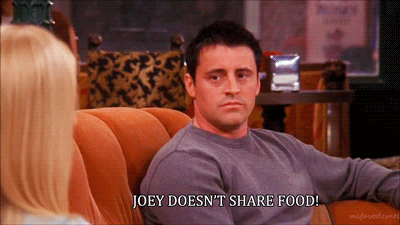 It's not that he's like Joey, it's just that he is too polite for his own good and doesn't like to feel as though he's taking someone else's share so he would rather go hungry than tuck in.
In the short time I had be gone from the table my mum had taken the plate with the nuggets on them and was tucking in. I don't understand why she did this as I had got them to share between us all, and I hadn't yet explained that to anyone. I explained that they were to share, and she did that guilty thing people do where she pushed the plate away and then refused to eat anymore. And Nik wouldn't eat them now because he felt like my mum wanted them, and I wouldn't eat them because I was being stubborn. You can see from the stellar photography that my stress level were off the scale here. I hope you can appreciate just now many fries we had, there's 10 nuggets buried there somewhere. There was also another portion of fries plated separately (that came with the burger) not pictured.
My burger and the original portions of fries were cold now. I didn't eat them.
This evening felt like such a waste of dining credit and the DxDP, usually I am at peace with whatever changes we make to our dining plans, but I was frustrated about this one, we should have gone to House of Blues.
And after all of this, the mac and cheese wasn't as good as Nik remembered.
Dinner came to $35.10 or 2 dining credits.
CREDITS USED
11
TOTAL IN $$
281.06