Last week I posted on the DIBB asking if it was worth popping along to DLP whilst my hubby and I were in Paris for a few days celebrating our 1st wedding anniversary... took the advice and visited Disneyland Paris and had a great day out!
Here's my trip report
Cast:
Me (Michelle) 33, plus size Dibber & Disney virgin!
Him (Steve) 37, chief photographer and holder of "stuff" (bag, drinks, cash etc!). Also a Disney virgin!
Day 1 - Wednesday 4th August
Took the Eurostar to Gare Du Nord from St. Pancras at 9.15... really pleasant journey - finished reading Dan Brown's newest novel and the time flew by. Before we knew it we were in Paris! The Metro was really easy to navigate and found our accommodation at Hotel Soft near Jacques Bonsergent station. Spent the afternoon, after unpacking our stuff, on a tour bus to see the sights of Paris. The cost was (I think) 29 Euros each. Or was it 39? Oh well! Stopped off at the Eiffel Tower for a baguette and a drink (omg, so expensive! 2,50 Euros for a can of coke?! 9 Euros for a cheese & ham baguette?!) before catching the Metro back to our hotel for a cuppa and a good nights sleep before DLP tomorrow! It's gonna be a long day!
Day 2 - Thursday 5th August (our anniversary!)
Took the Metro from Jacques Bonsergent (Orange, Line 5) to Gare Du Nord, then from there an RER train (blue Line B) to Chatelet Les Halles to board the final RER train (Red, Line A) to Marne-la-Vallee. It took us about 45 minutes. It was a big pile out of the station up to the security entrance of DLP where our bags were checked.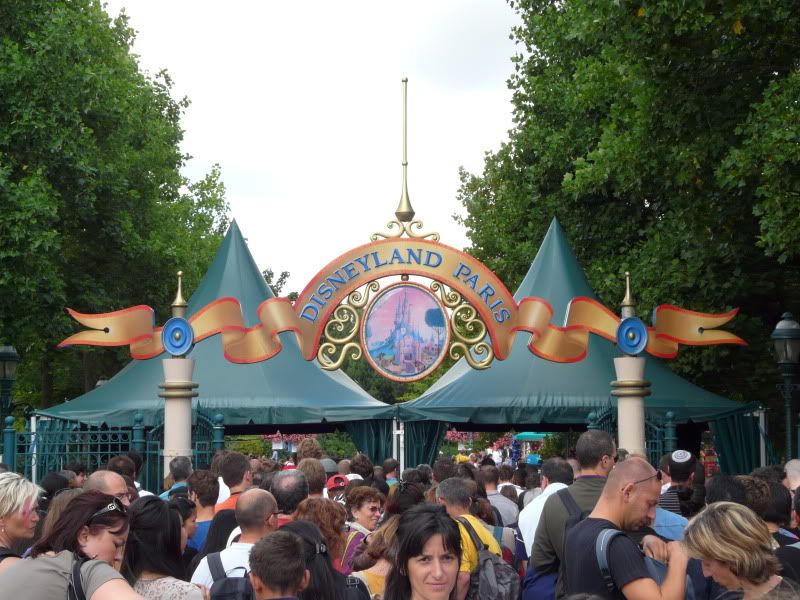 It was a bit of disorganised chaos getting through there! Once through security, we then strolled to the main entrance.
We had bought our tickets from the hotel for DLP - well, they were voucher things - paid 6 Euros and the rest - 39 Euros at the gate. We were told by the conceirge that we would not have to queue... but I think he fibbed, as we queued for about 20 mins at the gate, but no hardship! Got our tickets and made our way through the turnstilles (the amount of turnstilles in DLP and Paris in general is astounding!) into Main Street, USA.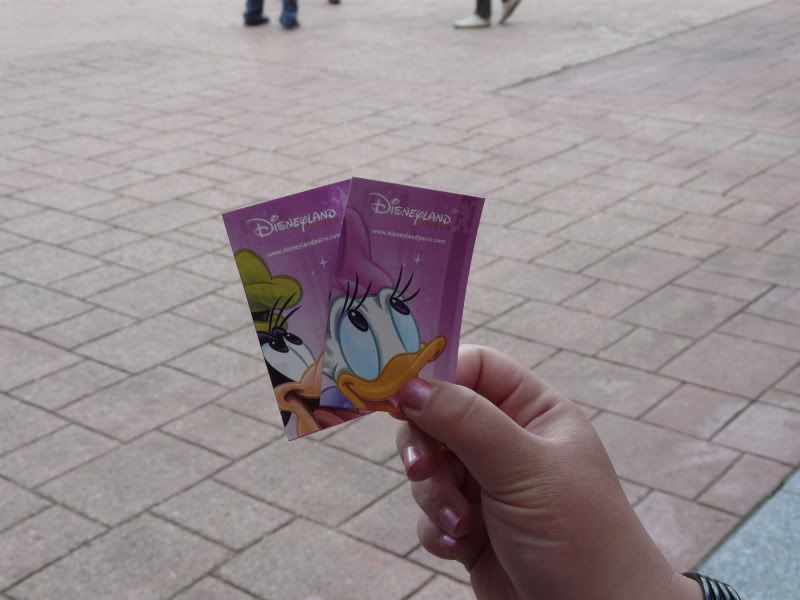 I couldn't believe we were in a Disney park! I was in awe to be honest, and as we rounded the corner and Sleeping Beauty's castle came into view I felt a lump in my throat!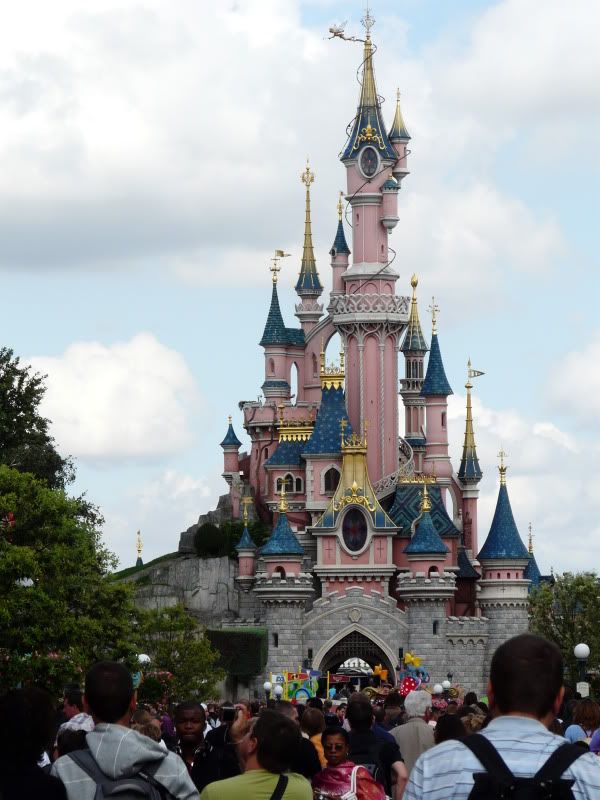 Steve & I were taking pics of each other in front of the castle and then the CMs started to clear the street as the Disney All Stars Express was about to make its way down. Steve took a little video as it went by, and me, well I was sobbing like a baby... I don't even know why! Here is a link to the video on YouTube:
youtube/watch?v=gZtZIK3dLLU
We peeked in a few of the gift shops along Main Street, saw Mickey Mouse & Pooh having their pics taken with people, but didn't bother to queue for that and then decided to go and queue for the Disneyland Railroad and take it all the way around the park to Discoveryland. We had to wait about 20 minutes and then we were off!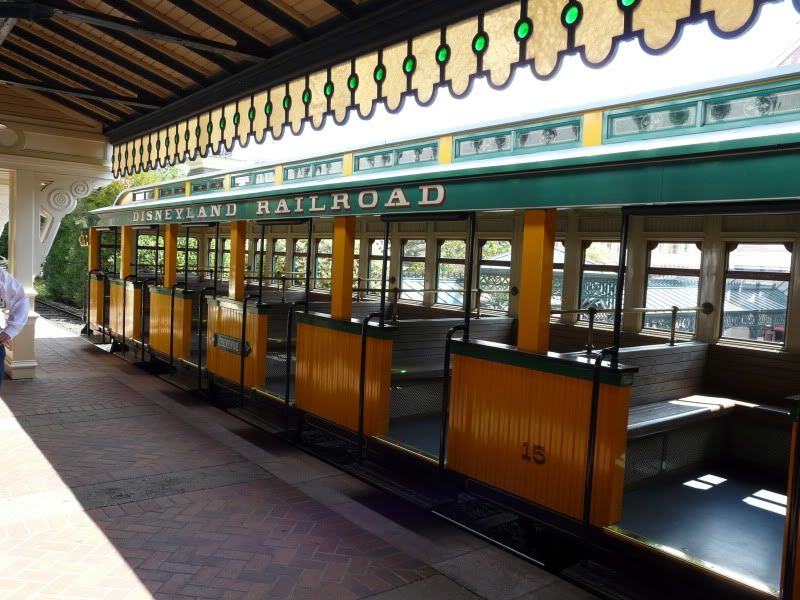 I loved all the behind the scenes themeing of the park and we had a pleasant ride through each of the different lands, before disembarking at Discoveryland. Steve wanted to go on the Star Tours ride, but it said to avoid if you have back problems, which I do, and I didn't want to take the chance. I said to him I would queue with him, but bless him, he didn't want to ride without me, as he said it wasn't fair. So he just took photos instead!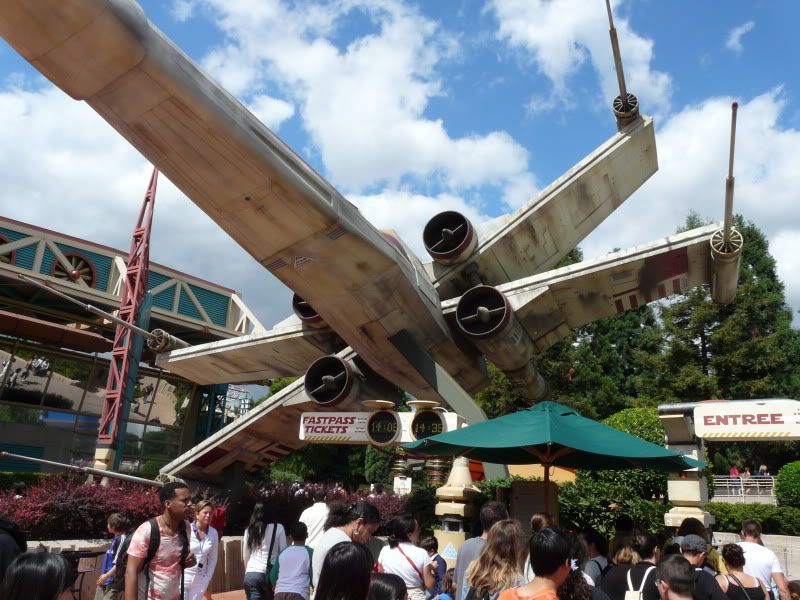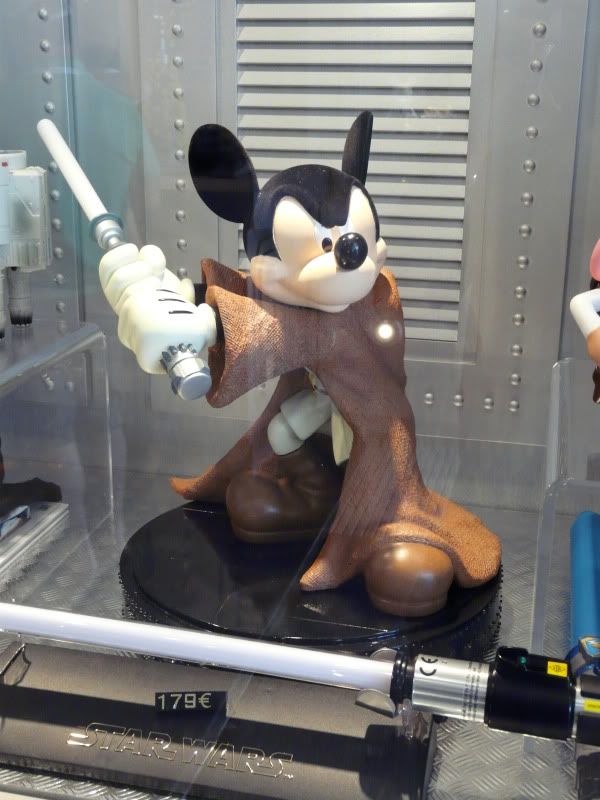 I wanted to see Captain EO, especially as I love MJ and the man only went and died 4 weeks before I was due to see him at the O2...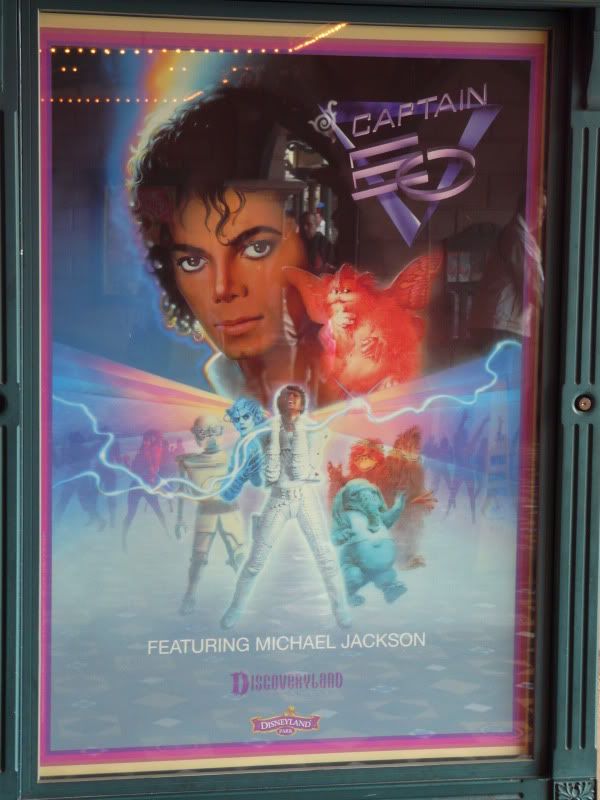 The queue was pretty much walk on for this. Seemed quite chaotic as we made our way into the waiting room after grabbing our 3D glasses as no one quite knew what they were supposed to do. We were shown a video of how they made the film before being told we could go into the theatre. The CMs asked everyone to move right down the aisles, but of course you have your people that ignore this and plonk themselves partway down the aisle. I lucked out and got sat in the middle
Like I said, I love MJ...I have read that people complain that the film looks "dated" but, it's from 1984 or something! Of course it's gonna look dated! I thought it was excellent, and I always get a tear in my eye when MJ performs. In short, I loved Captain EO and hope it is still there in Florida when we go next year so I can watch it again!
By now it was lunchtime, and we headed to the nearest food place... Pizza Planet!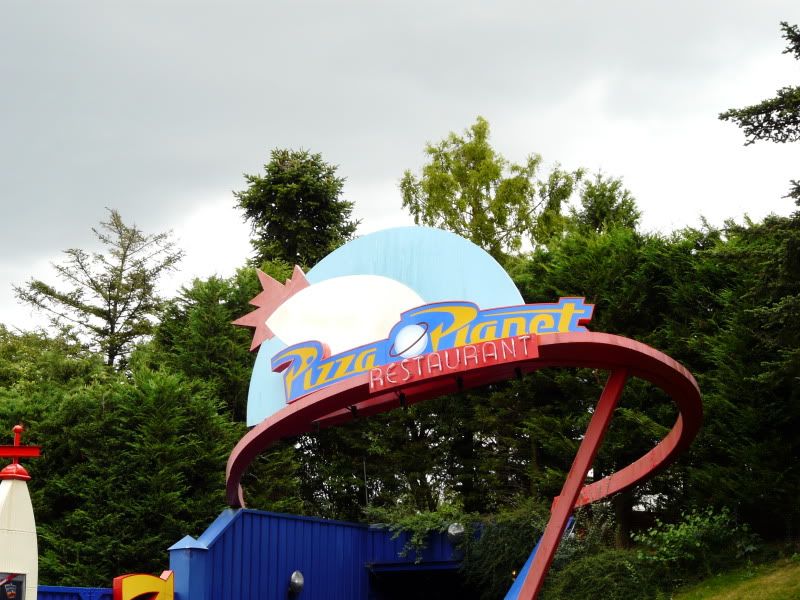 Took a photo next to RC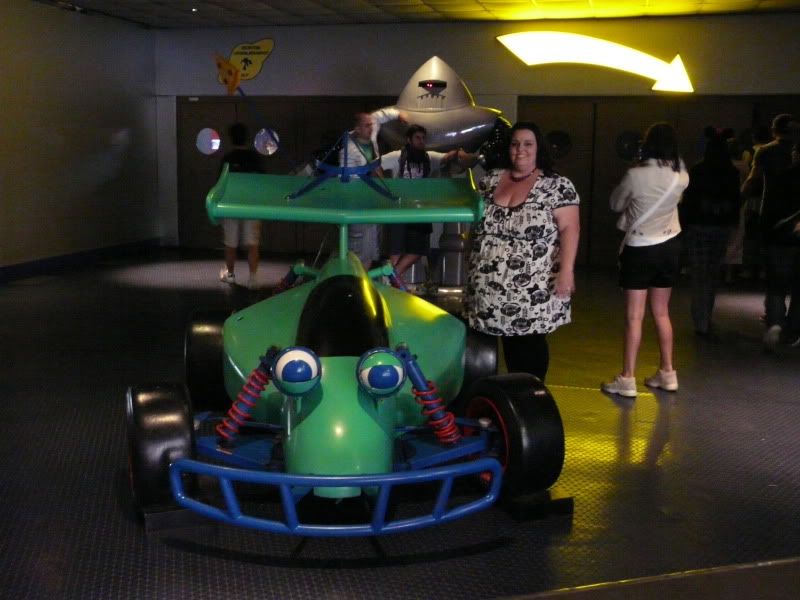 and then fell over at the price of 18 Euros for the pizza buffet! This was a silly price in our opinion, but we figured it's a) a Disney park, and b) Paris...
There was a salad bar with the usual lettuce, tomato, cucumber, sweetcorn, carrot and some weird coleslaw curry thing, along with 3 types of pizza (quite limited really) and 3 types of pasta and 3 sauces, plus bread and cheese, soft drinks and bottled water (which we took a few of
)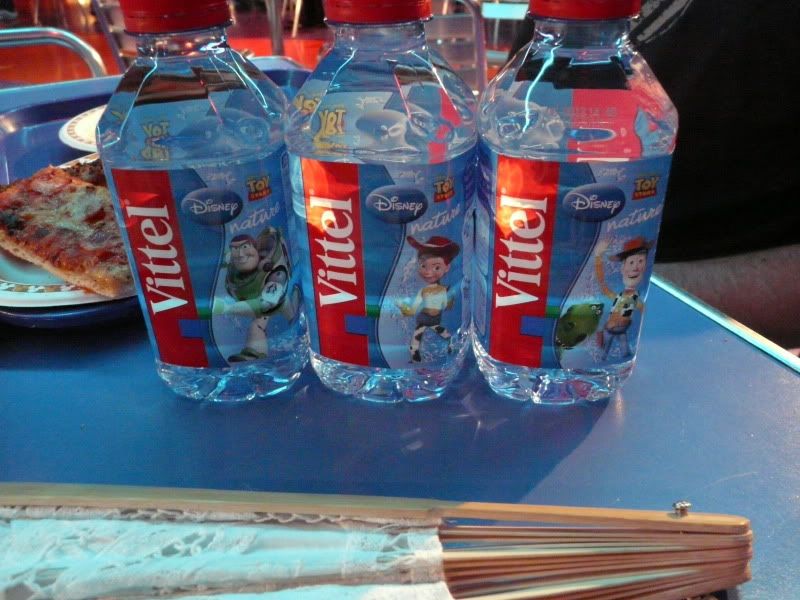 The desserts were different flans/tarts, apple smoosh (pureed apple) and chocolate smoosh (some really runny chocolate mousse thing!). Nothing outstanding about the food, but nothing particularly bad about it either. We hit the place at the right time, as after we sat down people started piling in!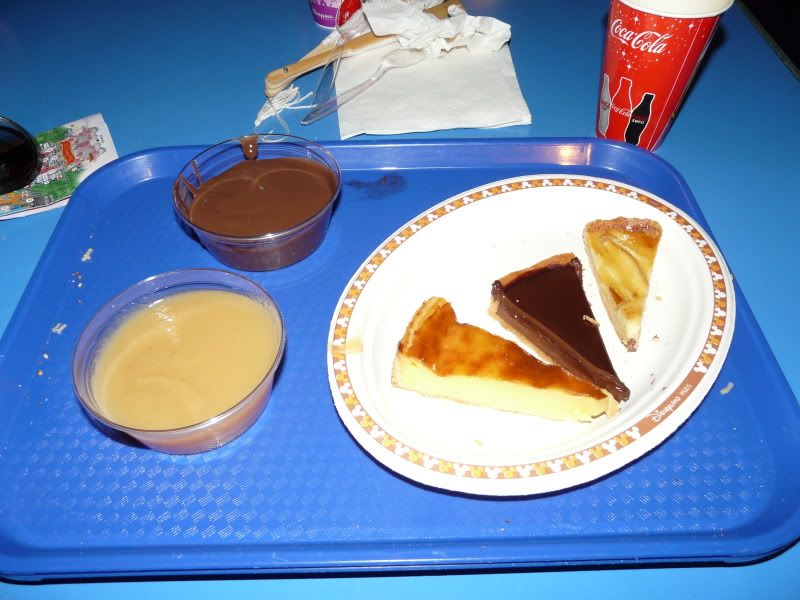 I liked the themeing in the restaurant, but it felt sparse in there... I had secretly hoped it was gonna be like in the 1st Toy Story film, so a little disappointed lol.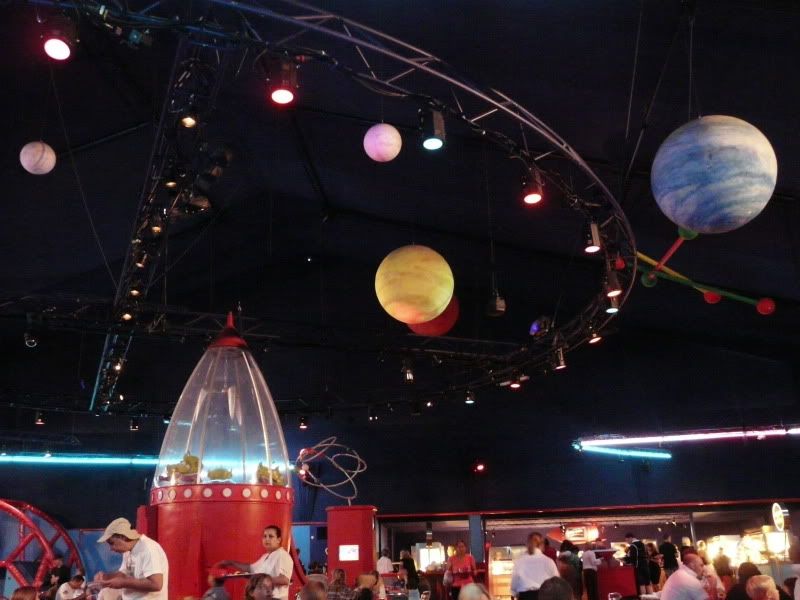 After Steve finished off a vast quantity of pizza, where he puts it, I don't know, and me finishing off my meagre (in comparison to his) portion, we ventured back into the park.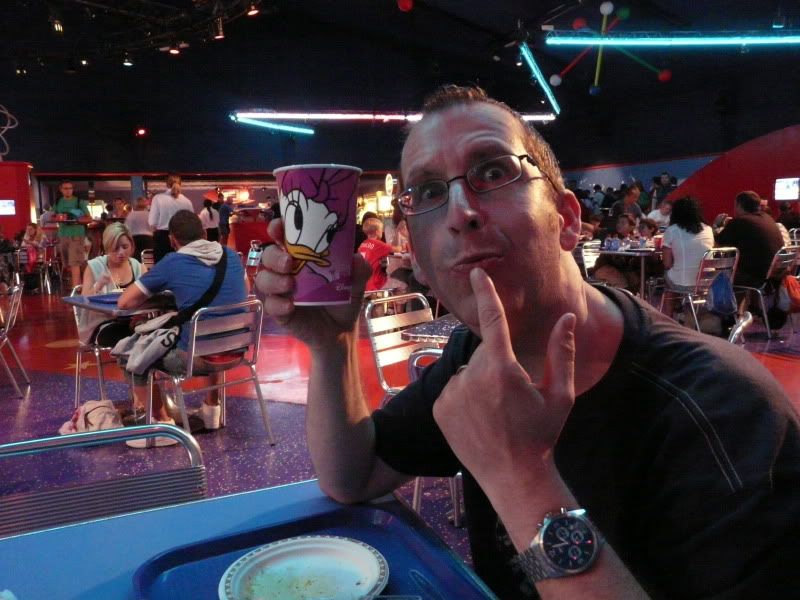 I don't remember seeing loos inside the restaurant, and if there is one thing that there seemed to be lacking in the park in general were toilets. But we found some in Videopolis. Naturally a huge queue for the ladies, and Steve snapped Mickey & Pluto whizzing by whilst waiting for me...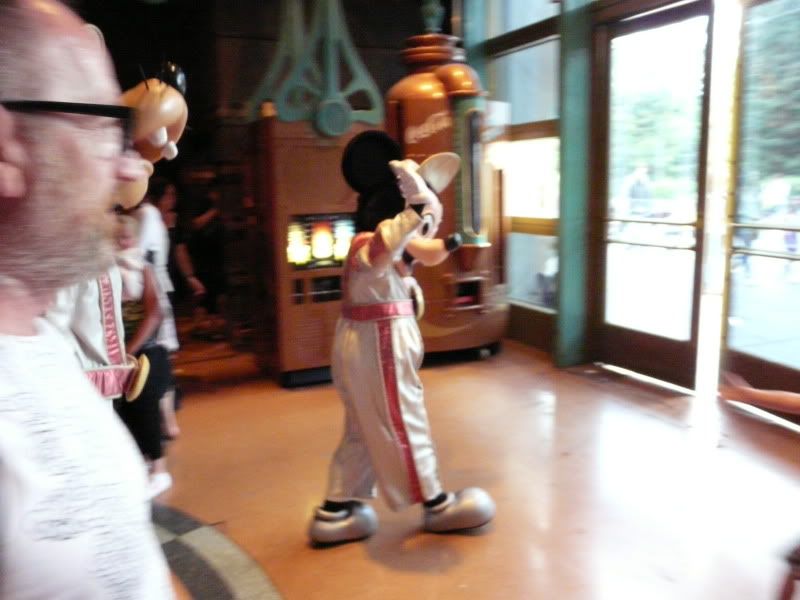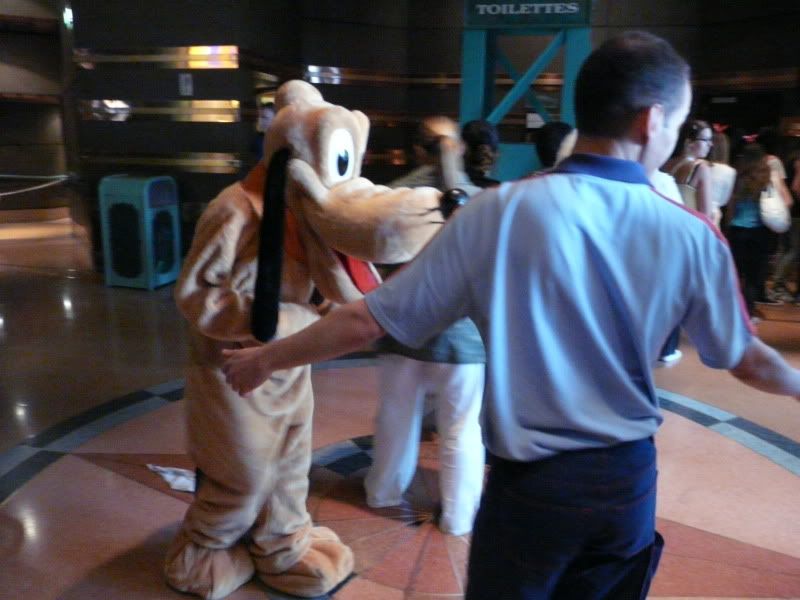 We took a walk down into Les Mysteries du Nautilus... expecting it to be some sort of simulator ride, but it was a walk through thing and was tres boring!
We then saw the mad queue for Buzz Lightyear Laser Blast and decided to grab Fastpasses for these. Time: 7.15 - 7.40! But we planned on staying till the close, so wasn't too worried.
More in next post!