Update 8 - Las Vegas
Hopefully by 2pm we will be continuing our journey down the famous route 66!
I am fully aware that this is gonna be a long and tiresome journey but Im actually surprisingly looking forward to driving down that open road with my family with music blasting out our car!
Ofcours we will need to make 1 or 2 stops so if anyone can suggest a good place to stop along the way for a bite or eat or to stretch our legs that would be great, obviously we dont wanna go too off track!
We hope to make it to Vegas no later than 8pm, check into our beautiful home for the next 3 nights, I think we are all really excited to check out this fabulous resort...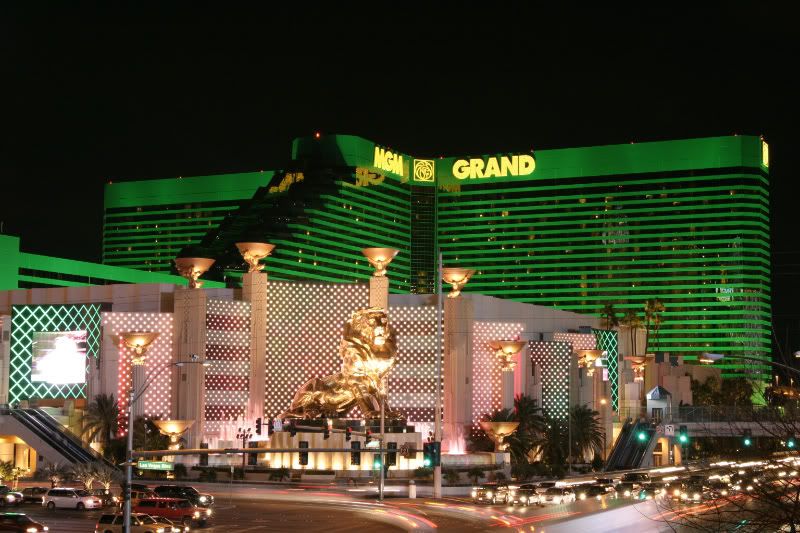 And hopefully we will still have time to grab a bite to eat from somewhere nearby or perhaps from one of the many restaurants within the MGM. Perhaps Wolfgang puck?
Im hoping we will be awake enough to maybe explore our hotel a little and say hello to the lions before hitting the sack!
So for one day during our stay in Vegas we will be visiting the famous Grand Canyon.
We haven't booked anything yet but the tour we are looking at will pick us up from LV airport at 5am! and then its straight to the canyon via helicopter where we will stop off for a little walk around inside the canyon, im not sure on the exact details as to what area of the canyon we will be stopping in. I think this is the area that includes a champagne picnic as well but ive heard you dont get much other than a plastic cup of champagne so wont be expecting too much! Its then on to an old indian ranch with a horse and carriage ride included!
Pretty excited! Although my mum does no feel the same! She has done the helicopter trip as a child and hated it but we are trying to convince her that things will have changed with time and tha she will get a much smoother ride, I HOPE!
We finish off with a flight over the strip and should hopefully be back on land by midday!
By now, with no breakfast I would imagine we will be feeling a little peckish so my plan is to head over to the forum at Ceasers palace and pay a visit to one of Americas most popular restaurants, The cheesecake factory!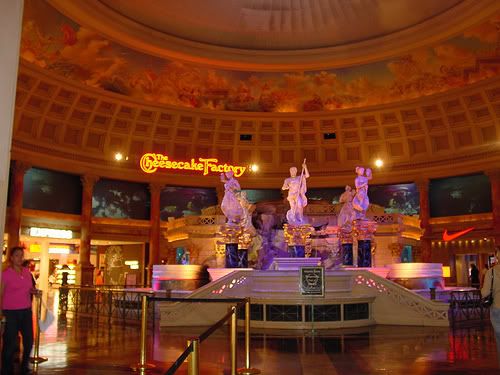 Now after 6 trips to Florida would you beleive I have never visited a cheesecake factory! ? I think my brother will be very pleased with our plans to visit the cheesecake factory as he is a huge Big Bang Theory fan (Anyone who watches it should no what im talking about!).
I don't plan on filling up too much here as we will be visiting one of Vegas's famous buffets for dinner! So after a light filling, we will walk it off by exploring the shopping center, Im not sure if all the men will wanna stay here so at this point they might choose to explore the strip a little!
At around 6.30pm we will head back to the resort to freshen up for dinner in the evening. Our restaurant of choice tonight will be The Bellagio buffet, I am very excited about trying this buffet as ive heard such good things about it!
After Im sure eating way too much we will walk it off having an explore around the strip at night time and hopefully catching the Bellagio fountain show.
Our next day will be spent generally Exploring the strip and the resorts
I think we will start this day with breakfast at Le Village in Paris.
I am super excited about eating here, i love the idea of all the different buffets being set out in the shops! So cute!
There are several points of the strip we all wanna pay a visit to, the first being the rollercoaster at New York New York ...
The little wedding chapel...
The beautiful interior of the venetian...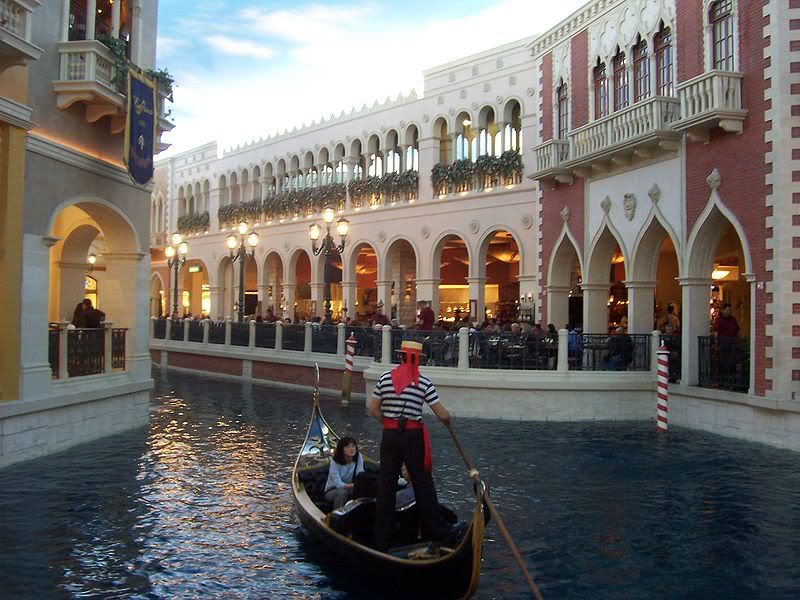 among other amazing resorts such as treasure island and the mirage.
Dinner tonight will be at the Carnival Buffet situated in Rio. We will try to eat quite early tonight as we would like to spend the evening watching a show, We have looked into Cirque Du Soleil but its working out far too expencive for all of us so if anyone could reccomend any other shows that would be great!
One last evening spent exploring the strip and then off to bed!
On the morning of the 1st we will be rising particularly early as we want to get in breakfast before heading off on the long trip to Yosemite. Im thinking Wicked Spoon at the Cosmopoliton for breakfast, heard some great things about it!
So after filling ourselves on one last vegas buffet we will head off for Yosemite!