So… here we go again!
I don't feel like I need to write another introduction telling you who me and Jo are... I'll just assume (rather big-headedly) that you've read our War and Peace length
27 day Trip Report from 2013
, and have come back for more punishment.
However, if you don't know us and have stumbled across this by chance… let me direct you to the
Pre-Trip Report
we did back then and ask that you make the following alterations to the introduction:
1. We're both a year and a bit older
2. Jo is now my wife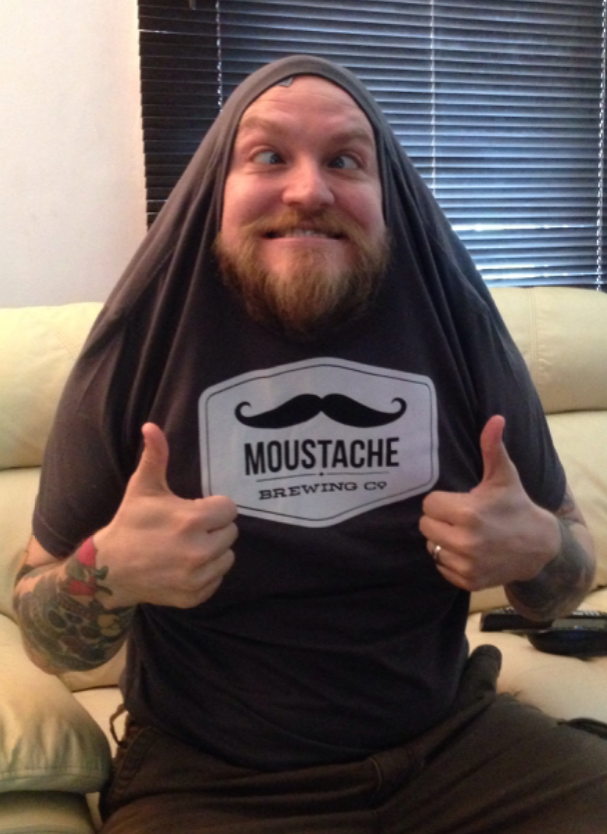 (Body like Baywatch… face like Crimewatch)
Errr… yup, I think that pretty much covers everything so I guess I should just crack on and let you all know how this trip came to be.
It's Sunday 21st September 2014. I've still got two days left of the 2013 Trip Report to write (I still can't believe it took me a whole year to get that TR posted) and me and Jo are off round to her parents' house as they are away for the weekend and we've got to make sure their parrot has enough food and water. As you can see, when we're not in Florida, we really are living the dream!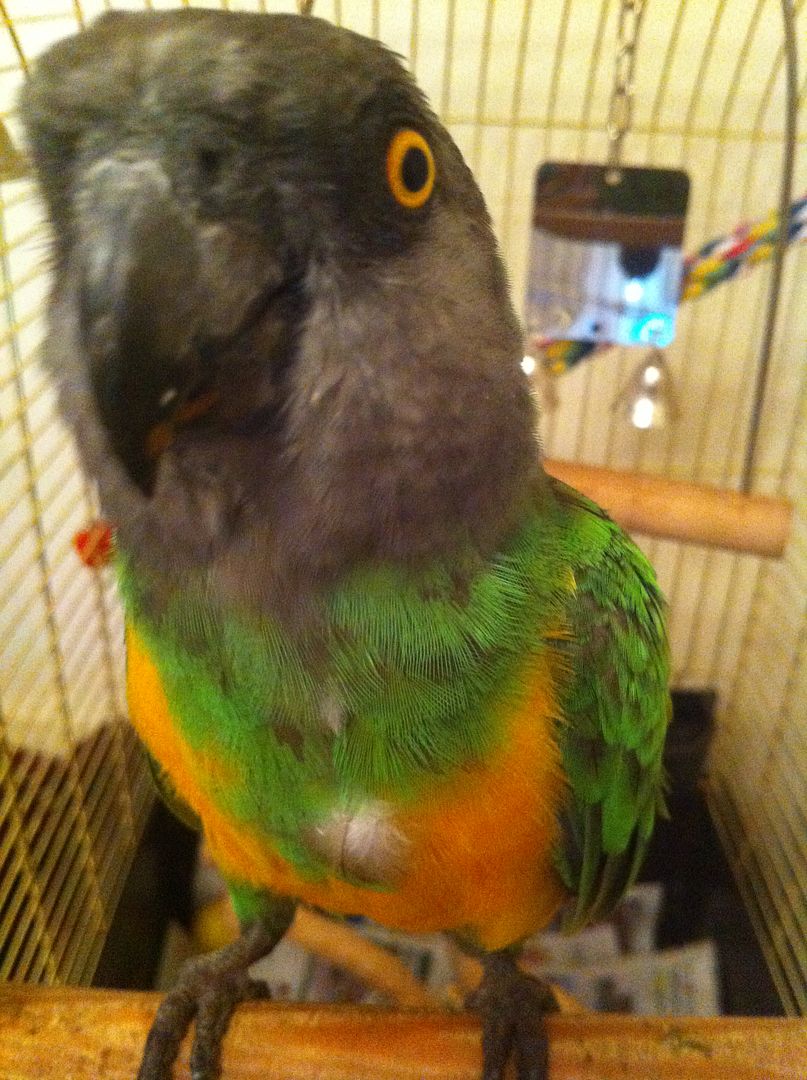 The very photogenic Alf… he doesn't like you getting all up in his business!
Anyway, as we're walking to their house, Jo (out of nowhere) asks "so when do you want to go to Disneyland?" This question completely catches me off guard and I ask her if she means 'when' as in timeframe or 'when' as in what time of the year. She tells me she means both! I say I hadn't given it much thought and that going in Sept/Oct time would probably be cool as we'd get to do the Halloween celebrations at Disneyland and Universal Studios Hollywood… but seeing as we've already got
a trip booked for next Sept to Orlando
, that time of year doesn't really work. That in turn means that a trip to California would have to wait till 2016.
Obviously since getting married we've talked about starting a family and we both said that it'll probably be after our 2015 Orlando trip, so I figure that's the end of that and a trip to Disneyland would be something we'd do with a baby in tow. But then Jo says "Well, what about for your 40th birthday? Would you want to go then?" (Yes… I know it's hard to believe that the boyish model looks and cheeky antics you see and read about in these TRs belong to someone who's creeping ever closer to being 40yrs old!) Anyway… my immediate response is "Hell yeah… I don't want to have a party and people have already asked if I'm doing anything special next year… I'd totally go to California and get away from all that!"
What happens next is still shocking to me as Jo casually turns round and says "ok, shall we go and speak to someone at Virgin today and get it priced up?" A confirmation swear spews from my mouth and before I knew it, we were sitting face to face with Viv (a Virgin Holidays agent, who on numerous occasions has booked our Florida holiday for us). She actually recognises us and asks if we're now married, how did the wedding go etc, and we talk a little bit about how it all went and how much fun it was. She then asks if we're here to book another Florida trip today and we explain that we've already got our September trip for next year booked, and that today we're here to get some prices for a week in California.
Unbeknown to me, Jo isn't walking into this blind. She's done her homework already and priced up a few options. So when Viv throws a price at us, she says "yeah, that's about the same price as I was coming up with online". I, on the other hand, am quite shocked! I knew it would be pricey… but at roughly the same price as 2 weeks in Florida, I was starting to have second thoughts about the whole thing. Jo doesn't seem concerned at all and the price isn't a shock to her (mainly because she'd done her research!)
There are a few hotels that Jo looked at and one of those is the Staybridge Suites. It's nothing fancy, but it's not exactly a hovel. As with our trips to Florida, we spend hardly any time in the hotel room itself, so I begrudge paying for 5 star treatment when I know full well it's just a place to lay my head after a day of fun. The hotel itself is 5-10 minutes from Disneyland and not much further from some of the other key places we want to visit.
Now, when booking our holidays to Orlando, one thing we normally do without even thinking about it is upgrade our flights. Although it costs £250pp per flight, we've always considered it worth the money. We get on and off the plane first, we're never more than 10minutes in Passport Control, and as Jo has said… we do it because at this point in our lives, we can. I must admit, there have been times in the past when Jo has put forward a case for not upgrading and putting the money we'd spend on upgrades towards staying at a better hotel… but she's never put forward a convincing enough argument, and the upgrade has been booked!
Which is why I'm sure it comes as a complete surprise to her when I suggest we don't upgrade our flights to California! (It's now her turn to look at me with a shocked expression and big eyes!) Viv removes the upgrade from the cost of the holiday and lo and behold the price drops by £1000 and instantly becomes more palatable to me. For a third time today, Jo throws a curve ball that I wasn't expecting and says she thinks we should keep the upgrades! There was a bit of back and forth, but ultimately they get put back on (mainly because Jo reminds me that a flight to LAX is about two hours longer than a flight to Florida, and if my knees hurt after an 9 hour flight in Premium, then I'm going to be in agony after an 11+ hour flight in Economy!)
*Before I get any smartarsed comments from the DADC about old age setting in, my knees are bad after years of football and too many diving knee slides on dancefloors!*
And with that… we're all booked! Flying with Virgin out of Heathrow in Premium Economy, on May 9th and staying at the Staybridge Suites for 7 nights.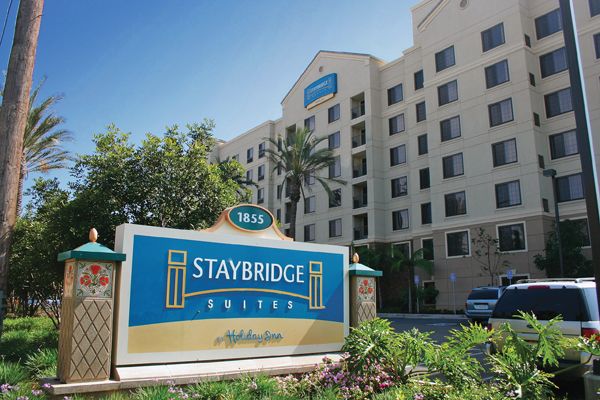 I don't like using stock photos, but we've not been there yet so have no alternative!
So… what do we have planned? Well, obviously we'll be going to Disneyland and California Adventure. At this point I think we're looking at spending three days across the two parks. Being the Disney history nerds that we are, there's loads of things we want to make absolutely don't miss out on seeing/experiencing. That's why I'm saying 'at this point'. If it looks like we're not going to get everything done that we want to, there may be another visit (even if that means paying full price admission for just a few hours!)
Universal Studios Hollywood is also on our list. Some of the attractions are the same, but just like with Disneyland, just because a ride has the same name, doesn't mean it's identical (yes I know that some attractions ARE identical… but in a lot of cases, there are differences between the east coast/west coast versions). They have the King Kong 360 3D attraction, which Orlando doesn't have, and looks pretty good. They also have a tram tour where we'd get to see our beloved Jaws again (RIP Orlando Bruce!)
Knotts Berry Farm is also something we're really looking forward to. It looks like a cross between an English theme park and Busch Gardens (without all the animals). That'll certainly be a day to tick extreme thrill rides off the list!
One last thing we've got on our 'Must Do' list is a visit to the Queen Mary at Long Beach. This may seem like a weird one, but the reason for the visit to this retired ocean liner is because it's reported to be one the most haunted locations in America and five nights a week they offer a guided Ghost Walk! Now I know this isn't everyone's cup of tea, but as both I and Jo are pretty interested in this kind of thing, we couldn't pass up this opportunity. And because this is a night-time event it means we'll be free all day to do some real touristy things. We both have some ideas of what we'd like to see (the Hollywood Walk of Fame, Grauman's Chinese Theater etc) but we've not made any firm plans yet!
And I guess that's pretty much it.
Well… at least that's what I'd assumed! Everything you've just read was written in late December/early January. I figured aside from paying off the balance, buying the park tickets and getting some sort of itinerary my Pre Trip Report was done. But I was wrong!
On Friday 16th January me and Jo are at home, we've just finished tucking into a Chinese takeaway and Jo hands me a little bag. Inside the bag is this.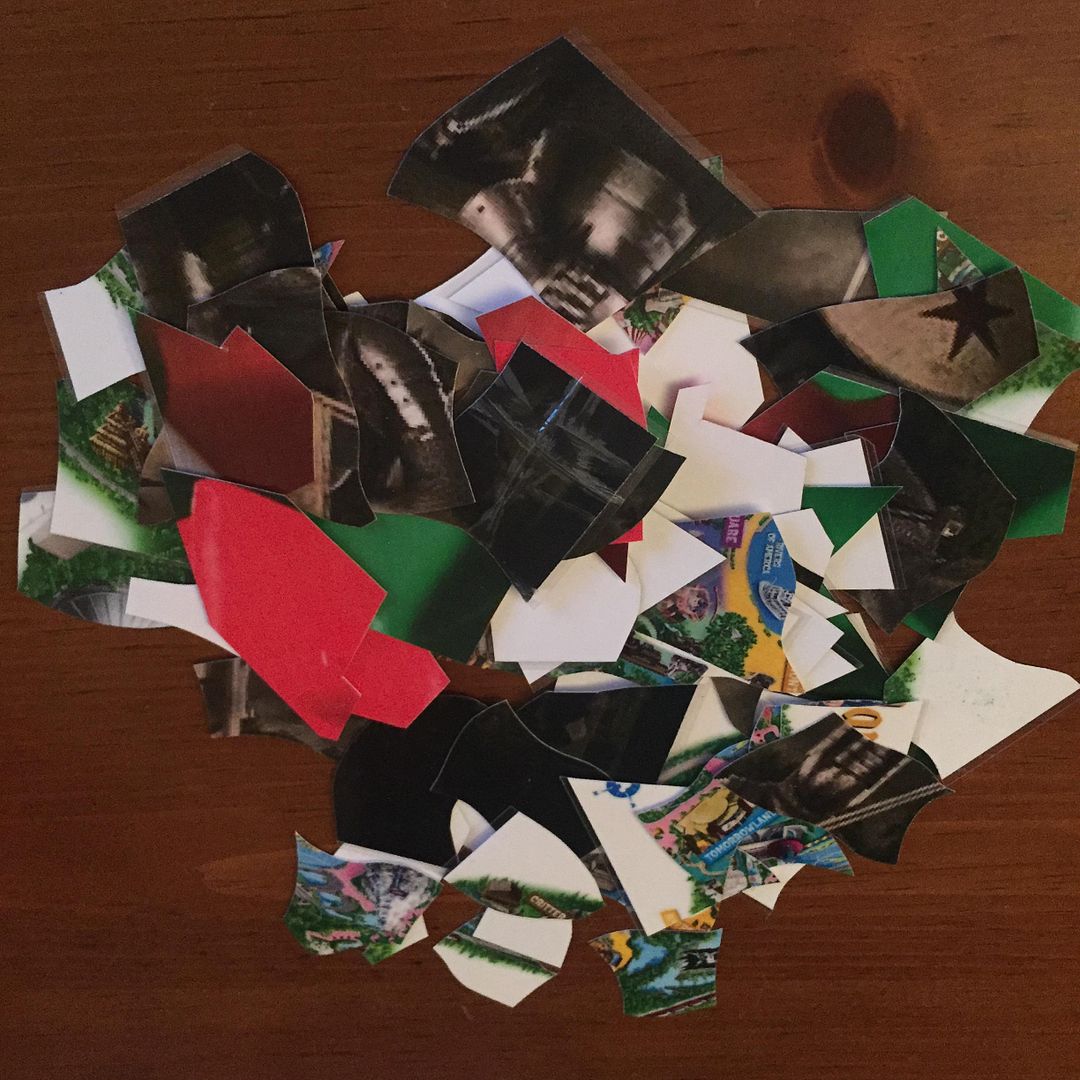 I ask her what it is and she tells me I have to figure it out! Jo has laminated something, then cut it into puzzle pieces. I now have to put it back together to figure out what the hell it is! Straight away I start spotting little pieces of a Disney park map. I pick a piece and it initially looks like Magic Kingdom. So I start picking out the pieces that I can see are bits of park map. It's then that I notice it isn't Magic Kingdom… its Disneyland.
I ask her again what it is and she says I'll have to figure it out. Jo is smiling and giggling while I'm getting increasingly more annoyed, as aside from the park map pieces of puzzle, there are bits that are bright red and green… and some that are dark and grey! I then spot two bits of silver among all the dark puzzle pieces, and I can see they go together. Those two bits show a small section of a suit of armour… and that's when I suddenly figure it out!
"Ohhh you **** (small brown smiling emoji with eyes)… what have you done?"
Jo keeps saying "what?" but she knows I've worked it out.
"You've booked a night at the Disneyland Hotel haven't you?"
She says no, and tells me to keep on doing the puzzle.
I know I'm right though… that's a knights armour I can see… and although I haven't even touched the pieces of puzzle that are red with bits of green, the knight's armour is telling me Jo's lying. For the next 5 minutes I curse (a lot) and keep telling Jo she's a **** (small brown emoji with eyes) and continue to put together the rest of this puzzle. As more pieces slot into place, I can see a second knight… and then a third…
"Jo, have you booked three nights at the Disneyland Hotel?"
She's beaming from ear to ear… so I take that as a yes. You'd think I'd be over the moon… but my initial reaction is to say "we can't… it's too much! We're meant to be saving!"
I blame this reaction on Jo herself. In our relationship I'm the frivolous one… the one that doesn't deal with the household finances , the one that would go to Disney at least twice a year… whereas Jo is the sensible one, the one with the head for figures and the one that reigns in my desire to spend every single penny we earn on getting back over to the states! But… recently Jo has helped me curb my ways (hell, just look at my reaction at the start of this PTR when I was the one suggesting NOT to upgrade our flights!)
My reaction of "we can't, it's too much" along with me actually saying "cancel it babe… it's too much money" doesn't go down well… and I can tell I've hurt her feelings. She went into so much effort and has done something lovely for me as a gift for my 40th and all I can do is think about the cost! Bad Brett… naughty Brett.
Seeing her get a little ticked off at my reaction causes me to do a complete 180 and thank her profusely for what she's done, and then ask her how this has happened. It's at this point I'm going to hand over to Jo and let her tell you the story she told me. Ladies and Gentlemen, for this first time in this PTR… say hello to Jo. Take it away you **** (small brown smiling emoji with eyes)…
Howdy ho! (Thought I'd stick with the poop theme we seem to have going on here!) I was reluctant to put down the details of how all this happened, for fear of making life slightly awkward for a certain someone, but I've been given the all clear, so it's full disclosure time.
The reason I decided to do this wasn't purely selfish (although you'll notice I benefit hugely from Brett's birthday present, much like he did from my 30th birthday present from him!) Back in September, when we were sitting at the Virgin Holidays desk in Debenhams looking at hotel options for this trip, Brett made a comment which went something like 'are any of the Disney hotels available?' Unfortunately I already knew that Virgin didn't offer them, and as part of my research I'd looked into booking DIY, but all three of the Disney hotels in Anaheim were waaaaay out of our price range for the week.
Then a little while later, whilst watching something about Disneyland, there was a bit about the Grand Californian hotel and he made some comment about how nice it would be to stay there. And again, a couple of weeks ago he said the same thing when we saw the Disneyland Hotel on a YouTube video we were watching. Which got me thinking. Brett is a) the hardest person to buy gifts for, in the world EVER, and b) even harder to surprise. So I started looking into prices for two nights in one of the three Disney hotels. I knew it'd be expensive, but I figured it's his 40th, I know he'll love it, and I just adopted the 'life's too short' attitude.
Of the three hotels, only two of them have rooms with a theme park view (Paradise Pier and the Grand Californian), so I immediately ignored the Disneyland Hotel. As the Grand Californian was the one he originally showed an interest in, I priced up two nights, midweek with the premium view (theme park or pool area)… which, in my opinion, was huuuuuge amounts of money… we're talking over $1300. So I looked at Paradise Pier, and a premium view Club Level room was coming in at nearly $400 cheaper. Which left me in a bit of a tizz… I don't make even simple decisions if I can avoid them, and this one was massive. I needed a second opinion, and I knew the perfect people… Jon and Lisa (who go by DapperDisNY on here). They only stayed at the Grand Californian last year, so they should know if it really is worth the money.
The only way I had of contacting them, other than on the Dibb, was on Instagram… so I sent them both a direct message on there telling them what I was planning and asking if the GC was worth the extra $400. Jon responded almost immediately (which I really wasn't expecting considering they were in WDW at the time!) He said all three hotels are really close to the parks, but he would call them when he got home and see if he could reserve a room for me using his US Military discount. I only asked for their opinion, and here he was offering to sort it all out for me, and potentially save me quite a bit of money. I tried to argue, and told him it was too much to ask him to do all of that for me, but he was having none of it and two days later he came back to me with the (very heavily discounted) prices. After a bit of to-ing and fro-ing with me being my usual indecisive self, and asking Jon and Lisa's opinions, and phoning my mum and asking her opinion, I went with three nights in the Disneyland Hotel, with deluxe view.
I had originally planned to leave it until we were there to spring the surprise, but there's absolutely no way I could keep it secret until then… it's 4 months away! Hence the hastily prepared puzzle (which I knew would really wind him up
)
I guess all that's left for me to say, is a massive thank you to Jon and Lisa for their help in arranging all this… you guys are awesome
So that was our Friday night! Not long after Jo had explained all this to me I Facetimed Jon to thank him face to face (well… not exactly face to face, but as close as we're gonna get). We chatted for a bit about our plans for when we're out then and then Jon asked about what park tickets we'd planned on getting. This is again where Jon showed what an amazing helpful, generous and overall top bloke he is because he offered to purchase our tickets using his military discount (which again is going to save us hundreds!)
The following day we went to see our mate Viv at Virgin Holidays, and paid off the remaining balance! And that really is it (I promise!)
When looking at the number of views people have had on their California Trip Reports, it's clear to see that the Dibb is very much in the WDW TR camp. I'm hoping though that all of you that enjoyed our Florida TR will come read our West Coast adventure when it starts going up in early June.
As always, thank you for reading!
I love you byeeeeeeeeeeeeeee xx