Wednesday 22nd
We slept until 9.
We then had breakfast at the Boston Library café which was just across the road. We had a quick look around the library. The old part is just beautiful and the new very sleek and well planned.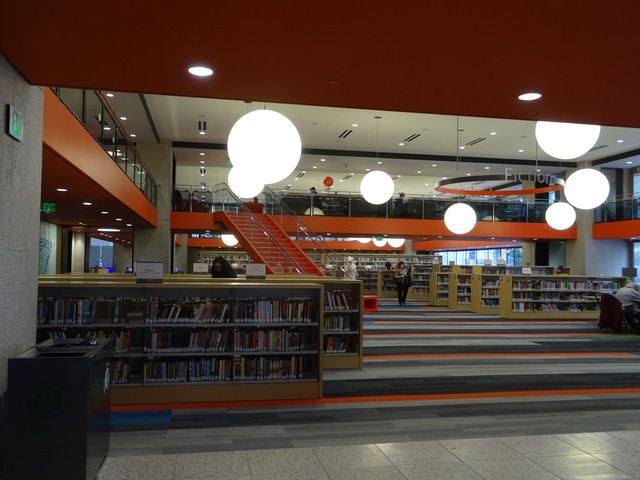 We then took the T to Harvard but not having researched or planned anything we found it a bit boring. DH wanted to go to MIT bookstore so we went there next. It was now raining quite steadily. DH wanted to browse the specialist computing books but it seemed they were only available if you had a booklist and knew what you wanted and not browsable by the general public.
Later on we took the T to Long Wharf and wandered around.
That evening we had a very disappointing meal at The Cheesecake Factory (I'd been looking forward to this so doubly disappointing). The service was poor and it took 30 mins from ordering to being told my selection wasn't available. We left before dessert despite still being a little hungry after eating my 2nd choice of meal. We tipped 15% although the bill suggested 22%.
Thursday 23rd August
It's our final full day. There are loads of things I still want to do but tiredness and apathy have taken over and we just can't be bothered. Finally we decide to visit the Tea Party ship.
After breakfast at the Library we took the T to State and then walked to the Tea Party Ship(s).
It was a very interesting (but a bit cheesy) 75 minutes. There were actors in costume playing the parts of major characters from the time. A lot less intimidating than the actors at Plimoth Plantation earlier in our trip.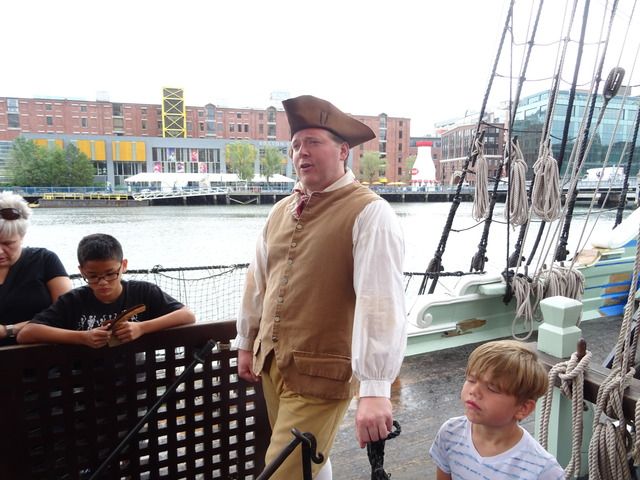 We had lunch at the huge South Street Station.
We walked back to the hotel via the shops. DH wanted to buy a Red Sox hoodie but we couldn't find anything he liked.
Back at the hotel DH and DD decided they'd like to visit the official shop at Fenway Park so I suggested they went off shopping while I tried to make some order out of our packing.
This is where my notes finish completely so I'll try and work out our final movements from our photos.

I do remember that the Lennox had a small business room where we could check in to our flight and print boarding cards free of charge.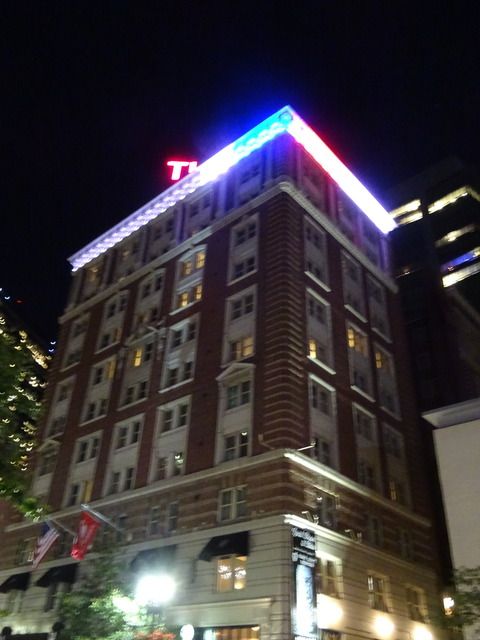 Friday 25th – Home Time
We had a final breakfast at the library. Then we did our final packing and left our cases in the luggage room.
We wanted to be physically tired before our flight this afternoon so went for a long walk to Quincy Market where we happened to see a dancing school performing.
Then we continued to Union Wharf and walked along the waterside until we reached North Church again. Here we noticed a memorial to the fallen in Afghanistan – each dog tag represents an American life lost – quite sobering.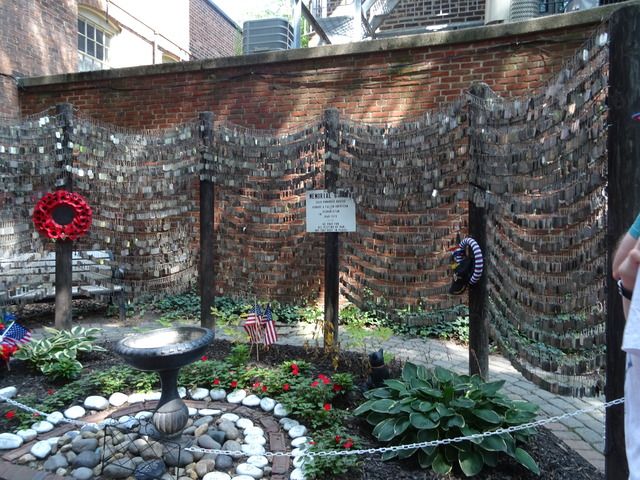 We then went back to the hotel to get our luggage. The porter got our cases and then hovered but we took so long sorting ourselves out that I think he had given up on a tip and DH had to find him before we finally left.
Once again the T was very quiet and our luggage not a problem. We got to the airport about an hour before bag drop opened (we have a habit of doing this – I'm so scared of being late) so sat around reading until it did.
At security it was DH's turn to hold us up. He had forgotten he was wearing a hidden money belt so had to have an extra pat down.
Once through security we went off to find some lunch – can't remember what but there was a small food court area where we ate it.
I know we looked around the few shops that were there but can't remember which side of security they were. it seemed to odd to be in an airport so close to the city centre that we could see buildings that we recognised from the window of the departures area.
Eventually it was time to get on the plane and say goodbye to America. 
Thanks for reading, and once again sorry at the delay for the final instalment.