Into Double Digits so I have been getting on with the detailed day plans - well, for the first few days at least
I thought I would also list our costs as part of the plan for anyone else thinking of a similar road trip .
The trip is an unashamed total food fest but I realised after the first few days that even we could only manage so much steak and fine dining
.
So we have agreed to alternate one night of fancy food followed by one night of casual dining. Easier on the waistline and the wallet too !
Onto the plans then
The Day Before
Booked in to Premier Inn Bath Road – got a fab deal. £94 for room and meal deal which is dinner and breakfast.
That feels good value.
Will cost us around £100 for the taxi to get there . Logistically easier though as we fly out of Heathrow and arrive back at Gatwick.
Spend night fussing about how dogs and kids will survive 19 days without me
Travel Day
LHR- ATL-DFW
We are going Virgin PE , row 19 so no window but close to the front for speedy exit
matching new cases purchased in the Debenhams Sale- very pleased with them being super lightweight and of course us getting 2 cases each in PE - so plan is Case in A Case on the way out.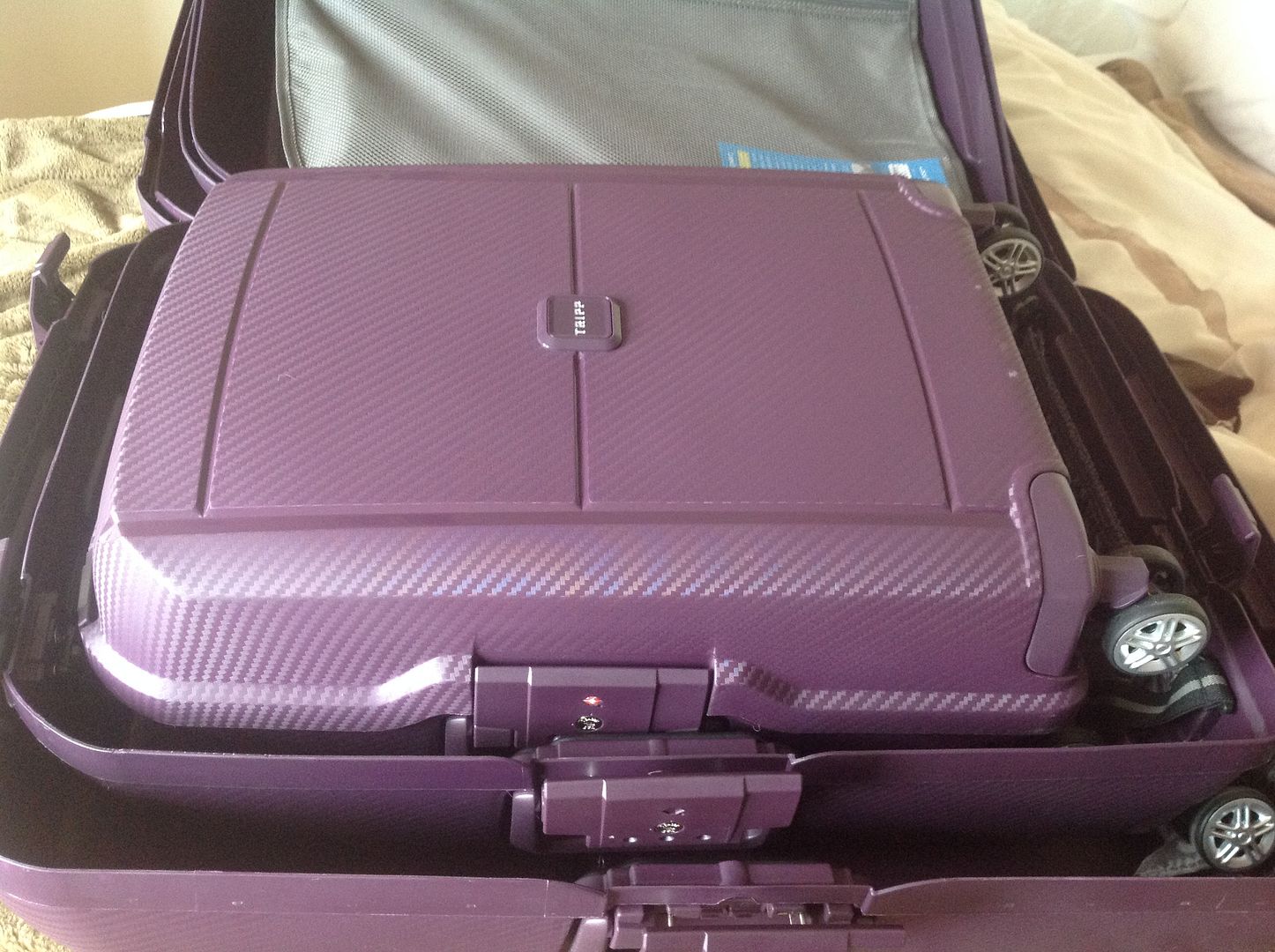 The flights were £878 each for PE both ways and includes Delta Comfort on the internal flight to Dallas . Would have loved to have gone Upper but not picking up a job quickly kind of put an end to that fancifulness !
I booked us into the bubble for the return home. I'm hoping Andy doesn't go all Mission Space claustrophobic in there !
A bit worried about the 2.2 hours connection time in Atlanta given recent reports of horrendous queue times , although there is at least one other DFW flight after ours so some fall back I guess .
Also got a bit concerned seeing Virgin changing flight times quite regularly – I am hoping they don't mess with the schedule !
We are due to arrive in Dallas around 7.30pm so should be at our super swanky downtown hotel an hour later – I am going to book the Super Shuttle for our transfer , its around $35.
We are staying at the Magnolia Hotel – in central downtown so easy to explore everywhere on foot . £360 for Deluxe Queen Room for two nights
Depending on whether we are hungry/ can face the walk it will be somewhere like Sonny Bryans Smokehouse for dinner or we will just pop round the corner to the City Tavern.
Day 1 Downtown Dallas
Breakfast at Cindis NY Deli – about 15 min walk from hotel and near Dealey Plaza.
Explore the area, Grassy Knowl / JFK memorial .
Walk back towards the hotel to Nieman Marcus, Pick up starbucks mug (!) and then on to Dallas Farmers Market to look around and snacks for lunch.
Walk back to Hotel via City Hall Plaza, maybe a couple of drinks and chill In the room for a bit .
Walk to JFK museum late afternoon for a couple of hours, then up to Hard Rock or HoB for drinks before dinner at YO steakhouse – the most intriguing menu – Rattlesnake chili pie anyone ?!
This is where planning definitely pays off – I had beautifully crafted this day with us visiting the JFK museum in the morning – only to find it doesn't open till midday on a Monday – crisis averted

Day 2 Shreveport and Little Rock
Early breakfast in hotel and then transfer back to DFW to pick up a hire car – gone for a large Chrysler or similar – Cost £440 for a week
– includes a hefty one way fee plus we are upgrading the roadside assistance when we get there.
Drive to Shreveport ( 3 hours). This is solely to see my Dad's elder brother. He has lived here for more years than I can recall – I first visited Shreveport when I was 12 and we went to see Southfork on a day trip – the tv show Dallas was all the rage back then ! We haven't seen him for many many years – ill health has taken its toll and prevented him and others from travelling
Anyhoo, we thought wouldn't it be amazing if we could drop in to see him and then facetime my Dad, my Aunt and my Gran while we were with him – so briefly re-unite them as a family.
Please lord let them all be still with us in September to make this happen.
It's a dog leg detour on the trip but after much discussion we both agreed it was the right thing to do .
From Shreveport its another 3 hour drive to Little Rock , tonight's destination
We are staying at the Doubletree in the centre of the town ( £160 one night, plus parking)
and plan to walk along the riverfront to Dugan's irish bar for dinner. Possibly via the cocktail bar en route ..

Day 3 Little Rock and Eureka Springs
Breakfast is planned @The Corner before visiting the Clinton Presidential Library – we loved the Reagan one so looking forward to this one.
I may then torture Andy with a trip to the Esse handbag museum , or we may just get on the road for the 3 hour drive to Eureka Springs
Lunch is planned on the way at Fat Daddy's BBQ in Russellville
Yes indeedy, they put meat on your buns dontcha know
It looks like a 4Rivers style place so we are drooling already.
Eureka Springs is another place I visited as a child – I want to go back and see if its changed – it's a totally quirky place and to be honest a really long way out in the mountains but its also quite beautiful so I am hoping Andy thinks its worth it
We are staying at the Palace Hotel and Spa (£145 one night) .
Ok, I make no comment and accept no responsibility for their somewhat phallic looking hotel sign
You can walk along the main street so we can leave the car.
Dinner is planned at the Grotto Woodfire Grill and Wine Cavern.
More to follow ...
Pictures are all courtesy of google images.