Last Full Day - Saturday 10th February.
Moi – Lana
Mon mari Alex – chief booker and provider of my dream break
Mon mielleur ami Siobhan – co-booker and secret keeper extraordinaire
Mon bon ami Brian, mari de Siobhan - Brian, Siobhan's hubby, all round good guy
We need to be at the Batobus water taxi on the River Seine by 10.30am. We are still eating breakfast at 10.15am, so much for good intentions. After taking the metro to Bir-Hakeim we walk to the batobus stop at the Eiffel Tower and pay the one day ticket of 12euros each. There is slight drizzle today but the air is quite warm and the wet conditions dry up nicely.
[IMG]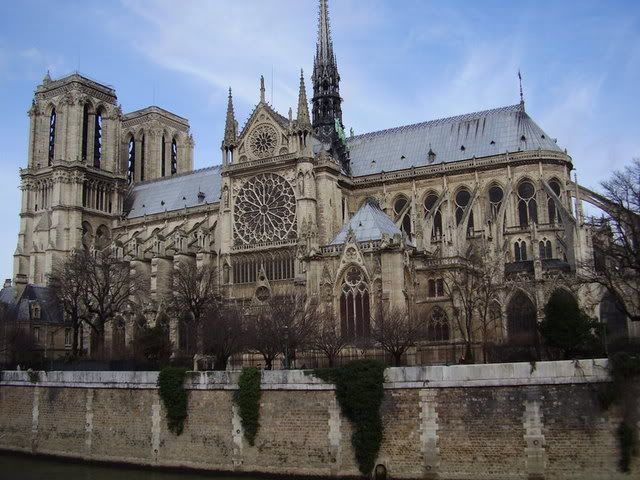 [/IMG]
Part of the original staircase to the kings kitchen in the Conciergerie, and a fireplace big enough to stand with your hand in the air and not touch the top mantle.
[IMG]
[/IMG] [IMG]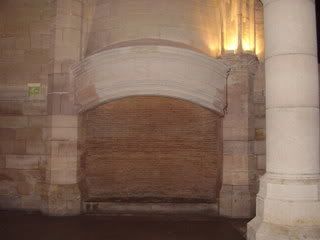 [/IMG]
We alight at Notre-Dame and head for the Conciergerie and St Chapelle on the Ile De La Cite. I'm keen to see the Conciergerie as it is where Marie-Antoinette was held before her execution. It's in the only surviving part of the grand palace that was built on the site around 987AD and the area from where the Paris we see today sprung from. Even though the island is quite small we manage to walk almost to the end without finding the Conciergerie. There are two armed police officers standing outside the imposing Law Courts so I decide to ask them directions. Alex tells me I'm wasting my time as then look too busy but they are also extremely good looking and a closer inspection is required for confirmation. Yes, they are very attractive and also very helpful offering to walk me to the building which is quite frankly ages away. It amazes me when people say the French are hostile and unfriendly. I've always found them to be the very opposite, very welcoming and always helpful. We chat about the city and where we are staying and I find it relatively easy to understand what they say if they say it slowly enough. They even agree to pose for a photo.
[IMG]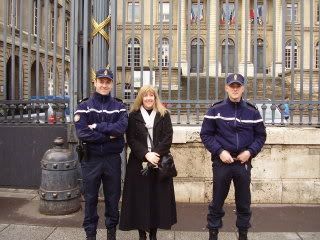 [/IMG]
The inside of the Conciergerie is less interesting than I thought and I find that the actual area Marie-Antoinette was held in was has been rebuilt but there is a mock up of her cell and a wall with all the names of the men and women beheaded during the revolution. Now for St Chapelle. We paid a fee to gain entry to both places but we need to queue and go through airport type security to get in as it is part of the Palais de Justice. It's a beautiful example of French High Gothic (if you like that sort of thing and I do) and was built in 1242 to house an assortment of relics.
[IMG]
[/IMG]
Happy now that Id actually seen it, we exit through high security armed guarded gates and cross the road for a late lunch. We decide to have snails in garlic butter and eggs mayonnaise followed by half a cow each. Steak two days in a row is very bad I know and I don't really eat a lot of red meat but it was divine and the cheapest lunch yet at 40euros. A coffee and a coke then back out to hunt down the masterpieces at the Louvre.
The weather is perfectly cool and dry that I end up carrying my coat most of the day as we meander down the banks of the Seine picking up curios and photos and it takes a good hour to reach the Museum. Alex doesn't really enjoy art exhibitions. It is a test of tolerance and devotion for him to agree to spend the rest of the day at the Louvre. The last time we were there we spent hours in the Musee De Orsay and just as I reached the cherished Van Gogh's on the third floor he demand we leave as the kids are bored ridged and he's about to fall over in boredom. Quite frankly I was so upset I cried and spent the rest of that day plotting revenge. But this holiday the kids are not with us therefore I should be able to spend hours drooling over every picture in every gallery – twice! We arrive and head in to queue to get our tickets. At 8euros 50 it the best bargain in Paris. After a 30 minute queue and suffering the queue being high jacked by two irate tourists wanting a refund, we realise that it is now 5pm. Now the quite unimportant shop round the corner from my house is open from 7am until 10pm. Its biggest seller is cigarettes and sweeties. Therefore I imagine since the Louvre, having far more important thing to offer than fags and kit-kats, will have a reasonable open and close timetable. I don't expect it to be closing at 5.30pm. Even Topshop stays open in Inverness until 6pm! But it's true I have thirty minutes to do a supermarket sweep type run of the floors I want to see which include the Mona Lisa, Venus de Milo, the French crown jewels, Egyptian antiques and other asst goodies. Rational thought prevails. Sod it; we will come back in October. Then as we are about to leave we bump into Shiv and Brian and they are just leaving. A cunning plan is hatched and we use their tickets, run up the stairs and sprint for the Mona Lisa room. We really are doing a supermarket sweep and I swear the security guard on the last room was Dale Winton. Ten minutes of staring at the vision in canvas is over, we run straight for the Venus de Milo which is temporarily moved to a room very close by whilst its gallery is done up. Brucey bonus! I run past what I think is the crown jewels room but then think I've got it wrong. By the time I realise I was right the guard refuses us entry as its 5.30pm. ******. Never mind. Feeling quite happy with ourselves we choose to walk back down rather than sprint as my boots have a heel and I've nearly already landed on my ass on the run up, we saunter out to find a bistro.
[IMG]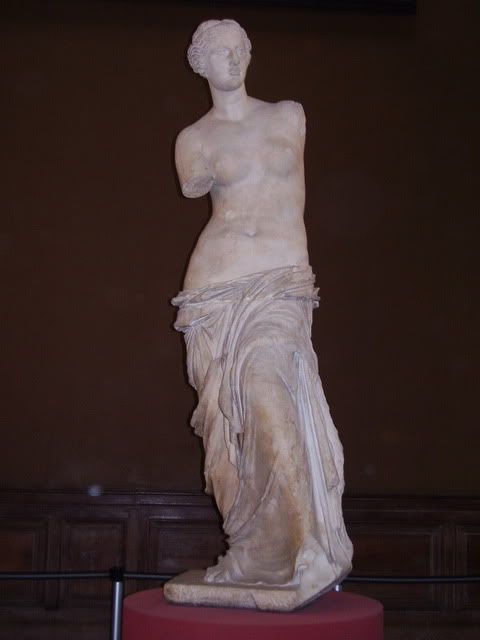 [/IMG]
We head back to the hotel past the gold tipped Obelisk from the temple of Ramses at Luxor on the Place de la Concord, then up the long walk through the Champs Elysees to the hotel.
There is a water fountain with kids pushing small sail boats around with sticks for a couple of euros a pop and it is quite sweet to see the pleasure on the wee tots faces.
[IMG]
[/IMG]
I forgot it was Saturday night and the place is heaving! It takes an age to reach the hotel and we have only an hour and a half to get ready for our final night out. We have a few G&Ts in the room with Brian and Shiv and eventually meet up in the lobby at 10pm with the boys trying their best to look suave and James Bondish. With Alex on the left and Brian on the right
[IMG]
[/IMG]
Now you have to forgive me as I didn't take down any names of any of the places we ate in because we stopped constantly for coffee and I gave up after a couple of hours trying to remember each place we had been. Alex and I are planning the Lido tonight after dinner for a bit of high kicking glittery booby dancing but as we pass we notice two tour buses of pensioners queuing to get in and quite frankly we decide to give it a miss. The champagne revue costs 80euros per person and they chuck in a half bottle of bubbly but we decide to save it for another time. We end up in a restaurant right across the road for dinner. We have to wait for 20 minutes to get seated which isn't bad without a reservation. More snails for starters (sorry but they are gorgeous) followed by fillet of salmon with crushed potatoes and a herb butter. Shiv has the same and the boys go for the meat selection platter with lamb, beef, chicken and pork with creamed potatoes and current jus. All washed down with a couple bottles of red wine. It is by far the best food I've tasted in years and it was just under 200euros. We sit there until after midnight. What a fantastic evening we all had and we stroll out and into the odd shop that is still open. Feeling a bit merry we stop for one more photo opportunity beside the Arc de Triomphe and a couple of equally merry teenagers throw their arms around Shiv and & I shouting "Photograph". Everyone is in great spirits and even though we are feeling knackered we hang about a bit more strolling around the star enjoying the atmosphere before heading back to the hotel and straight to bed, trying to ignore the fact that we have to go home tomorrow. I ate Alex pillow chocolate when he was in the bathroom, but said the maid didn't leave one out. Yes I'm evil.
special note for
Nicksgirl
-Just remembered when we came back to the hotel room I found Joaquin Pheonix lying on my bed waiting for me!
[IMG]
[/IMG]