Departure day - Sunday 11th February.
Moi – Lana
Mon mari Alex – chief booker and provider of my dream break
Mon mielleur ami Siobhan – co-booker and secret keeper extraordinaire
Mon bon ami Brian, mari de Siobhan - Brian, Siobhan's hubby, all round good guy
Although we have spoken to the kids many times during the holiday and each time they said they didn't want a gift I'm panicked that I've done very little in the way of gift shopping. This is mainly due to the fact that I hate to shop. We eat breakfast for the last time at the hotel and I feel quite sad that we are leaving. I also don't how I'll cope without a five course breakfast the next morning and someone making the bed every day for me lol. After checking out and thanking the lovely staff for making a great break into truly memorable one, we have them store our luggage and head out shopping. We need to meet back at the hotel by 2pm to walk the short distance to the bus stop that the Air France shuttle service leaves from. This leaves three hours to buy something for everyone that made this holiday possible for us. We get most of it in the first four shops we go into and agree to buy the rest at the duty free in the airport. French chocolate and sweets always go down well so we stock up for the kids. This leaves us time to spend the next hour and a half just wandering down whichever road we fancy. Back to the hotel for 1.45pm and one last coffee and after all our goodbyes we meet the bus and travel back to the airport sharing the photos we have taken and laughing at the really quite rubbish ones I take when I'm gubbed.
like this one of the hotel lounge.
[IMG]
[/IMG]
and this one of a liquid clock in some mall somewhere late at night
[IMG]
[/IMG]
Another delay with the flights so we check in with the self service then drop off the bags and head for the duty free. A few bottles of French wine later (that's the kids sorted out then) OK OK I didn't buy them booze but my mum and dad will love the chardonnay. Lunch of panninis (notice how we are weaning ourselves of snails and half cow) and coffee and we chat about the last few days.
Recalling some of the more bizzare shops we saw which included a shop that sold stun guns and fake security ID pouches (? ) the mind boggles.
[IMG]
[/IMG]
[IMG]
[/IMG]
And coming accross this wonderful poster advertising The Red Hot Chilli Peppers, which kicked off a hilarious story about Brian that Im under strict instructions not to repeat.
[IMG]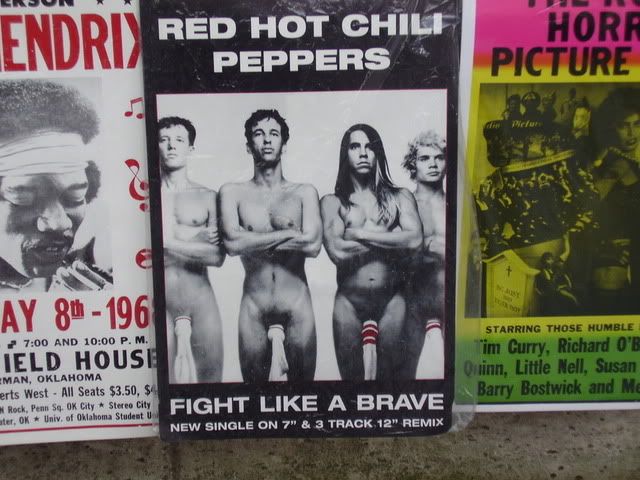 [/IMG]
The next few hours are a blur to be honest. We are all tired and fed up and the delay is starting to get to everyone. CDG airport is one of the most boring airports in the world suffering from an extreme lack of anything interesting to do. No-one wants to eat anything and everyone is sick of coffee. Eventually we go through the boarding gate and another merry security dance is had by all. At least it's a proper plane this time with three seats each side and wide comfy chairs and adequate head height for the folk over 5ft 2". We all sleep until we reach Birmingham then decamp, go through security and get back onto the same plane into the same seats and fly back to Glasgow. With all the delays we arrive back in after 9.30pm and head to collect the car. The idea of staying in the Holiday Inn one more night and driving up to Inverness early the next morning starts to take shape but they are charging £89 for a room tonight as its coming up for Valentines (? ) whatever the hell that has to do with staying on the 11th a full three days before valentines. So we collect the car and Alex drives us back home. He is totally exhausted and we arrive bleary eyed at our front door after 1am. DD has waited up for us (my mum went home at 9pm as she was working on Monday), if only to list all the chores she has had to endure and tell us how wonderful she is to look after her brothers to let her gran go home. We don't mention that they have been asleep since 9pm and she has been on bebo for 4 solid hours lol. Its wonderful to see her and she even allows us one kiss and one short hug each, not bad from the girl that doesn't do parental affection. Stealth mode into the boys room to see them sleeping then its straight to bed as I'm in work early the next day, err make that today. How wonderful does your own pillow and duvet feel after a holiday?
So that was it, my Christmas pressie done and dusted and more fantastic memories than you can shake a police baton at mmmmmn men in uniform.
Time for one more gratuitous shot of Parisian hunks with big weapons.
[IMG]
[/IMG]
We have decided to take Katie back there for her 18th in October as a surprise. We would definitely stay in the city centre again as everything is so easily accessible and February is pleasantly busy although not too mad. I've unpacked (glad to see Alex didn't pack the bathrobe he was eyeing up). I've found 2 unused metro tickets and a few odds and ends Id forgotten Id bought.
Incidentally, do you like my new shoes?
[IMG]
[/IMG]
Did I pick them up at a posh boutique on the Champs Elysees where you need a black American express card just to get in the front door? Did I take out a second mortgage to fund this outrageously gorgeous pair of shoes that passers by knelt down to worship beside, so taken were they by their beauty? Nope, they cost £5 in the Newlook sale, so occasionally I do quite like to shop but don't tell anyone.
All I can say is Alex liked them.