Day 5, 28 September : Cruise on Lake Powell and visit to Antelope Slot Canyon
Hurrah! Had a lie in today – 0350!
Finally
time to head down for a quick breakfast before boarding our boat for the cruise on Lake Powell. We couldn't face the full buffet brekkie today, so just had a Danish, apple, muffin and coffee. Dana gave us all our tickets and at least we were first in the queue and there was no way Rose and I were going to let Mr Front-of-the-queue get past us!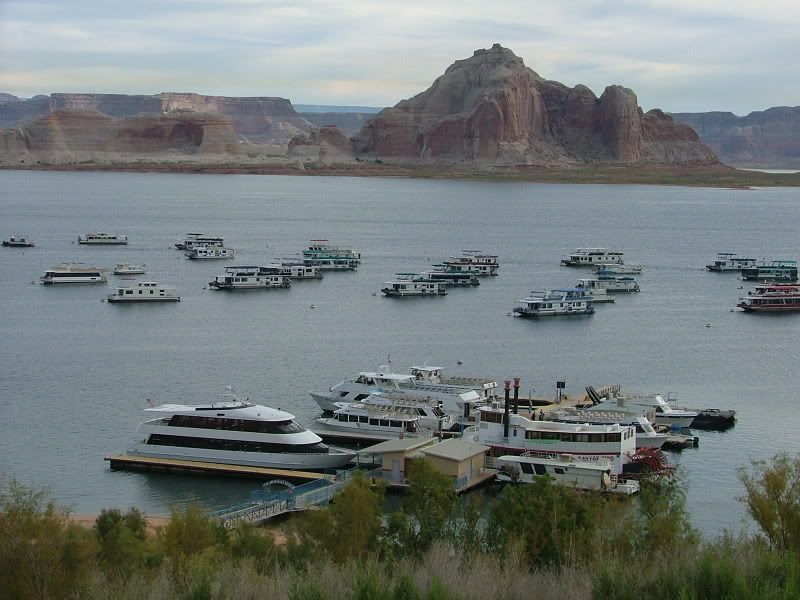 Grabbing ourselves prime seats on the top deck, we were soon ready for the off and heading up towards the Glen Canyon Dam.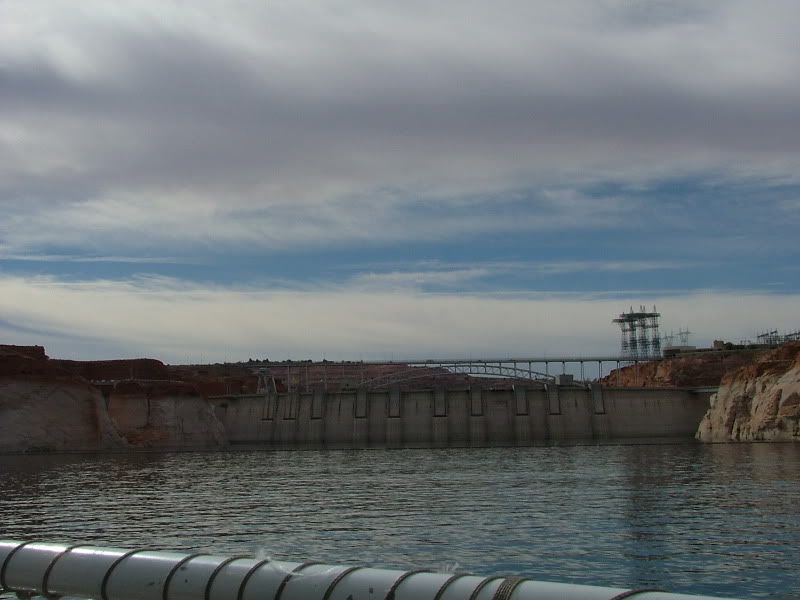 It is truly spectacular scenery on both sides of the lake and each and every twist and turn gives a different view. It was quite breezy on the water and we actually had to put jumpers on! Having had a chance to get up close and personal at the dam, we headed back out onto the lake and on to Navajo Canyon. It's a bit like the Grand Canyon in that words really cannot do it justice. It is all so breathtakingly beautiful. The layers in the rocks reminded me of a Cadbury's Flake!
We were shown a Tapestry Wall – this is where rain has washed down through the different types of rock and all the different minerals, mixes with the various bacteria and draws the colours right down to the water. It's almost like chocolate sauce poured over ice cream!
Apparently, a Tapestry Wall only qualifies if the cliff face is flat, there is an overhang at the top and the streaks go all the way down. It is a truly spectacular sight.
There is a new marina being created here which will not be complete until some time next year. When it's finished there will be about 1,000 berths. There's a huge amount of houseboats already moored here which apparently are mostly timeshares and people come here for the water sports or just to relax and enjoy the views.
From here we went on into Antelope Canyon. It is so narrow that you can almost touch the cliff face in several places. These guys had found a good spot - but didn't look like they were having much luck!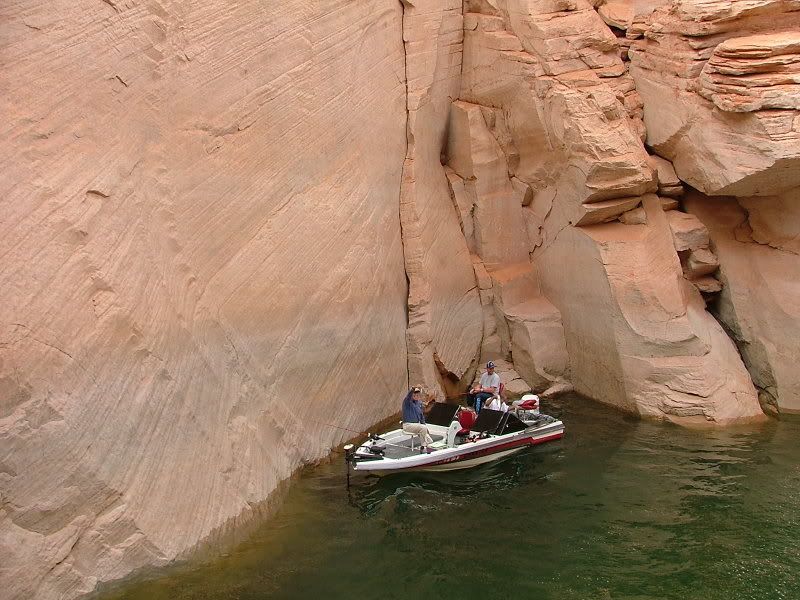 Within this canyon is another tapestry wall – not quite as big as the one we've just seen in Navajo Canyon, but impressive none the less. We travelled as far up this narrow, twisting part of the canyon as we could and it's hard to believe that as late as the early 1960s, before the Glen Canyon Dam was created, this was canyon
land
! In fact, several westerns were filmed here and had John Wayne & Co galloping across the canyon floor!
Later this afternoon would be visiting the other side of Antelope Canyon, some 13 miles away. This is where we would have our Navajo guide and flute music.
Our skipper manoeuvred our boat skillfully around and we made our slow, careful way back to our starting point. By the time we had landed back at the dock, the weather had really warmed up, so off came the jumpers! There was just about time to go back to our rooms for a quick pit stop and then we were on the coach and heading to Page for a lunch stop and a quick visit to WalMart! Not wanting to eat too much, we settled for a Subway each. We could choose from several different types of bread – we both had Italian herbs and cheese – and then a huge choice of fillings and toppings. I had turkey, cheese and salad and John had roast chicken, cheese and salad. We managed to find a couple of seats outside and scoffed our faces! As we left for a quick tour of the Navajo supermarket, there was a bit of a commotion - one of the Titans had fallen backwards off the bench. Not sure whether he had not realised there was no back to the bench and just lost his balance, or whether he'd passed out or what. But he seemed OK, just bruised.
There wasn't much we wanted in the supermarket considering we'd be in WalMart in a few minutes, so we settled for some fruit. We got back on the coach, which took us literally across the road! However, Dana said there was no way she'd want any of us trying to cross the multi-lane highway where traffic is very fast and there are no crossing points! Shopping over, it was back on the coach and we headed off to our Antelope Slot Canyon tour. We arrived at the tour headquarters and before too long we were being loaded into 4 x 4 vehicles driven by our Navajo guides. Remember way back in Scottsdale we were told about Chief Tsosie? Well that's just the name of the tours! And we seem to be a group of way more than 5 or 6 - like there's about 40 of us!
It was about a ten-minute drive to the entrance of the Reservation and access is not allowed unless you're on one of these tours. The first stage of our journey took us across a bumpy, sandy, track. Michaela, our driver, told us that this was a 'Wash' - a bit like a dry river bed -and it formed the 'overspill' in the event of a flash flood. Apparently there had been a pretty bad flash flood about 5 weeks ago, with the canyon becoming flooded to a height of about 60 feet and the flood-waters reached speeds of some 35 mph.
The remainder of the journey now took on the characteristics of a race! Someone overtook Michaela and she then took a slight diversion in order to cut back in front! As we arrived at the entrance to the Antelope Slot Canyon, Michaela managed to get our truck stuck in the sand! Despite the fact that it's a 4 x 4, she couldn't get it to go either forward or back. We all had to get out and one of the other guides got in and pretty soon had it freed! We were now introduced to our guide, Nathan. He was carrying a native flute and would be playing to us during our walking tour through the canyon. Don't think he was a Chief, though! I'd had visions of a grizzled old Indian Chief in full buckskins and headdress! And here's Nathan in shorts, T-shirt and trainers! But, who cares? This is AWESOME!
What an incredible sight and we realised we had to enter through the narrow crack in the cliff. Now we understand why it's called a 'slot' canyon! It's so beautiful in here and so cool.
Nathan led us through the most amazing creations, telling Navajo stories including the creation of the galaxy - a grandmother was given a basket of stars and she had to place them in the sky. But when she wasn't looking, a coyote stole the basket of stars and just threw them into the sky and that was the creation of the Milky Way. He played a haunting melody on his flute and the acoustics in the canyon made it a truly wonderful experience. Nathan led us deeper into the canyon, pointing out the most fantastic 'corkscrew' – how can this possibly be just erosion?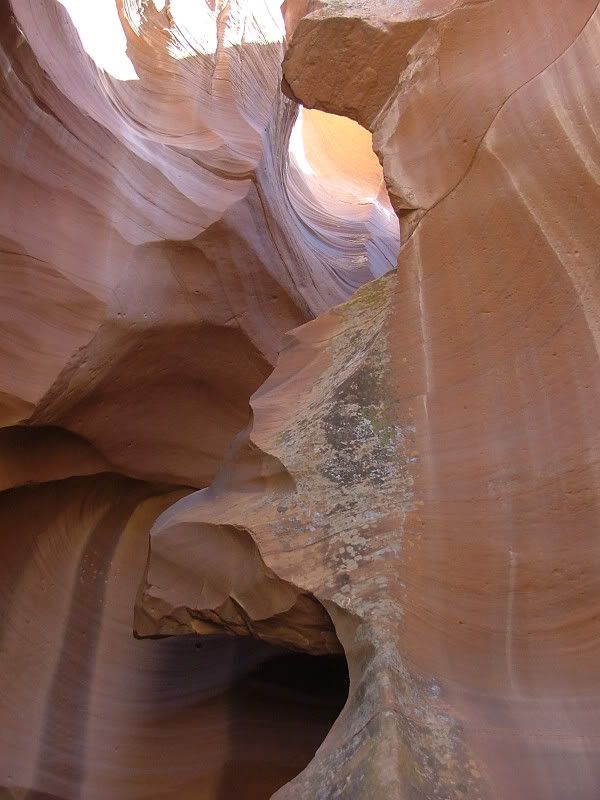 We were all lined up against the canyon wall listening to Nathan tell his stories and play his music, when there was a bit of a kerfuffle and a cry for help behind us! Remember the old chap who fell off the bench at our lunch stop? Well, he had collapsed and his poor, tiny, frail wife was trying hard to support him. Dana and one of the guides went to help and John stayed behind and more or less had to carry him back to the entrance where some of the other guides were waiting and they took over. Apparently, they suggested taking him either to get checked over by a doctor or back to our hotel, but he refused and decided to sit in the shade and wait for the rest of the tour party to return. The general consensus was that he really should have been taken to hospital. One of the Titans said she was pretty sure he'd cracked his head when he fell earlier and his wife thought so too, but he wasn't having any of it!
John soon caught us up and as we made our way back into daylight at the far end of this amazing journey, Nathan had us gather round and told us tales a group of Navajo known as Shadow Wolves. They have been involved in many drug busting operations on the Mexican border and have so far stopped over 100 ton of drugs coming into the States. Another of their missions has been to try and find Osama Bin Laden and they have recently succeeded in tracking down several of his right hand men, having them arrested and handed over to the relevant authorities. He told us of the Navajo code breakers of the last War, the Windtalkers, and said that this group, together with the Shadow Wolves, are some of his heroes.
Wait a minute! What's that? - an eavesdropper!
Nathan has a great pride in his heritage and is happy to talk about his beliefs and answer any question as honestly as he can. It is not hard to see why the Navajo find these places so spiritual! It's only a shame that the vast majority of visitors do not treat it with the respect it deserves. Why is it that despite being asked not to use flash photography, most of the tourists seem to think this won't apply to them?
It was time to head back through this awesome place and return to our jeeps. Once we were all loaded back in, Michaela shot off getting a head start on the others! We were racing back across the Wash, zig-zagging from side to side to make the most of the ruts and ridges! I reckon that she must have quite a lot of fun with the tourists by doing this sort of thing deliberately! She bummed out on this trip, though, because we were enjoying it and encouraging her!
Back at the hotel we returned to our room for a quick freshen up before heading back outside to wait for the sunset. Found a quiet spot on a bench and waited…………….. and waited……….. and waited ……………! No glorious pink sunset tonight! The sun just disappeared behind some clouds and that was that! How bloody typical!
We headed off to our dinner reservation at the Rainbow Room. Tonight we had: me and John - Lasagne with salad or soup (black bean and hamburger?!
) starters. Rose had salmon with the salad starter. Pete had NY strip steak (again) with the soup starter. We spent a pleasant hour or so chatting and scoffing and then after a brief visit to the shop for more bottled water, headed back to our rooms in search of a good night's sleep! But, will we find one ...