Day 6, 29 September : Monument Valley – yee ha!
... no, a good night's sleep has eluded us yet again! It was more of the same – awake at 0340 and then that's it, although John obviously managed to get some more sleep as he was snoring fit to bust! Coffee made by 0500 and a yoghurt eaten!
Today we're heading out to Monument Valley – but so far Dana has heard nothing about the horse riding. She says she can only get their voice mail and has so far left them 2 messages. Oh well, what will be …….
Cases packed and outside for collection and off to breakfast! Just time to nip back to the room to grab our hand luggage and then on to the coach and away!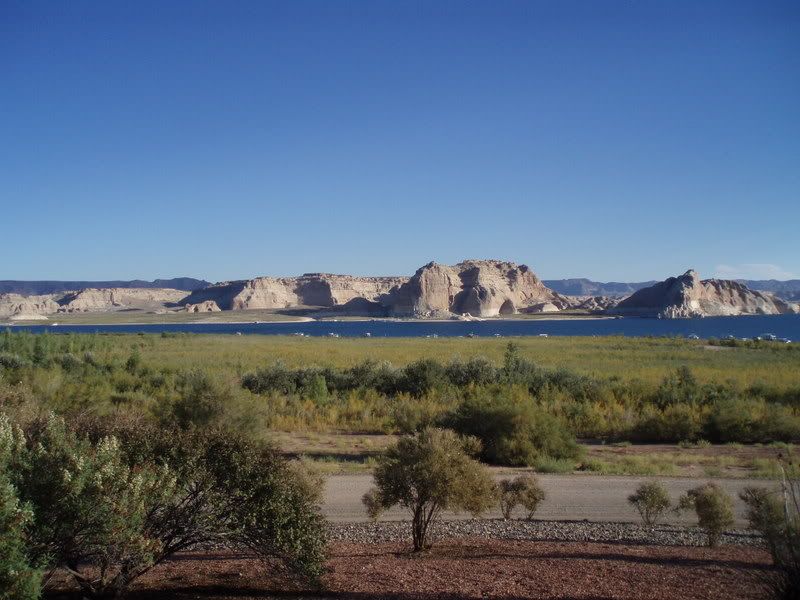 We stopped off at the Glen Canyon Dam Visitor Centre and took some photos. Several wanted to go in and have a look round, but we decided that we'd pass this by and walk across the bridge instead. The coach would pick us up on the other side. The views on either side of the road were incredible. On one side there was the dam itself and Lake Powell behind and on the other side was the river gorge. There were several 'letter box' type slots in the chain link fencing, which gave us a chance to get photos without the mesh effect of the fence spoiling them.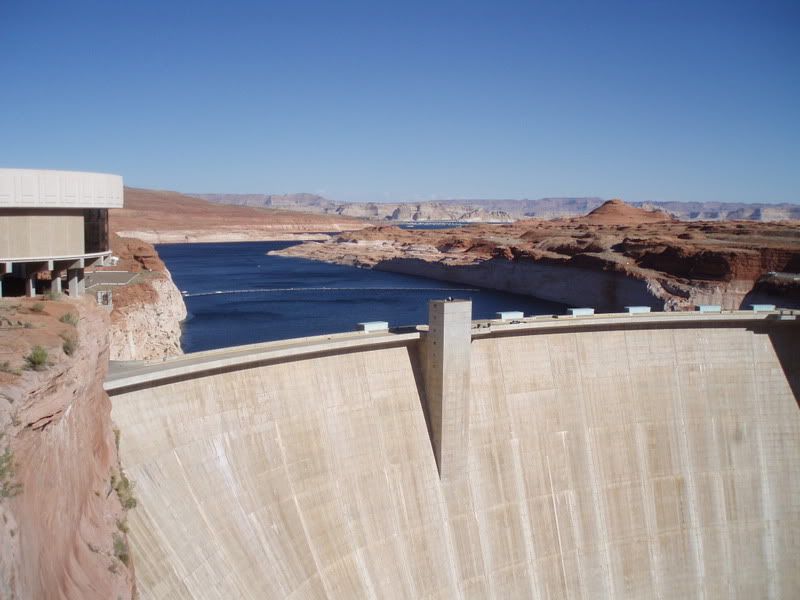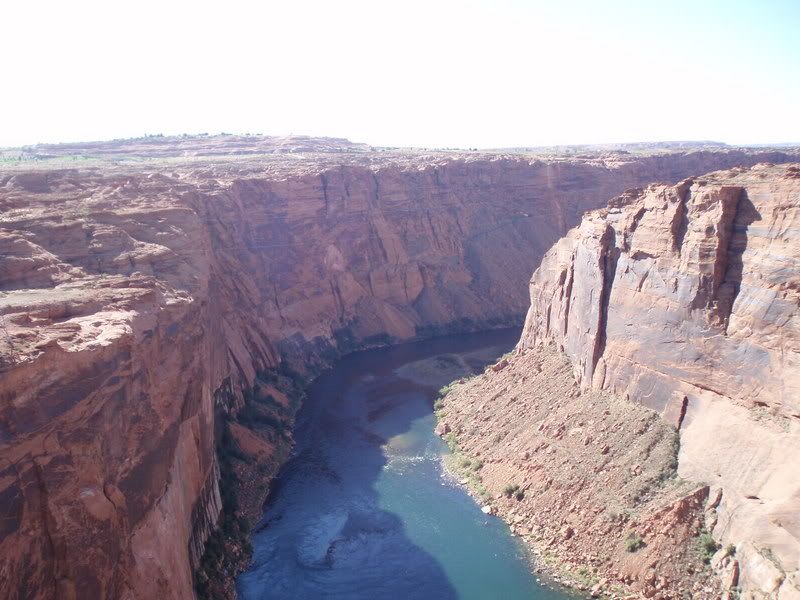 Back on the coach again and, oh dear, Dana announced that the hotel, Gouldings Lodge, at Monument Valley is 'dry' because it's on Navajo land and they have a 'no alcohol' policy. But, although alcohol is not sold anywhere on site, guests can still bring their own for drinking in their room. So, she said if required we would do a quick supermarket stop so that anyone wanting booze could stock up. I think there were only about half a dozen of us left on the coach!
Then we were off to Monument Valley and were travelling through the most incredible scenery. As we crossed the State Line into Utah, we had to put our clocks forward an hour as the Navajo nation do not operate 'daylight saving time'. So we are now only 7 hours behind home!
We stopped off at Kayenta for lunch at Burger King and before you all go 'yuk', the reason was that there is an exhibition to the Navajo Codebreakers (the Windtalkers) inside. There is also a replica Hogan house, which is an amazing structure. It looks similar to an igloo, but it's built of wood which is 'locked' together without any nails or bolts, purely by interweaving the logs. The outside is then covered with mud and it is quite cosy inside! But, if it should rain (a pretty rare occurrence here!) they have to replace the mud covering.
As we drove in to our lunch stop, we could tell that the wind was really getting stronger. It was blowing red sand everywhere and before long we were all covered in a gritty red layer of dust! The nearer we got to our hotel, the worse the sandstorm became! But, what an unbelievable sight – here is the very scenery that is so familiar from so many Westerns and we are right in it!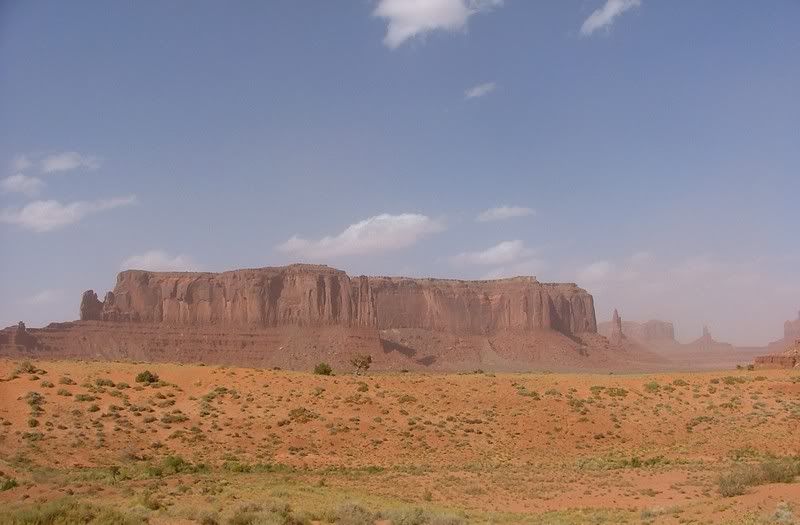 And an added bonus, Dana finally managed to organise our horse ride! This would take place later this afternoon after we'd been on our jeep tour. We arrived at the hotel, which is literally at the bottom of a truly majestic butte. Our room is on the ground floor and when we went in and saw the view from our balcony – well, it doesn't get much better than that!
We had no time to unpack, but headed straight out again and onto our jeeps and set off for the Navajo Territory. What a ride! There were dust devils everywhere and despite the roll-up clear plastic sides having been pulled down, the wind and sand got absolutely everywhere. Pete's white hair has turned a very fetching shade of red! We made several stops, including one to a female Hogan house, where an elderly Navajo lady was sitting on the floor and would demonstrate the entire process of weaving, starting from carding the wool, spinning it, dyeing it and finally weaving the beautifully patterned rug. These traditional patterns are not written down anywhere, but are kept in their memory and handed down from mother to daughter through the generations. Rugs can take anything from a couple of months to a couple of years to complete, depending on the size and pattern. They are truly beautiful. Our guide explained about the female Hogan house's shape being a representation of the belly of a pregnant woman and the house itself can take up to 9 months to build. They sometimes have to bring wood from up to 90 miles away, although now they transport it by pick-up truck!
She also told us about the cradle-board, which consists of a board with a beautifully woven container and a carrying handle. The baby is swaddled and placed within the container and this can be used for about a year. Each aspect of the cradle-board represents different elements of family life; the foot of the container represents the earth and therefore the baby's feet are touching the earth ready for its first steps.
We went from here past the inevitable jewellery sellers – exquisite pieces, though! – and all the other tourist bits and bobs and back into the jeeps for yet more fabulous panoramas. Our guide told us that when John Ford was approached by Henry Goulding and shown photographs of Monument Valley in an attempt to bring the film-maker there, Ford did not believe the photos were real! I can certainly believe that! The views here are so amazing it is indeed hard to believe any of this is real! It's utterly breathtaking and easy to understand why the Navajo consider it sacred ground.
As we continued our journey through this incredible place, we learnt about The Guardian, the Gateway to Monument Valley; the Coffee Pots; the Three Sisters; the Totem Pole and the Money Tree. It's almost sensory overload. And all the time we are being sand-blasted and becoming redder and redder! But, as Nathan explained to us yesterday, the sand is a wonderful exfoliant!
Our two hour tour over, we headed back to Gouldings Lodge and it was time to head straight back out for our ride! As the Navajo are not allowed onto Goulding Lodge land (although all the staff here are Navajo, so we couldn't quite figure this out!) we had to walk back down to the road. We were met by Tito and once we were all loaded us into his van, we set off back the way we'd just come - to the Navajo Territory!
Continued ...