STATEROOM CHOICE
If you ask 10 people what their choice of room is, you will probably get 10 different answers.
1.
COST
First consideration is normally to select a category (or Cat) of cabin according to your budget.
There is a significant difference in price between the lowest cat 11c inside cabins and the highest cat R suites and so the cost will, for most people, be the most important selection criteria.
Note however, that until you reach a cat T or above there is not a great deal of difference in cabin size between these lower Cats ... cost differences in the lower Cats largely reflect room features ie. whether there is a split bathroom (whether or not the toilet & the shower/bath are in 2 separate rooms within the cabin), a porthole window/a verandah (there are two different types) etc etc and how high up you are on the ship. Generally, the lower the Cat the higher you will be up the ship's decks.
For parties of 4 people or more, sometimes it is cheaper, or no significant difference in cost (and roomier!) to book two of the same cabin grades, or two of the cheaper cats that connect (via a connecting door). Certainly this is often cheaper than booking one higher Cat cabin, such as a Cat 4 and above, that will sleep the whole party. Remember that when booking 2 cabins, you must have one adult aged 21 or above registered in each cabin. Sleep where you want once onboard, but for booking, you must have 1 adult in each room.
Another alternative would to be to book an outside cabin, and also a cheaper inside cabin in the hallway directly opposite (the hallways are only 3ft or so wide, so they are in close proximity).
People with older kids often prefer to book two cabins in this way to gain more room and access to their own TV channels!
It is often debated as to whether it is more sensible (and its cheaper) to put older children in an inside cabin opposite your porthole/verandah cabin - people with verandah cabins may also argue they don't want an interconnecting verandah cabin as they would not be happy with their kids having their own balcony - though it should be pointed out that in over 13 years of sailing DCL has never lost a child over board!
Cost, peace of mind and the character of your children, will probably already dictate the right choice for you.
Apart from the relative costs between each cabin category, three other factors have a major bearing on cost;
a) The time of year you cruise (value seasons are: end Sept to beginning Dec and Jan to March. The major holiday periods excepted).
b) How early you book. The earlier you book, the cheaper it normally is. DCL usually release bookings about 18 months before sail date. From that date on, prices (according to demand) will normally rise steadily and some Cats may even become unavailable.
NB. DCL cruises are rarely discounted (and usually only to Florida residents) - most sail full! In the unlikely event of a price decrease, you can actually ask your TA (if you've used a US one) to apply the lower price to your booking, but you do have to ask, it would not happen unless you point it out to them! Some of the good US TAs will keep an eye on this for you too.
2)
OUTSIDE v INSIDE
Having daylight and a view, or not having daylight and a view, may also be another big consideration in your choice of cabin.
You may want to consider how much time you think you will be spending in your room, how much daylight hours there will actually be to enjoy (ie there will be a lot less in winter than in the summer), how claustrophobic you might feel, how long is your trip (ie are you going to get enough time to appreciate the views/daylight on a short 3 or 4 night cruise?), would you actually benefit from no daylight, if you have young kids requiring afternoon naps?
On the Dream and Fantasy, the inside rooms are now approx the same price as an Oceanview cabin .. this is because they have virtual portholes. Every 30 mins or so, an animated Disney character will pop up on the 'window'. When the character is not dancing about on the window, it shows a real time view from the Bridge. You can switch it off too for complete darkness. (photos at bottom of thread)
3)
LOCATION, LOCATION, LOCATION
With a bit of prior thought, choosing a cabin location that suits your needs and interests will make your trip all the more enjoyable.
Some popular location considerations to be near when selecting a cabin:
Midship - allegedly better for the sea sickness prone / central to all activities
Kids clubs - if you have kids - less hassle collecting them, and getting them back to your cabin for bedtime!
Free drinks station /buffet restaurant - for ease of bringing consumables back to room if desired
Elevators - less walking down corridors
Laundry facilities - could be handy, but could be noisy
Pools or other leisure facility - depending on personal preference
End cabins - less corridor traffic/less prone to noisy and/or (in the case of verandahs) smoking neighbours
'Secret Deck' - there is a small secluded public deck on the Wonder, deck 7 aft - this is little known/used, and can form a handy annex to any cabin located nearby.
Larger verandah - Careful study of the DCL deck plans show that some of the verandah cabins near the back of the boat have slightly larger verandahs than normal.
4)
CABIN REPORTS/REVIEWS
Check the unofficial individual cabin or stateroom reports that exist on many websites. Make sure you are not going to be in a noisy cabin or one that has had problems with fixtures & fittings. Find out how previous occupants have rated the stateroom you intend to book.
Remember that DCL do not recognise any cabins unofficially deemed 'bad' or noisy by its guests.
5)
SECRET VERANDA/PORTHOLE ROOMS (CLASSICS)
Magic and Wonder only.
If you are looking for value for money, There are six cat 10a cabins that are actually a cat 9a with a porthole, but have been reclassified because they have a partial obstruction to the view. These are all located on deck : #5020, #5022, #5024,#5520,#5522 & 5524
There are also four cat 7a navigator's veranda's that are reclassified cat 5s with perspex verandahs, also due to partially obscured views ; #6134,#6634,#7120,#7620
We have stayed in 6634 and it's such good value that we have booked it again for our cruise in 2014.
These are difficult to bag ... but represent excellent value for money if you can get them... remember people often book cruises, and then cancel or transfer them due to the generous refund terms, so they can become available at any time up to 75 days out. Always worth asking about them if you are interested!

Dream/Fantasy only
:
Categories 7A have the steel obstructing part of the balcony opening. Categories 6A & 6B have the steel railing so you can't look through the railing part. Category 5E also has the steel railings and some of these rooms do not have split bathrooms. There are some rooms that have single bathrooms. They are the wheelchair accessible rooms and most of the corner rooms on the back of the ship.
The category 4E is on deck 5 and has very large balconies. The rooms are the same size as the rest of the category 5 staterooms (except 5E). The only difference between 5A, 5B, 5C and 5D is the deck they are located on. Categories 4A, 4B, 4C and 4D are all the same size as each other and the only difference is the deck they are located on. The category 4 rooms are larger than the category 5 rooms as they have an extra bed in them (a Murphy bed at the end of the sofa). They can sleep up to five people.
An inside cabin on Magic/Wonder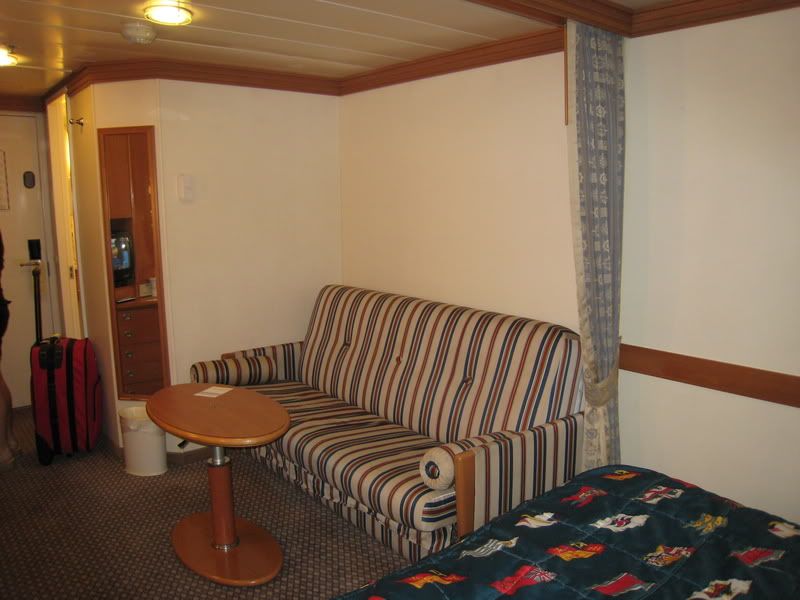 Veranda on Magic/Wonder (Cat 6 .. perspex veranda)
Oceanview Stateroom Cat 9a on the Dream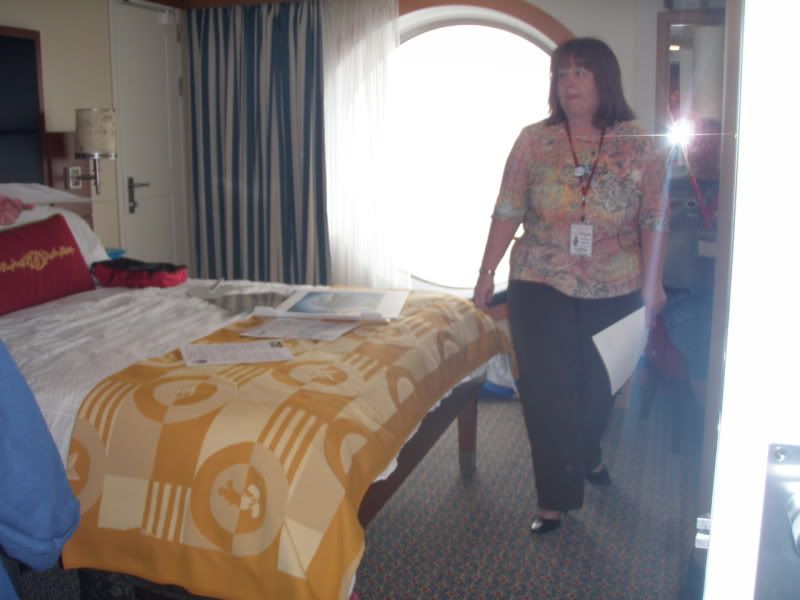 A Virtual Porthole Stateroom on Dream/Fantasy (inside rooms)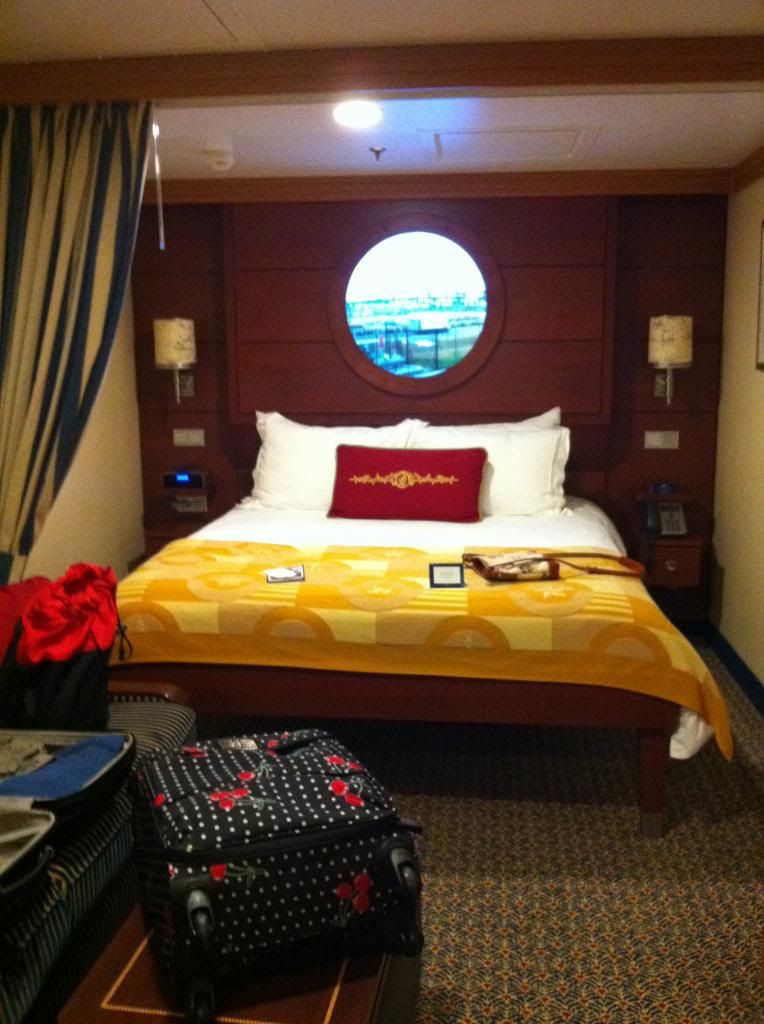 Video of the character popping up ... main appearance is at 30 seconds.
s244.beta.photobucket/use...e8c75.mp4.html
And then there's Concierge!
For the well off, or those celebrating something really special, you can choose to stay in the Walt Disney Suite (light coloured wood) or Roy Disney Suite (dark coloured wood). On the Magic and Wonder, the Royal Suites are both 2 bedrooms, with lounge and dining areas, 2 bathrooms, a wet bar and kitchen. On the Dream and Fantasy, they're only 1 bedroom but you do get a private hot tub on your massive balcony!
There are also 1 and 2 bedroom 'normal' concierge available on the Magic and Wonder, but on the Dream and Fantasy, you have a choice of 1 bedroom or a veranda room in concierge.
Walt Disney Suite on Dream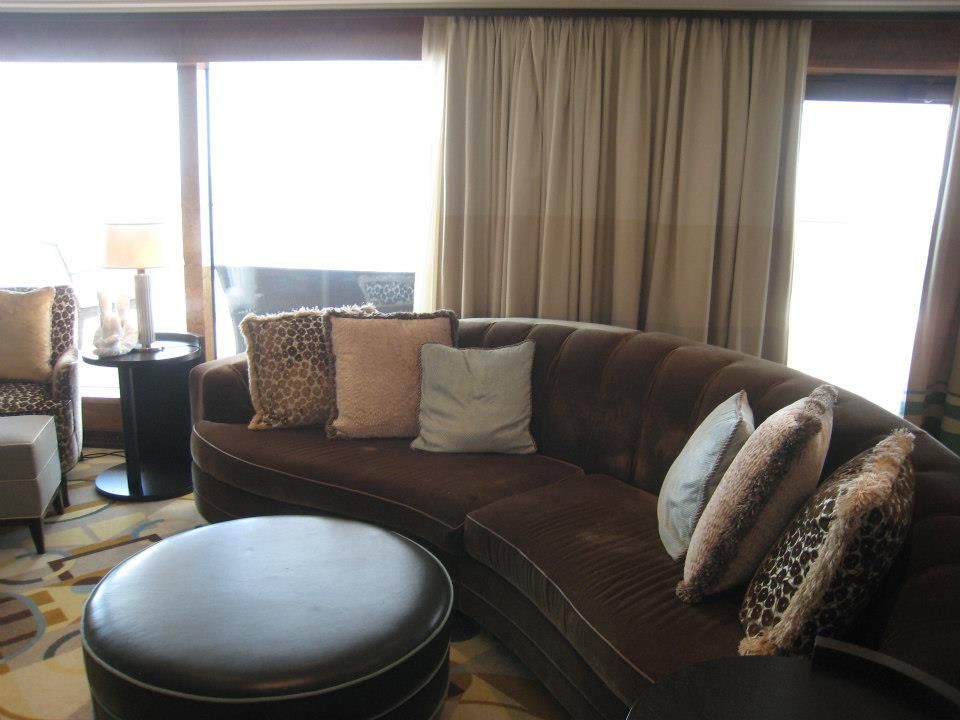 Concierge Stateroom 12506
(larger balcony as on a bump out part of the ship (Fantasy/Dream). Other 1 beds on bump out are: 12006, 12012 and 12512. Family concierge rooms on bump out are: 12008, 12010, 12508 and 12510.
The 1 bedrooms all have a queen size bed, double sofa bed and single pull down from wall bed. The bedroom/lounge are separated with slide doors.
And the Concierge sundeck on the Fantasy/Dream .. sorry Magic/Wonder cruisers, you don't have one! You can get sunblock (spray), bottles of water, ice cold flannels and posh towels up here!