Huge thanks to Heather (Scarecrow) and Joy (JSP) for doing this report on Carnival. You're stars!
Carnival is for everyone, youngsters, oldies, mid oldies, kids. It offers excellent value for money. The fleet is so large it's difficult to do a breakdown on each ship. All of the photos in this thread are from The Breeze and Sunshine, but you will find info on other Carnival ships too.
Full deck plans and where they sail to can be found on Carnival.com. Unlike DCL, they tend to relocate their ships around various ports. Their Floridian ports are Miami (the main one), Jacksonville, Port Canaveral, Fort Lauderdale and Tampa. Cruises vary from 3 to 15 nights, including repositioning ones, and occasionally transatlantic too, usually to bring home a new build.
Check out their latest offering in the Med 2016, Carnival Vista.
Carnival Vista: Meet Our New Ship - YouTube
youtube/watch?v=T_JZhBv-J2k
What's included for FREE!
Food in the main dining rooms (MDRs) and the Lido restaurant, 24 hour room service (exluding alcohol, soda and maybe bottled water). Lemonade, coffee, tea, water also free.
nb: For the Spa Carnival menu, you have to have spa access.
Toiletries in you stateroom bathroom. These can change from ship to ship and cruise to cruise, but generally will include soap and a small toothpaste. In the shower, you will always find shampoo and shower gel, but no conditioner.
All youth programmes apart from Night owls (see below)
There is a baby sitting service available (costs a little extra I think) from 10pm-3am
Camp Carnival, ages 2 to 11
Night Owls - Ages 11 and under, for a nominal fee the kids can go to this until 3am.
Circle C - ages 12-14
Club o2 - ages 15-17 – here's a snap from Club o2.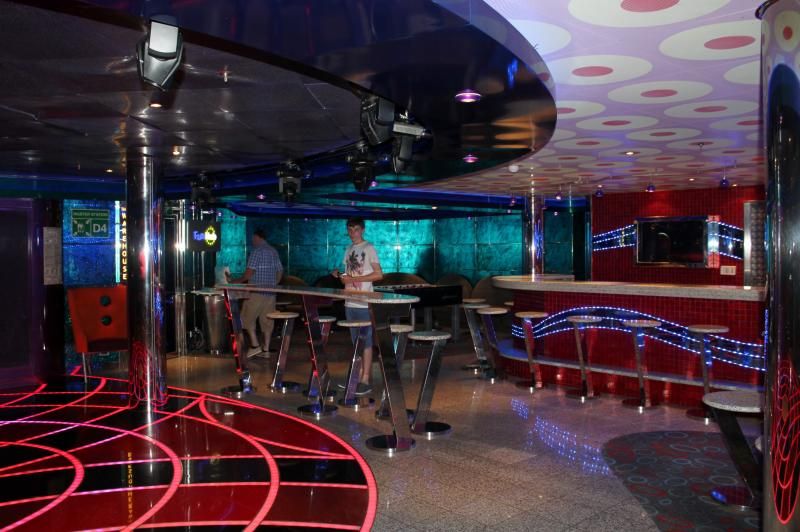 These are fantastic, my DS has been in Circle C and o2 and loved them both, he did have signing in and out privileges though, so that was probably why .
Pool and Deck Parties, including a Sail You Away party.
Stage Shows - Not as good as Disney, but they hit the spot
Onboard activities but a small charge for the thrill theatre on the Breeze and other new ships.
What's Onboard
All of the ships are unique and not all ships have everything so you will need to check out the ship yourself on Carnival.com to be absolutely sure.
Spa and Fitness area – This from The Breeze
Senerity is an adult only seating and pool area. No kids under 21 are allowed and frequent checks and made by the crew. Here is the view from Serenity across the top deck of The Sunshine.
Cloud 9 Spa - the one on the Breeze is fantastic, it has everything, special pools, showers, hot seats. There is an excellent report over on cruise critic entitled Carnival Dream Spa everything you need to know. As far as I am aware only the newer ships, Breeze, Magic and Dream have this Spa.
Jogging Track
Sports Square - a sky course on some ships, basketball court, mini golf, pool, football and table tennis.– here is the top deck on The Sunshine with sports area
Shopping
Art Gallery - a Carnival dime machine!
Entertainment –
Punchlines Comedy Club
Dive-in-Movies - Top Tip: free popcorn is available at the Red Frog bar on deck on the Breeze and Sunshine when movies are playing.
Nightclub – Here is the one on The Breeze
Casino - these are very popular.
Top tip if you have onboard credit that you know you will not spend: You can cash it out here! Sign up for a players card in the Casino, then take the card to a slot machine, the machine will ask you how much to put on your card, for example load a $100, then take a few slot pulls to spend a little, then take the card back to the casino window to cash out your balance. I did this three times and cashed out over $800 OBC, which was a mixture of refundable credit and non- refundable, plus excess port fees. It paid for our tips, plus some change left over.