Disney Diva
Awake, I went back up to deck 9 to get coffee and upon my return Isabella was up and getting ready for this afternoon's fun: The Bibbidi Bobbidi Boutique. Obviously for this Isabella was to be dressed as a princess, and this afternoon's outfit was her recently purchased Cinderella dress.
We made our way forward to The Bibbidi Bobbidi Boutique on deck 10. We had booked the Crown Package again and Isabella originally wanted the Fairy Tale Princess option but her hair wasn't long enough for the bun on top of her head so she ended up with the Disney Diva option but with the Fairy Tale Princess tiara; a nice compromise by her Fairy Godmother in Training - Anna from England (more specifically the North East). Anna chatted to Isabella all the way through the process - they are very good these Fairy Godmother's in Training.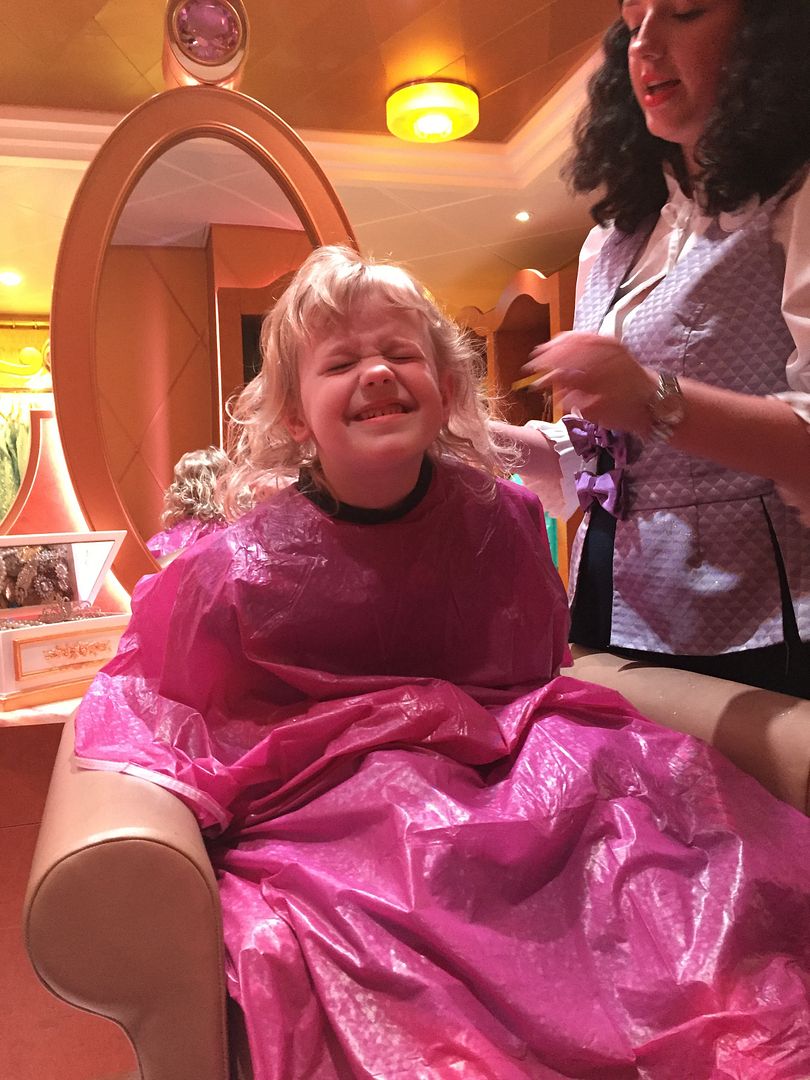 Salagadoola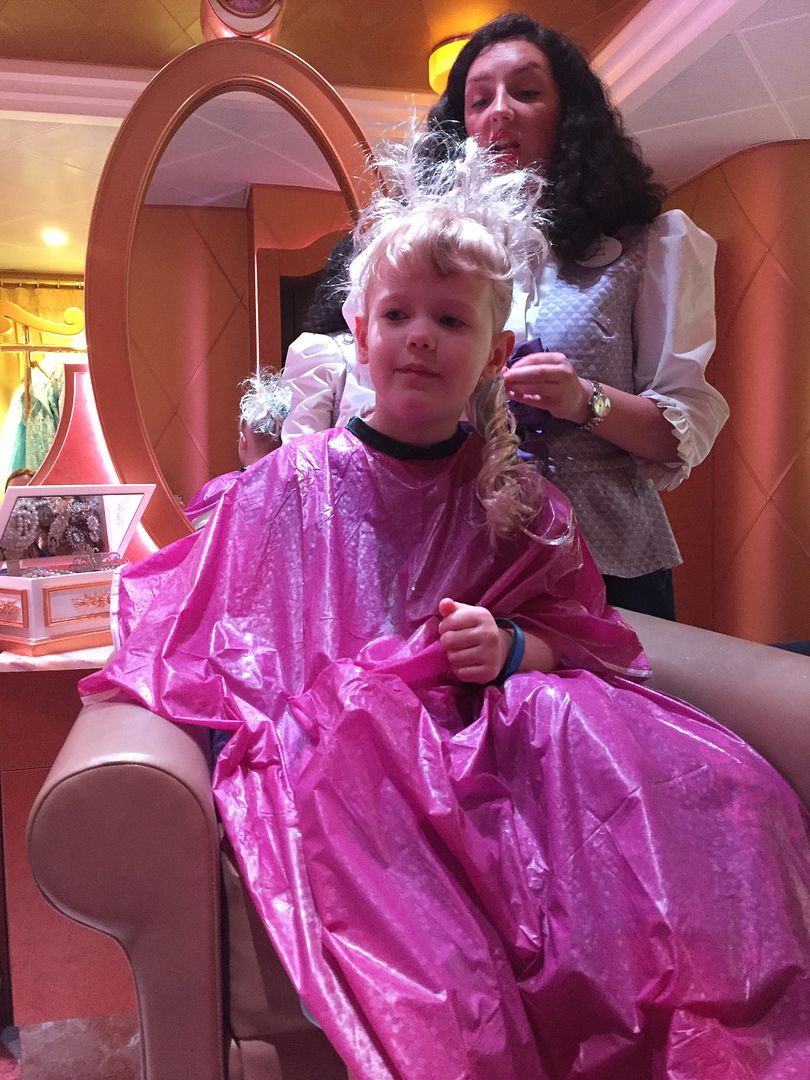 Menchicka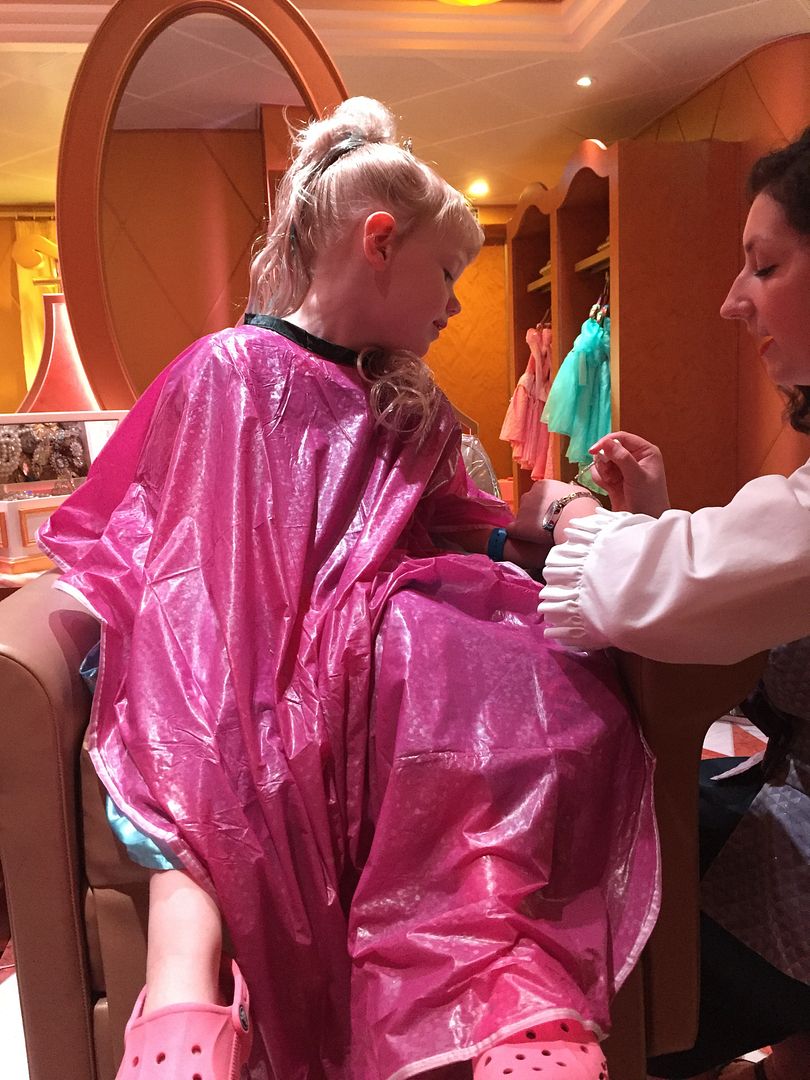 Boola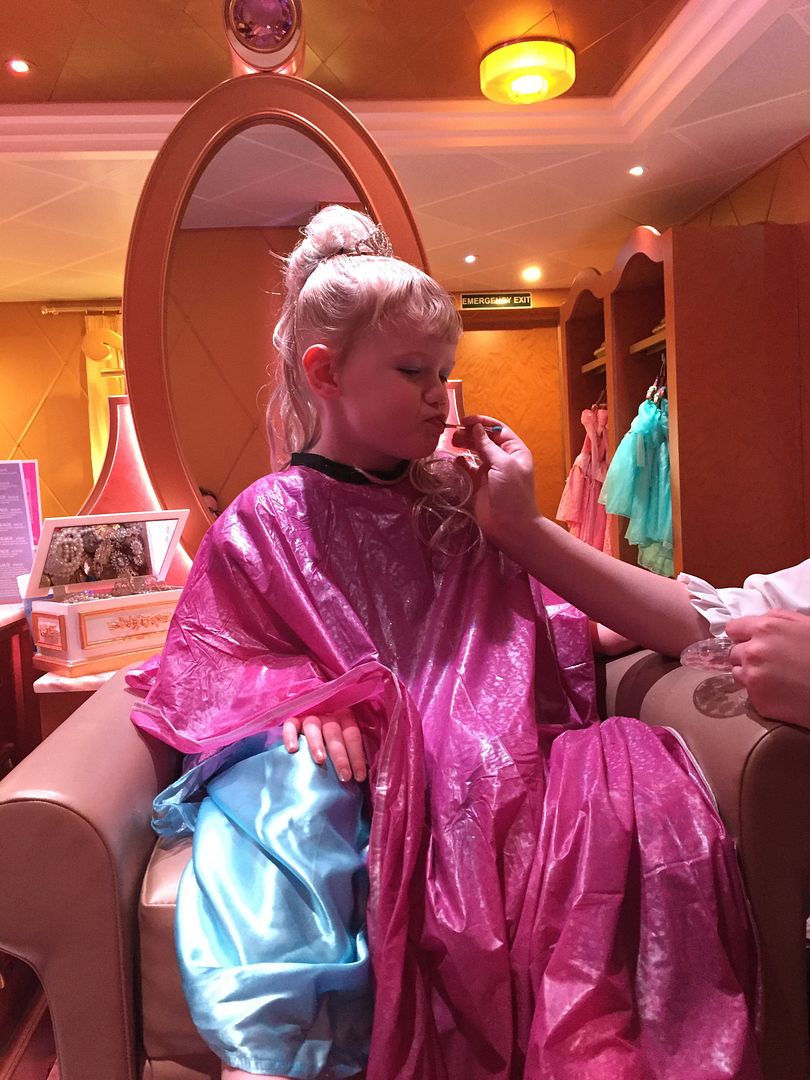 Bibbidi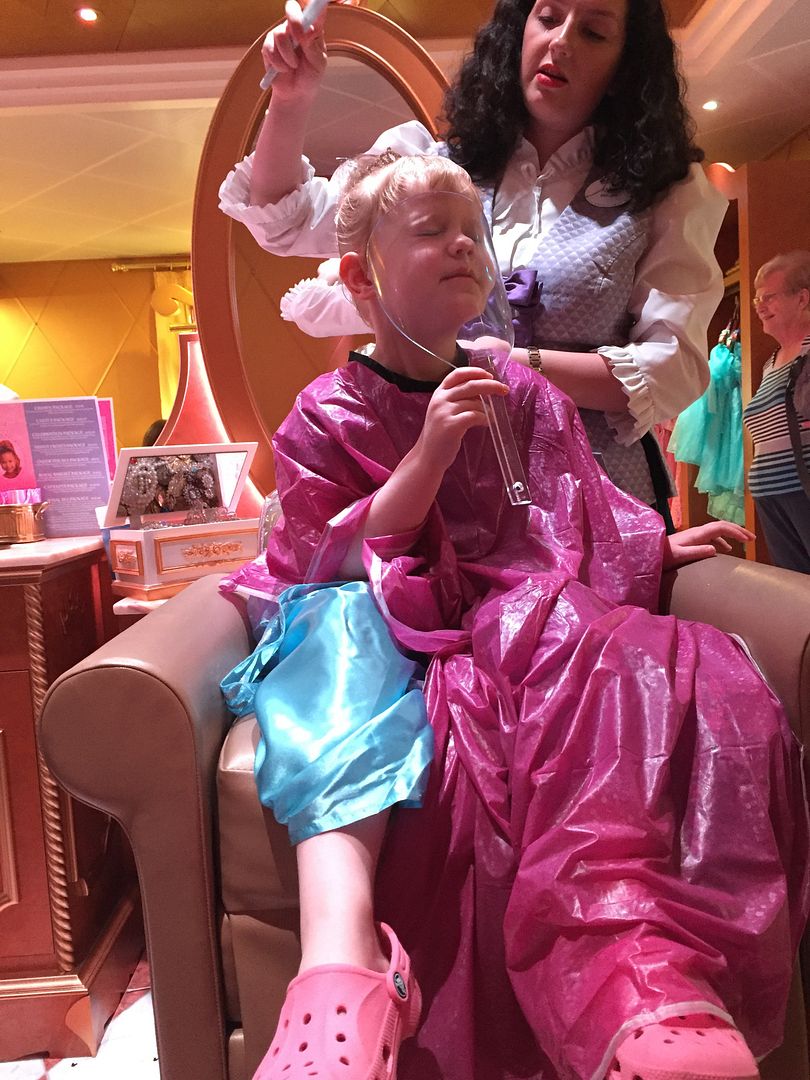 Bobbidi
Boo
Isabella was having a great time becoming a Disney Diva - complete with blonde and blue hair extensions - and 40 minutes later the transformation was complete.
As tonight was formal night we went back to the room and Isabella did her drawings for the first two days while Jo and I underwent our own transformations - with the help of a glass or two of red wine - from casual to formal; from sober to drunk…
Cheers
Once ready we headed down to the atrium for the Captain's Reception, AKA free drink time! Cocktail in hand we queued for a family photo in front of the Helmsman Mickey statue and then hung around the atrium listening to the vintage jazz sounds of Fine Whines. It was a really lovely feeling; soaking up the atmosphere on board the Disney Magic - I felt very happy and suitably relaxed.
We had time for one more cocktail before it was time to walk down to Carioca's for tonight's dinner. On the way Isabella asked if she could go to the kids club with the little girl on our table again - who from this point on I shall call Hayley (that wasn't her name but I didn't check if they were ok being in this TR and they hadn't heard of the DIBB - the shame!) - obviously we said yes
Our table mates were already there, and as we joined them Hayley gave Isabella a ring to wear.
Disney Diva Isabella
Mummy & Isabella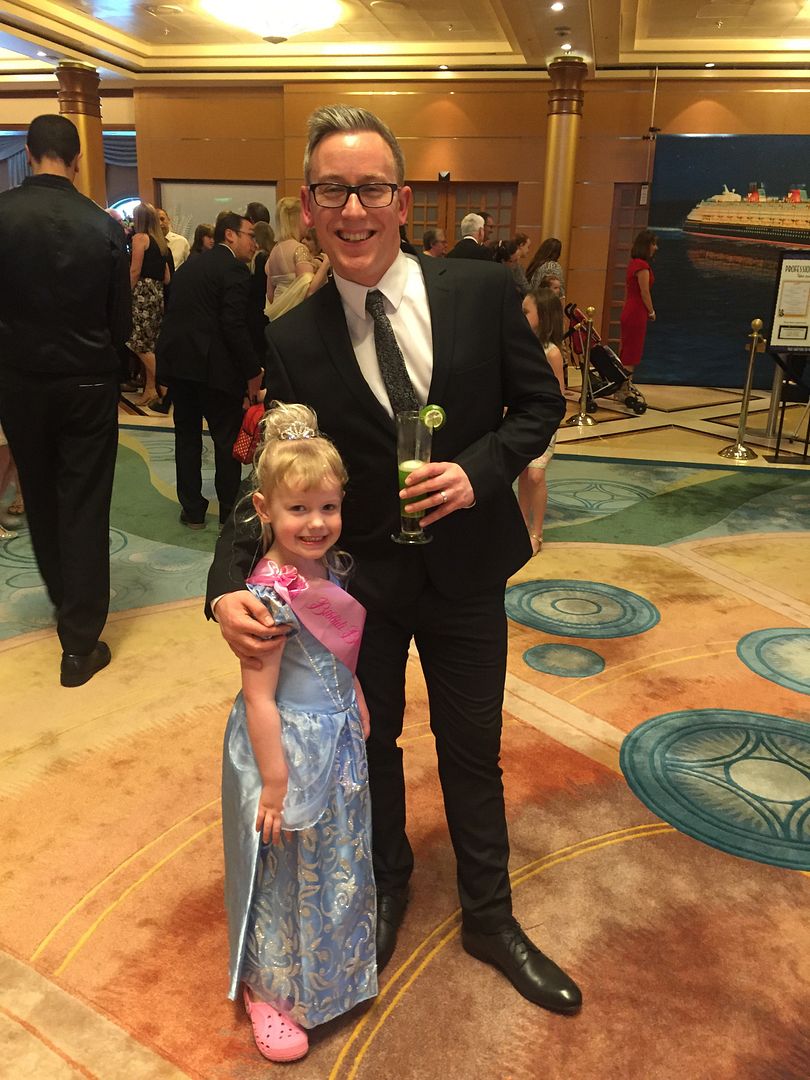 Daddy & Isabella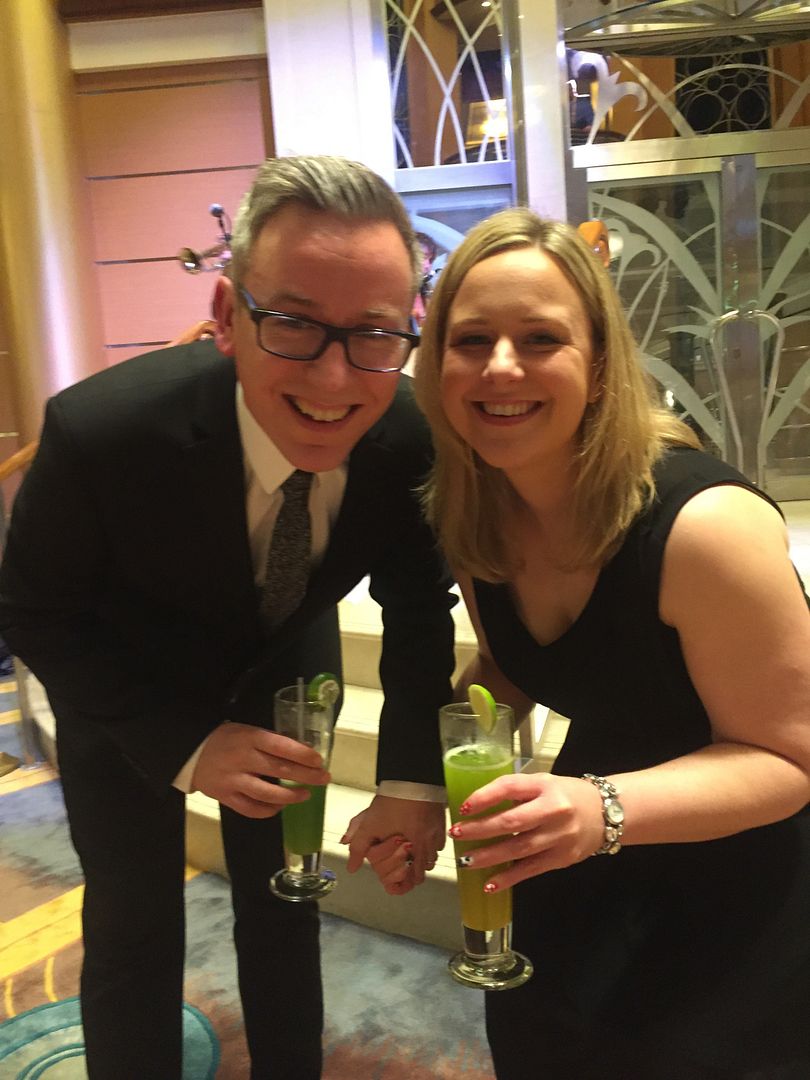 Daddy & Mummy (by Isabella)
There's some confusion over what we ate for tonight's dinner for a couple of reasons:
We forgot to get photos of our main courses
I forgot to write down what we had
The menu on the Disney Cruise Line app wasn't the same as the menu in the restaurant
Now some might blame the wine and the free cocktails for this confusion - I'm not going to point any fingers - but whatever we ate my notes say was ok, which means it obviously wasn't great.
Inexplicably, we were given napkin hats. Mine fell apart instantly and Isabella didn't think that hers went with her dress - Disney Diva indeed - so that part of the evening wasn't a particular success.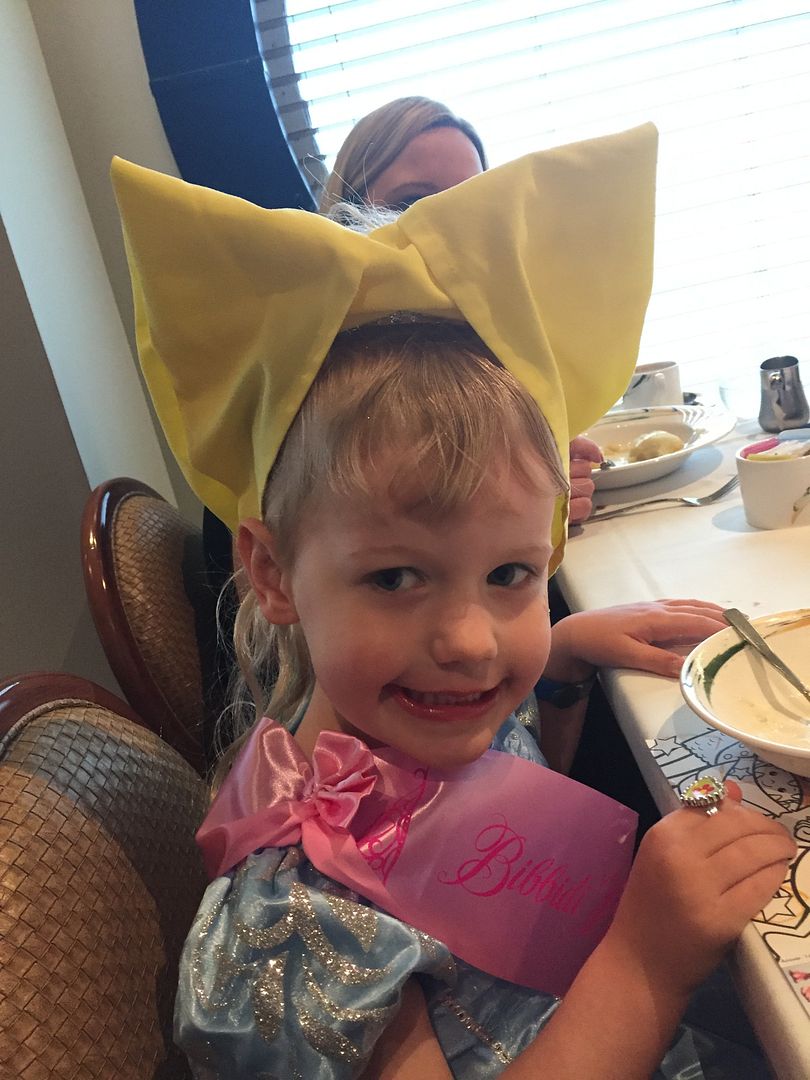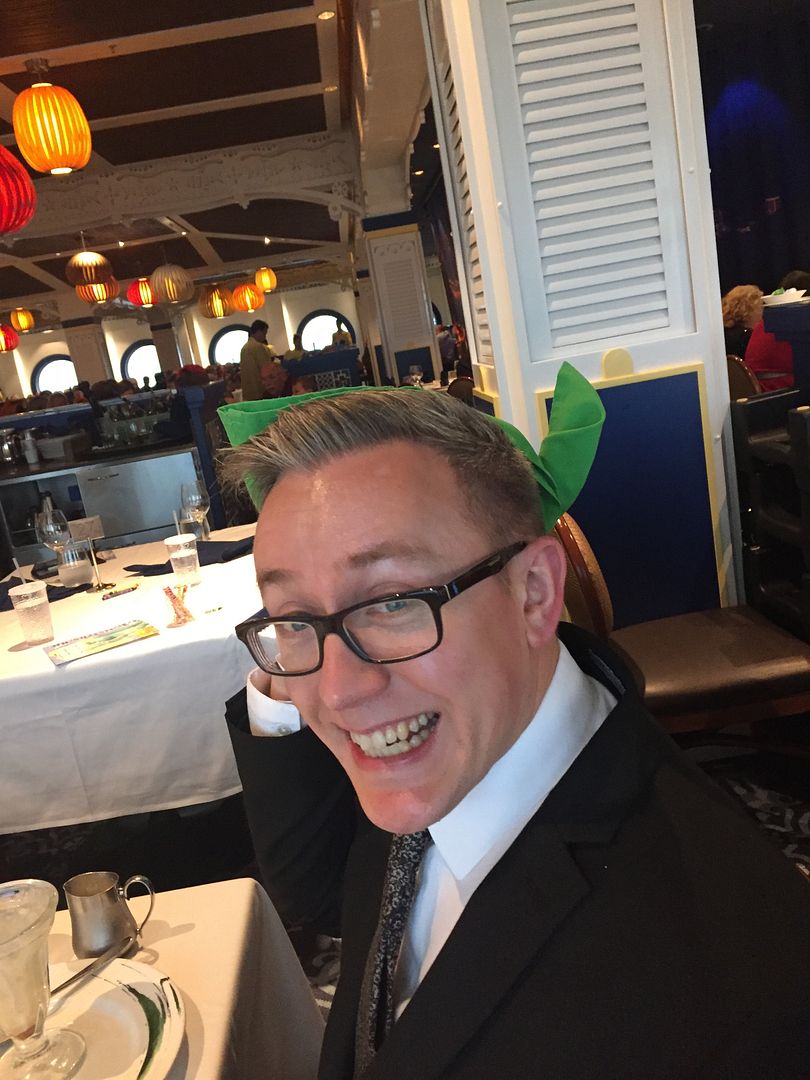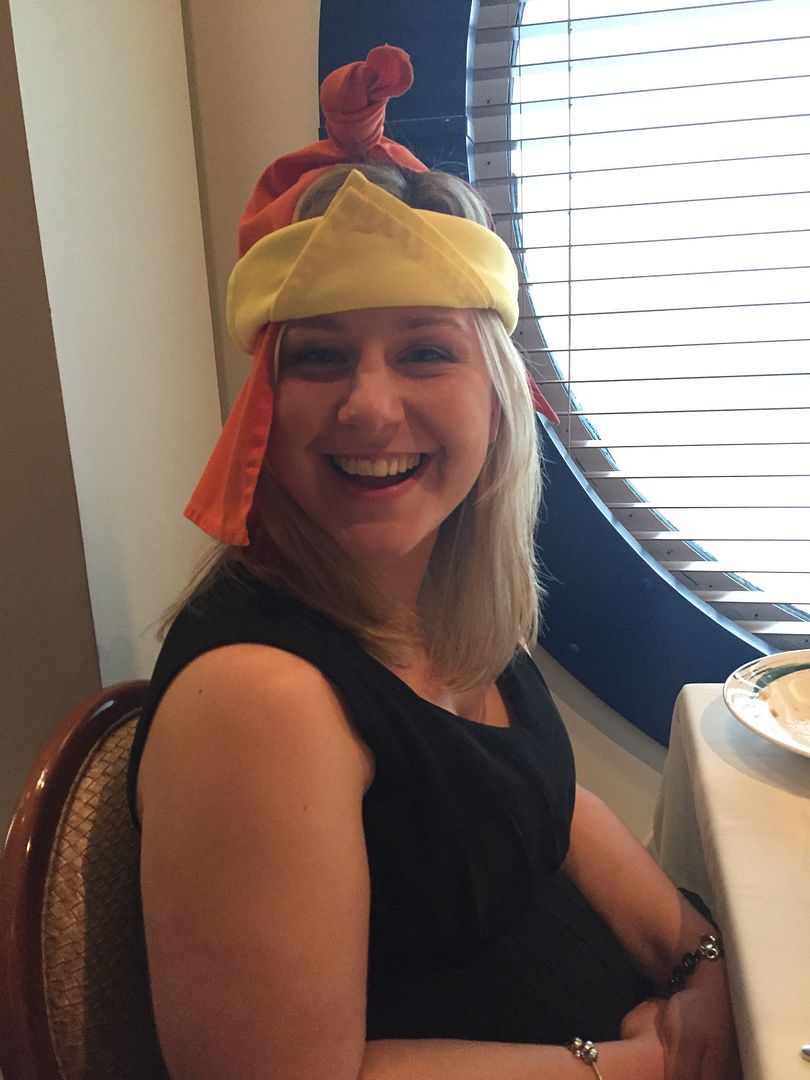 Napkin hats
When dinner was over Isabella and Hayley went off to the club holding hands, and Jo and I invited the couple to join us for the pub quiz in O'Gills the Irish Bar.
We had fun - and cocktails of the day - and ended up finishing second with 14/20 while the winners got 17/20. As the quiz finished our table mates - shall we give them fake names too? Let's call them Ashley and Pete. Anyway, their wave phone went off; Hayley wanted picking up. We expected ours to go off too and were surprised when it didn't. We finished our drinks while listening to the three Irish-American sisters, The Gothard Sisters, performing.
After leaving the bar we popped down to the shops where Jo bought a new bag, some sunglasses and some Aleve. It was now time to go and get Isabella. I asked her what happened to Hayley and she hadn't even realised she'd gone - the holding hands obviously didn't last very long!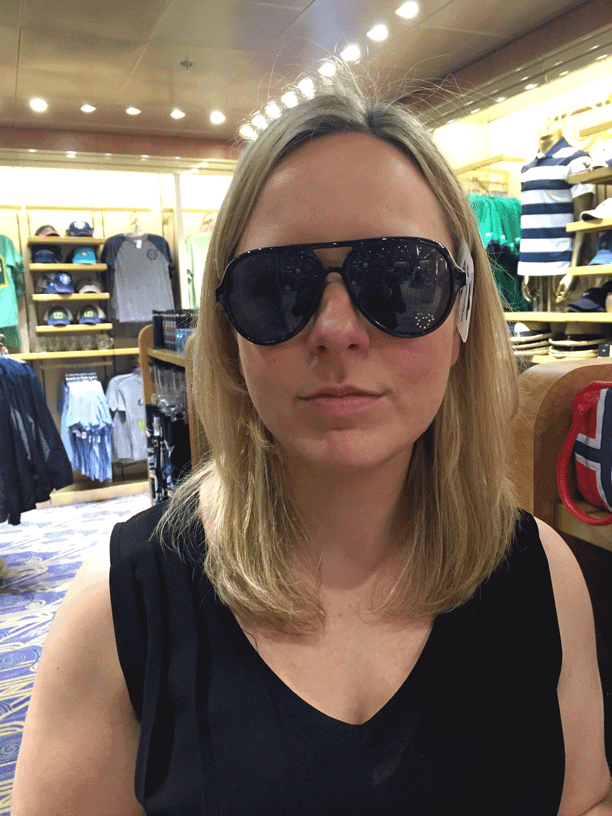 The many shades of Jo
A better hat
Back at the room we got ready for bed, and after Isabella went to sleep Jo and I watched Deadpool on the iPad. We got about halfway through before calling it a night.
Tomorrow we're at our first port of call - Stavanger which can only mean one thing: the much anticipated Petroleum Museum!
Thanks for reading.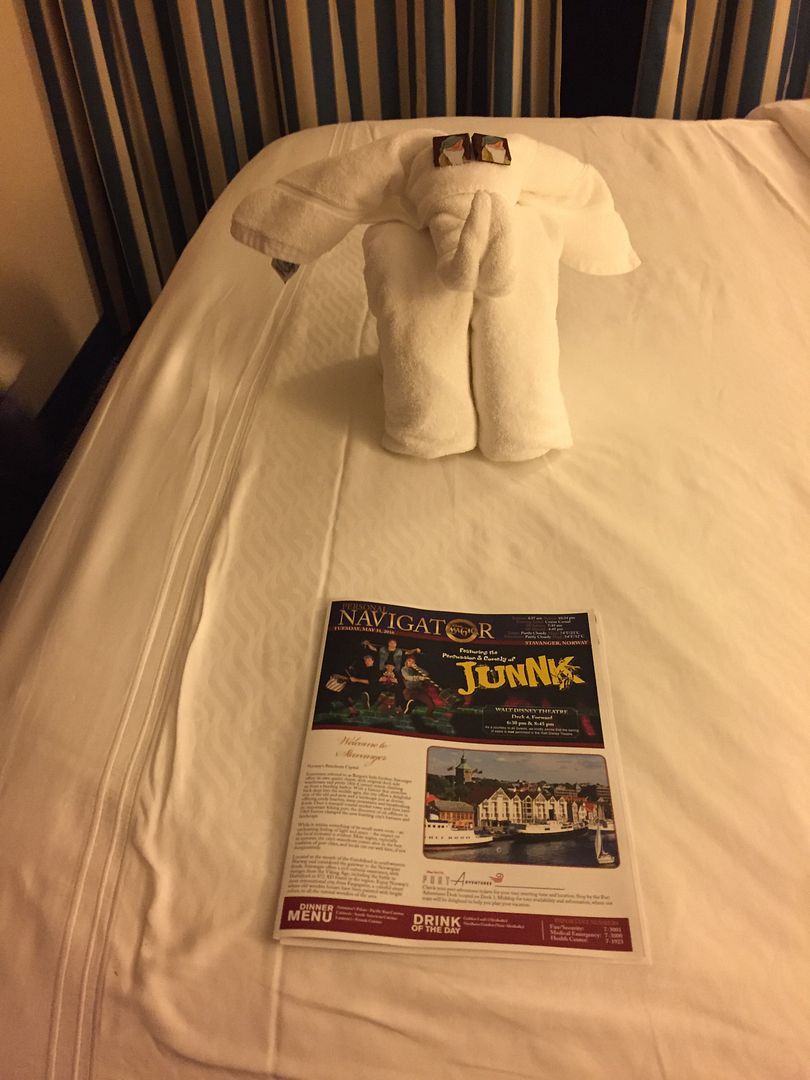 Towel elephant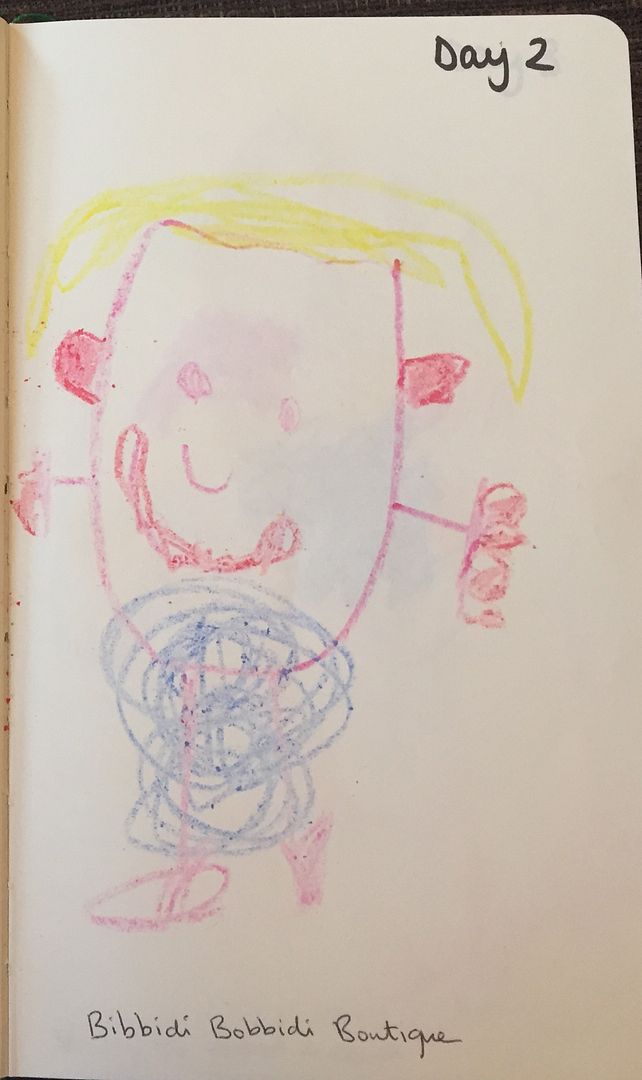 Day 2 by Isabella