Day 31: Epcot & Old Key West
March 11, 2020
[-- Trip Index --]
Today's quick movie:
We all had a good sleep, and Myla and I woke up naturally around 6:50. I got her sorted with some breakfast, and Michael was back from his usual crazy-early gym session just after 7AM with the fresh coffees in our refillable mugs. Since we'd all showered last night after the pool, it was actually really quick and easy to get out the door on time (for a change), and we left our room just after 8.
An Epcot bus was sitting waiting for us outside Hospitality House, and we were in Epcot for 8:30AM. I had no particular reason for being THIS early - we weren't ropdedropping any rides as Myla is too short for Test Track or Soarin', Mission: Space is a big no for me and Michael no matter how tall she is (simulator ride), and she was still refusing to go back on Frozen Ever After as she said it was scary. My plan for today really was just a relaxed Epcot day - we had pretty much no rides planned, the goal was to get a few more autographs for Myla's book (we were still missing the most from Epcot), and just enjoy some of the Flower & Garden Festival sights, including the playground for Myla and the butterfly house.
We ambled over from the bus stop to the park entrance in no particular hurry.
In case you're wondering what Myla is holding in these above photos, they are her 'bunnies'. She got one as a gift from my stepmother's mom (so my step-grandma) when she was born - my stepmom actually did custom embroidery on them so it has Myla's name and date of birth on it. She quite quickly grew very attached to this bunny, to the point that I asked my stepmom to make me another one as a backup when Myla was maybe 6 or 7 months old. This was the soft toy that went
everywhere
with her as a baby. She never wanted a dummy or even sucked her thumb, but she was super attached to her bunny. Of course, because it went everywhere with her, it had a high 'lost' factor, especially when she was younger. She lost the original bunny before she was one, and I was SO glad I already had a backup as there's no way she would have gone to sleep without it. My stepmom then made me 2 more for her first birthday lol. She managed to lose another one around 18 months going around M&S while visiting our family in Belfast, and it was around that time that she
realized
I had backups of the bunnies, when she saw 2 of them sitting on the shelf of her wardrobe. From then on, she insisted on having TWO of the bunnies with her at all times.
She wasn't supposed to realize I had spares lol! My stepmom made me yet another one for her second birthday - so we've now had 5 of them in total, and there's 3 left. One hidden far away in the back of my wardrobe as a spare (and it was hidden in a zipped compartment of my suitcase in Florida! ), and 2 that she sleeps with every night, and sometimes asks to take out. Usually we say no, and she's pretty good now at realizing the bunnies stay in her bed. I can't quite remember why we allowed her to take them into Epcot on this day... we usually only allow it if she's upset or needs that comfort factor, but I can't for the life of me recall anything that would have warranted that that morning!
Anyway, we were all in really good moods, enjoying the weather and the sunshine and feeling lucky to be in glorious and sunny Florida, instead of at home where it was raining and getting quite scary/depressing with how the pandemic was growing there!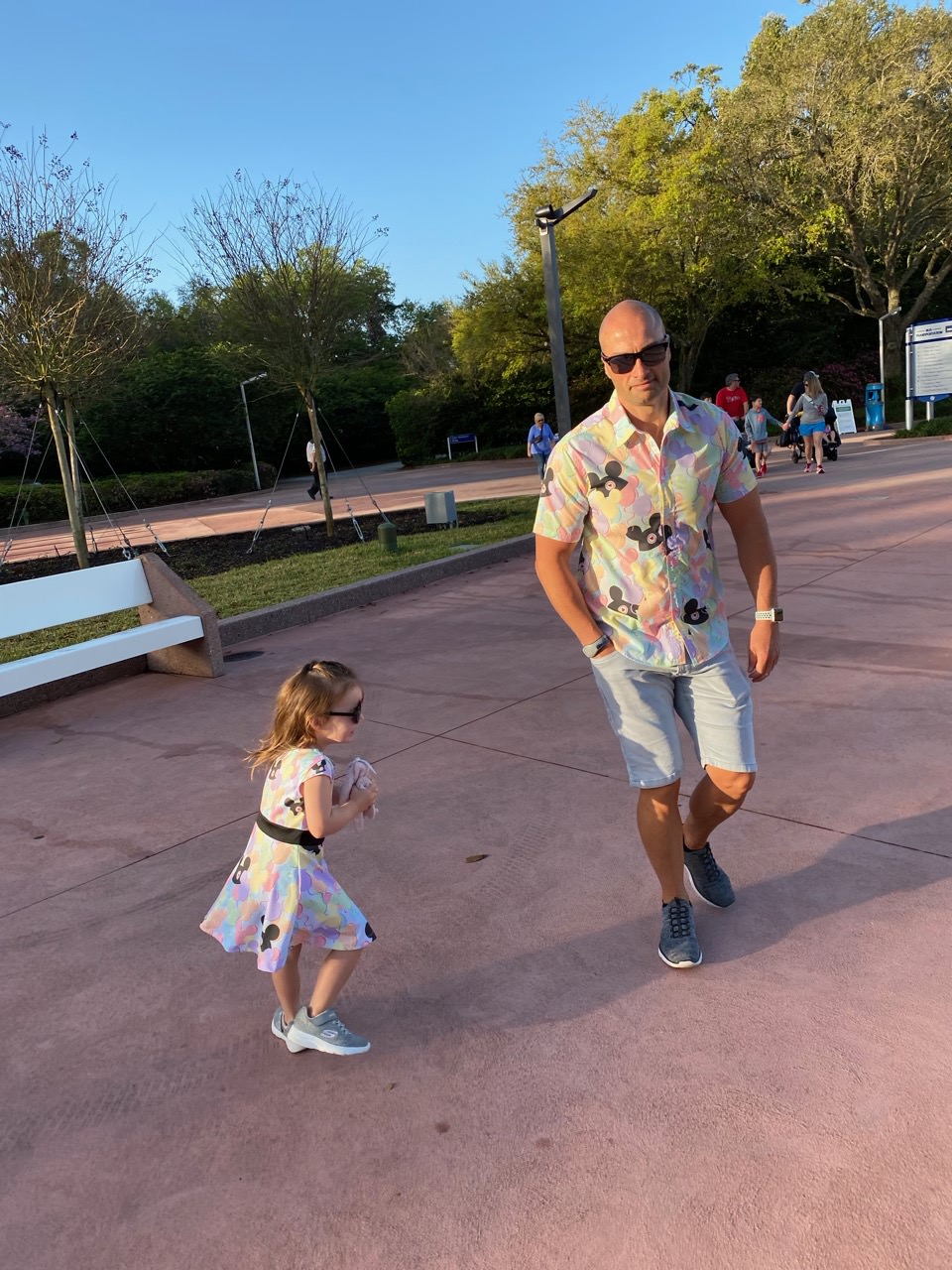 The CMs weren't letting anyone into the park yet as it wasn't 9AM yet, but I didn't think it was too busy. We queued for maybe 10 minutes here before they started letting people in at 8:45.
Always love some photos of Spaceship Earth!
We got a quick Photopass picture done at the entrance - Myla looks a bit annoyed but I promise she was in a great mood lol!
First stop was the toilets just to the left of Spaceship Earth. If you've been reading along with this trip report, you'll recall frequent mentions of the public toilets for the first few weeks of our trips, and hardly any mention recently. This is because at the beginning of the trip, Myla refused to pee on any public toilet and was always scared from the noise. By this late in the trip, she'd grown used to it, and bathroom trips were no longer something I mentioned in my notes as it genuinely wasn't note-worthy - she was able to go in with me, we'd both pee, wash our hands, and move on! I was and still am really proud of her though - she did so well not letting the noise bother her, and being able to hold it if we weren't near a toilet.
We decided to have a wander around just to soak up the atmosphere, and continued down the left hand side of Spaceship Earth towards Mission Space. Myla LOVES Big Hero 6, so was really excited to see the big billboards, and insisted I take her photo in front of each of them before we could walk on. And she checked that I had really taken said photos too, by asking to see them on my phone before she'd walk on. Smart cookie!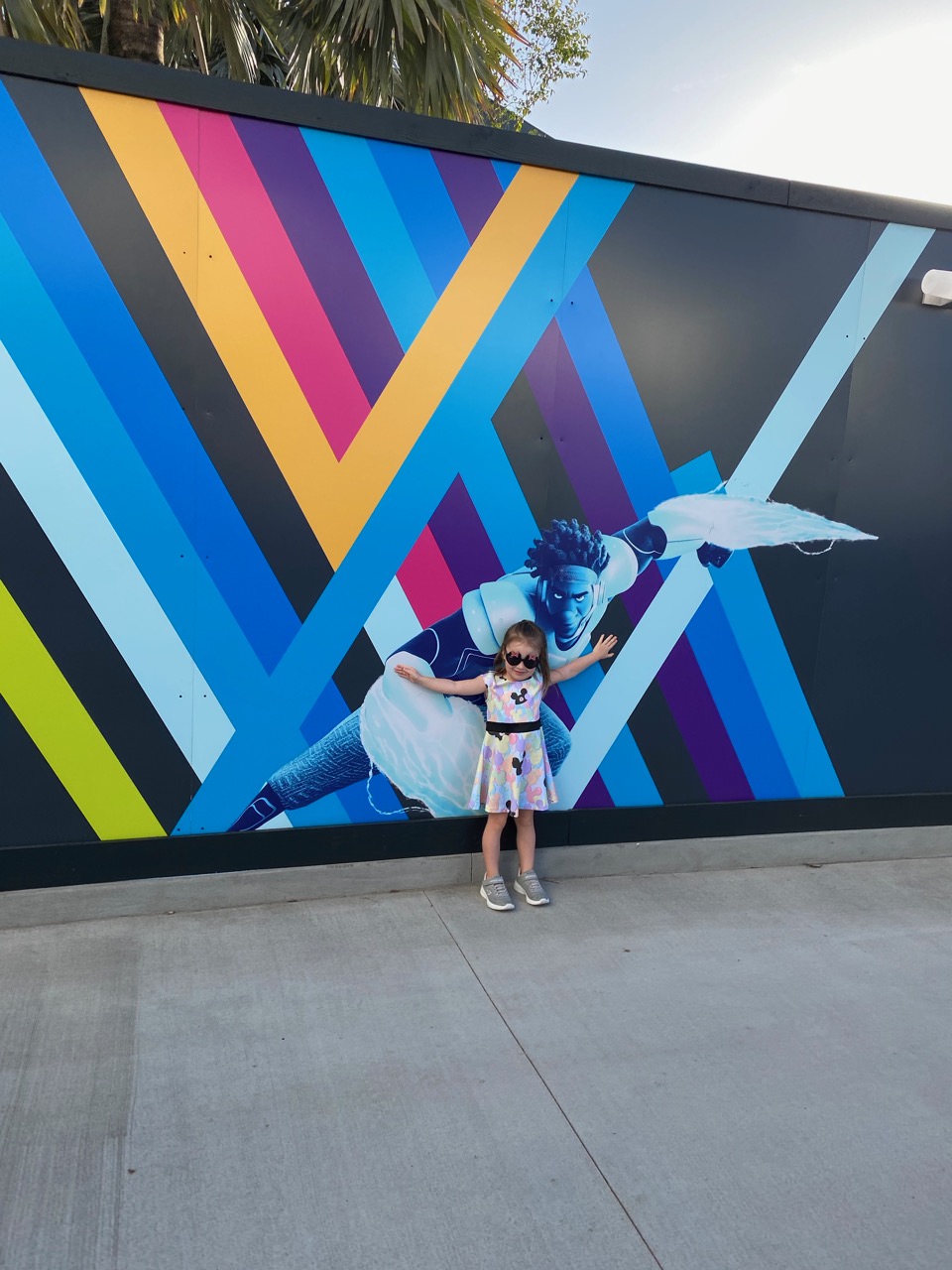 Loooove how she tried to copy Honey Lemon's pose here haha.
However when we turned the corner right by where the Guardians rollercoaster is going to be, we stumbled upon a crowd of rope droppers, still being held back by the CMs. These people were obviously all going to Test Track or Mission Space, so we hung at the back a little - we just wanted to look at the topiaries while making our way to Starbucks the long way around.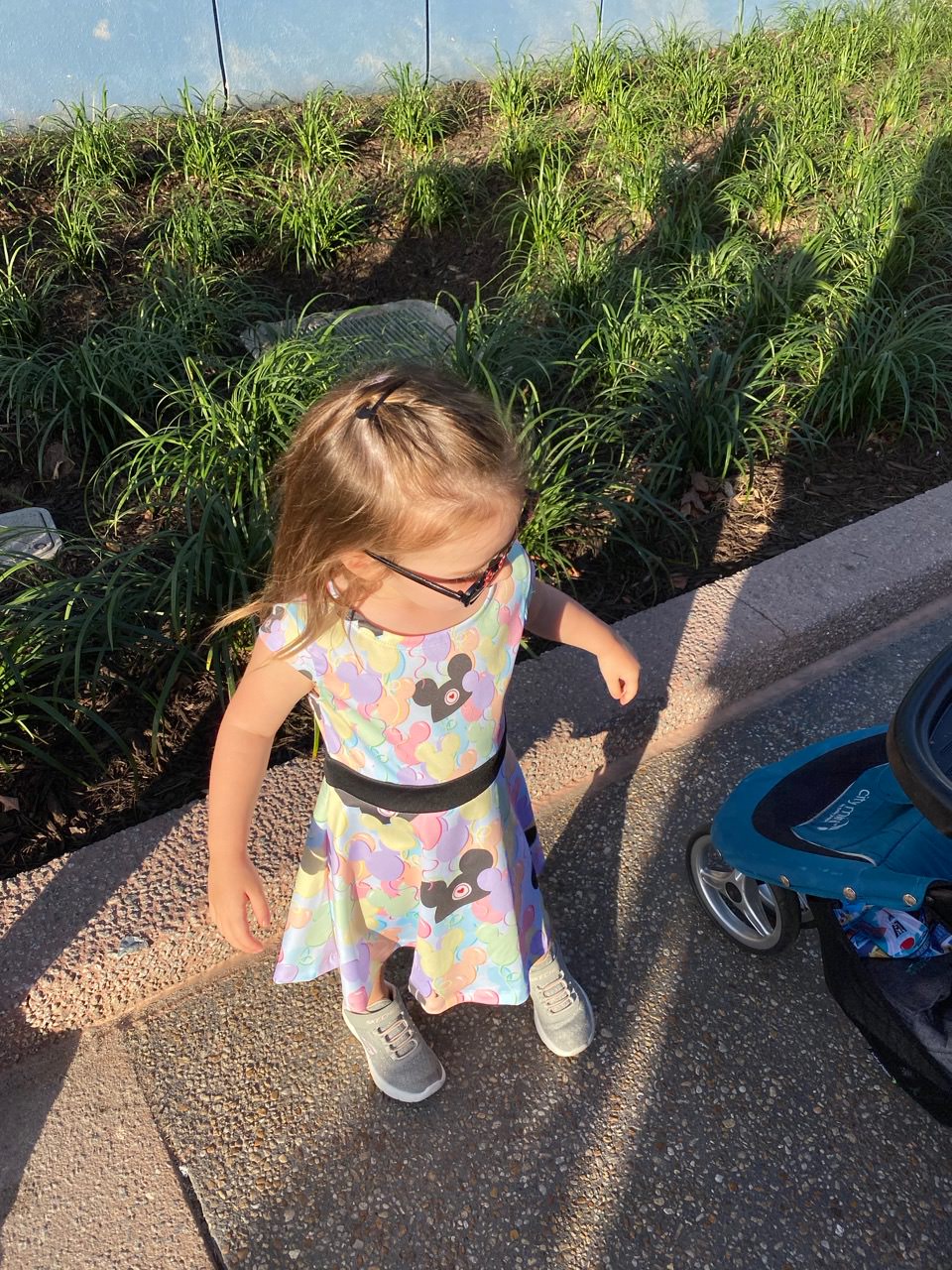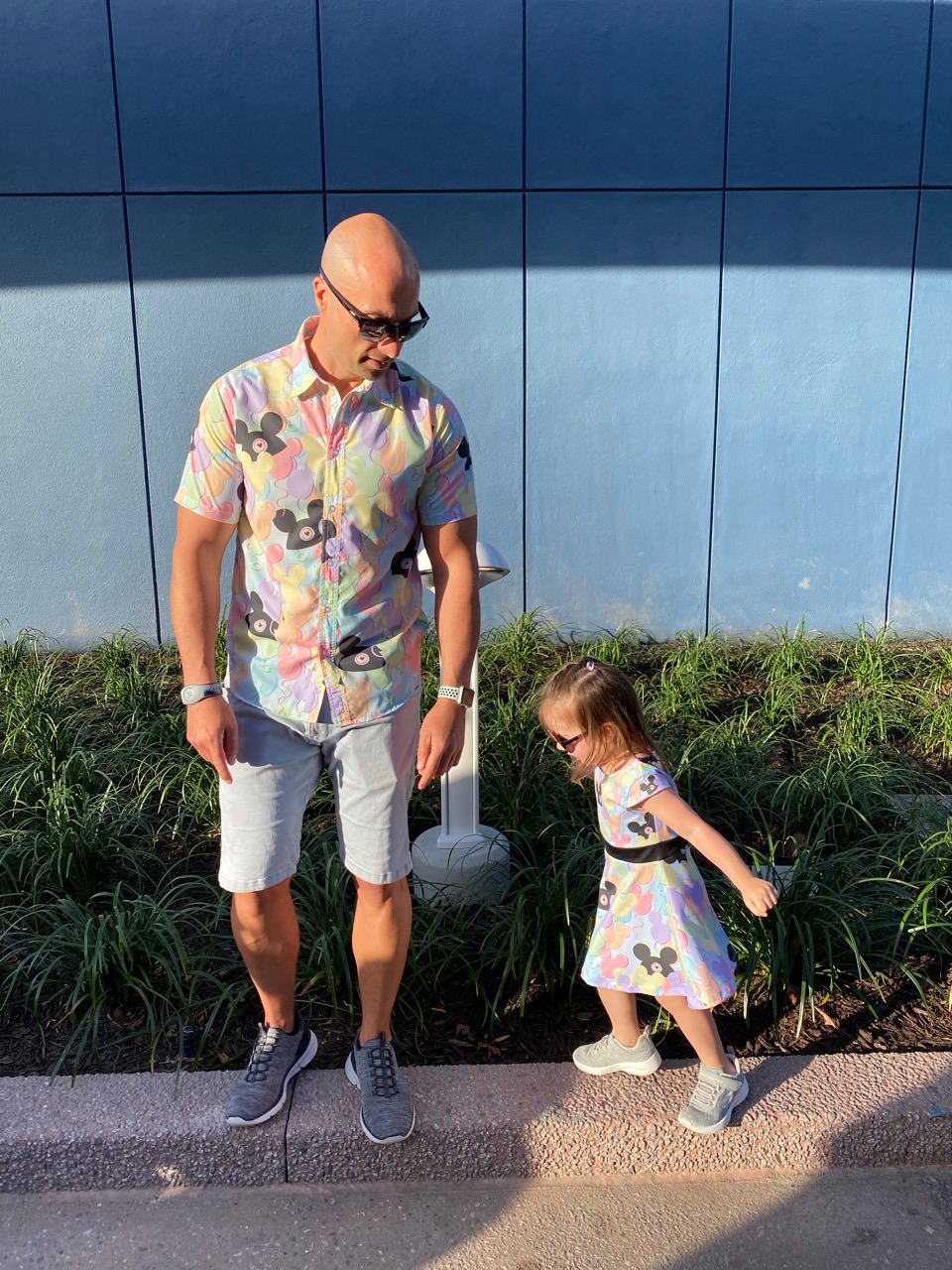 Finally it was 9AM, the crowd all marched away, and we walked via the back of old Mouse Gear past the Toy Story playground towards the new Starbucks on the edge of World Showcase. Everything looked sooo pretty with all the fresh flowers in the morning light.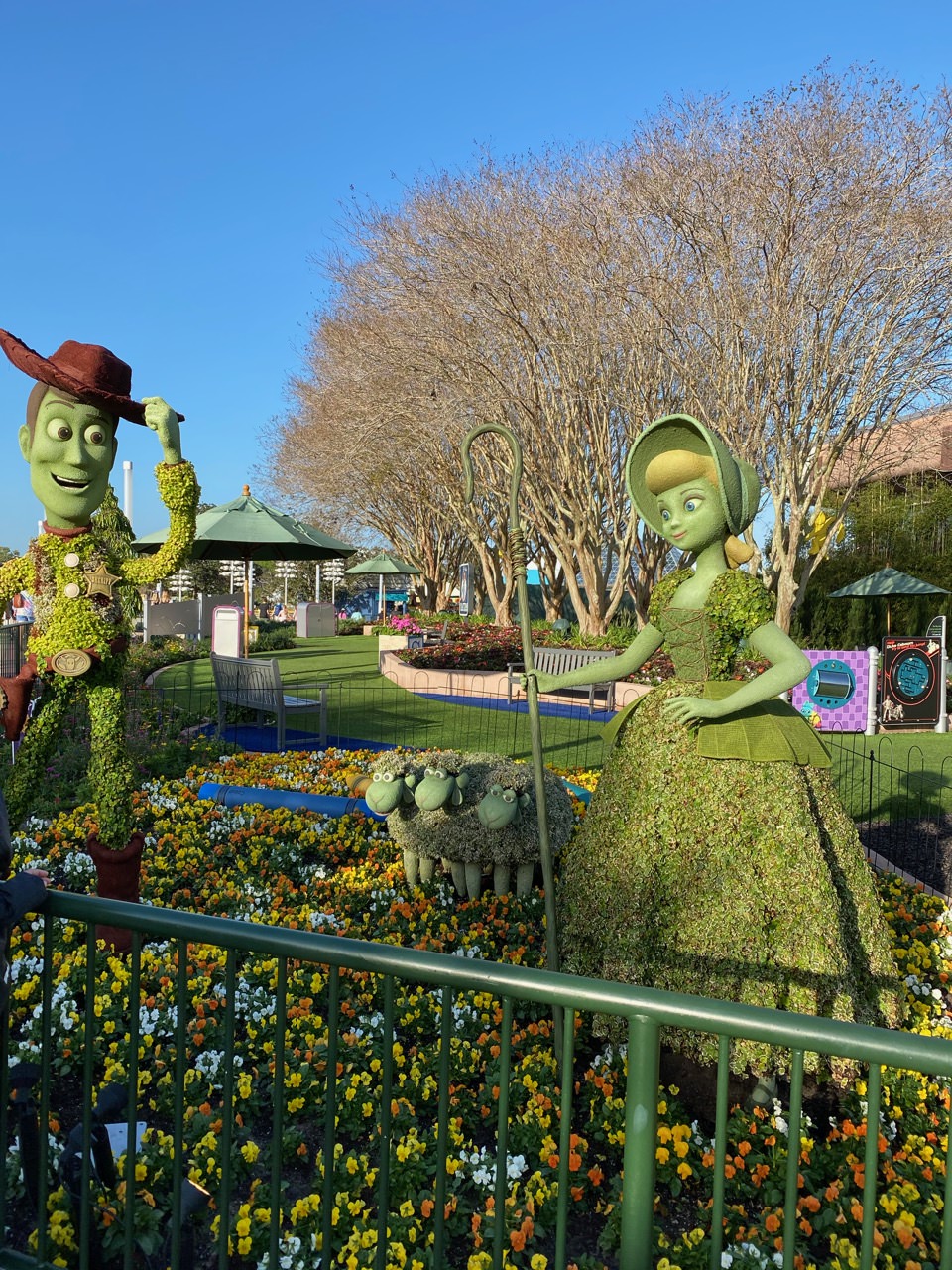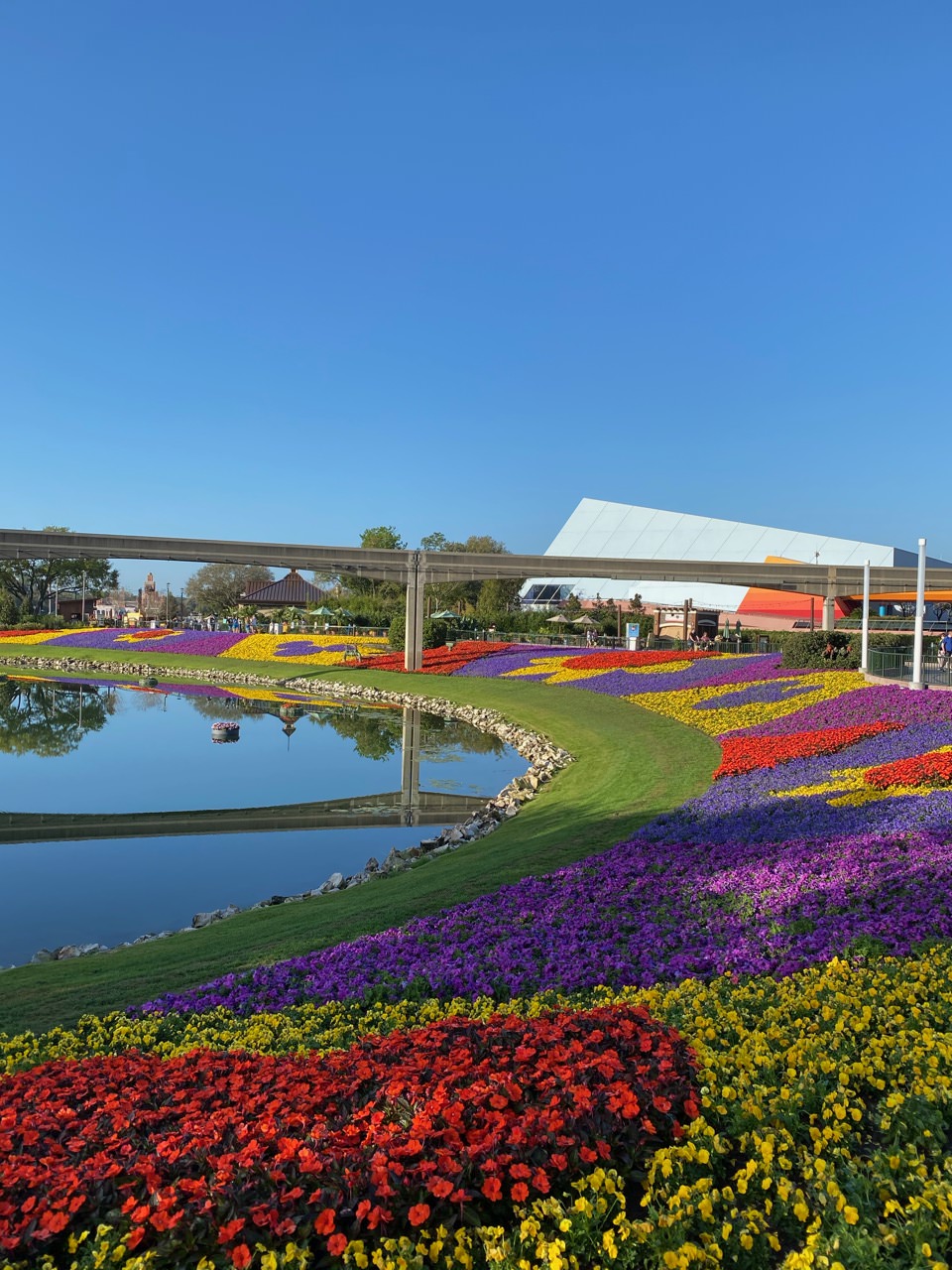 More billboards.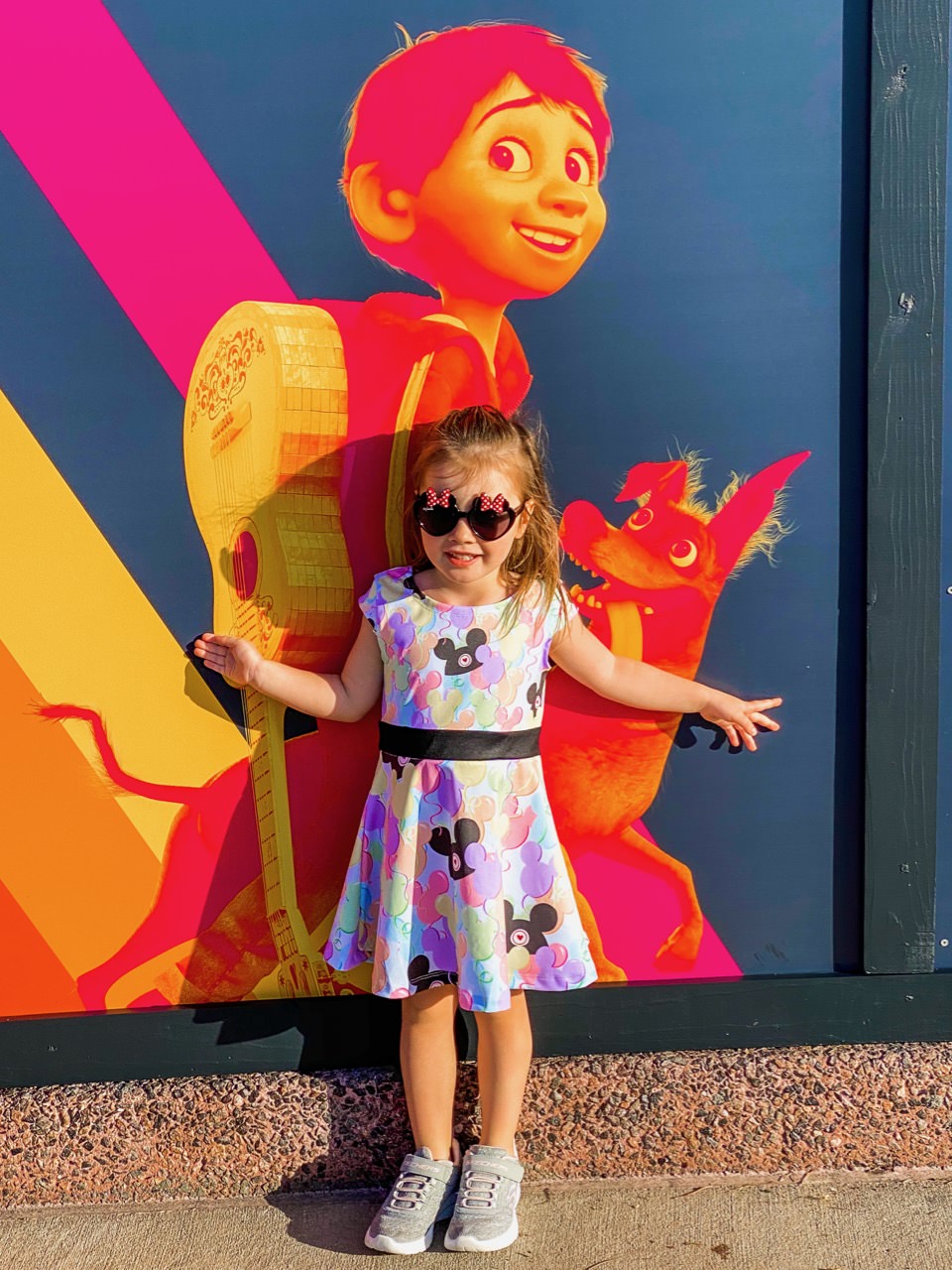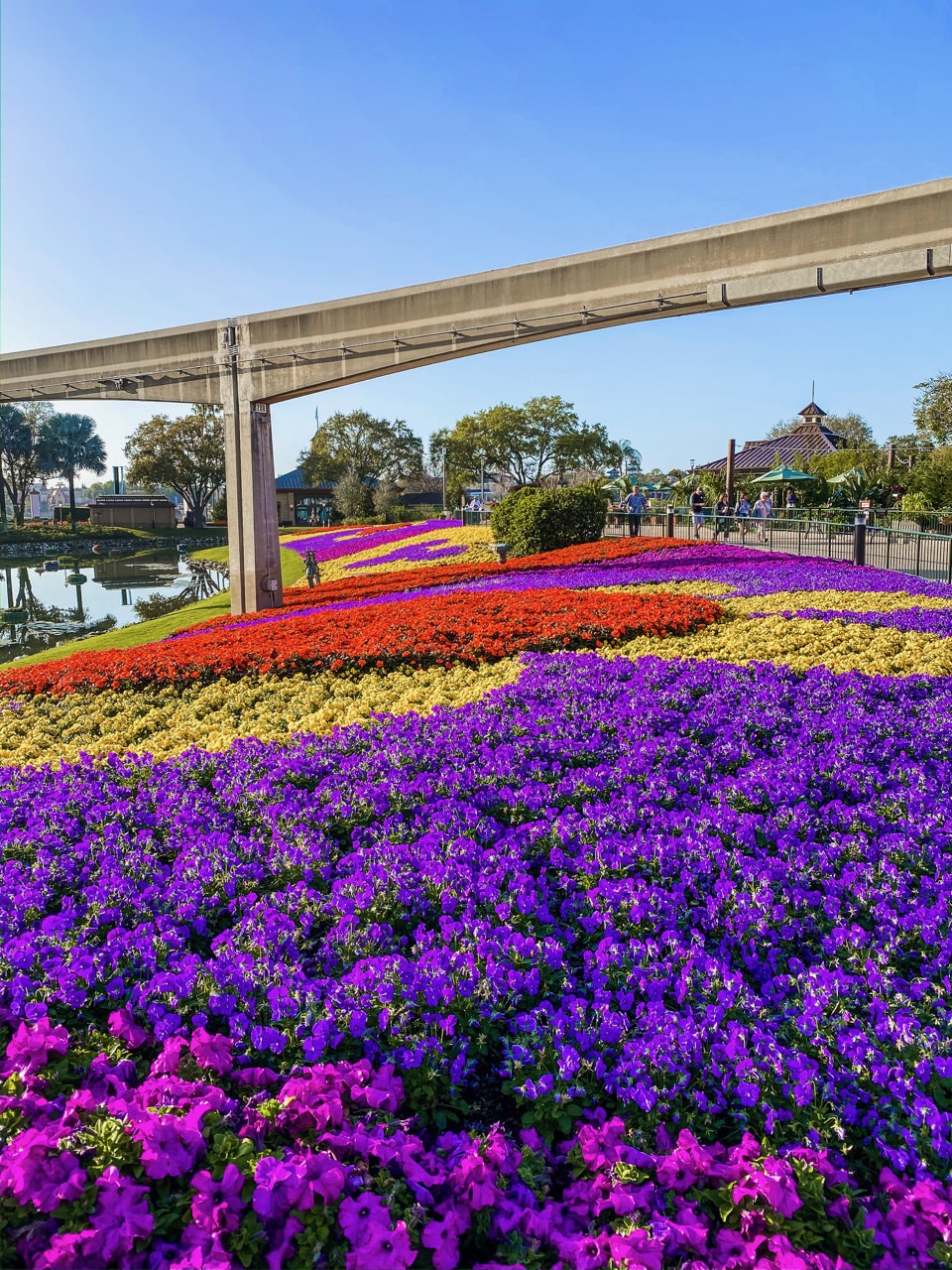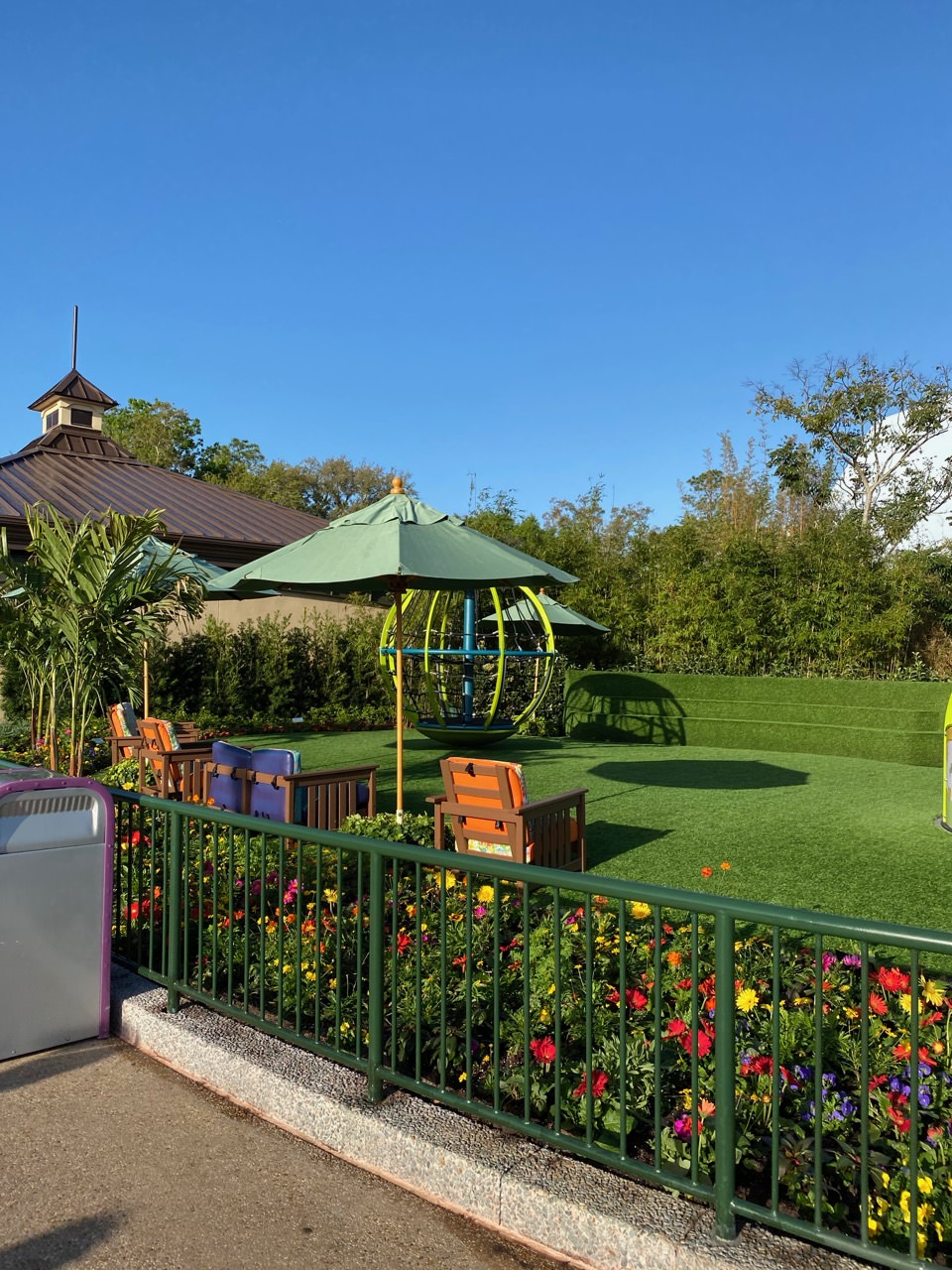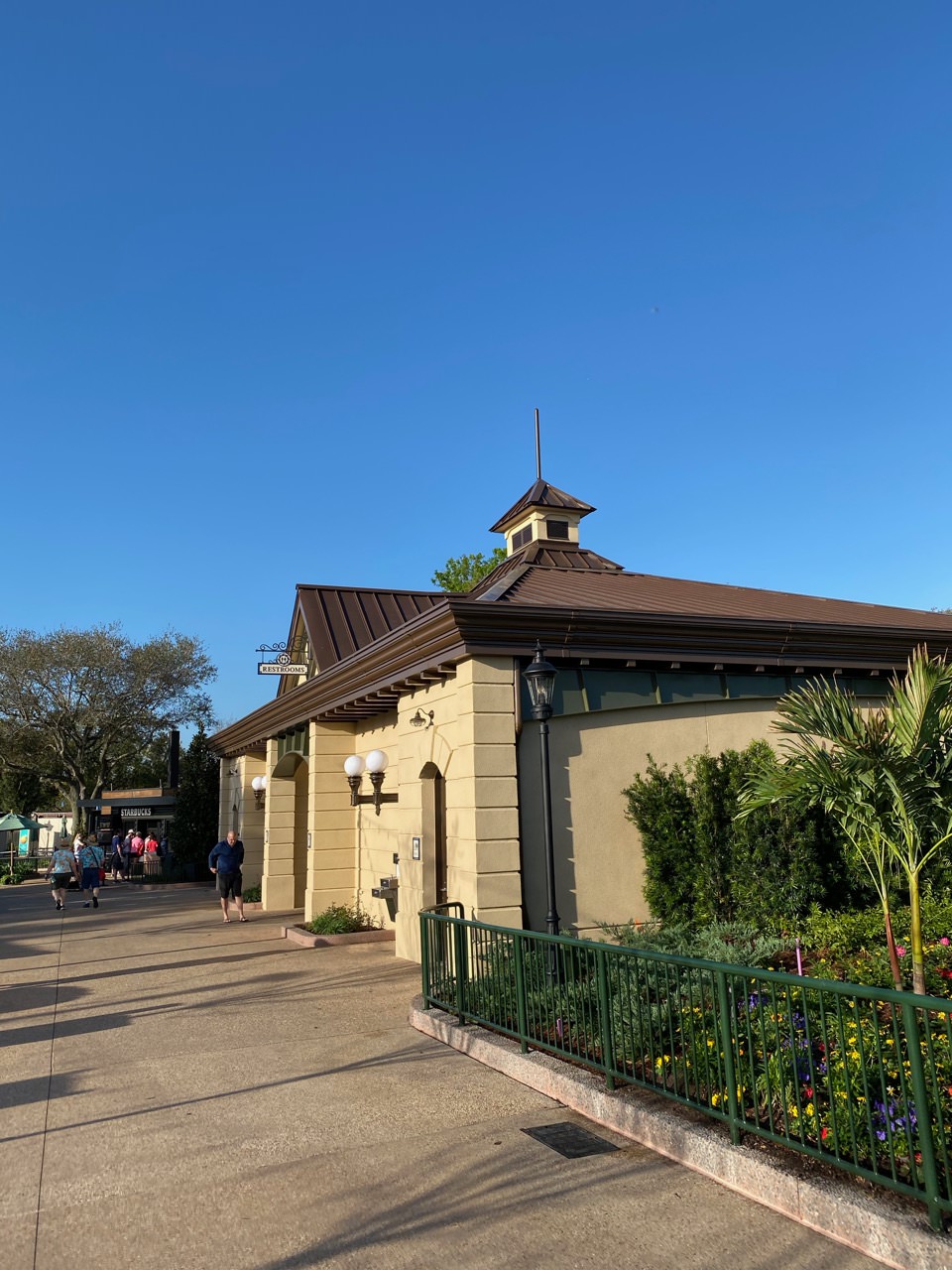 We were at the Starbucks for 9:05 and it had seriously the shortest Starbucks queue I've EVER seen in a Disney park - only 1 person in front of me lol! I got a cappuccino and my beloved banana bread, Michael had an Americano, and Myla actually picked a croissant this morning (instead of the banana she usually asks for). Total was $16, and we had our order in record time.
The first autograph we were looking for, was Daisy. Her meet started at 9:30, substantially earlier than any of the other ones we were still missing. I'd looked up online where her meet was, and had read it was in the Odyssey Pavilion. I thought that was the big pavilion just before Mexico, so we took our snacks and strolled that way, heading over the little bridge just before Mexico.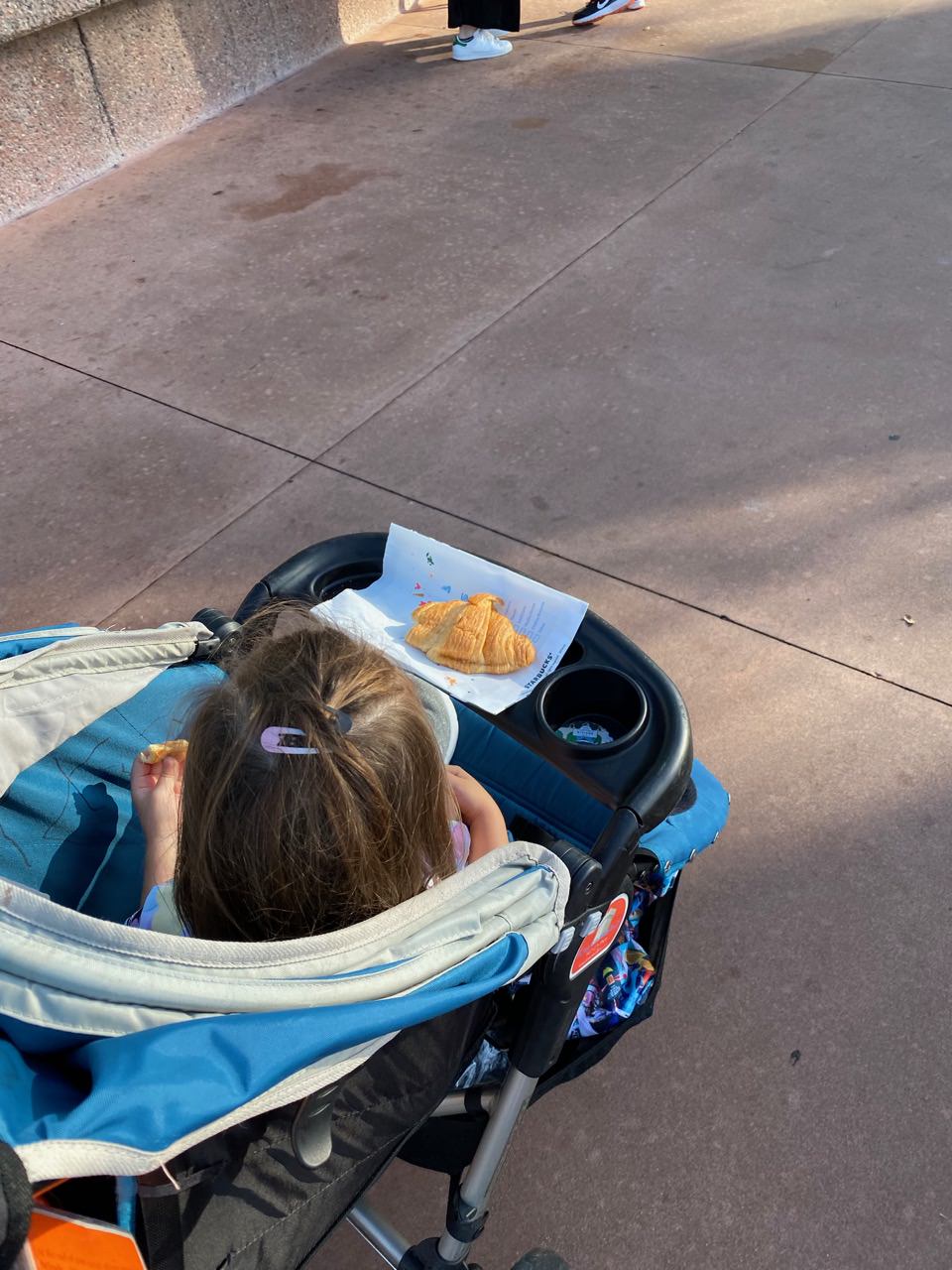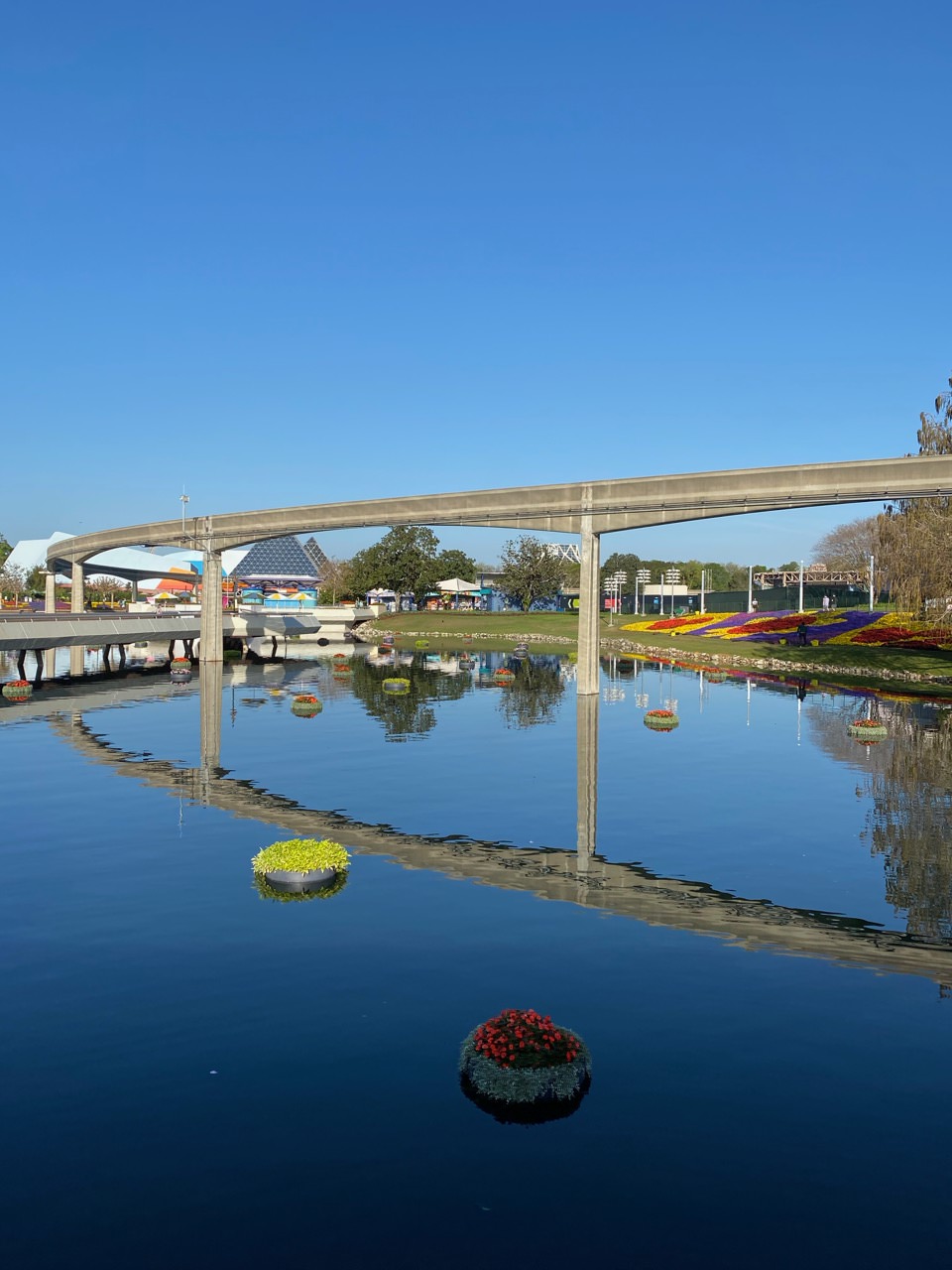 We had a quick look around the preview of the new park, but I saw no sign of a meet n greet. I asked a CM there where she'd be, and she said, oh no, Daisy doesn't meet here! You need to go back out and continue on to Test Track, her meet is in between Test Track and the old Mouse Gear. OK - I knew where that was, so we walked out again and headed over to basically where we'd been earlier. Still no sign of a meet, but I figured that was because it hadn't started yet. I saw a Guest Services booth, so I walked up to ask where we should stand for the Daisy meet, thinking we'd eat our snacks and drink our coffees while we waited for it to start. Oh no, she said, Daisy doesn't meet here! She meets back at the park entrance, between Spaceship Earth and the Nemo ride!
OK, I was getting a bit annoyed now, and asked her if she could be any more precise. She got an Epcot Map out for me and pointed to a particular spot. I asked her if she was absolutely sure - she pointed to the breezeway, and any time we'd been in Epcot so far, the breezeway had always been Goofy and Pluto, never Daisy. But she said yes she was, so okay!
We walked all the way back around to Spaceship Earth - you can't shortcut it with all the construction now and need to walk the long way around. We then cut through the Spaceship Earth exit, going inside and walking right across the games etc they have there. When we exited on the other side, so on the right hand side of Spaceship Earth, I saw a Photopass photographer wandering around. He was doing something on his phone and I briefly considered asking him about the Minnie meet, but decided no, that couldn't be it, as it was miles from where the last CM had said the meet would be.
So we walked on - no sight of Daisy in the breezeway of course. Because she'd specifically mentioned it was near Nemo, we walked up that way a little bit, and eventually ended up at another Guest Services booth between Nemo and the Land Pavilion. I expressed my frustration at this CM (in a nice way though, it wasn't his fault!) and asked him if he knew where the Daisy meet was. He said yes he did, it's right beside the Spaceship Earth exit if you turn right when coming off the ride. So it WAS the Photopass Photographer I'd seen!
We walked back there again, and by now a character CM had joined the photographer and confirmed Daisy would be out in a few minutes. All this faffing around had taken 20 minutes and a lot of pointless walking - but Myla had very much enjoyed her croissant in the stroller, and we'd still sipped our coffees while walking. So I made a point of deciding I wasn't going to let this bother me, and decided to just see it was a funny story - so much construction and change in Epcot that most of the CMs have no idea what's going on anymore!
We were first to meet Daisy, and she was lovely as always. Myla really really likes her - she loves her pink dress and her purple bow and how soft and cuddly she is, and she was really excited to get another Daisy autograph for her book.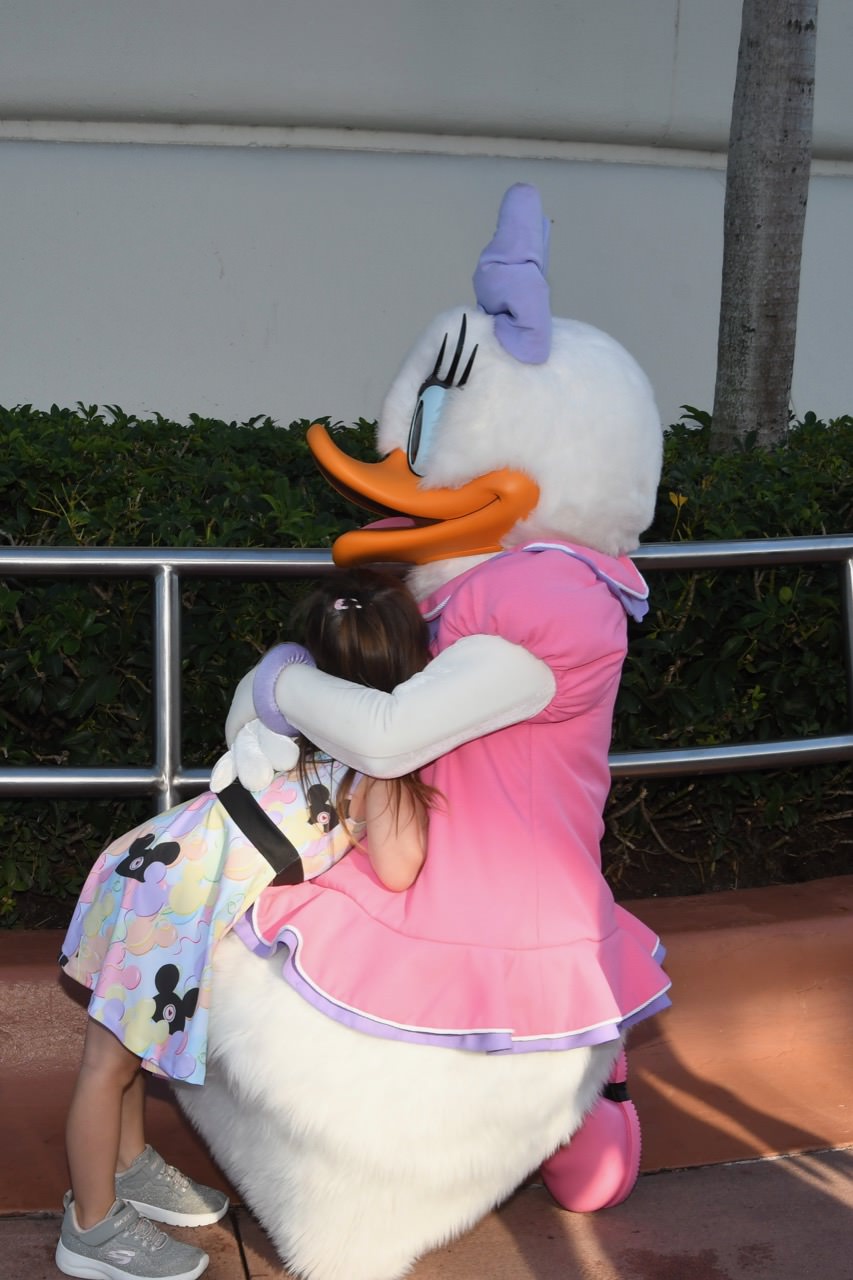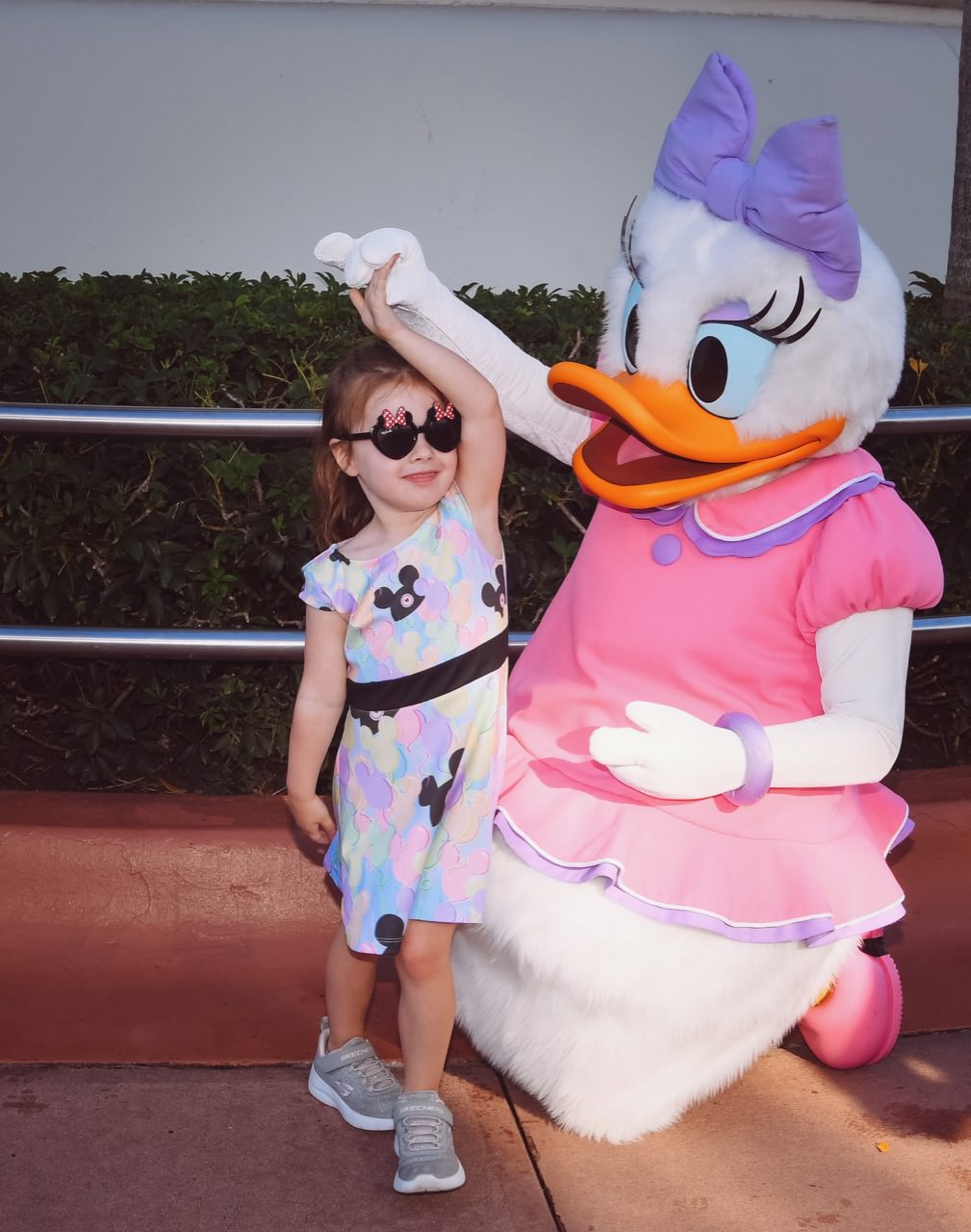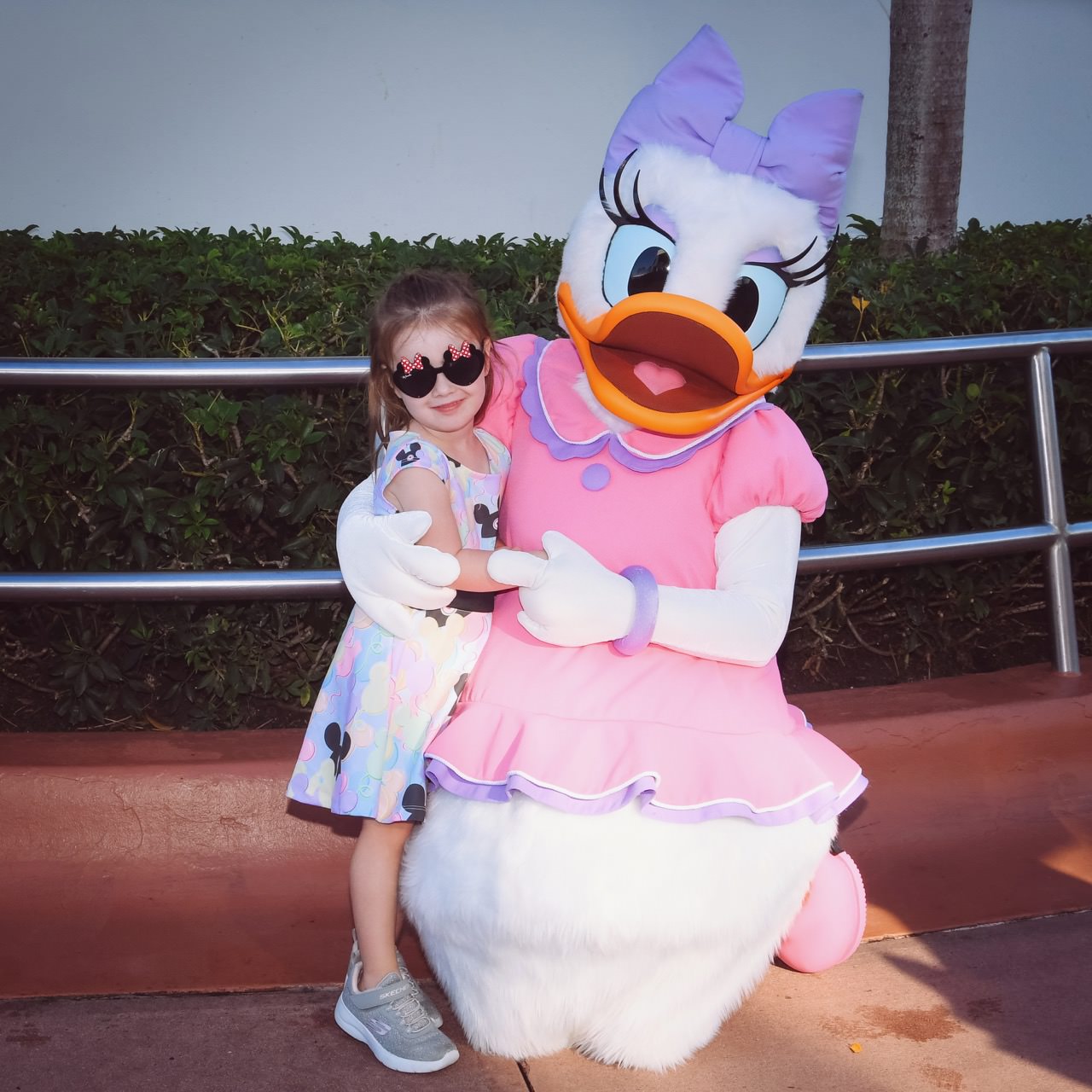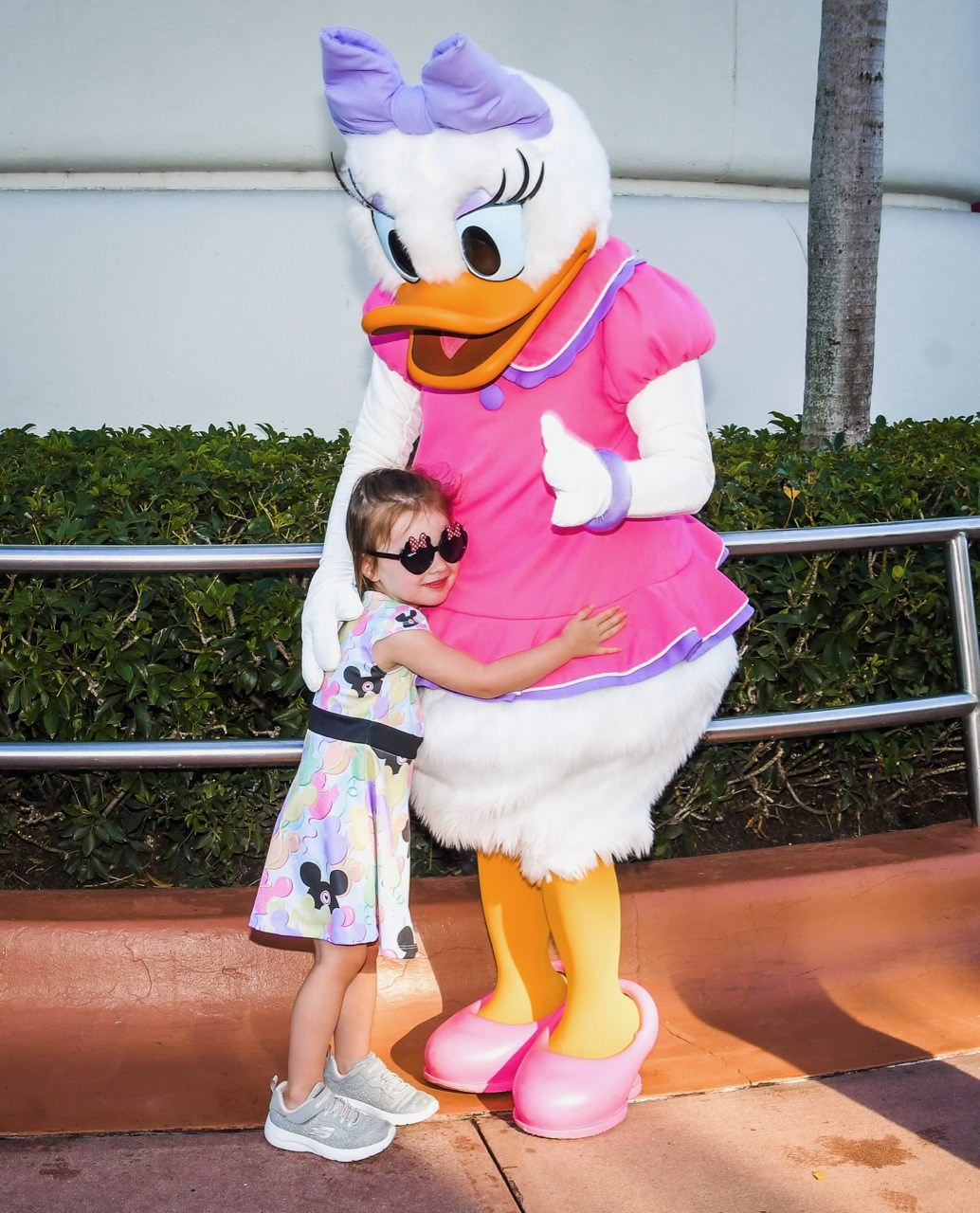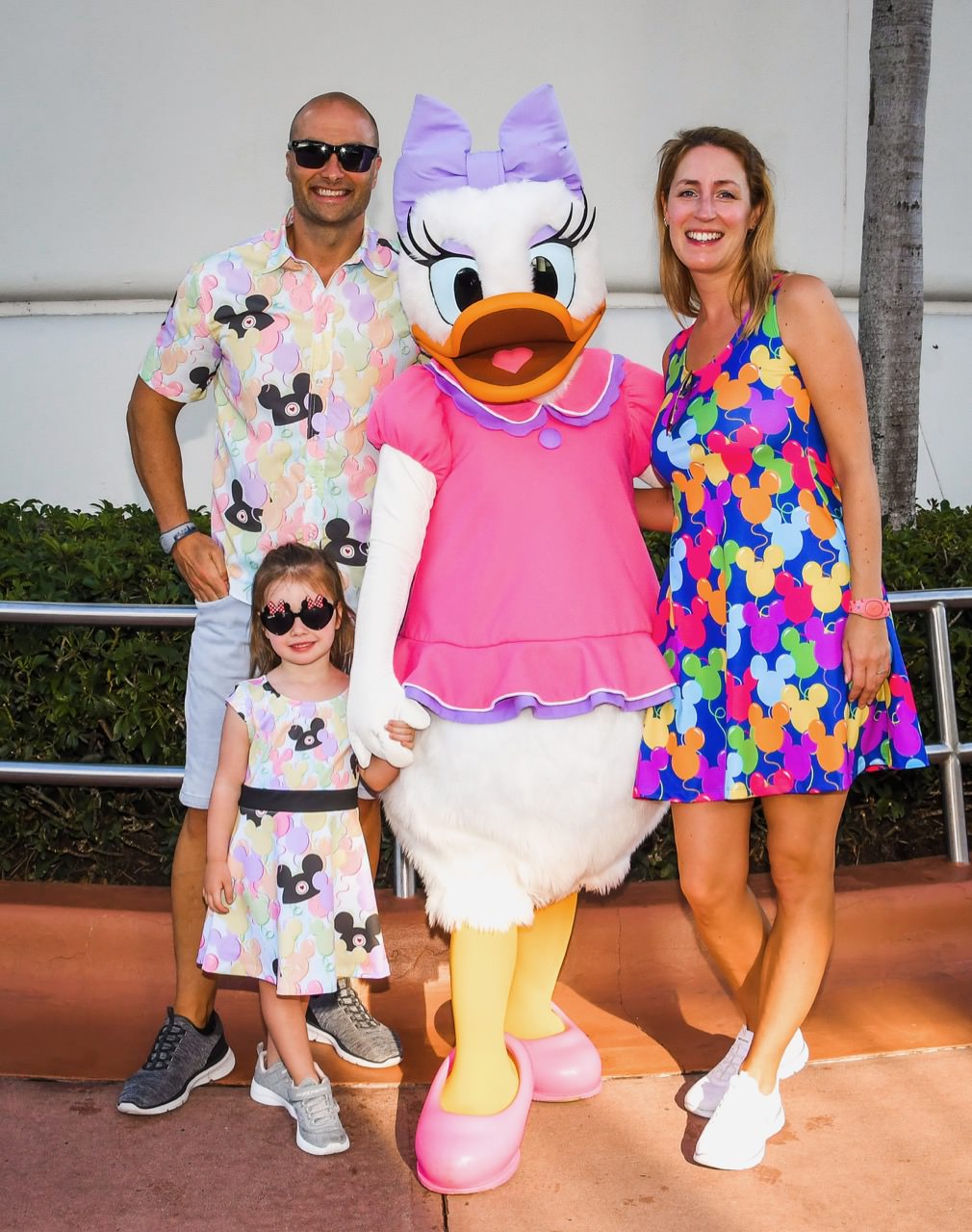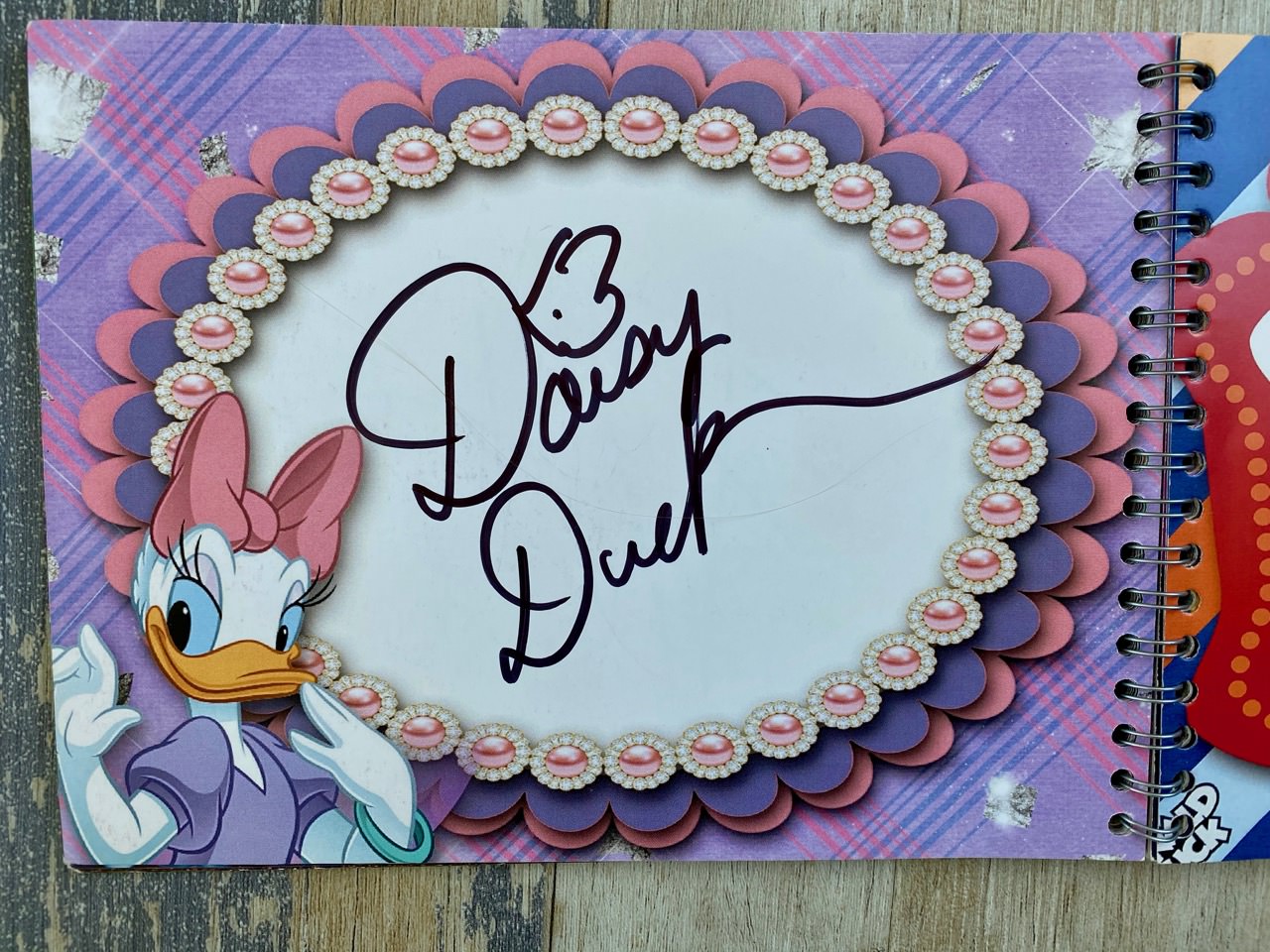 The next autograph we wanted to get was for Mary Poppins, but she didn't start meeting until 11AM, when World Showcase officially opened, so we had around 90 minutes before we wanted to be in England. Michael decided he was really hungry and wanted to head back to the Land Pavilion for another nice vegan breakfast wrap from Sunshine Seasons. Myla was asking to go to the playground beside Starbucks we'd passed earlier, so we momentarily split up - he headed into the Land to pick up his food, and I walked on to the playground to let Myla loose - we couldn't be bothered to park up the stroller and come in with him, and then have to find it again after.
I took a random photo of this sign at this point - everyone back home was asking me if the pandemic was having any effect on Florida or if we could notice it in Disney World, especially after social distancing suddenly became a thing and no one was supposed to shake hands anymore and the governments were advising against/already banning large groups of people coming together. This sign, along with a few portable handwashing stations, were the only signs of the pandemic in WDW at this point:
The playground here, which is just before you get to the new Starbucks, and kind of between the Imagination Pavilion and World Showcase, is a temporary one installed just for the Flower & Garden Festival. It was all garden themed, and we loved it! I took way too many photos of Myla playing and having fun - sorry about that! If this area is open when you visit with a younger child though, definitely keep an hour or so free for it, my 3-year-old loved it better than any rides in Epcot lol (q on the plane ride home: which ride in Epcot did you like best, a: the playground with the tunnels and music
).
She started off jumping around on these lilypad type things.
Then went on a little rope bridge over the fake 'water' (blue turf).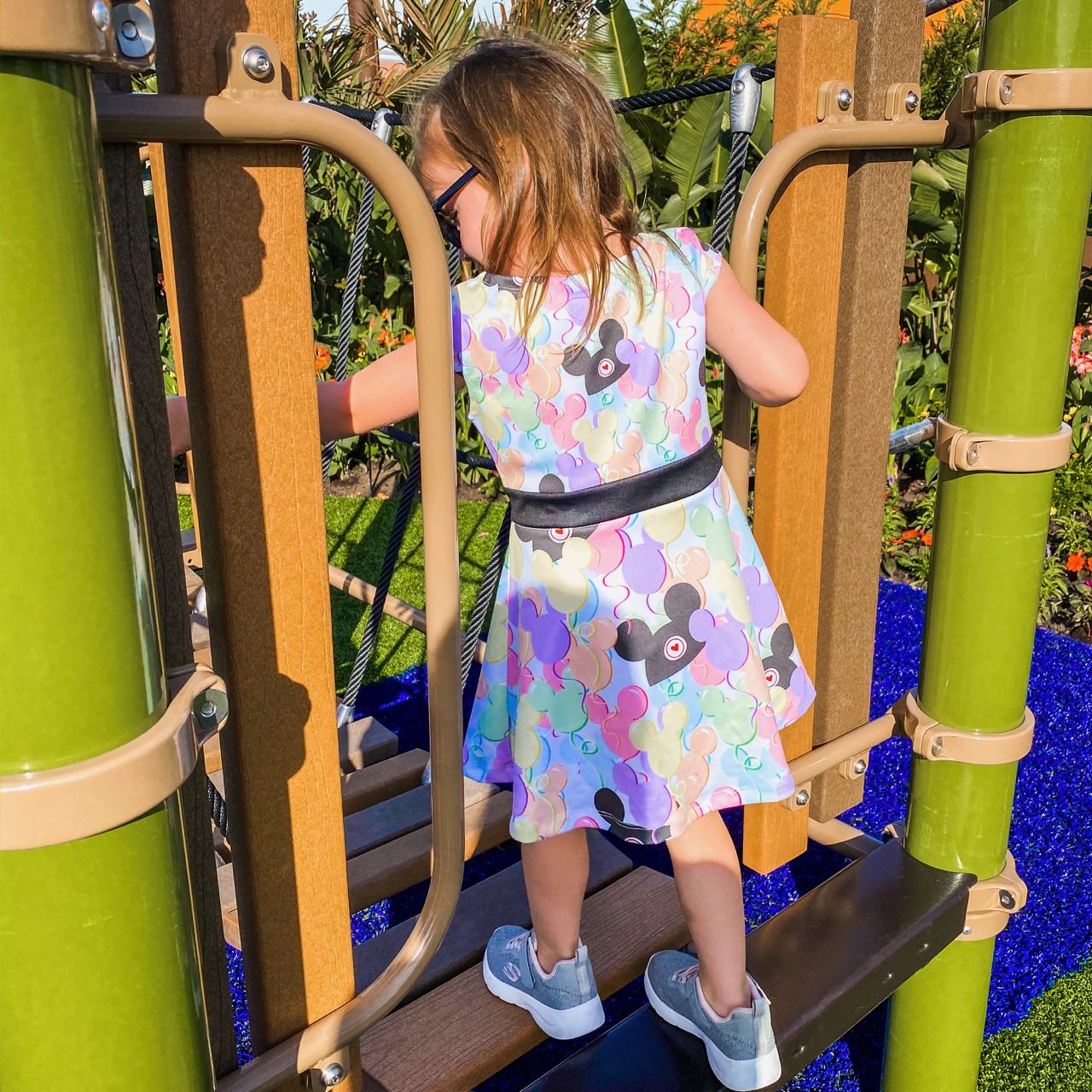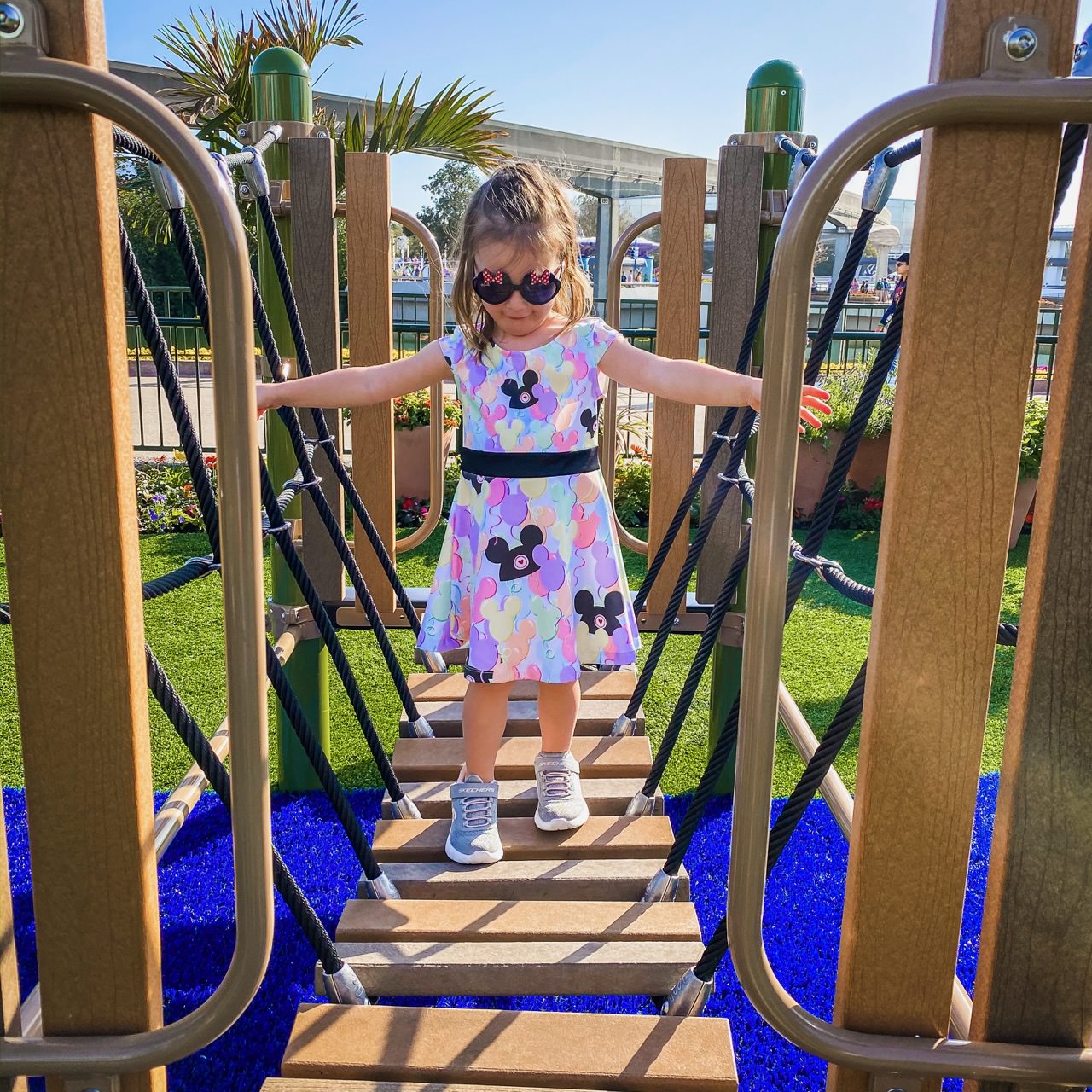 She then made a little American friend, the girl in the Belle dress, and they were both playing in this ball, which you can climb and also it spins: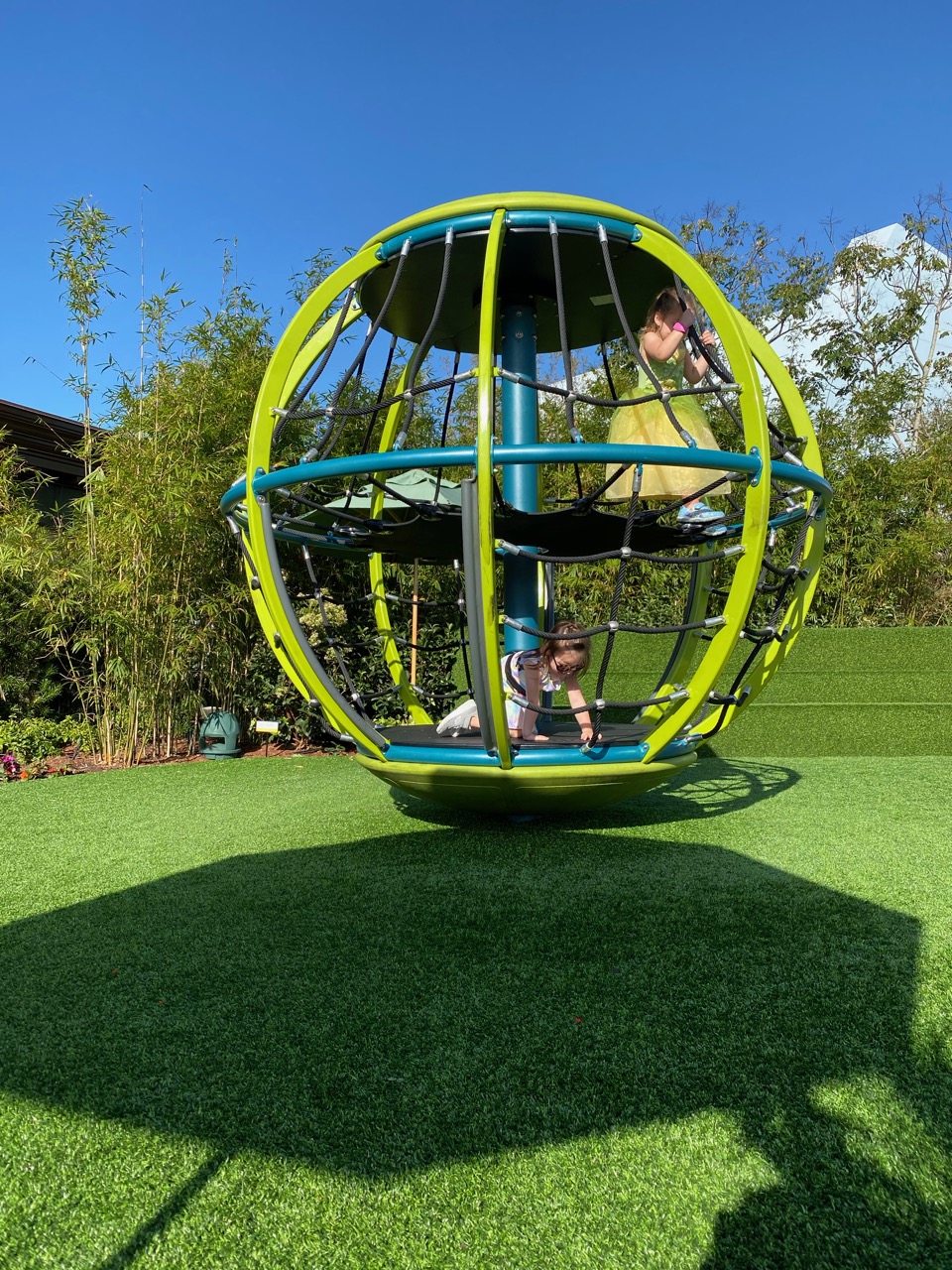 They were banging these metal tubes for ages too, until to Myla's disappointment the girls' parents called her as they were leaving.