Day 32: The US Travel Ban, Epcot & Old Key West
March 12, 2020
[-- Trip Index --]
Today's quick movie:
So, picking up where I left off in yesterday's report. We went to bed just before 9PM last night, and therefore narrowly missed Donald Trump's press conference where he announced a travel ban from Europe, 5 days before we were due to fly home to Amsterdam.
I woke up around 3AM to pee, and checked my phone to see what time it was. I saw several texts from from my brother, asking me if I'd seen the news about the European travel ban and if we were OK. WHAT?
Of course I was instantly wide awake. Suddenly all this corona stuff, that'd we'd only been loosely following as we were in our little Disney bubble, came really close!
I immediately went online to try and find out what this meant for our flights home next week. I read articles in several papers and on CNN and it became obvious pretty soon that this travel ban had come totally out of the blue for everyone involved. It caught European governments completely off guard, same with all airlines, including American companies. I also realized quite quickly that Trump actually gave
wrong
information in the press conference. He had announced a ban on all travel to and from the EU, but what he actually meant was that people with an EU passport and no green card, wouldn't be allowed to enter the US. He didn't actually ban the travel itself, just the entering of the country. Unfortunately this caused a ton of chaos, and resulted in Amsterdam Airport having long lines that morning with American tourists paying thousands of dollars for an immediate ticket home, fearing that they wouldn't be able to get back if they didn't go NOW.
KLM, the Royal Dutch Airlines, released a statement that night too to say that they hadn't been aware this was coming, and they couldn't say for sure how it would affect their flights, except that they most likely would be cancelling a fair number of routes if they couldn't fill the planes.
All this was a bit worrying, but I was trying not to panic too much - we were leaving the US, after all, not entering it, so the main issue for us would be whether or not our flight to Amsterdam would be cancelled if United Airlines thought there'd be too little people flying back from Amsterdam to the USA to make the route worthwhile, financially.
I finally drifted off again somewhere around 5AM, and eventually woke at 7AM, feeling very tired. Michael just came back from the gym and had heard the news on the TVs in there, but had decided to let me sleep until he came back just after 7, not realizing I'd heard about it overnight. He'd brought me a blueberry muffin from the Conch Flat General Store too, as by now we'd run out of the breakfast supplies we bought in Target before checking into Disney.
Michael and I then spent most of the morning trying to get some more answers and trying to decide what to do. Should we go home early and not risk staying here another 5 days in case there were no flights by then? Would that be overreacting and should we just stay here? We were really in two minds and it seemed no one could tell us what the best course of action was!
I phoned United Airlines and was on hold for 96 minutes, only to be told that our flight was not cancelled so far, so we couldn't cancel or change it without having to pay huge fees. If we did want to fly home early, we'd have to pay a change fee, as well as the fare difference, which was substantial - we're talking thousands of dollars in total. The poor girl on the phone seemed quite overwhelmed too, and United Airlines had a note on their website too to let people know they hadn't know about this ban in advance, and had no time to prepare. The girl of course couldn't tell me if our flight would be cancelled at a later point, all she could say is that it wasn't cancelled
now
. It was good to hear the flight was still on, but of course the question was for how long! Everyone was speculating about mass flight cancellations and Monday seemed an age away!
After a few hours of debating, reading things online, and of course being on the phone, we decided to leave it for now. There was nothing more we could do right at that moment, except for pay a small fortune which we didn't really want to do. So we decided around 10:30 that we were still going to Epcot like we'd planned for today - no use sitting in the hotel room all day. Myla wanted to get the last few Epcot autographs she needed for her book, and she'd been so good and quiet all morning while we stressed about this. But really, Michael and I talked about little else the rest of the day, most of our conversations ended up circling back to the pandemic and the travel ban.
We left the room at 11AM and headed for the Hospitality House bus stop, where we waited 15 minutes in the nice sunshine for an Epcot bus.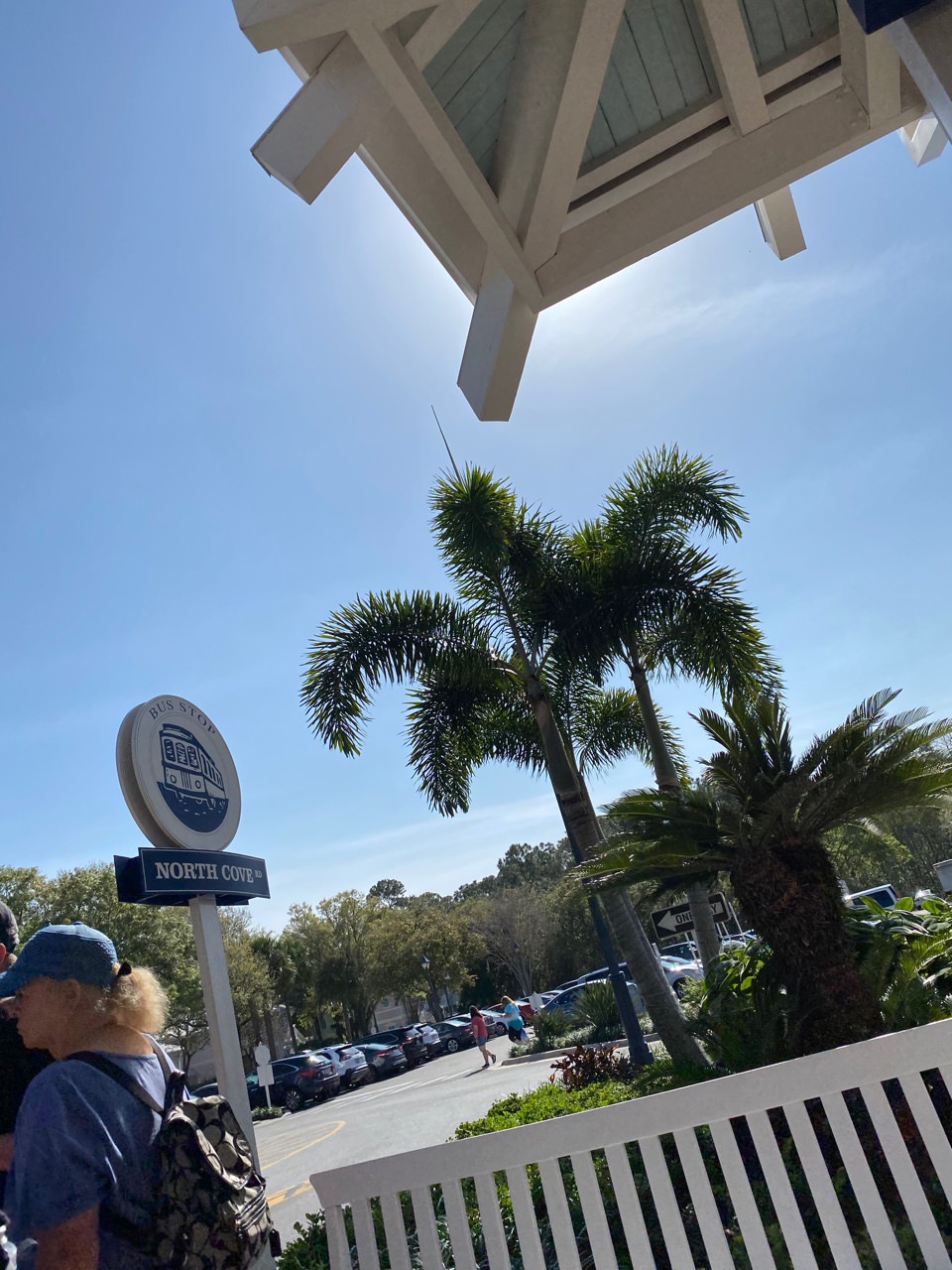 We were in Epcot around 11:45, and made our little plan for today. Since we were a lot later than we'd planned to be, I scrapped the idea of more playground fun, and we decided to just get the 3 missing autographs: Snow White, Mulan, and Donald Duck, in that order as the meets all started with half an hour between them, which would work out perfectly. First stop was the toilets underneath Spaceship Earth again.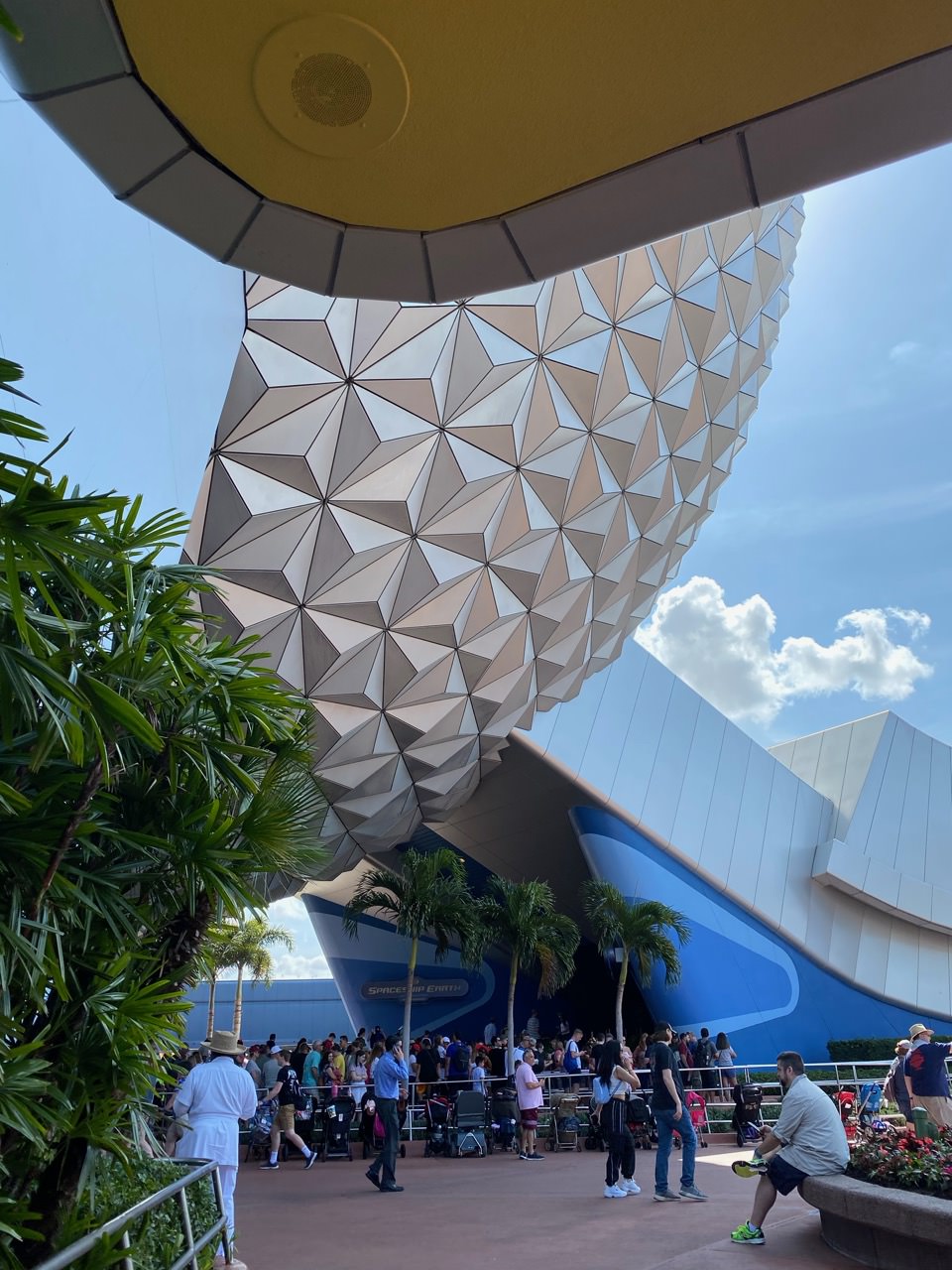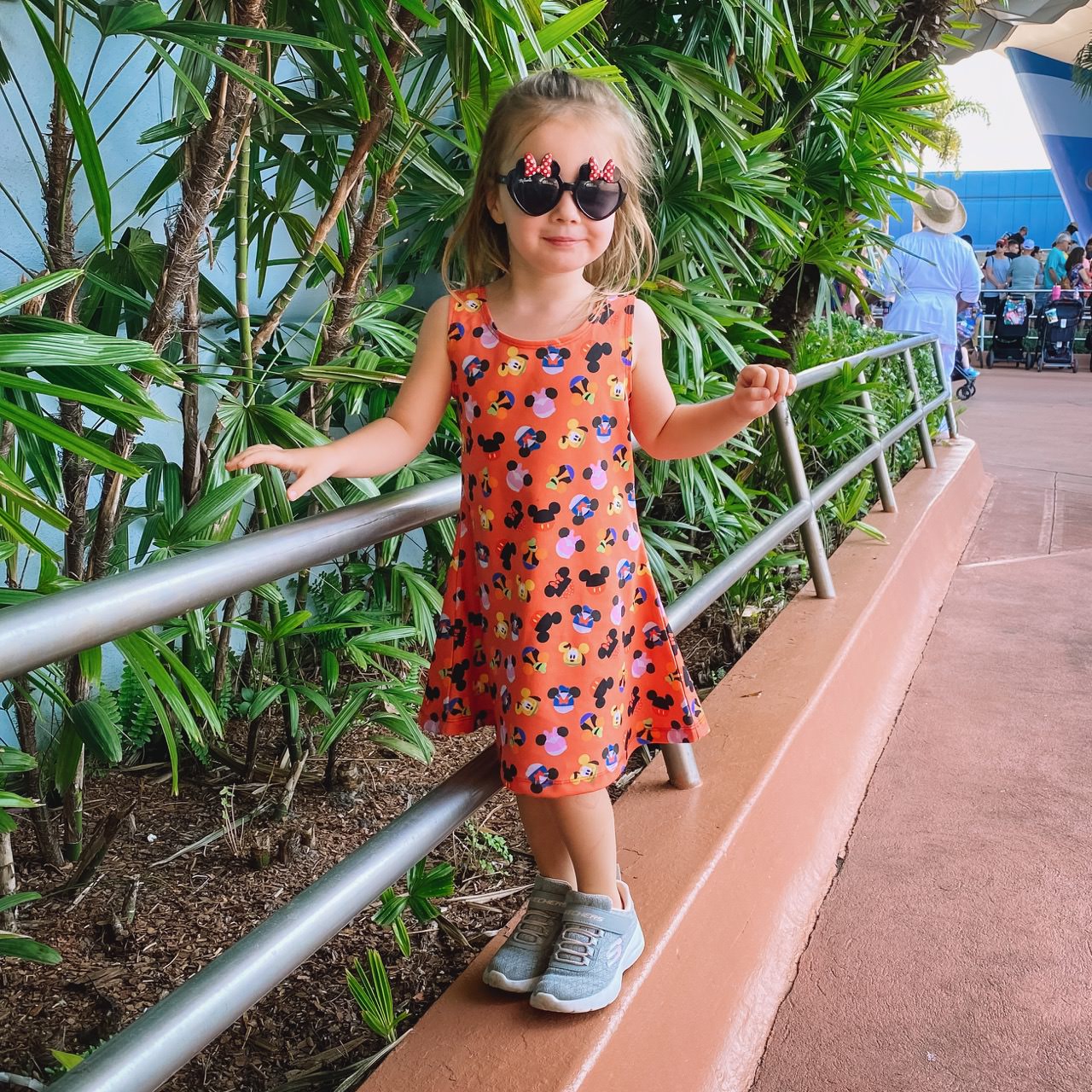 We walked towards the Imagination Pavilion to pick up a popcorn bucket refill, and headed into World Showcase.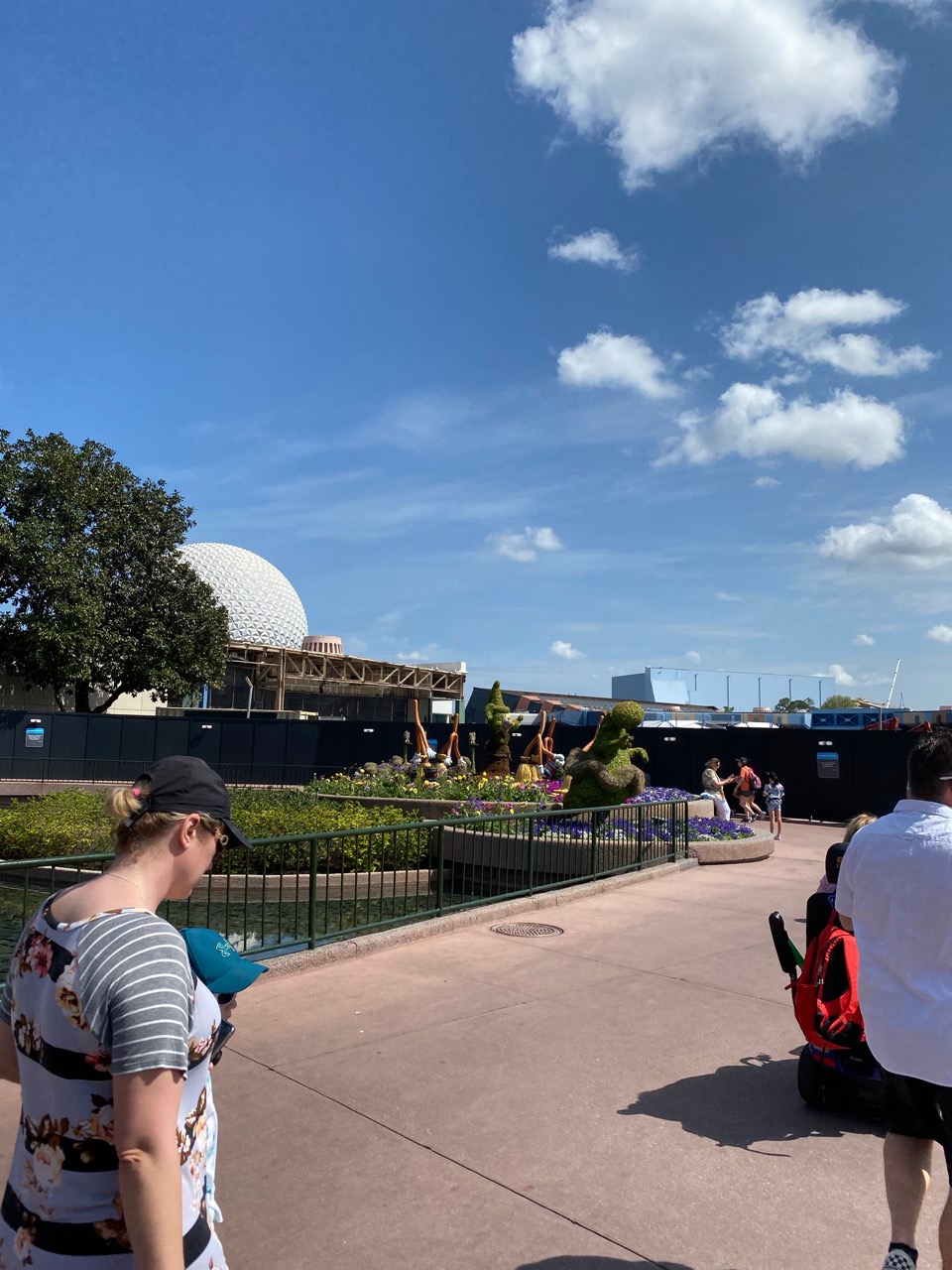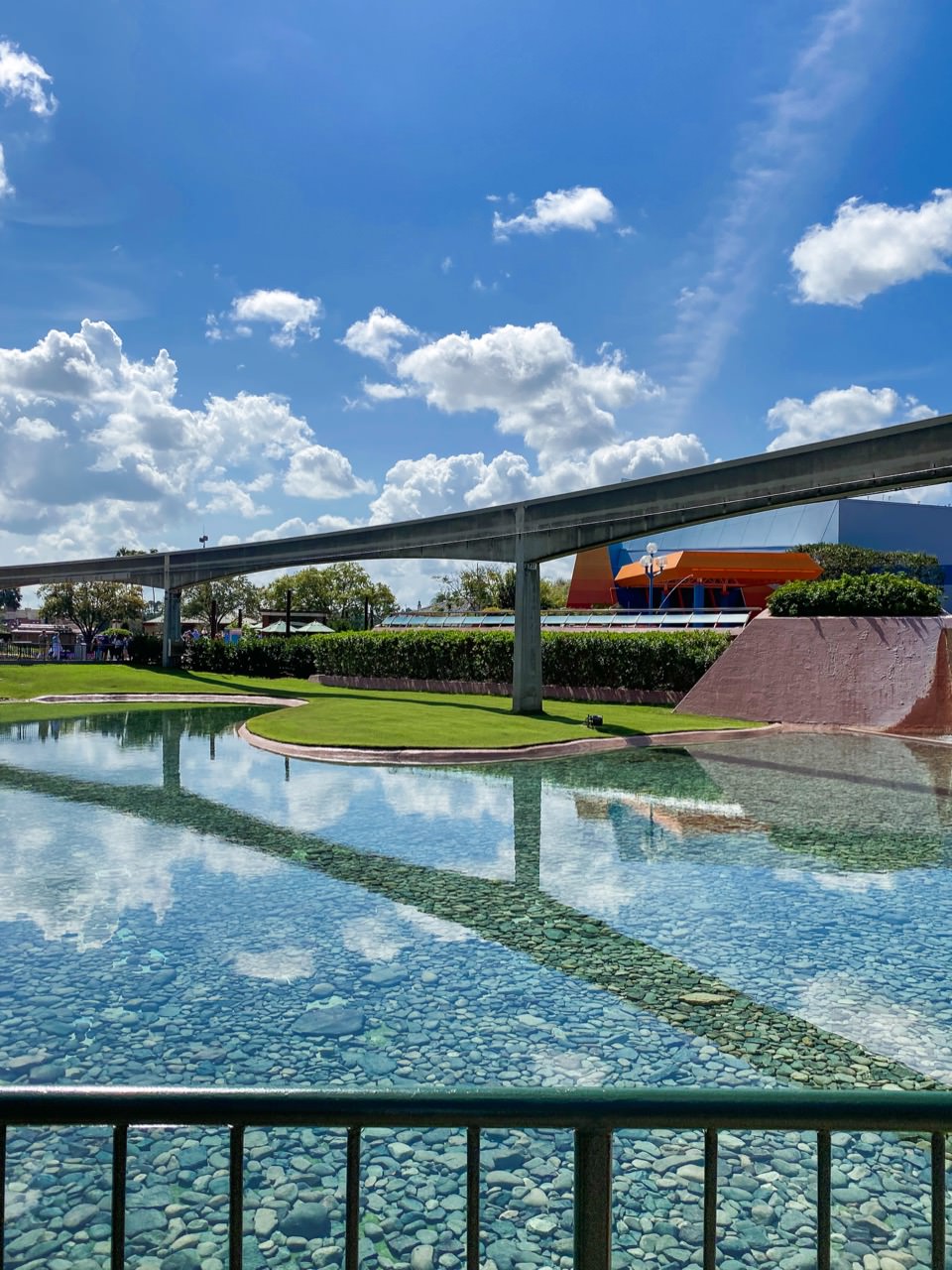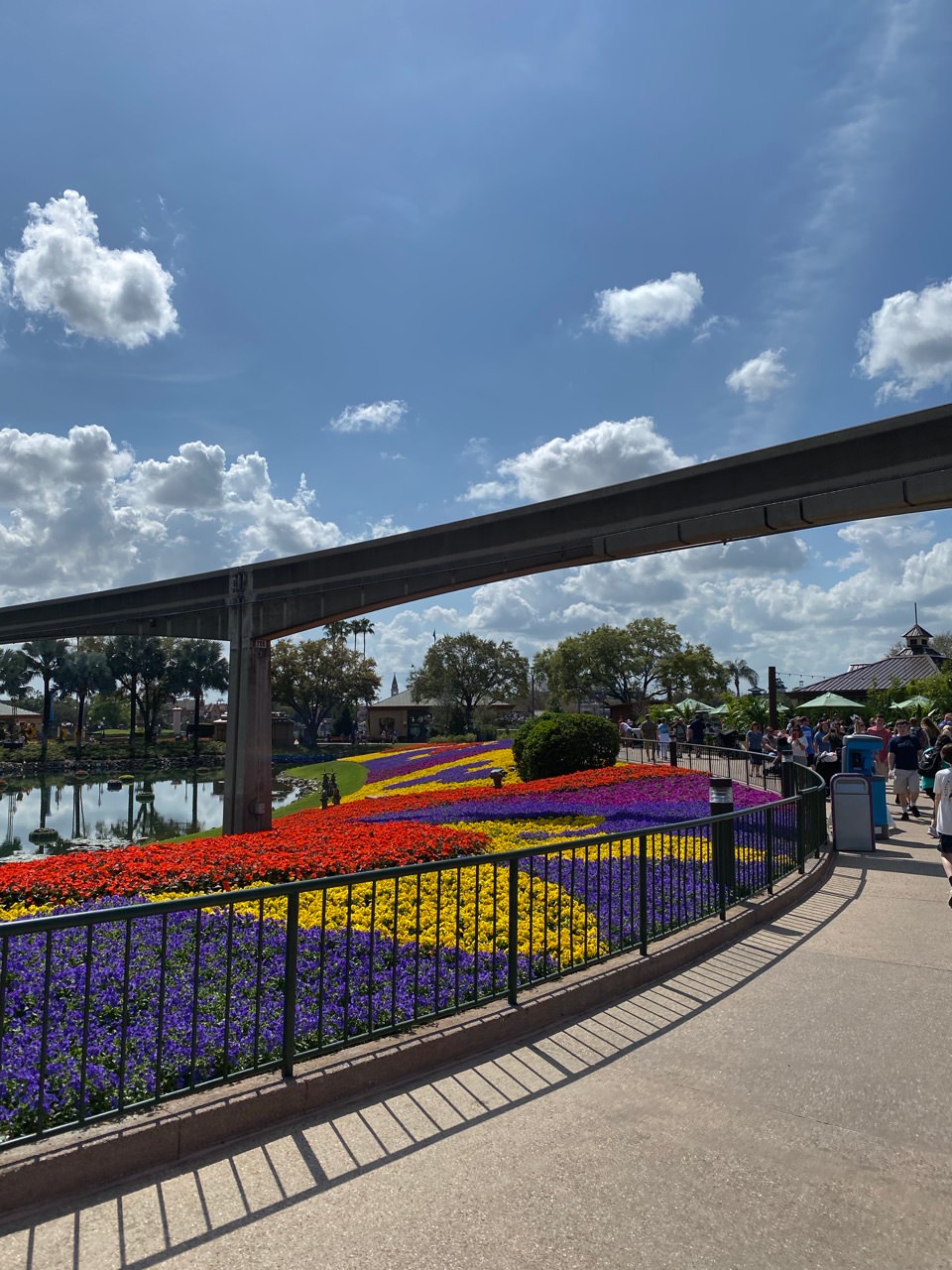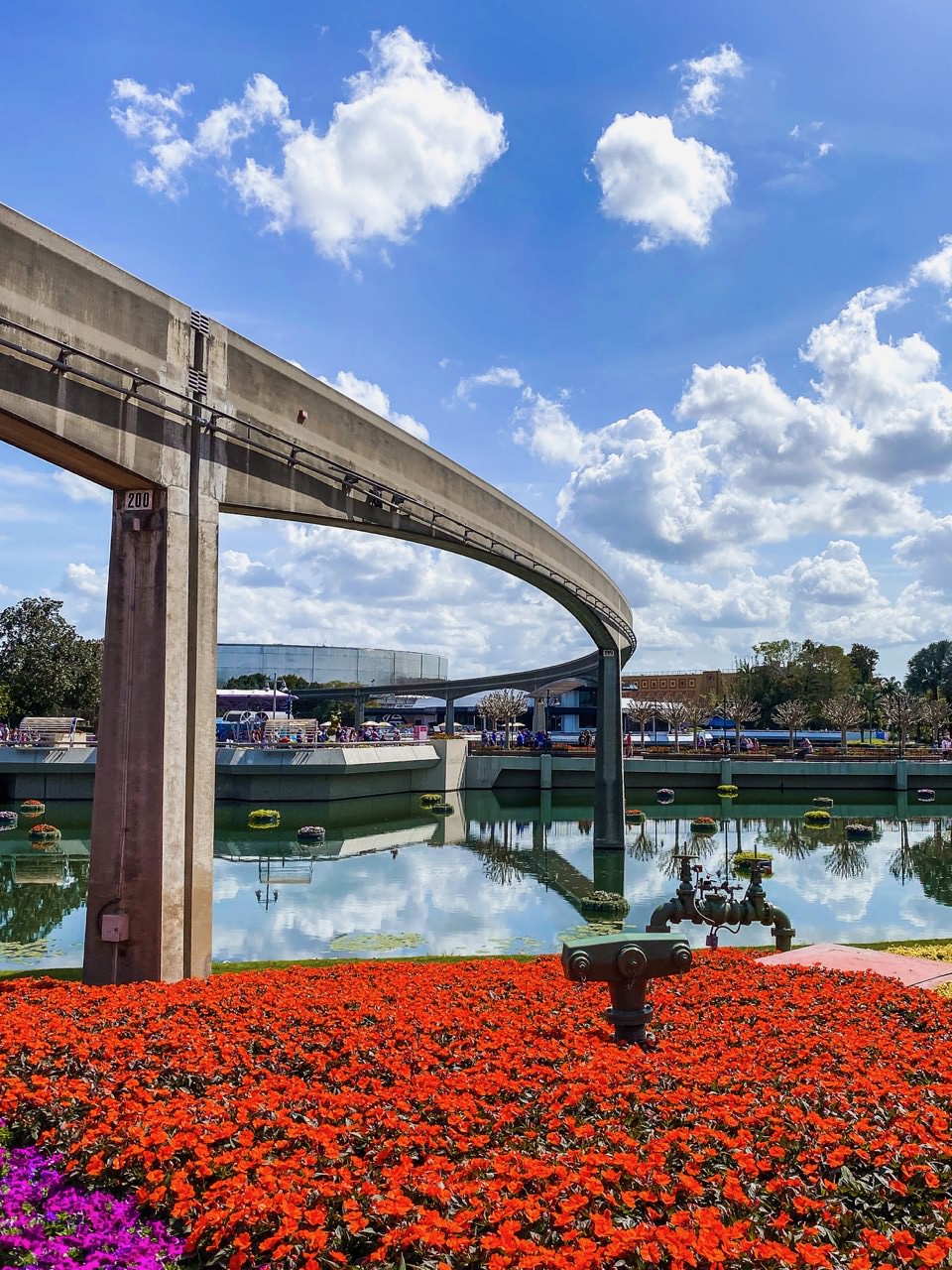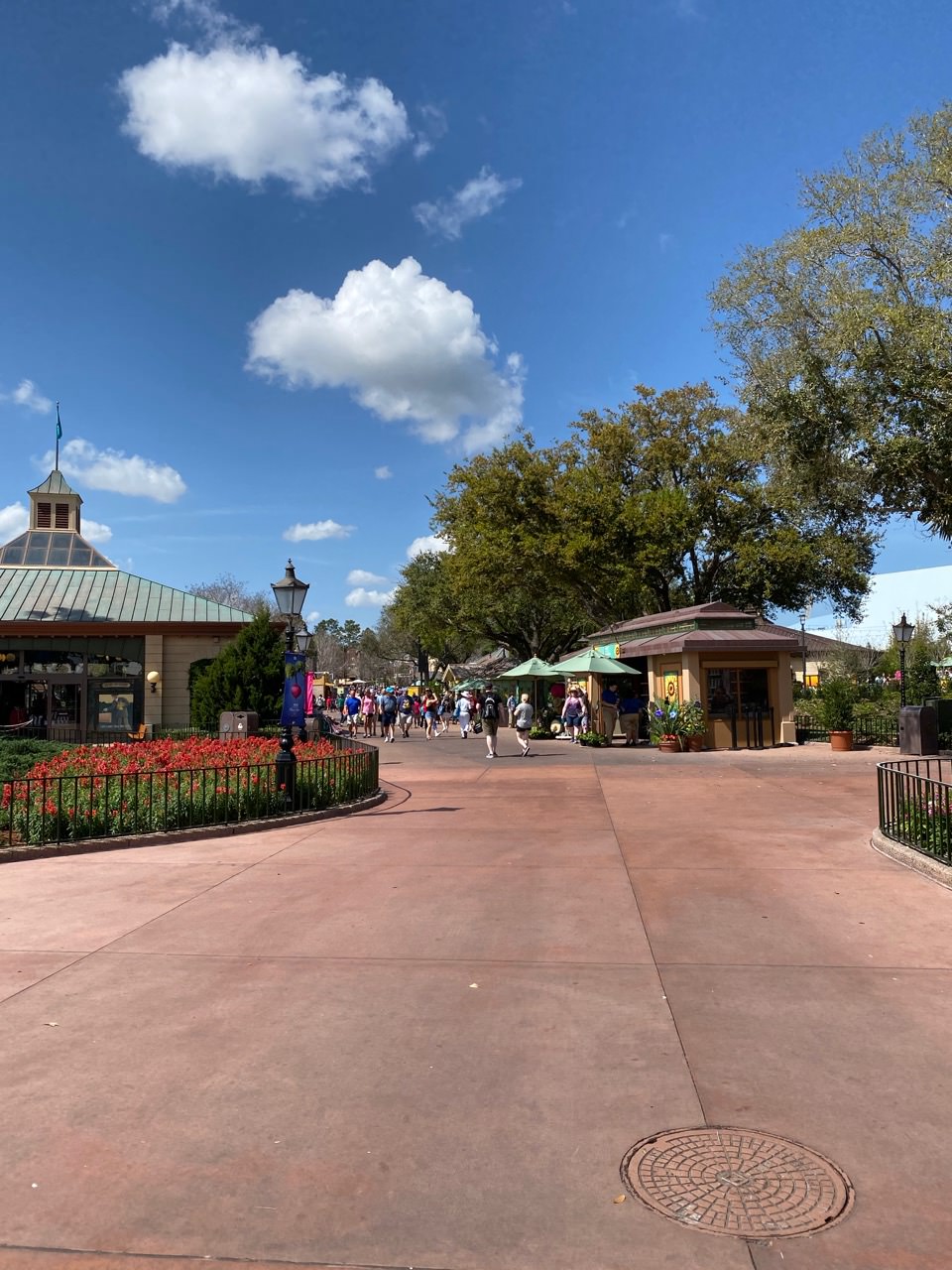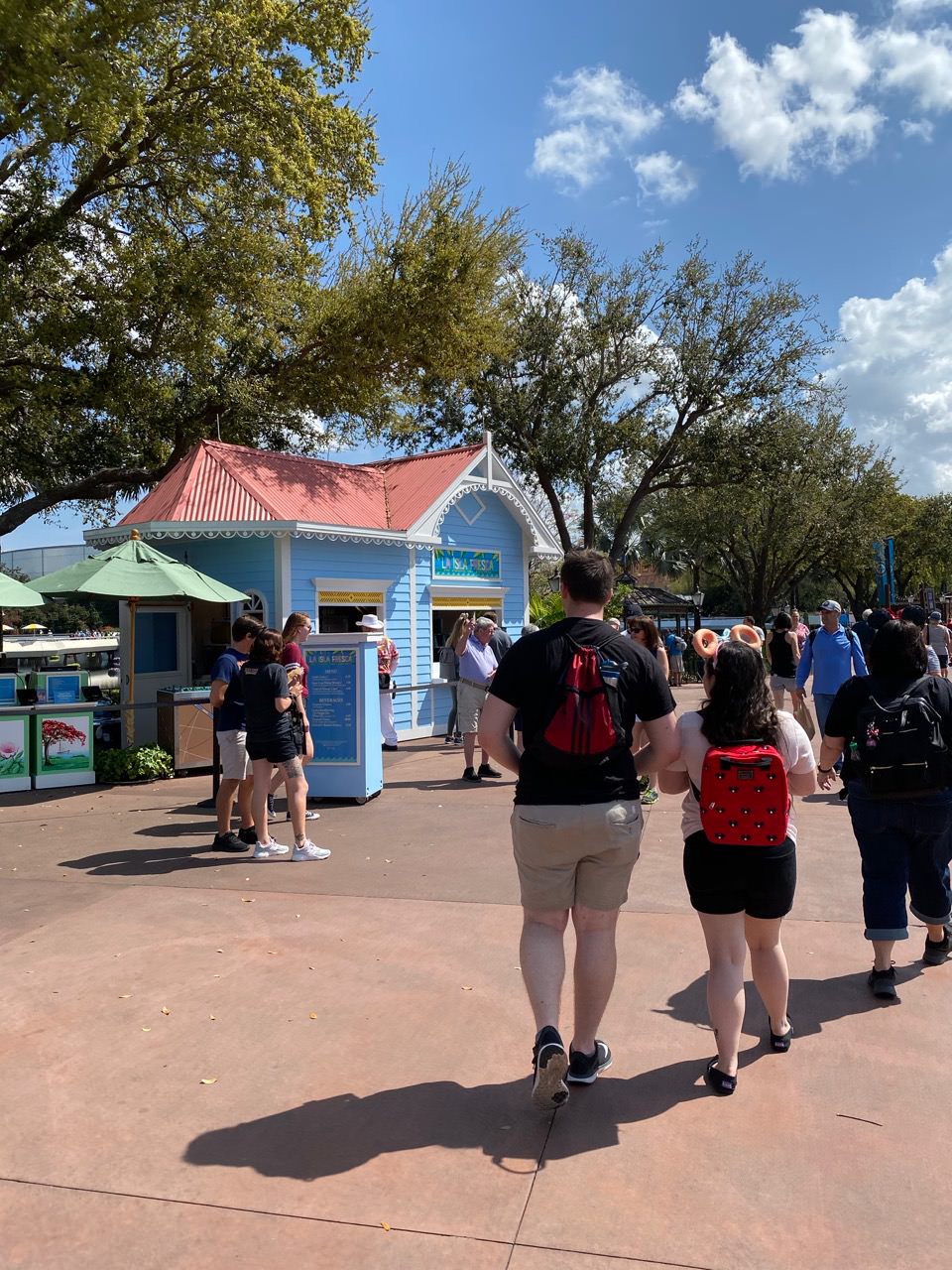 We walked straight on to Germany, as Snow White was due out first at 12:30. There was already a bit of a queue for her even though she wasn't out yet, and we ended up waiting about 20 minutes. She was lovely though, very sweet and did a little twirl with Myla in their dresses!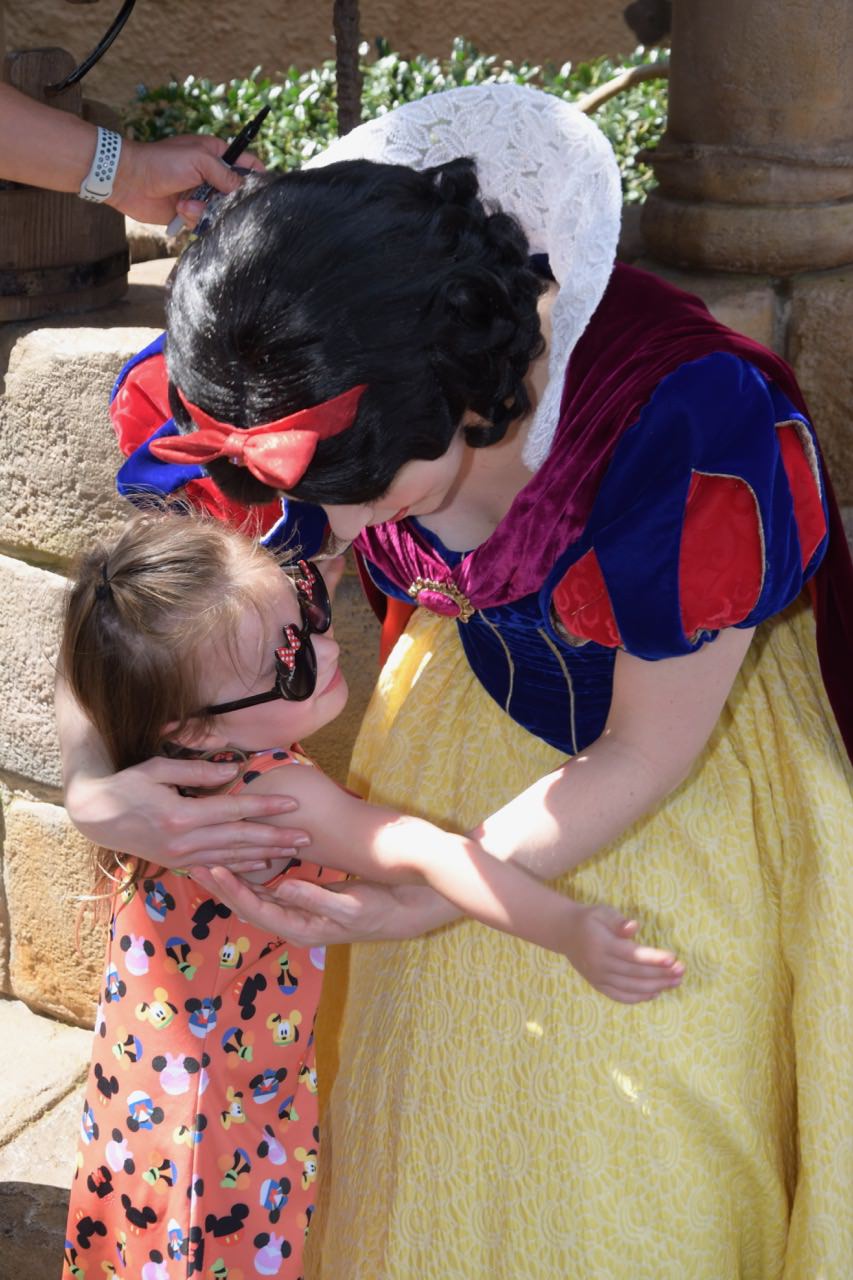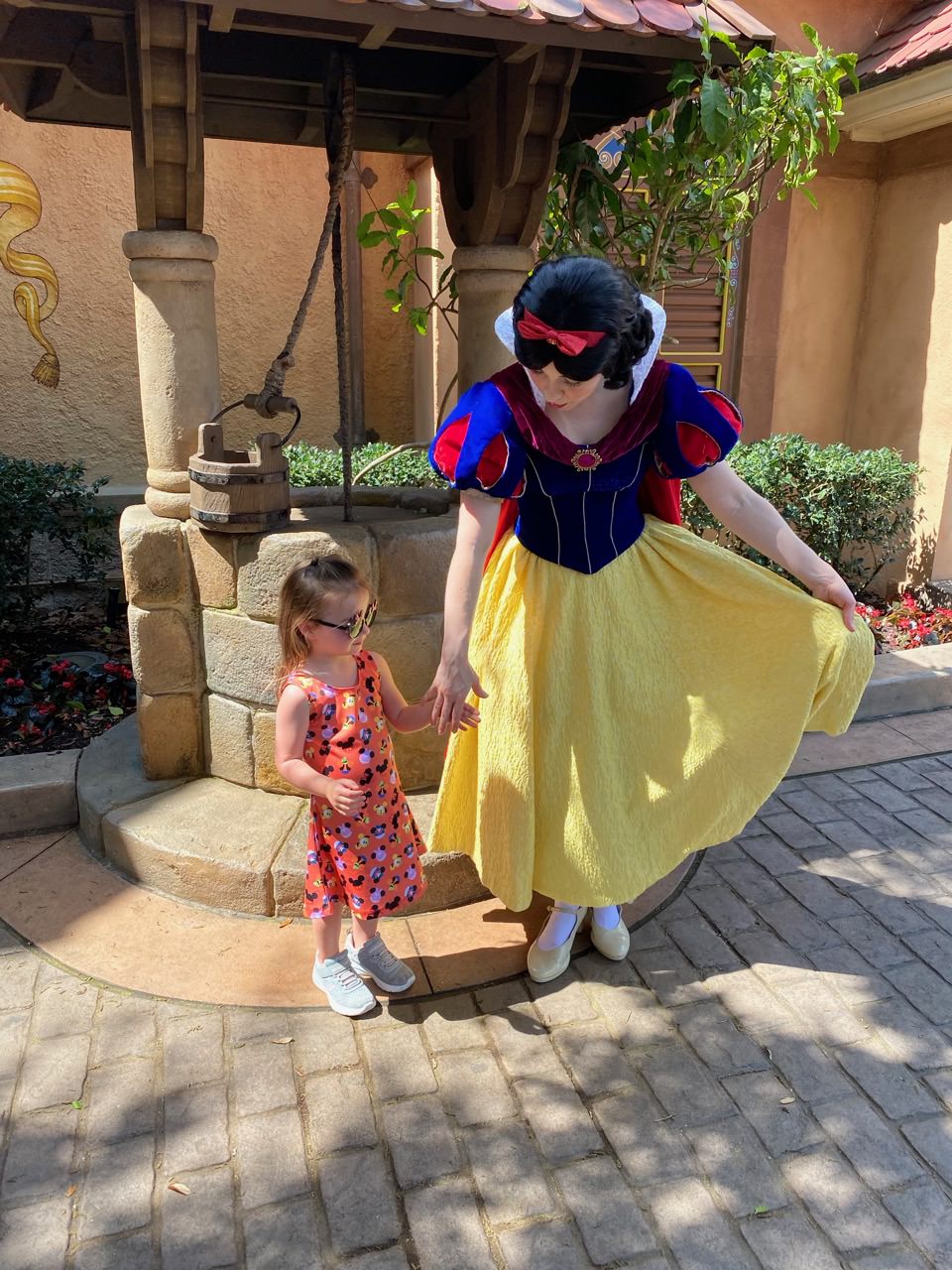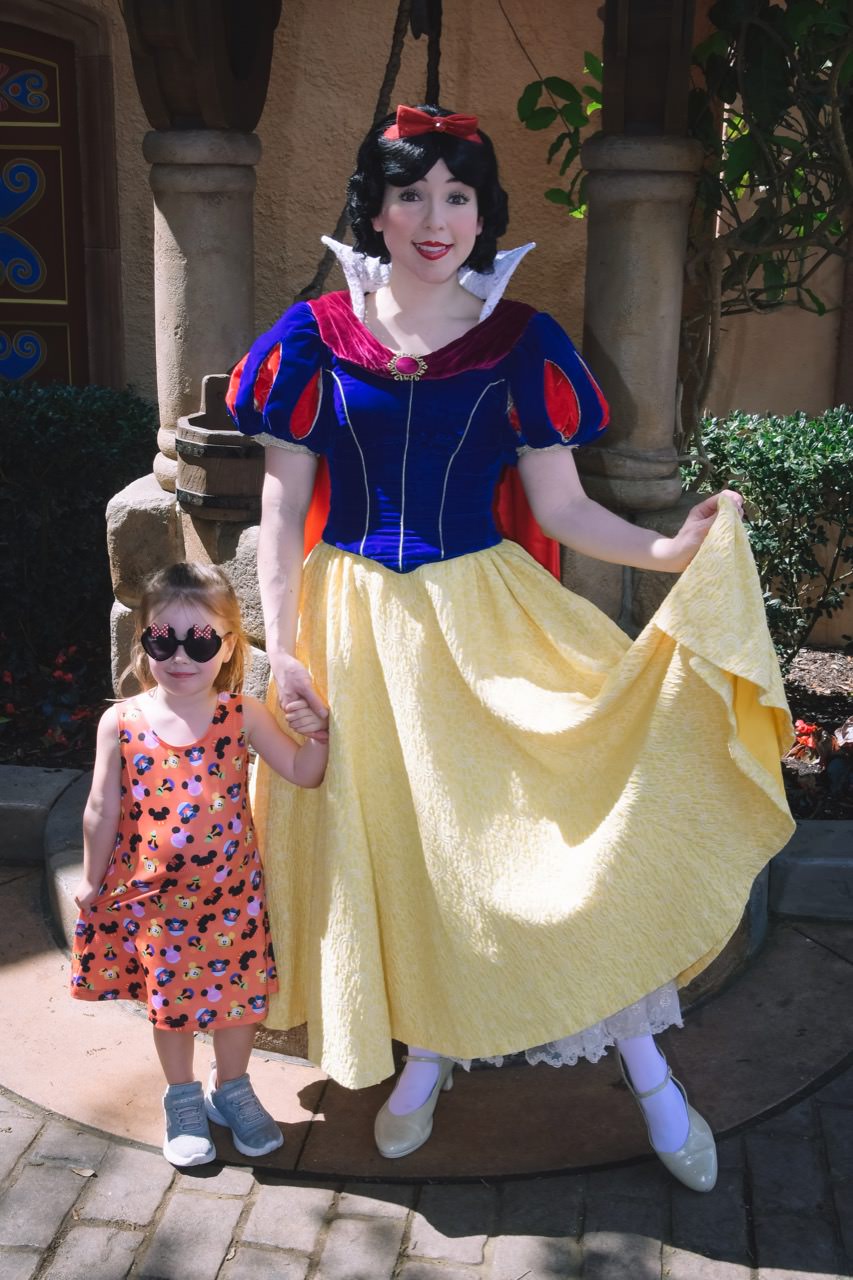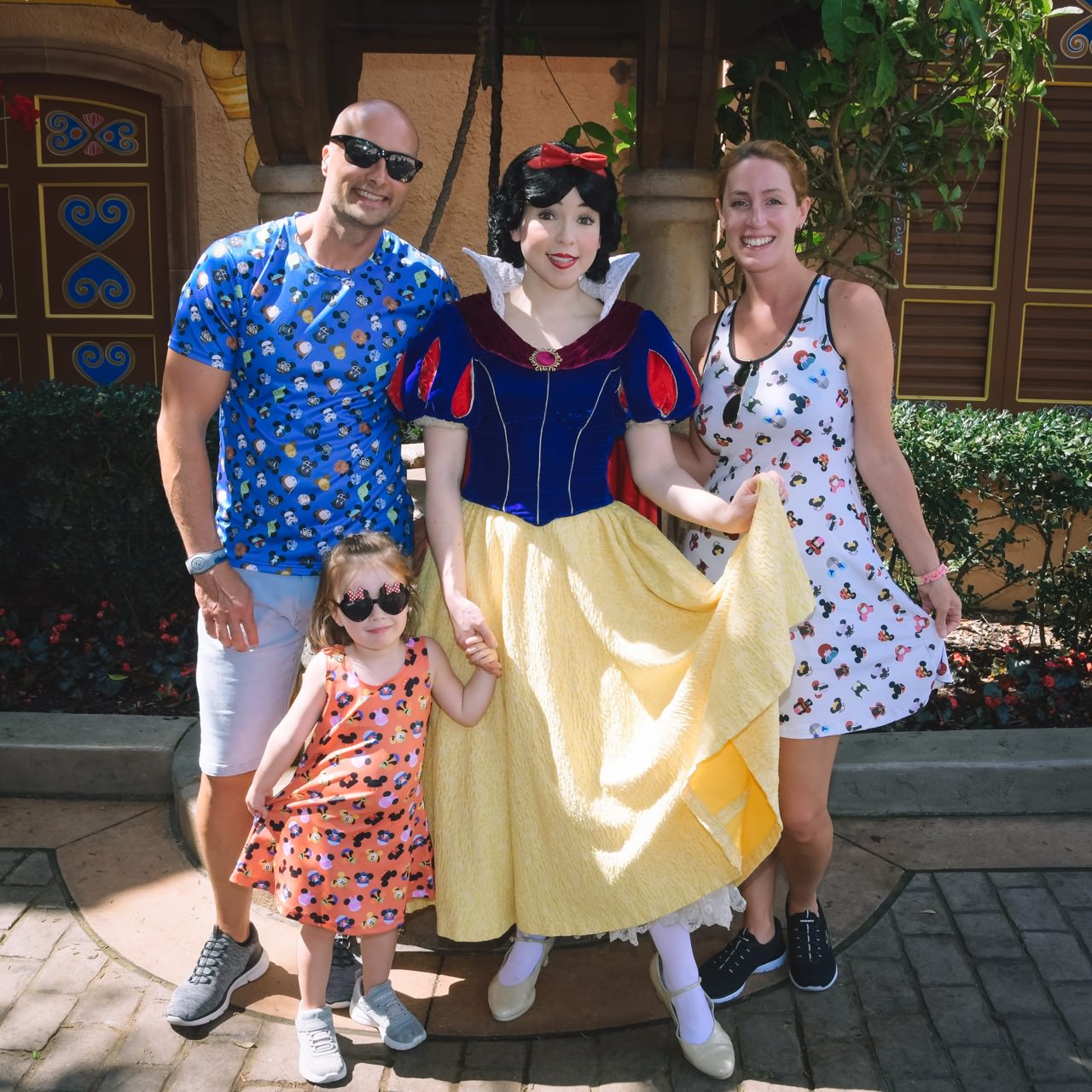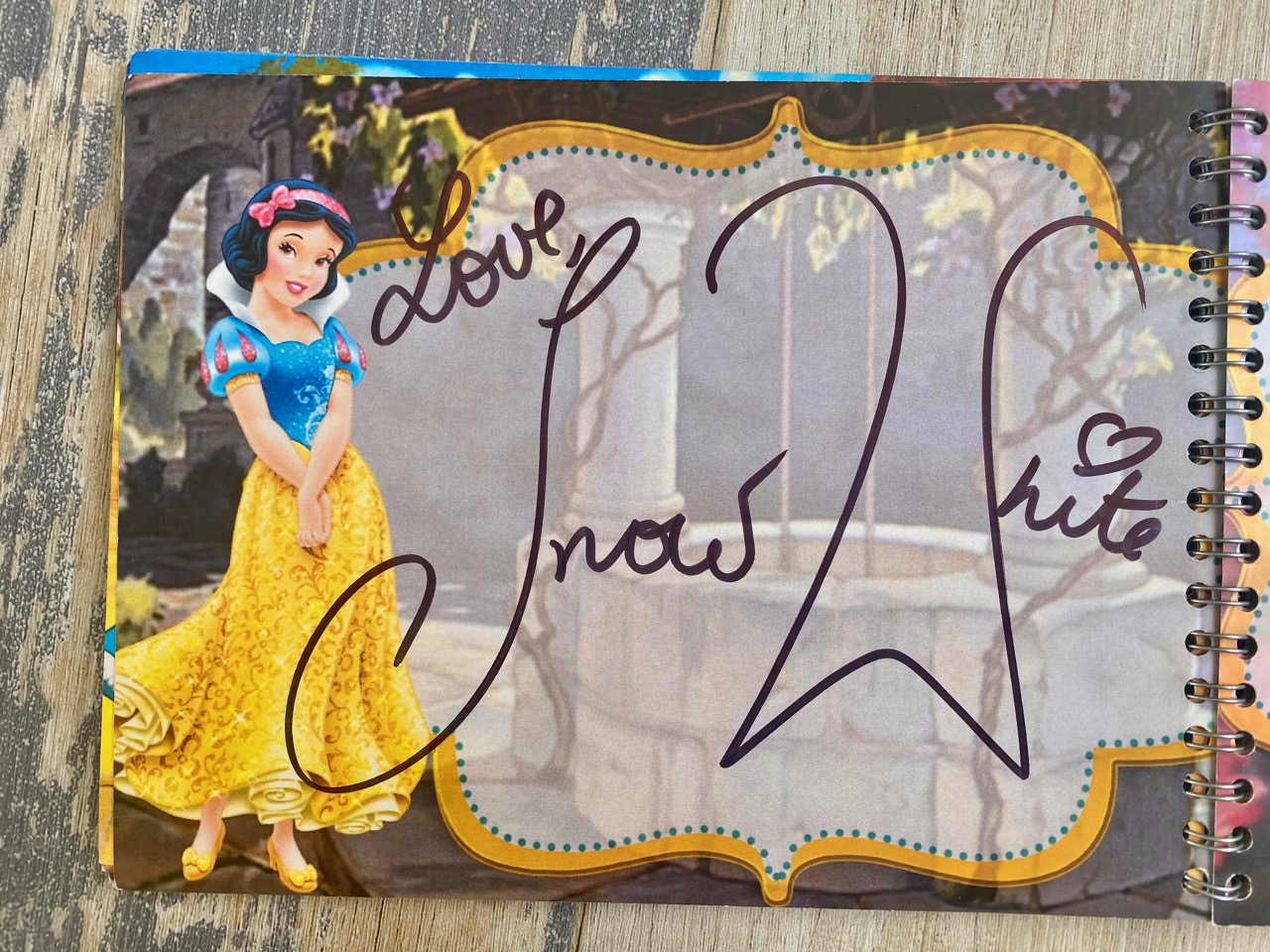 It was starting to get very hot again now, and we now backtracked to China, where Mulan was due out at 1PM. We joined the small queue around 12:40, with 3 or 4 families in front of us. Michael said he needed a pee, so we stood in the queue on the narrow path with the stroller - Myla entertained herself with the little fence.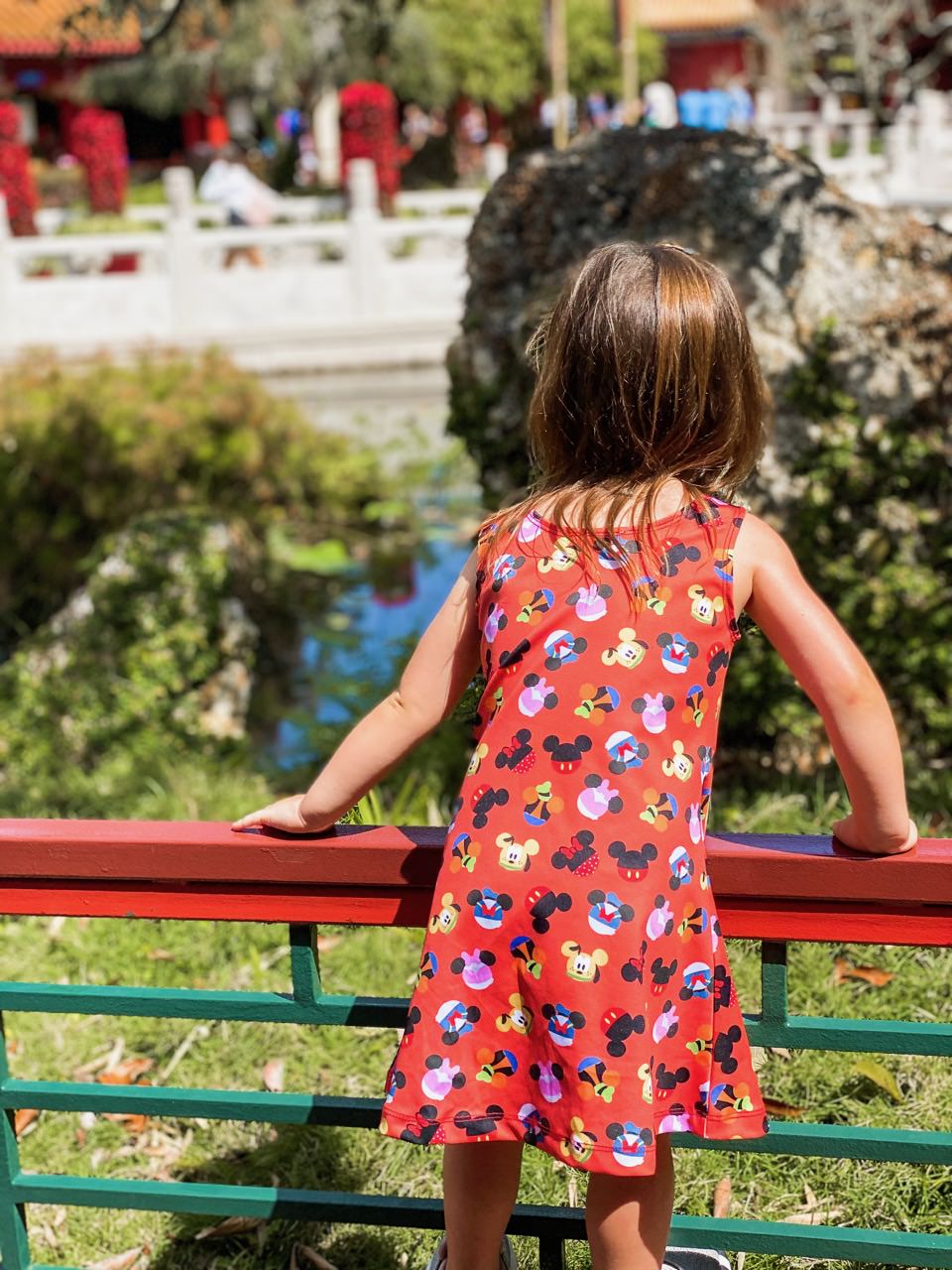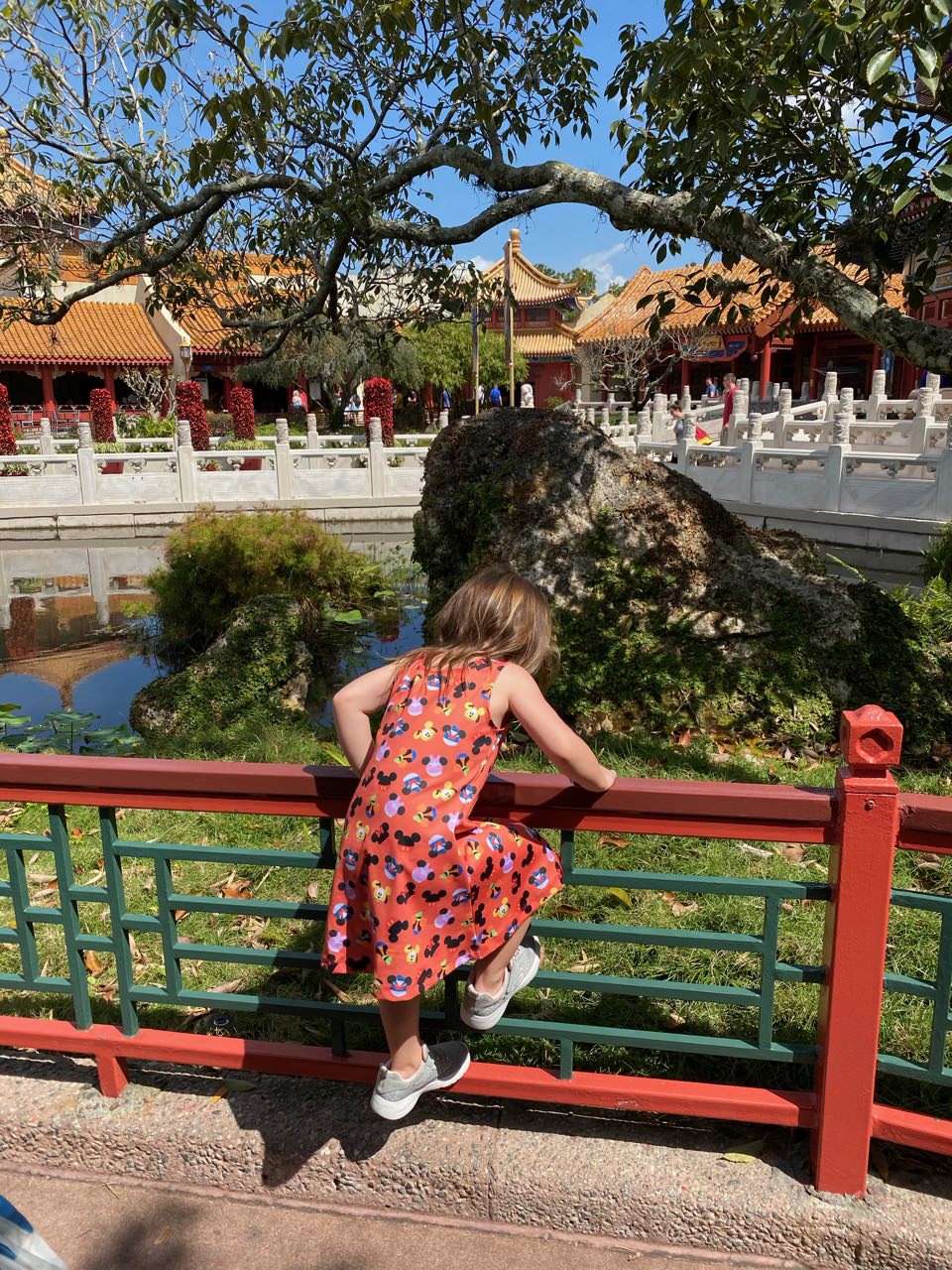 Myla then turned to me and said, mommy I really really need to pee! There was still no sign of Michael, even though he'd been gone like 10 minutes at this point and I didn't get what was taking him so long! I didn't fancy wrestling the stroller back out of the queue on this narrow path, so I politely asked the family in front of us if they'd watch our stroller for just a minute while I ran to the toilet with her. That was fine, and Mulan wasn't due out for another 10 minutes anyway. I carried Myla into the little hallway between Lotus Blossom Cafe and Nine Dragons, and we used the toilets there, all the while wondering where on earth Michael had disappeared to.
When we got back to the stroller after a successful pee, Michael still wasn't back - he showed up about 2 minutes before Mulan came out. Turns out he hadn't realized there were toilets right beside us and had walked all the way to the Odyssey Pavilion as he hadn't seen any in Norway or Mexico either! So instead of asking a CM, he walked ages lol. I must admit I made fun of him a bit for that!
It was soon our turn to meet Mulan, and Myla asked me to do it together with her - she'd found the Mulan movie a bit scary when we watched a bit of it before our trip, with the Huns and all, so she was a bit unsure. But Mulan was lovely, very pretty and nice.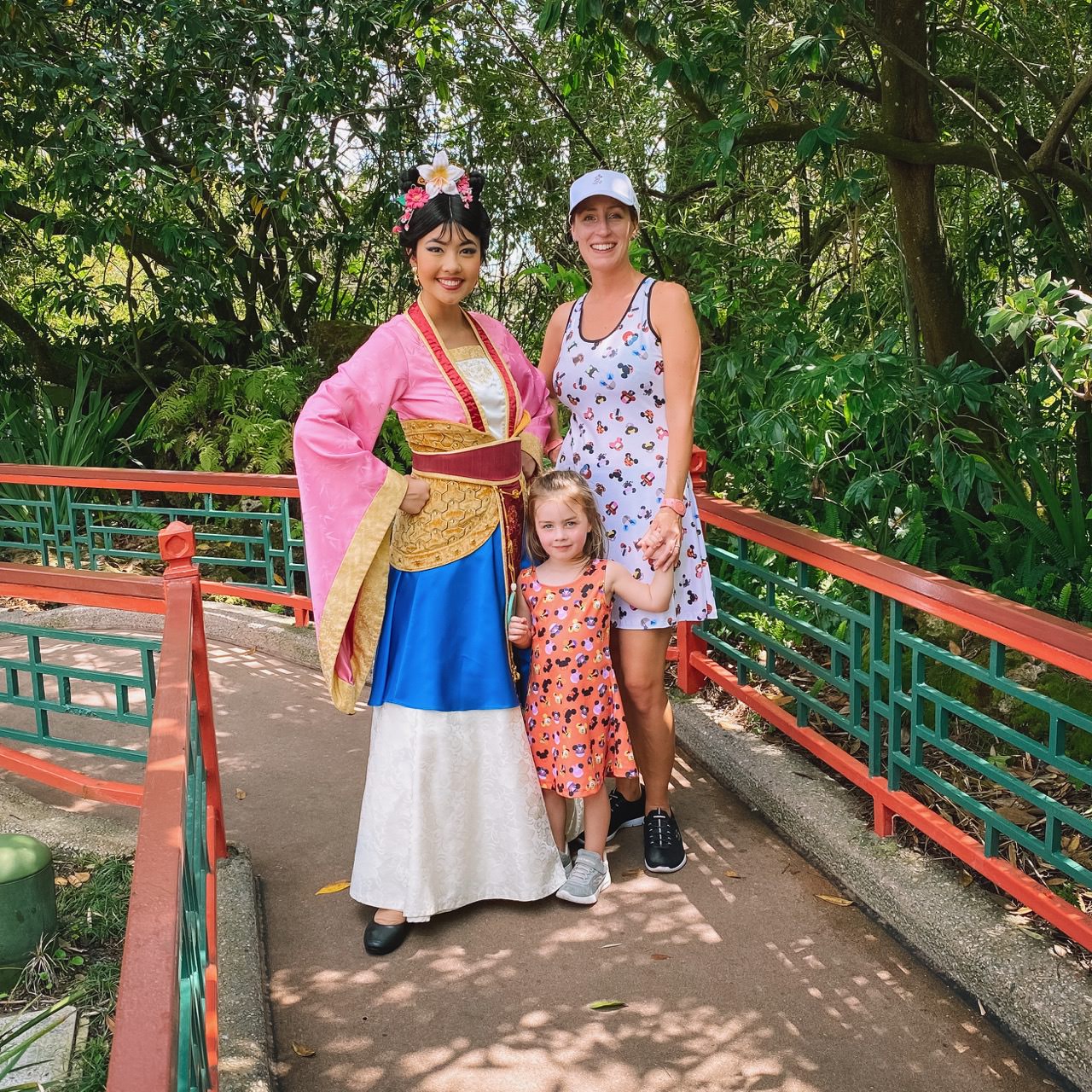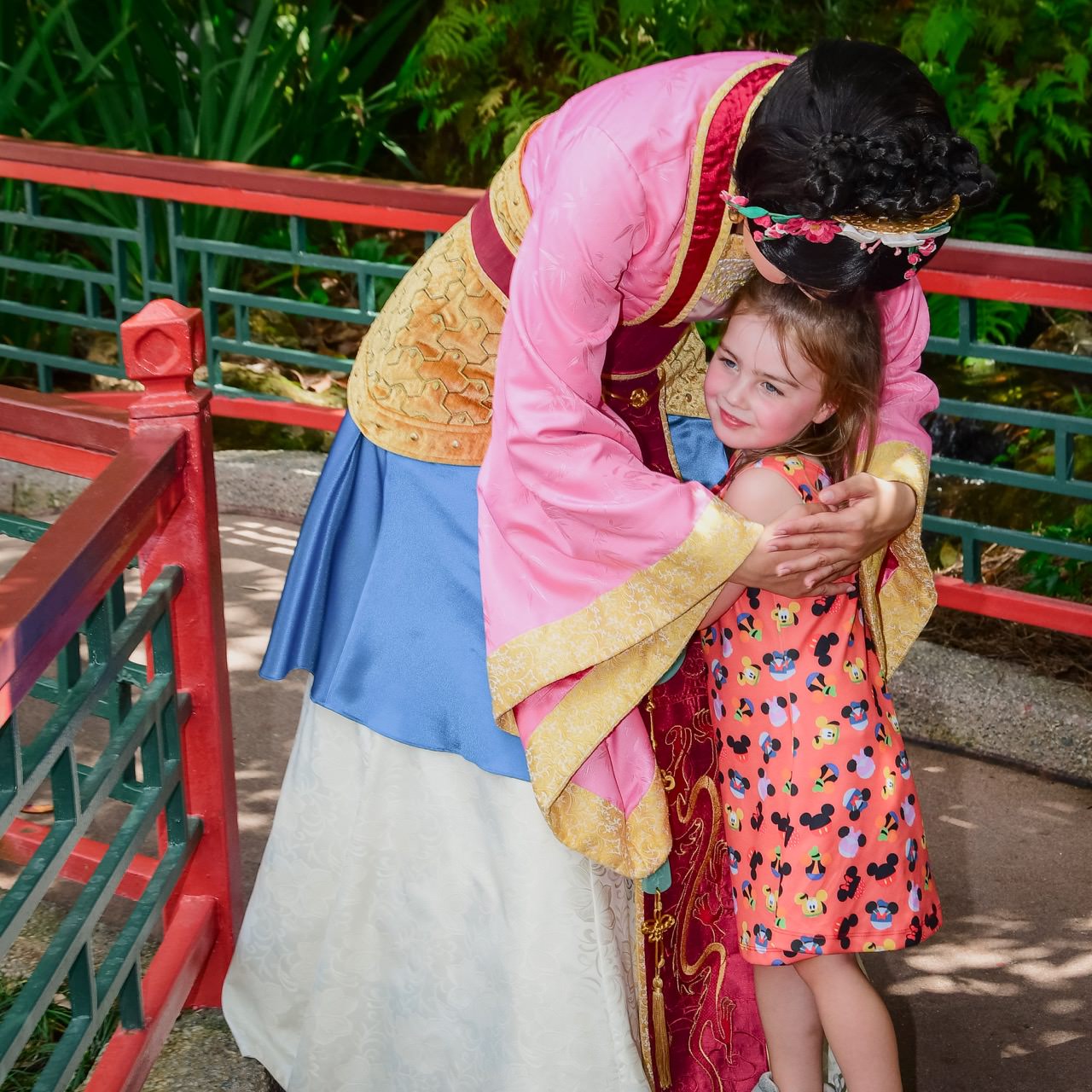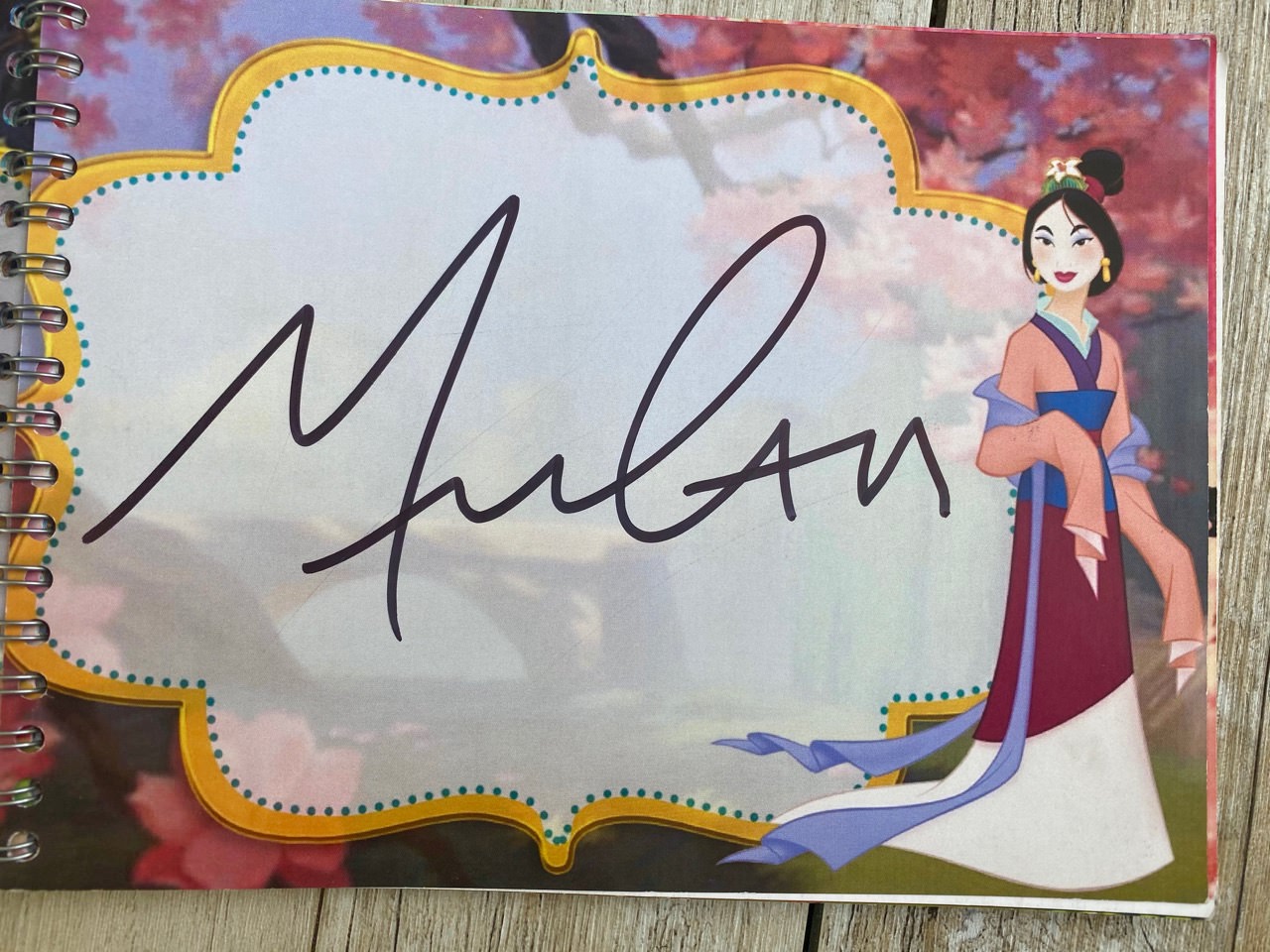 We stopped for a Photopass picture in the China Pavilion on our way out, but Myla didn't want to play ball - she was hungry and hot.
When we asked her what she wanted to eat, she asked for the sticky rice we'd previously gotten in the Japan pavilion. Because it was so hot, I didn't really fancy walking all that way for rice. Michael offered to walk around to get it as he fancied some more of the vegetable sushi himself. So he went off to get the food, while Myla and I walked on to Mexico and joined the queue for Donald Duck. That perked her right up, as she'd been so sad over not seeing him yesterday.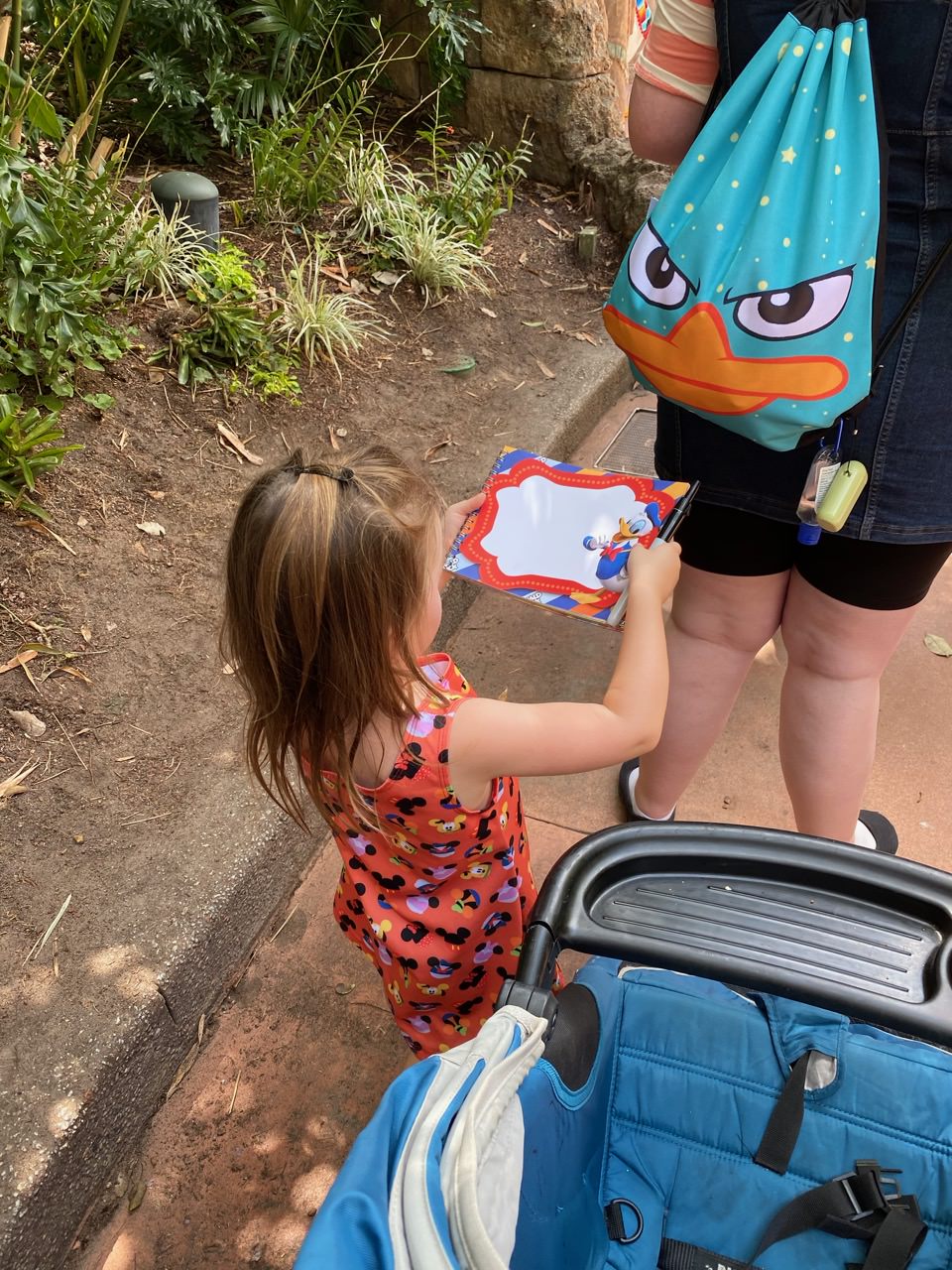 It looked like a long queue, but it actually moved really fast and we waited maybe 5 minutes. He was very funny and Myla loved him!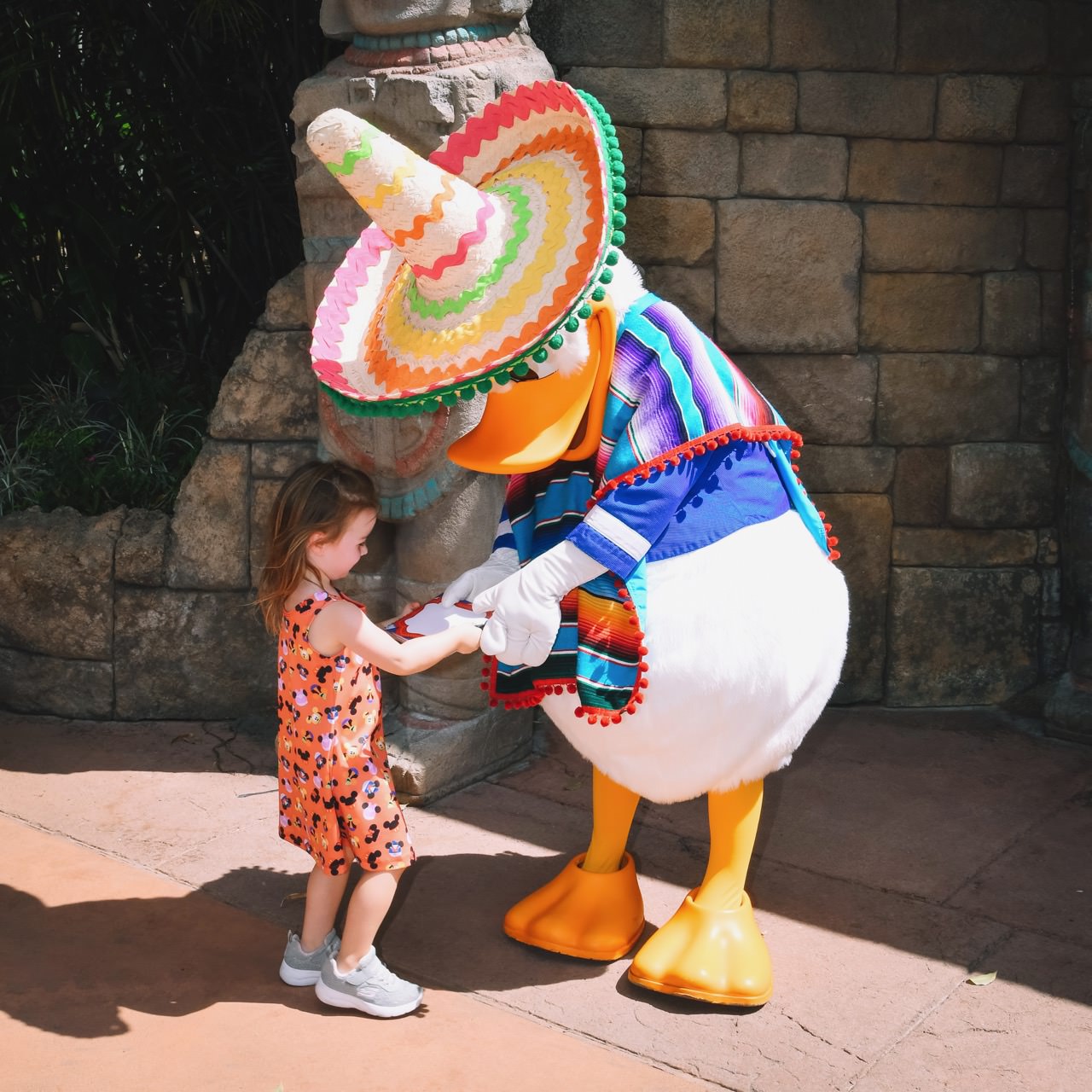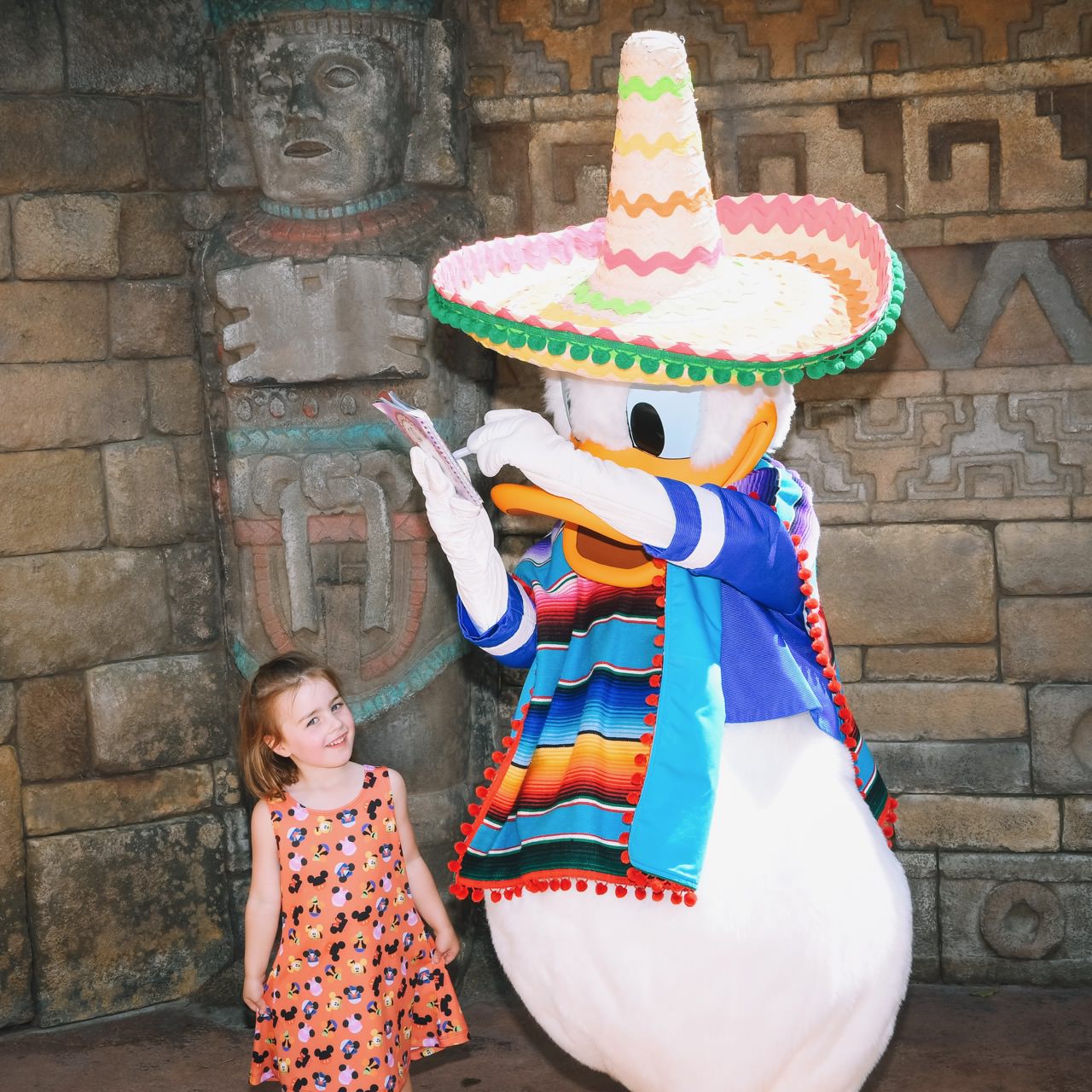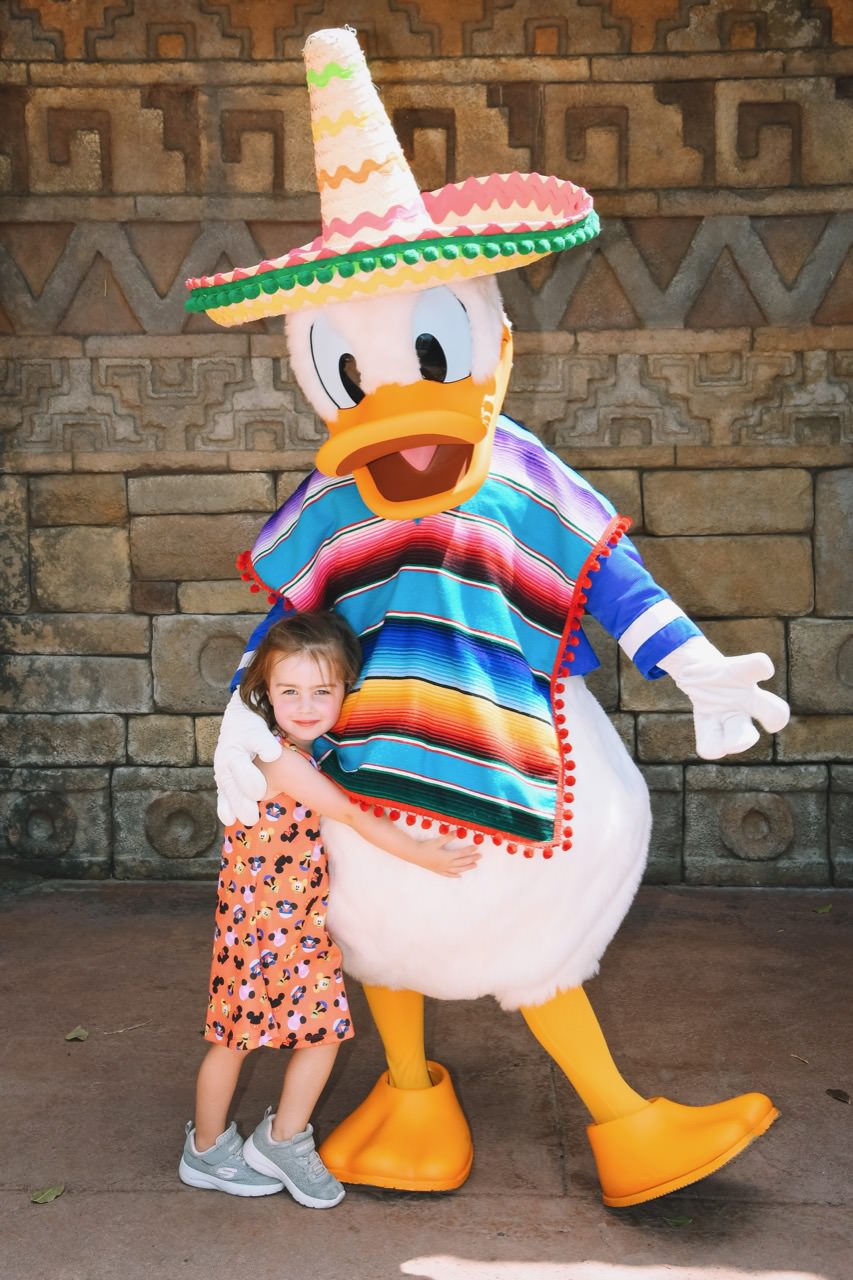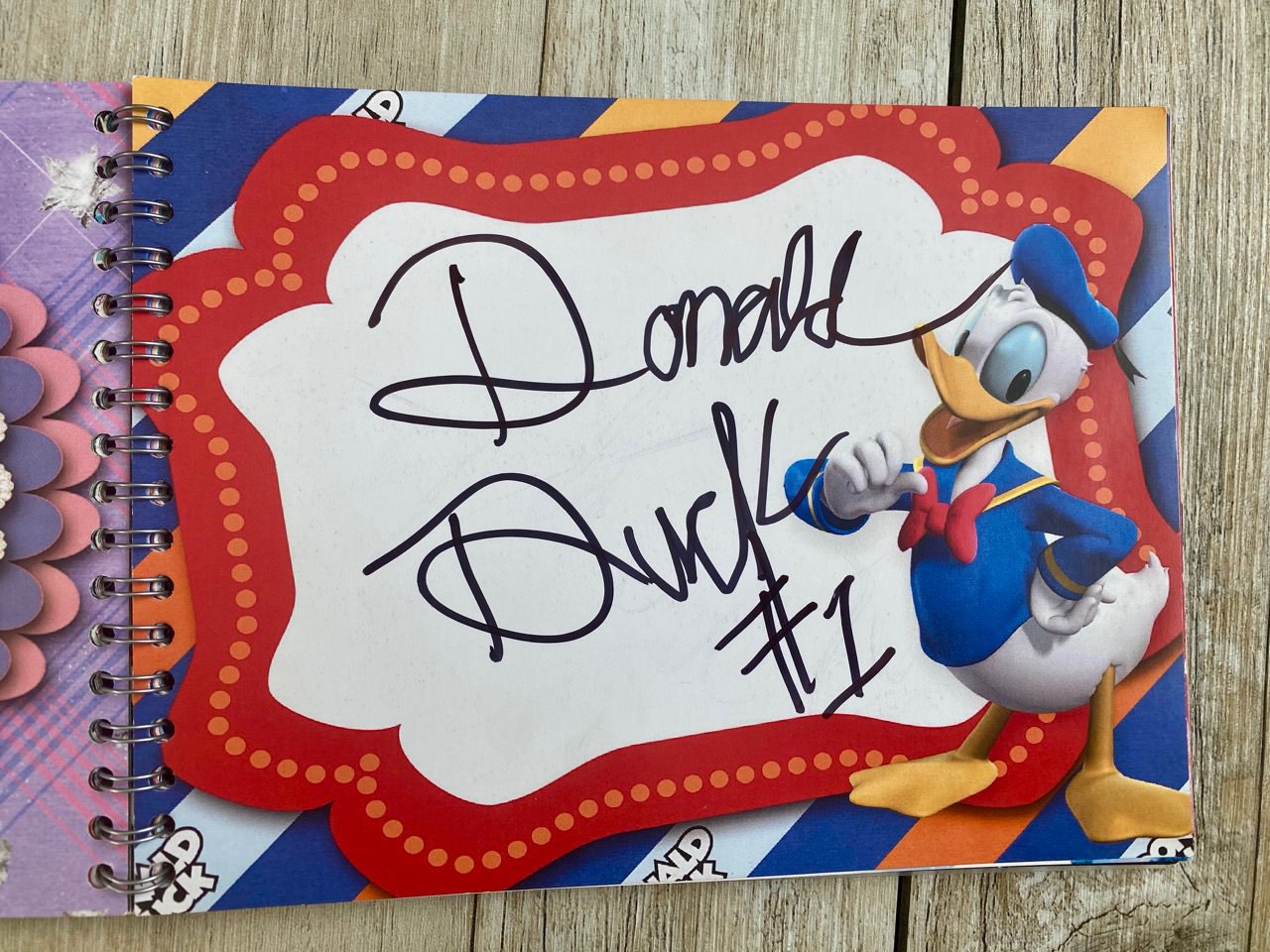 I texted Michael when we finished, he'd barely reached Japan by then, let alone ordered the food. I asked Myla if she wanted to do anything else, maybe see Anna and Elsa again, but she said no, the only other thing she wanted to do besides going swimming, was the Donald Duck boats. By that she meant the Grand Fiesta Tour, which was of course right beside where we were standing. So that worked out perfectly, I texted Michael to let him know we were going into Mexico to do that.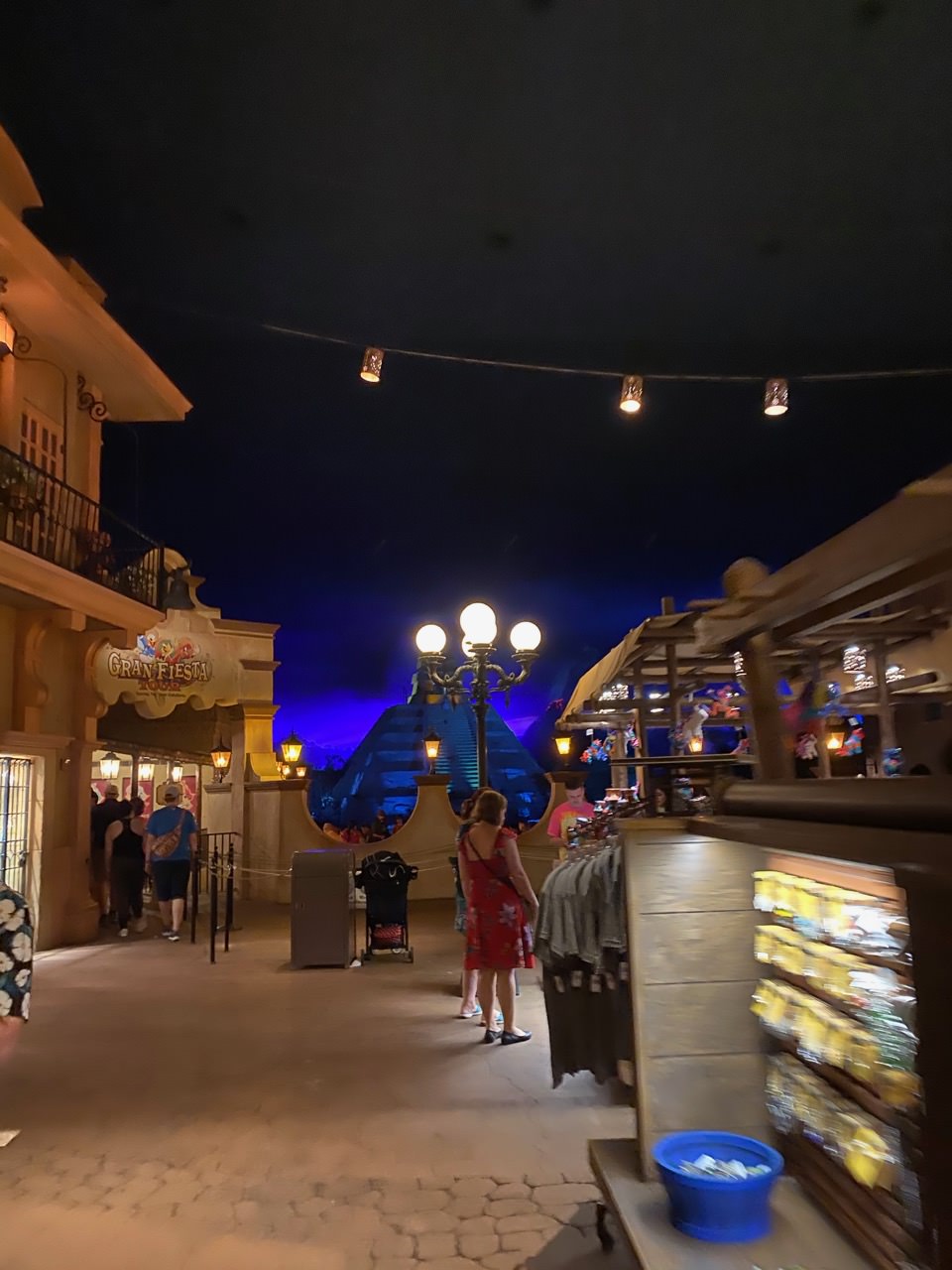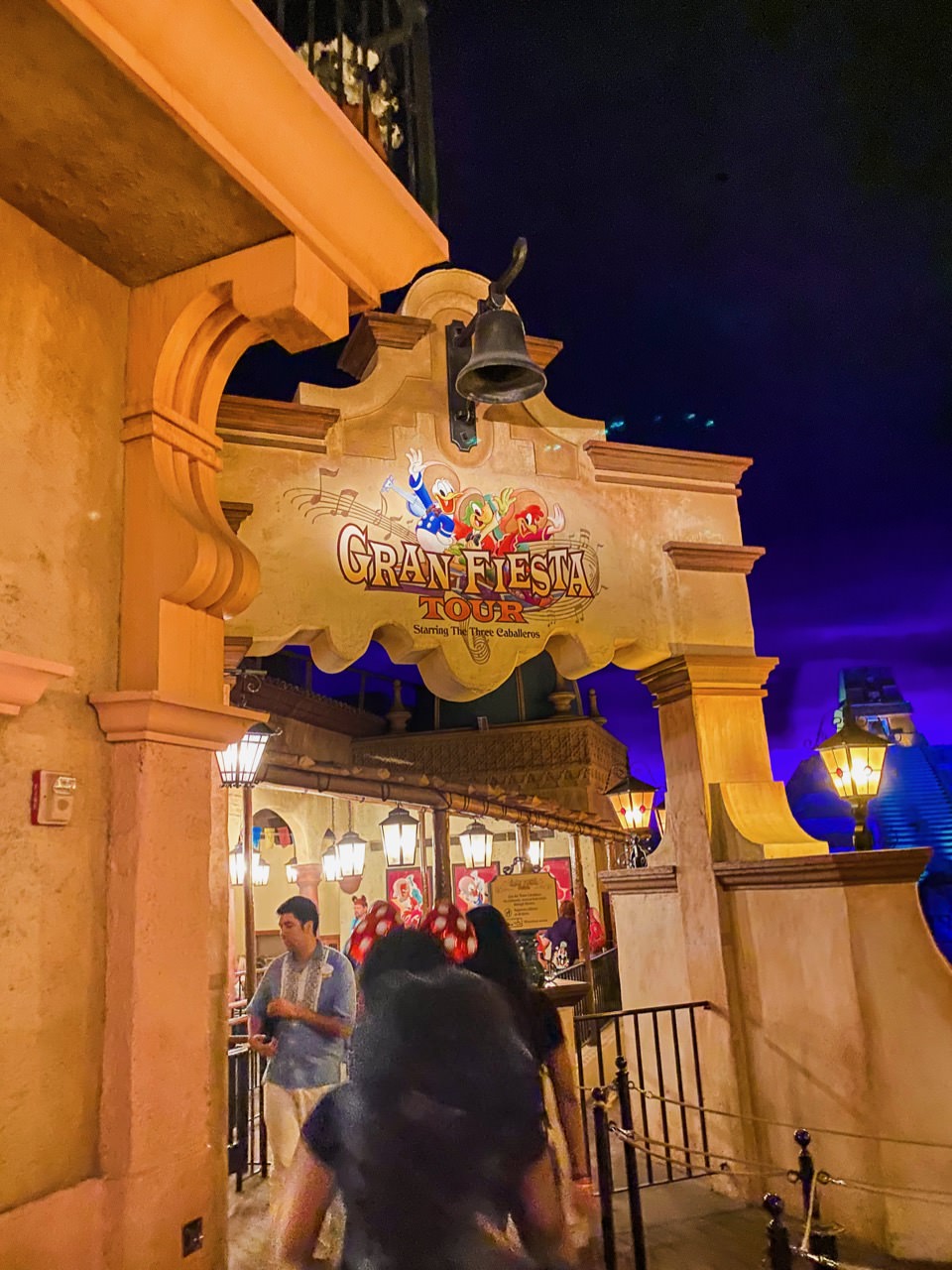 It was a walk-on, and we very much enjoyed doing it together, just the 2 of us.