Day 34: Cancelled Plans & Old Key West Resort Day
March 14, 2020
[-- Trip Index --]
So, day 34 of our epic trip. It was Saturday, tomorrow night Walt Disney World would be closing for the foreseeable future to prevent further coronavirus spreading, and our flight home was still scheduled for Monday.
Our plan for today was Hollywood Studios - Myla had 3 more autographs to get from there to complete her book, Michael had an FP for Smuggler's Run, I had Disney Junior Dance Party booked for Myla, we'd maybe chance another ride on Mickey and Minnie's Railway if the queue was 45 or less, and we all fancied one more meal at Docking Bay 7.
Michael came back from his crazy-early gym session just after 7AM, at which point Myla and I woke up too. He had fresh coffees in our refillable mugs, and had popped into the Conch Flats store for some more bread and peanut butter for breakfast, and a muffin for me.
I turned on the TV to the local news while sitting in bed sipping my coffee. We were just on time to see an item on traffic jams on the roads and big crowds expected in WDW today, from AP holders who wanted to get in just one last weekend at Disney before it closed for the pandemic for who-knows-how-long. Keep in mind it was only 7:30 by then - cameras showed quite a lot of traffic on the I4 heading into Disney, crowds at the Hollywood Studios gates from people wanting one last ride on Rise Of The Resistance, reports of bigger crowds expected later on today in the other parks, and short interviews with local hotel managers who reported a HUGE increase in last minute bookings for Saturday and Sunday night after Disney announced the closure, pretty much all from AP holders driving 3/4/6/8 etc hours for one last weekend at Disney.
Now we'd been in Magic Kingdom yesterday, and left just after lunch time when it started to get busy, just feeling a bit uneasy about the crowds - like hardly no one in Florida took this pandemic seriously. Seeing these reports only further reinforced that feeling - most locals did NOT take it seriously at all, when back home social distancing was enforced, people could no longer gather, and there were strong rumours that schools would be closed and we'd all be under lockdown soon. Yet here these people were all willingly driving around from all over Florida/Georgia/etc, openly stating on TV that they felt the virus was a hoax or exaggerated, and they were entitled to a last weekend of fun.
When I went on my phone and checked Facebook, I saw similar sentiments reflected in the Disney FB groups I'm in - many many locals all reporting they weren't worried, the parks closing was just a political thing, and they were definitely all heading down.
I looked at Michael and he looked at me, and I just knew he was thinking the same as me - we don't want to be in the middle of that. We'd had an AMAZING trip, with many great park days, and yesterday at Magic Kingdom had been brilliant. Was it really worth it to go in again today, and even further increase the risk of getting infected? Any of the things we'd planned for today, were they actually
must-dos
that we couldn't do without, more important than our or Myla's health?
The answer was a resounding no - they were only things we'd
like
to, absolutely far from essential, and we decided that was enough parks and crowds for us. We'd rather play it safe and just not run any further risks for something as frivolous as a theme park visit - especially as we'd visited these same parks for the past 19 days in a row! Plus, at that point I was still 100% sure we'd be back in 6 months anyway.
I may have felt differently about it if we'd just arrived - but at the end of our trip, I was happy enough to cancel our plans. It immediately relieved some built-up anxiety I'd been feeling, and we decided instead to make today a lovely Old Key West resort day, chilling and relaxing in this amazing hotel.
I texted my mom to let her know after we'd decided this, and she was very relieved too - I think she'd been really worried about us being among crowds right now.
So with our plans cancelled, we took it easy. Had breakfast in bed, and Myla played on the iPad while I showered and got dressed. Michael stayed with her while I had a quick walk to the lobby around 9:30AM.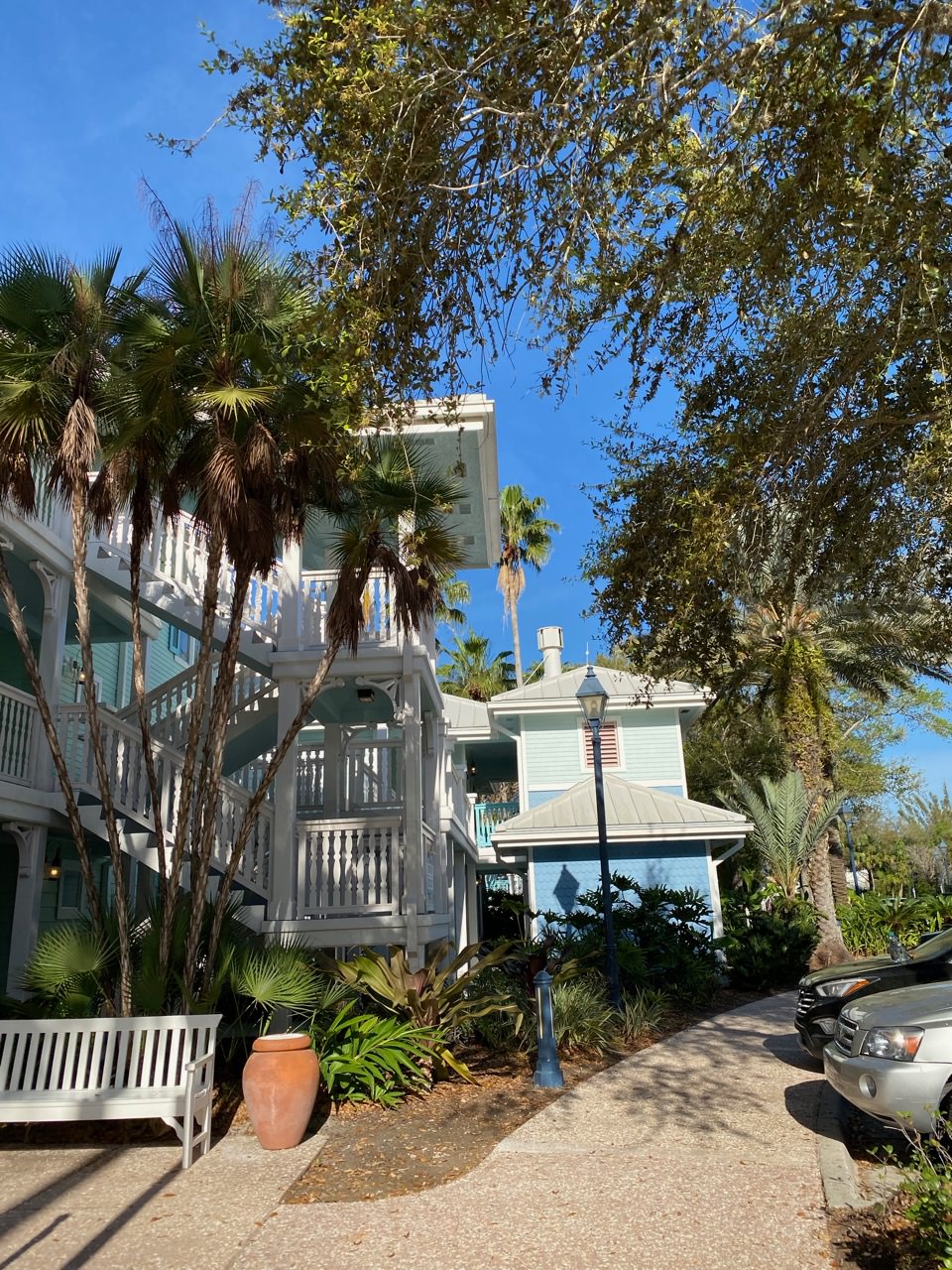 It was empty in the lobby, and I was able to speak to a CM right away. We were checking out of OKW tomorrow and into Art of Animation for our last night. I checked with him that our reservation was still OK in spite of the park closures, and that bell services would still be able to transfer our luggage etc. He assured me it was all fine and that it wouldn't be a problem.
Reassured, we all got changed for the pool in our room, and headed down around 10:30. Myla insisted on bringing the popcorn bucket for a snack - it was still about half full with the popcorn we'd gotten on the way out of MK yesterday, and apparently she doesn't mind stale popcorn lol.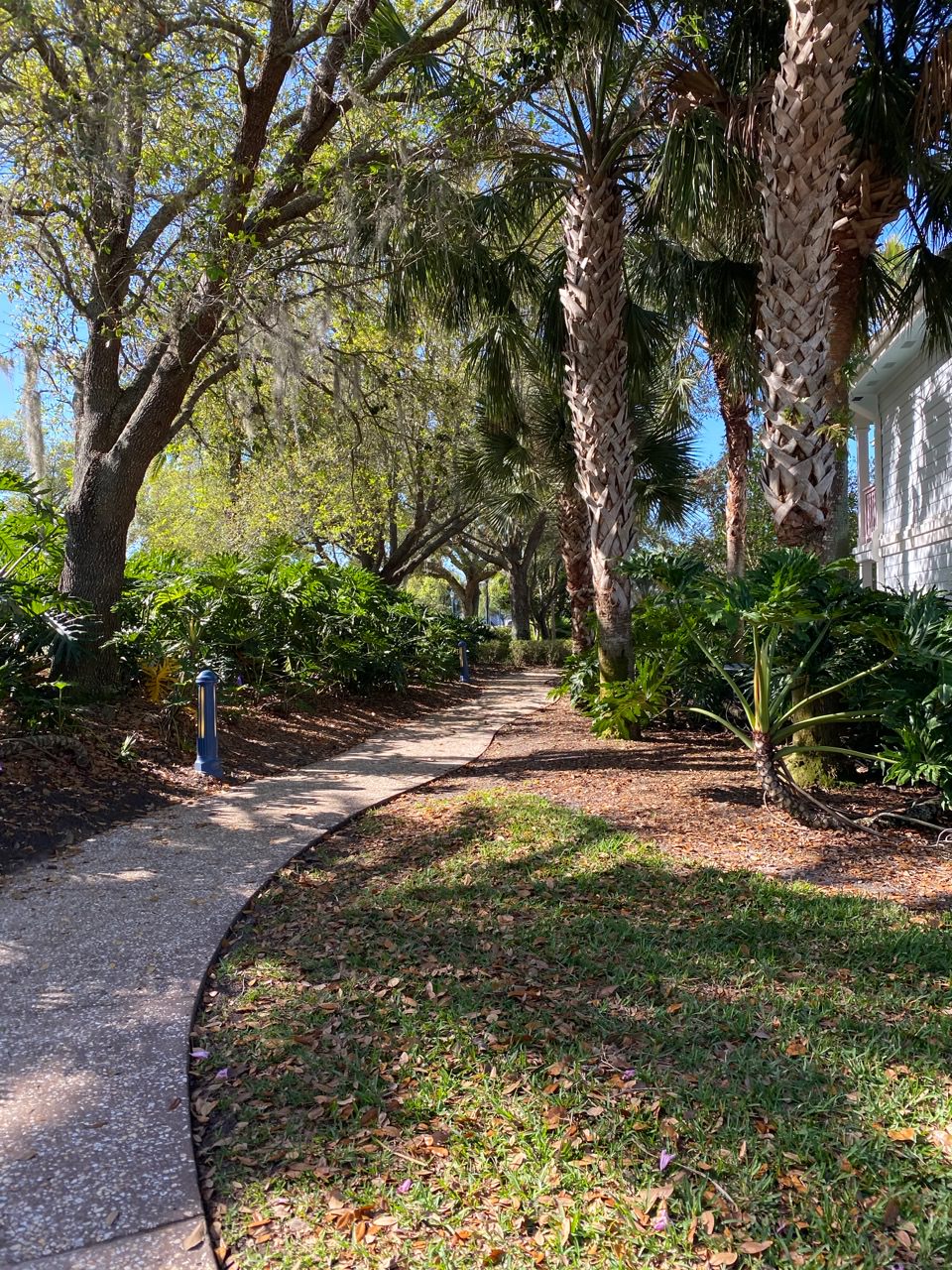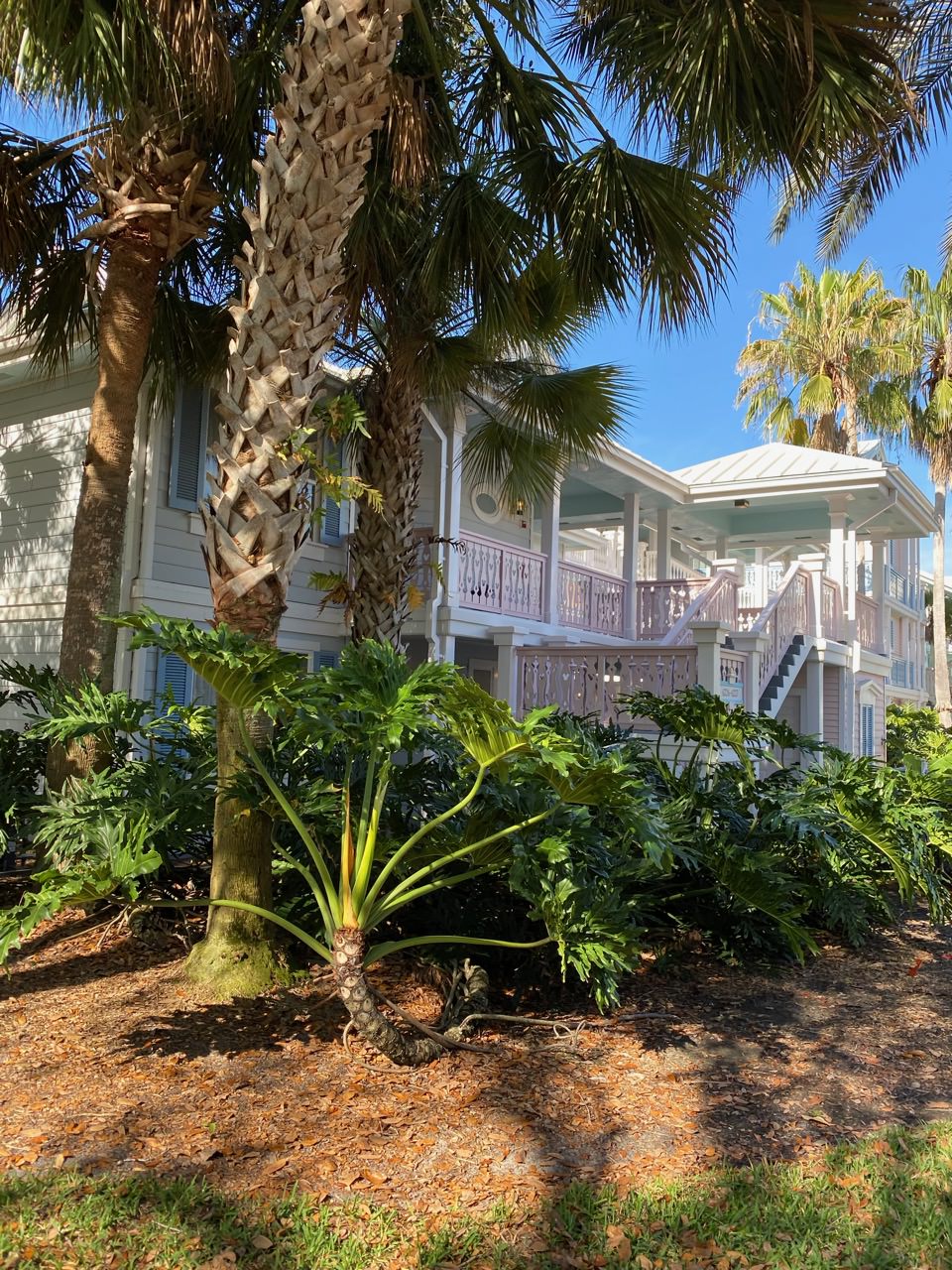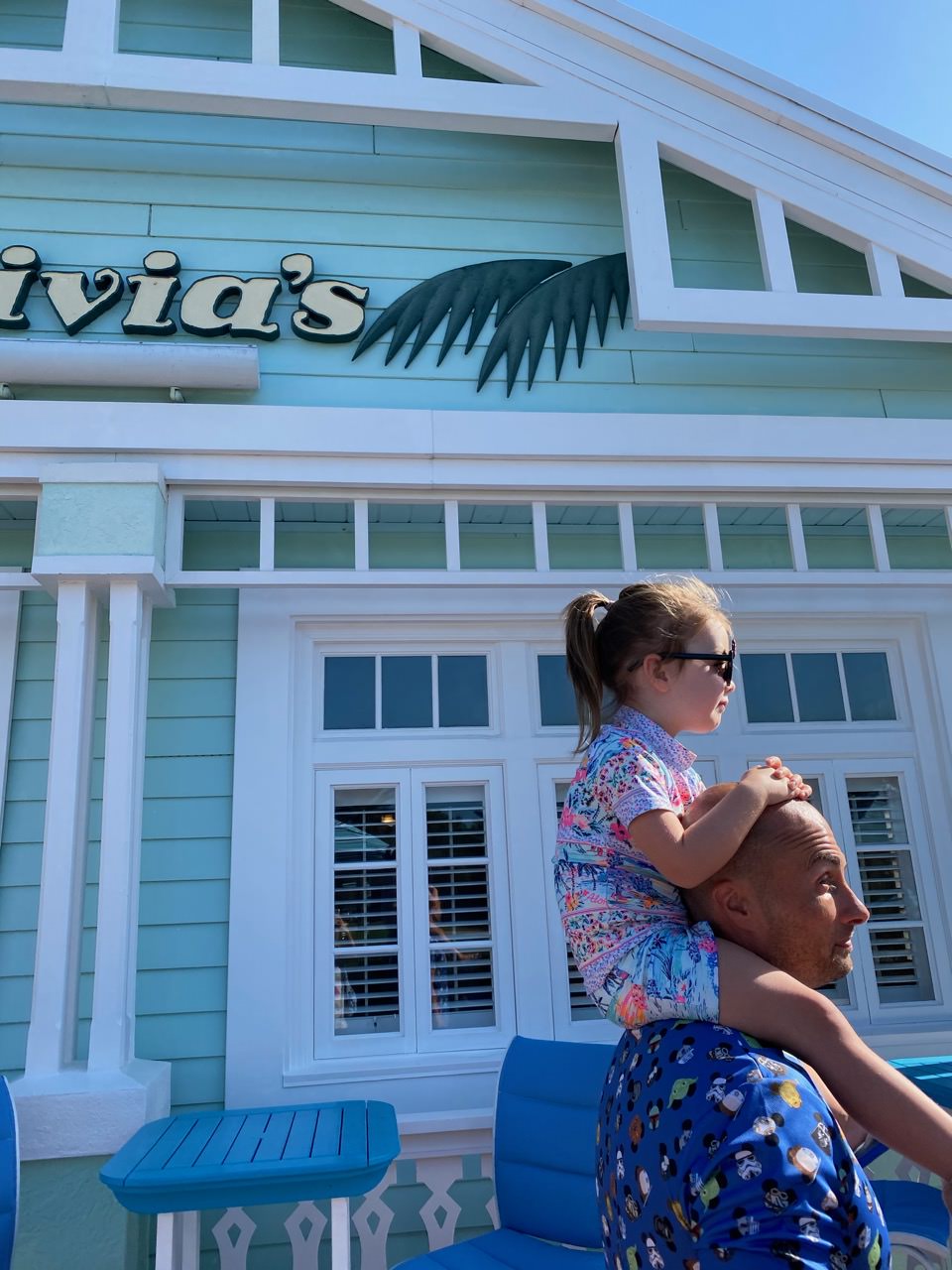 I got myself installed on a nice sunlounger.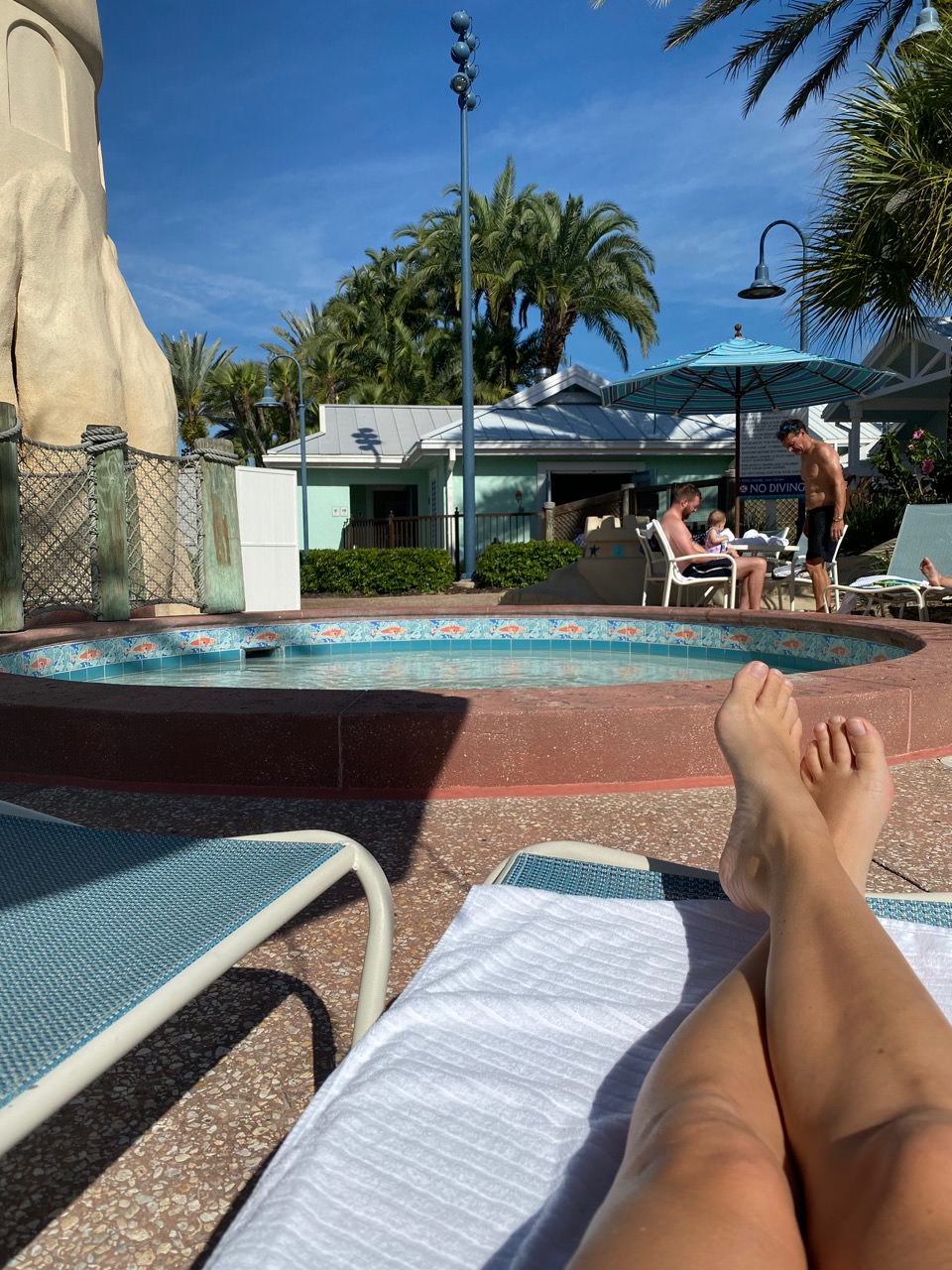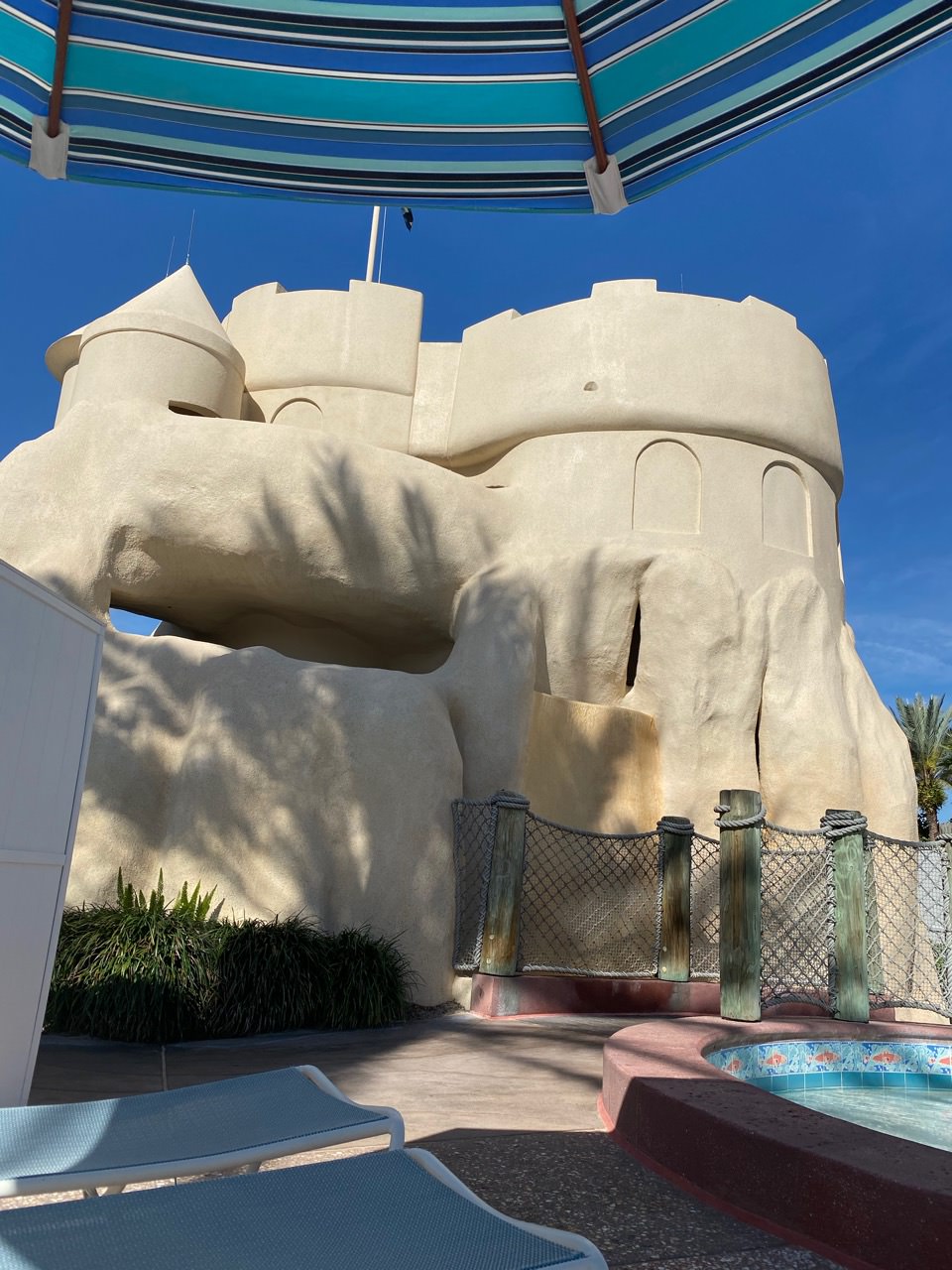 and we basically spent the time from 10:30 to around 14:30 alternating the sunbathing with swimming and the playground, taking turns with Myla and all going for a fun swim together too. She was still loving the main pool slide, and I can't even count how many times she went down it!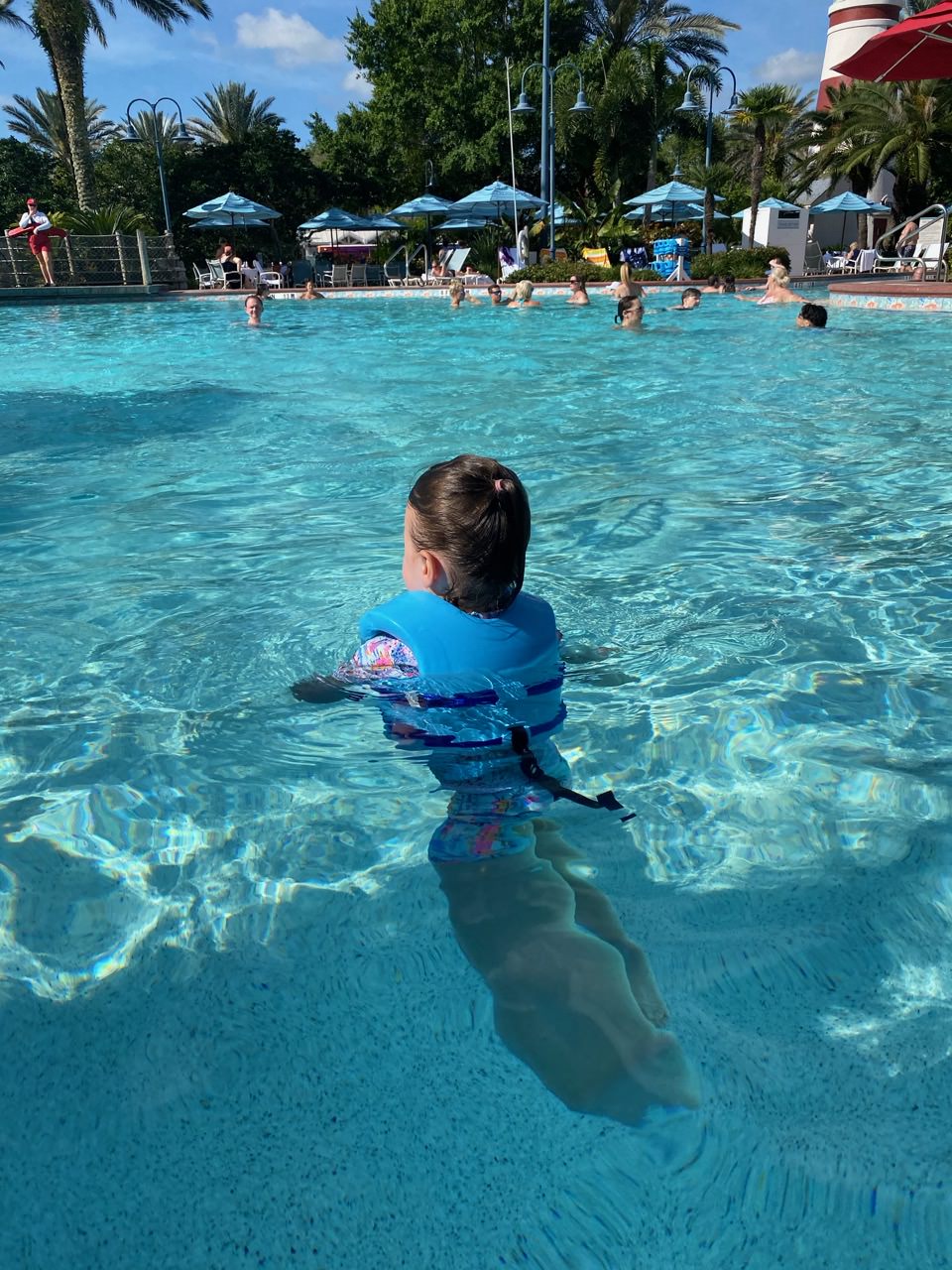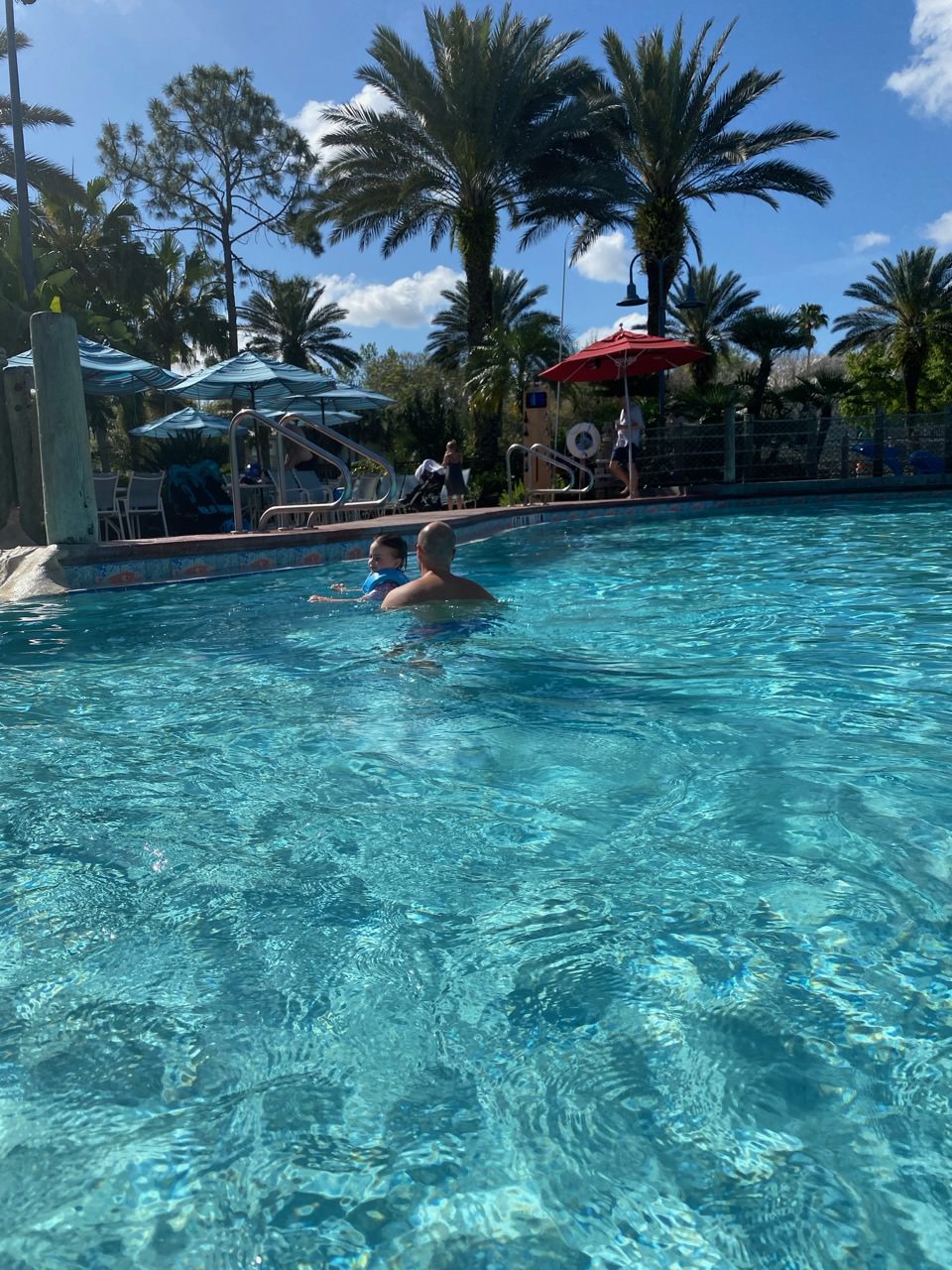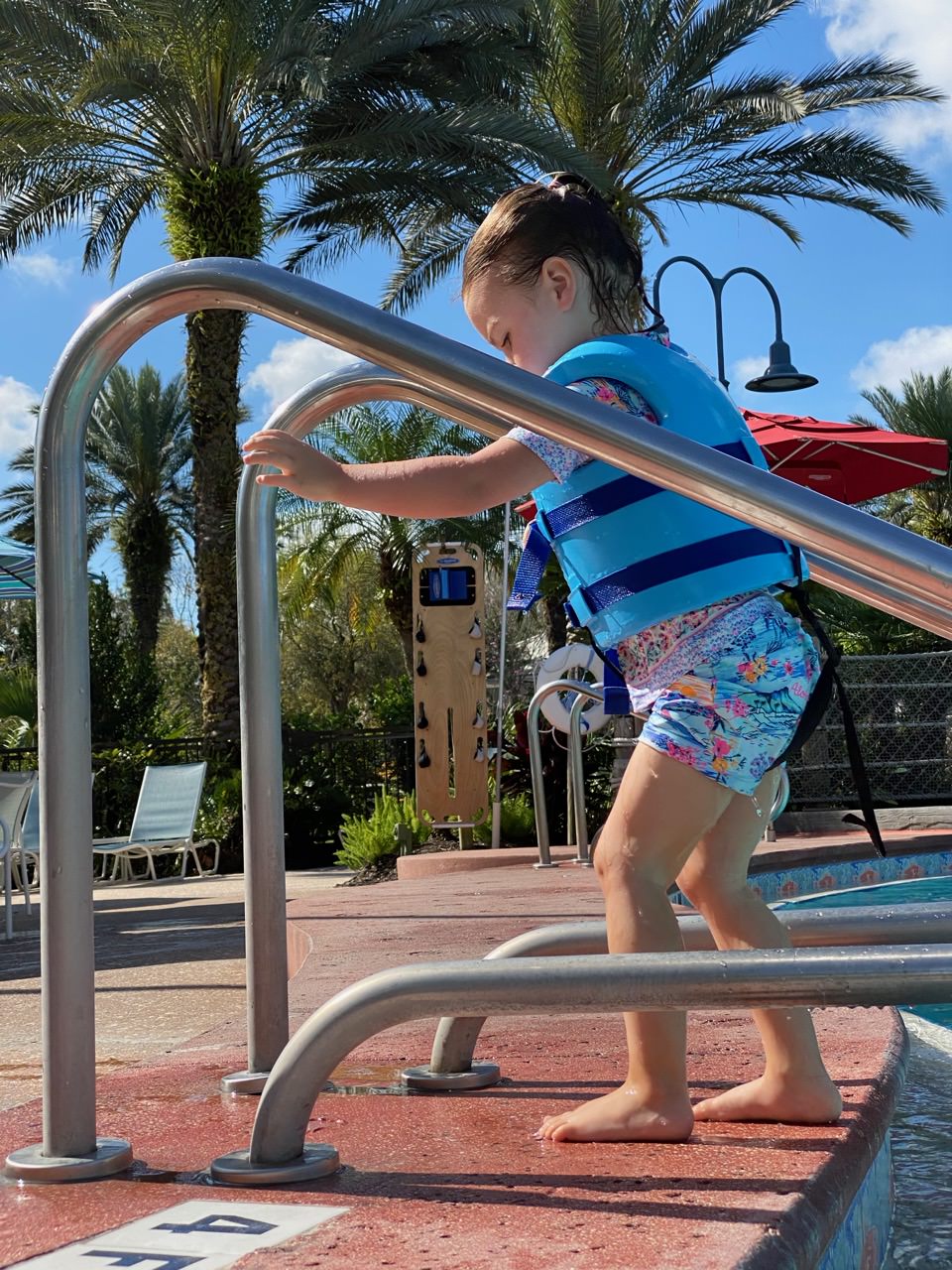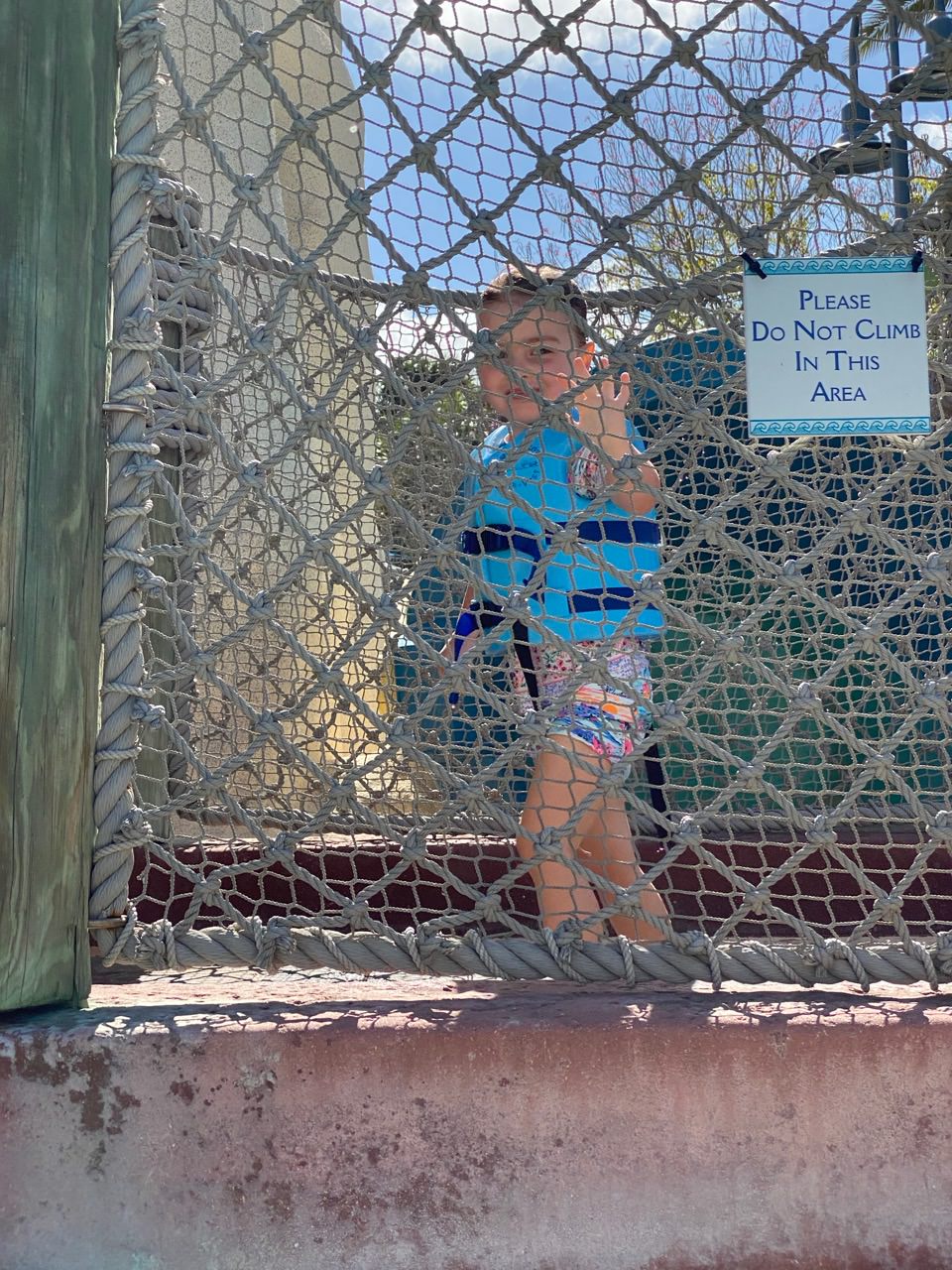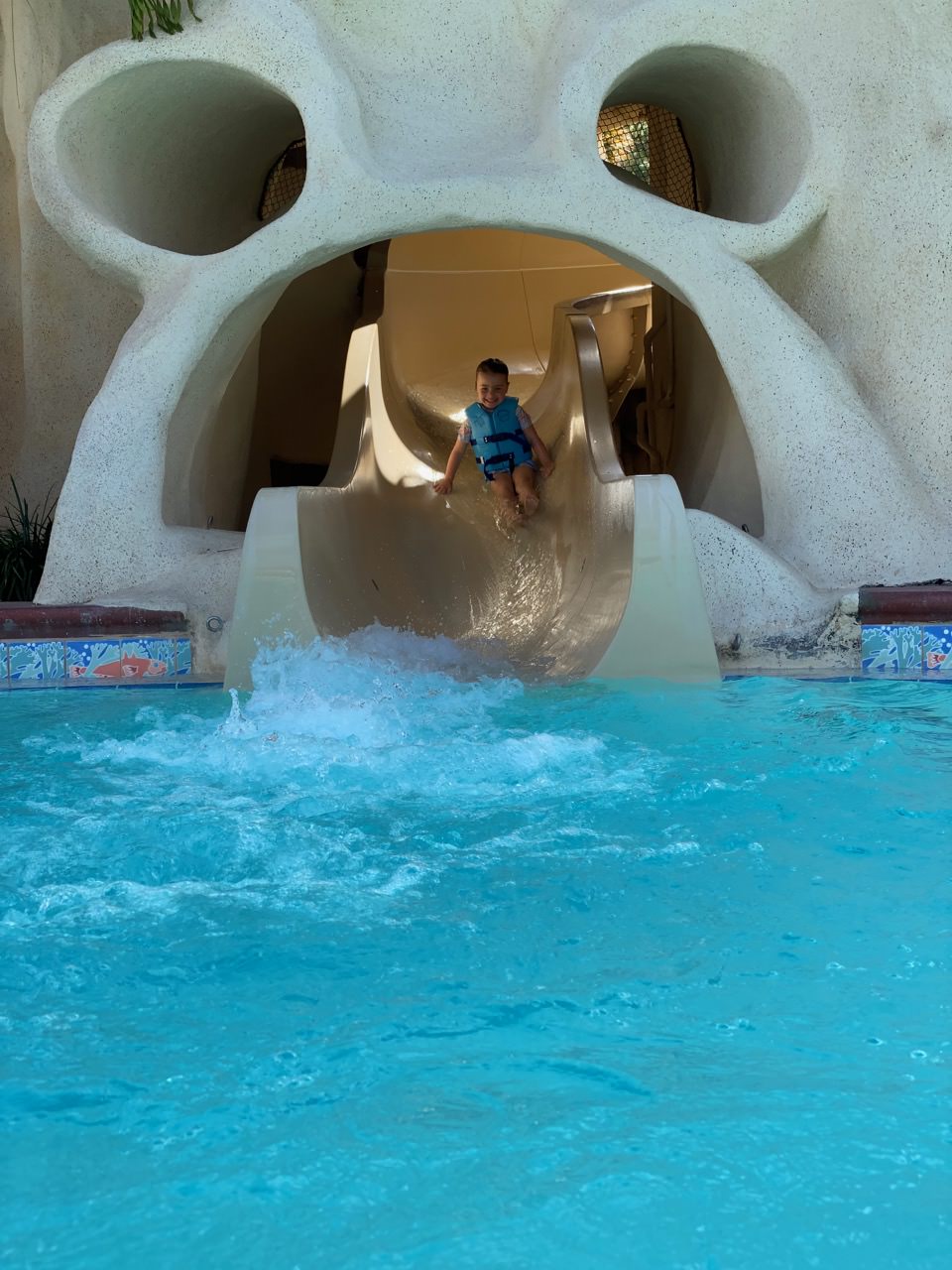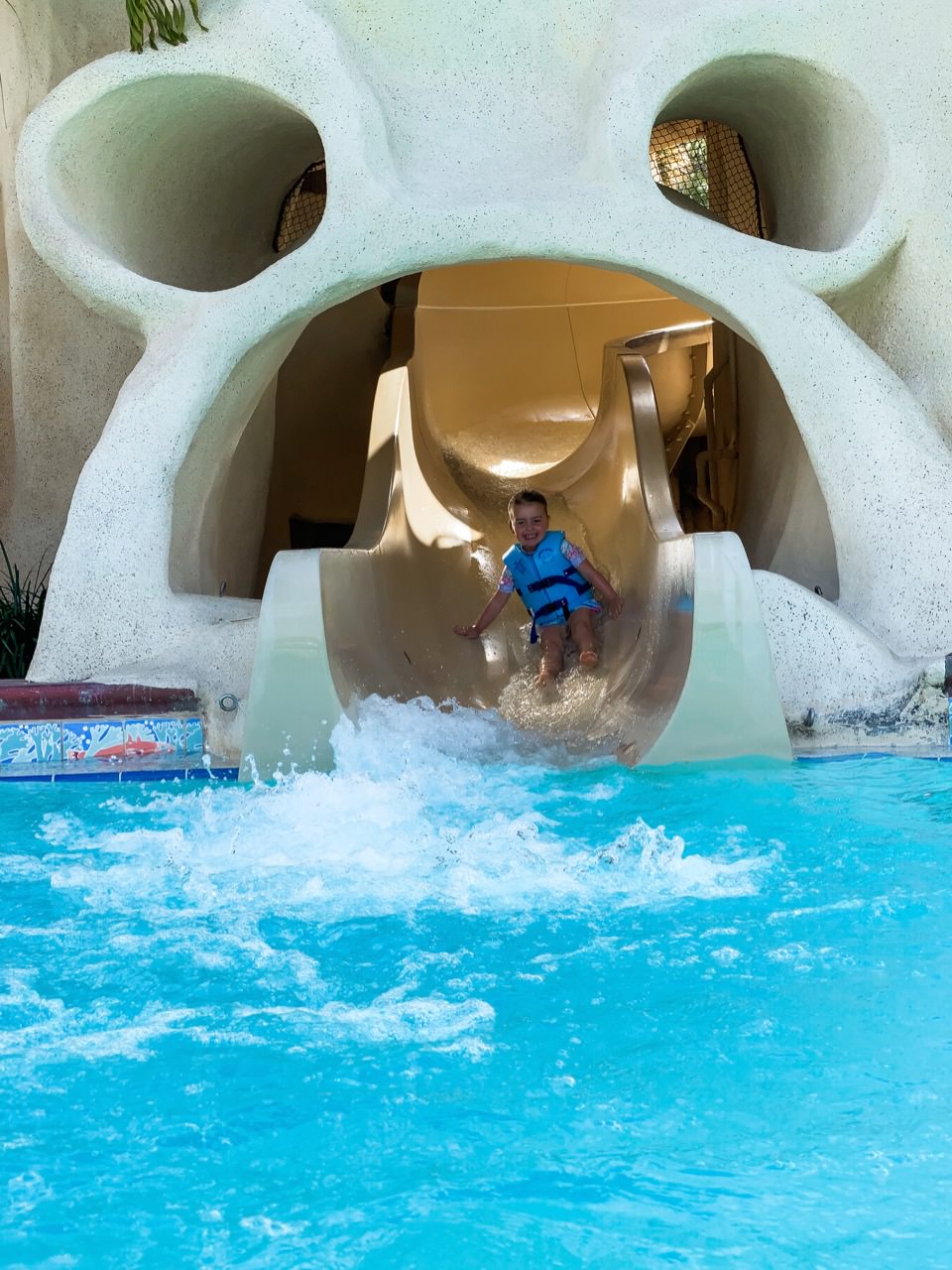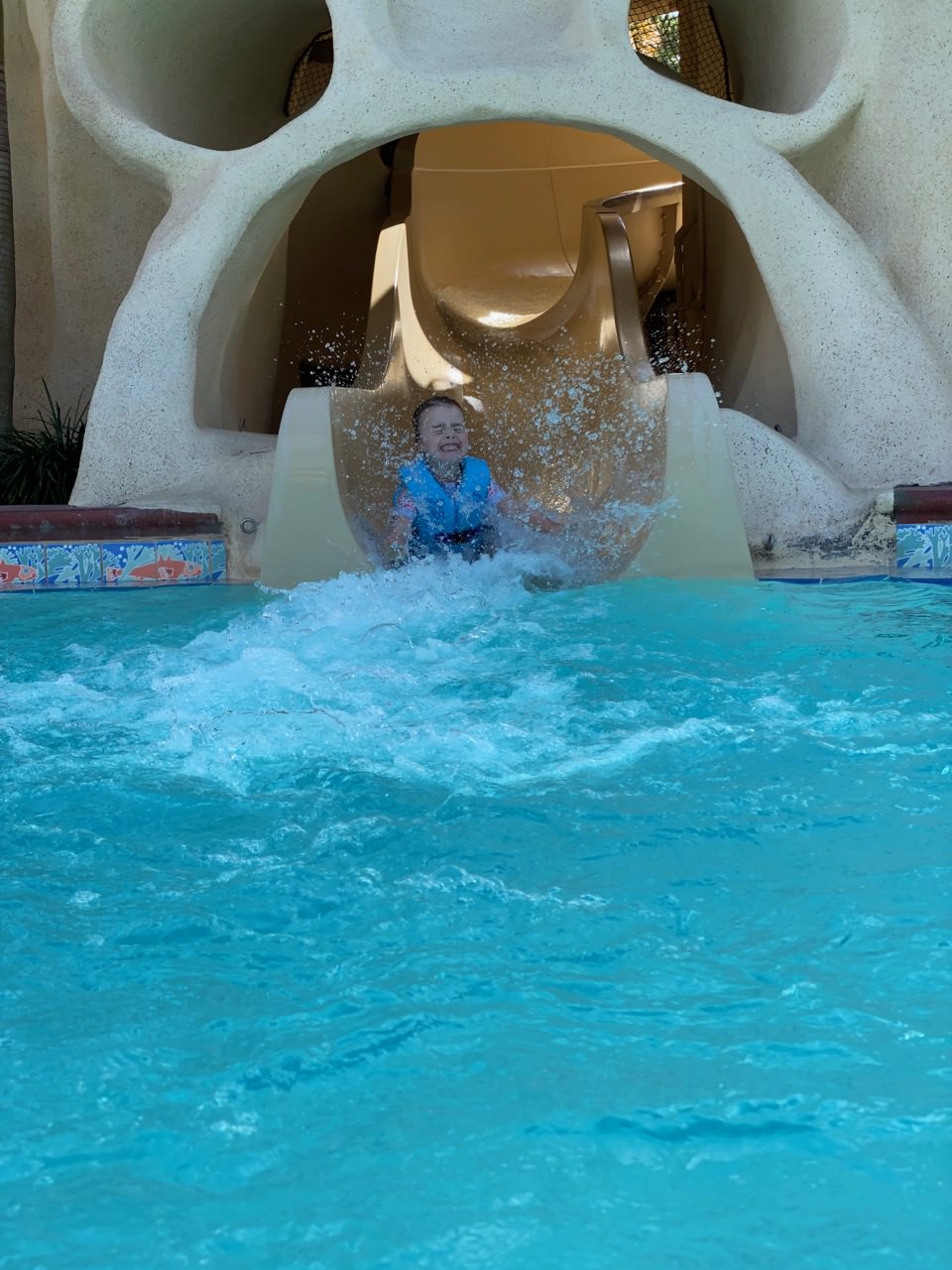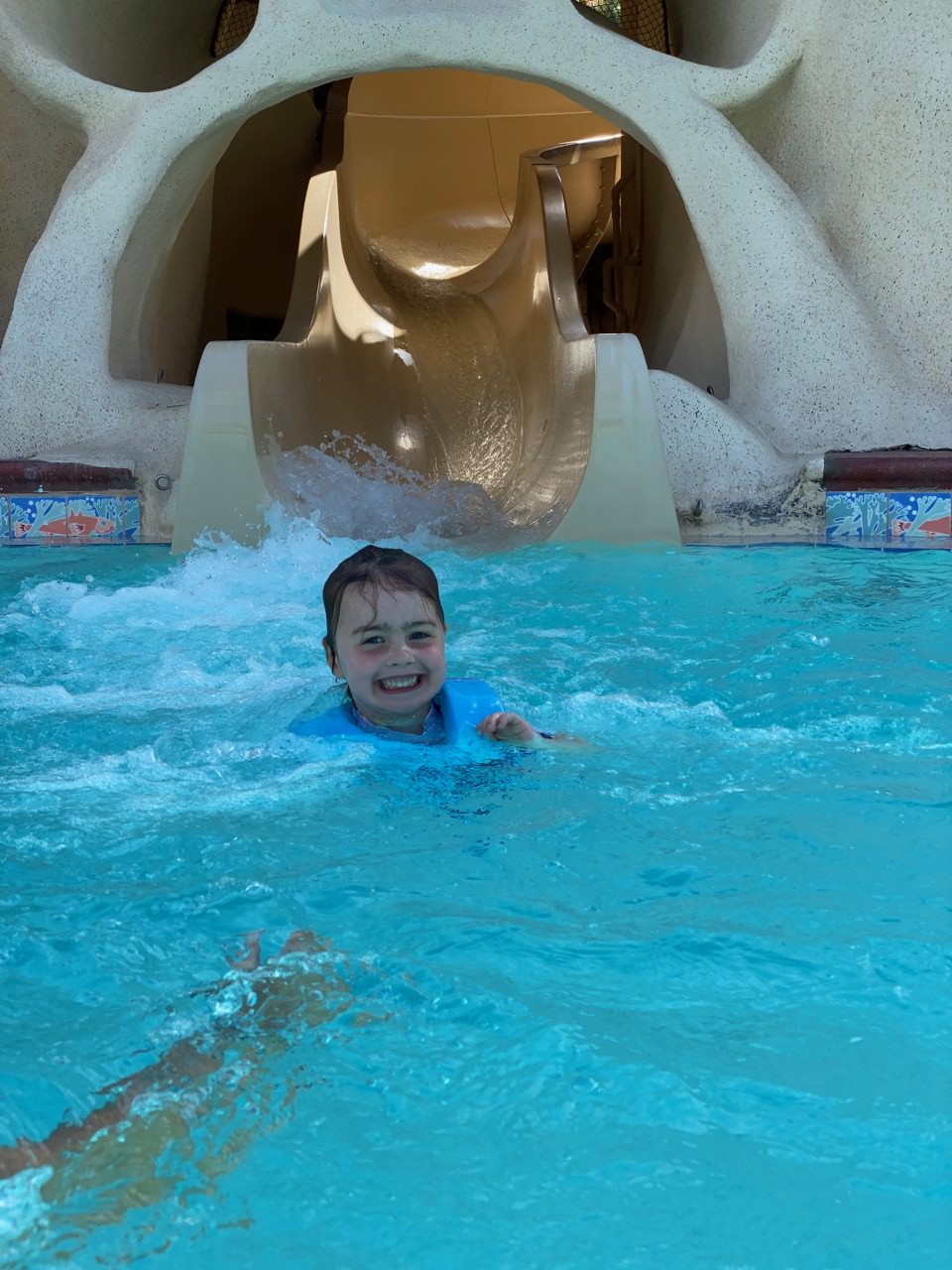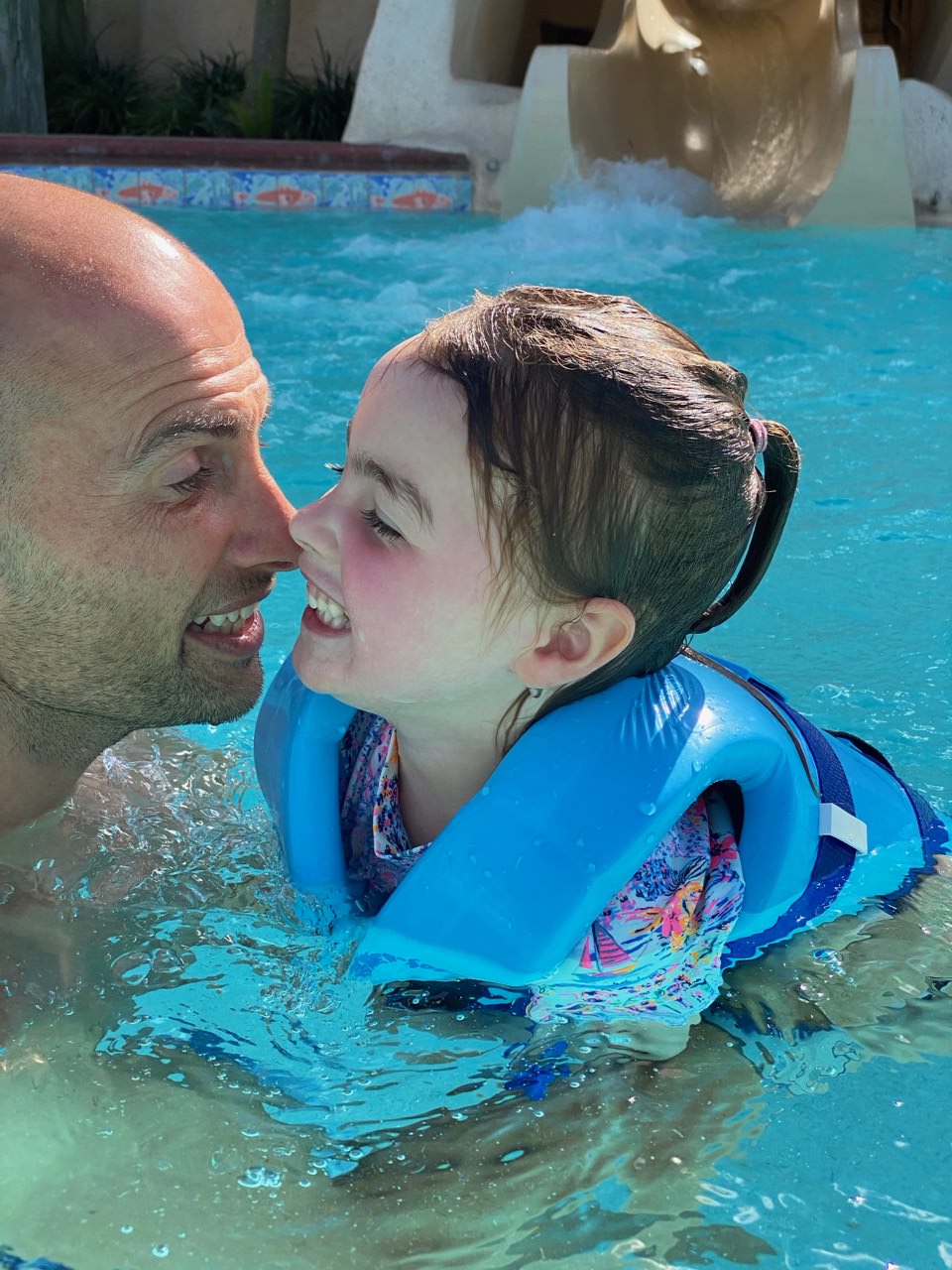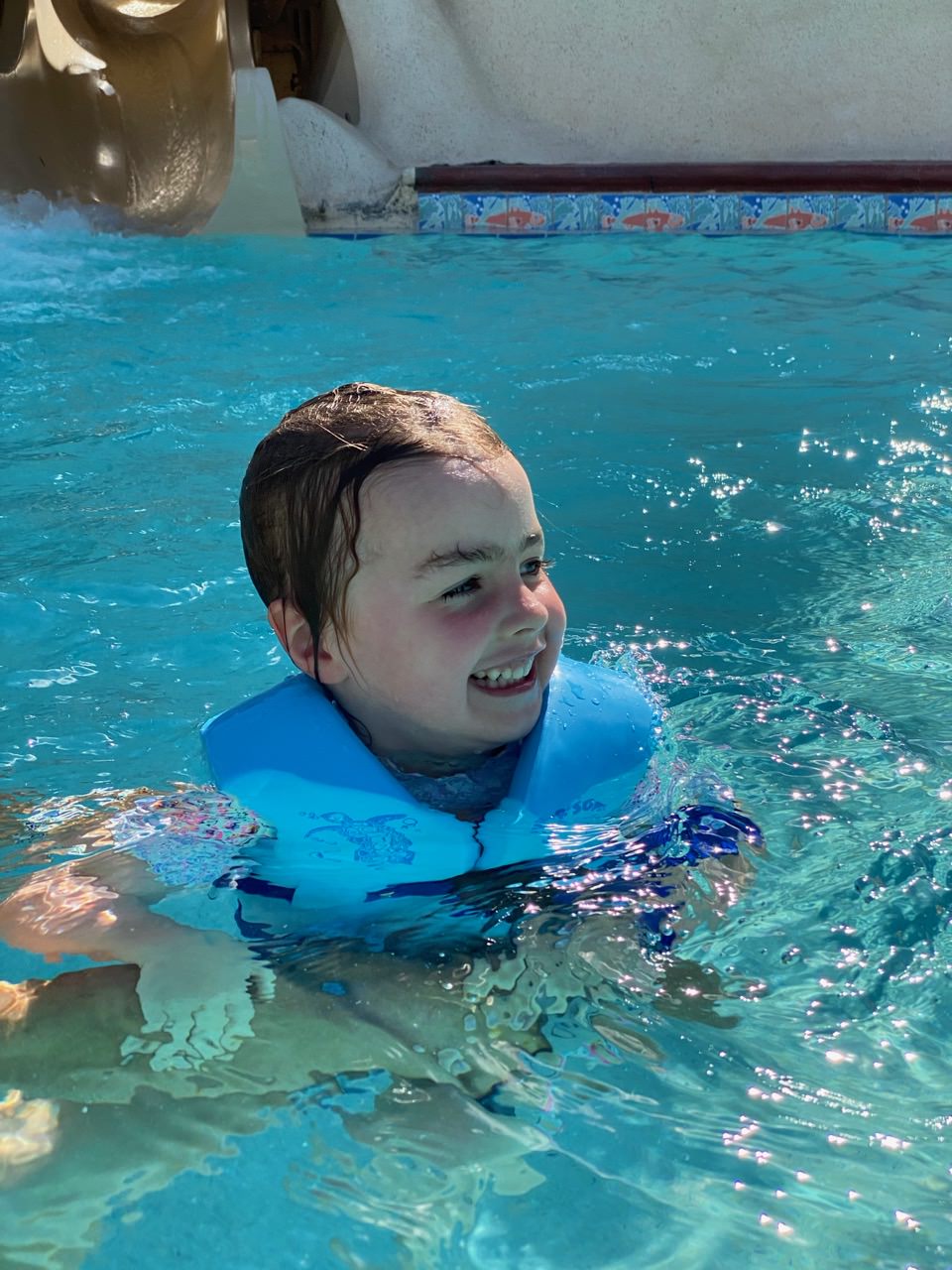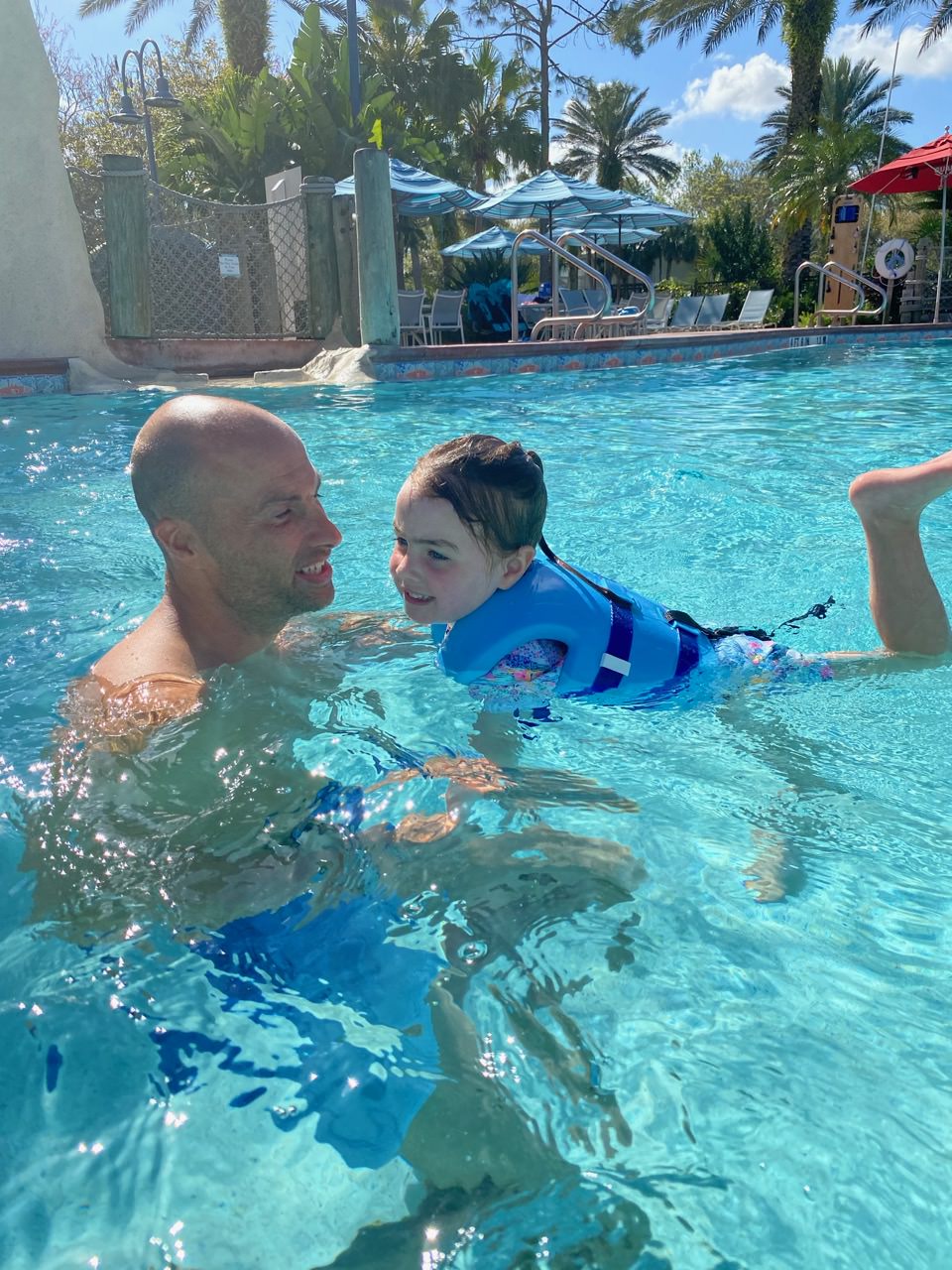 We stopped for some lunch poolside from Goods To Go around 13:00 - Myla had an Uncrustables meal with apple juice, grapes, and a pouch of apple sauce, and I had loaded nachos.
Not vegan but they were SO good, and I had decided I was allowed 1 non-vegetarian thing as we'd be going home in 2 days. I'm SO bad at resisting temptation - but they were absolutely yummy!
After eating and playing a bit more, Myla was absolutely shattered. I took her back to our room to see if she'd nap, while Michael stayed by the pool and sunbathed. I lay down beside her, intending to do some work once she'd fallen asleep, but I promptly fell asleep too and was only woken a full hour later when Michael came back to the room to check if we were OK since I hadn't answered his texts! Oops lol.
We then all relaxed in the room for a little bit while I finished my work on the laptop, and we headed back to the pool/playground around 5PM.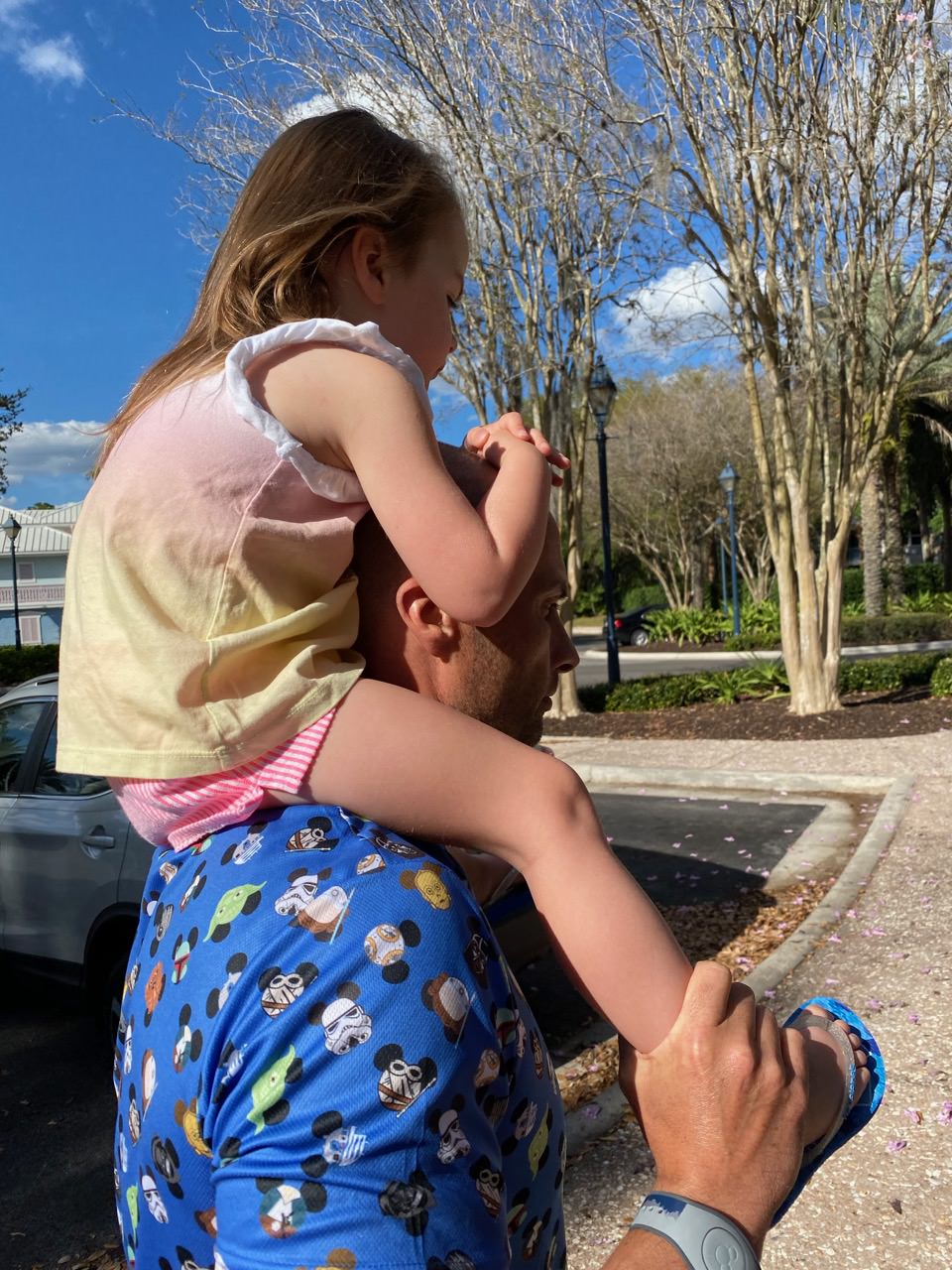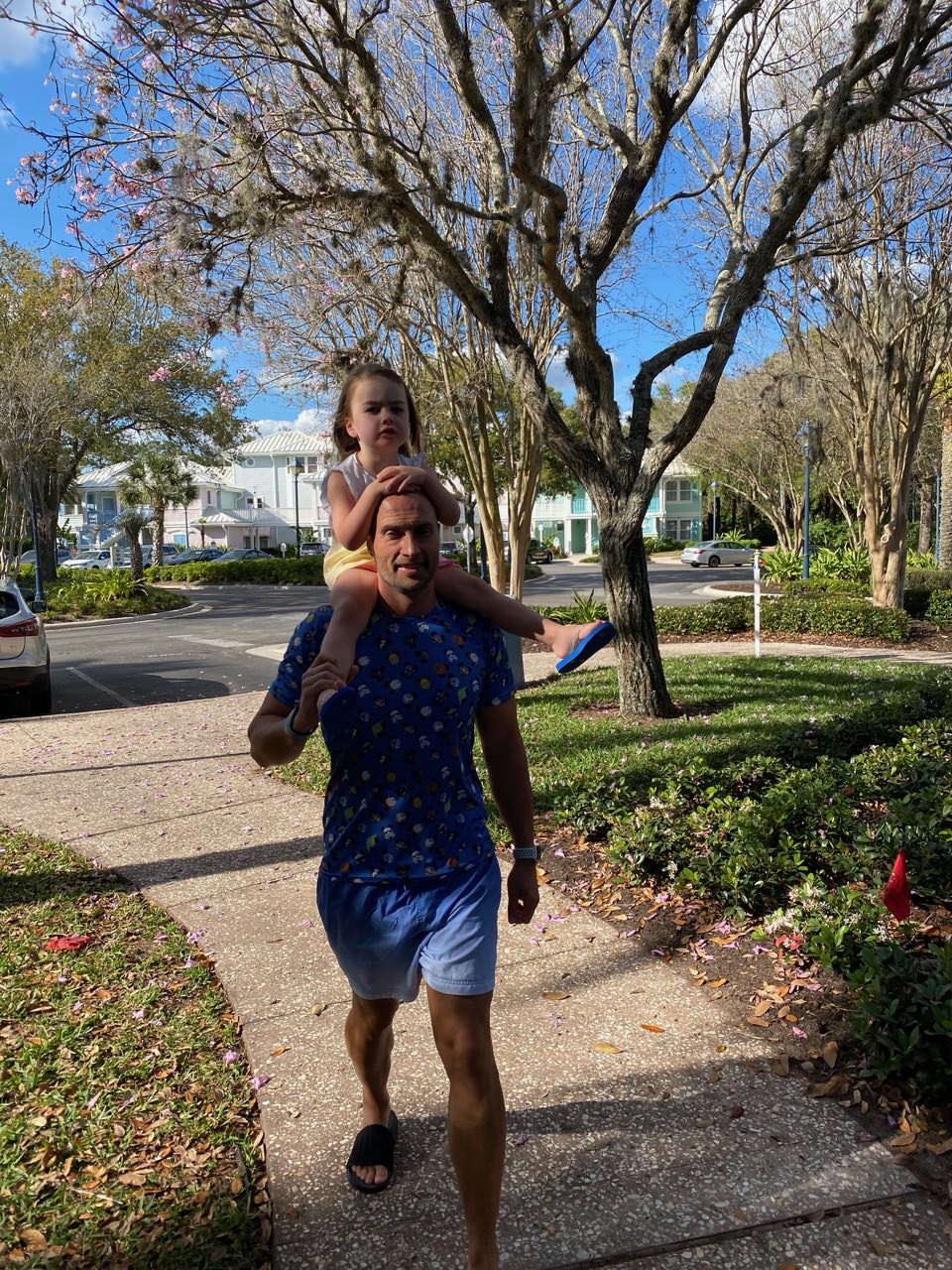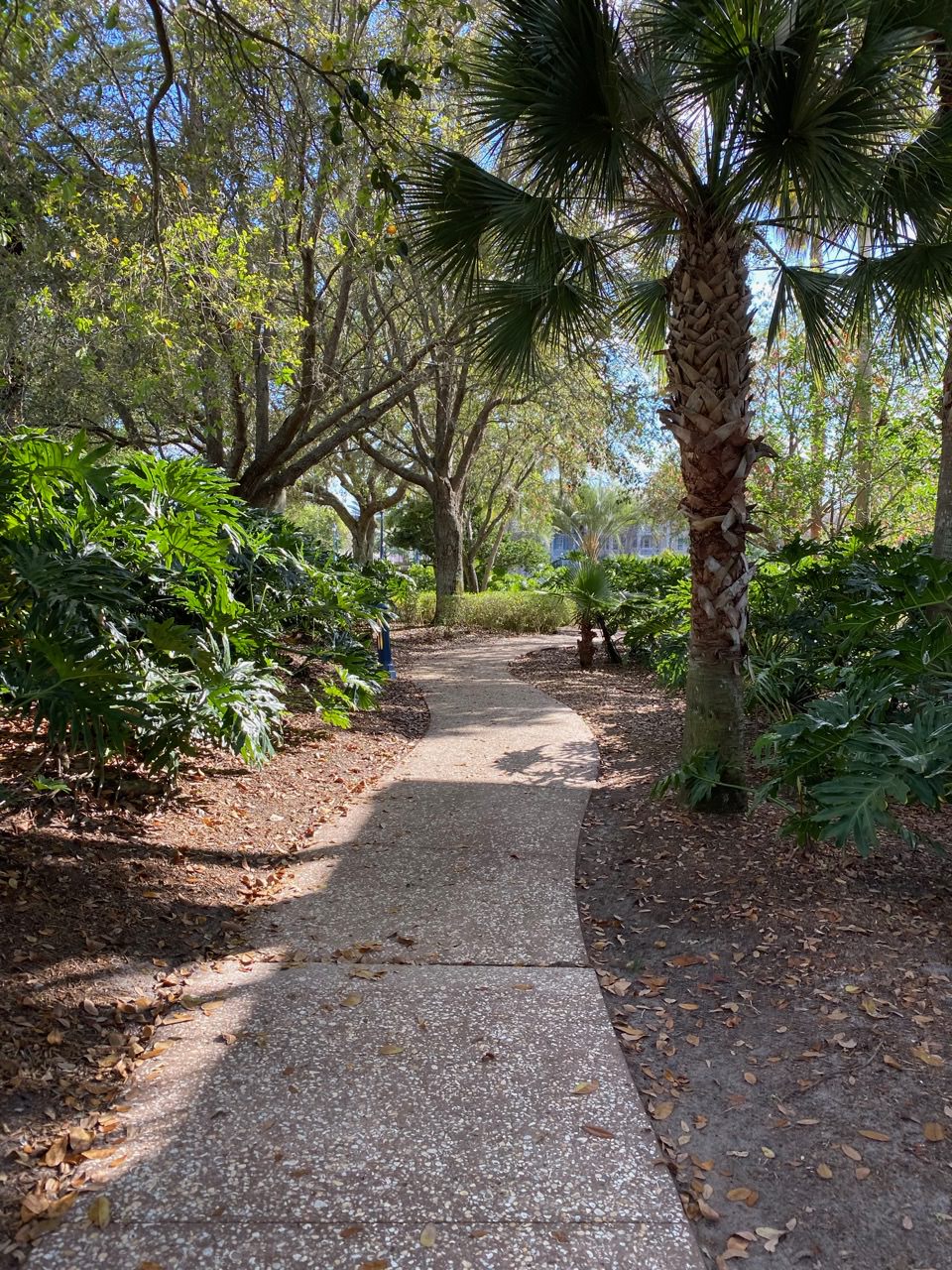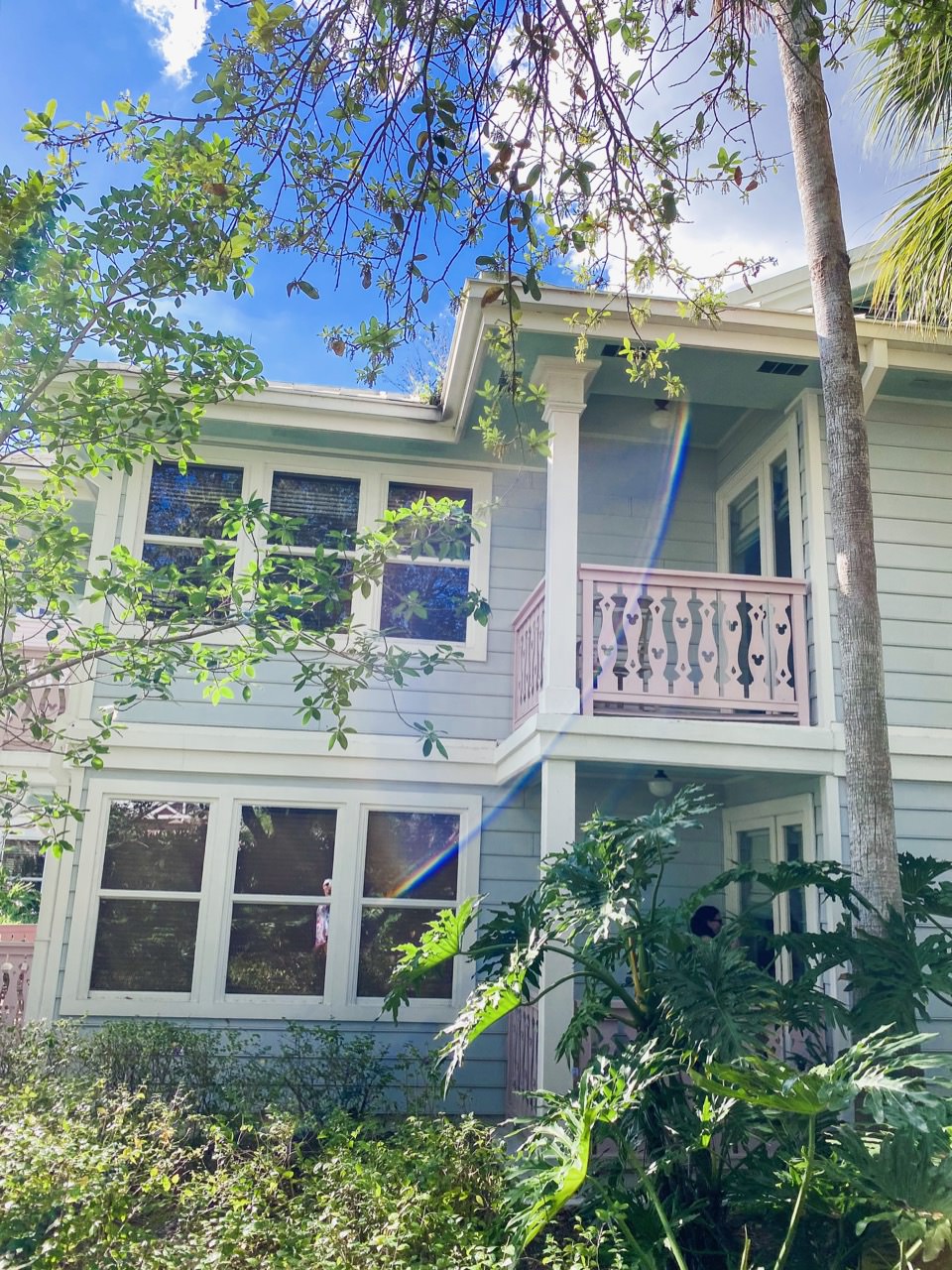 I wasn't overly hungry for dinner after my nachos earlier, and Myla only wanted a peanut butter sandwich which Michael had made for her. I promised her we'd get icecreams if she finished off the fresh fruit we still had in the room - so of course she hoovered it up and I treated us to Mickey Icecreams while Michael went off and got another Power Salad from Goods To Go.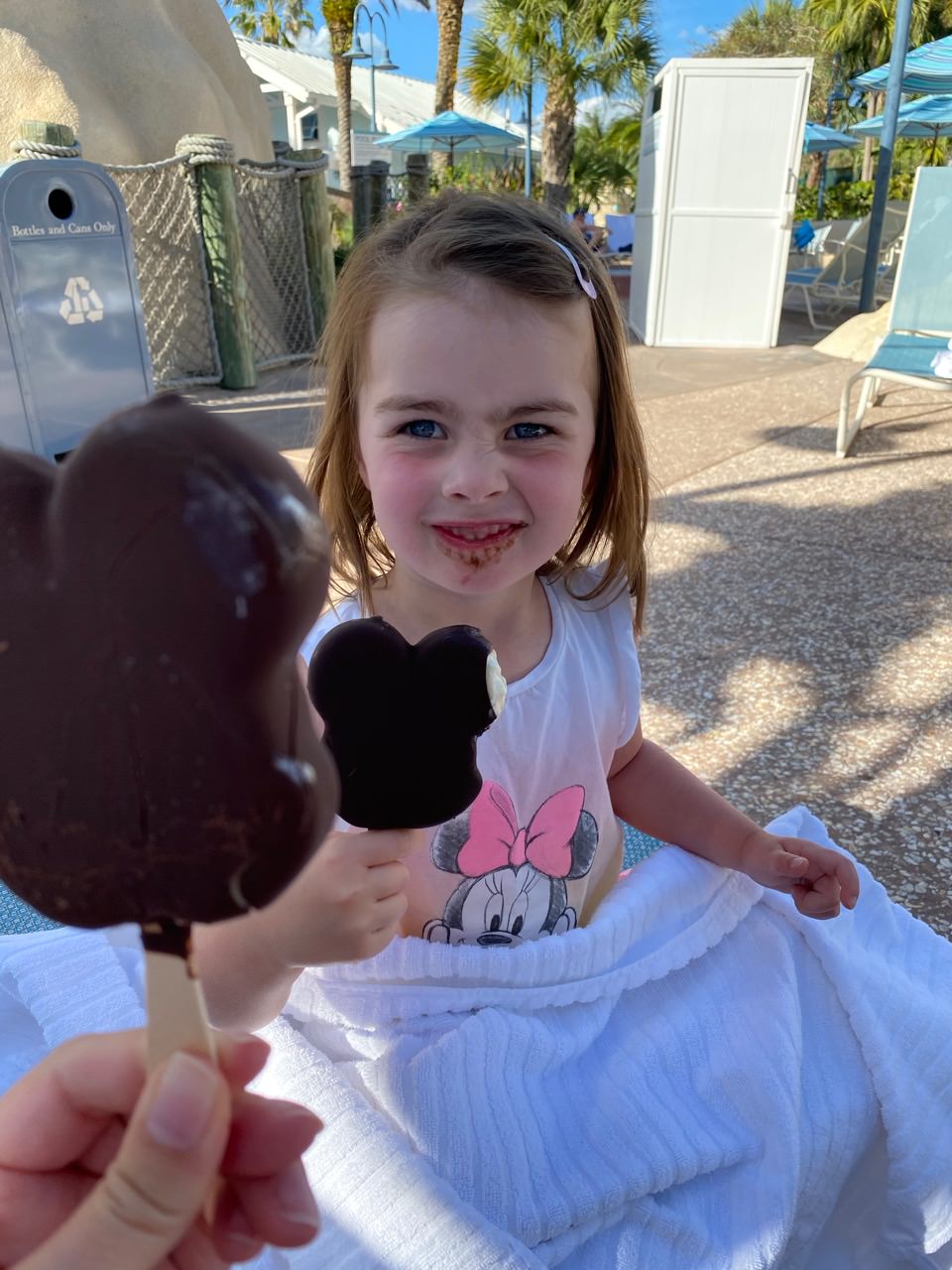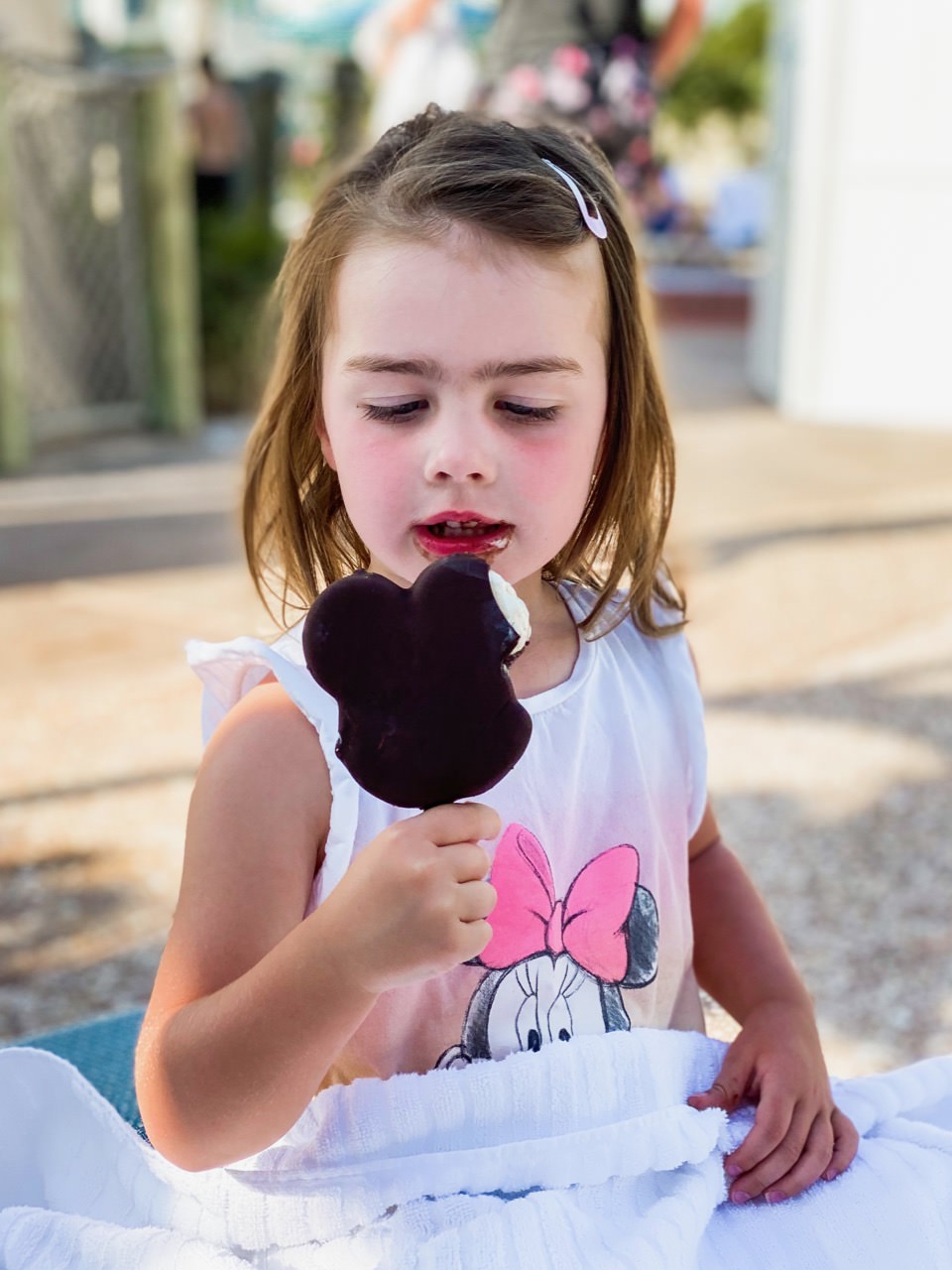 After I got her mouth and hands cleaned up lol, she was off to play again.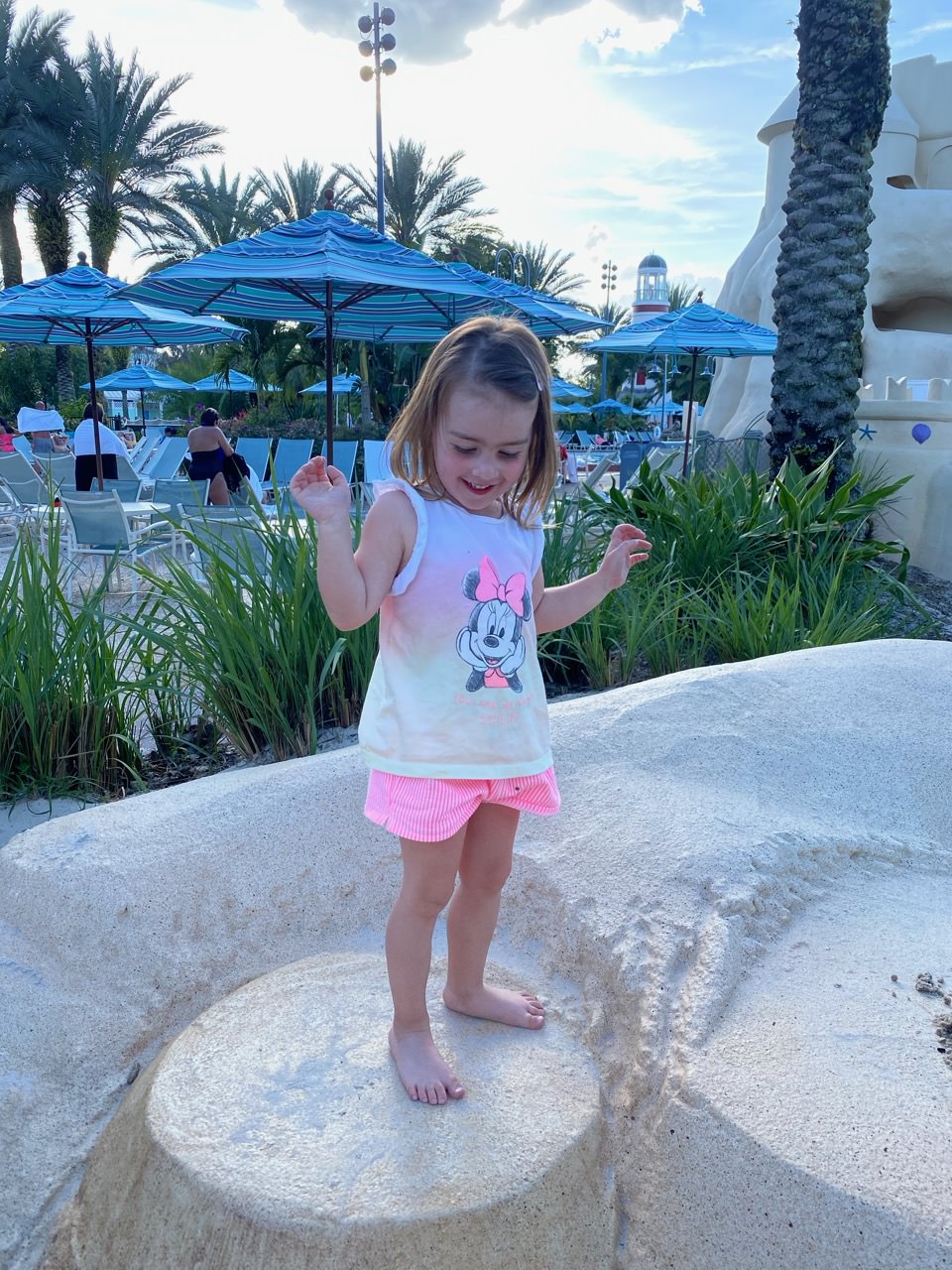 I said to Myla, "Say cheese!" wanting to take a cute photo, and she gave me this pose, with the hand on the hip and her leg bent and all!
Such a poser.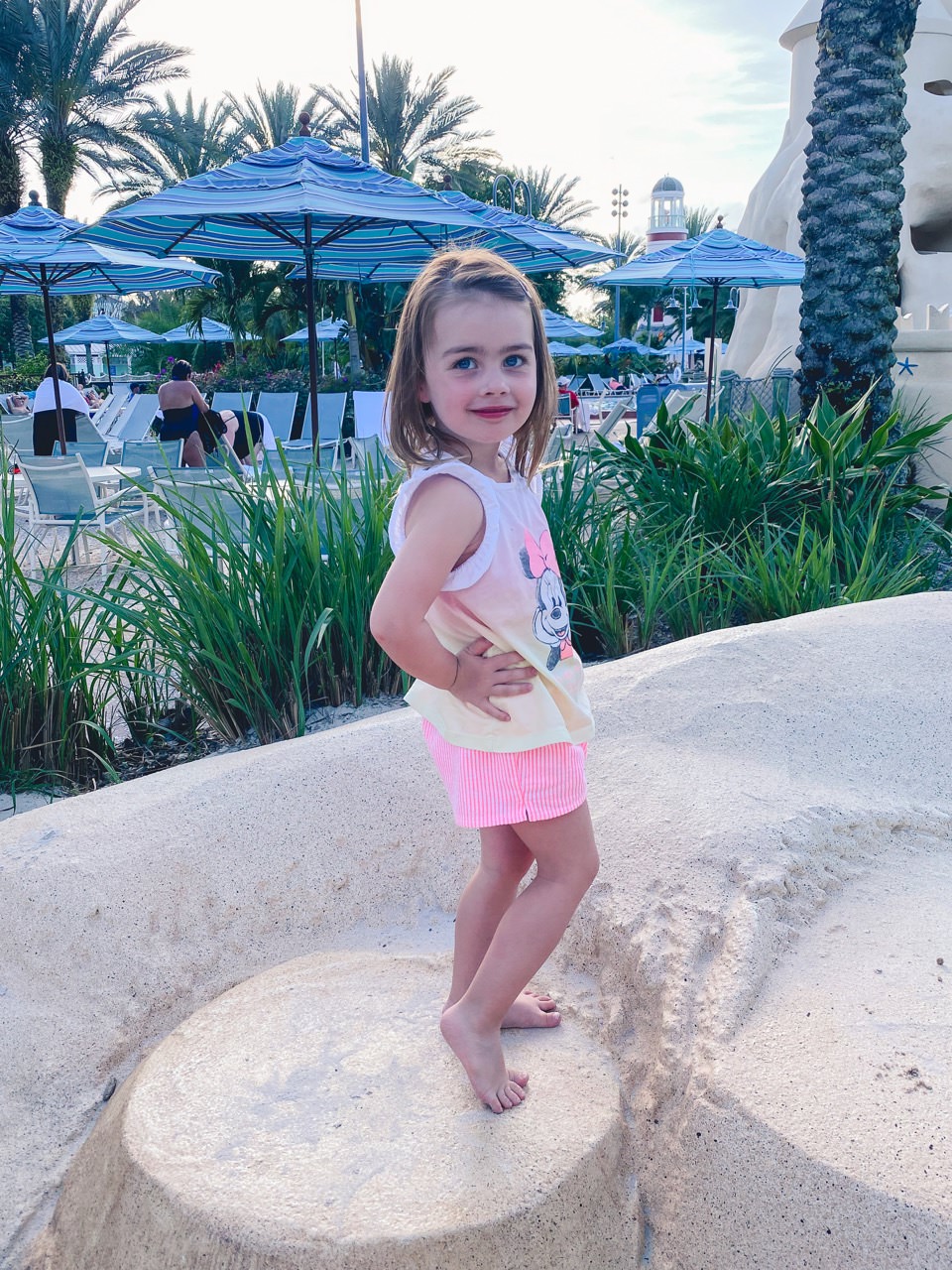 Quite quickly she ended up playing with a little English boy she'd befriended. They looked virtually the same size, and after chatting to his parents, found he was indeed 3 1/2 too, their birthdays were only days apart.
They were from Liverpool and flying home tomorrow after rescheduling their flights as they'd only been here 4 days when the travel ban and WDW closure had been announced.
Side note - the little boy was playing with buckets of water he got from the pool and carried over into the sandy areas, and Myla was joining him by stirring the wet sand etc - I think they were playing cooking. Until he emptied a bucket of water right beside where she was sitting down, and of course got her shorts and underwear all soaking. Myla is not one for "it'll dry", she hates the feeling of wet clothes so Michael had to traipse back to the room for dry underwear and shorts for her, as she attempted to take the wet stuff off and play all naked, which of course I wasn't having lol!