Day 35: More Cancelled Plans & Checking into Art of Animation
March 15, 2020
[-- Trip Index --]
We woke up around 7AM on this Sunday morning. This was supposed to be our last park day - I hadn't booked any FPs, but we'd planned to revisit whichever we most felt needed another visit (I think Epcot would have won that for a nice World Showcase afternoon), then hop on over to Art of Animation for checking in, and finally making use of the Skyliner to go see either Fantasmic or Epcot Forever as the perfect end to our holiday.
However, our thoughts from yesterday had not changed - with the parks closing for the near future tonight, it was still slated to be VERY busy with many AP holders driving in from all over the state, and we still felt we didn't want to be in the middle of that. We'd had enough park days, and we didn't want to expose ourselves to potentially picking up the coronavirus any further. So our new plan was to make the most of our 1 night at Art of Animation by checking in early, having swims in at least 2 of their cool pools, and enjoying the food choices in Landscape of Flavors.
Side note: when we originally booked this trip, we'd planned to fly home Sunday. But I got a much better rate for Monday - good enough that we still saved money even though I booked another hotel night. I picked AoA because I knew the theming would very much appeal to Myla, and of course we'd planned to see a night time show on the Skyliner without having to deal with the busses afterwards.
But that said, we were all really happy with an Art of Animation resort day - we'd all enjoyed yesterday's Old Key West resort day very much.
Michael had one last gym visit this morning, and came back just after 7AM with refillable mug coffees, a banana and croissant for Myla, and a blueberry muffin for me (we'd now used up all our breakfast foods). After some relaxing, he took Myla out around 9AM to let me finish getting ready and pack in peace.
The plan had been to take her to the playground, but as that's part of the pool area, it doesn't actually open until 10AM! So instead they played in the little games area near where the Movies Under The Stars are, and after that they headed to the Community Hall where there was lots of coloring and other activities set up - Michael said it was really good. At 10 exactly they went back to the playground, and she had a good play there too.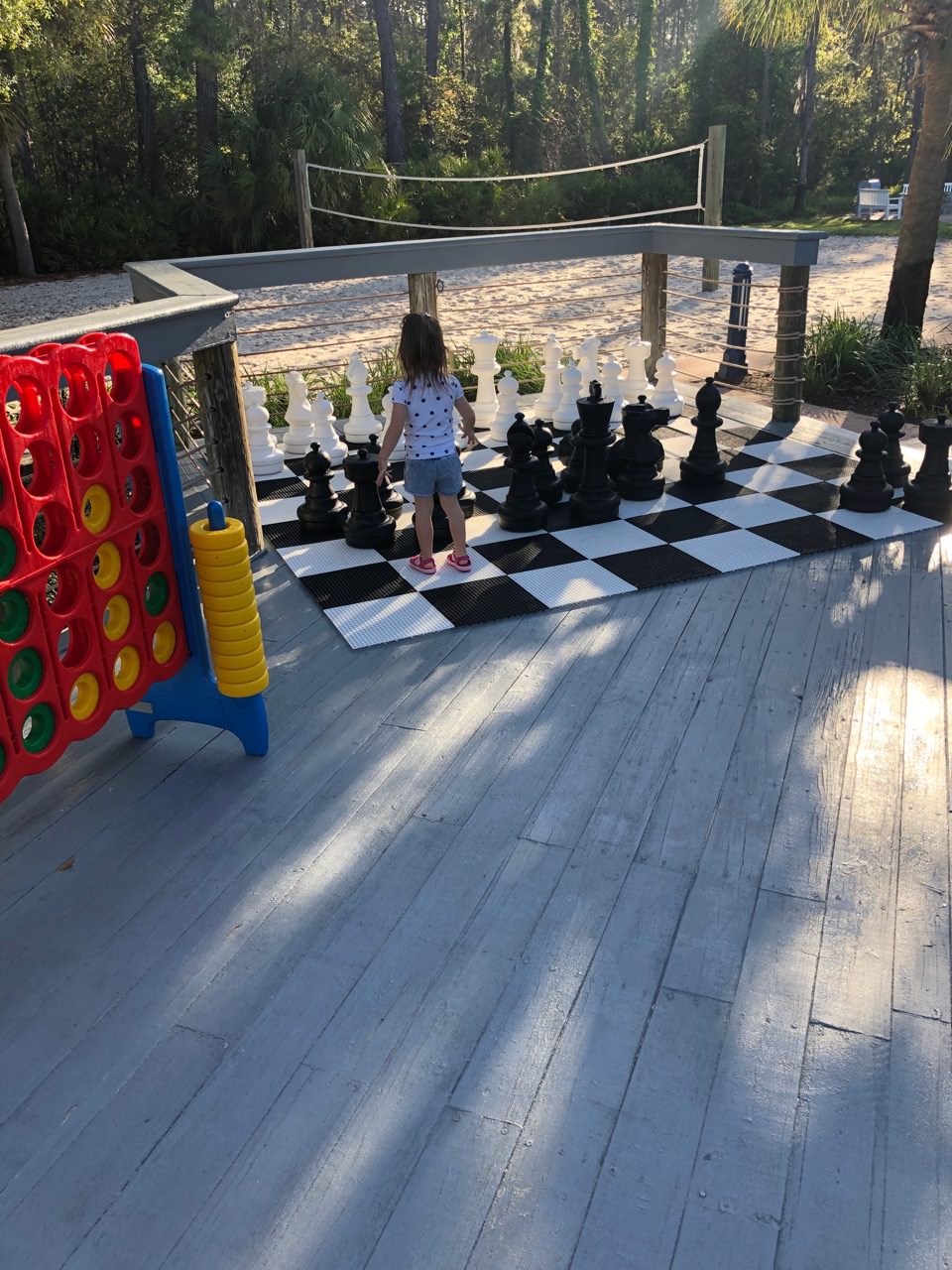 In the mean time, I got showered and dressed, and organized our luggage. I filled 2 suitcases with stuff we wouldn't need anymore, and kept everything for tonight (toiletries, PJs, Myla's favorite teddies, coloring books, etc) and tomorrow (including our travel clothes, neck pillows, headphones for the plane, etc) in the same case so I'd only have to open 1 at AoA. Lastly I filled a backpack with all our swimming gear, so we could get changed once we were at Art of Animation and go swimming without waiting for our room or luggage.
I took my time at all this as checkout wasn't until 11AM, it was nice to not have to rush! I even sat at the laptop and did a bit of work, always great to get that out of the way early.
I was finished around 10:40 and texted Michael to come back. Bell services arrived a few minutes later, and we all left the room just before 11AM. Bye room, bye lovely Old Key West - I'm 100% sure we'll be back in the future!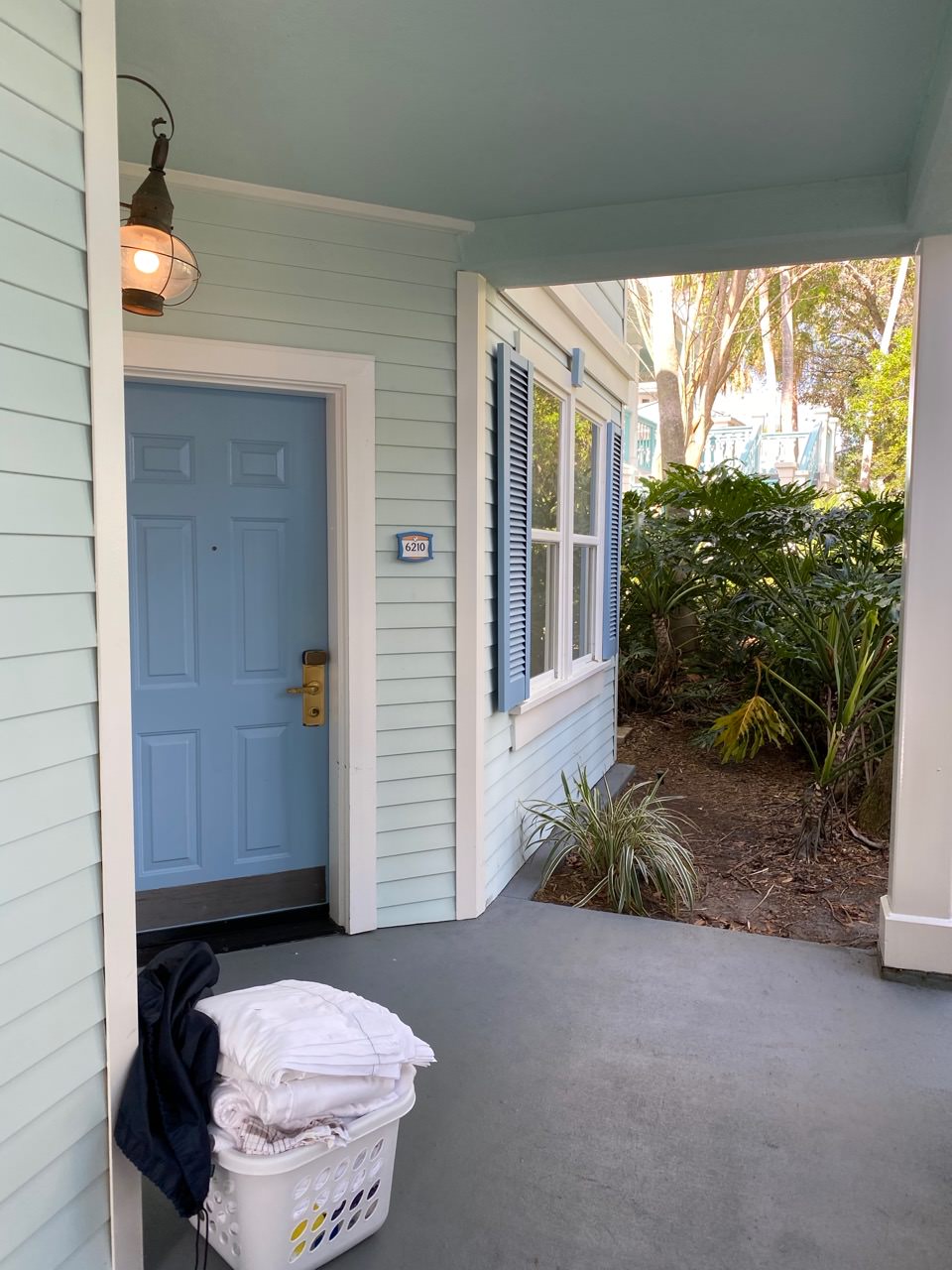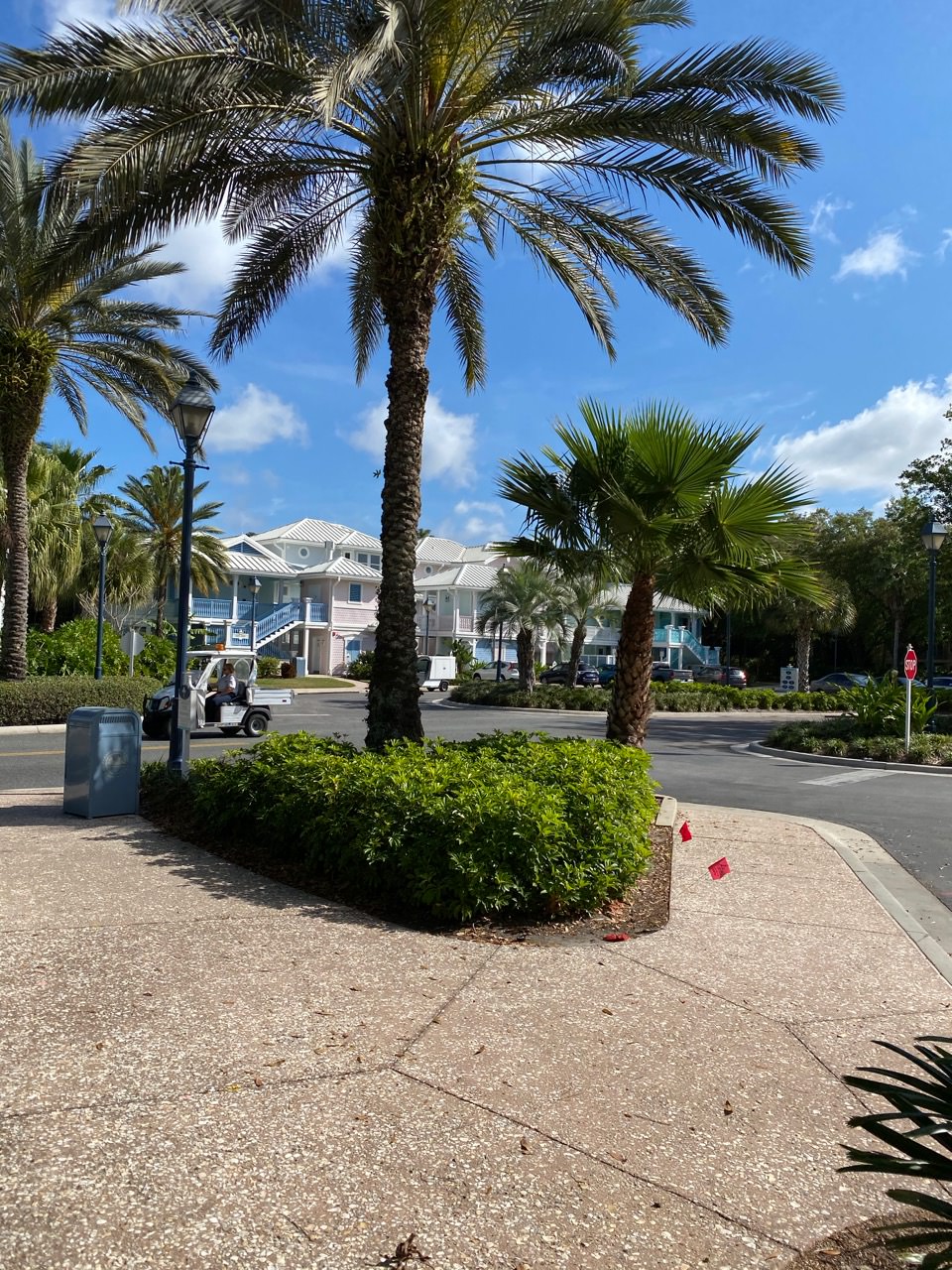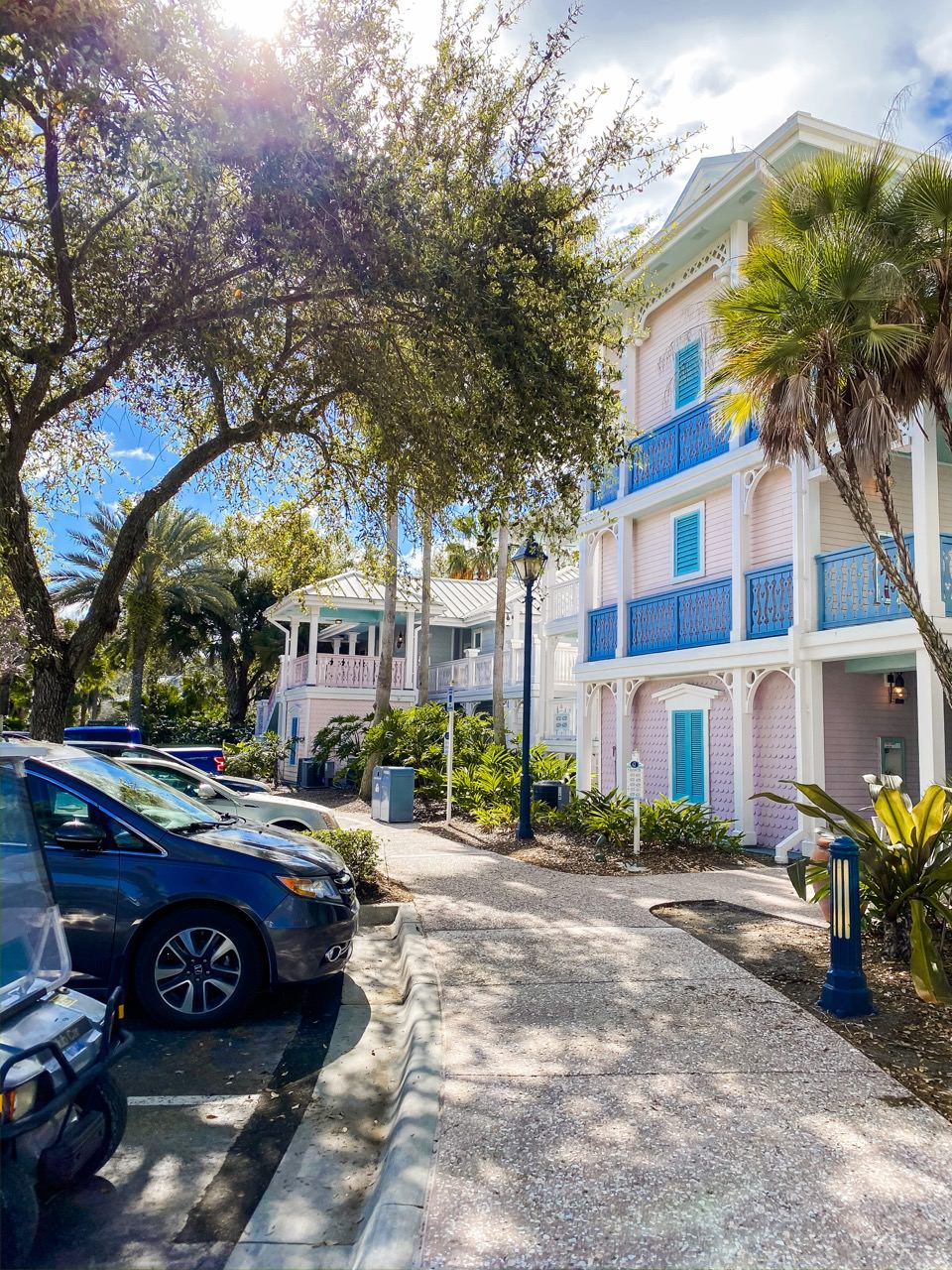 We'd decided the easiest way to get to Art of Animation but avoid the parks and crowds as much as we could, was to take a Hollywood Studios bus from Old Key West, and take the Skyliner over. The bus from OKW was empty at this time of the day.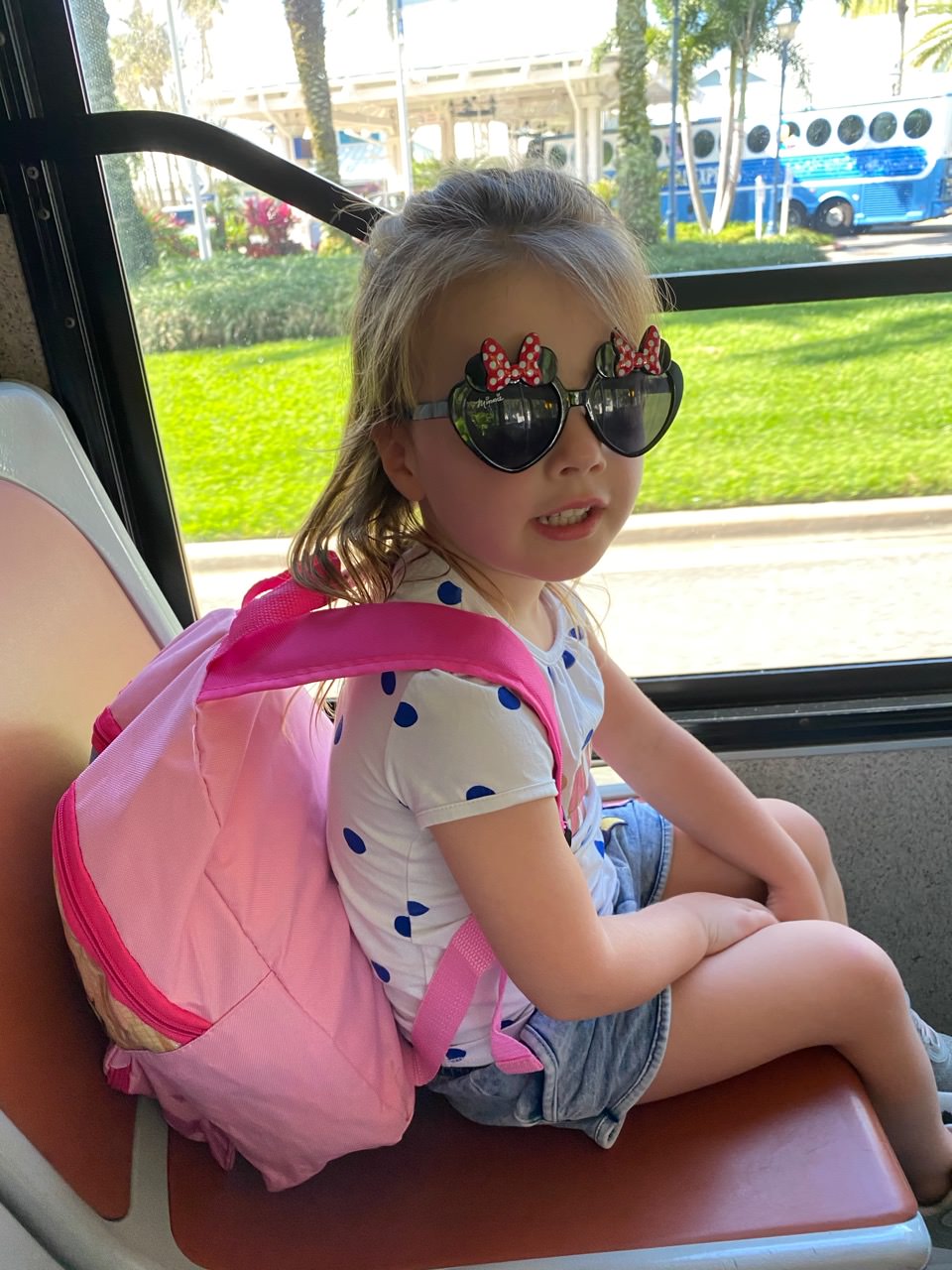 We pulled up at Hollywood Studios not even 10 minutes later - it was weird not going into the park, but I'd seen the wait times on MDE and could tell it was busy. No thanks! Myla was all perfectly fine with this, by the way - she was happy to ride the Skyliner, and very excited about going swimming in the Nemo pool!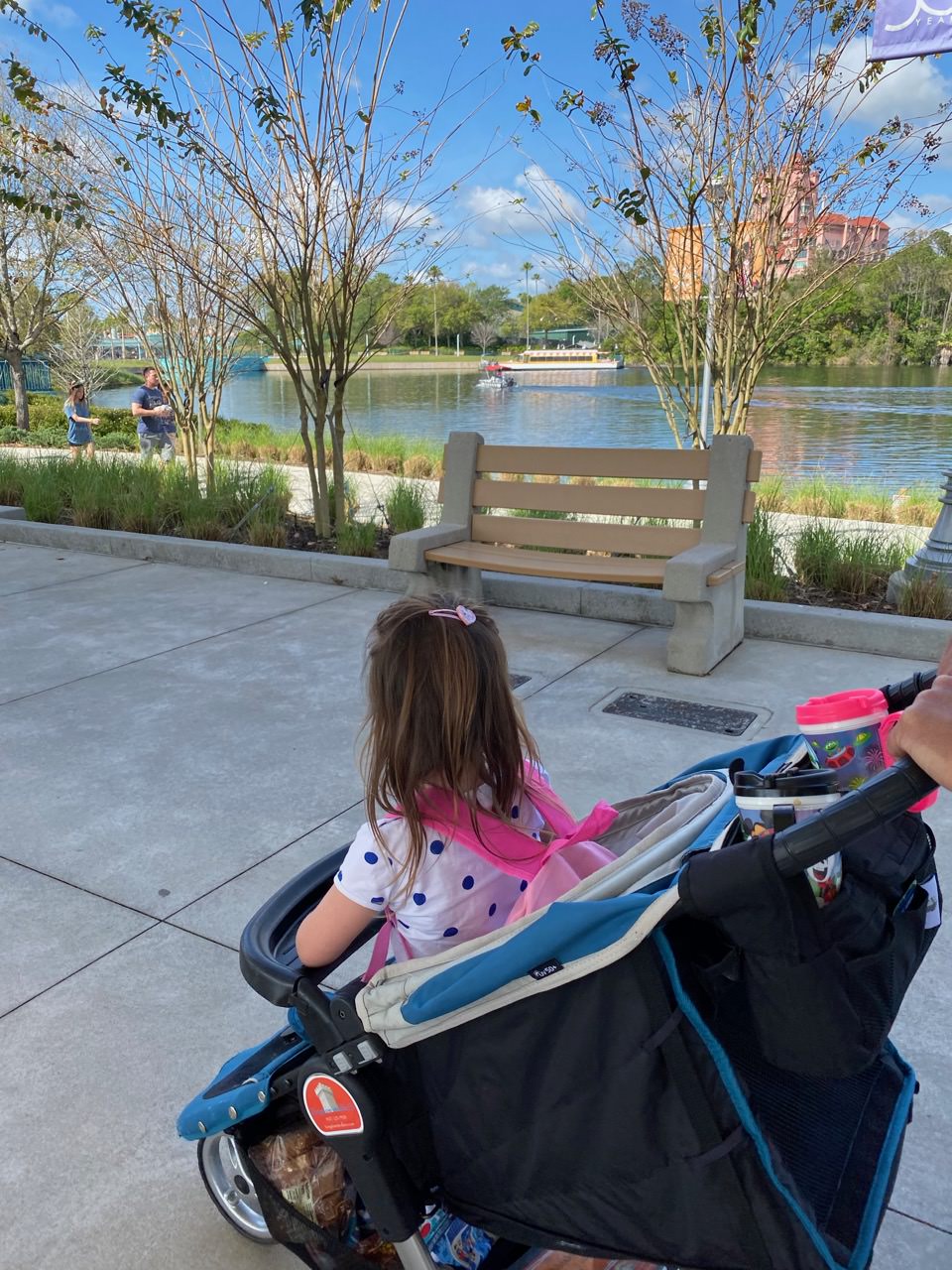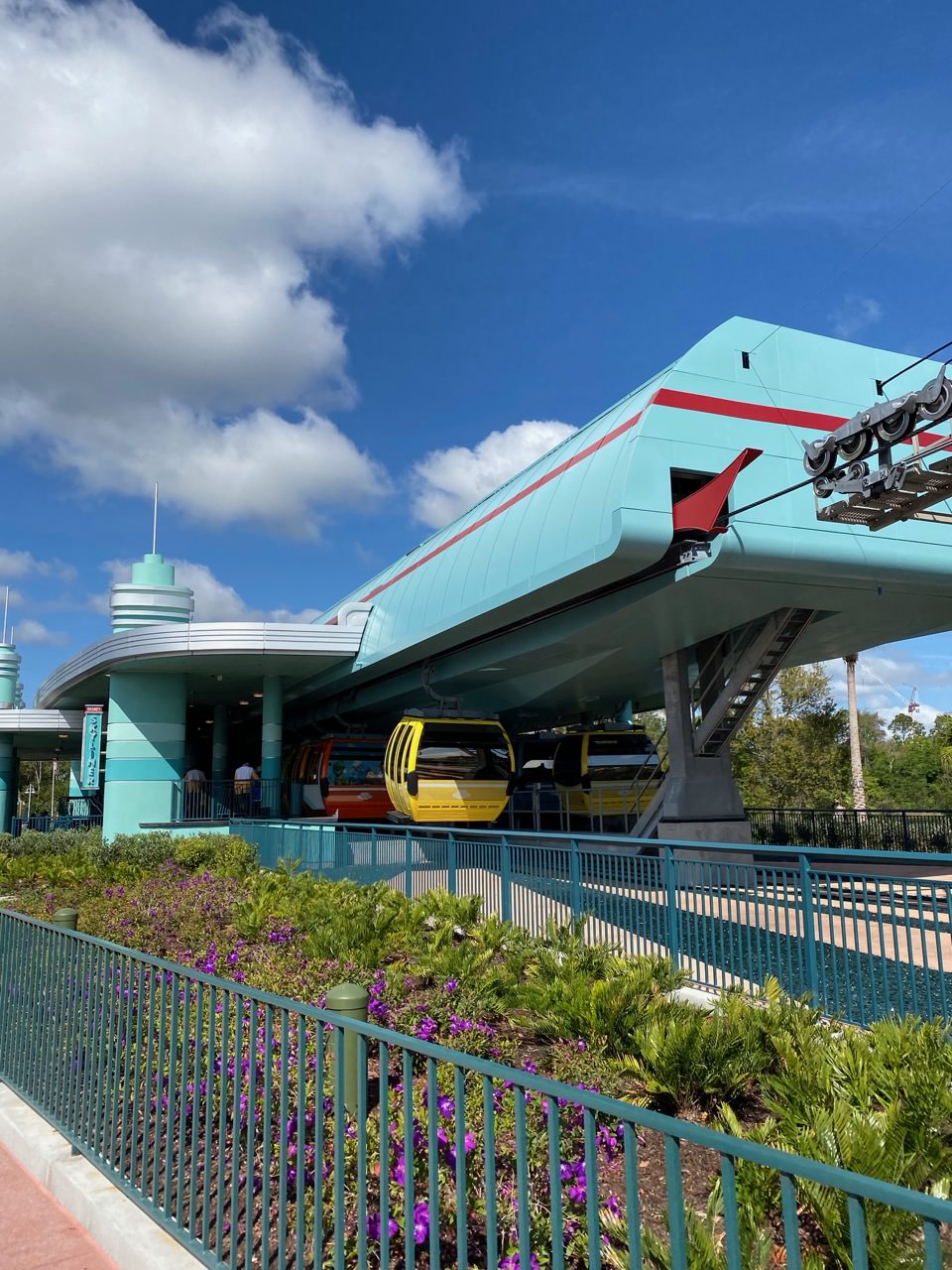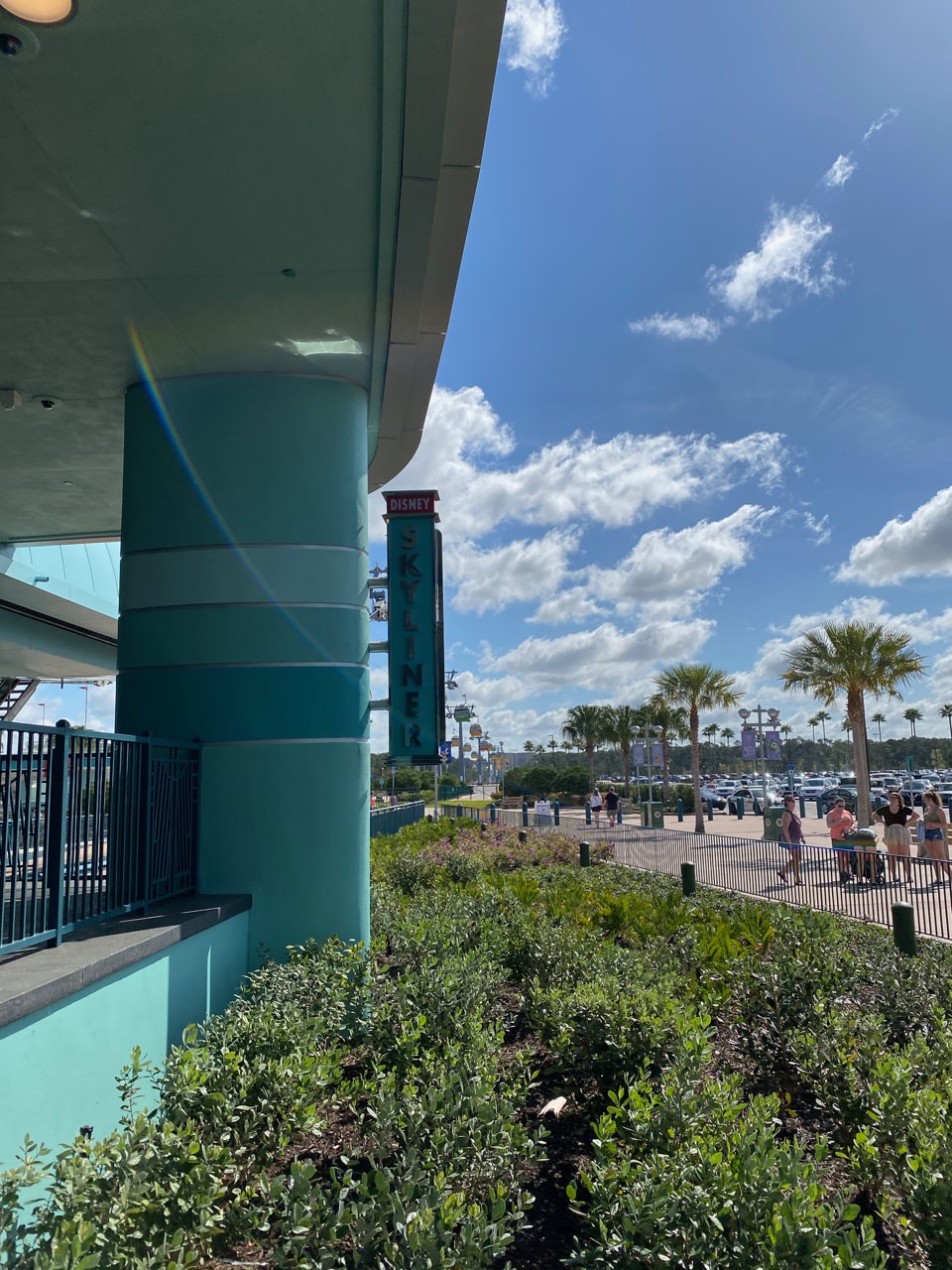 We boarded the Skyliner at 11:15, keeping our distance from others in the walk up to the station, and got our own cabin. Myla loved the little ride again, and it was so quick and easy to change at Caribbean Beach for AoA!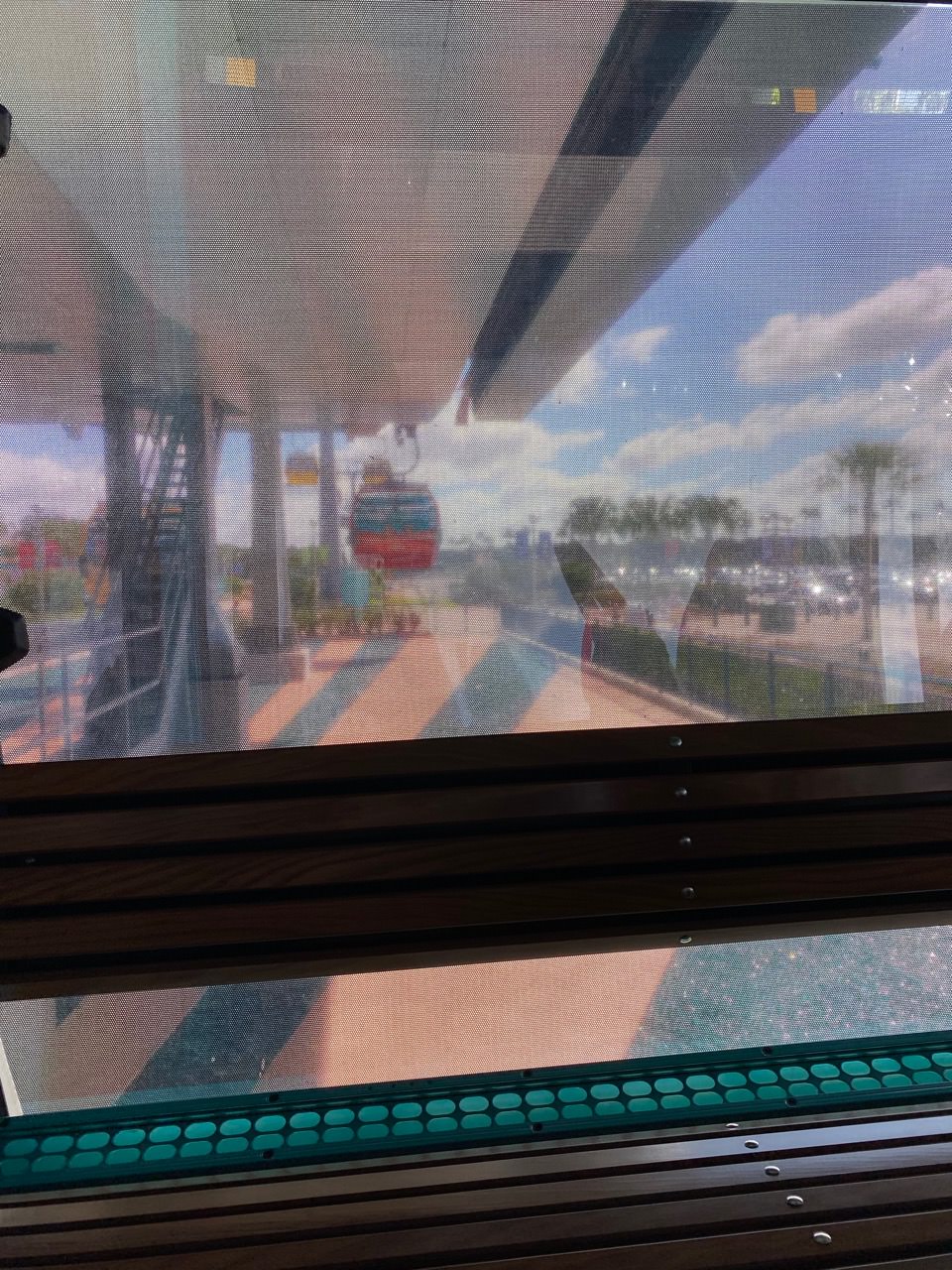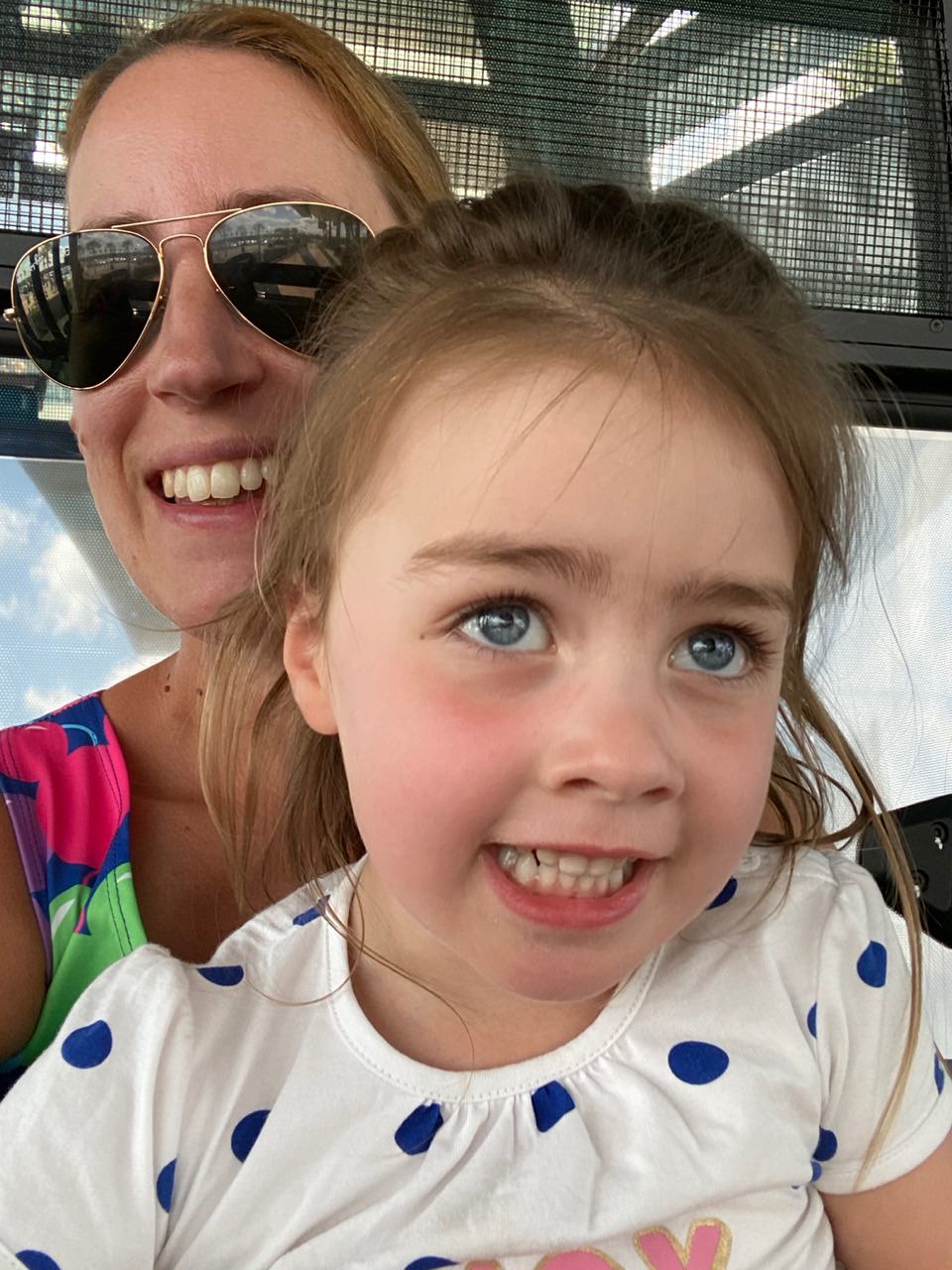 We were at Art of Animation exactly 25 minutes from leaving Old Key West, happy days! We walked up to Animation Hall to collect our last set of Magic Bands, and the plan was to go change, swim a bit (it was pretty hot outside already), then have a break with some lunch.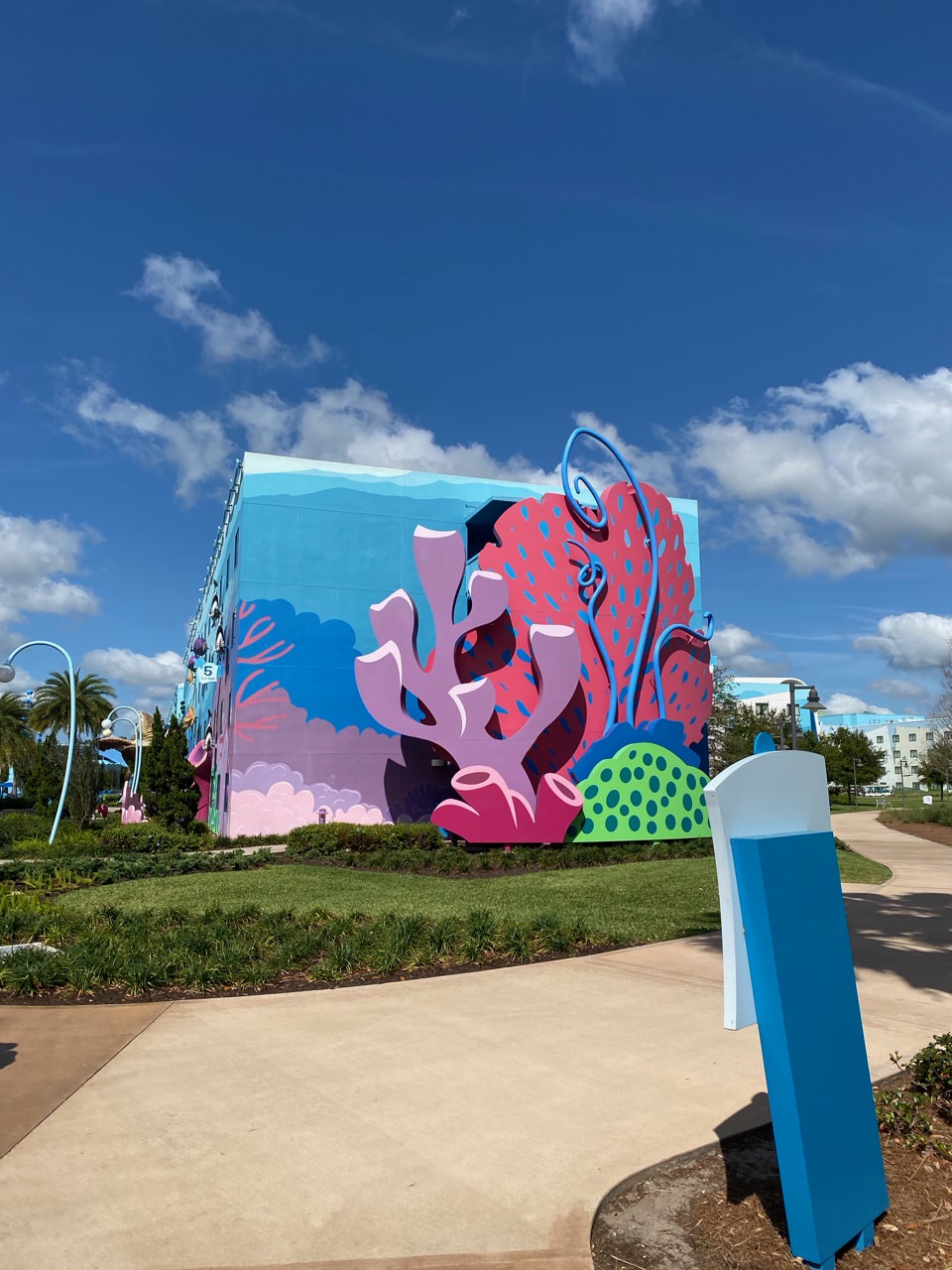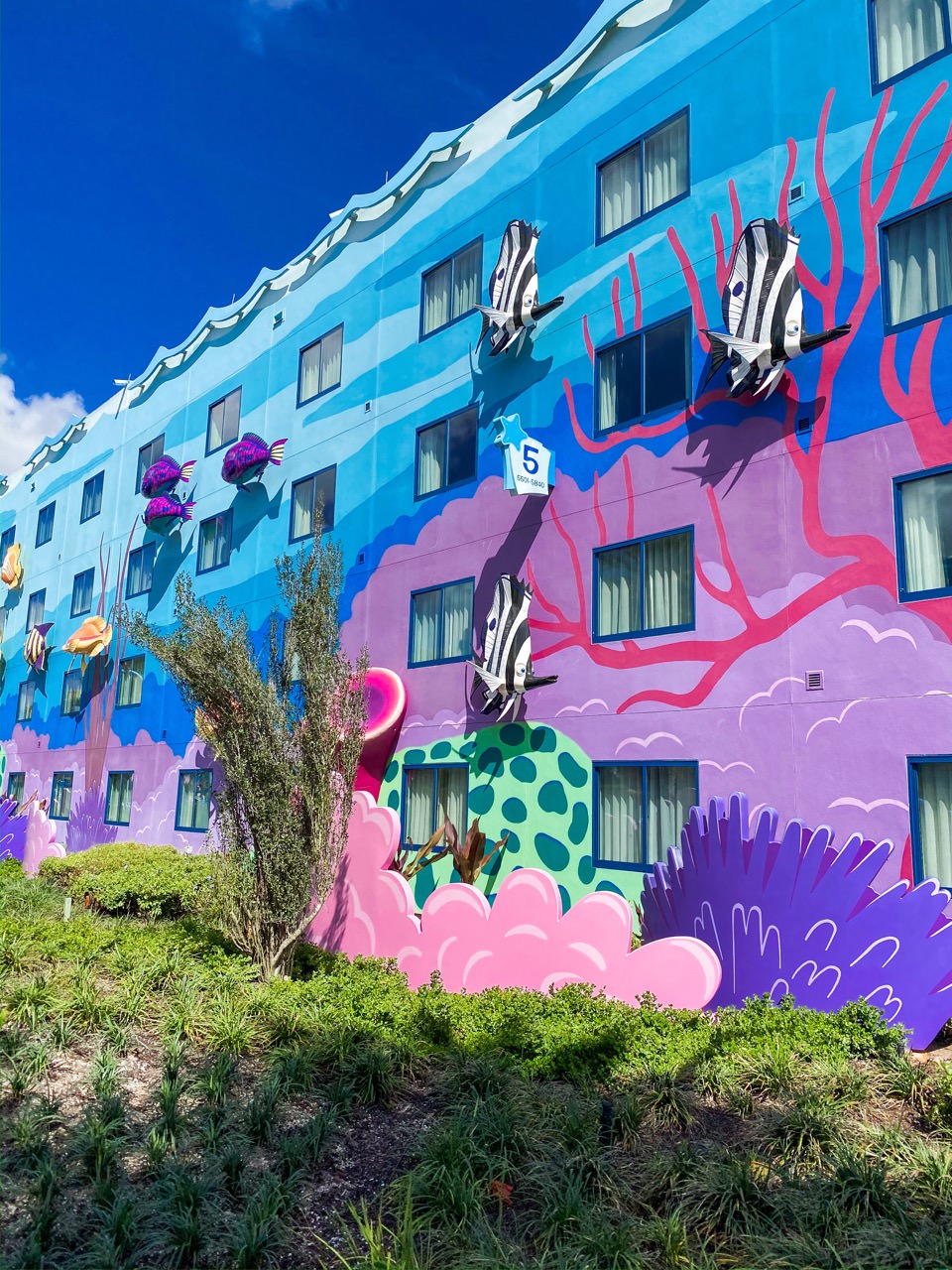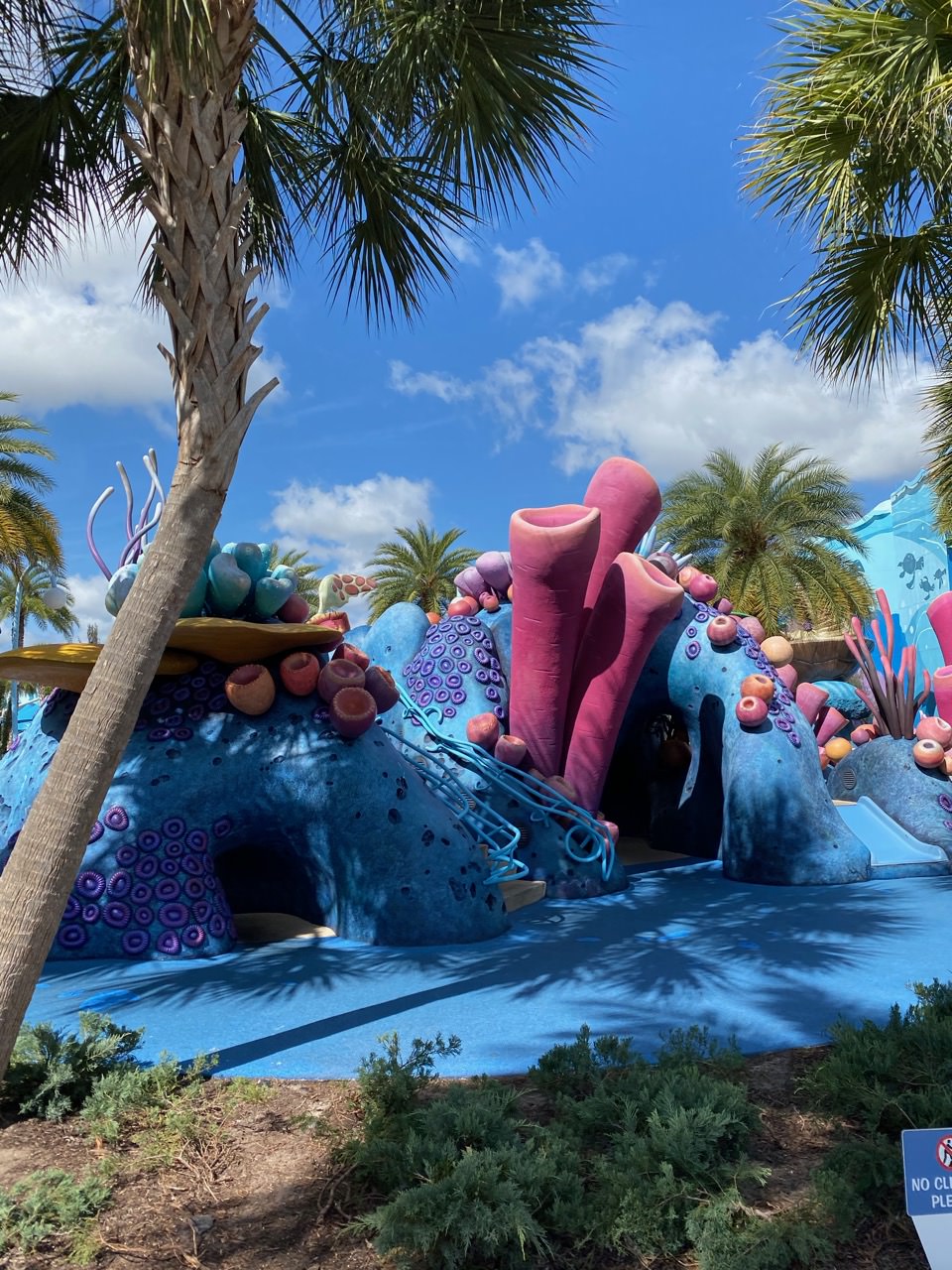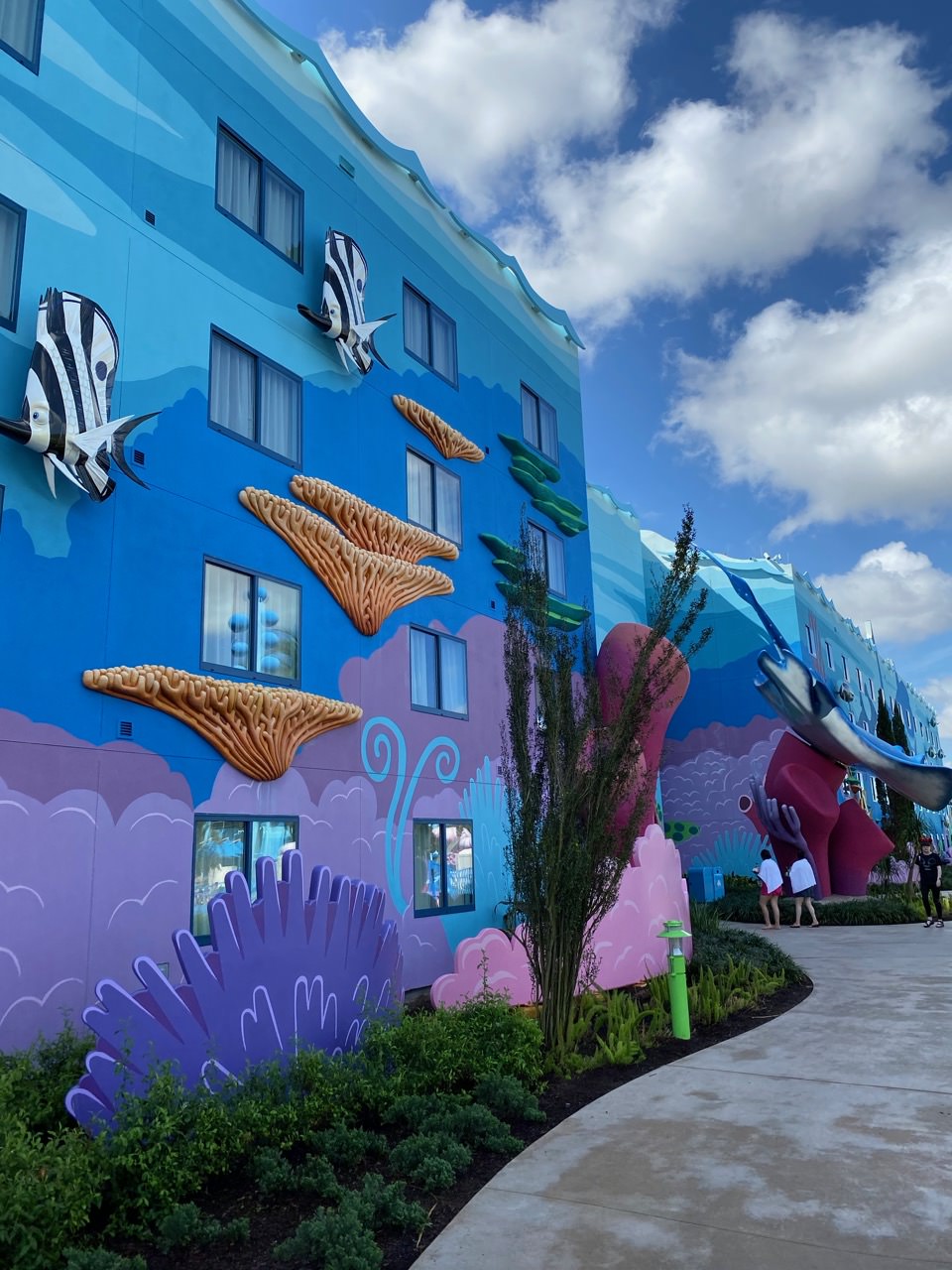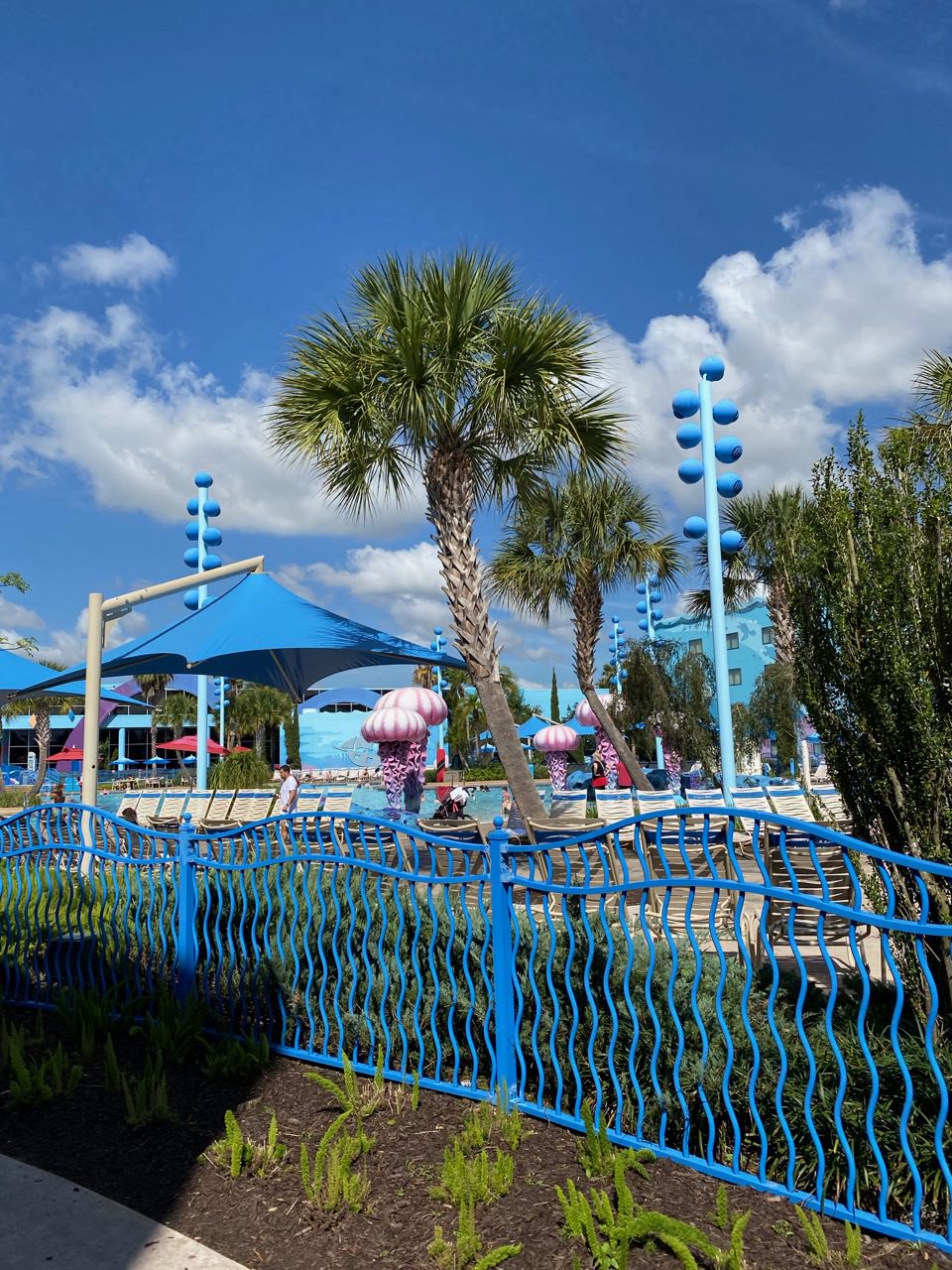 Myla was very excited to be seeing all the larger than life statues, the Squirt playground, and the Nemo pool. As you may recall, she pretty much slept through our entire visit to Art of Animation on our Resort hopping day a few weeks ago so it all seemed new to her lol.
It was absolutely dead quiet inside the lobby - the whole hotel seemed fairly quiet, and we were seen at a desk right away. Love the theming here!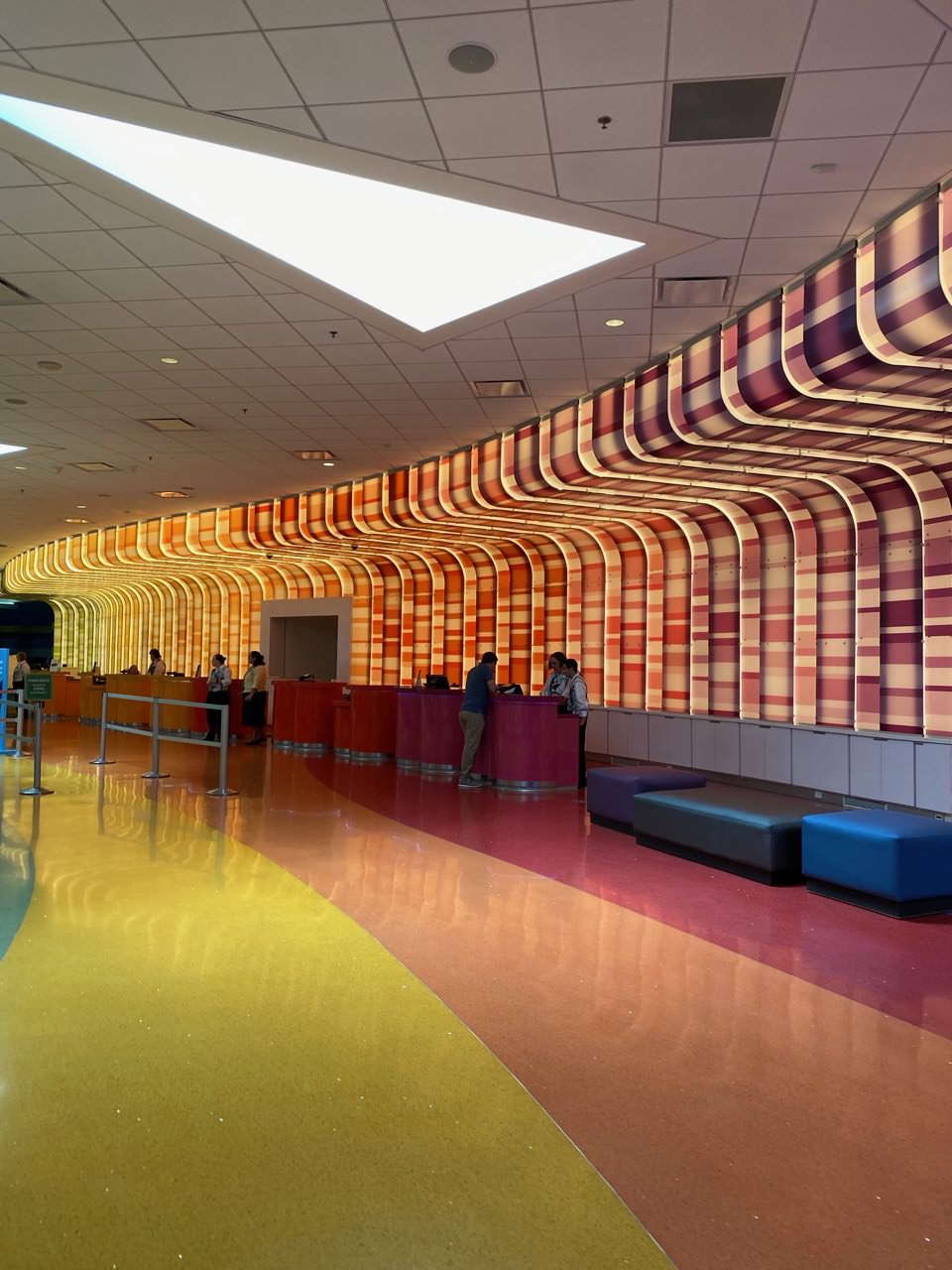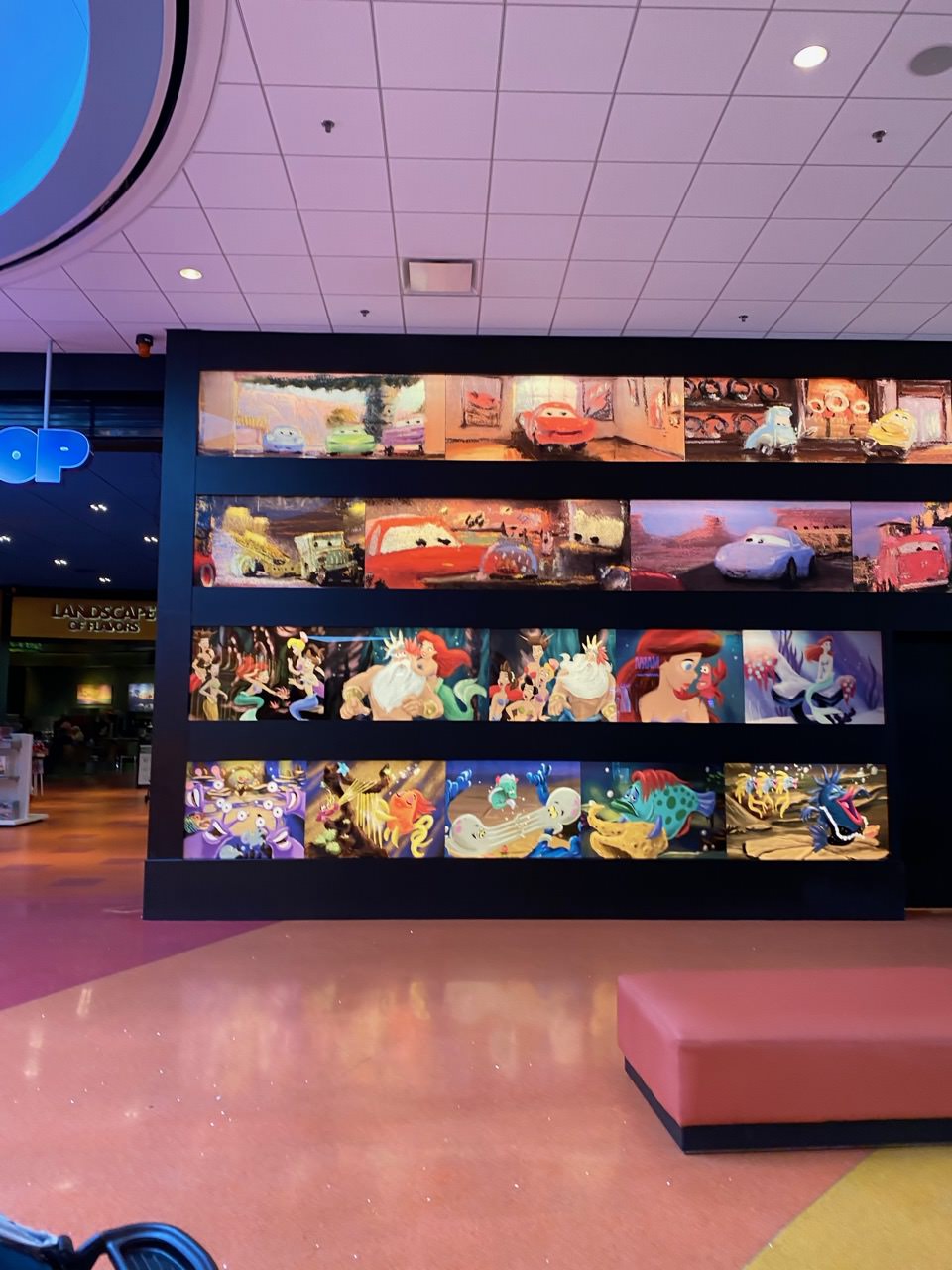 The girl at the desk helping us, had a badge on that said she was a trainee, and there was a more senior CM beside her to walk her through everything - she told us it was her first day!
We weren't in a hurry, so I didn't mind that things took a bit longer. I told her we'd done online check-in and just needed our Magic Bands. She checked it on the computer, and was able to tell us that our room was already ready for us - what a nice bonus as it was only 11:40 by now and I'd been expecting it would take until 3 or 4 like it usually does! As I was standing talking to her, I got the text to say our room was ready too.
So, slight change of plans, we decided to go check out our room first, get changed there, and leave the stroller and hand luggage there instead of taking it all with us to the pool. We took the little walk over from the lobby to the Little Mermaid section through the Lion King section - it's maybe a 7-8 minute walk. Not too bad, but I think it would get old fast if you were staying here 14 days.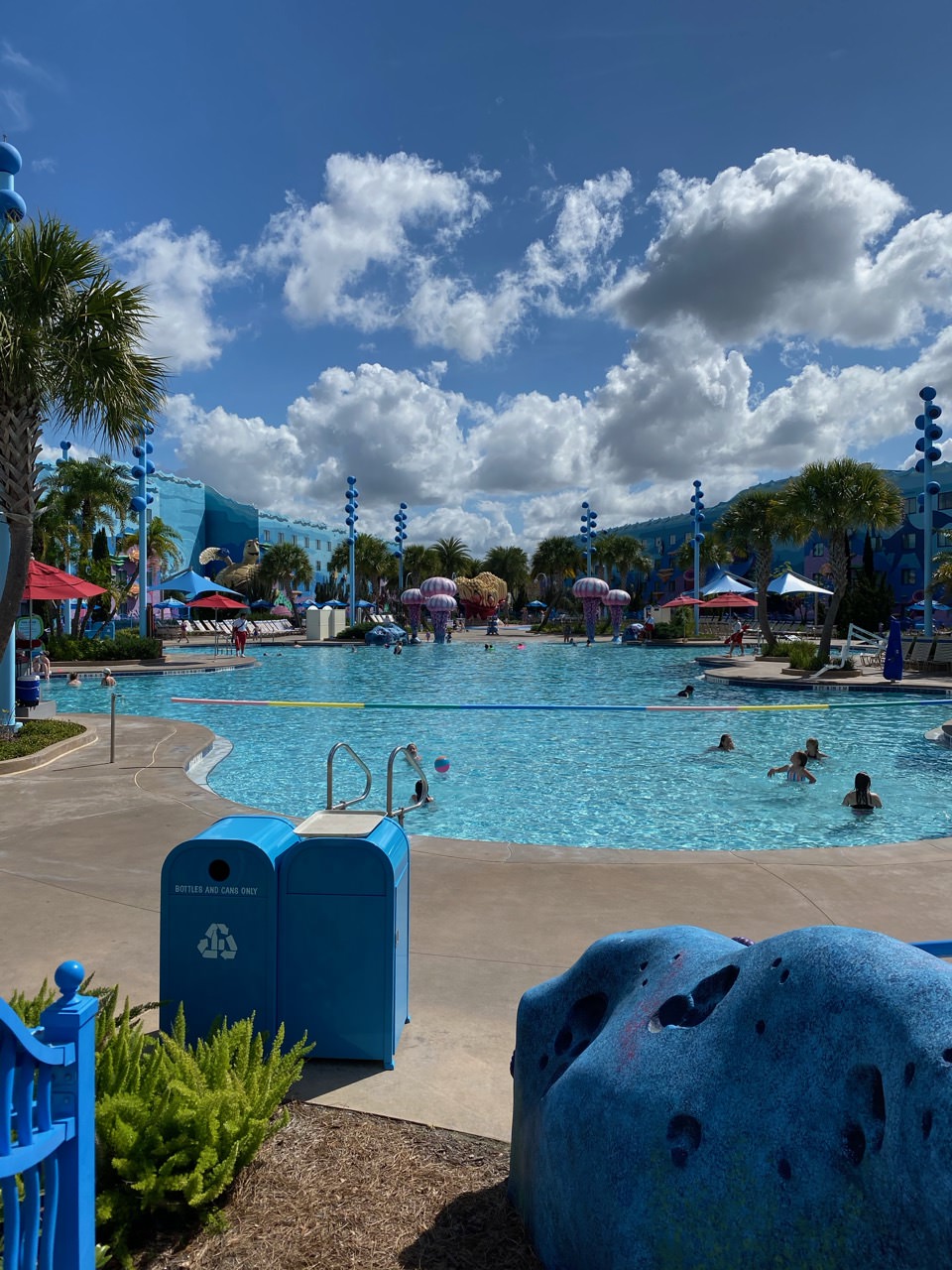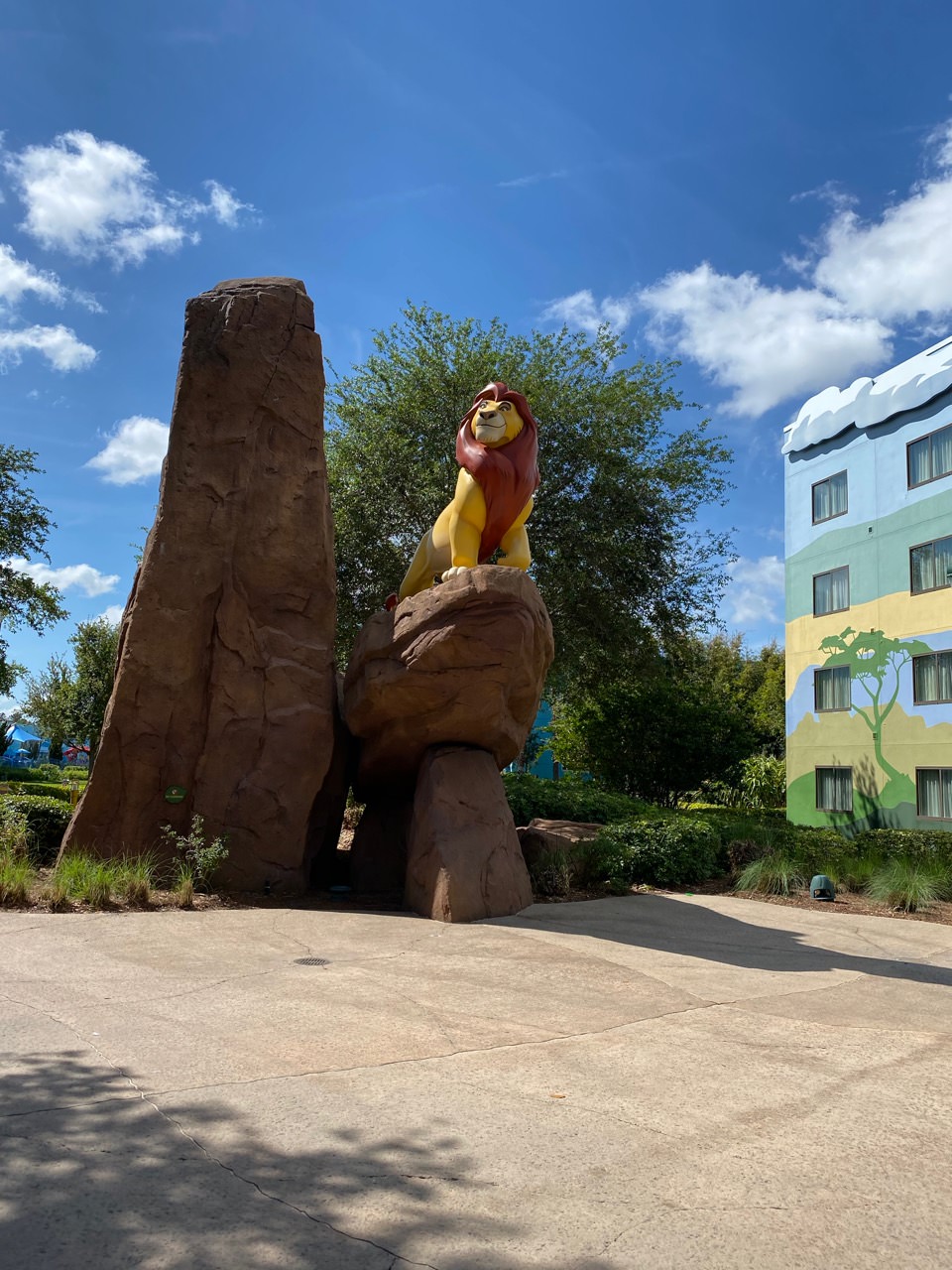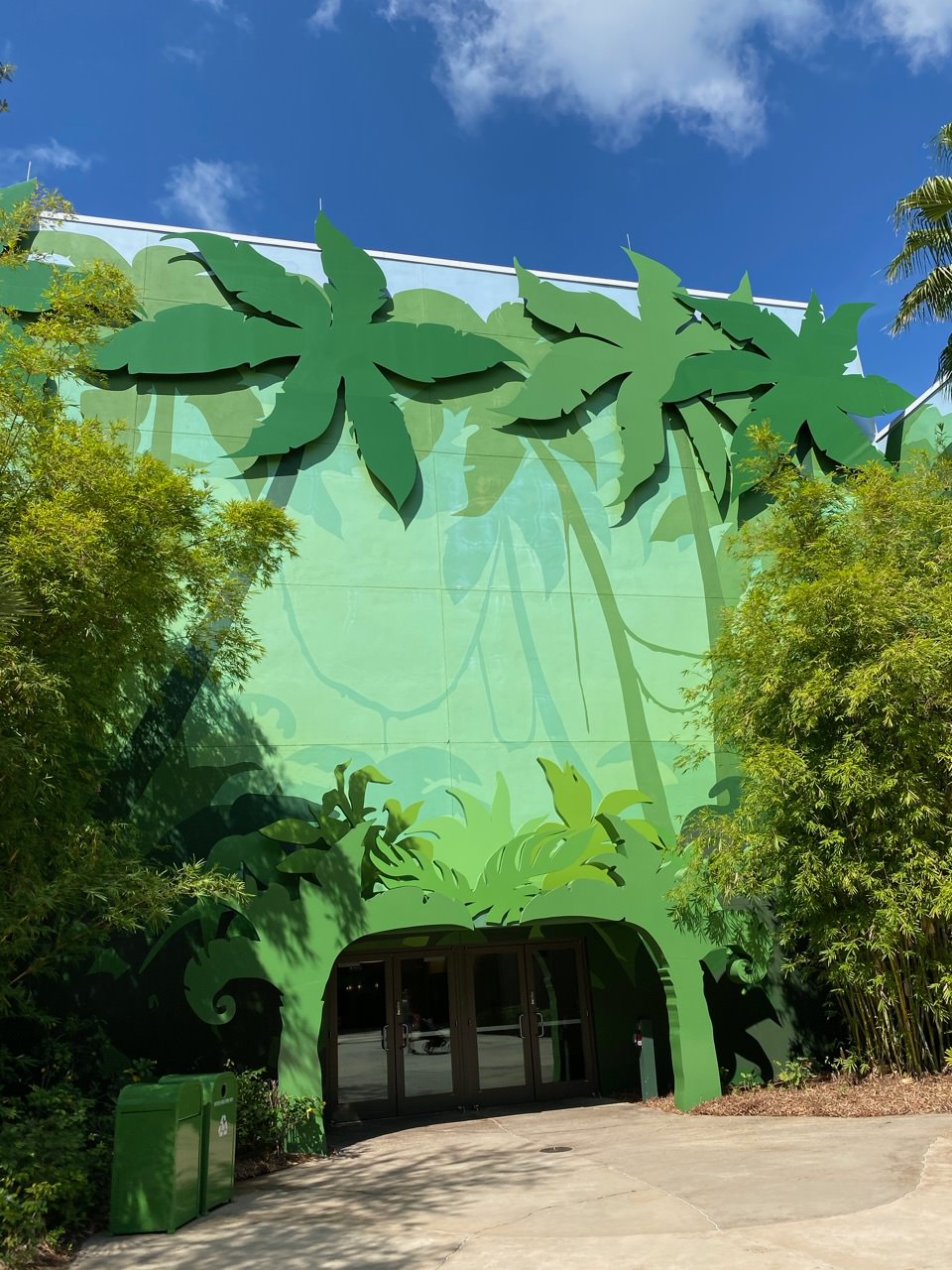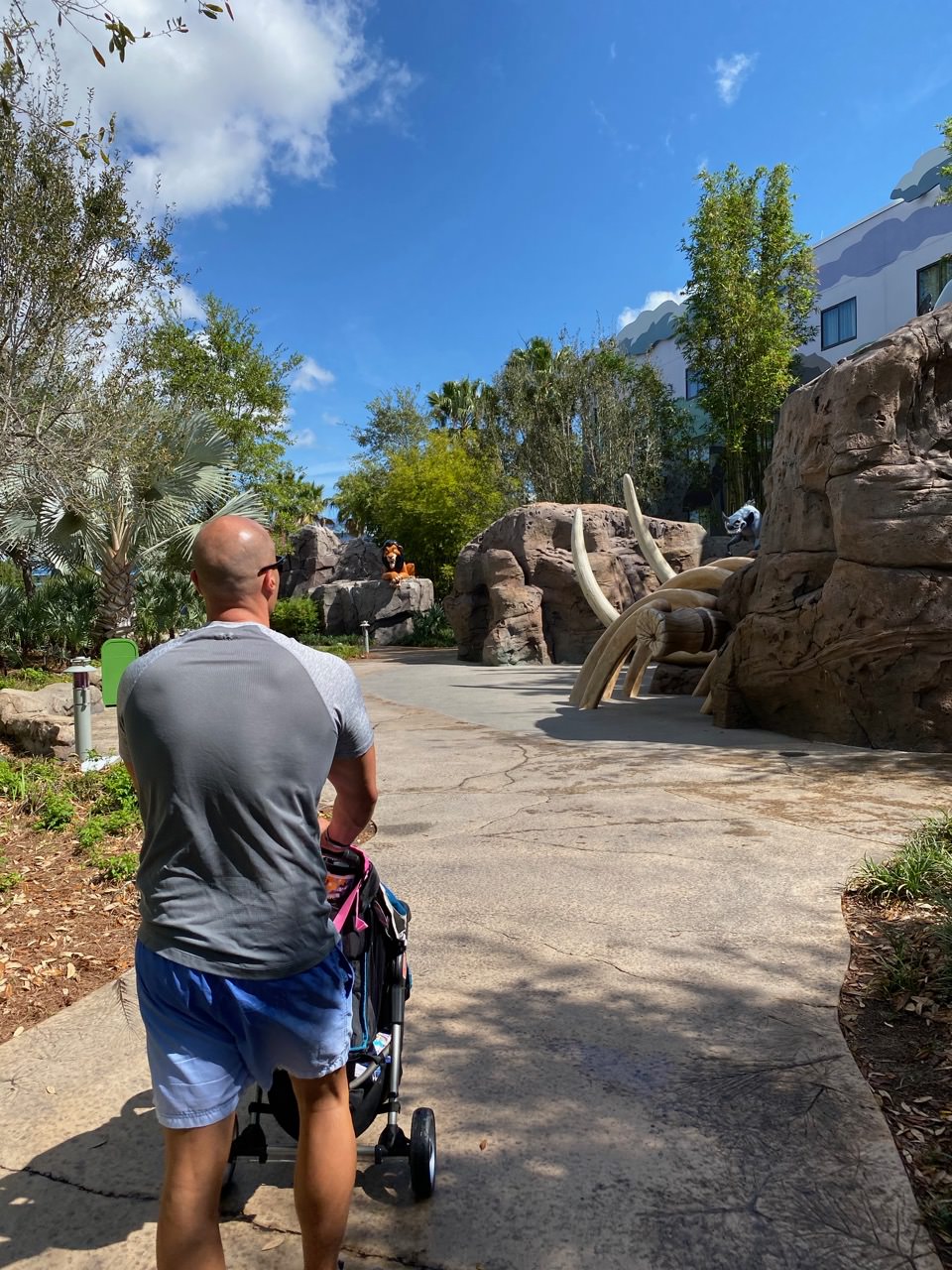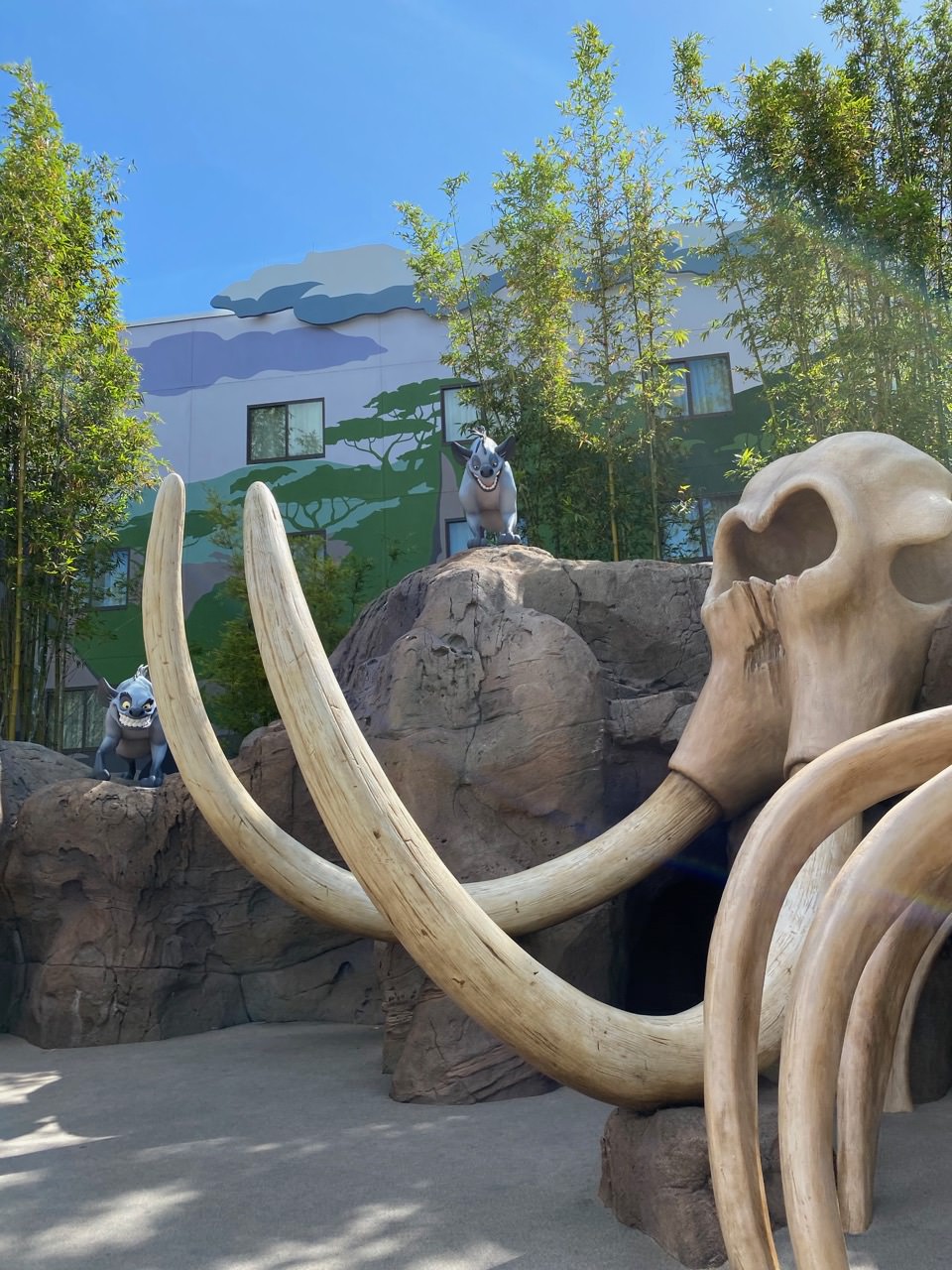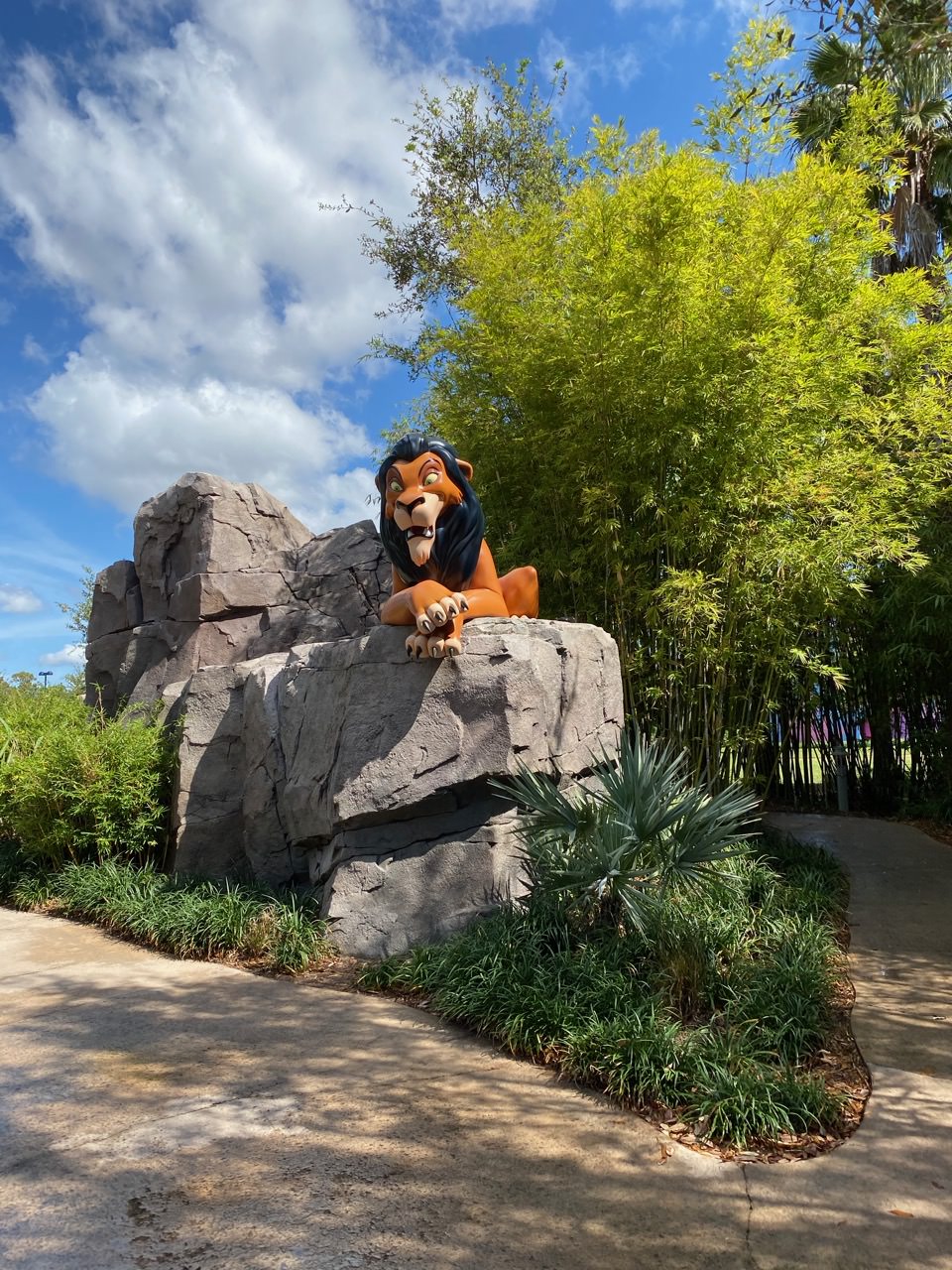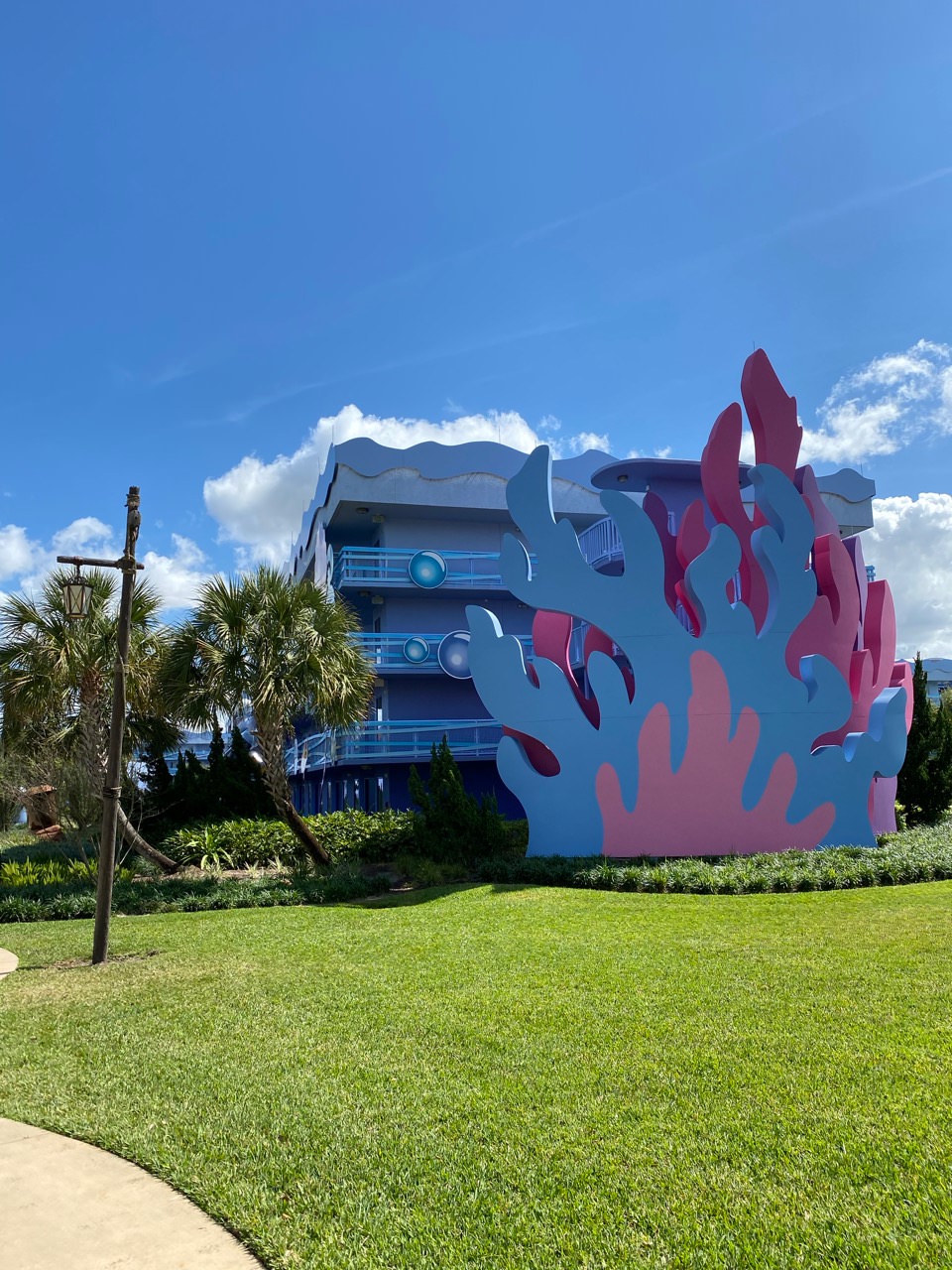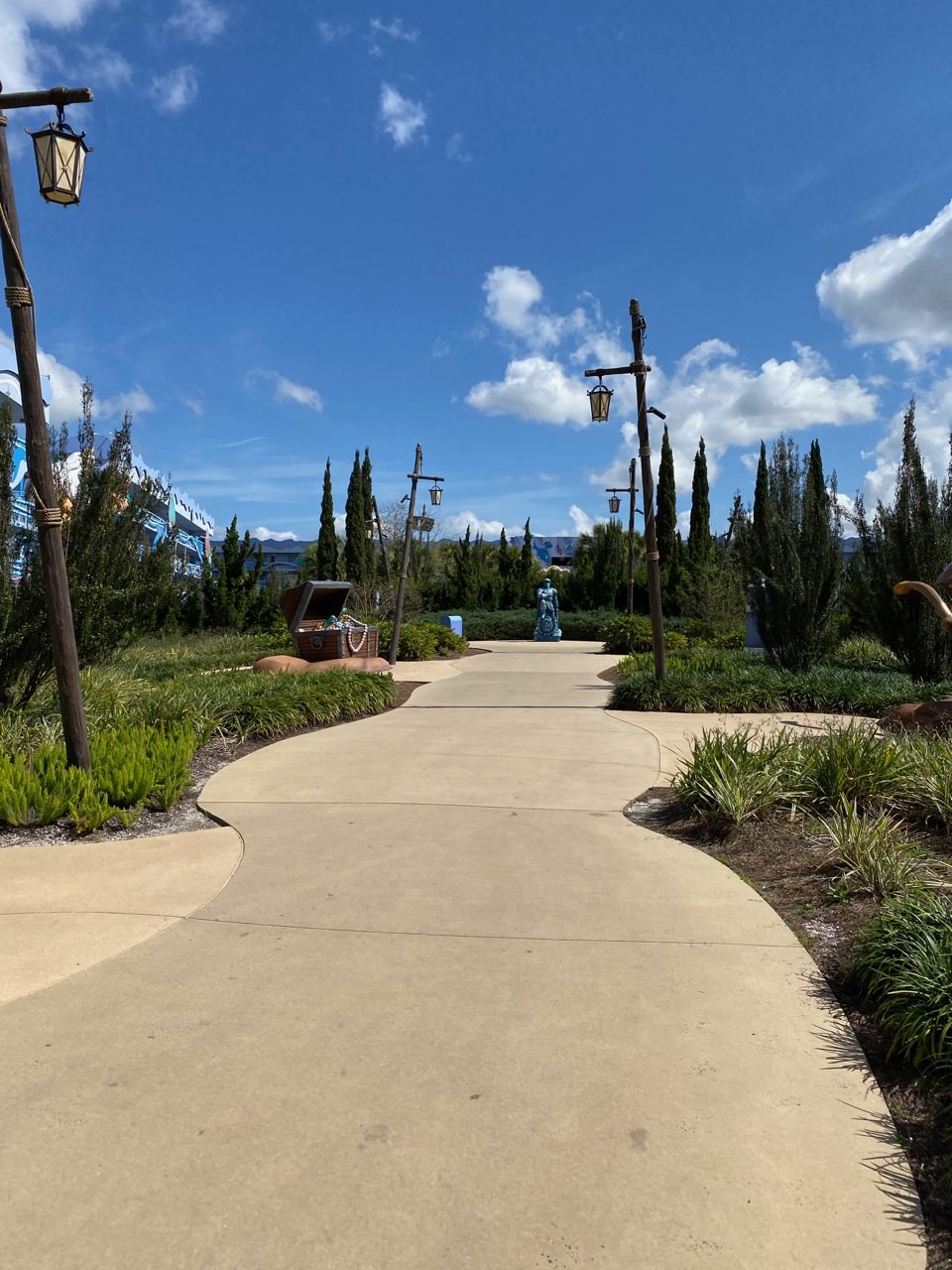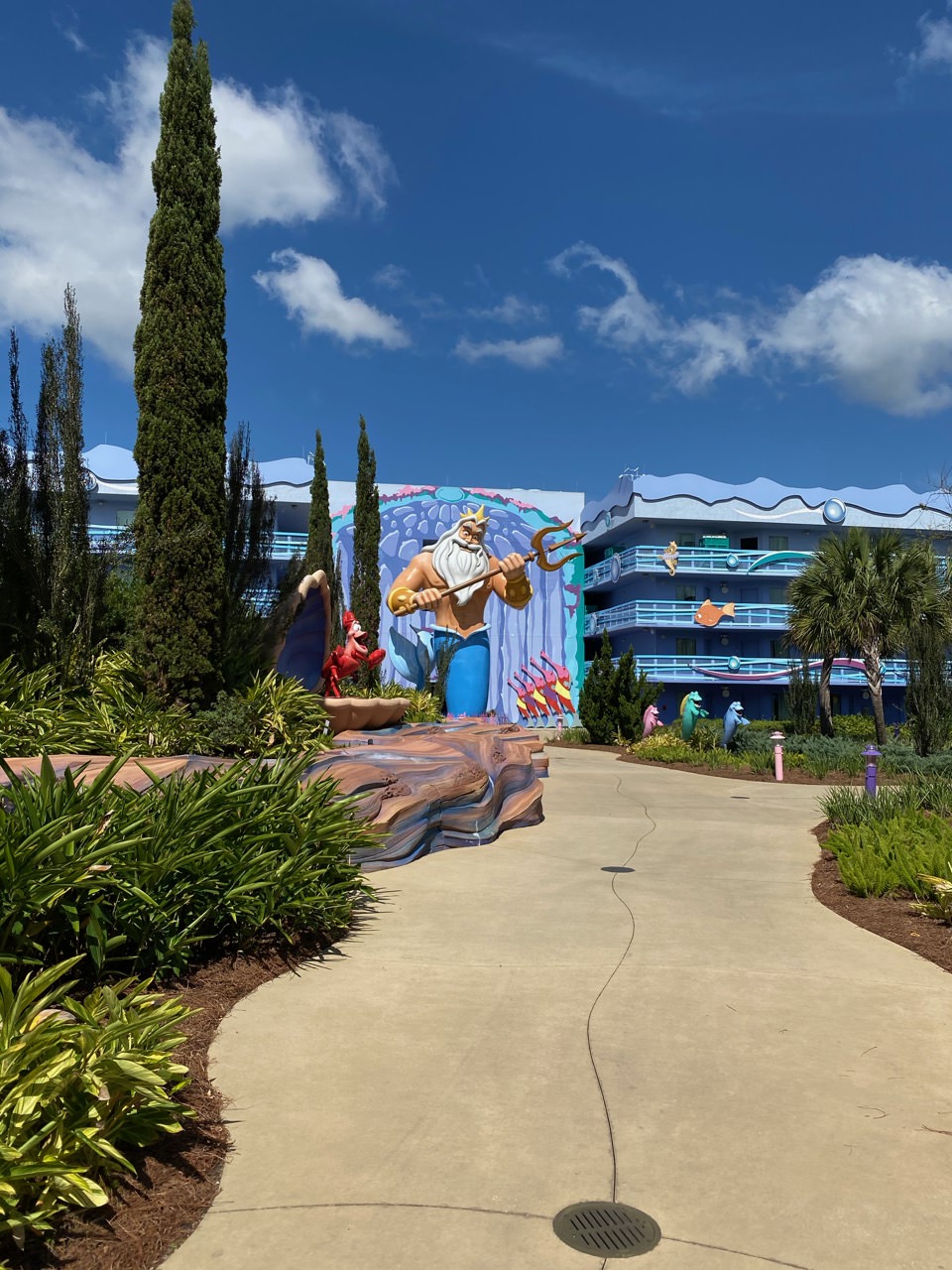 Again Myla was LOVING all the theming, and we had a good look around at all the big statues. She asked me to lift her up for a photo beside the big Sebastian, but there was a sign right beside it that said "no climbing" so I said I couldn't. She wasn't happy with my answer, see the foot stomping below.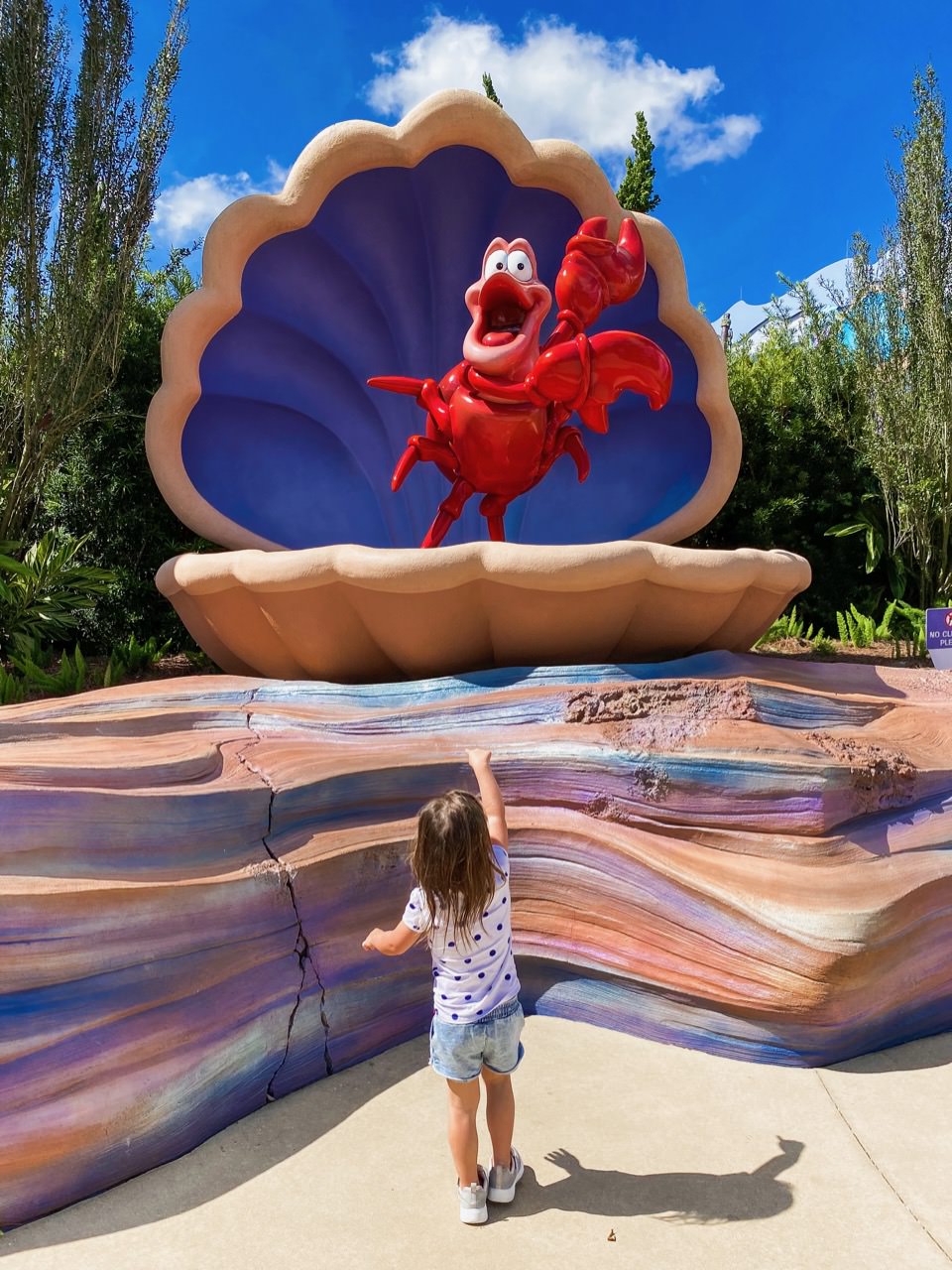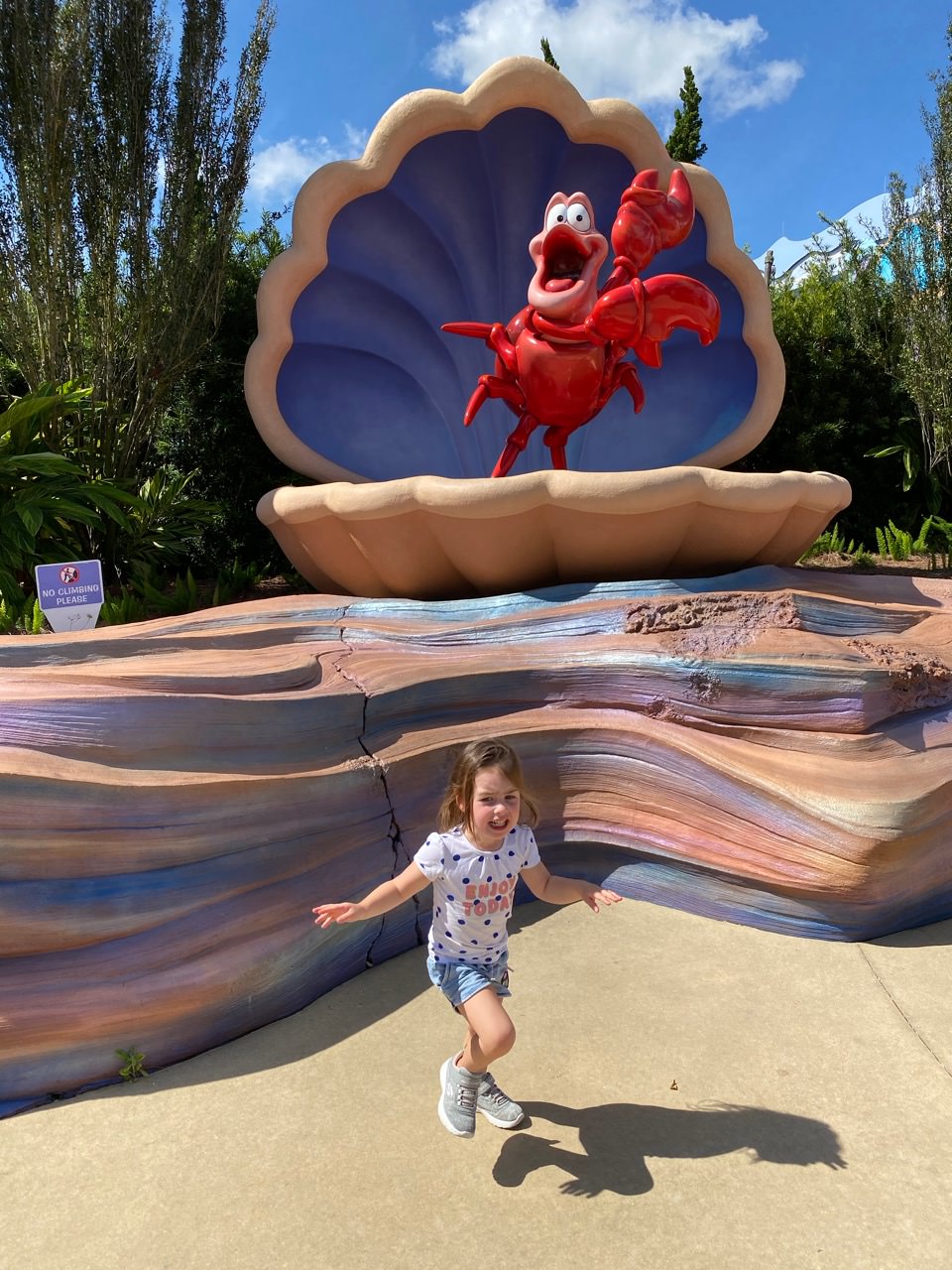 We found our room no problem - it was a ground floor room in the Ursula section, the closest bit to the lobby and main pool and once again pretty much exactly what I'd requested. It really paid off using Touring Plans' room request feature, as I got almost exactly what I requested nearly every time (and the only time I didn't, at Saratoga Springs, they actually gave us a room that was a better choice than the one I'd asked for!).
It had a lovely view over the grounds and Generation Gap Lake, we could see the Skyliner coming and going from the window.