Day 7, 30 September : Canyon de Chelly, Painted Desert and the Petrified Forest.
Well, dear readers, that theory went straight out of the window! Although we did manage to sleep til 0430! So, coffee made I decided to download yesterday's photos. Luggage had to be outside by 0645, so while we waited we sat out on the balcony watching sunrise over Monument Valley – oh my, what a sight!
Then it was back up to the restaurant for a quick breakfast before setting off at 0730. It was really chilly this early!
On the coach and what a result! We've got the front seats! However, we are heading straight into the sun so there probably won't be much of a chance to get photos through the front window. Oh yes, the windscreen also has several stone chips – one looks more like a bullet hole! – so no doubt any pics I do manage to take will have these marks on them! Yep, they do!
We say goodbye to Monument Valley (or so we thought!) and head away from Navajo Territory. By the time we'd been on the road for some 30 minutes, one of the Titans told Dana that she'd left 4 rings and a bracelet in her room at Gouldings Lodge! Dana said she'd try and ring them and get them to FedEx them out, but she had no signal on her cell phone so the only other option was to turn round and go back. Well Paul, our driver, was most definitely not impressed! With much noisy huffing and puffing he turned the coach round and we headed back the way we'd come. Oh well, another chance to see those incredible sights! Fortunately, the jewellery had already been found and was waiting at Reception so we were able to get back on the road fairly quickly. We were now an hour behind schedule, but Paul did really well to make up the time and we arrived at our first coffee stop in Chinle (another Burger King!) at 0940 – right on schedule. We only had a loo stop and a coffee here and John went over to the supermarket. He came back with a pack of cinnamon rolls!
Chinle is a real 'one horse' town! There are cows, ponies, dogs and children all wandering about at the side of the road – we even saw a couple of dogs herding a bull along! Sadly, there is also a lot of road kill out here in the wilderness – including several dogs.
Back on the coach for the short journey to Canyon de Chelly. What a beautiful place this is and it's vast. We drove out to the furthest viewpoint, or 'overlook' as they're called here. It was quite a walk down to Spider Rock but well worth it. As the sign-board says – 'Listen! Smell the pungent juniper'!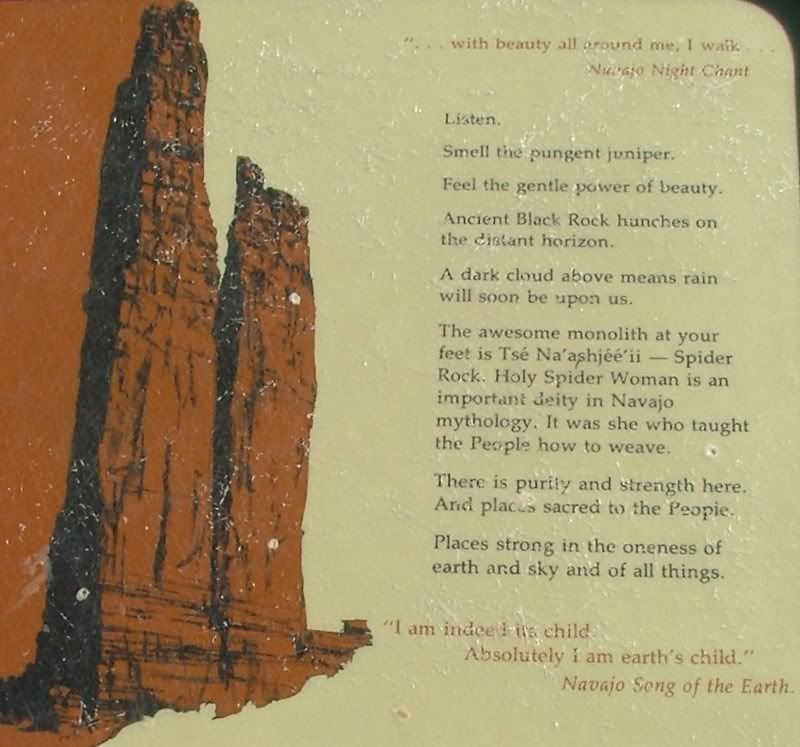 Breathe in and take in the sight of Spider Rock - a massive double-pillar formation. Navajo legend is that the Spider Woman taught the People how to weave. The valley floor is so green against the browns of the cliffs. There are several trails through the valley and we could see people walking far down below.
Then it was back onto the coach for the drive back to the 'White House in Between' – ancient ruins that the Puebloan people built and occupied over 1,000 years ago. How did they build it? If they were 'ancient' people, what technology did they use to create their dwellings in the side of a cliff?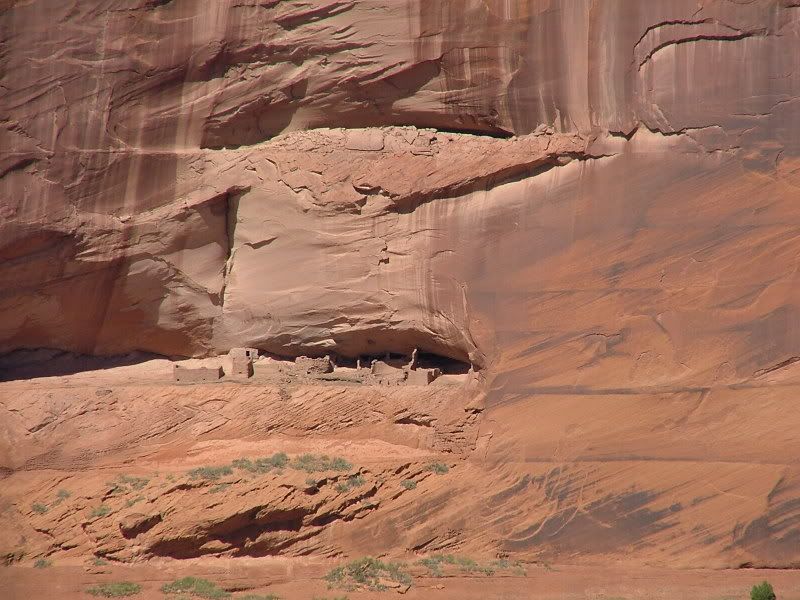 Once again, the views are breathtaking and it would be great to have the time to visit each and every one of the amazingly named places. Names like Antelope House Ruin; Navajo Fortress; Mummy Cave; Massacre Cave; Sliding House. Or to have the time to take a guided tour or a horseback ride through the valley and listen to the stories of the Canyon. But, we don't and before long we are back on the bus heading to Thunderbird Lodge for our lunch stop. Once at the Lodge, there is the inevitable gift shop but at least it has some quite nice stuff! A lot of the items here are at least genuine Navajo jewellery or rugs, but that makes them expensive! The small restaurant serves quite a varied choice, but we settle on a cheeseburger and fries with a bowl of fruit for pudding! The walls are covered with Navajo rugs ranging in size and price – one of them is over $5,000! But they are works of art really – considering what we learnt when we visited the Hogan house in Monument Valley.
Lunch over, it's time to head off to the Painted Desert and Petrified Forest. Wow! It does look as though it's been painted. The colours are incredible, ranging from the greys and greens, reds and purples, browns and blacks. Stunning! One area here is known as the 'Badlands', because with the wind and rainfall the landscape is re-modelled, making it harder to negotiate because it's constantly changing. Badlands it may be, but beautiful nonetheless.
We went to the Painted Desert Inn, which again has a gift shop but also lots of information and artefacts. From here there are trails to walk and enjoy this incredible landscape.
Our next stop was Puerco Pueblo (Village of the Pigs) where we could walk the trail amongst the ruins of a hundred-room village occupied by the Puebloan people. What must it have been like to live in a tiny stone hut in this vast desert area? There are the remains of petroglyphs on the rocks – what looks like a stork with a baby in its mouth, but it's probably some bird of prey eating a person! There are reindeer, faces, patterns and symbols. I wonder what they all mean. What was the significance of them all? It seems that petroglyphs don't represent sounds or letters but rather 'ideas'. Researchers working with current American Indian groups theorise that they could be ceremonial, territorial or commemorative but the exact meaning has been lost in time.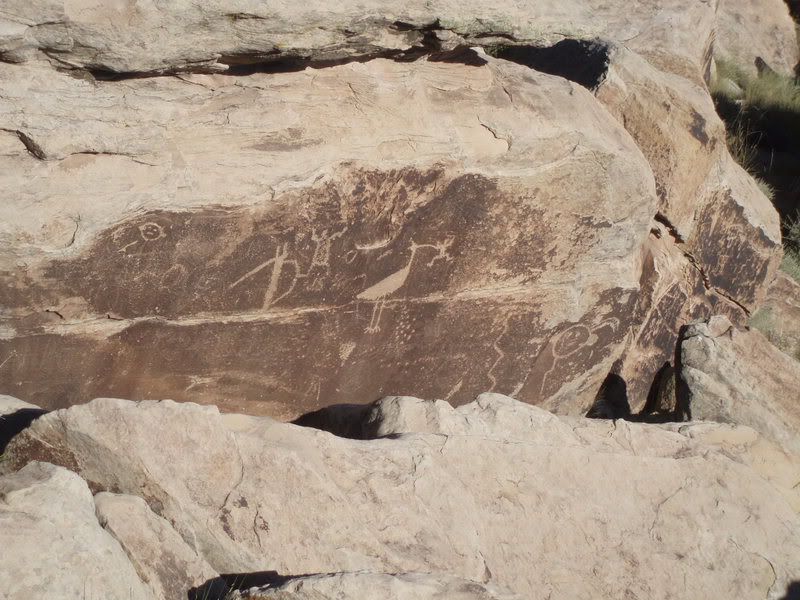 continued ...