Day 11: Move to Kyoto, two temples and a fun Starbucks
Hi Lovelies, I've got another quieter weekend, so I thought I'd see if I could knock out another day. Thanks so much to everybody for reading and commenting - I'm glad people are enjoying the trippie and finding it useful.
I apologise for the fact that there aren't many pictures on this day. Neither Bex nor I seem to have taken very many - possibly due to the rubbish weather.
Day 11 began in a slightly more leisurely way. So leisurely in fact that we didn't even set an alarm! I know! We know how to party. I woke around 7.30 but then dozed for a bit. We didn't really get going until about 8.30 when we finally got up, showered and packed up our suitcases for the seven billionth time - we were off to Kyoto!
We watched the Hollywood Dream going round while we got ready - our view of the park from the window was possibly even better than our view from our hotel at Tokyo Disney!
We finally checked out and left the hotel at about 9.30. We'd recommend that hotel to anybody unless you're like allergic to Minions or something. It was really comfy and well-appointed and, most importantly, as close to the park as you could want!
We had a leisurely Starbucks breakfast before heading to catch our train at 10.30ish. We had to go to the main Osaka station and then change to the Kyoto train from there. I messed up the directions and we ended up changing trains more times than we had to, but it was OK because we were able to get a different train to Kyoto than the one we'd originally planned without much difficulty. Even with the confusion, it was still quite a nice, peaceful trip.
Kyoto station was something else! It's absolutely huge, with several floors above ground and then several below ground as well.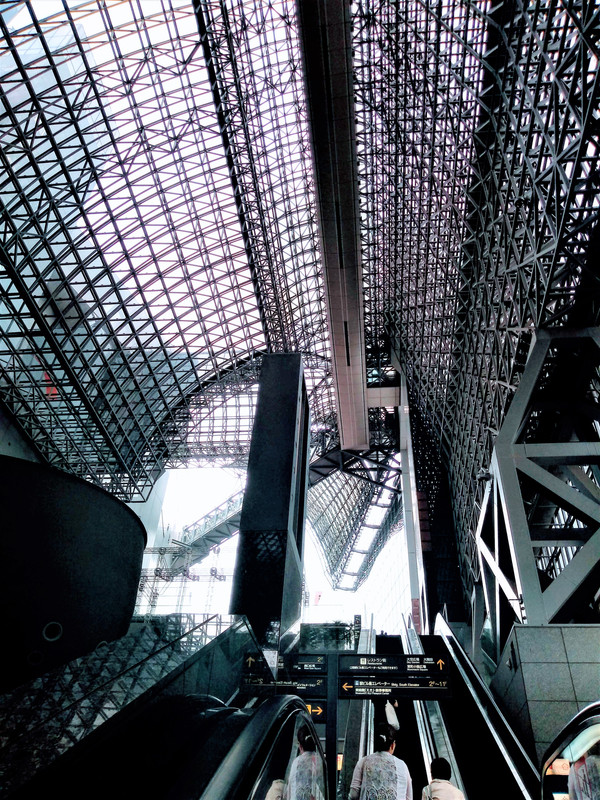 It was full of what looked like amazing places to eat and some cool shops. It was also, of course, a flippin maze! Even though our hotel was only a 2-minute walk down the road from the station, getting through the station in the first place always took ages. Our only option was to take the escalator up several floors on one side of the station and then walk down the stairs on the other side. There was no direct route through, and woe betide you if you ever thought you could take a shortcut. We got lost in that station many times!
As I say, however, our the Hotel Sakura Gallery was very close to the station, down a narrow street. We noticed a 7-Eleven on the walk there, which we knew would come in very useful. The hotel itself looked really nice. All the rooms were arranged around an open courtyard, meaning that the reception and bar and restaurant areas were very light. The hotel also had its own onsen and gym (guess which one of these we didn't use).
We'd arrived before the official check-in time so, as usual, we couldn't go up to our rooms. We half checked in and left our suitcases in the baggage room, and then went back to Kyoto Station, somewhat giggly due to the fact that the check-in guy at Hotel Sakura had been absolutely gaw-jus!
The station incorporated the main bus terminal as well as the train station. We'd read about a useful bus line that goes to most of the main tourist destinations in Kyoto - Roku 100. We got a day ticket from the Tourist Information Centre upstairs in Kyoto Station before going down to the bus terminal to catch the bus.
We found the bus stop pretty easily. The buses were also fairly regular - it seemed like they came along every 10-15 minutes. What was more, the announcements were in English, meaning that it was much easier to find our stops than we'd anticipated.
Our first stop was Kiyomizu Dera Temple, which I think was about 10 minutes away on the bus. We were let out at the bottom of the hill which had Kiyomizu Dera at the top of it, so it was about a 15-minute walk up to the temple itself.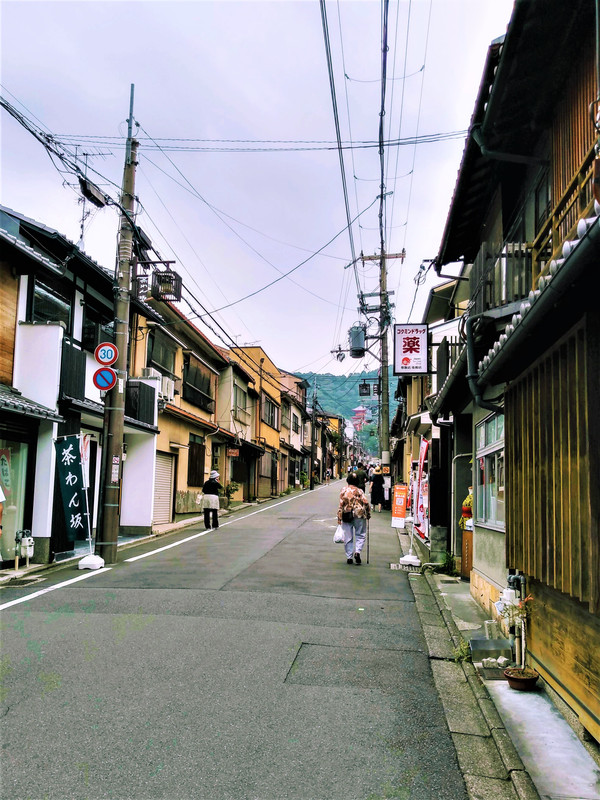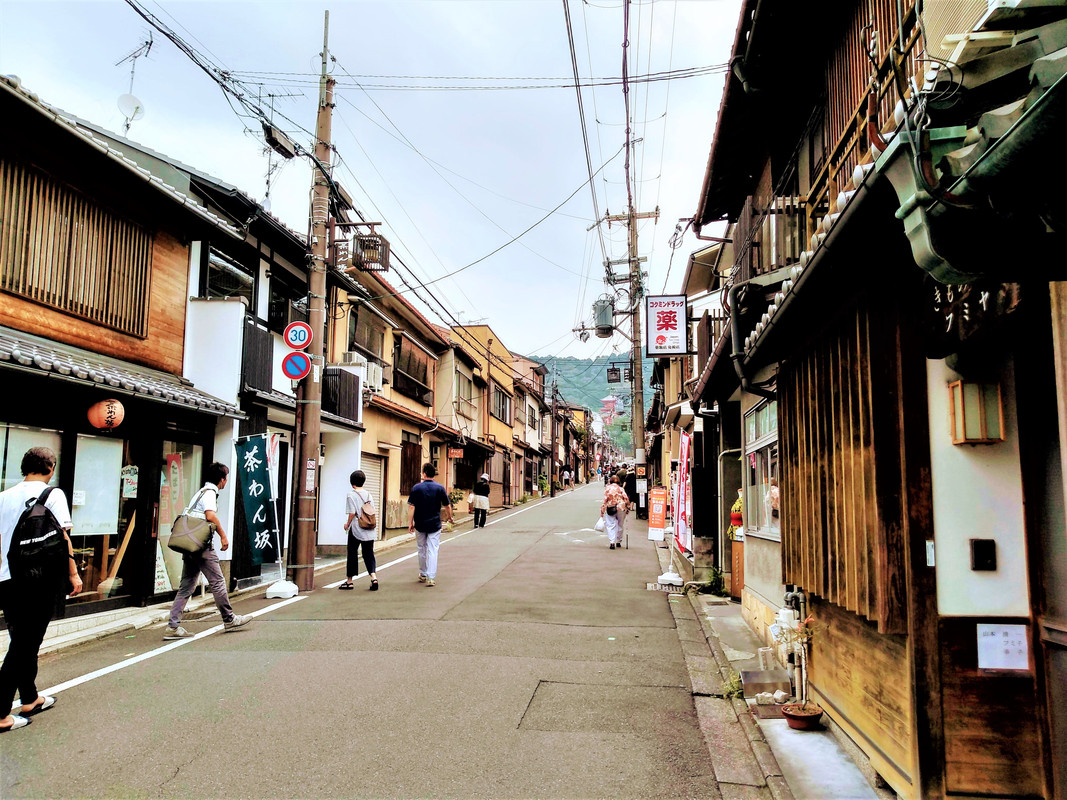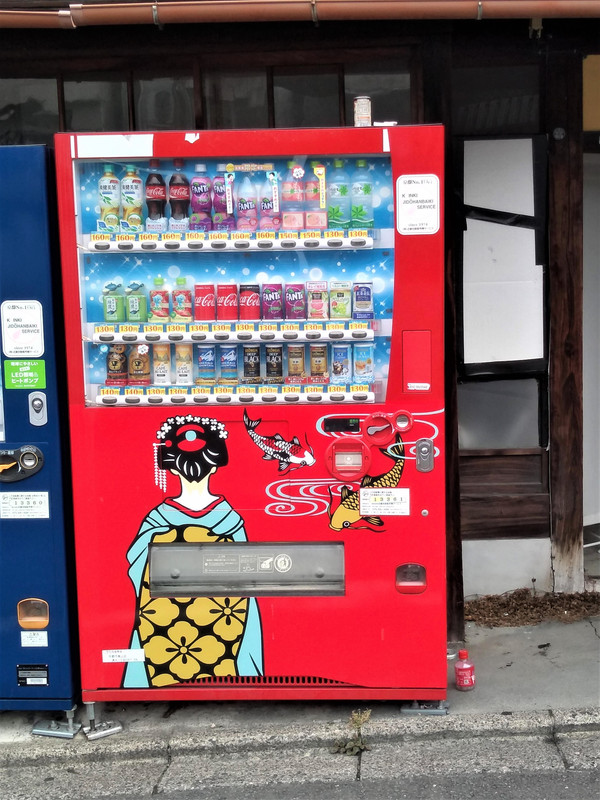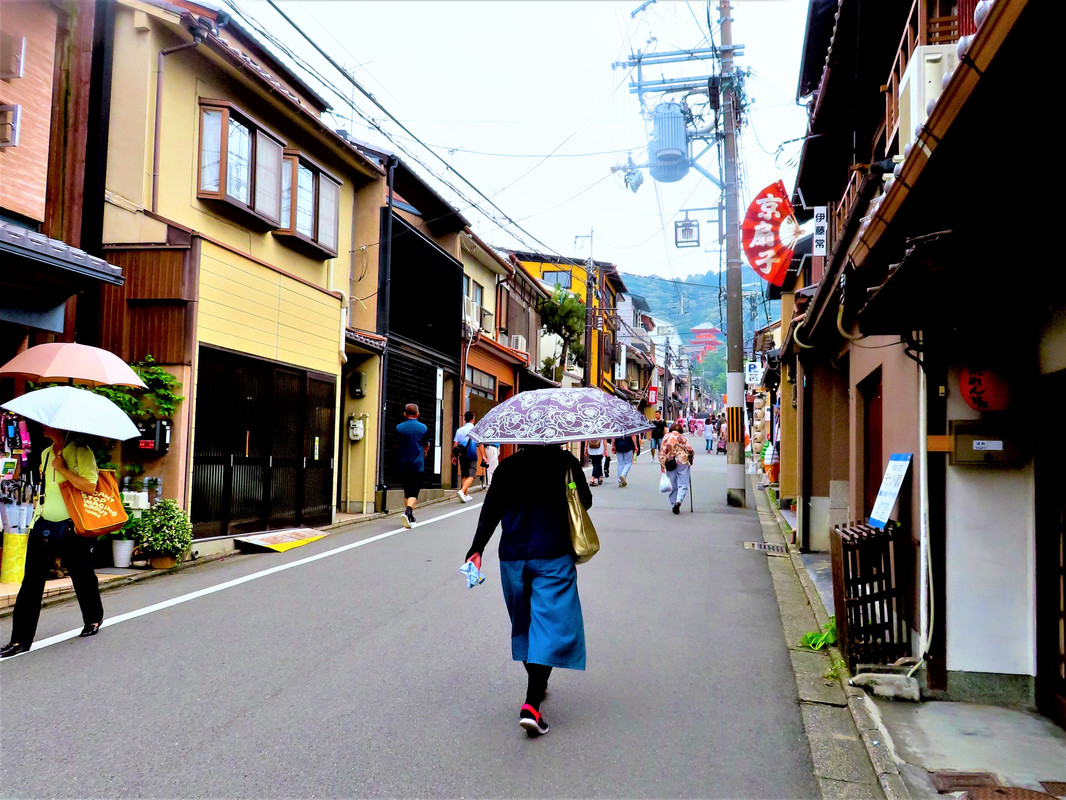 It was quite an easy walk. The streets were really pretty and lined with cool little tourist-trap shops and women dressed up in kimonos in preparation for photo shoots at the temple.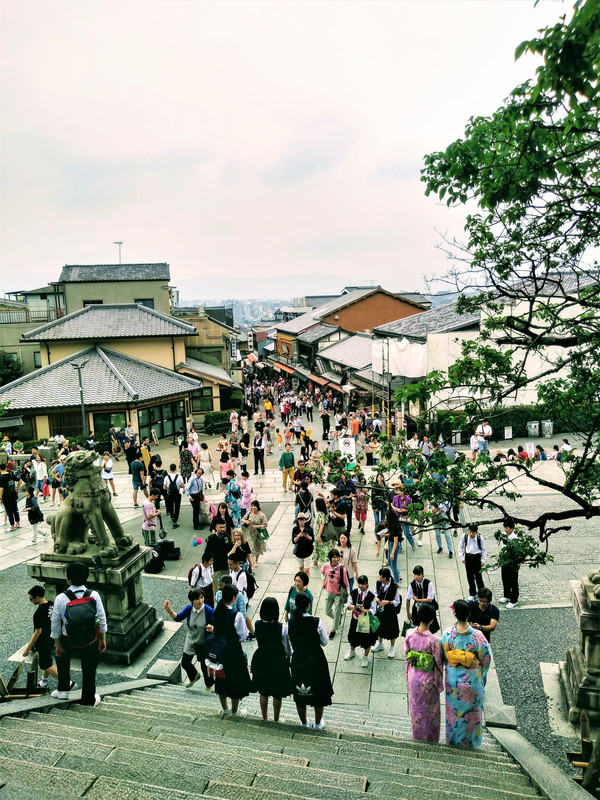 Once we got to the temple it was actually almost quite difficult to avoid catching these women (and some men) in our own photos as there were so many of them. It seemed to be very much the fashionable thing for young women to get dressed up in traditional clothing and then come to a historical or touristy spot and get their boyfriends to take pictures, probably for Instagram. They all looked extremely pretty and were clearly loving it. This will probably become very popular during the Olympics next summer.
The temple itself was absolutely gorgeous too.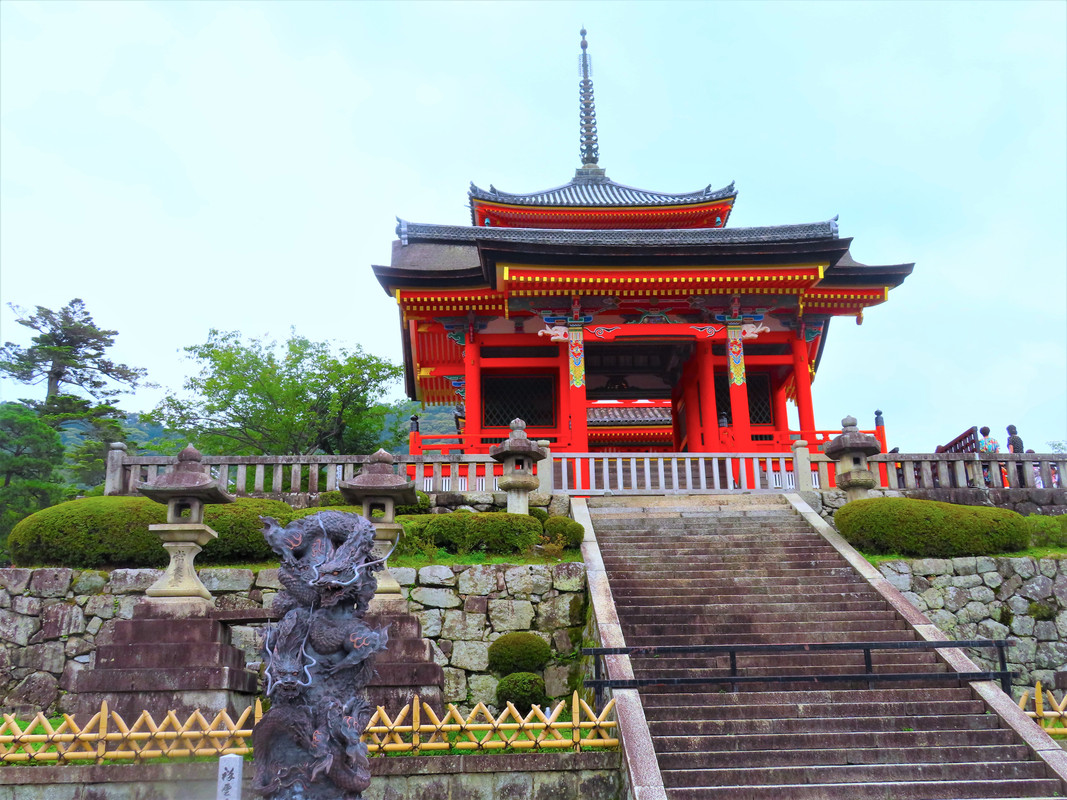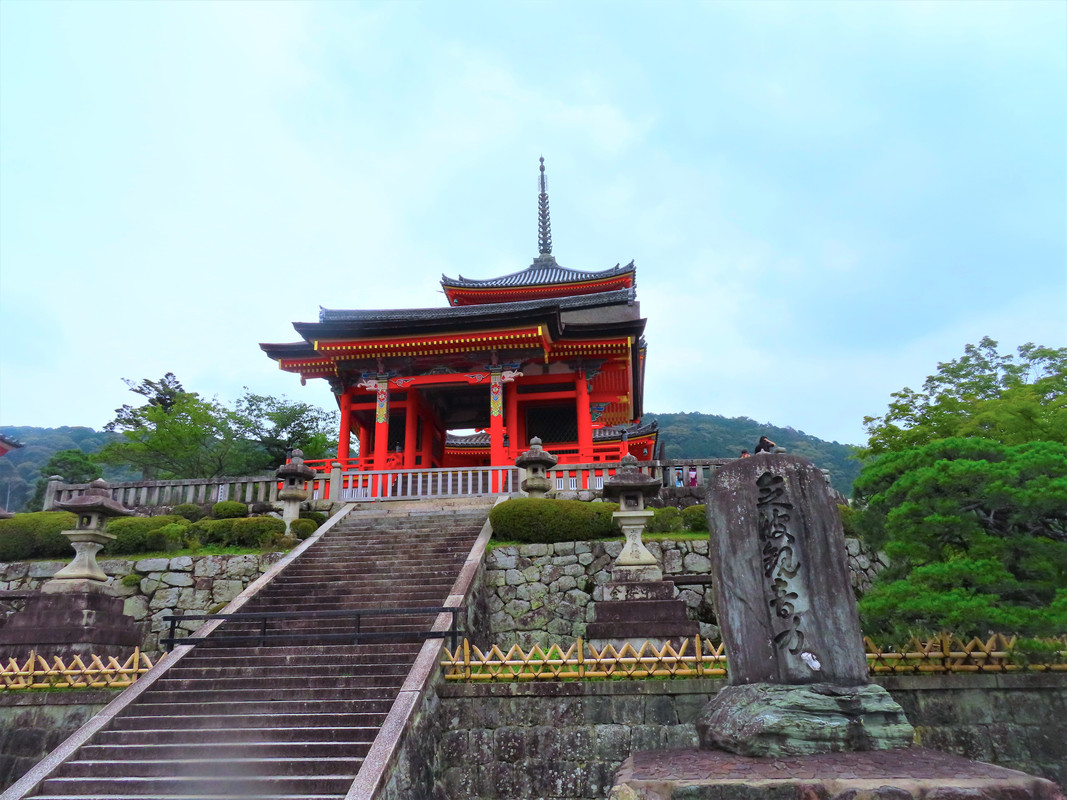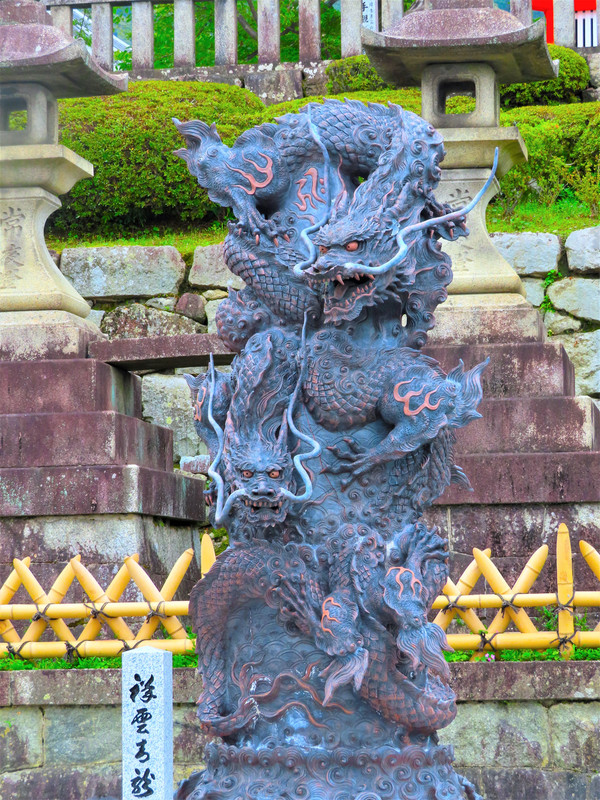 The weather, as usual, wasn't great and there was, unfortunately, scaffolding on the most spectacular of the facades, but the view of Kyoto was still really nice. It was too grey for any of our pictures to come out well though.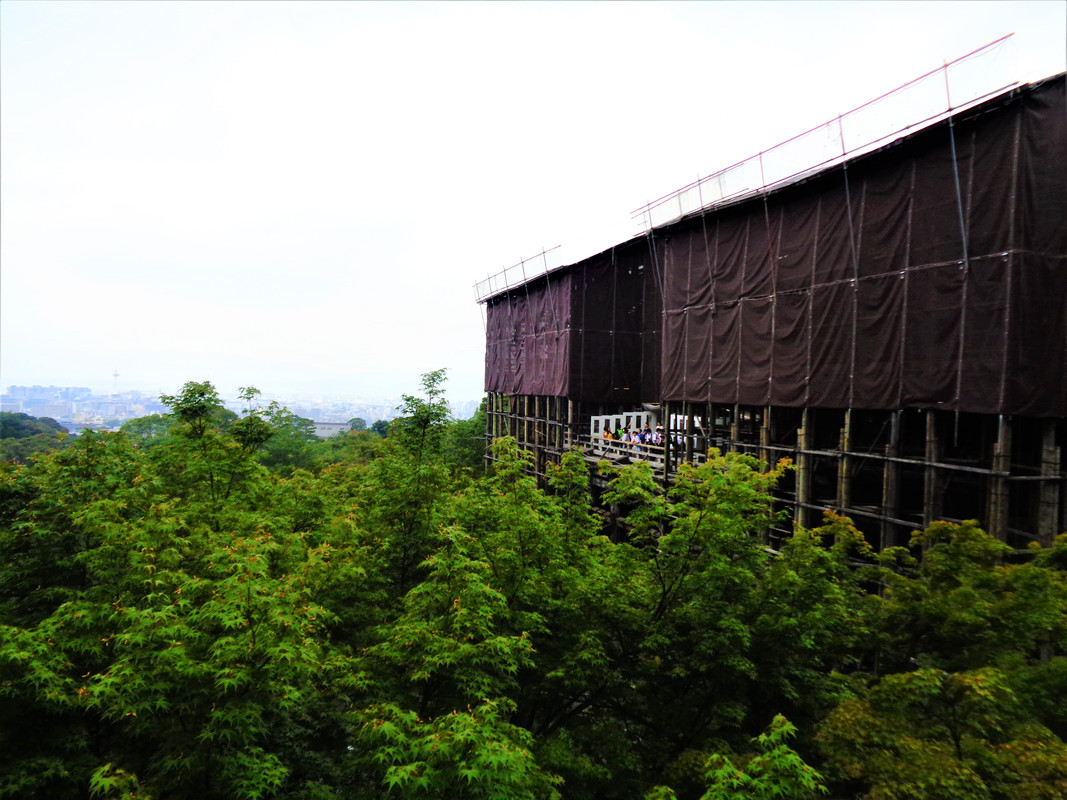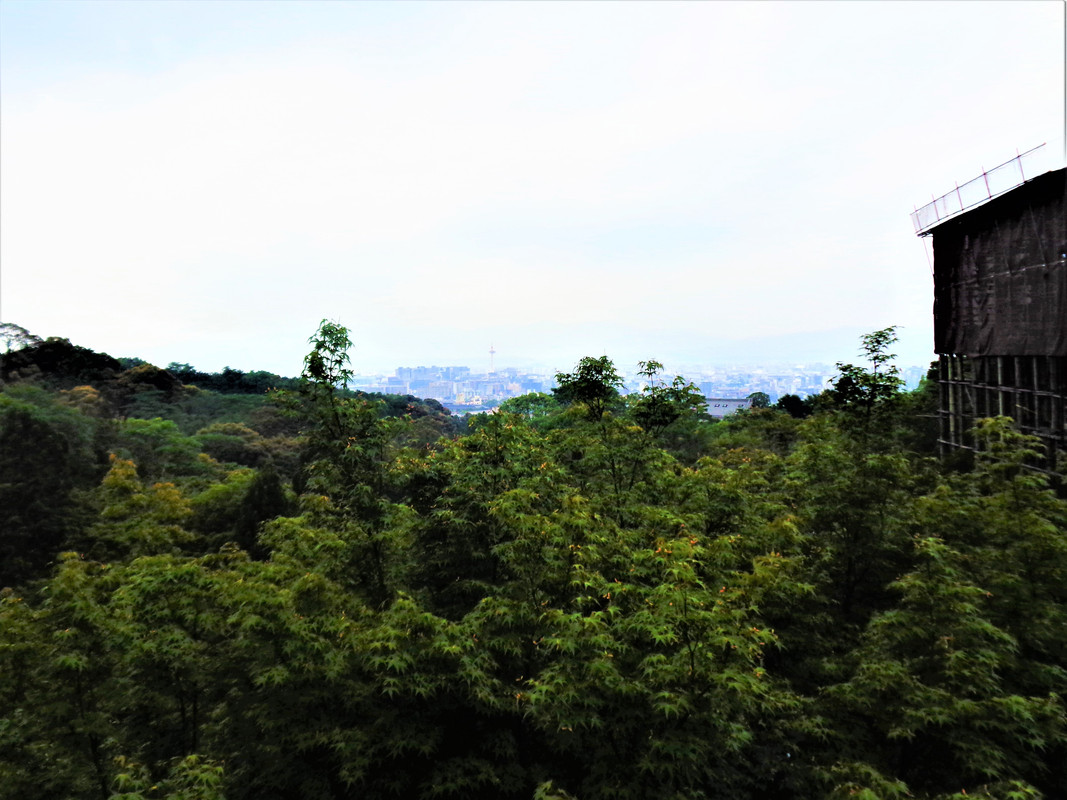 We explored the temple for about an hour.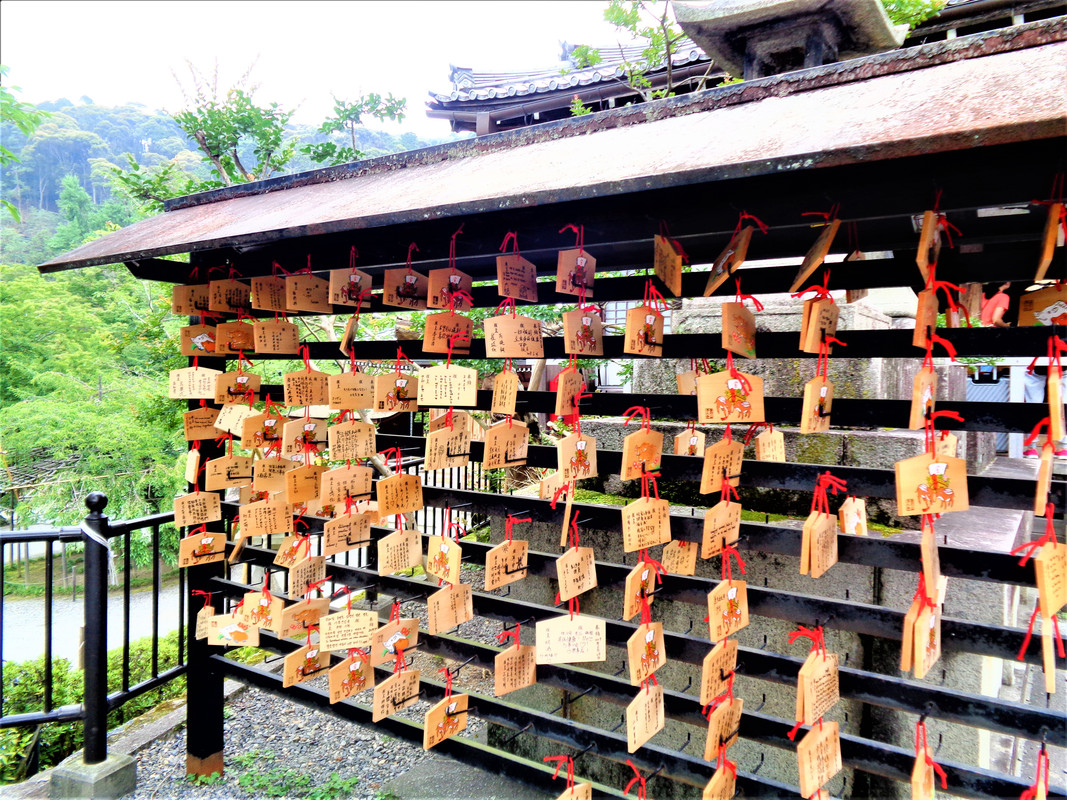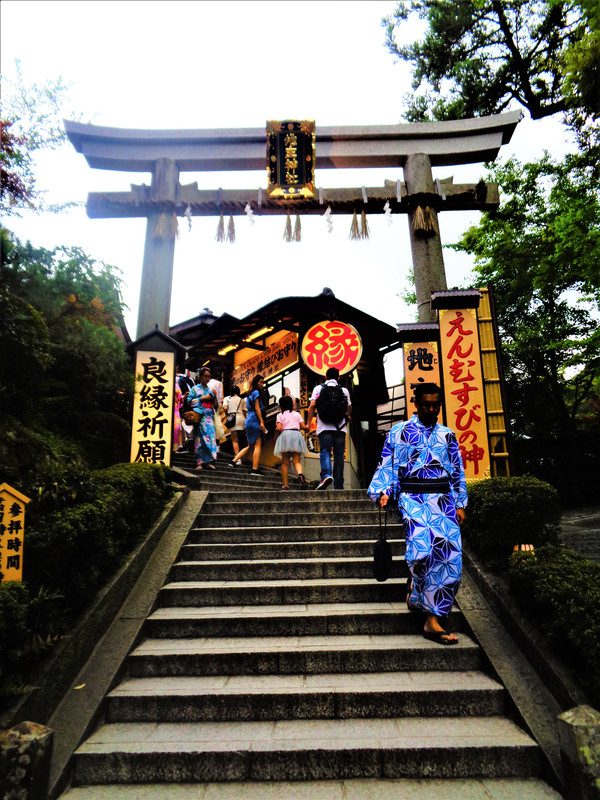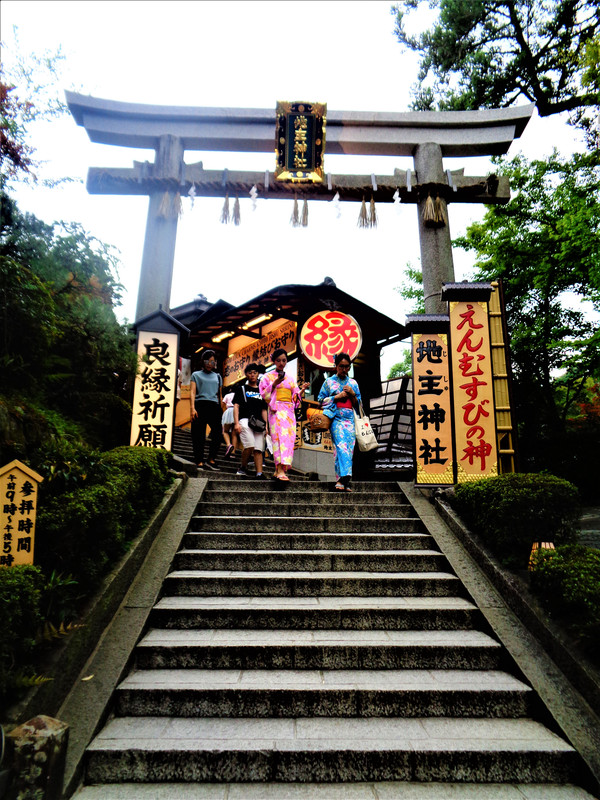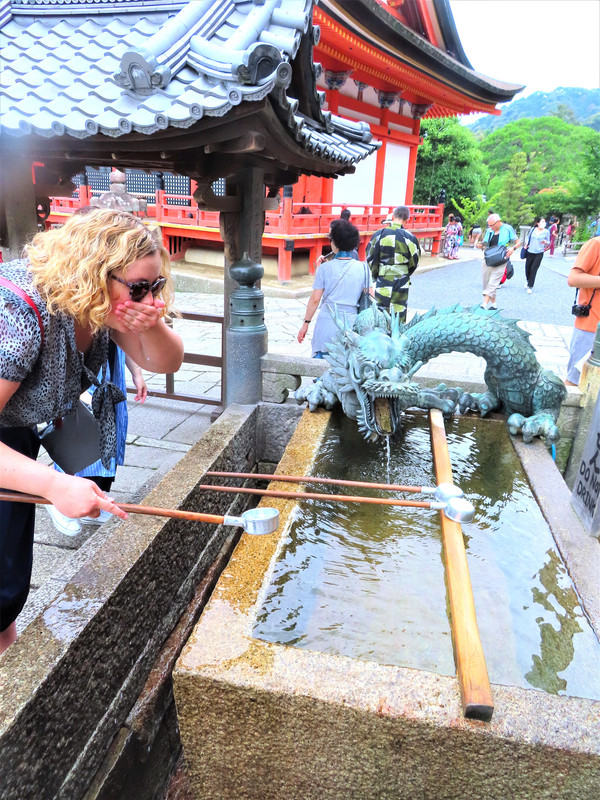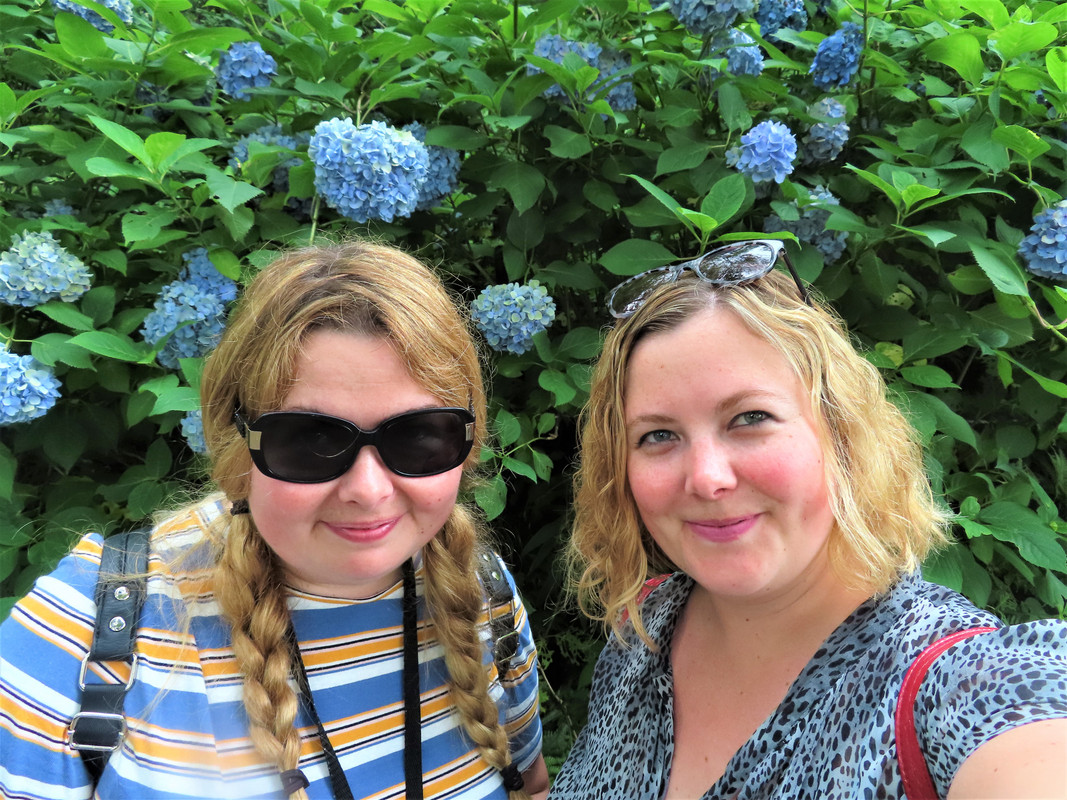 It was hard work sometimes as it's in a very hilly area and there are lots of steps. I think hot, humid, wet weather is my least favourite kind of weather. Nonetheless, there were lots of beautiful things to see and, though we didn't know what a lot of it was, we absolutely loved the way the temple and the landscape around it seemed to be part of the same thing.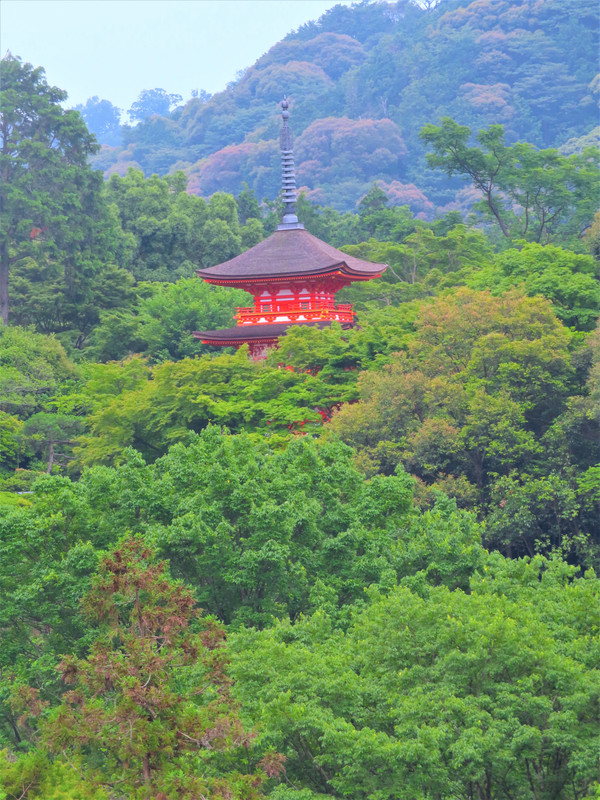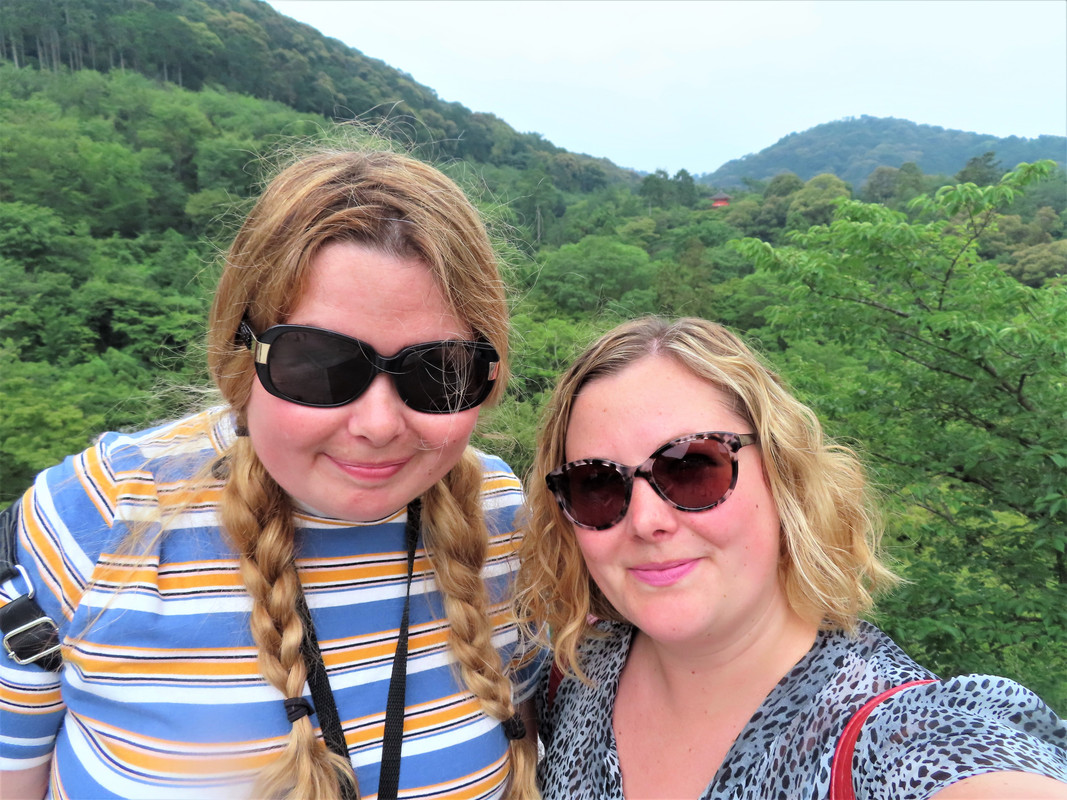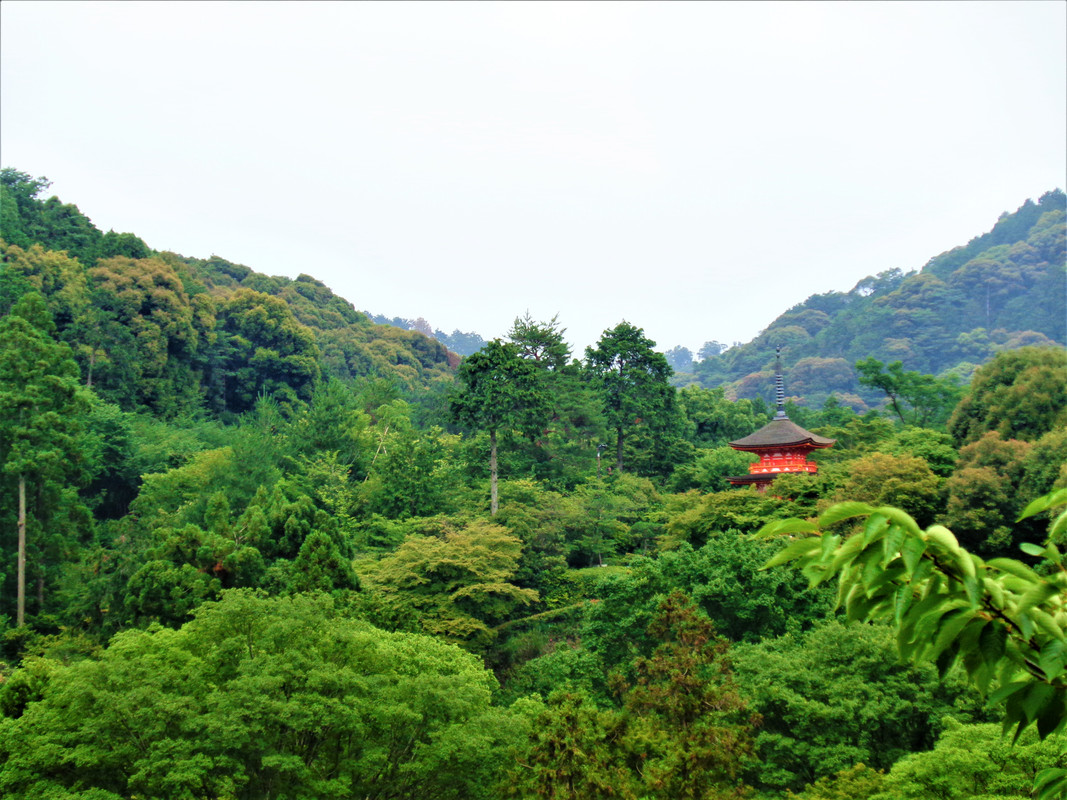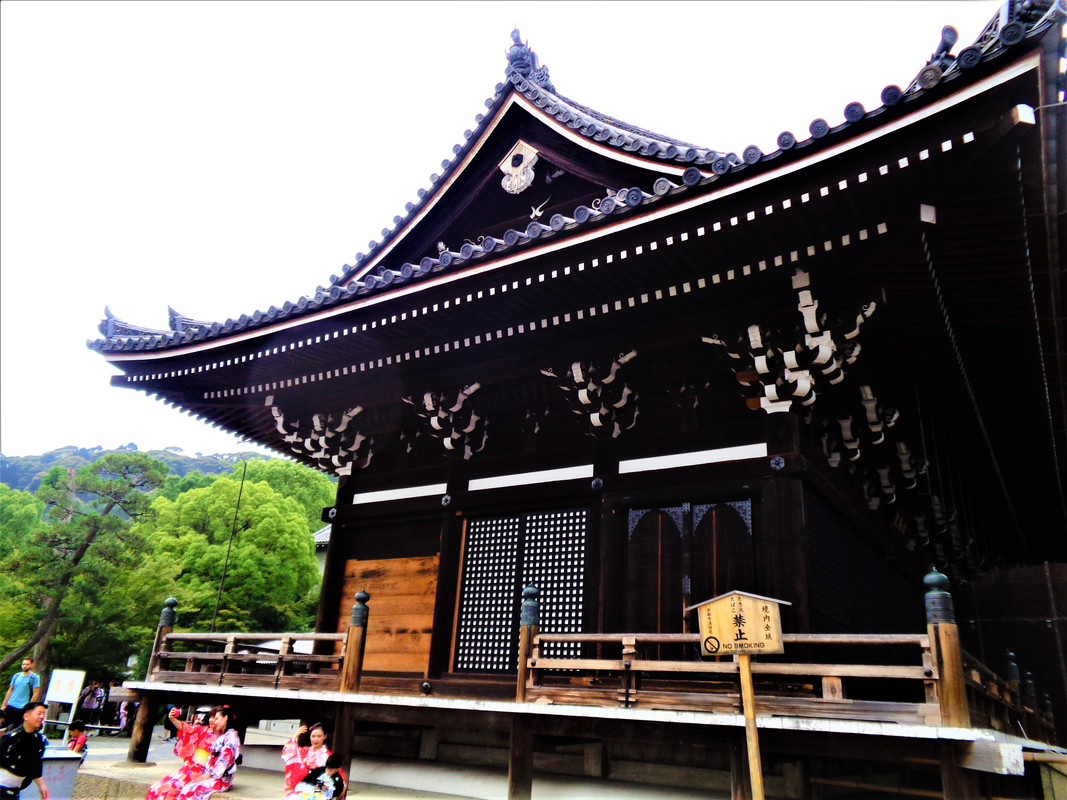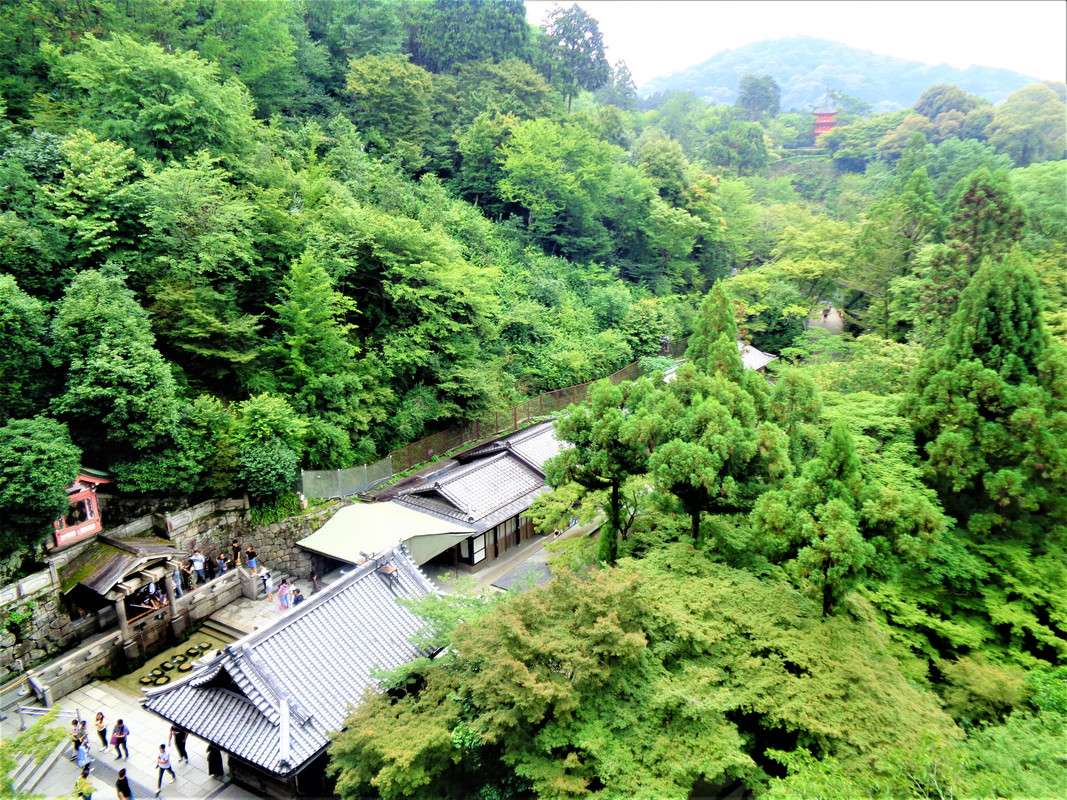 At one point we were approached by some Japanese schoolchildren who asked if they could interview us for their English project. We said yes of course and they asked us some questions about our trip to Japan. They were so cute. Afterwards, we all took a picture together and they gave us a present of an origami crane and a Kyoto postcard. We thanked them and congratulated them on their English, which really was pretty good considering they were probably only about 10 or 11.
The temple grounds covered quite a wide area and were on several layers.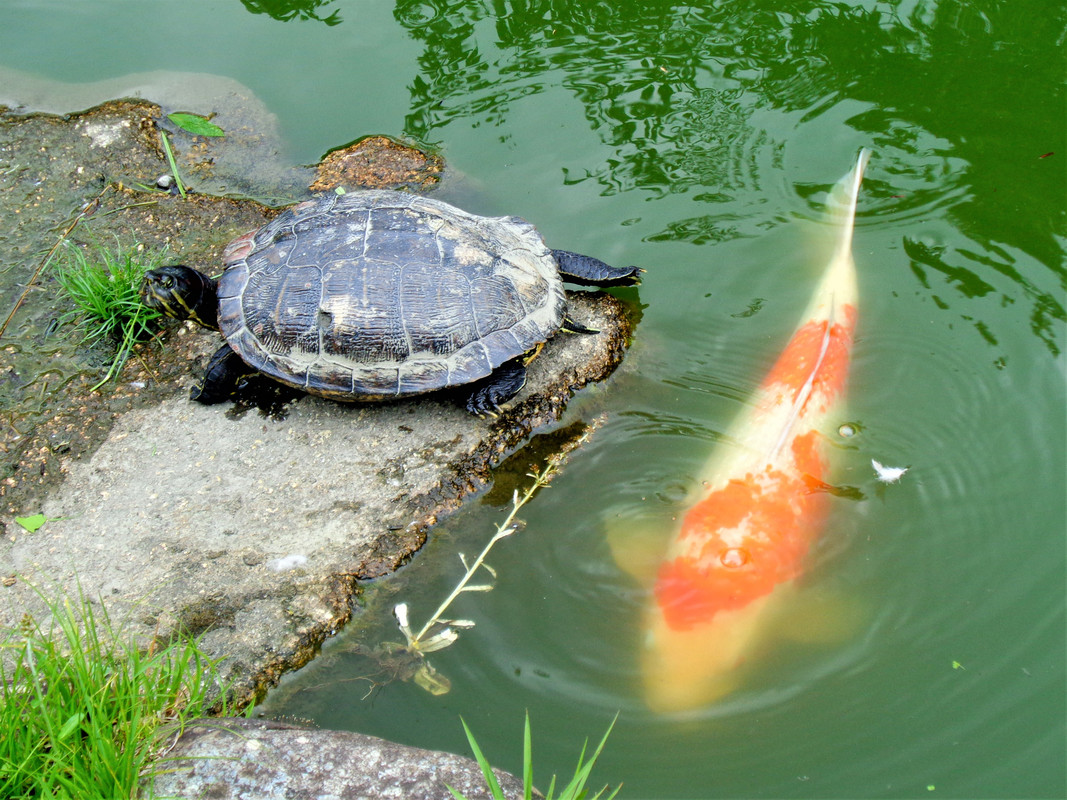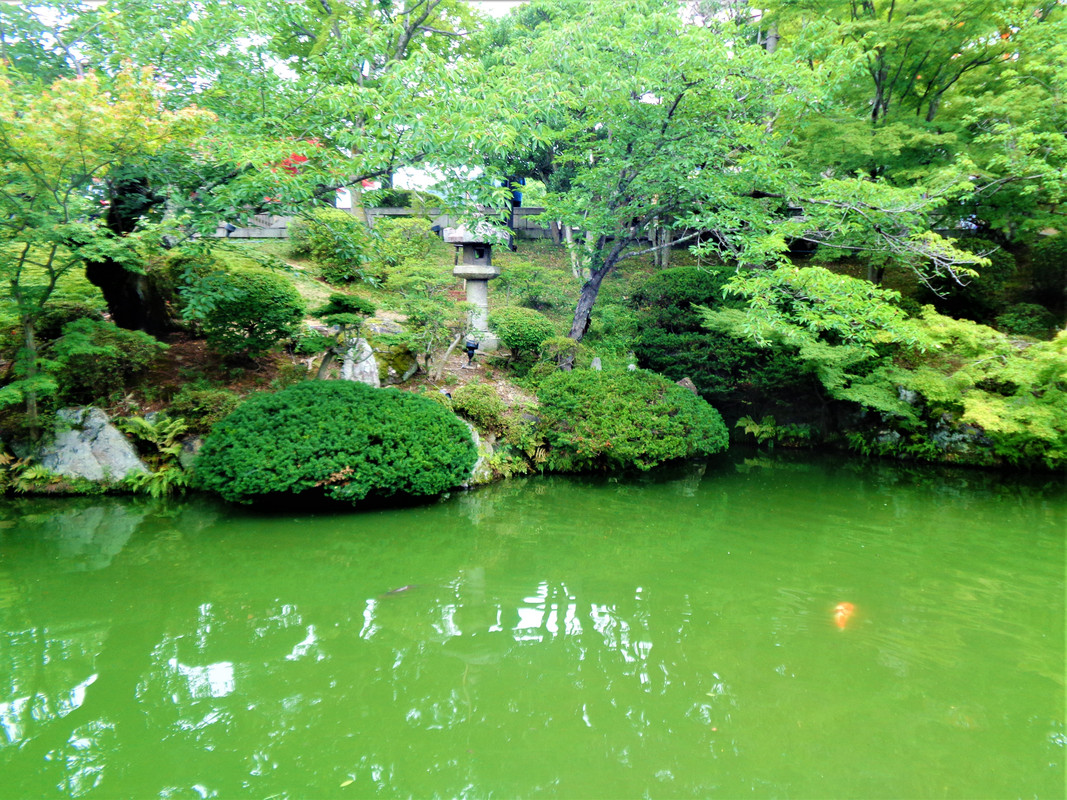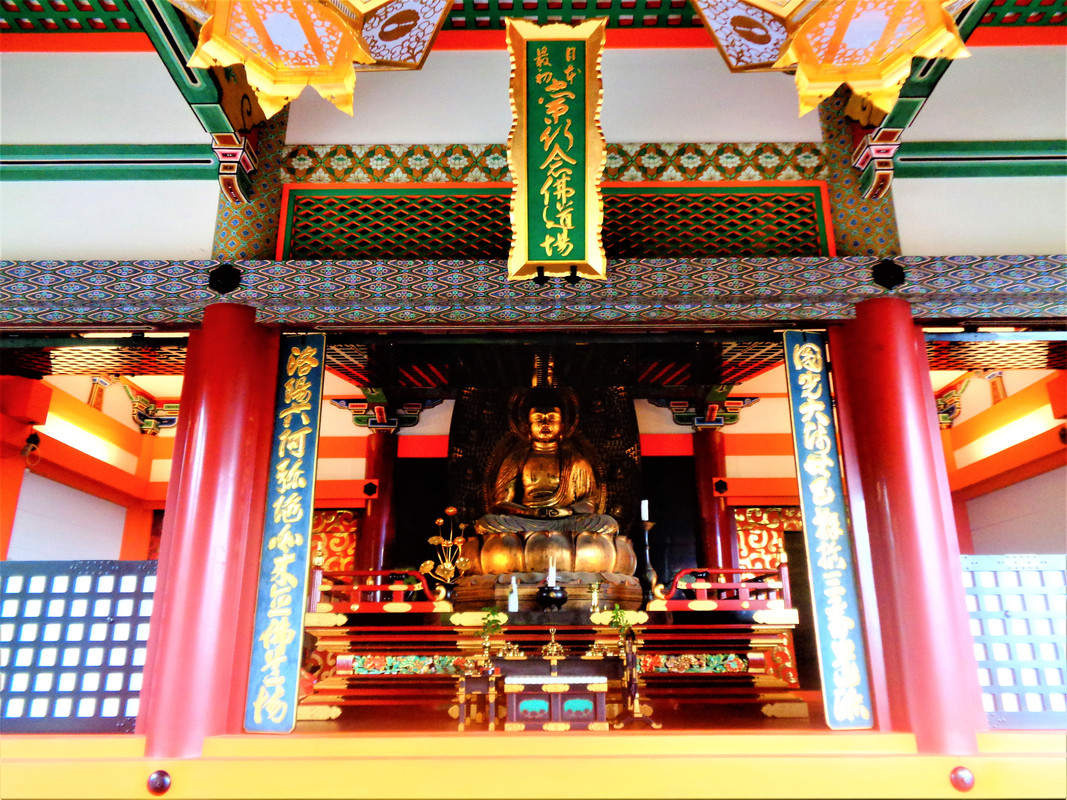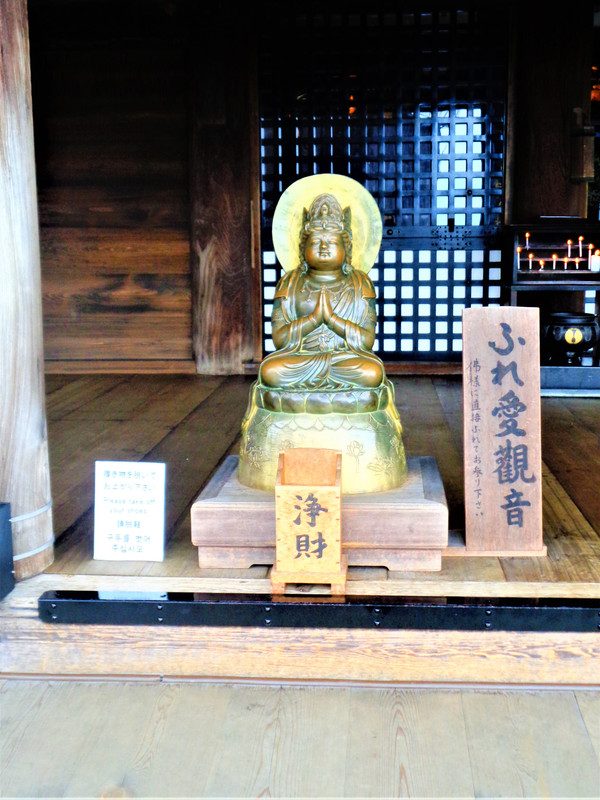 On the top layer, there was a spot where two stones stood about 10 metres apart. We learned that if you can walk between the two stones with your eyes closed you would know you were close to finding love. We watched several people trying it for a few minutes, including one woman who really had a lot of trouble with it. She kept reaching out her arm to get her boyfriend to redirect her, and he ended up pretty much leading her the whole way. I think she didn't really need to know whether she was close to finding love!
We left Kiyomizu Dera at about 13:30 and headed out into the little touristy streets in search of some lunch. As luck would have it, the big tourist groups seemed to be arriving just as we left, so it seemed we'd timed things well.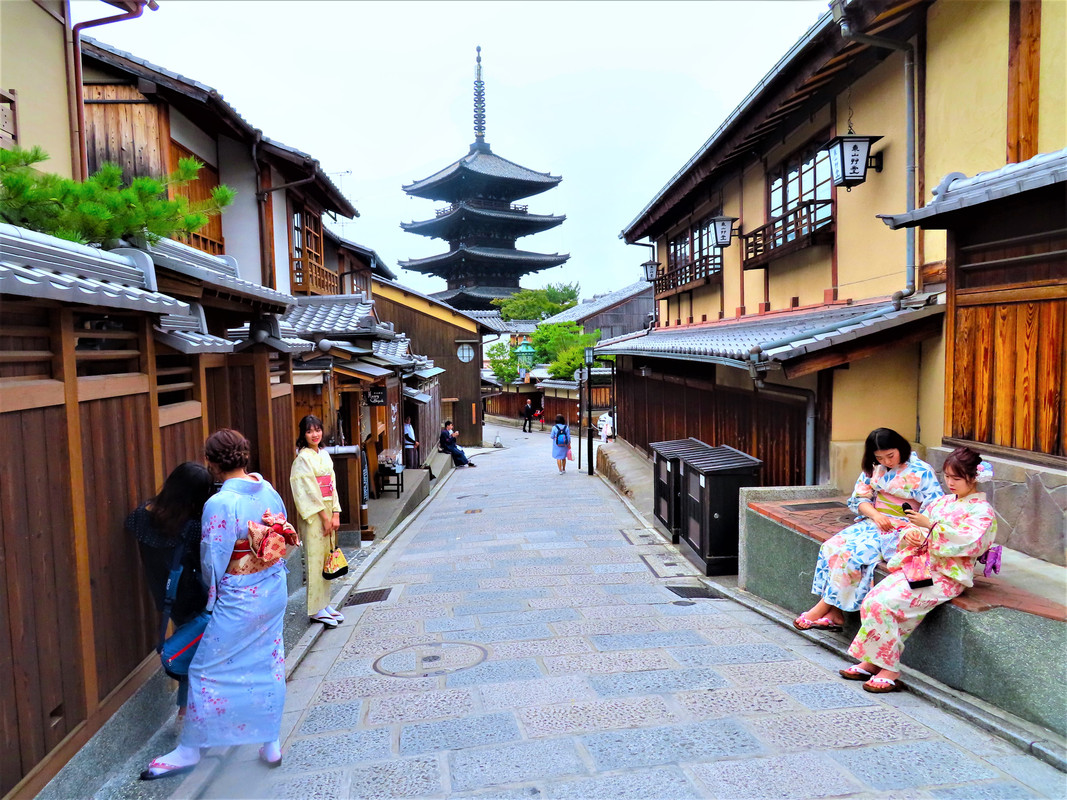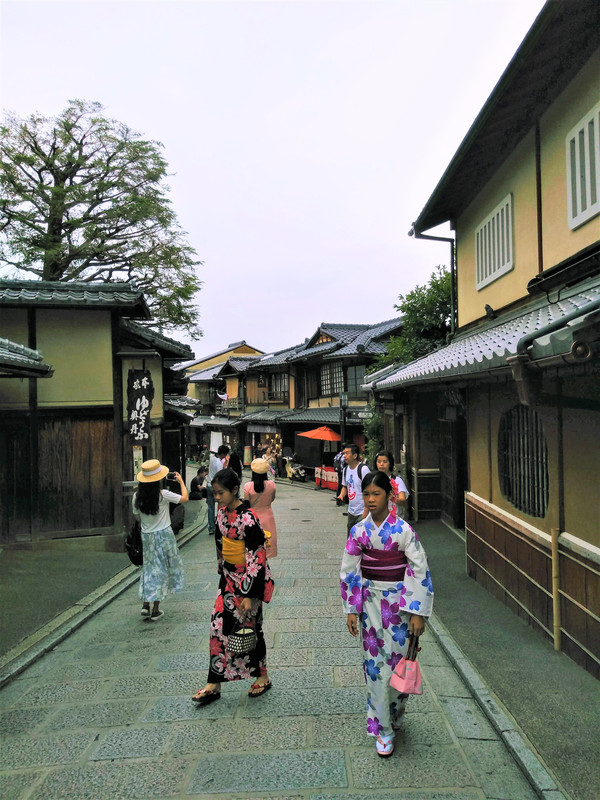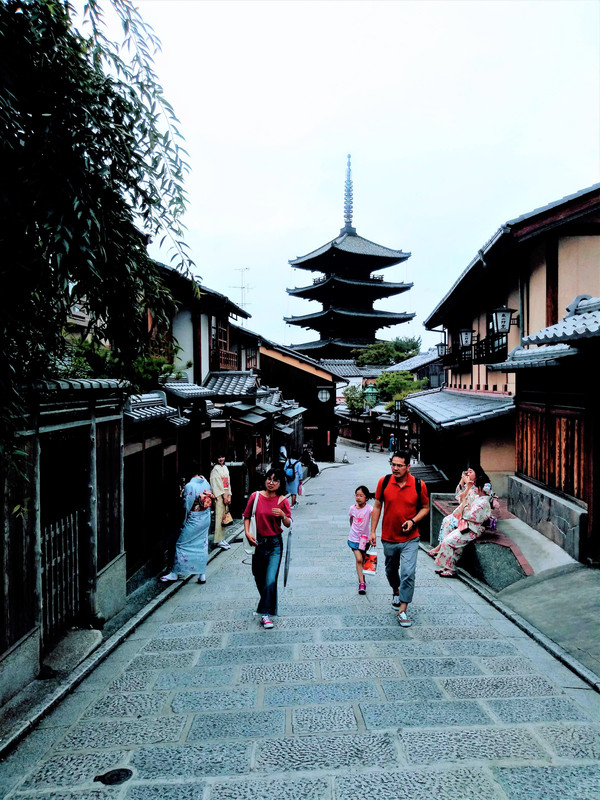 We were looking for a Starbucks that we'd heard about in a Youtube video, which is a traditional little wooden building, and where you can eat and drink on traditional tatami mats. The Starbucks was really tricky to find, but it was a nice walk through the old Kyoto streets. It was a really gorgeous area with lots of cute tourist shops and we enjoyed window shopping as we went by.
We eventually found the Starbucks after about half an hour - as you can see it blended in perfectly with the other shops and cafes on either side of it.
We ordered a sandwich and an icy mango drink each and then went upstairs to find somewhere to sit. It was quite a big Starbucks, with lots of different rooms, but nonetheless it was quite busy. There were no tatamis free, but we did eventually find a table for two where we settled to eat our lunch.
We spent a peaceful 45 minutes or so, giving ourselves a bit longer for lunch than we'd had on other days, before leaving for Sanjusangendo, which is another Kyoto temple.
A few steps from the Starbucks, we happened upon a little Studio Ghibli shop and couldn't resist going in for a look. It was fabulous!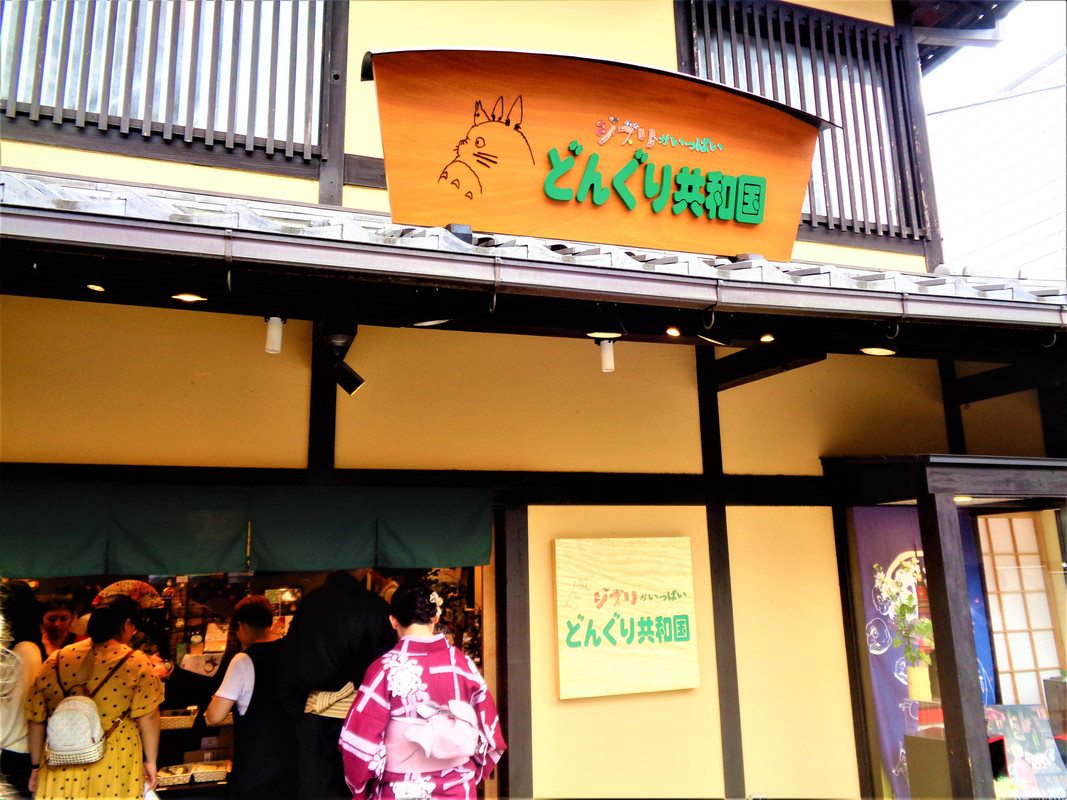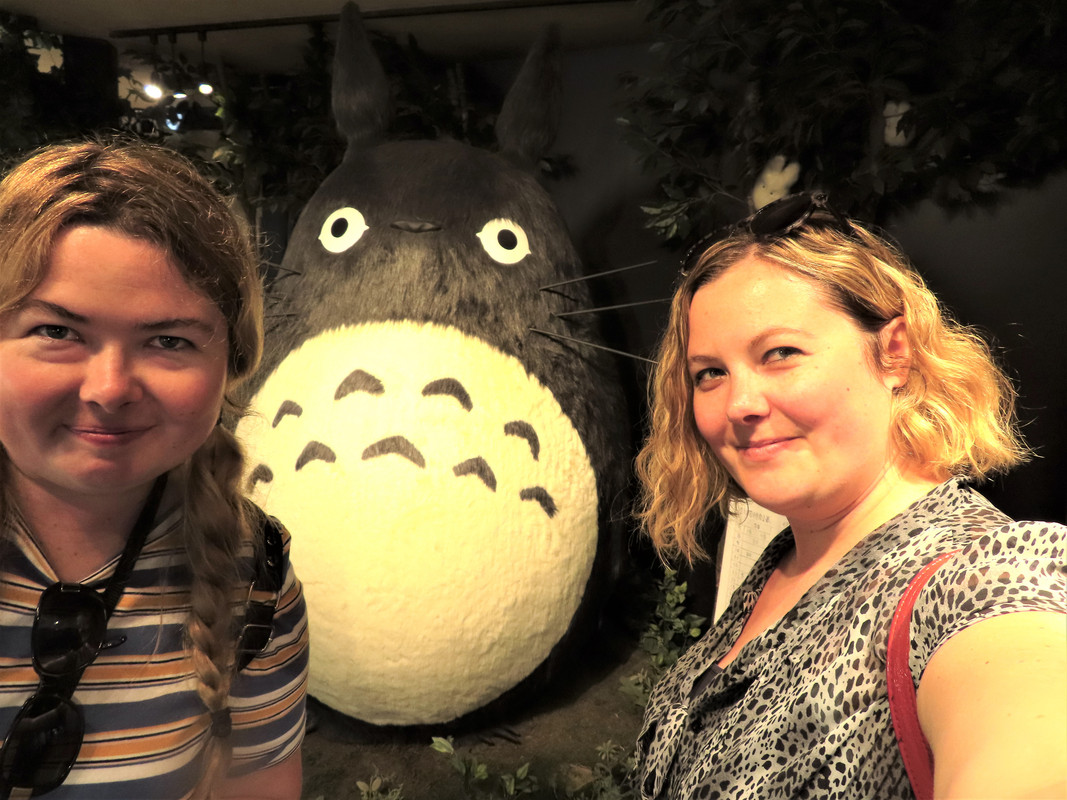 The range of merch was actually better than the museum shop and it was also a lot less crowded, making it easier to see what they had.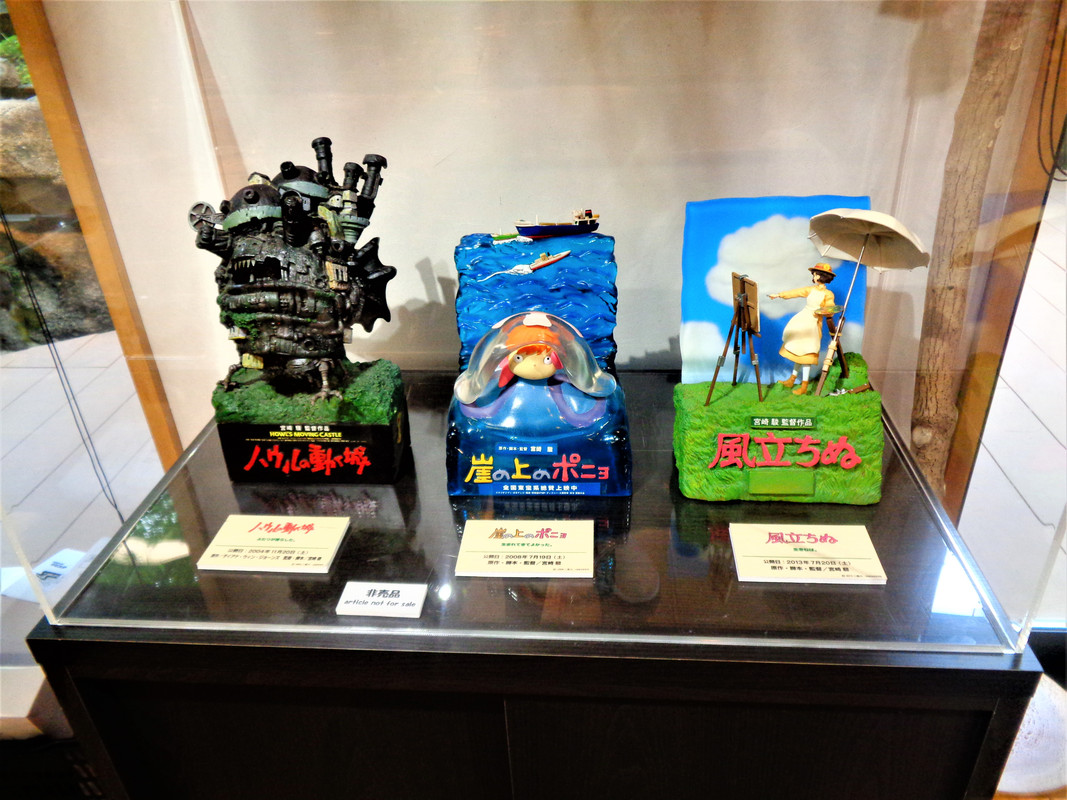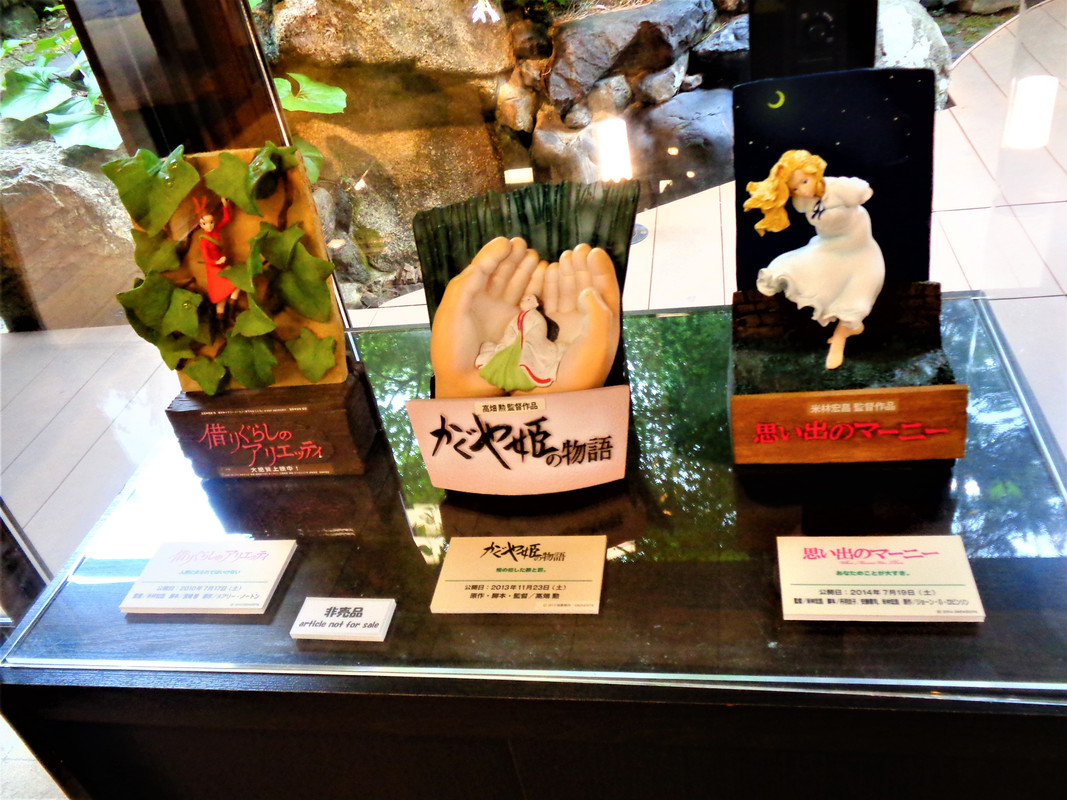 Our favourite things were these tiny, delicate paper models of scenes from the movies. We were fully prepared to buy a couple but were told you had to assemble them yourselves. We considered buying them anyway for quite a while, but neither of us is particularly crafty and we wouldn't have had the skills to create something so fiddly.
In the end, we bought a Totoro sharpener (which I needed for my eyeliner) and a pack of Princess Mononoke playing cards. There was lots of other really cool stuff in the shop, but at the time we felt it was all a bit expensive to justify it, or too heavy to go in our suitcases. I regret this now of course!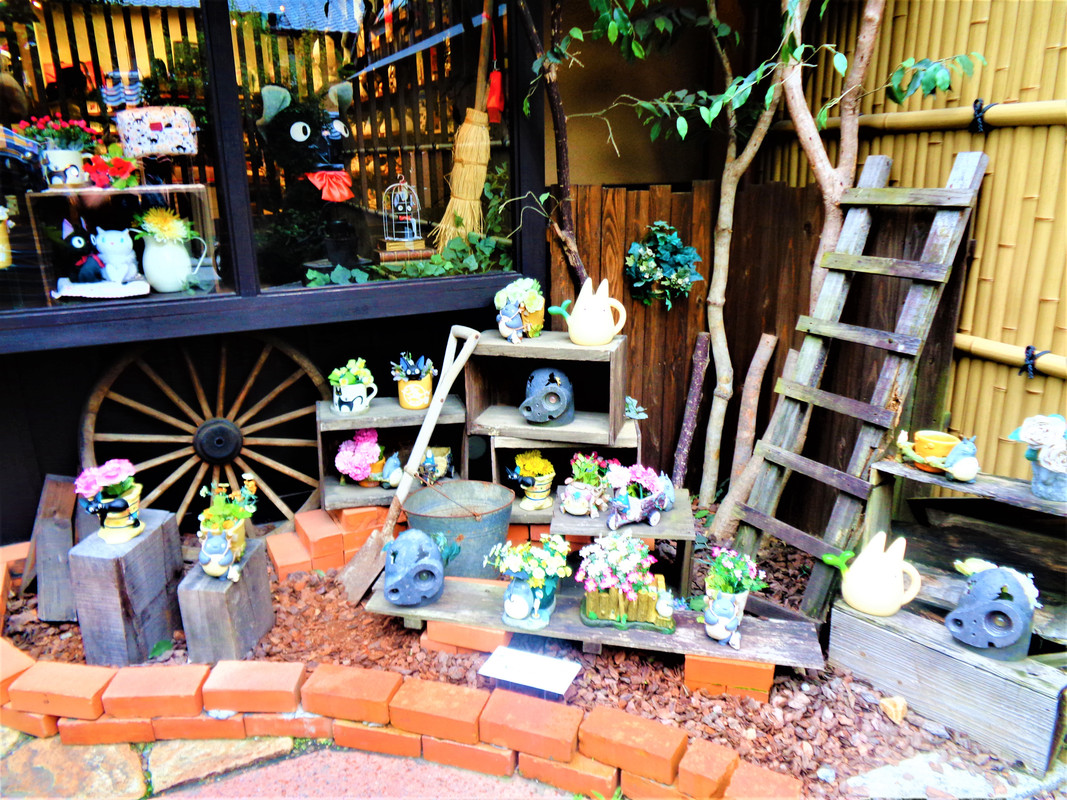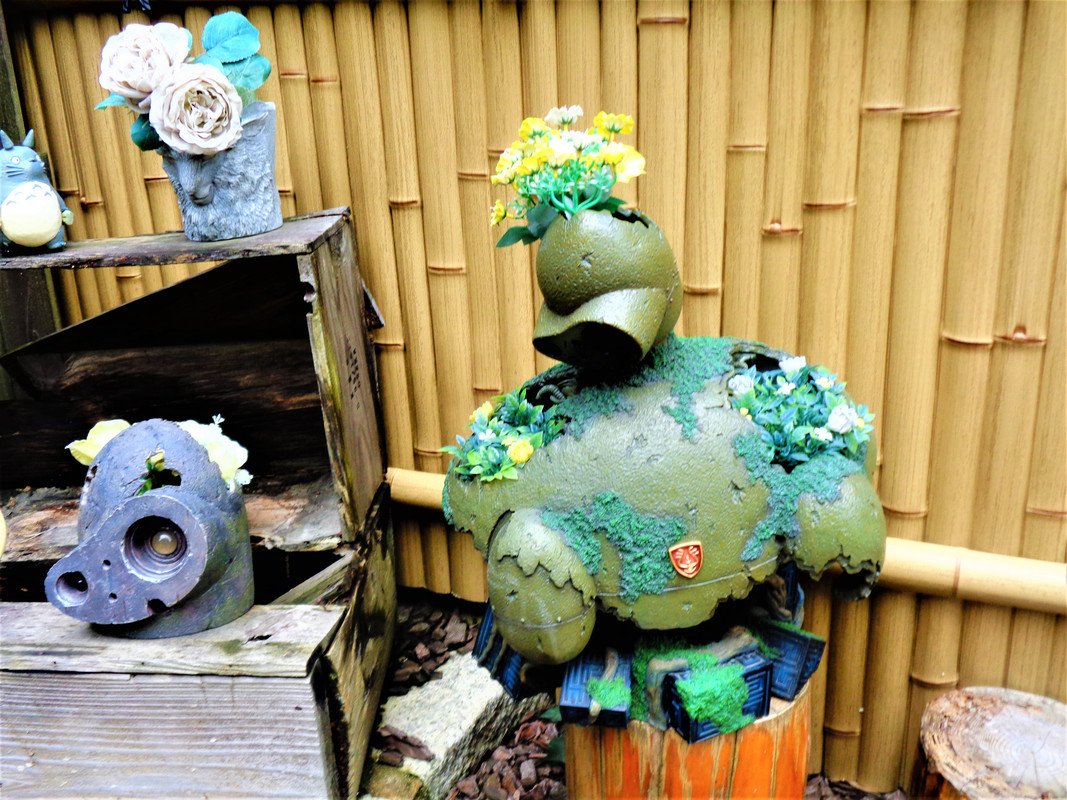 Afterwards, we walked to Sanjusangendo. We had the option of catching the bus for a few stops, but it seemed pointless to wait for it when the walk was only about 25 minutes. This may have been a bad decision because the weather was at its most crappy. There was a light but steady rain and we were both very hot and uncomfortable in our waterproofs.
We arrived at Sanjusangendo just before 16:30 when it closed. We decided to have a quick look around and then catch the last bus back to Kyoto Station at 17:00. I think this was a good decision. We were both a bit tired and fed up with the rain at that point and I don't think we would have needed longer to look round the temple anyway.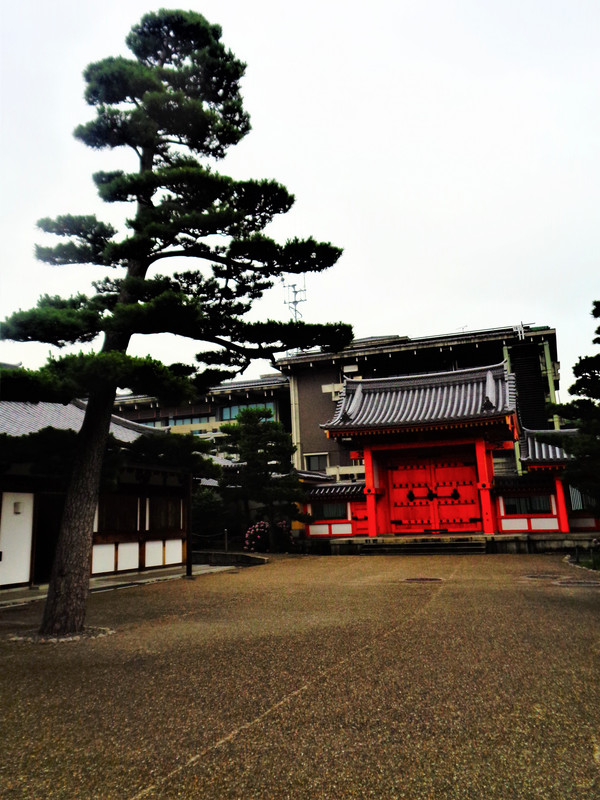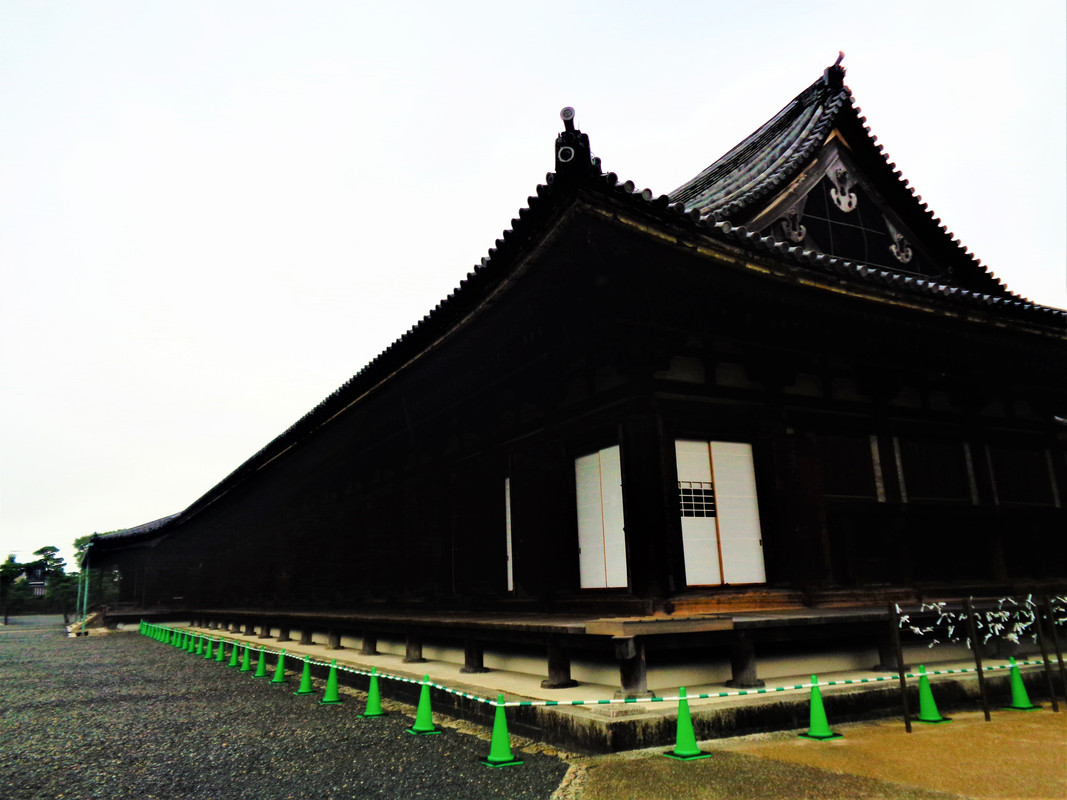 It was quite a pretty temple, but the main reason that people go to see it is the 1000 Buddha statues that are housed there. These were simply breath-taking, and we spent a good 15 minutes looking at them, but you're not allowed to take pictures, so you'll have to take my word for it! Most of the statues are approximately human-sized and then there is a huge Buddha in the middle, made of bronze, which towers over you. It's very impressive and not to be missed if you go to Kyoto!
We then wandered around outside for a short time and took some pictures of the outside of the buildings, but the weather was so horrible that everything just looked rubbish.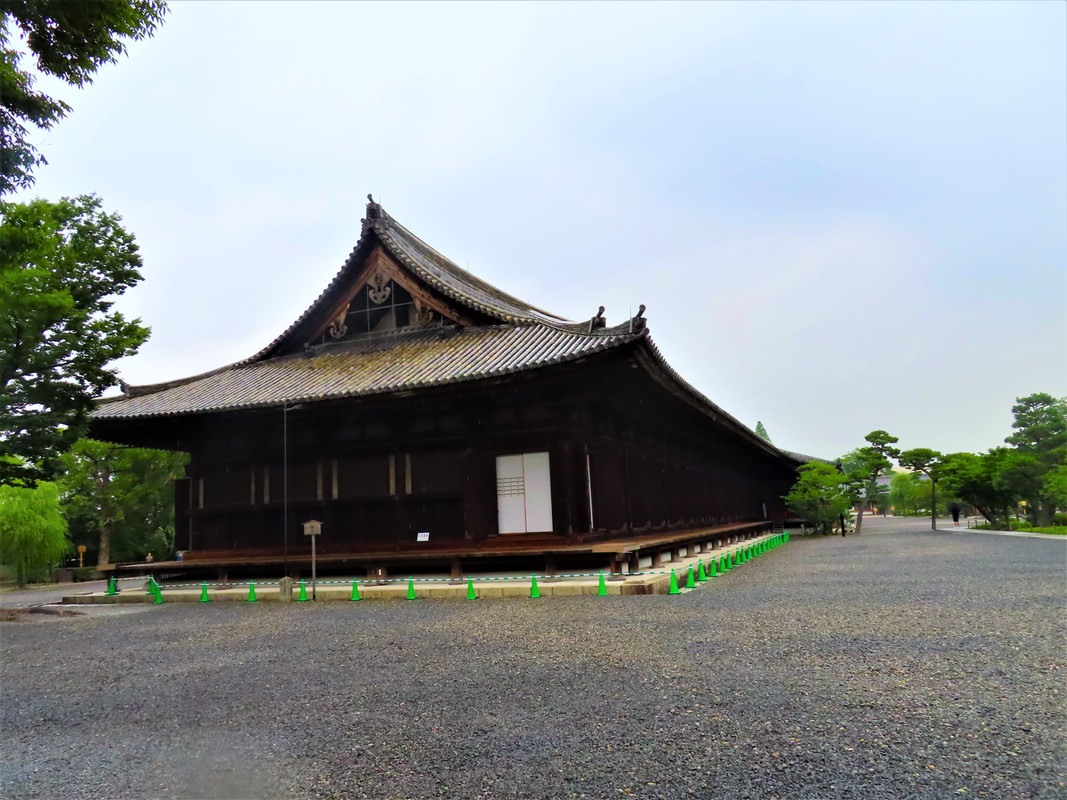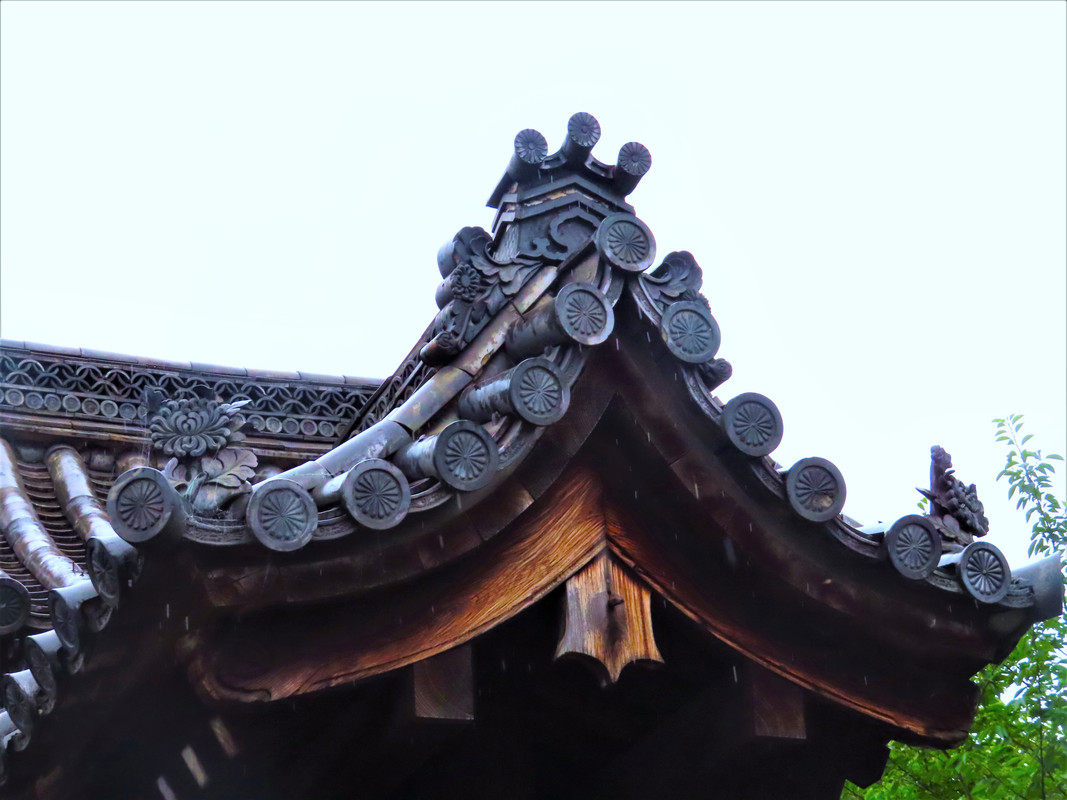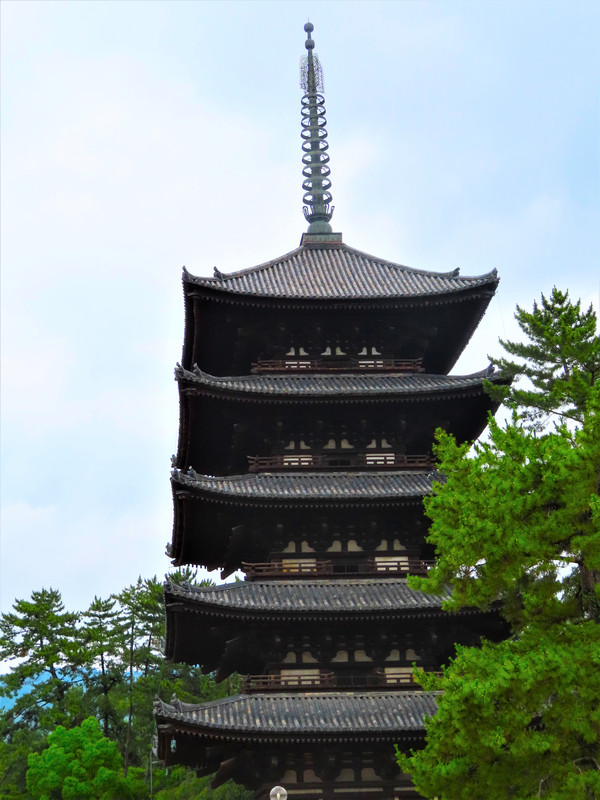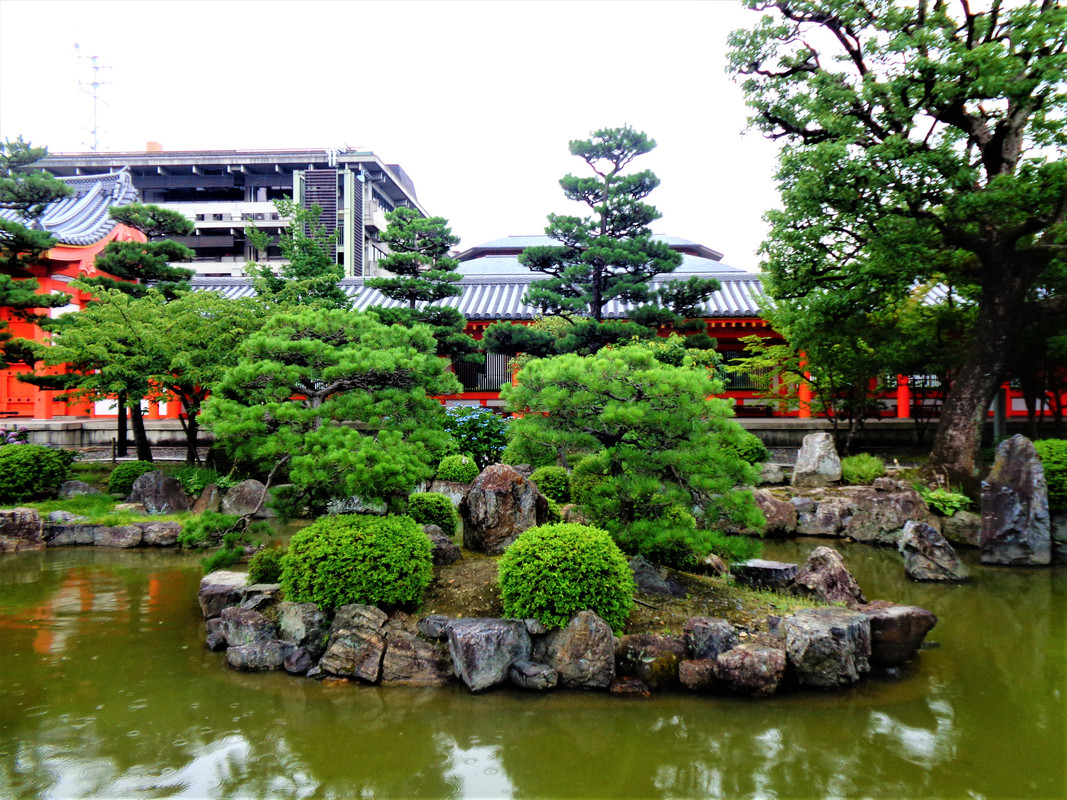 We gave it up and went to catch the bus.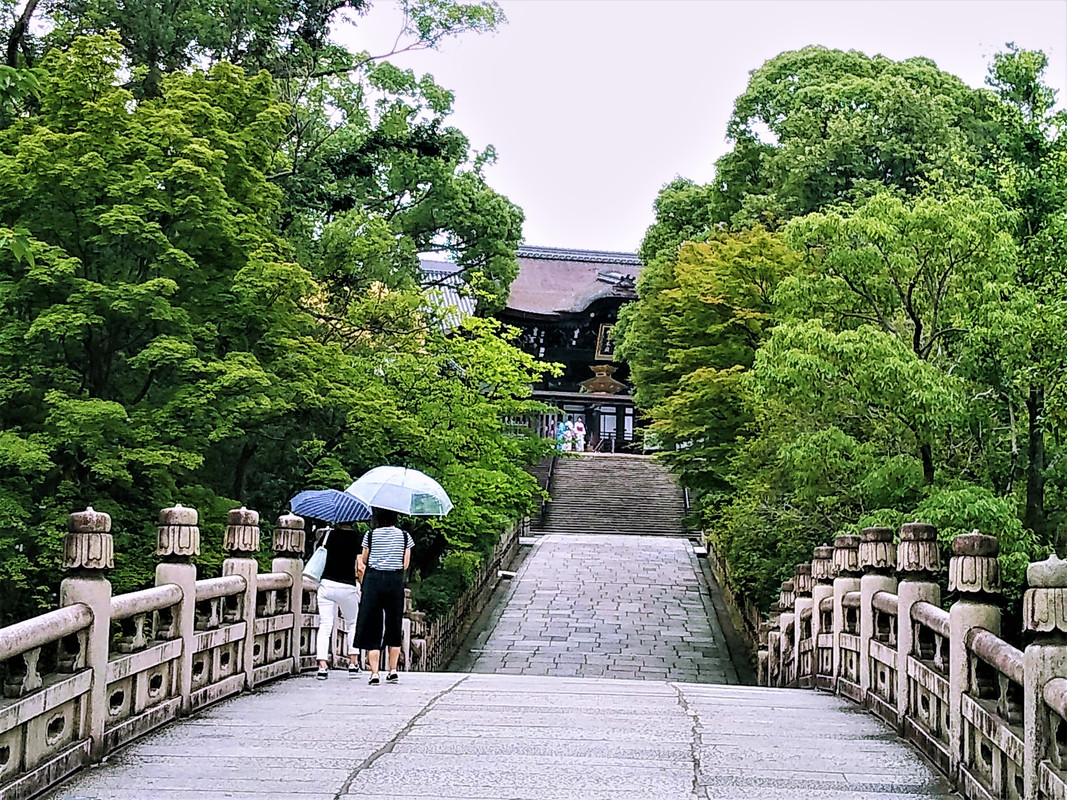 We had a few bus options to get back to the station, which was lucky because all of the buses were extremely busy. We had to let two go by without getting on because they were completely full. We finally caught one, however, and the journey back to the station took about 20 minutes.
We stopped at the 7-Eleven before heading back to the hotel. We were both tired and knew we wouldn't want to find a restaurant to eat at that evening, so we decided just to grab something from the shop. As we had learned in Tokyo, you can get some really nice stuff in the 7-Eleven, so we knew we'd find some good options. It was a really good 7-Eleven with lots of sandwiches and baked goods, cold food and also a counter with fried chicken and other hot food. In the end Bex chose a sandwich and salad, I had a sandwich and some cold ramen, and then we bought some spring rolls from the hot counter to share.
Back at the hotel we finished checking in and took our bags up to our room on the top floor. It was a much nicer room than we'd had in Tokyo, though I seem to have forgotten to take a picture of it. The hotel was really nice, however, with quirky, modern decor and friendly staff.
We spent the rest of the evening resting in our hotel room and watching Stranger Things. The food we'd chosen was pretty good, especially the spring rolls, which were very crispy. We should have bought more of them.
We turned out the lights around 23:00. Our step count was 18,650.