DINING
Your dining rotation on DCL will consist of 3 restaurants. Once you board, you will be told what your rotation is, but if you have a preference (as some do), you can request a specific rotation beforehand and keep your fingers crossed.
On the Classic
s, the rotation restaurants are:
Rapunzel's Royal Table on the Magic or Tiana's Place on the Wonder (Deck 3 aft)
Animators Palate (Deck 4 aft)
Lumiere's on the Magic or Triton's on the Wonder (Deck 3 midship)
On the Dream/Fantasy
:
Enchanted Garden (Deck 2 midship)
Animators Palate (Deck 3 aft)
Royal Palace on the Dream or Royal Court on the Fantasy. (Deck 3 midship)
Your rotation will show on your KTTW card like this: EAREARE .. this would be Enchanted Garden, Animators Palate, Royal Palace and so on ... Some cruisers like to be in Royal Palace/Court/Tritons/Lumiere's for formal night, if there is one on your cruise. These places are the more 'dressy' restaurants.
Your servers will rotate with you, so you won't have to keep repeating that you dislike black pepper for example .. they should remember after the first night and not bother to ask again! Of course, this may be more difficult for the servers on the 3 and 4 night cruises as they have such a high turnover of guests.
Regarding your servers, you will have a Head Server who will introduce him/herself at the start of your cruise. Any special requests, compliments or complaints that you want to make, should go to the Head Server. They are also responsible for checking with you about food allergies and will work with you each day to make sure nothing you eat will be a problem. You may not see them every night, but they are there, in the background ensuring that everything is running smoothly, not just on your table, but on about 15 others too! So don't think they're ignoring you, they work hard and also deserve your tips!
Working with the Head Server, will be your Server and Assistant Server. The Server will take your order and deliver your food, the Asst Server will be in charge of drinks and clearing the table. Both the Server and Asst Server may have some neat games or tricks to play on you and your family! Don't be surprised when they start doodling with crayons on the table cloths and encouraging your children to do the same, it's all perfectly ok and allowable!
Alongside the rotation restaurants, you can also enjoy some fine dining at the adult only restaurants if you prefer. These are bookable in advance, require additional payment and space goes quickly, so if you're interested, don't delay. They do keep some space back for the embarkation day, but these are also quickly snapped up by those who have missed out during the online booking process.
On the Classics, the adult only restaurant is called Palo and is $40 pp additional fee. On the Dream/Fantasy, you have a choice of Palo at $40 pp additional fee or Remy and it's $95 pp additional fee.
If you're more into standard fayre than fine dining (like me!), you have plenty of choice too. All the ships have a buffet restaurant open for breakfast and lunch and is called Cabanas. For breakfast at Cabanas, you can get everything from cereals to pancakes and they also have an omelette station which will make you a lovely fresh one with a ton of ingredients to choose from. Please note that Cabanas is also open for dinner (apart from first and last nights), but it is not buffet. There will be a menu choice from a mix of the 3 main restaurants and the staff serving are training. You may find they are followed around by management because of this, don't be alarmed, it's all good!
This from BevS97 regarding a visit to Nassau (Dream)
:
My favourite spot was right at the front on the deck outside. Obviously not air conditioned but I just loved sitting in the sun eating my lunch with a view of the Atlantis Hotel. Felt very decadent, it was also very quiet, I think most people prefer to be inside.
It is important to note that ALL food is included within your cruise price (apart from the service fee for Palo and Remy as previously mentioned and also packaged snacks or speciality cakes ordered in advance). Also, all soft drinks (soda etc) ordered during meal times, or taken from the drinks station are free of charge. You are only charged for a soft drink if you order it from a bar so try to avoid doing that!
The drinks station has, among other drinks ... fizzy pop (sugary and non), milk, water, ice, coffee and hot chocolate.
On the decks, you have more choices for food. Serving such items as pizzas, burgers, chicken strips, panini's, fruit platters, sandwiches, wraps, hot dogs and even a self serve ice cream machine! Can I add here, that coconut ice cream and dark rum go together very well (thanks Manny)!
As an adult, you can also visit Cove Cafe .. a veritable delight for those who love coffee and cake. All speciality coffees are chargeable but the snacks available each day are not. You can get croissants, chocolate covered strawberries and cake here!
It's a very peaceful place and you'll find lots of shade and comfy chairs available most of the day.
Please note that you can order coffee during and after your meal in the main restaurants also, but only the normal stuff is free!
Lastly, there's room service which is available 24hrs. Strictly speaking, room service is free but you are recommended to tip the person delivering approx $1 per plate (we generally tip $3-5 as an average). Please note that if you give cash as a tip to your room service CM, they get to keep that tip, but if you sign the receipt, they share it with all of their Food and Beverage team.
You have a varied choice on the room service menu from fries to pizza and mac cheese to veggie sandwiches. Hidden items to ask for are: cake of the day, Mickey ice cream bar and warm milk and cookies - perfect for your littlie as a treat before bedtime.
You can also order breakfast for your room, just make sure that your request is hung outside your door by 3am. The cards for this will be in the desk drawer. You can have toast, cereal, fruit, muffins, pastries and the like, but nothing hot like bacon, eggs etc.
For
Rapunzel's Royal Table
Enchanted Garden
Drinks Station (on board and Castaway Cay - please note, Diet Sprite has now gone, replaced by a very saccharine heavy fruit squash
)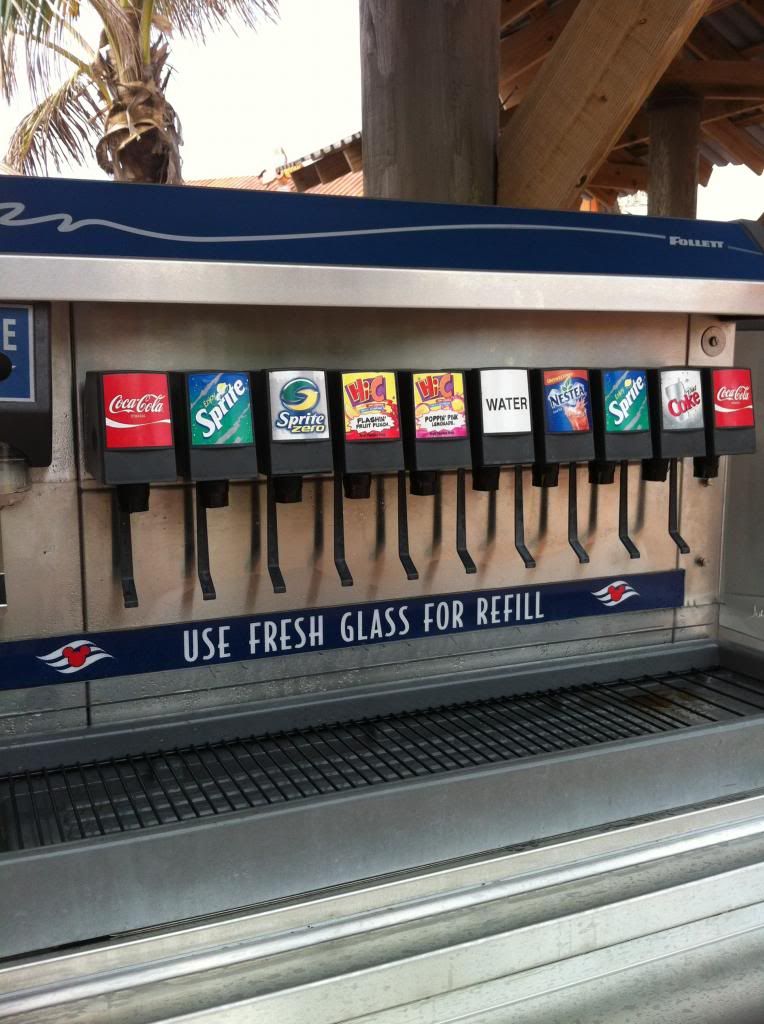 Palo Brunch Selection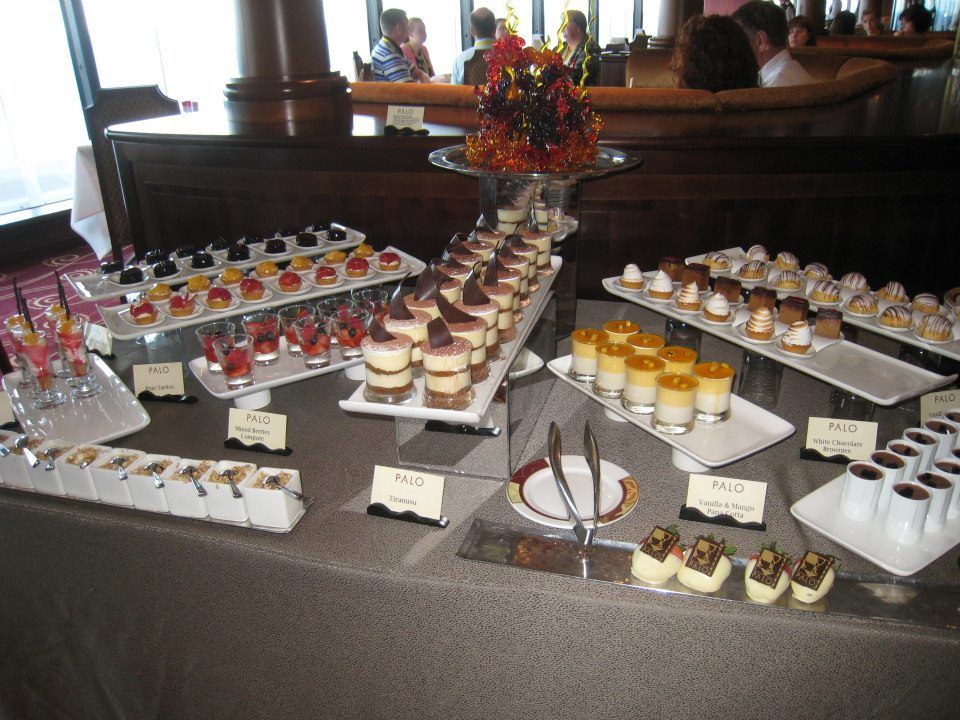 One thing you should never miss are the dinner shows. They really are the most innovative shows and will ensure your dinner time flies by! Animation Magic is my particular favourite (on sailings of 7 nights or more)