Now we'd explored the other epcot resorts we thought it was about time we visited ours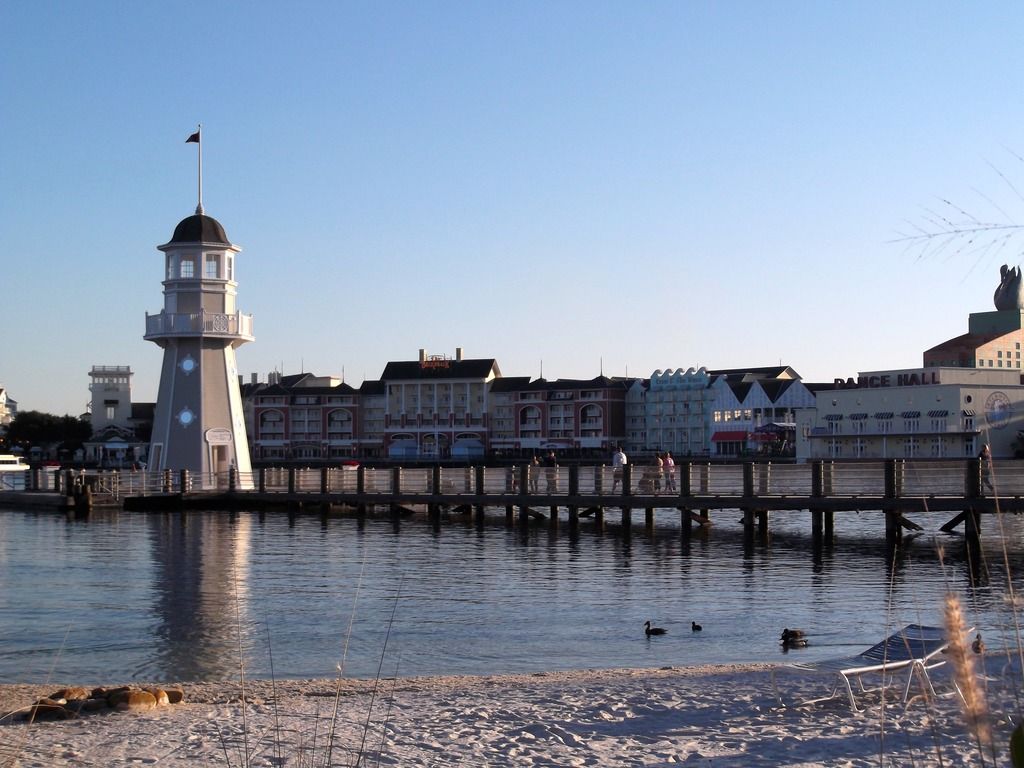 so we set off around the lake, such a beautiful area, I would happily spend days just sitting here watching the world go by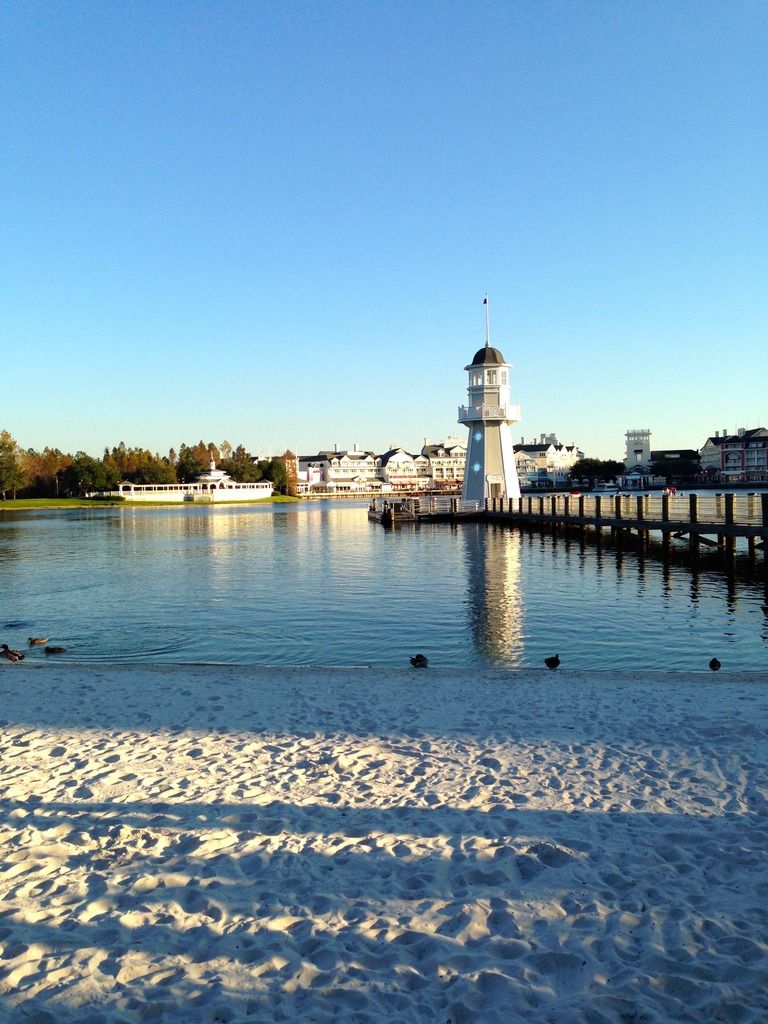 Finally we made it!
no "fancy" decs in the lobby but they do have a gingerbread cone stand!
check in was easy and we were soon heading up to the room
this was us
Now I knew we had a 1 bedroom with a boardwalk view but I hadn't told Adam as I didn't want him to be disappointed as I'd read on forums that some of the boardwalk views can be sketchy at best.
this one though, did not disappoint!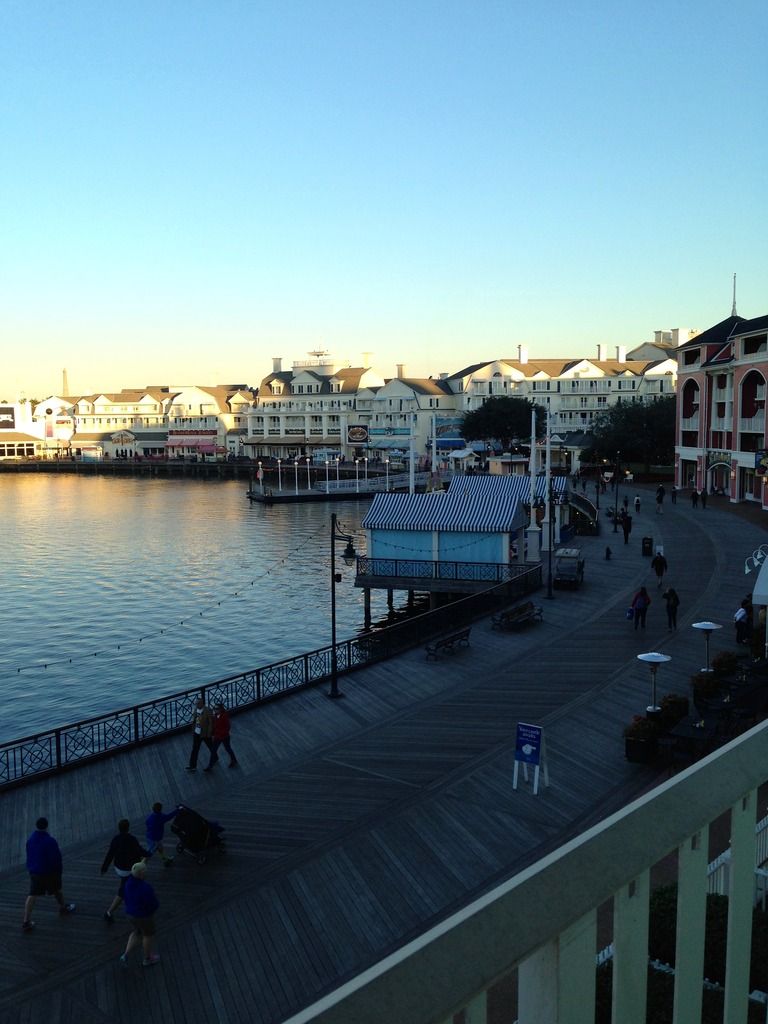 bang on exactly where I wanted to be in the crest of the wave section, and boy what a VIEW!

We had epcot planned tonight but we decided to stay a while and watch the sunset. I'm glad we did, it was one of those magical disney moments where I wouldn't have wanted to be anywhere else in the world at that moment.
We had no reservations tonight, instead the plan was to explore world showcase and grab what we fancied.
Now the phrase "What we fancied" gives the impression there was no plan… but of COURSE there was a plan!
In fact I had a list!
yep, my snack list, and considering we were several days into the holiday we hadn't done very much at all! so tonight I planned on ticking a lot more off!
We decided to walk and so head out into the grounds, I loved the christmas lights that came on whilst I was waiting for Adam
First stop, France!
As you can see it was a little cooler this evening!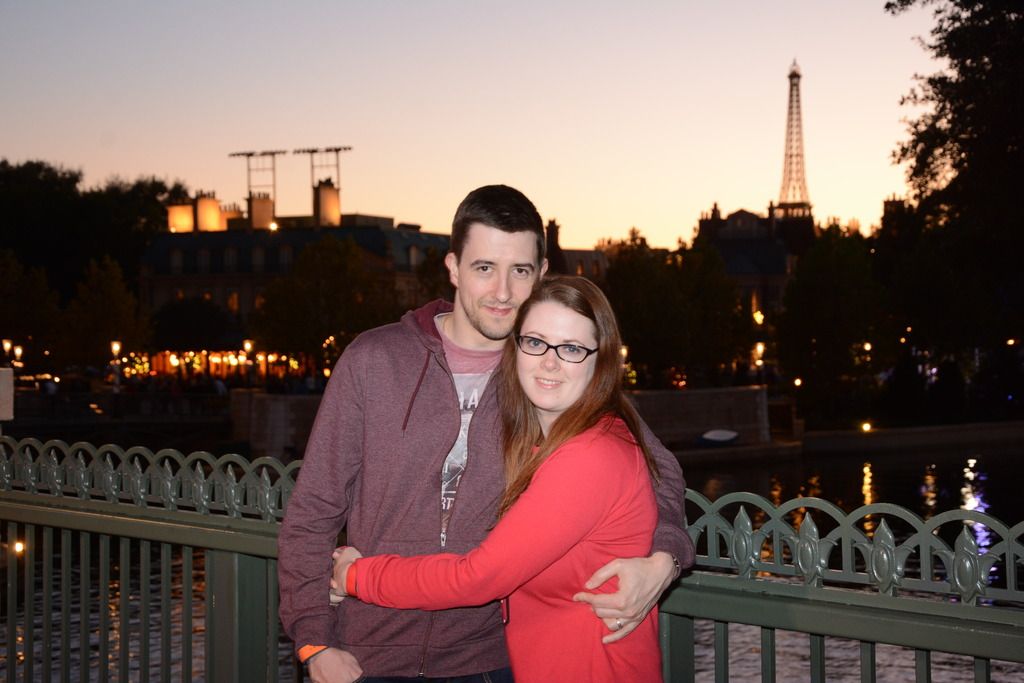 We headed to the bakery first and although I was very tempted by the festive offering, a yule log
I stuck to my list and grabbed a croissant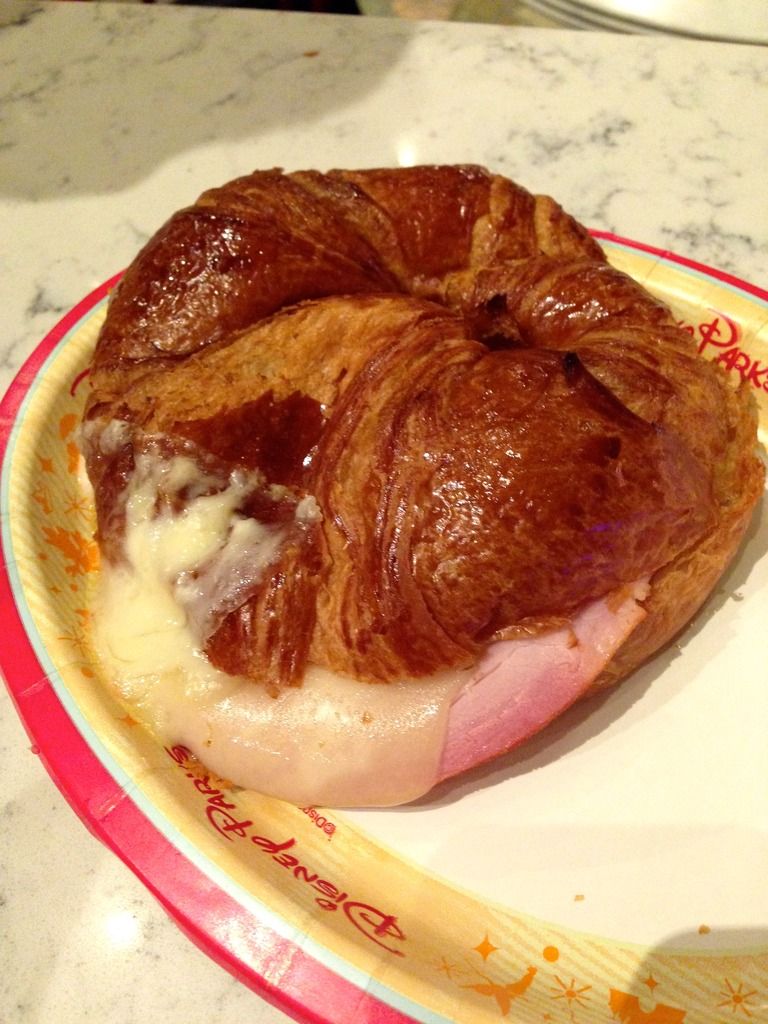 This was VERY nice, lots of buttery salty goodness! I also wanted to get some ice-cream treats from France but as we were on the savoury and Adam hadn't had anything yet we decided to grab it on the way back
1 down, LOTS to go!
We stopped for a photo by the fountains again,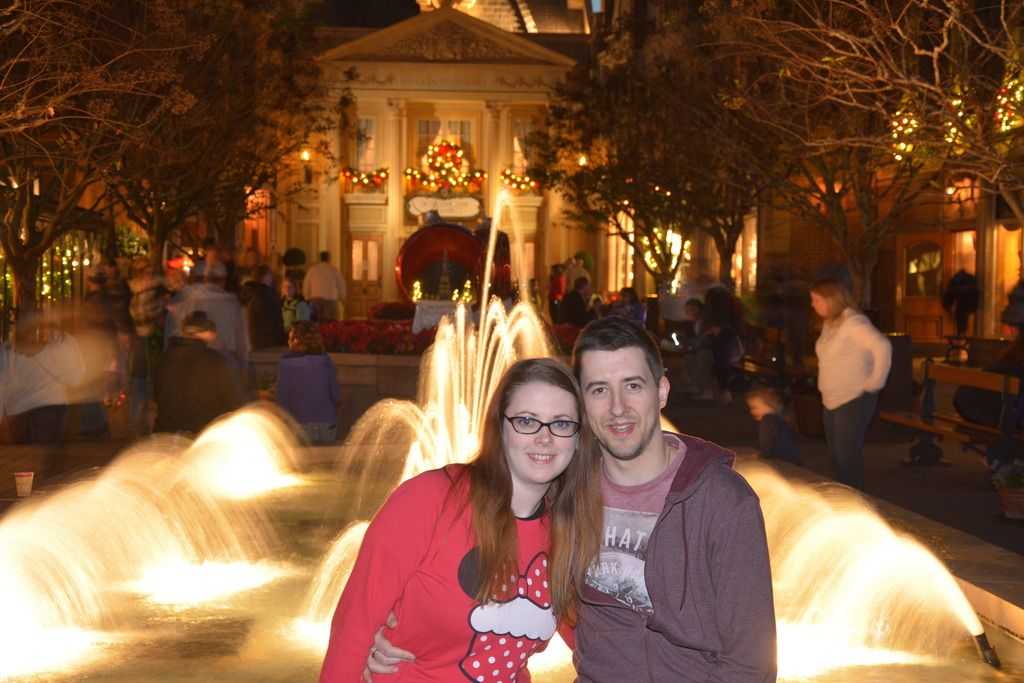 for some reason I look completely manic, must be the excitement of the initial list ticking!
Although I was mainly exploring food options tonight I was adamant that we would also explore the other countries, something we never do together.
So we did, I think Adam even enjoyed the Japanese department store!
By now Adam was hungry, but he didn't just want snacks, he wanted "proper" food. This he found in china where he grabbed a honey chicken with rice. No photo as whilst he was eating this I was off grabbing some "happy face fried cake" to tick another festive treat off my list
these were…. interesting.
Not unpleasant, far from it. But they were a little hard to eat on their own, I was very thirsty afterwards.
Whilst I waited for Adam I also picked up a "holiday passport", so I could see what else I was missing.
We got as far as Norway where I picked up a school bread to save for breakfast before we doubled back on ourselves to head to Germany.
Here we purchases a hot caramel drink and sat outside to drink it
WOW. AMAZING
It's like melted werther's originals, in fact it IS melted werther's originals and god was it GOOD!
We'd bought one to share, which was probably a good move considering it was very sickly, but despite this neither of us was particularly fond of handing it over :P
They were doing some sort of nutcracker enactment here which we sat and watched for a bit
Afterwards we decided we should probably head back, and picked up anything else we fancied on the way back, it wasn't particularly late but we were both pretty pooped.
We got stuck in the chaos around america again as they were just letting out a candlelight processional performance, jeez we were bad at timing with these!
So as it was so frantic I almost lost Adam whilst ducking into Morocco to grab some baklava to tick off the list.
By the time we reached france we decided against ice-cream cocktails, choosing to save them for a later night and instead started walking back.
A boat was almost ready to leave as we left WS so we jumped on, I know it's not far but still.
Boy was it getting chilly now we were out in the open.
When the boat docked Adam decided he wanted a cocktail, so we walked, shivering, to the FROZEN cocktail stand where there was no queue (shocker!) here we grabbed a margarita and a strawberry daiquiri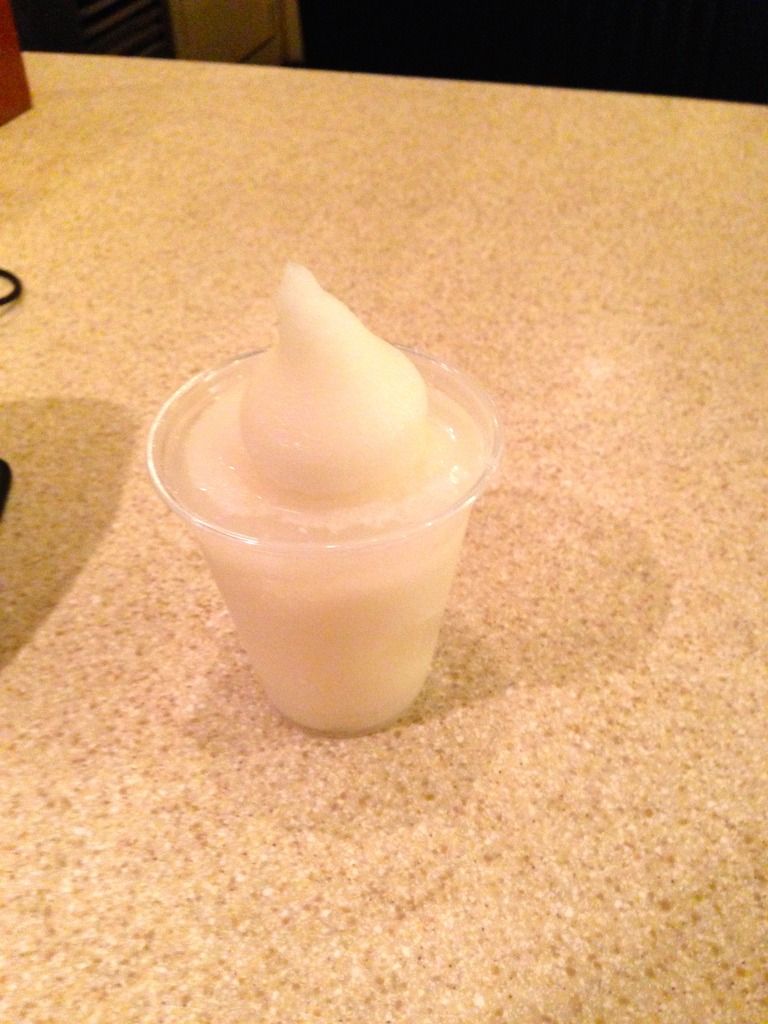 We carried these back up to our room as best we could without spilling them everywhere. The epcot fireworks were starting as we arrived so we grabbed some chairs and pulled them towards the window so we could sit and watch, it was too cold to sit on the balcony, even inside I was wrapped in a towel to keep warm, although that may have been because I was drinking a frozen drink!
Halfway through the fireworks I nodded off on my chair so when I woke I finished my cocktail, had a quick shower and headed into the bedroom to lie down.
I couldn't believe how sleepy I was and I prayed I wasn't coming down with something, I'd certainly been all over the place today, ravenous this morning, no appetite at lunch and now I was completely shattered!
I must have nodded off again on the bed because next thing I knew Adam was nudging me to wake up as the Wishes fireworks had started. We both sat in the bed with the curtains open and watched the show, well Adam did, I think I nodded off halfway through, still a magical experience to end the day on though
Nighty night
TODAY'S SPENDS
Breakfast at Boma - NEED TO FIND RECEIPT TONIGHT!
Pizza for Adam - $14.57
Ham and Cheese Croissant - $5.06
Happy Cakes - $4.25
Honey chicken with rice - $9.58
School Bread - $3.19
Baklava - $3.47
caramel drink - $4.25
2 frozen cocktails - $19.17