Day 2 – 25 September : Scottsdale
Had about 2 hours sleep and we're now wide awake and having to get up for a visit to the loo! Back to bed and tried hard to get back to kip – no luck at all! Then I got a text message from Claire (DD) – worried because neither she nor my sister got the texts I sent them to say we'd arrived! So I gave her a quick ring just to say we were OK, just totally wiped out! We decided we might as well give up all hope of any more sleep and made a Wolfgang Puck. Had to use some of our bottled water as the water here is just like Florida's – neat bleach! Bleuk! Decided I might as well grab the lappie and finish up yesterday's report and start off today's!
Oh look! It's 03:15 already! Nearly time to get up! At least today is a 'free' day, so we can do as much or as little as we like.
It's now 04:20 and still pitch black outside. I've had a lovely, blisteringly hot shower and we're sitting in bed with
another
coffee! I've also played hunt the hairdryer and lost, so will have to call front desk before too long and ask for a clue! I think I woke the bloke up! Having explained that I'd looked in every drawer and cupboard with no success, he said he would have someone bring one up. Within 5 minutes or so a security guard was knocking on the door with a hairdryer, a local newspaper and apologies for the inconvenience! I love America!
Clutching his tip he went back from whence he came, probably muttering curses about mad Englishwomen showering and washing their hair at crack of sparrow fart!
Hair all dry and John trying to get a few more
I think I may try and do the same, although I won't hold my breath! Well, we both actually succeeded and managed to get an hour's extra sleep! Strolled through the grounds to the lobby and met up with Rose and Pete, browsed the gift shop and bought a few bits and bobs and then headed for the buffet. Not much point describing this – much the same as the Florida buffet breakfasts! Nicer sausages, though, and a rather scrummy 'breakfast quasadilla' – a tortilla type wrap thing filled with mushrooms, onions and peppers in a savoury white sauce - it was very tasty!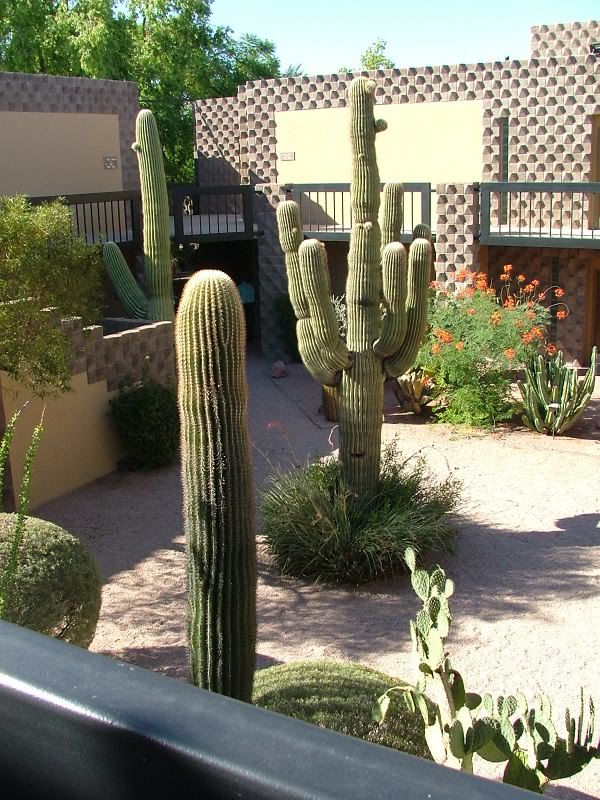 Suitably stuffed, we headed back to the lobby to wait for Dana to round up her Titans and give us the spiel about the next few days of our tour. This consisted of the usual 'have your suitcases ready for collection at 0730 tomorrow' and the like and then moved on to some of the optional excursions over the next few days. We've opted to add in the Red Rock Canyon jeep tour and 'a personal tour with Chief Tsosie' at Antelope Canyon. Apparently, these tours are kept to small groups of 5 or 6 people headed up by a Navajo guide. The whole thing takes place on Navajo territory and can only be accessed if you're on one of their tours. Then we get the chance to meet Chief Tsosie who shares his history, heritage, childhood memories and talks of his spiritual beliefs. The whole tour is rounded off by Chiefy playing his flute. Apparently, it's an experience not to be missed as it's made all the more intense with the natural acoustics of the canyon. (Note: this turns out to be not
quite
as described to us!)
One of the Titans was asking Dana about the possibility of horse riding. So, if we can fit it all in and Dana can arrange it, I might just join them. What an experience, especially if it's at Monument Valley! How very John Wayne!
Once we'd done with Dana, we opted to get the shuttle bus to the Fashion Square Shopping Mall where there is a Disney Store
! This mall is huge! It makes Orlando's Premium Outlet look like the local high street! And there's more building still going on there. We decided that we were very glad we weren't construction workers here – it must be like working in hell in this heat! And the locals say this is 'temperate' now compared to what it has been!
We headed off for a mooch through Macy's and managed to find a couple of things for Callum and Megan (grandchildren). Then it was off to hunt for the Disney Store! It wasn't actually as big as it had been painted! Even so, we got something in there, too! And a few bits and bobs in Bath and Bodyworks or whatever it's called – it was all the lovely smells that lured us in! It just smelt soooo Disney!
There was a pet shop selling puppies (in horrible glass cases) at 0% interest! They looked so pitiful and we couldn't go in. There was also a stall called "VIPuppies" selling 'darling' little designer outfits for your pampered pooch!
We had a look at the Crocs stall – loads more colours and styles than there are on offer in the UK. They also had hundreds of Jibbitz, but no Disney ones! There were also the most incredible 'play houses' (for want of a better description!). The company was called Castles in the Clouds and on display was a castle and a pirate ship. They came complete with a fabulous price tag, too!
Back at the hotel, look what was waiting ...
Decided to go down to the pool and laze on the sunloungers till we just got too hot!
Then back up to the room to write up a bit more trippie. We sat out on our balcony for a while and watched a tiny black and red humming bird right in front of us! But, of course, by the time I'd gone back in and got the camera, he'd hummed off!
John decided to grab a quick snooze, so think I might see if I can do the same before we head down for dinner! Success! We both manage about an hour's kip before a quick freshen up and down to the lobby to meet up for dinner. The lobby pianist was chatting away to us during his break and when he went back on stage, we went for dinner. The boys had: Pete – Clam Chowder, John -Tortilla soup and Rose had a salad to start. They really should have known better! The portions were huge and the soups were more like stew! For main we had: John and Pete - brown sugar coated pork chops, mashed potato and green beans; Rose had pecan crusted salmon with wild rice and I had braised short rib steak, risotto and baby courgettes. The food was absolutely gorgeous
and John and I were swapping!
After a brief detour to the shop for more water supplies, we took a leisurely stroll back through the grounds to our room. The temperature after dark is much more agreeable! If only it was like this during the day! We had a quick repack of the cases ready for our early start in the morning – heading to Sedona and our jeep tour at Oak Creek Canyon. And, according to the locals, the weather will be a good bit cooler there!
Nighty night and see you tomorrow!