Dubai
The flight time was 7 hours, and Dubai is 4 hours ahead of us, so at 4:30am our time, 8:30am Dubai time we landed. Prior to landing we had had a light breakfast – just yoghurt for me – and had changed back into our clothes.
Upon disembarking we set off on a long walk from our gate to Immigration, which involved going along walkways and down escalators etc. As we reached Immigration there was an area for people staying in Jumeirah properties and one of the persons there had my name amongst the 6 or so names on the board he was holding up. He invited us to sit in the waiting area behind him and after a couple of moments someone came forward to guide us through and out to our car. We followed him to the Immigration area where one of the staff opened a line especially us so bypassing the queues! You sadly don't get this in the US! Next was baggage reclaim. Whilst DW kept an eye open for our luggage, I used a Standard Chartered ATM to withdraw £200 in local currency, and then exchanged this for smaller denomination notes at an exchange desk but they were still too large for tips, so I used US$s everywhere for tipping. Following on from a tip from the internet I then hit the Duty Free area for arriving passengers. Here people were loading up on beer, wine, spirits etc. as it is very expensive in Dubai. I bought 4 bottles of champagne – 2 white, and 2 rose. To give you an idea of the markup in the hotels, you could get Krug for £69 a bottle in the Duty Free, by comparison in our hotel it was £390 a bottle.
As our cases came around our escort appeared again loaded them on to a trolley and led us out into the arrivals area, through it to the cars outside and guided us to our transport to the hotel. I had expected a BMW or a Mercedes but we actually had a 7-seater SUV, a luxury Lincoln Navigator. I tipped the escort, and the driver loaded our cases. As we sat into the car he proferred us chilled face cloths which were very nice, followed by bottles of chilled mineral water. On the drive to the hotel he gave us a great commentary of the sights.
The Al Qasr was stunning. Instead of a traditional reception desk we were ushered into a side room to the lobby where we were sat at desks and had desk side check-in. At the Mina A' Salaam there is a traditional front desk, at Al Qasr it is desk check-in, for the villas and the Burj you are actually checked in in your suite – its just an example of the differentiation. Our room wasn't ready – it was still only 9:30am, we had only landed at 8:30am. We were escorted to a coffee lounge where we had complimentary tea and coffee and read the various booklets given to us and planned what we would do until our room was ready, and were still doing this 20-mins later when I had a call on my mobile informing me that our room was ready. We headed back to the check-in area and were then escorted to our room. I had requested a quiet room close to the pool and beach and that was what we got. The room itself was absolutely stunning – as you can see.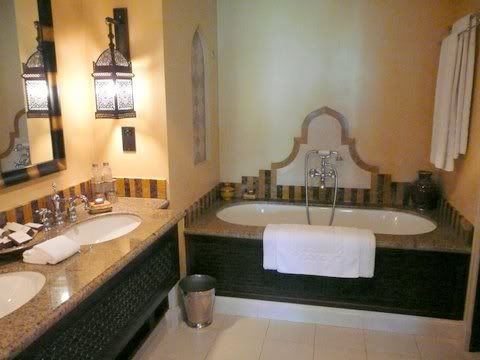 I had preordered a bouquet of roses through the concierge but they were not in our room, so I telephoned and requested/reminded them. Thereafter we unpacked and relaxed and explored. The pool is said to be the largest in the Middle East. There were plenty of free sunbeds and a very helpful pool boy showed us around and informed us that the pool was heated, and was in the most part shallow so perfect for families. Every 20 yards or so there were lifeguards.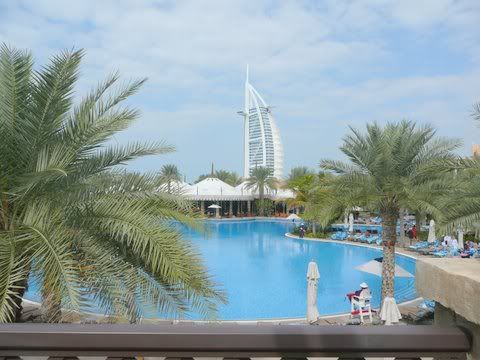 Just beyond the pool was the beach, which was pristine and stunning.
In the distance I could see a copy of the Atlantis resort (from the Bahamas) being built on the Palms.
To get to the pool area we had to cross over one of the waterways which thread through the resort.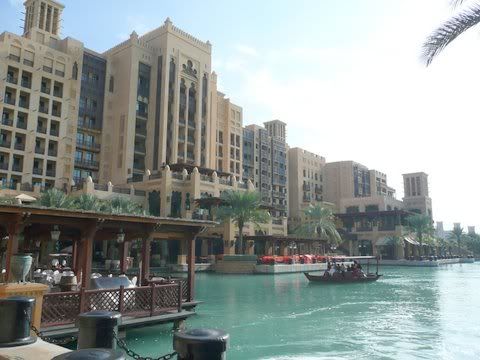 Small traditional ferry boats called Abras work these waterways as complimentary on-demand water taxis. We caught one to go over to Mina A' Salaam, the other on-site hotel, and the driver asked if we wanted to go the short way or the long way? We opted for the long and were treated to a great tour of the resort.
Eventually after swimming and relaxing we returned to our room to get changed to go for our afternoon tea at the Burj. Not only had the flowers been delivered but there was also two small boxes of stuffed dates, a local delicacy, but also a platter with 8 or so gorgeous chocolates (incl. strawberries dipped in white chocolate etc) and the most elaborate chocolate I have ever seen as a sculptured centrepiece, and a bottle of sparkling wine with a card congratulating us on our second honeymoon.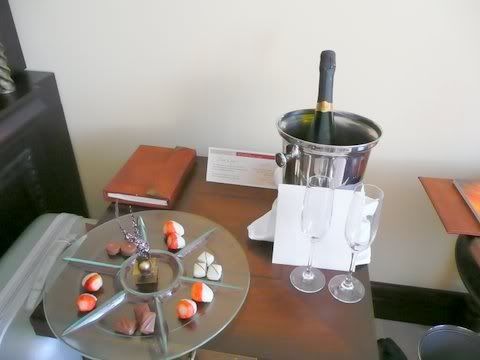 And two towels had been sculpted as swans kissing with rose petals laid out in a heart on the bed (read it and weep girls. Mr Romantic or what!).
To get to the Burj we took one of the golf buggies which also act as on-demand taxis within the resort. Security was tight - we had to show our reservation to gain access to the Burj. The Burj was stunning, but photos are not allowed beyond the lobby area.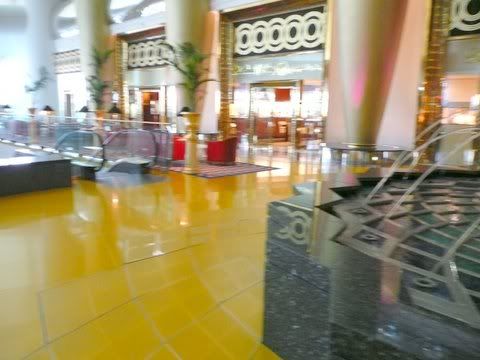 We travelled up to the 27th floor from where we could see the man made islands which would be The World to the right, and the Palm to the left. Afternoon tea was 6 courses and included a glass of Moet champagne.
We then headed back to the Al Qasr, via the Souk (market). This was a labyrinth of attractive shops and stalls which lay between the Mina A'Salaam and the Al Qasr. We just window shopped and then caught an Abra back to the Al Qasr.
After changing back into more casual clothes we caught a taxi to the Emirates Mall. The first thing we saw there was the Ski Dubai ski centre which looked absolutely amazing.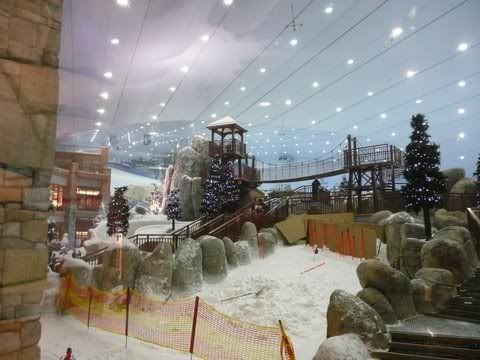 The mall itself appeared to be just like a more polished version of any UK mall (think Blue Water or the Trafford Centre). Shops present included Harvey Nichols and Debenhams. There is also a large Carrefour supermarket there. After a little while wandering around we decided that the Souk back at the resort was actually better for the gifts we had in mind so we caught a taxi back and headed straight to the Souk, which was due to close in 30-mins, it being 10:30 in the evening by now. We browsed and bought a present for one of our DDs and resolved to shop there again the following day. The bars and restaurants around the Souk were really buzzing this is the night life spot of Dubai, but we were bushed and just headed back to our room.