Hubby - Richard 34 (the one with the credit card)
Me - Teresa 37 (chief
planner
and organiser)
DS1 - Daniel 10 (Santa's Little Helper)
DS2 - Joshua 9 (Santa's Little Helper)
It's Christmas Eve and we have a lot planned for, for today! First of all was breakfast, this was included in our B&B coverage. We went down to the restaurant at 8am and it was huge, plenty of room for everyone. Breakfast was done on a buffet, help yourself style. There was fried stuff, cereal, boiled eggs, yoghurt, fruit, make your own waffles and toast, apple/orange juice tea/coffee. Loads of choice and refiled as it ran out. Today, we went for the fried stuff and waffle, as we assumed lunch was included later, but weren't entirely sure.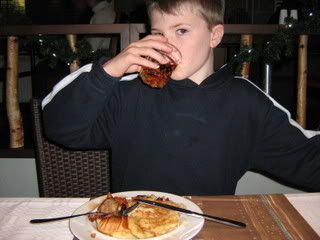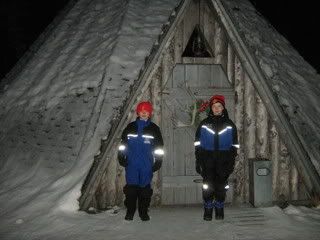 Fergus the Coach and Frosty the Elf were picking us up at 9.30am to take us to the morning activities, we ended up waiting for a 'large group' family before we could set off. We were taken to Winter Wonderland which was about 10/15 minutes away, but had to pick up two more families from another hotel round the corner.
We arrived before 10am and were told, we could toboggan down the huge slope or walk down the steps. Well this is Christmas, we are in Lapland, who would want to walk down the steps, so we tobogganed on our bums down the slope and it was huge fun. We headed over to the huskies first to go on their sleigh ride, there was a bit of a queue here. All 4 of us could fit on the sleigh and we were pulled by 10 huskies. They did have to keep control of the huskies as they liked to run off the track and they did keep changing them over, so each could have a break.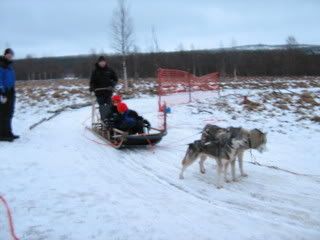 Next to them was the Quad Bikes for kids, there was no queue, so the boys each had a go on them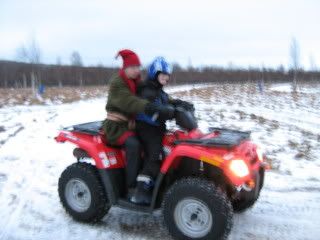 Today, the wind chill was up, so my hands were getting quite cold taking the gloves on and off to take photos and video, so we went over to a stand where they were serving free hot berry juice and ginger biscuits and there was Frosty doing the serving. We sat by a lovely open fire and my hands and face warmed up lovely.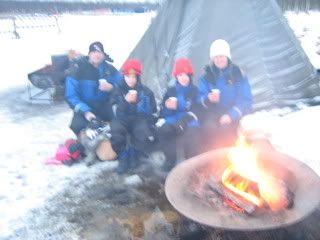 Next on the agenda was Snowmobiles, we could drive them or ride in a sleigh pulled by one. Nervously I chose to drive one. We were measured up for helmets. Richard and Joshua went on one and me and Daniel went on the one in front of them.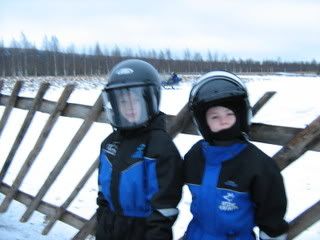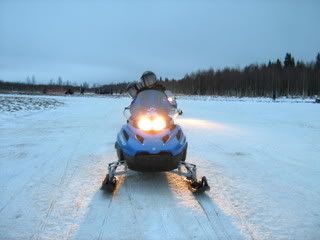 Driving them was great fun and they were easy to steer even over icy mounds.
We headed back up to see if the reindeer taster rides were open and there was a queue here, so whilst in the queue, we took turns to have snowball fights and more hot berry juice!
The reindeer sleigh rides were two per sleigh.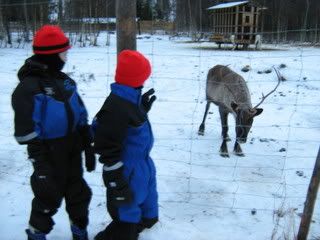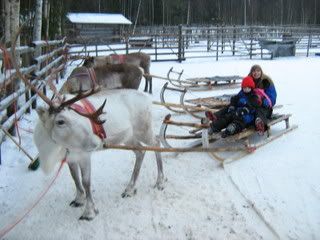 We went in front and they go quite quick, but Richard and Daniel went behind us and because they didn't start straight after us, their reindeer wanted to catch us up, so it came flying up behind us, kicking snow all over Daniel. You control the reindeer and hold the rope.