Day 4 - Wednesday 19th October 2016

The Wedding Day (Part 1)
At 6.40am on Wednesday 19th October 2016, I was woken by the sound of my alarm playing softly in the darkness of our beautiful room. The day was finally here - the day we'd been planning for 2 years, thinking about for 3 years, and dreaming of for 12...it was wedding day time!
I actually felt really calm and excited, I wasn't nervous at all. I did start to get real bad butterflies a bit later on though, but at this early stage I was just eager to get going! Hair and make-up was coming at 8.30 so we had a couple of hours to chill and get organised. The 3 of us lay awake chatting in the dark for a bit before we started getting up and using the bathroom etc. Victoria then sat up in bed and opened her birthday prezzies as it was her birthday if you remember! We said Happy Birthday and hugged etc and that was really nice
My Mum made us all a coffee in the cute little machine, and we sat drinking it as the sun rose outside. I then started to think properly about getting ready as I had an important task to accomplish before Beaute Speciale came – my brows! I like to pencil in my own brows and me and Victoria (who was doing my face makeup, I was doing my eye makeup. I love that we separated the 2 - that's make-up fans for you! ) decided I should do them first and get them right, and she'd work around them. Sometimes my brows can go wrong
so it was definitely best that I wasn't rushing to do them at the end. Trust me, bad things happen when I have to rush doing my eyebrows. So I nipped into the bathroom to shower and then do my brows where the best light was, and while I was in there my Mum and Victoria tidied our room up and only kept out the essential stuff we needed to get ready.
My brows actually went really well which was like a miracle from the eyebrow gods, and after double checking with Vic that they were even and the same on both sides, I was feeling pretty chuffed. Eyebrows – tick!
At 8.35, there was a knock at the door and Cindy from Beaute Speciale was there. She was so so lovely, and super apologetic because she was 5 mins late but we honestly hadn't even noticed. I was a bit surprised as I'd had Bianca for my trial and was told it'd likely be the same, but I actually didn't love my trial so I wasn't too fussed. We decided to have Victoria get her hair and make-up done first, so she sat in the chair and Cindy got all her gadgets and gizmos out on the table. I sat and chilled on the bed and remember thinking I was so relaxed and that we had loads of time! Hahah, ohhhh if only I'd known. Me and my Mum sorted some breakfast as I was famished – she went across to the boys room to grab our half of the brekkie supplies.
I even took a photo! How's that for a focused bride mind haha!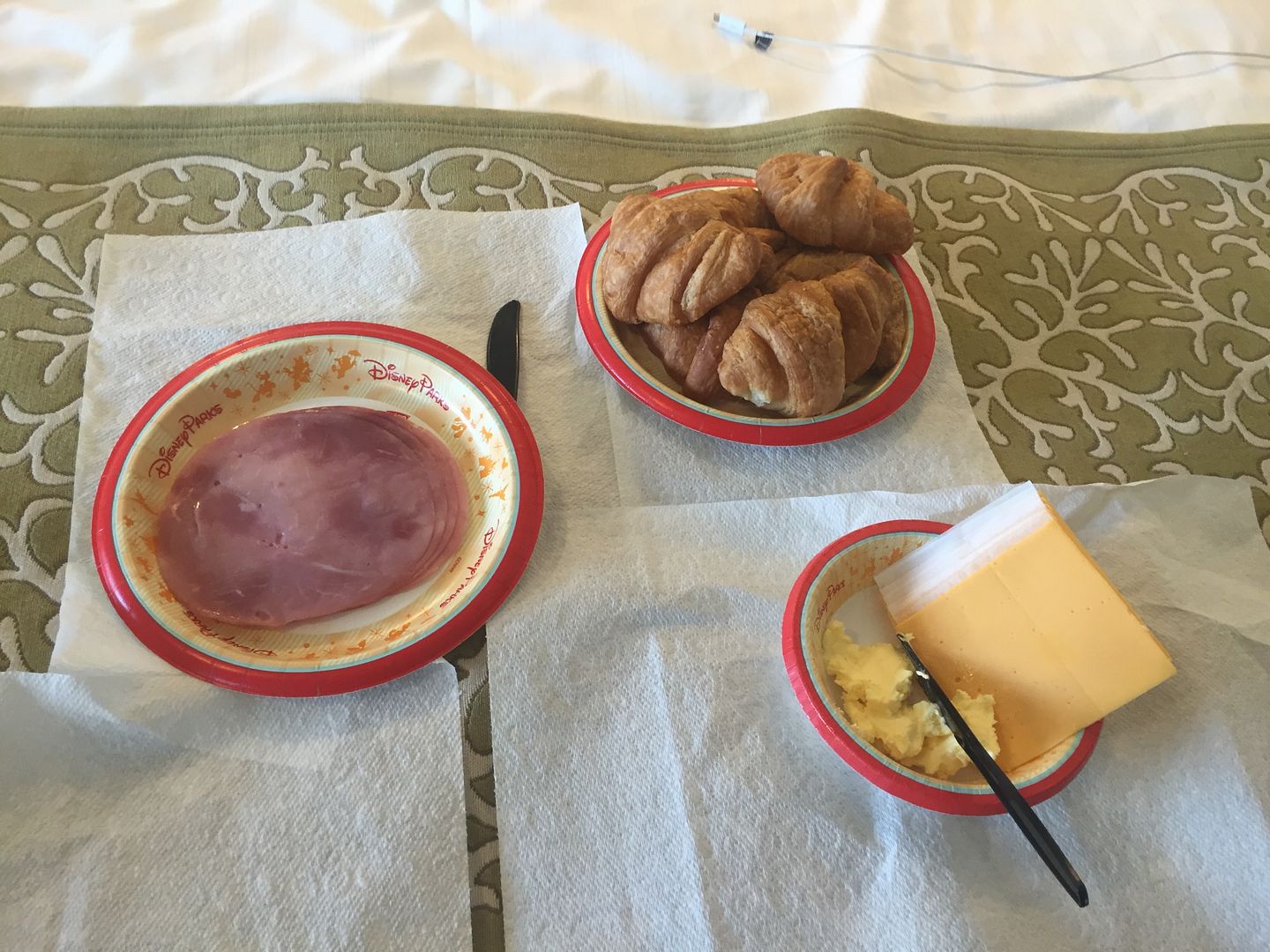 We had ham and cheese croissants warmed up in the microwave, and fruit on the side. So delish! I actually had 2 croissants cause I'm badass. I then started writing Ben's card which we were exchanging before the wedding, but I had to stop as Vic's hair was finished and it was my turn. Victoria's hair looked amazing, super big and volumised (photos coming up!) We loved it!
I showed Cindy photos of my trial and what I wanted, and then she set to work curling it all. I basically asked for big, half up half down, with a swoopy fringe. And obviously it was clear in my trial what I'd had as I had lots of photos. My Mum put Father of the Bride on then, and Victoria started putting Mum's hair up and doing her make-up. Time was getting on by this point but I didn't really realise how long my hair was taking. Cindy then showed me my hair in the mirror and I wasn't happy with it
It wasn't big enough so I asked for more volume, I think she'd realized she was a bit behind so I felt this was a bit of a big ask – but I wasn't loving it at all! So she backcombed it a bit more and then I guided her how to clip my side kind of swoopy bit into place – basically with my headband on it wouldn't go the way I'd had it at the trial as I didn't have my headband then, so that was a bit tense. I then realized it was 10.45 and we were supposed to be ready for 11.30! Like not ready to go, but all done and dusted with hair and make-up, ready for photog/videog to come at 12.15 and 12.30. Wowzer, did that morning fly by or what! It felt like 2mins ago it was 9am and I was relaxing on the bed without a care in the world! That time definitely wasn't going to happen and I felt a bit annoyed because I had really wanted that chilled half hour just to regroup and relax before it all went crazy, and I def wasn't going to have that. Darn it
I wasn't overly happy with my hair still but I felt super rushed and Victoria still had to get her make-up done, so I called it quits and went into the bathroom with my eye-makeup stuff to get that all sorted. You know when you just know time is getting on and even though you're not 100% happy you feel quite pressured to just be okay with it? Once I had my eye-makeup on and I'd applied my false lashes I was feeling calmer as that was another big job, and just like with the brows if the false lashes go wrong it can have many, many repercussions! Having to take off all my eye-makeup and start again worst case scenario as when you remove the lash it makes the real lashes all spidery...urgh, just a mare! Luckily they went well and I didn't have to reapply or anything.
We then put my veil on! (these photos are from after Ashley Jane arrived but I don't have any normal ones so gonna tease you with some profesh ones!)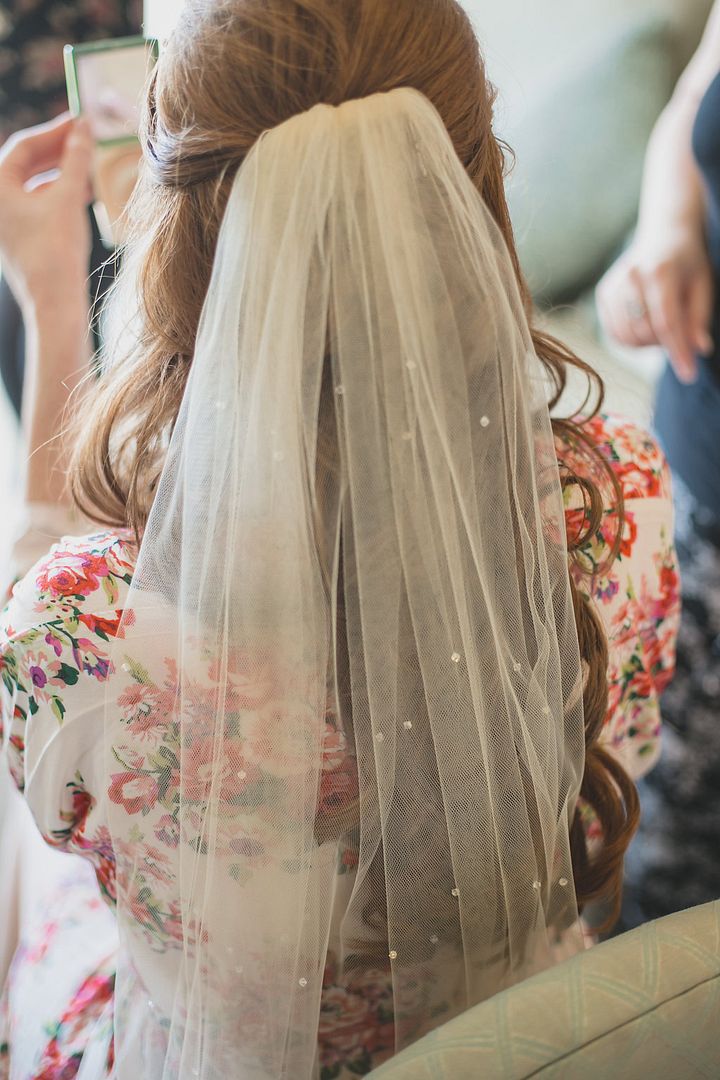 It was 11.15 by this point and I was really trying to remain calm but I just felt things weren't going as well as they should have been. Victoria could tell I was silently freaking out so she asked Cindy to hold off on her make-up for a sec, she would do mine, and then Cindy would finish off hers at the end. This definitely seemed like the best plan so that I could be all ready for the media teams to arrive. So Victoria got to work on my face after I'd moisturized, and my Mum made the wise move of cracking open a bottle of pink fizz and handing me a glass. This had an instantaneous calming effect haha.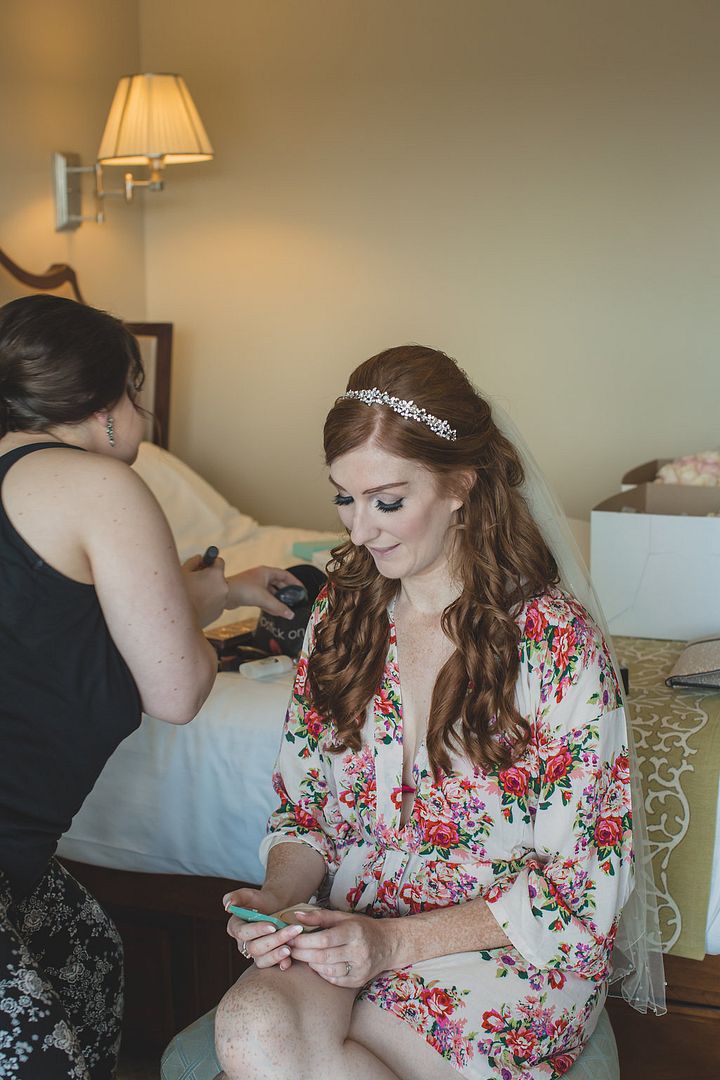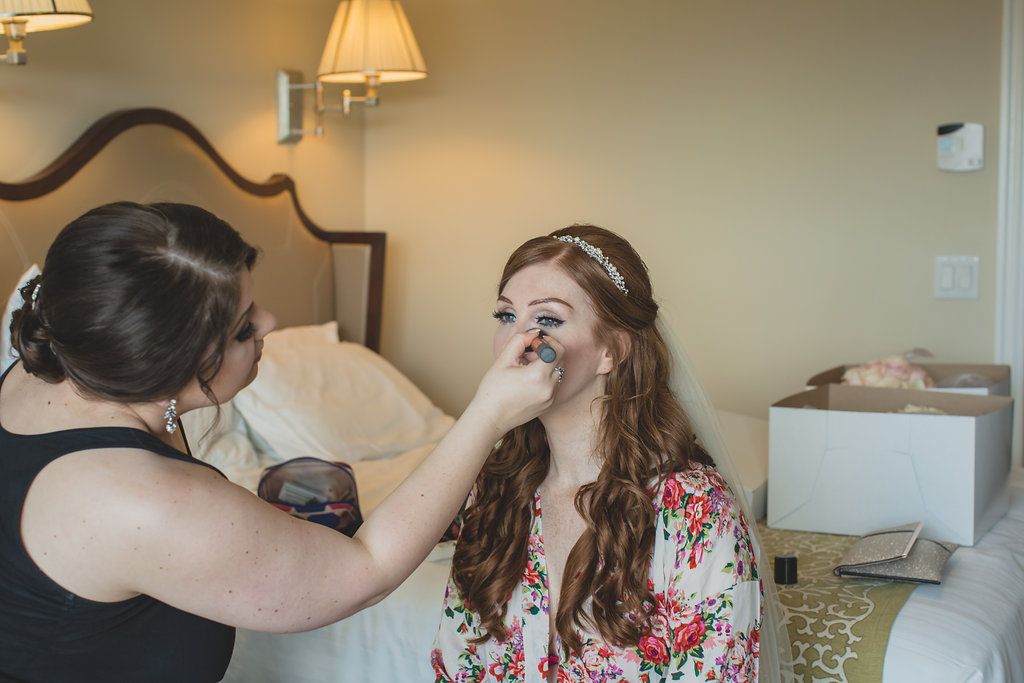 Victoria finished my face, we added a boatload of highlighter and then enough make-up setting spray to set my face possibly until the end of time. I was done!
I got out of the way whilst Cindy finished off Victoria's make-up, and went to stare in the mirror for a bit to just double check everything looked okay. I was feeling really anxious about my hair as I didn't think it looked very good and I wanted to curl a few more bits myself with my straighteners. In the end I decided it couldn't really do any harm, so I cracked out the old GHD's and curled a few bits the way I like them. I sound like super high maintenance reading this back haha, I hope you all understand that I just wanted to look perfect! As someone who's never had anyone else do their hair and make-up, it was just a struggle for me to accept how I looked as I felt I looked really different. Mum and Victoria both said my hair was perfect though and I knew they'd tell me, so I tried to push my worries to one side and go with the pros haha!
Me staring at le mirror, applying lipgloss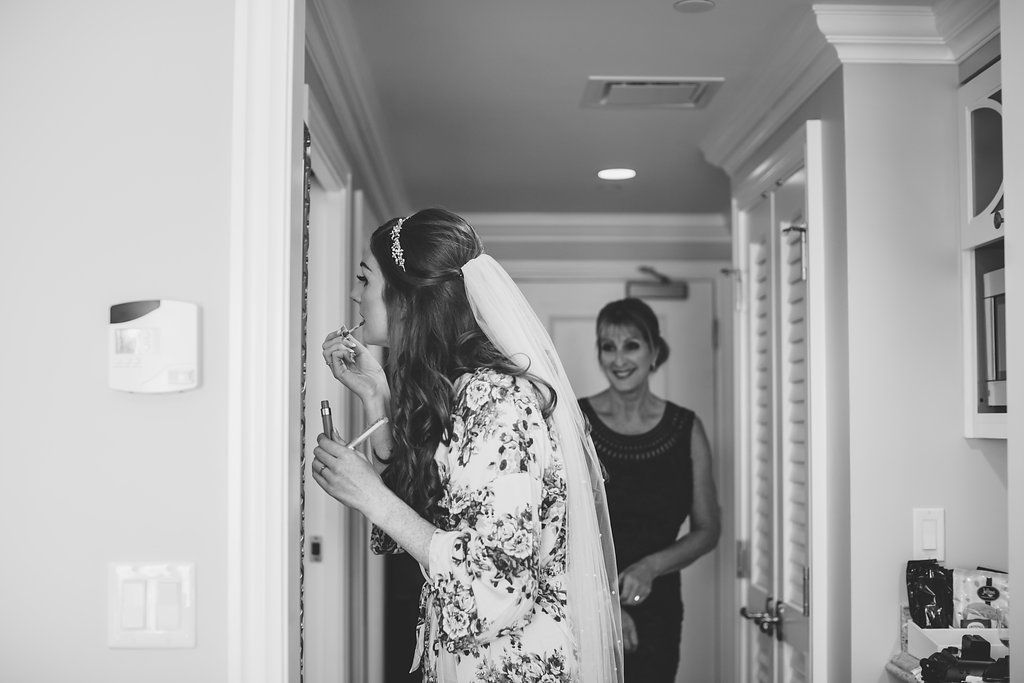 At just before 12 there was a knock on the door – Ashley Jane and her assistant photographer, 20 minutes early! How amazing! I was so so happy to see Ashley and I honestly felt instantly calmer. I apologised for the stressful atmosphere haha, I felt like I'd annoyed Cindy by asking for her to change my hair and giving off the vibe that I wasn't happy with it, plus the wedding playlist I'd put on earlier had finished so we were just in silence ha! I honestly didn't even care though because I was so focused on getting everything organised and making sure my hair and make-up remained flawless. Ashley set up, Rachel headed over to the boys room, and Cindy finished off Vic's make up. I remember having a whispered conversation with Ashley about my hair and whether or not it was okay. She said it looked perfect and to stop worrying. Haha! Victoria looked gorgeous! I had some more fizz, and then there was another knock at the door. David and Kristina from Trinity. Yay! They came in with all their kit, introduced themselves to everyone and then set up. They started filming straight away, and I was really worried that I was gonna look angry and stressed in all the video
(I don't though, don't worry!)
Our background viewing: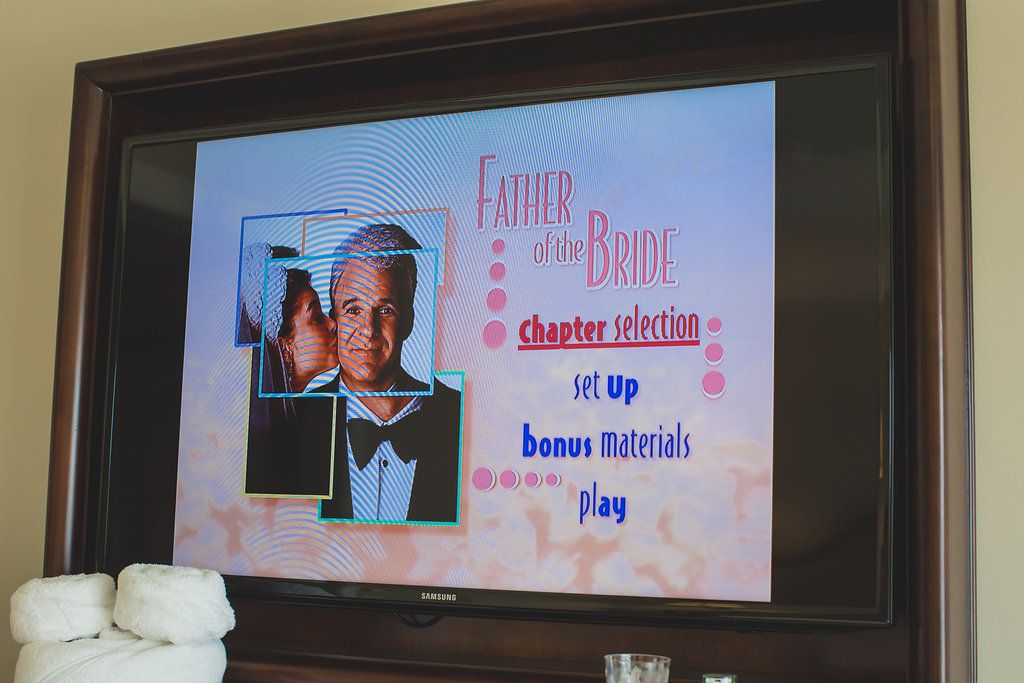 Beautiful decor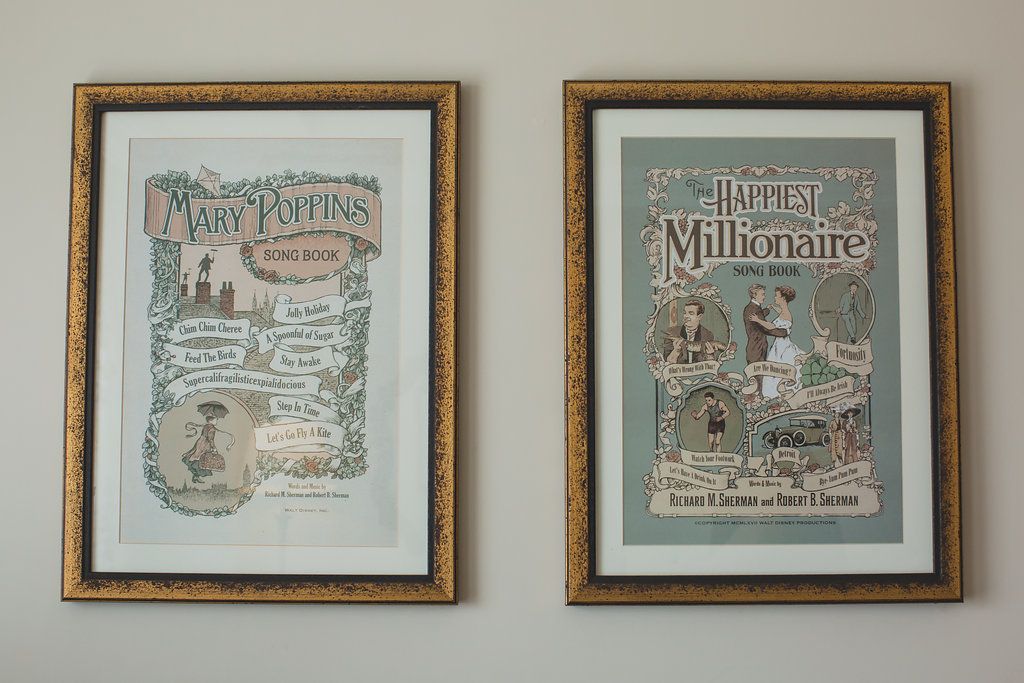 In the midst of all this I perched on the desk and wrote Ben's card. It was totes emosh and I was trying so hard not to cry before the day had even started haha!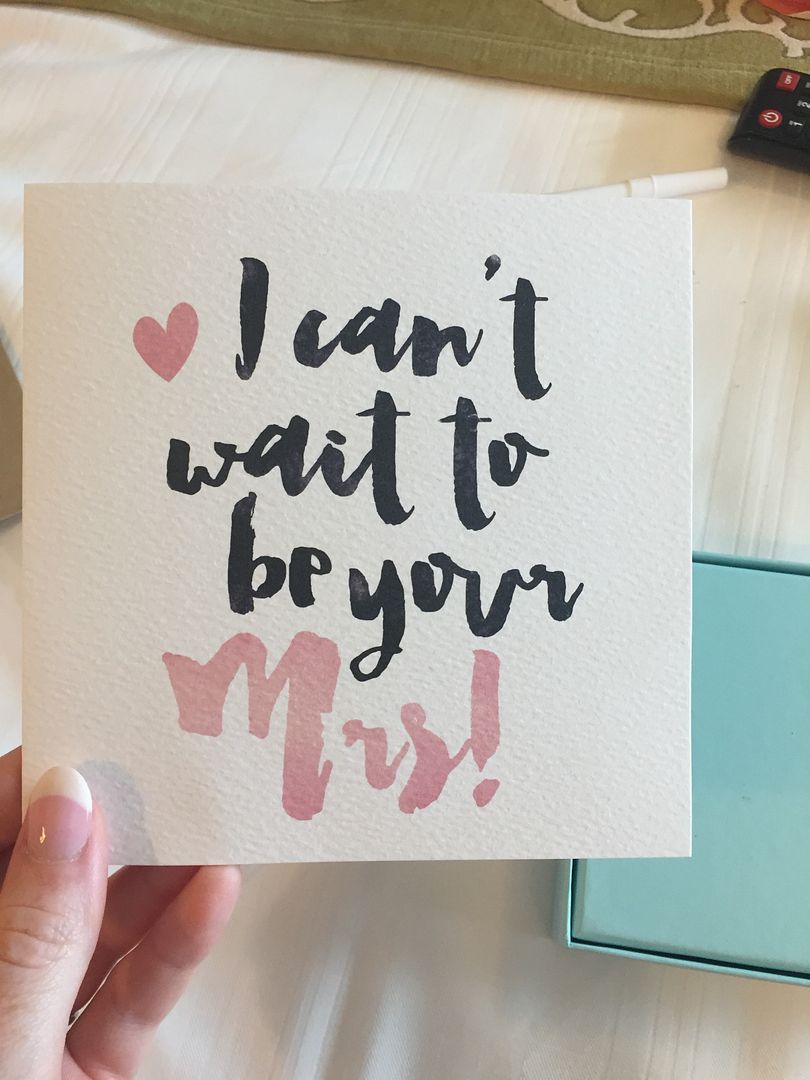 Once I'd finished, Mum popped the card over to the boy's room, and grabbed my card from Benj
Honestly, having those opposite rooms was a godsend! Mum and Vic were able to nip between the 2 rooms all morning and it just made everything so simple.
While all this was going on, Ashley Jane was wandering around taking detail photos, and this is where the professional photos really start! Yay!
My handkerchief from DFTW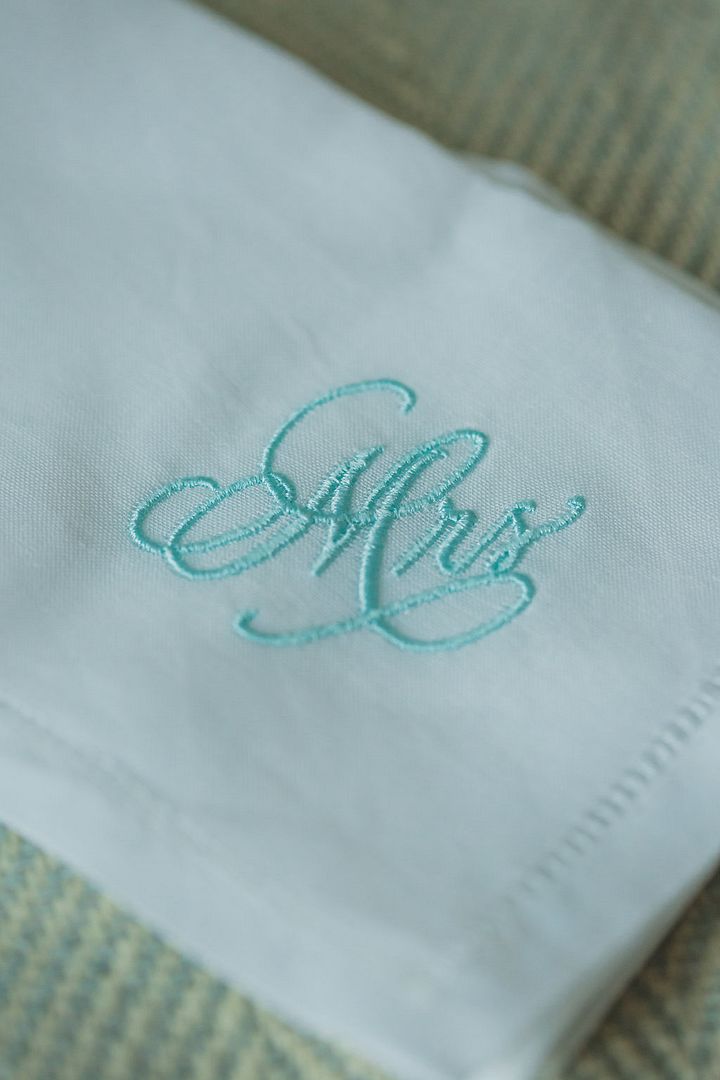 Gorgeous wedding day perfume, La Vie Est Belle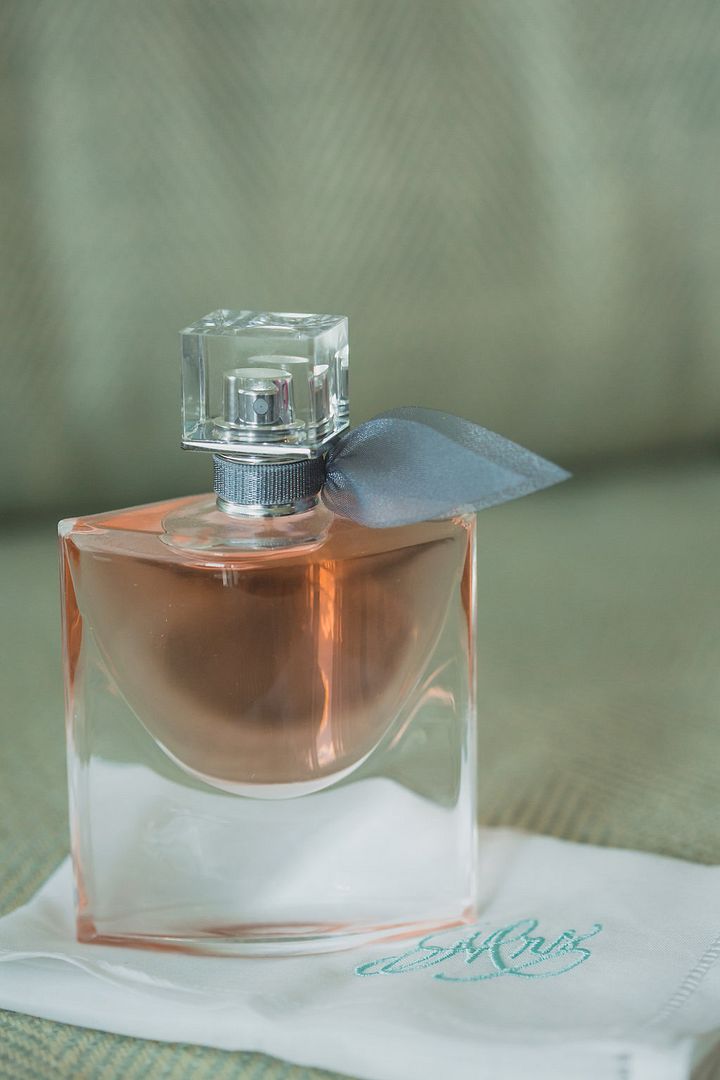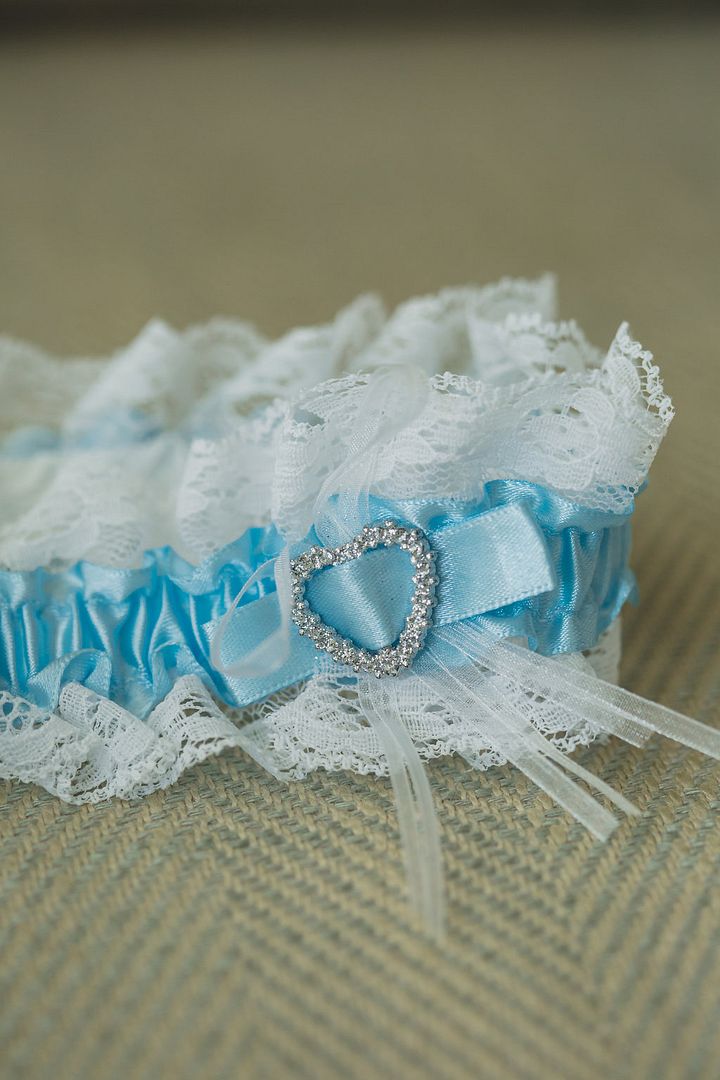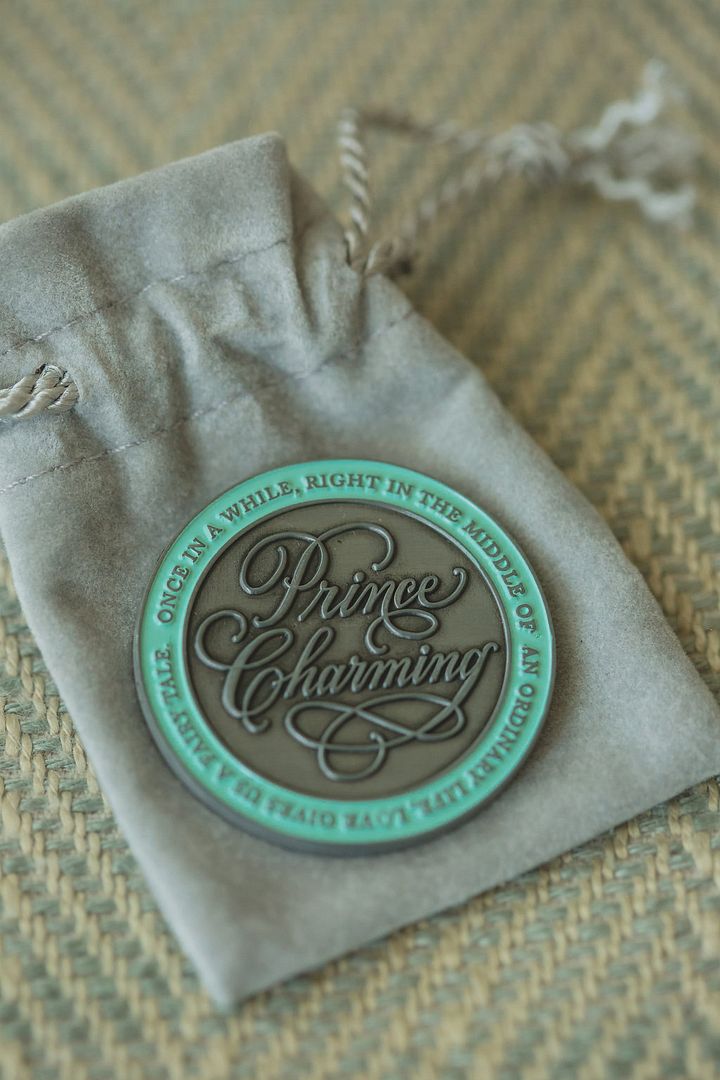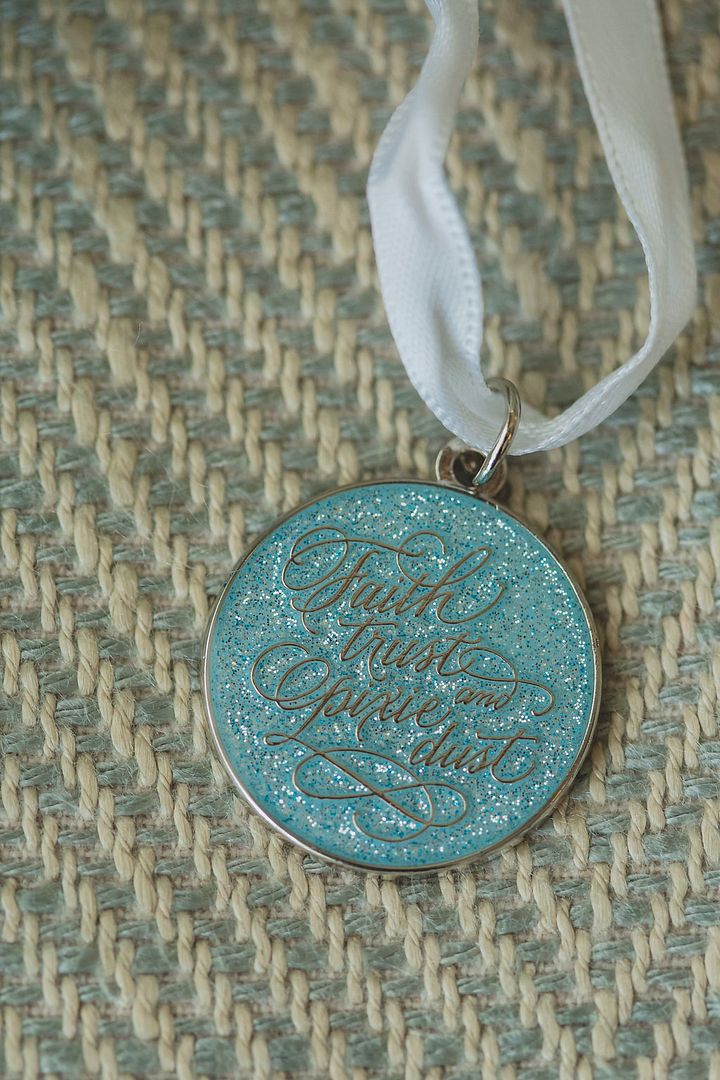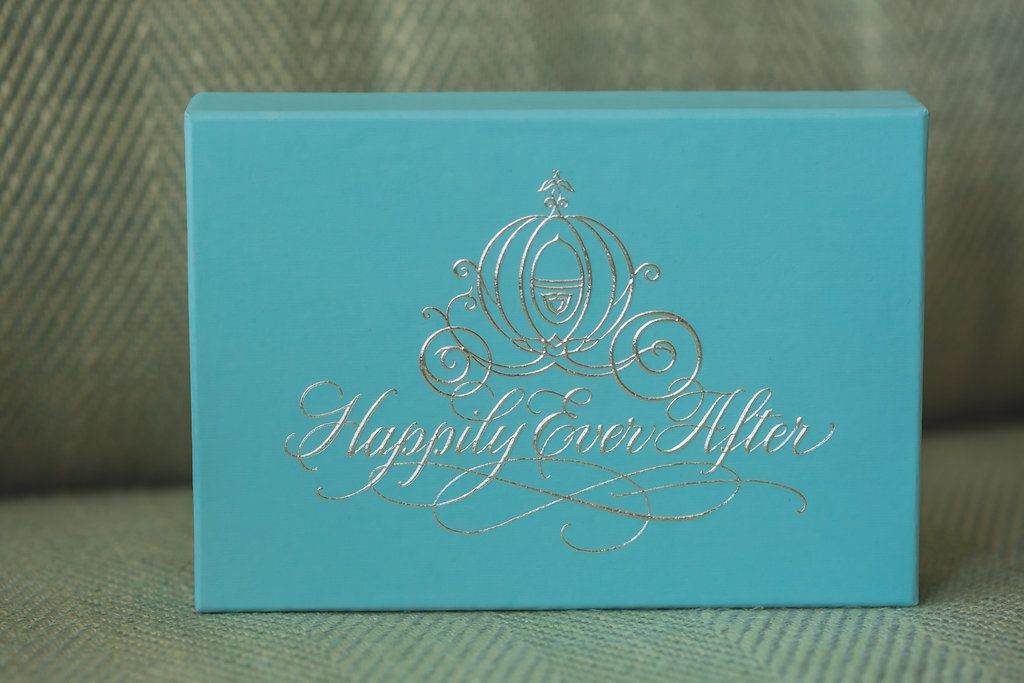 My shoes!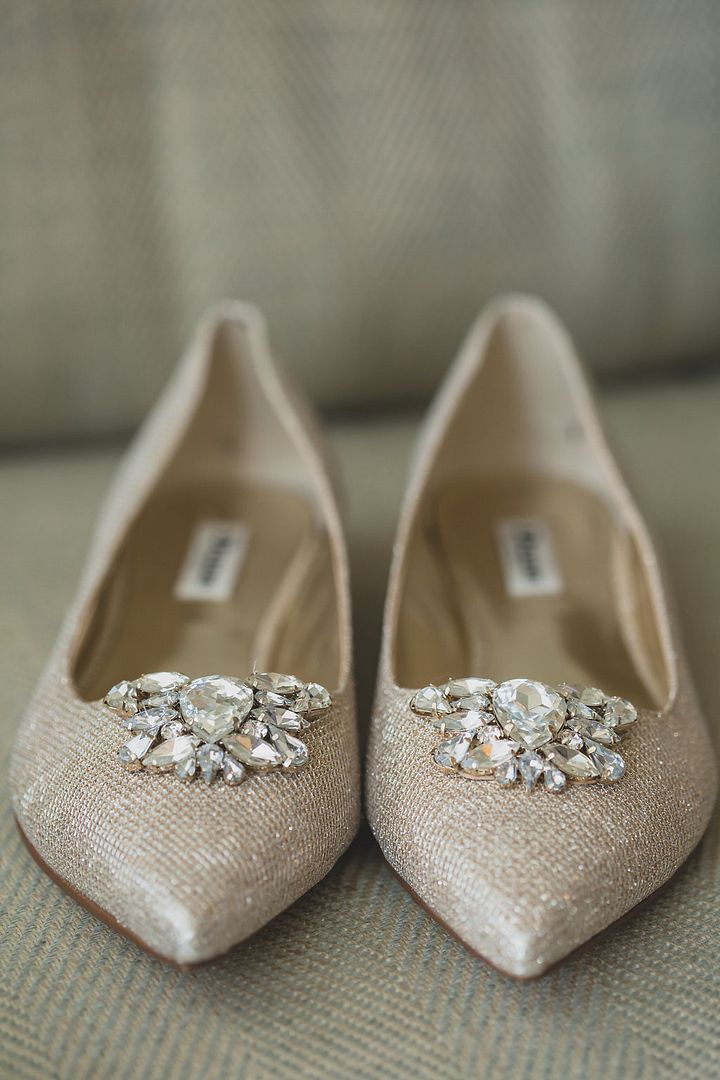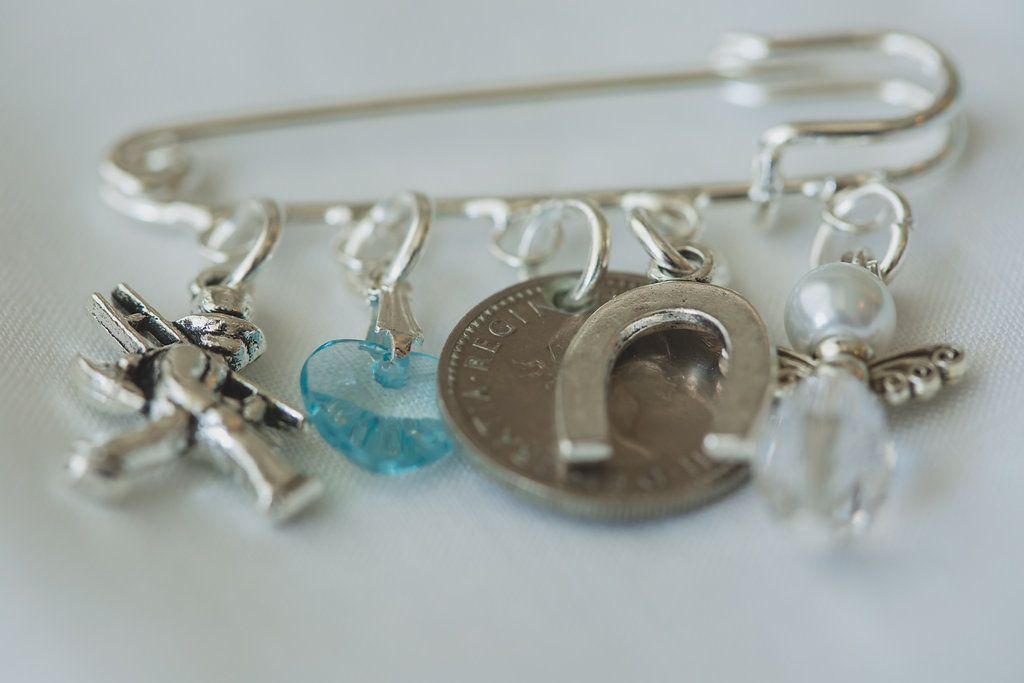 This was Ben's Great-Grandmother's broach and it meant a great deal to me that I was able to wear it pinned to my dress for the ceremony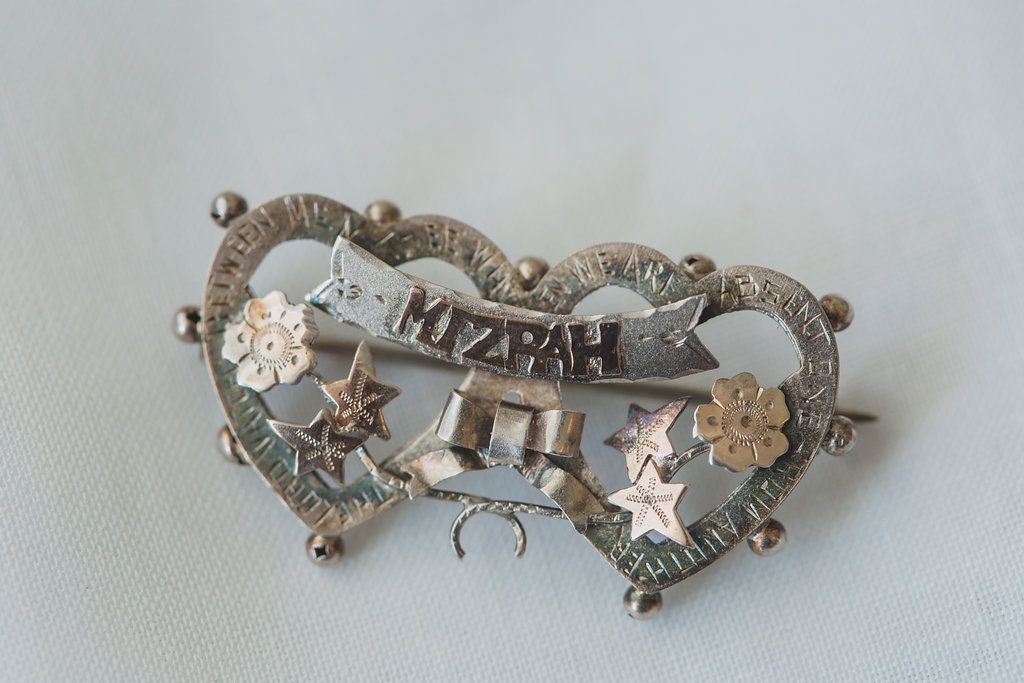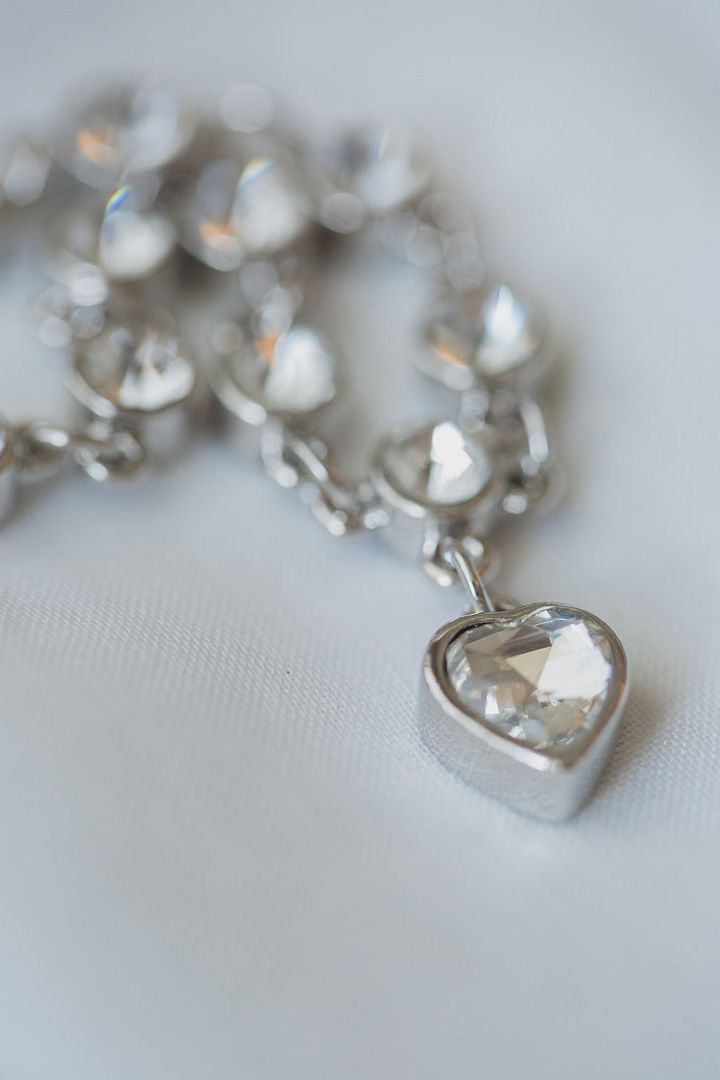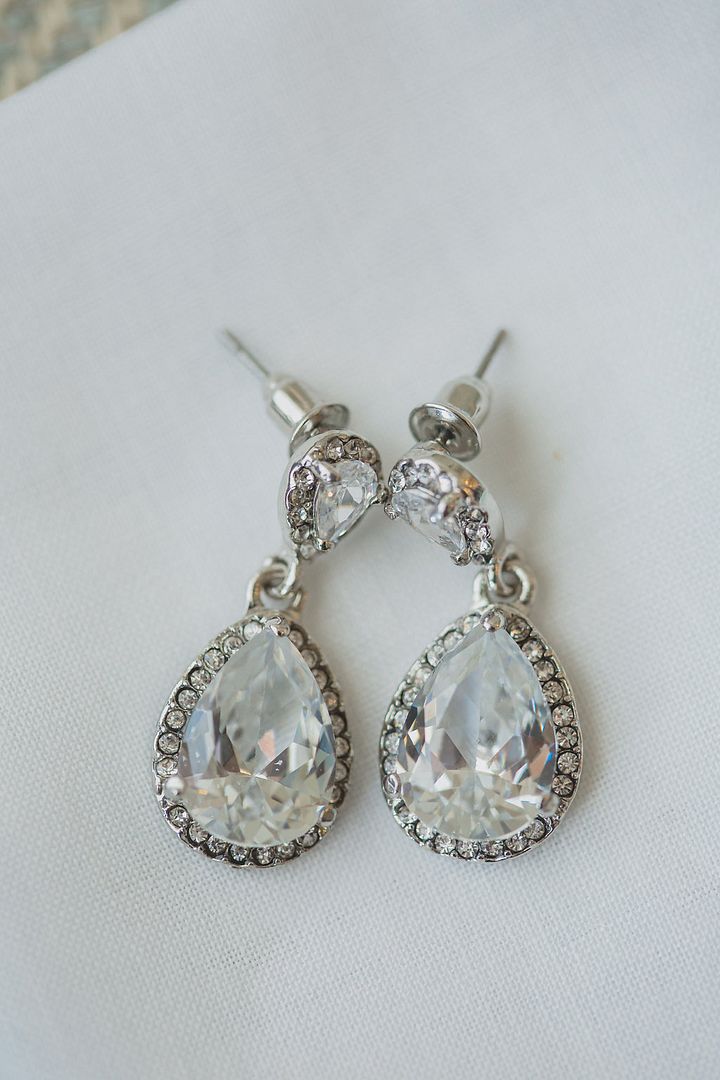 The whole gang!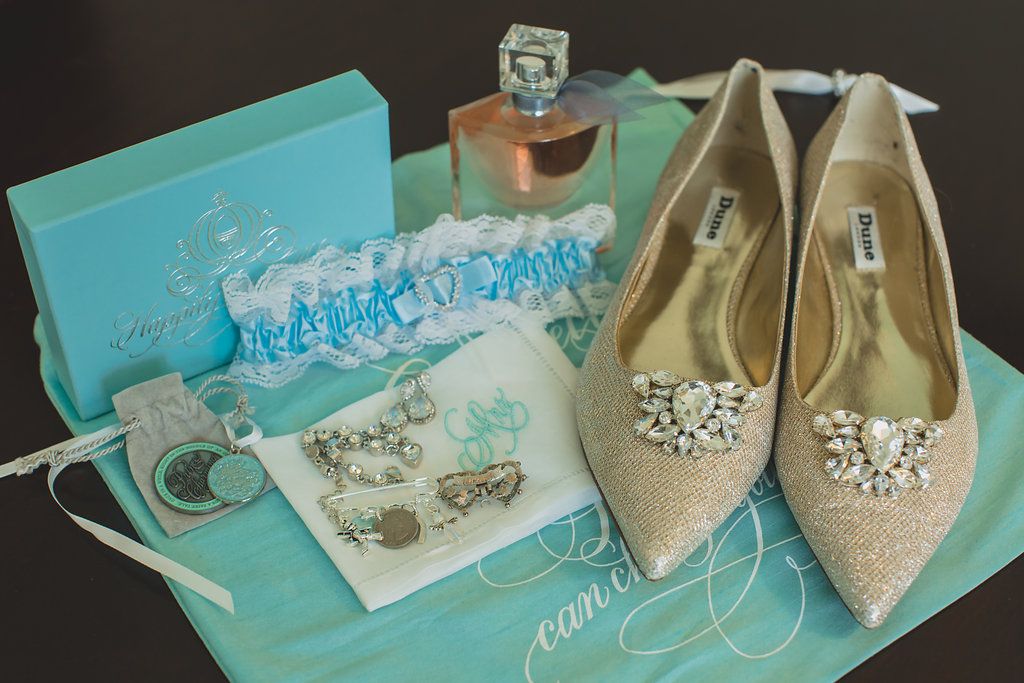 Me putting the finishing touches on!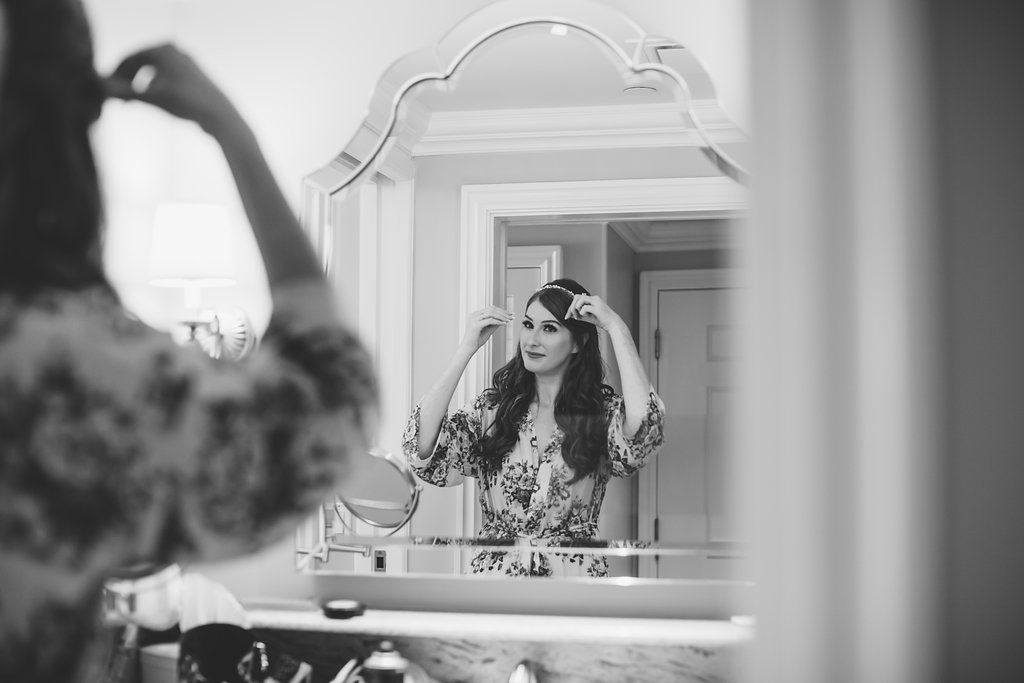 I believe it was around this time that there was a knock at the door, and my floral was delivered! Yay! It was just mine and Victoria's bouquets, my Mum's boutonniere was waiting for her in the GF lobby, along with my Dad's and all the other boys. The lady who bought the flowers was THE BIGGEST BABE! I loved her! She came bounding in with the two massive boxes, congratulated me and hugged me, and opened the boxes to show us the floral. Oh my goodness, they were so so beautiful. LOVE! The amazing Heather Sparby at Disney Floral had just absolutely nailed what I'd wanted and I was so happy! And then, the lovely floral lady saw my dress hanging up and started tearing up and saying how beautiful it was! Well of course, then I started tearing up! And so did my Mum! Hahahah it was so cute us all stood there hugging in front of my dress in the corridor of the room
Such a cute memory! Then the lady had to go so I thanked her and we waved goodbye, and that was that! A whirlwind of emotion haha! I had to go and check my eye-makeup as I wasn't expecting to start crying quite so early!
And then, all of a sudden it was time to get into my dress. Eeeekkkkk!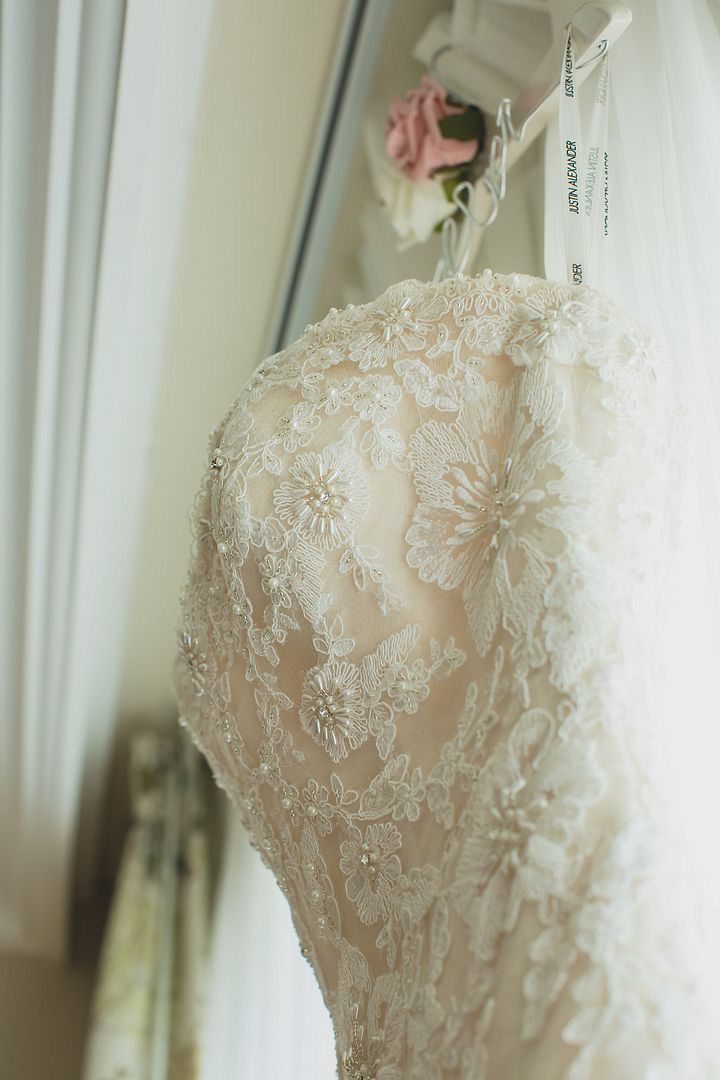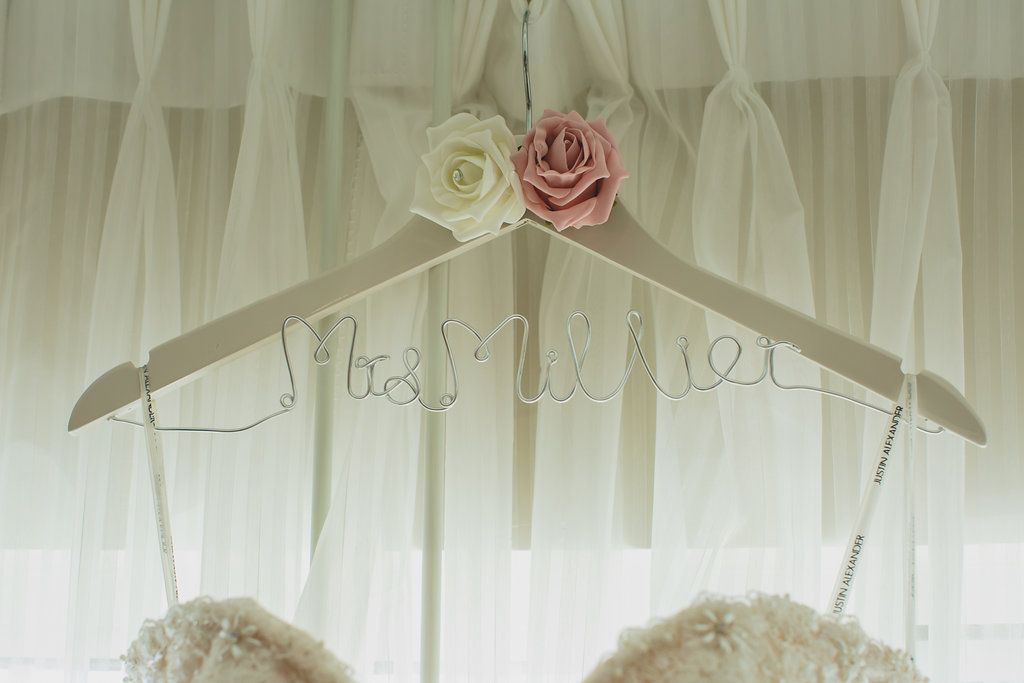 HOW BEAUTIFUL!?
Time to get in! This was all staged, video and photog capturing every second so there are a lot of photos haha! I love them all
I was having a bit of a moment where I couldn't believe this was happening, I was actually PUTTING MY WEDDING DRESS ON!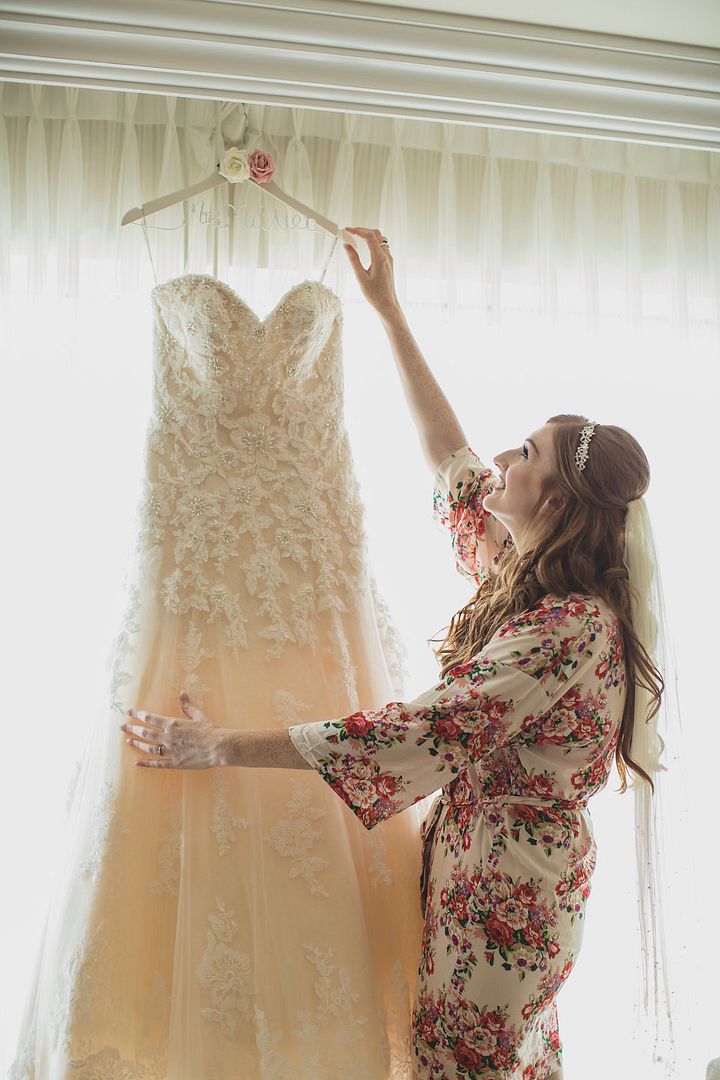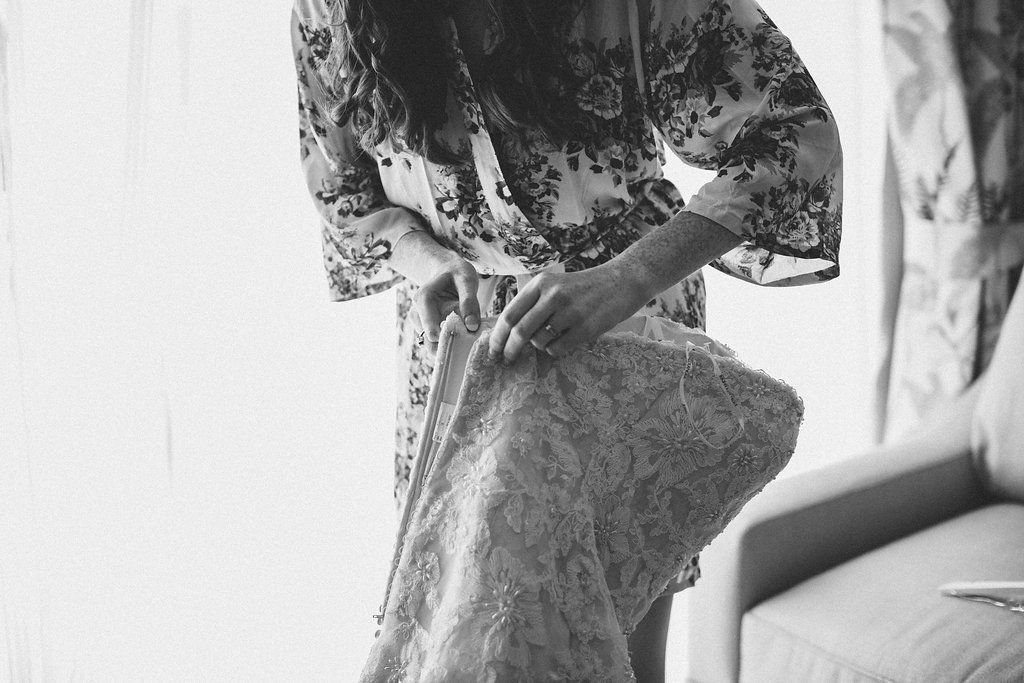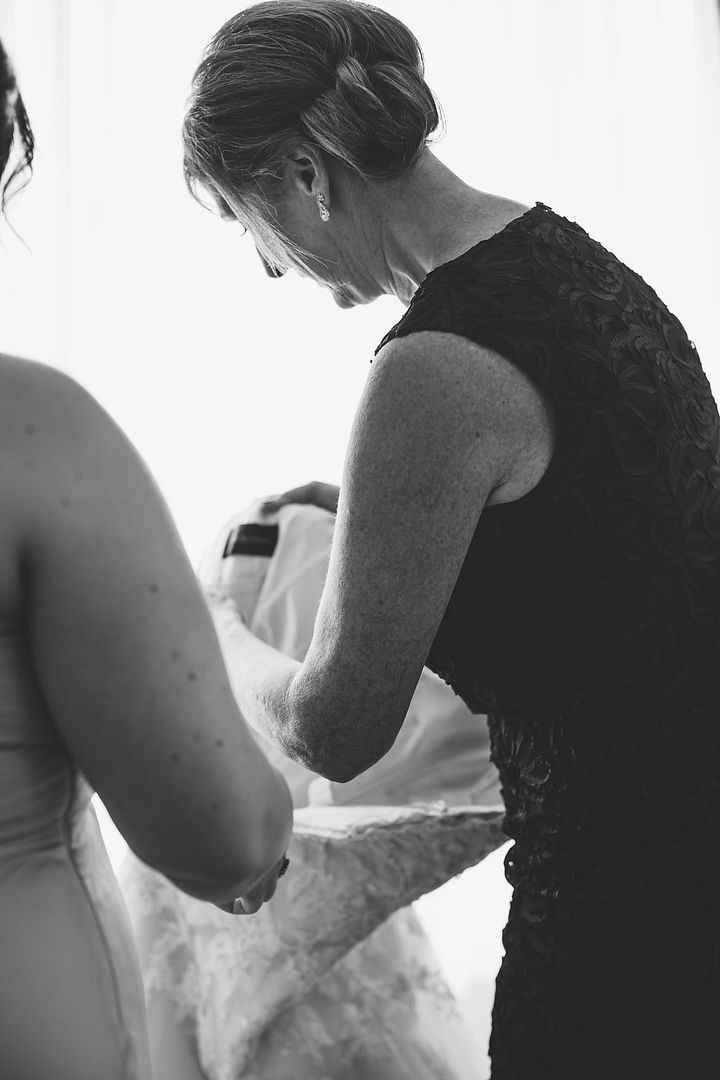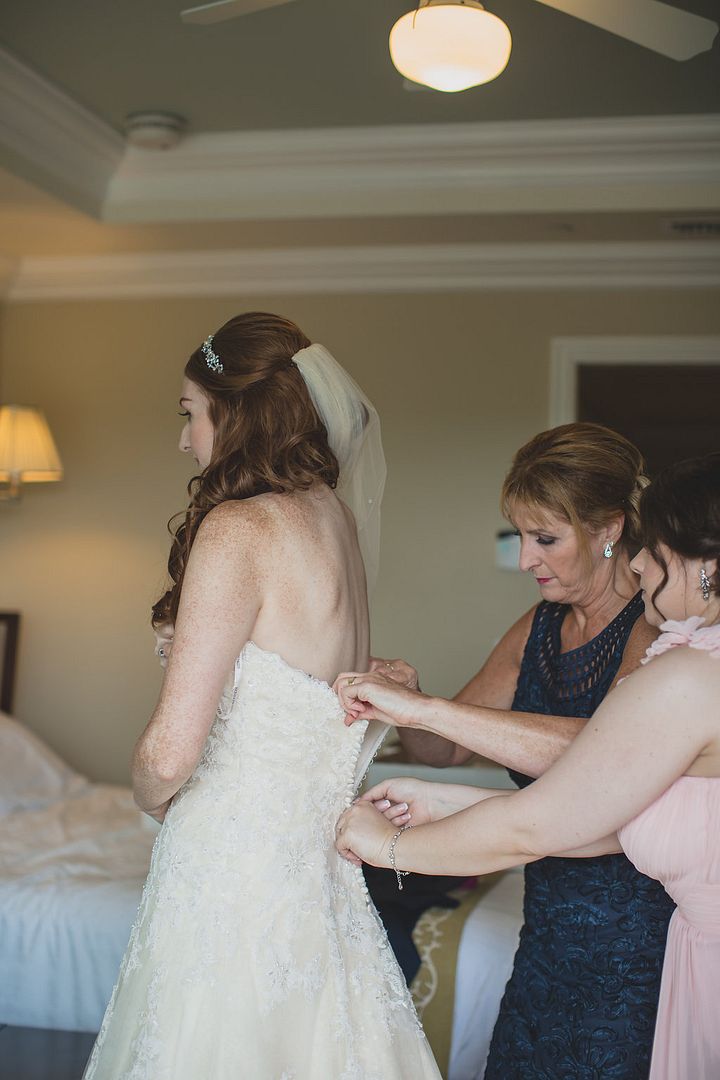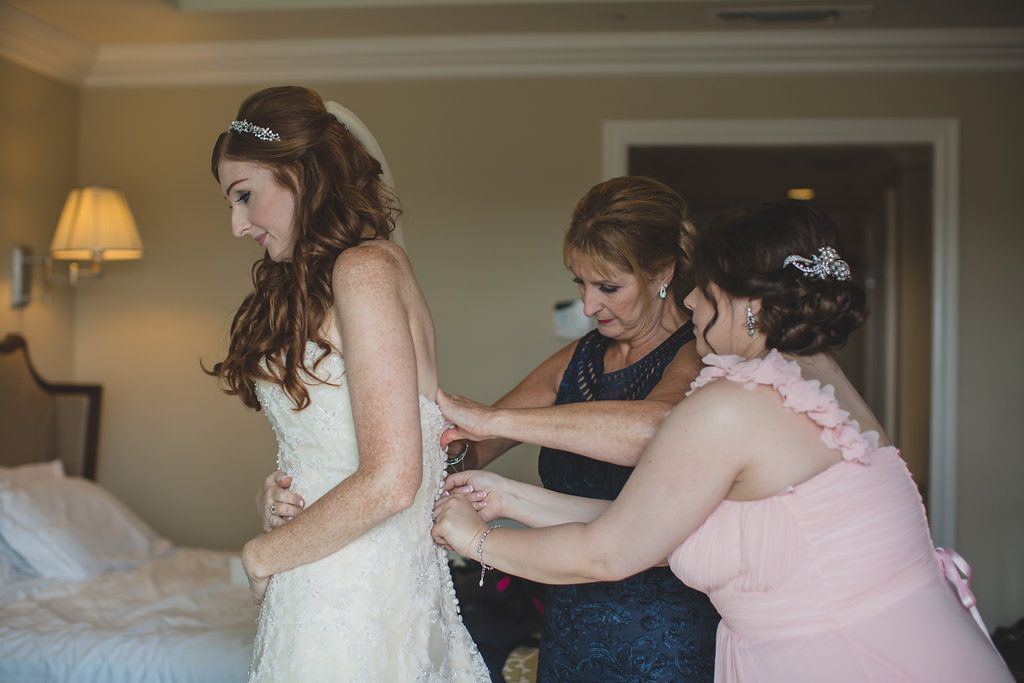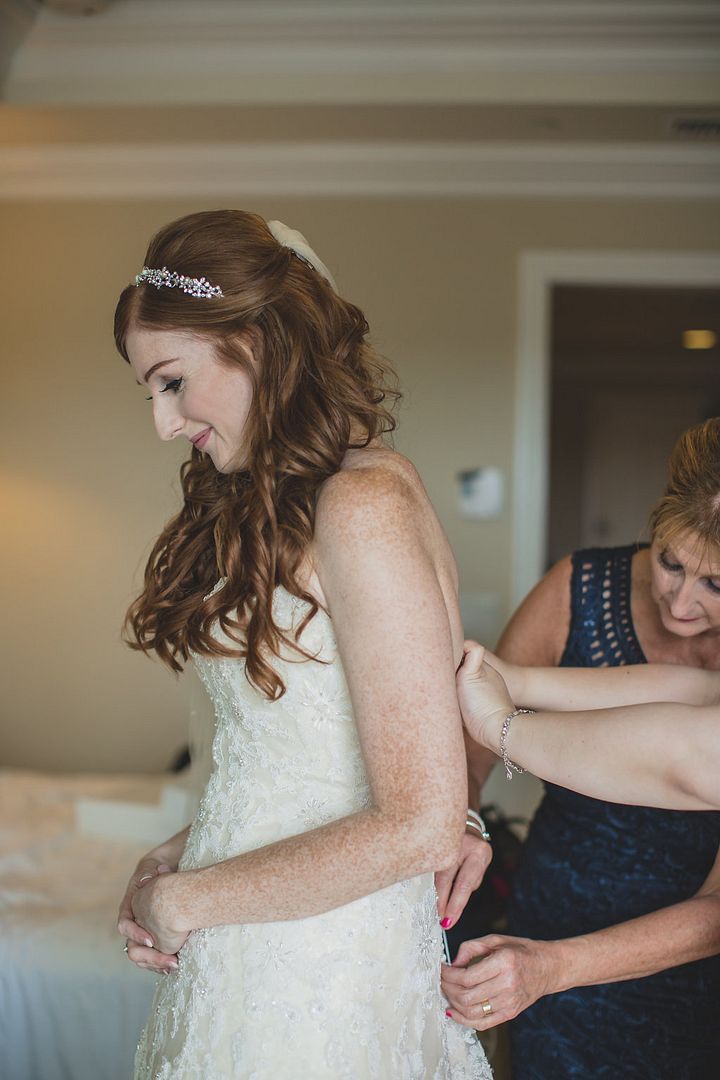 So. Many. Photos.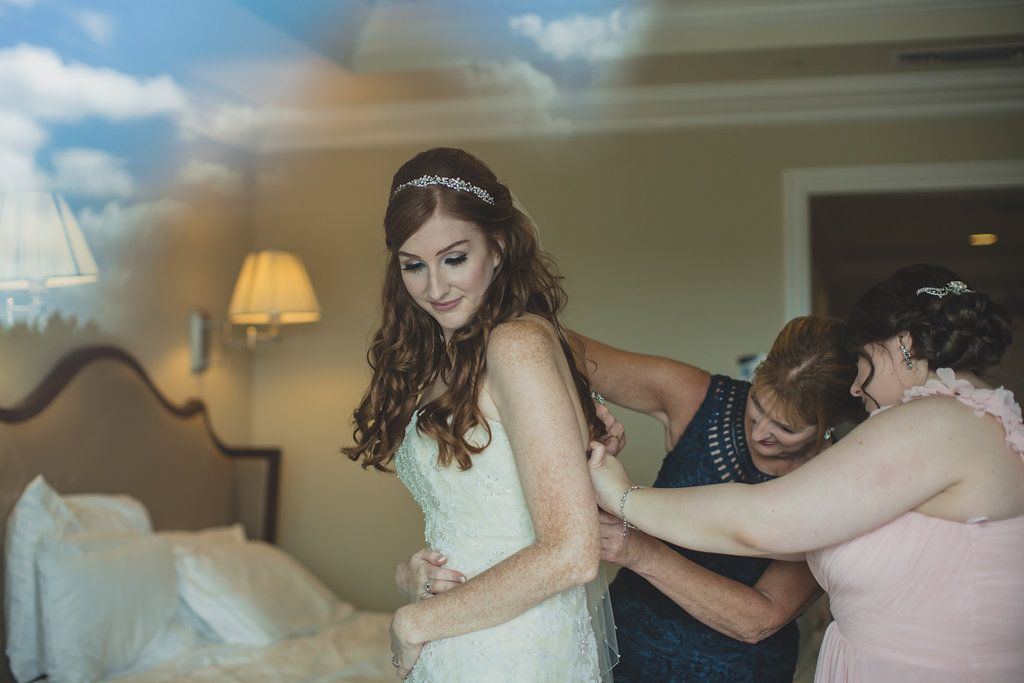 I love this B&W one!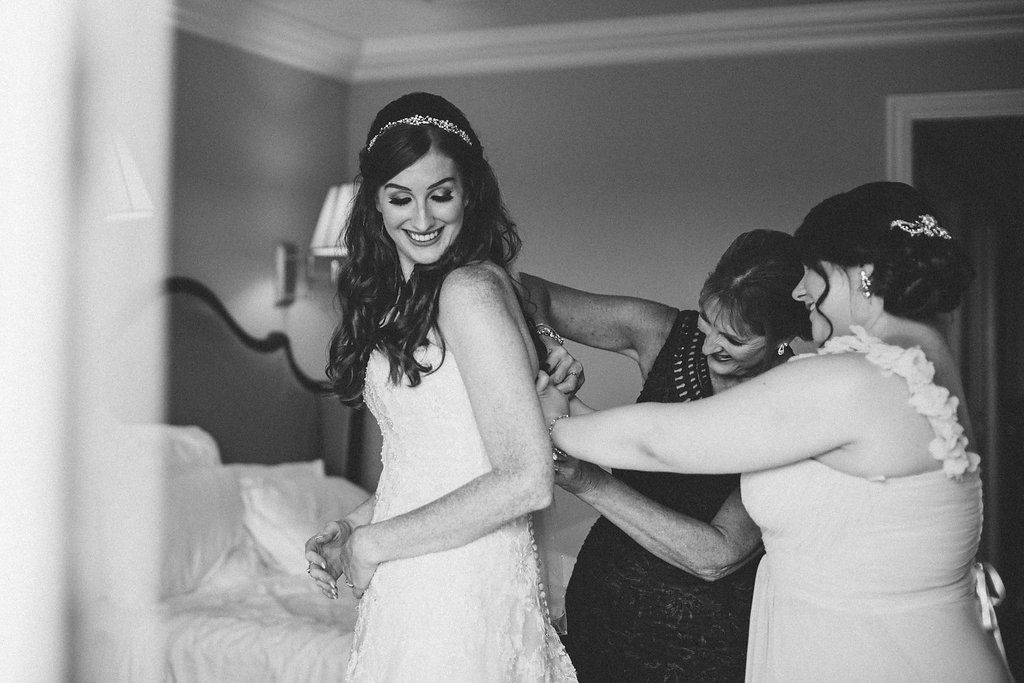 Done!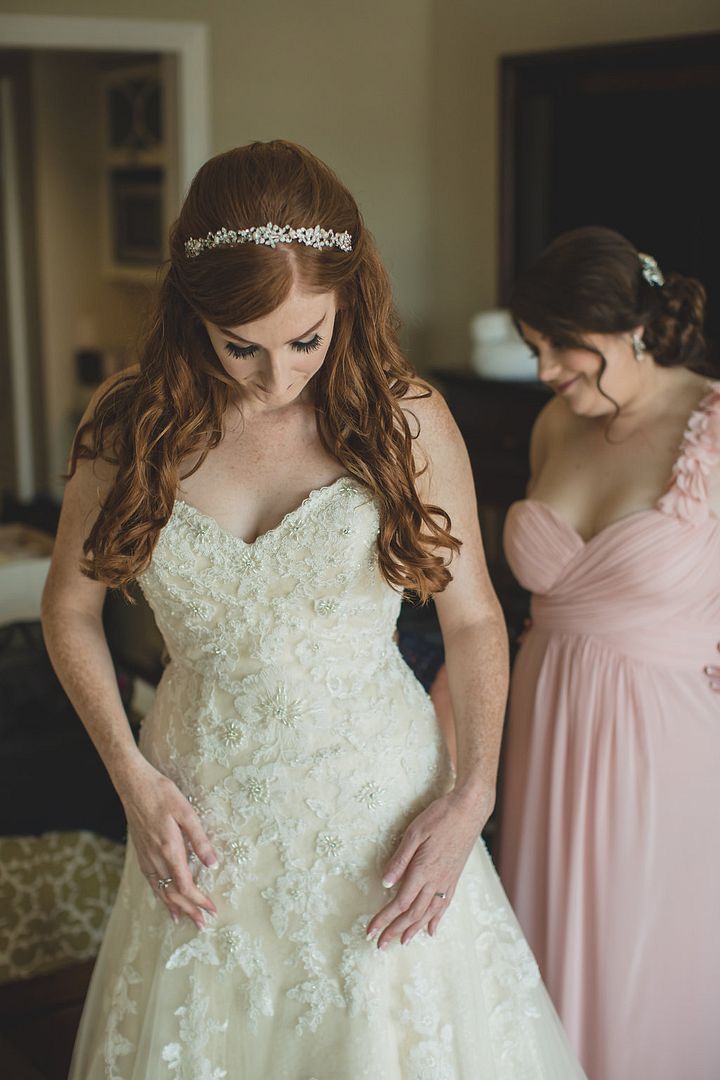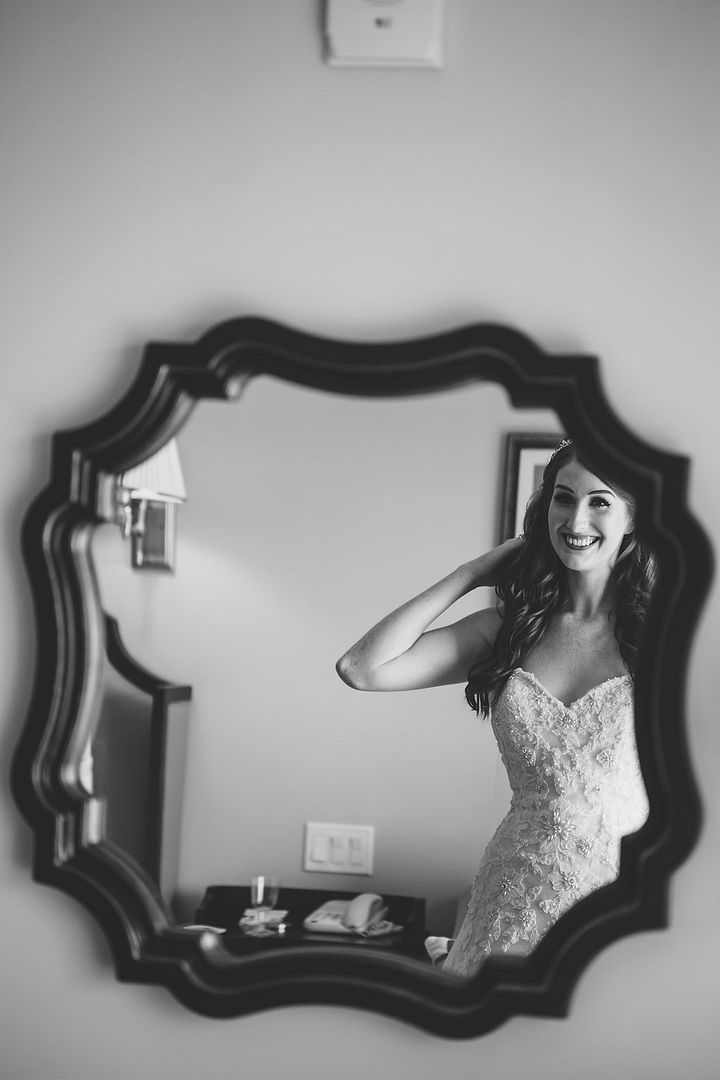 Then it was time for my Mum to put my garter on haha!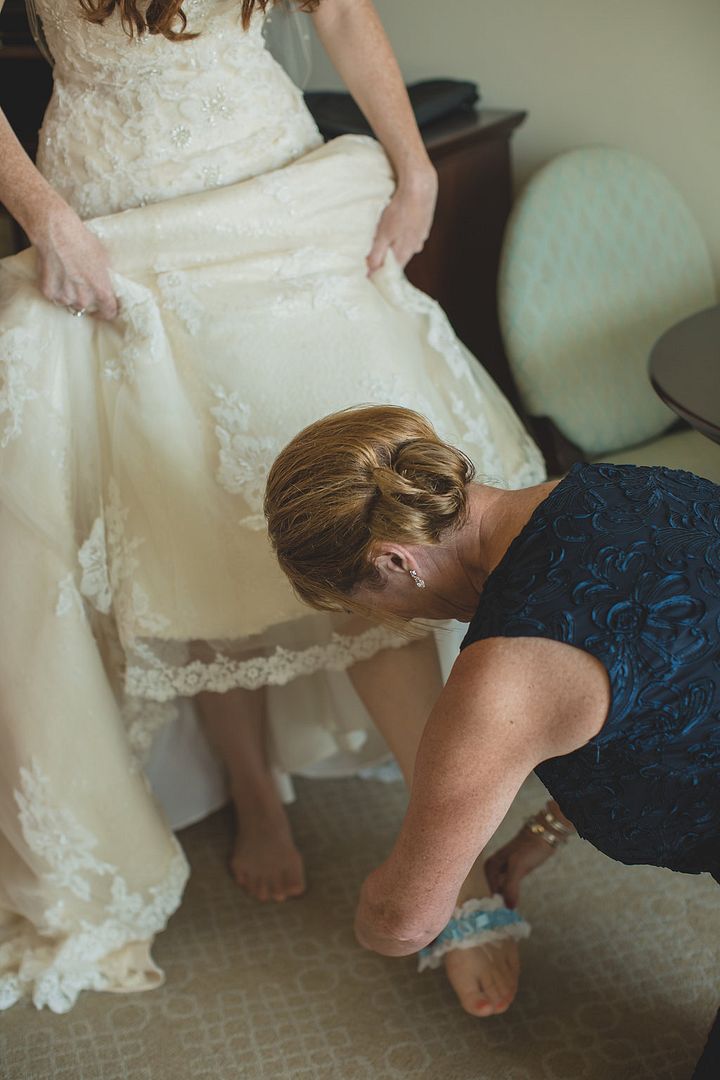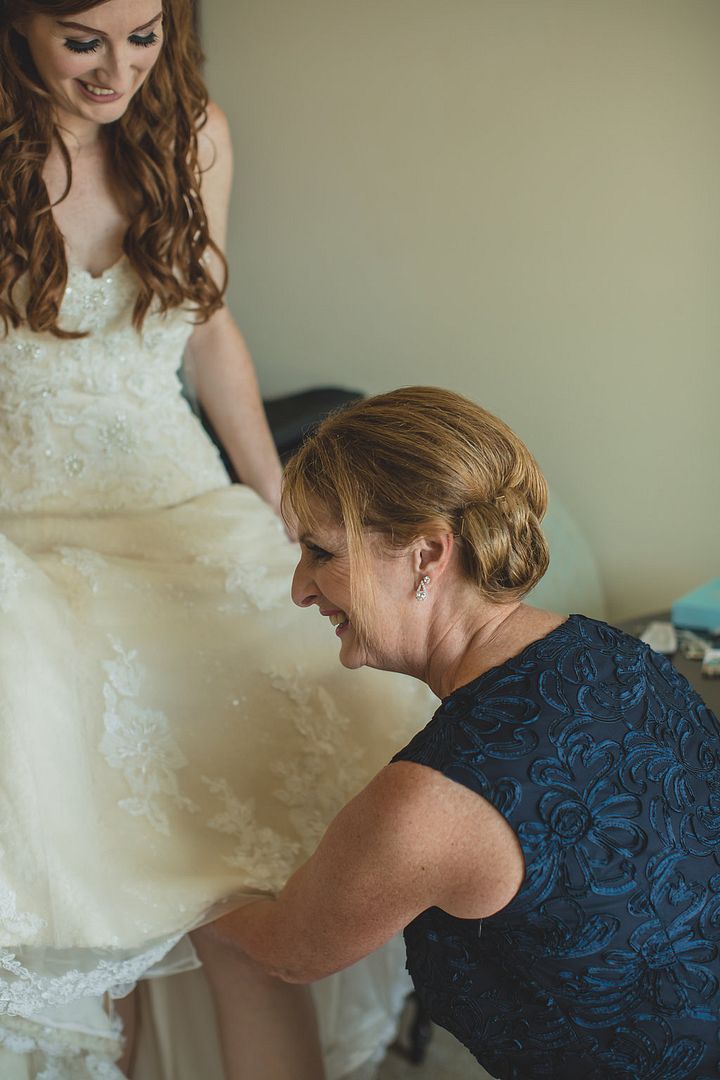 We then took a quick photo of me with my cute shoes, this was a photo I'd specially requested! Love!