Last year we upgraded at the Dollar desk in Sanford from a 4x4 SUV to the amazing HUGE Dodge Durango.
It even had a DVD player built into the ceiling in the back to keep the kids happy!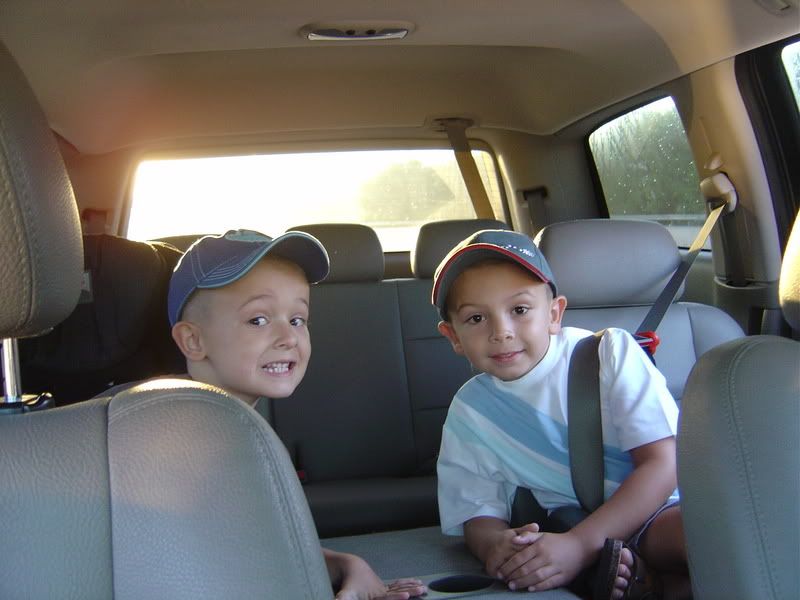 This picture shows Freddie and Harry in the the middle row of seats that were folded down for most of the holiday and acted as tables. The boot was huge held lots of luggage no problem.
We have booked a full size 4 door this year, but if the option of an upgrade to the Durango arises, I don't think DH will be able to say no
__________________
WDW Villa Jul/Aug 2005
DLP SL Jan/Feb 2006, DCR Feb 2007, Cheyenne Feb 2008, NB Nov 2009, Ibis July 2010
WDW Pop Sept 2006
WDW ASM/HRH/POP Sept 2007 free DDP
WDW Regal Sun/SSR/CIAS May 2008
WDW CIAS/RPR/Cypress Pointe GV Aug 2008
WDW Highgate Park/AKV/BCV Dec 2008
WDW SSR/Pop May 2009
WDW RPR/BCV/BWV/VB/VWL/OKW/Kidani/DCL Jul/Aug 2009
WDW Dibb Villa/Regal Sun May 2010
WDW BCV/VB/DCL Oct/Nov 2010 Wedding trip!
WDW SSR/Dibb Villa/VB Oct 2011 1st wedding anniversary trip!
WDW OKW/VB/Peabody Aug 2013