PART 1
First things first - a quick description of Las Vegas for those of you yet to visit.
Where is it and how big is it?
Las Vegas is the largest city in the state of Nevada, with a metropolitan population of 2 million people (including Henderson etc). It's still one of the fastest growing cities in the USA, being the largest US city founded in the 20th century (actually 1911). It is situated near the southern most tip of Nevada.
Situation & Major Road Connections
It's approximately 280 miles from Los Angeles, 300 from Phoenix, 330 from San Diego, 420 from Salt Lake City, 450 from Reno and 570 from San Francisco. Two major freeways - Interstate 15 and Interstate 515/U.S. Route 95 - cross in downtown Las Vegas.
I-15 connects Las Vegas to Los Angeles and San Diego, California, and heads northeast to and beyond Salt Lake City, Utah.
I-515 goes southeast to Henderson, beyond which US 93 continues over the Hoover Dam towards Phoenix, Arizona.
US 95 connects the city to northwestern Nevada, including Carson City and Reno.
US 93 splits from I-15 northeast of Las Vegas and goes north through the eastern part of the state, serving Ely and Wells, and US 95 heads south from US 93 near Henderson through far eastern California.
Climate & Weather
Las Vegas has an arid, desert climate - it is, after all, situated in the Mojave Desert. In essence, this means very hot summers, mild winters, abundant sunshine year-round, and very little rainfall.
Las Vegas is surrounded by high mountains, variations in temperatures can be pretty amazing even on the hottest days. Summers are hot in the low desert, yet cool in the mountains. Winters are comfortable in the low desert with mild spring-like days for most of the season, yet in higher elevations there are some great snow skiing and winter sports, however some extreme high country wilderness areas are closed due to snow and ice. Indoor activities abound and are a great relief during the hottest summer days. The spring and fall are probably the most ideal times for a Las Vegas visit, with little rain and lots of great temperatures. Las Vegas is an ideal year-round destination for some fabulous fun in the sun and loads of indoor entertainment.
How to get there (from the UK)
Las Vegas is just over 5200 miles from London. Flight times are about 10 1/2 hours direct. You could book a package deal, including flight, hotel & car, from any high street travel agents. They'll get you there, but are highly unlikely to get you the best deal. So, what are your choices?
Las Vegas is poorly served by direct flights from the UK to McCarran International in Vegas. As I'm aware, only three companies offer direct flights to Vegas, those being:
Virgin Atlantic
Fly daily from Gatwick to McCarran.
BMI
Currently fly from Manchester on Tuesdays/Thursdays/Sundays in summer months and Thursdays/Sundays only in winter. They quite often codeshare this service with Air New Zealand, I believe?
****EDIT*****
BMI have announced "from April 2009, unfortunately our Manchester-Caribbean and Manchester-Las Vegas services will end".
****EDIT****
****EDIT***** As from October 2009, British Airways now fly direct to Las Vegas from Heathrow ****EDIT****
****EDIT***** As from October 2012, British Airways now fly direct to Las Vegas from Gatwick three days per week:
Mon, Wed & Sat
LGW-LAS dep 1130 arr 1405
LAS-LGW dep 1555 dep 0945
Thomas Cook
Fly from Manchester on Wednesdays/Saturdays in summer and Wednesdays only in winter. They were previously known as My Travel,of course.
A couple of things to bear in mind - Virgin Atlantic has a monopoly of London services to Vegas. For this reason, they operate their old 747's on this route. Whilst not bad, they are nowhere near as good as the A320s they operate to cities such as Orlando. So you may be slightly disappointed if you are used to the normally excellent Virgin Atlantic services.
Secondly, Thomas Cook flights quite often stop in Belfast or Glasgow for more passengers. This makes them no better than an indirect flight with a stop in the US. When you book, please make sure you know if your flight is scheduled for this -and ask for flight times with that taken into account.
There are too many operators to list for indirect flights to Vegas - it has so many 'gateway' cities, the list is endless. Please just be careful of connection times - anything under two hours is very risky, because of US customs & immigration (which can take minutes, but can also be hours). If you get a two hour connection time, you will still be looking at aproximately 13 hours in total. Please study the connecting flights and take into account the time differences (Vegas is 8 hours behind the UK).
Finding good fares is not as easy as it would appear, with all that choice. Things you need to consider:
Avoid Weekend Flights
Travelling mid week (really Mon-Thu) saves money and can be less crowded .
Booking Early
Start looking into your flight up to 11 months before you fly (most sites only allow up to 330 days prior for bookings) - seriously!.
Time of year
The majority of us Brits like to take holidays June till September - the prices will (generally) be higher.
First hand advice
Asking advice from regular visitors to Vegas, both in the 'real world' and regular posters on DIBB .
Offers & Sales
Airlines don't just put prices out on a whim - they know when people start looking to book for certain destinations. Keep looking at airline websites for deals & offers.
Johnny Come Latelies
Sometimes you can get great deals by waiting until the last moment - but there's no guaranteees, and it's exceptionally difficult if you are booking for a family etc. I wouldn't recommend it now, but I did get some astonishing deals in the mid 90s doing this.
Some websites to use:
virginatlantic
flybmi
thomascook
opodo
expedia
ebookers
netflights
lastminute
travelbag
flightcomparison
justtheflight
orbitz
kayak
flightcentre
skyscanner
mobissimo/search_airfare.php
travelocity
as well as all the other international carriers, that are too many to list here. This is not a comprehensive list - please feel free to add (or pm me with additions) if you think they're worthy of inclusion.
Getting into the USA
Before booking
anything
you should check that you qualify for entry to the USA under the Visa Waiver Program (VWP) . Also from January 2009 you will need to obtain a
ESTA
( Electronic System for Travel Authorization ) to board a flight to the USA .
usembassy.uk/cons_new/visa/niv/vwp.html
cbp.gov/xp/cgov/travel/id...a/esta_faq.xml
esta.cbp.dhs.gov/esta/esta.h...0-CA27E9D323C5
Accommodation
Las Vegas is entirely different to any other city when it comes to booking rooms. Firstly, when you book for other places, you try to find the best place for sightseeing etc. In Vegas, the hotels
are
the attractions! Secondly, it is the most volatile market in the world. Prices can range from $50 per night (let's say, a West Wing room for two at the MGM Grand in midweek July) to $300 (the same room at the MGM Grand during a big fight weekend in mid December). Okay, that's unusual, I think you'd agree? What makes it even more difficult to predict is that the prices can be flip flopped if the stay in July is on an Independance Holiday weekend, and there's no big fight in mid December. You have to attempt to learn your way around the peculiarities of Vegas hotel accommodation - but, a word of warning, it's an ever evolving talent!
One thing is certain - weekend prices double, if not treble. If you can avoid a Friday and Saturday stay - do so. Simple as that. Some hotels will not let you start your stay on Saturday nights either. And it gets
seriously
busy as well.
Things that can affect prices
:
i)
Conventions
.
The CES convention in January puts 140,000 delegates into Vegas. It doesn't take much working out what effect that has on room prices. Use this link:
lasvegastourism/conventions_jan.htm
to avoid big conventions if you can.
ii)
Public Holidays
.
2008
1 Jan New Year's Day.
21 Jan Martin Luther King Day.
18 Feb Presidents' Day.
26 May Memorial Day.
4 Jul Independence Day.
1 Sept Labor Day.
13 Oct Columbus Day.
11 Nov Veterans' Day.
27 Nov Thanksgiving Day.
25 Dec Christmas Day.
2009
1 Jan New Year's Day.
19 Jan Martin Luther King Day.
16 Feb Presidents' Day.
25 May Memorial Day.
4 Jul Independence Day.
7 Sept Labor Day.
12 Oct Columbus Day.
11 Nov Veterans' Day.
26 Nov Thanksgiving Day.
25 Dec Christmas Day.
iii)
Large Sporting Events/Occasions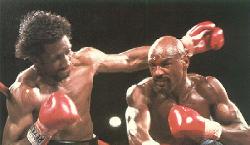 The obvious ones like Superbowl weekend (now first week in Feb, used to be last weekend in Jan). The less obvious ones like National Finals Rodeo in December (a huge event).
Any
big boxing match - in the mid 90s, I stayed in Ballys. On Friday night, Julio Cesar Chavez fought on Friday night at The Mirage. Oscar De La Hoya fought on the Saturday night, at Caesars Palace. These are virtually opposite Ballys. We could not get out of our hotel on either night! Seriously, the crowds were absolutely vast - it was easier to go out of the back of Ballys and walk parallel to The Strip on a less busy street. That is how Vegas can get - worth bearing in mind!
iv)
Popular Times for UK vistors
This is mainly caused by the weather & school holidays. July and August are often avoided because of the intense summer heat - you can pick up amazing deals for rooms at this time, smack bang in the middle of the summer holidays. January and December are also quiet months - yet you have two of the most expensive weeks in that period (CES Convention & Rodeo week). It's difficult to generalise. Las Vegas is a year round destination, but (for instance) pools normally close from the end of October until March, so going at that time is completely different to going in the warmer months.
Many would say the most pleasant months are April, May, Sept and October. I wouldn't necessarily disagree with this. However, if you're a real sun worshipper, you cannot beat July & August (where temps regularly get up to 110F!) Prices for UK flights in the traditional UK holiday months of June to Early Sept (the six weeks in July & August that constitute school holidays are another price ratchet up) always seem much more expensive than April or May (excluding bank holidays and Easter of course), yet April and May may be better times to visit Vegas. However, the rooms may be more expensive than in July/August? By not going in the UK holiday season/summer holidays , you could save a considerable amount of money on your flight, meaning more money to spend on your hotel - but the rooms may be more expensive! There is no hard and fast rule. You have to be prepared to research and ask questions, and judge the balance yourself.
There are three main areas of accommodation :
a) The Strip
b) Downtown
c) Everywhere else!
Before I start, please use this page:
vegas/resorts/
to give you a general idea of the situation, amenities and size of any of the hotels. It will save alot of time if you have some idea what you are needing in your hotel (ie- pool area, situation, whether you need a casino -alot of the newer developments are non casino hotels !-, budget etc) before you start looking at any price saving tips.
There isn't a bad hotel/room on The Strip - the worst would comfortably be a
3* in the UK. Some of the high end hotels are behemoths of opulence and splendour you are unlikely to get (for that price) anywhere else on the planet very easily!
The Strip is the 4.5 mile part of Las Vegas Boulevard South (from The Stratosphere - although many say it really starts at The Sahara- to Mandalay Bay) that most people think of as Las Vegas. This area sprung up in the mid 1940s (with Mafia money, mostly), and has just grown and grown! As it stands now:
Downtown is the 'old' part of Vegas - it's situated just northwest of Las Vegas Blvd. From mid strip, it's about a $15 cab trip.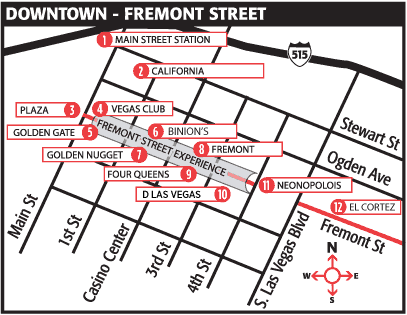 'Everywhere else' in Vegas is all the hotels that have sprung up just off of The Strip, further away than that still and alot of the 'locals' casins, that are used (primarily) by Vegas citizens, who don't need the 'buzz' of The Strip & neon, because they get it 365 days of the year anyway! These locals casinos can, sometimes, offer fantastic value -but it comes at the cost of easy accessibility to the Strip sites.
I shall deal with the individual areas now:
The Strip
:
The mega resorts. 16 of the largest 20 hotels on the planet are on The Strip. Until you have seem them, you simply cannot believe how vast they are. Some of them are very tasteful, some scream at you! Some cater for families (kind of), some positively frown upon kids! Some will let you gamble for reasonably low stakes ( a $5 bet on a blackjack table on The Strip
is
low stakes). others won't entertain anything less than $15 a pop! Some have many excellent restauarants, some believe in piling it high and dolloping it out! Some have buffets that defy description, others have buffets that should have warning signs! But they are all big (the Strip Frontage of The Bellagio & Caesars Palace is over half a mile, by themselves!), and they all have their own 'theme' - normally given away by their name!
I will give a separate account of the major Strip hotels later on - but it cannot be comprehensive. Each persons opinion of each hotels pros and cons is subjective.
Take a look at the map, then at the hotel info, see what catches your eye, and then use these links to get an idea of price:
mgmmirage
harrahs
It's worth pointing out here that the MGM Mirage group own the following hotels:
Bellagio
MGM Grand (and The Signature at MGM)
Mandalay Bay
The Mirage
Excalibur
New York New York
Monte Carlo
Treasure Island (or 'TI at The Mirage' as they like it to be called!)*
Circus Circus
Luxor
City Centre ( the massive complex of 5 hotels, due to open mid '09/start of '10)
****EDIT*****
Treasure Island was bought by Phil Ruskin at the end of '09, and is now not part of MGM Mirage - but I believe the players card points etc still work & accumulate there!
****EDIT****
And Harrahs/Caesars Group own:
Caesars Palace
Harrahs
Paris
The Flamingo
Ballys
Imperial Palace
Rio (west of The Strip).
****EDIT**** Harrah's acquired Planet Hollywood recently and it's Rewards Scheme is fully up and running there now. ****EDIT****
The above two websites will allow you to compare all of their hotels with eachother (the Harrahs one is easier to use).
Another site for Harrahs/Caesars is their 'Specials' page:
harrahs/reservations/...p?propCode=CLV
that can throw up some really good packages.
Also to view:
venetian/
palazzolasvegas/
planethollywood/
saharavegas/content/home
stratospherehotel/
billslasvegas/
rivierahotel/
wynnlasvegas/
encorelasvegas/
(due to open early 2009)
All of the above will give you access to everywhere on 'The Strip'. Just go to 'Reservations', put your dates in, and compare.
Downtown
:
This is the older part of Vegas. The casinos are much smaller and the rooms are (generally) smaller & less glamorous than their Strip counterparts. They tend not to have the same facilities as the megaresorts either (a swimming pool is a rarity, for instance). However, many will say it's a much friendlier atmosphere downtown (which is true, I think), you can walk 10 yards across Fremont Street to get from one to another, and the room rates can be absurdly cheap! It's also a fact that you can drink, eat & gamble for less downtown - so it has its advantages!
Take a look at the map, then at the hotel info, see what catches your eye, and then use these links to get an idea of price:
fourqueens
goldengatecasino
fitzgeralds
vegasclubcasino
fremontcasino
mainstreetcasino
thecal
hotelscombined
goldennugget/home.asp
plazahotelcasino/
Everywhere Else!
Casinos have sprung up all over Las Vegas, just off of The Strip, close to the I-15, the Convention Centre and even further afield than that! It's impossible to list all of them here - I'll give some of the more prominent ones, and two further 'Groups' of casinos, whose hotels (generally) fit into these categories:
coastcasinos/
stationcasinos/
trumplasvegashotel/
palms/
hardrockhotel
lvhilton
ellisislandcasino/
specialoffers.starwoodhotels... 040908_NAD_FM
As I have said, this is less than comprehensive. It would be easier for you to enter 'off strip casinos in Las Vegas' into a search engine and go from there!
There are big advantages to booking direct with the hotels - they all offer virtually the same refund/cancellation policy (normally cancelling up to 72 prior to arrival means a full refund of the deposit, which is normally the cost of the first nights stay), and also that you cut out any middle men and can talk to the hotel directly. However, please check this,
especially
if you are booking a package or an offer - the terms may be different.
However, there are also other sites that deal with Vegas hotels - these normally just direct you to the Hotel direct anyway:
vegas-promotions/
vegashotelhunt/
Another site that appears to throw up some really good deals is:
roomsnet
Of course, you can always book with the giants like Expedia, Orbitz (as shown in the flight companies list above) etc, but you'll rarely get the best rates.
Two other sites to consider, if you are looking for up-to-the-minute deals:
vegashotelspecial/
(a great site for promo codes, as they become available)
fatwallet/t/63/704925/10193203#m10193203
(a truly marvellous site, with a list of hotels on page one too)
And these too:
vegas-hotels-online/
casinotripreports/smf/ind...3e&topic=57.90
openvegas/vegas/forum...splay.php?f=17
vegasmessageboard/for...splay.php?f=13
earlyvegas/promo_codes.html
smartervegas/
lasvegasinsider
vegas
And other big sites:
hotels
tripres
cityandshow
One thing to be careful of when booking Las Vegas hotels, if more than two of you are staying in the room - some of these sites will show you a price, and then (only on the confirmation page, and sometimes not that easy to see either) add on costs for third & fourth occupants! Beware - it is, I am convinced, done so as to catch you out (the last three sites are particularly bad for it), so please study your reservation before confirming!
Lastly, you can try using Hotwire & Priceline - these are 'opaque' sellers, meaning you only find out which hotel you have 'won' after you pay for it. It sounds very 'dodgy' but, if you are prepared to do your homework, you can come up with some truly astonishing deals. There is
always
an element of risk involved with these sites though (you cannot guarantee a particular hotel) so, if you aren't prepared to take that risk,
don't use them!
.
hotwire
priceline
And
please
read this site:
betterbidding
and also this one:
biddingfortravel
to find out each sites inherent risks, advantages and quirks. Please, look at Betterbidding (who I rate higher) fully before committing - they will help you if you have questions to ask - and
I strongly advise you to do so before you start bidding on rooms
!
Both sites require you to pay in full, upfront and are non-refundable
!
A couple of tips:
1) Sign up for the hotels email offers - this way you can get in front of others and snap up deals that can go incredibly quickly!
2) It can be advantageous to become a member of the hotels 'slot club' - some deals actually
require
you to be a slot club member.
3) It's true that most deals start to come out about three months before your departure date, so start
really
looking three months in advance - but don't be afraid to look
much
earlier than that.
4) Some people appear to think that turning up in a Vegas hotel, on the day, is the best way to get a decent room rate (the logic being that, if they have rooms left, they'll accept anything to fill them).
IT IS NOT
. There's every chance the hotel will be sold out (believe me, these places run at an average occupancy of 90+%, that means they are truly
sold out
on busy days - even the 4000+ room establishments), you may only be able to book the more expensive rooms/suites (the standard rooms tend to sell out first) and, if there are rooms, you'll get 'rack rate' - that's just about the most expensive rate you
can
get! Don't do it, please?
Upon Arrival & Checking In
(*ps - yes, there are slot machines in the airport, of course!*)
McCarren Airport runs adjacent to the Strip (most people are normally amazed just how close it is, when they first arrive in Vegas). A view from the airport, looking at The Luxor :
The airport has improved greatly over the years and is now very easy to navigate around.
Shuttle Buses operate to all the main casinos. However, a taxi (they sit just outside the terminal, on the 'sidewalk') is by far the most convenient way to get to your hotel. Use this:
taxi.state.nv.us/FaresFees.htm
to get some idea of the potential cost to your hotel. Our taxi to the MGM was $12.50 this year, so it's quite accurate!
All hire car firms now use a central, offsite hire centre. You get an easily available shuttle to & from:
mccarran/03_carrentals.asp
From my experience, this works superbly.
If you really want to 'push the boat out' why not rent a Limo from the airport , they cost around $70 a hour - if you're sharing with three others, it can work out not much more expensive than a taxi.
Here's some limo rental companies:
lasvegasadvisor/refer...cfm?type=Limos
Some hotels allow you to check in at McCarran Airport, which can save time with queues in the hotel itself.
When you check in (either at the hotel lobby, or the airport) your check in clerk will will assign you a room number. Some rooms of the same standard are definitely more desirable than others - Strip Views are always more eagerly sought after, as are corner rooms or rooms that overlook a known casino attraction (the volcano at The Mirage, for instance). You will, almost certainly, pay more for these rooms (I was asked to pay $45 more, per night, for a Strip View Suite at The Palazzo this July, for example). Also, you'll find that it's often very difficult to get high level rooms, because
everyone
wants them, for the best views.
Other things to consider - do you want to be close to the elevators (easier on the feet, less distance to walk) or away from them (much quieter)? Do you want the vending or ice machines on the same level as you (easier, but noisier) or would you prefer to be on a different floor to them (less people and/or machine noise)?
Whatever, do as much research on your individual hotel rooms as you can - clerks will often ask "Anything in particular you're looking for?" and knowing if, for instance, you want a pool or Strip view can make it much easier to obtain what you'd like.
A couple of things:
1) The longer your stay, the harder to get upgrades,
2) The busier the hotel, the more difficult it is to upgrade
3) Be realistic - don't ask for an upgrade to a $3000 per night suite, when you've only booked a $70 standard room to start with. You
may
get offered that suite (it
has
happened!), but it's more likely to get a curt 'no' from the clerk.
4) Ask nicely - it's amazing what a little civility can achieve!
Regardless , if you are not happy with your room , let the front desk know and ask for something different. You will
normally
be accommodated.
Still to come (in Parts 2-5, below):
Transport
Eating & Drinking
Shows & Nightlife
Coupons
Attractions
Shopping
Gambling
And maybe more!