This was the first time in over 12 years that me & DH was going on holiday without our kids. It felt really strange and I wasn't sure how we'd get on together on our own so I was also a bit nervous. My Sister (maggie b on here) very kindly offered to stay at my house and look after our boys for a week (to which I am eternally grateful to her... love you Mags xxx)
My brother lives in Dubai and has been there for almost 9 years now. I have only been over once before so I was really looking forward to it. This was DH first time. We didn't need accomodation as we would be staying with my brother so the search for flights was on.
We booked our flights just after christmas and got a really good deal on them. I would have prefered to fly direct from Glasgow with emirates but at £700 each I decided against it and looked elsewhere. I checked out Virgin Atlantic and BA website and both were similar prices from Heathrow. BA swung it for us as it wasn't much more expensive when the connecting flight from Edinburgh as added on. Total flight price flying Edinburgh-Heathrow-Dubai (and the same on the return journey) was £350 each... bargain! .
We were wanting to go at Easter but my brother was going on a stag week to Thailand at Easter and on his return he would be flying out to Mexico 3 days later for a holiday he won through his work(lucky sod... he's won a holiday with his company for the last 5 years running). He does work hard though and deserves it so i'm not really jealous lol. We decided on May 1st as that date suited everyone.
Day 1..Friday 1st May 2009
Our flight was due to leave Edinburgh at 7am. We got up 4am, washed and dressed and was on route to the airport at 5ish. Took a while to find the NCP car park at Edinburgh airport. The directions on their website are not very clear at all. We got there eventually and parked the car up, hopped on the shuttle bus and was at checkin for 5.45am. As I had already done online check in the night before and printed out our boarding passes for both flights (thanks for the tip Jakey Rowling) we headed to bag drop and got ride of our luggage.
We headed upstairs and DH had a coffee and I had a hot chocolate (would have prefered tea but no-one can make a cuppa the way I can so decided against it). Before we knew it our flight was being called so we headed for our gate and seen our aircraft and crew on the ground.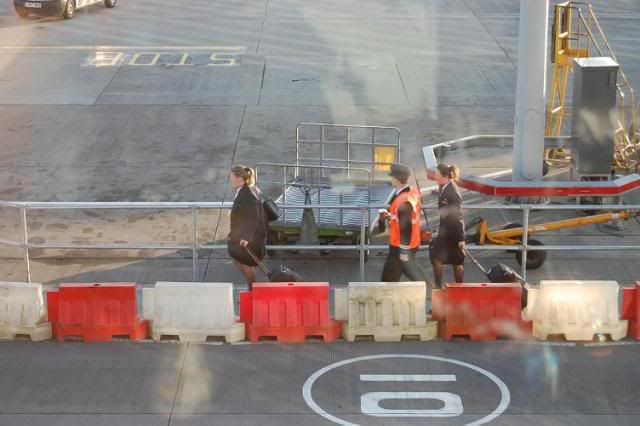 I'm a really nervous flyer and generally because we always travel with the kids they always grab the window seat. This time I was the kid and got the window seat before DH lol. I actually felt much better on the flight this time around and I think it was because I could see out the window. Soon we were on our way and the flight left in time.
We were served a delicious breakfast of bacon, mushrooms, scrambled eggs, sausage and tomato with the usual roll with jam and butter and fresh orange juice. I'd say it was one of my best meals on a flight yet... well done British Airways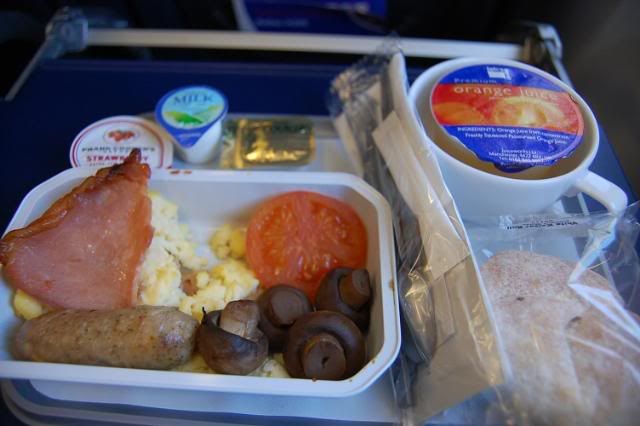 About 45 mins into the flight the captain announced that we were about to land. As Heathrow was very busy we weren't allowed to land straight away. We had to circle London for about 10 mins before we could get clearance for landing.
Some of the sites of London from above: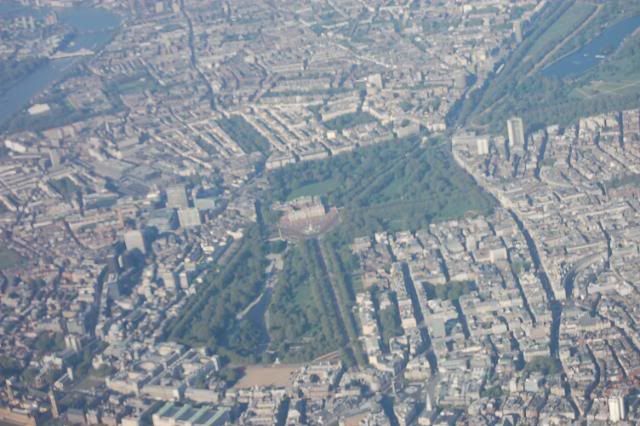 I'm assuming this is Lizzies house aka Buckingham Palace lol.
We landed at Terminal 5 at Heathrow about 8.15am and went for a wander around. We had been looking around the shops for about an hour and then decided to have a look for our Gate. We still had another 3 hours till our Dubai flight was leaving but the time went in really quickly as there is so much to see in Terminal 5... I was mega impressed!
We headed over to our gate about an hour before departure and got the first glimpse of our flight... I didn't realise we were going on a Jumbo...whooo hoooo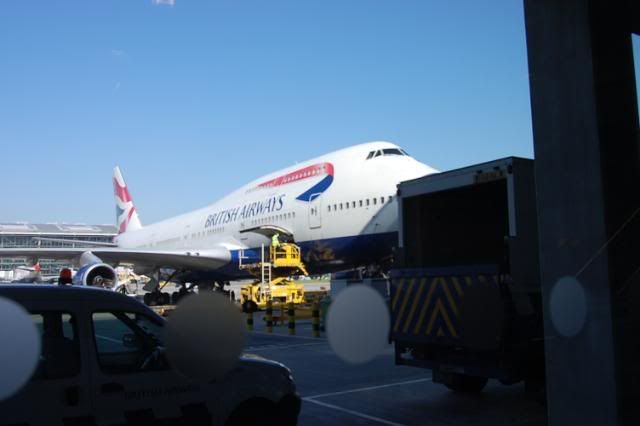 Not long after we boarded (we had the 2 seats right at the back of the flight...I secured the window seat for me again lol) the captain announced that there would be a slight delay due to a minor technical problem. I started getting a bit nervous, I hate it when they have to announce something like this. It turned out though that the technical hitch was to do with the online entertainment. The screens weren't working properly but they were soon fixed and we were on our way.
We were only up in the air for about an hour when they came round with our meal. I can't remember the name of what I had but here is a picture of it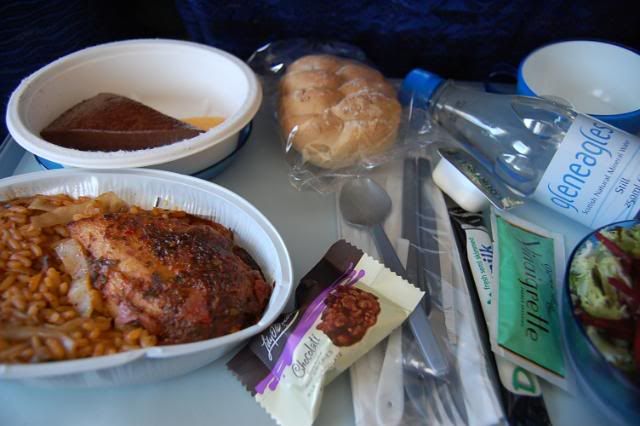 Whatever it was it was really tasty. DH had lasagna and he said this was good too.
To pass the time I watch Michael McIntyre live at the Apollo. It was hillarious. Even though i've seen this one before I still couldn't stop giggling and got some strange looks from my fellow passengers. Next I watched Marley and Me... it was quite good too but I fell asleep before the end so missed the finish. When I woke up I checked the live map to see where we were as it was now pitch black outside. It turns out we were flying over Iraq (yikes... I started getting a bit scared again lol)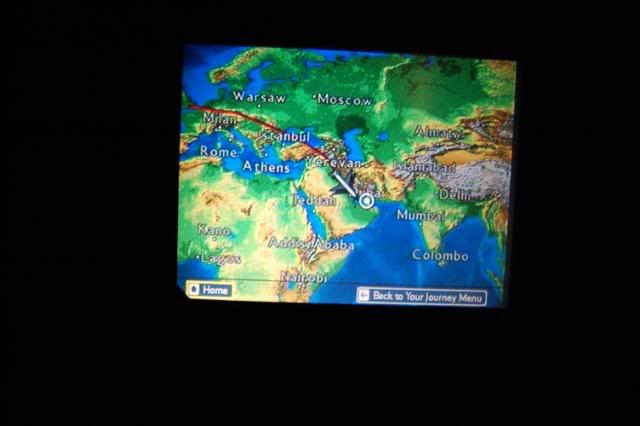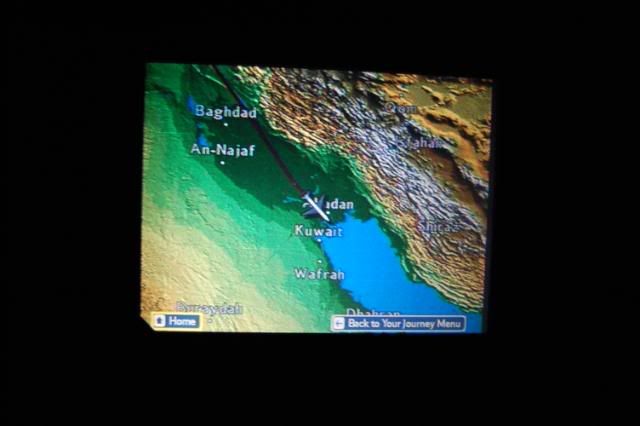 Just before we landed in Dubai we were served sandwiches (again I can't remember what was on them but they were really good). We also had fresh pineapple too.
The captain announced we would be landing soon and the tempterature outside was 38oc!
We touched down in Dubai approx 15 mins ahead of schedule at 10.30pm (Dubai time). The flight itself was only 6 hours and went in really quickly.
It took an age to get through the airport and immigration but eventually we got out the airport and found my brother Jim waiting on us. It was like walking into a fan assisted oven...there was a breeze but it was so warm, just the way I like it.
We arrived at my brothers city centre appartment about midnight and the men had a beer each before heading to bed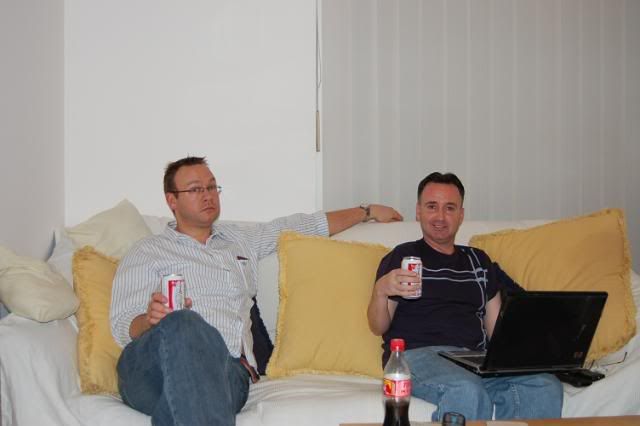 DH Ramsay on the left and my brother Jim on the right