Day 3 - part 3
While the others finished up with breakfast and changed Josh, Carl and I speed walked to Soarin' to pick up FPs as it was now about 9.30. We then sat and watched the seagulls shouting "Mine! Mine!" outside the Seas until the others caught up with us. We then did the Nemo ride as a walk on, looked around the various underwater exhibits, and had a great time at Turtle Talk with Crush.
After this we wandered through Innoventions for a bit, where my brother was intrigued by the Segways, and the kids went off to sleep. Next stop was Club Cool where Carl and I succeeded in getting all the adults to try Beverly!
Rowena's reaction: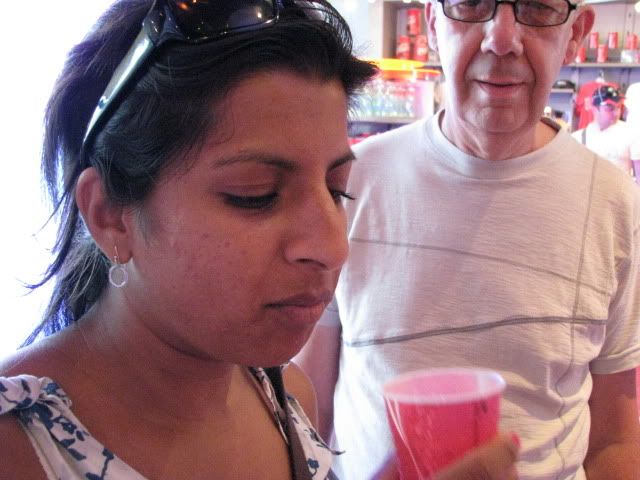 Robin's reaction:
After this it was time for our Soarin' FPs. We had seven tickets and only six of us tall enough to ride (Amelia is tiny even though she's three!), so Carl went on with mum and dad first, then he rode with me, Rob and Row.
The kids were awake after this so we went and rode Journey Into Imagination - after the ride they spent ages playing on the sction where the instruments light up on the floor and you have to jump on them. We also turned Josh into a monkey using one of the photo stations. By this time crowds were picking up but still weren't too bad.
As the kids were hungry we went over to the Electric Umbrella. Carl and I just got a drink, as we had packed a cool bag full of snacks. After lunch Amelia and I went to the loo, and came back to find Josh had been taken to first aid as he had caught his finger in part of my mum's ECV!
Once we were all back together, we headed into World Showcase via Canada, and Rob and Carl had a beer in the Rose and Crown. The rest of us sat in the shade at the back of the UK pavilion. After this we met Belle wearing her blue and white dress in France. When Amelia said her mummy looked like Princess Jasmine, Belle asked if she could belly dance too! We followed this meeting up with Aladdin in Morocco, but Amelia was a bit wary of him. Rowena said she thought he was trying to chat me up, even though I was wearing my "Bride-to-be" T-shirt.
Amelia posing by the earth barge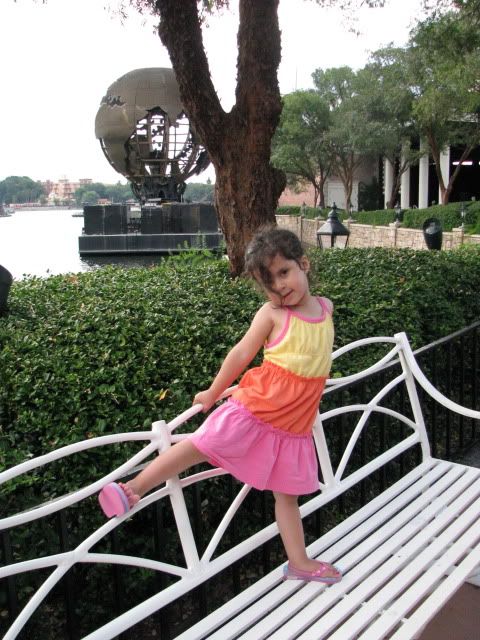 At this point the kids were quite tired again, so Rob and Row decided to head back to their villa (at Windsor Hills). Carl and I walked around to Mexico with mum and dad, where we bought frozen strawberry margheritas for us girls. This was followed up with a CS tea in China (very tasty), which mum and dad insisted on paying for. Carl and I agreed we would have to sneakily pay for their lunch the next day! By this time my shoes had decided to give me blisters (although they never have before) so mum got out her spray-on plaster. I was sceptical about whether it was a good idea, and it turns out that I was right - I have never felt such an insane stinging pain! When I finally let her do the second heel, the people nearby thought something was really wrong with me from the faces I pulled. I must admit, though, once the pain was gone it did make a difference.
For the end of the day we headed out of the International Gateway onto the Boardwalk, as we would be getting married at Sea Breeze Point and had never visited in person. Suddenly this all became very real, and I could picture us standing there in a few days' time. While on the Boardwalk we played on one of the sideshow games, but didn't win anything.
Sea Breeze Point
Mum and dad then went back, so Carl and I decided to walk the path from the Boardwalk to Hollywood Studios, another new experience. All was fine until it got horrendously dark. We were almost there when the torrential rain set in. After sheltering for over fifteen minutes we decided to make a run for it. By the time we reached the POP Century bus stop we were soaked to the skin - I could have entered a wet T-shirt contest! Luckily on the bus the driver turned the AC off because so many people were cold. We wrung out our clothing, and went to be reasonably early after two incredibly long days - this night I finally did sleep well!
Wringing out our clothing
Tomorrow - a trip to the Courthouse to pick up our license