The cast
Alison, 32 – DLP mover and shaker...though often calls it EuroDisney! – still after that elusive Belle dress!
David, 39 – The Disney pro in the family... often to be found talking in Toy Story quotes.. "That's *Mister* Potato Head to you"
Jemima, 3 ½ - Our own Disney princess – her middle name is Belle – has been to DLP and Walt Disney World once before. Dreams of being a yodelling cowgirl.
Zak, 2 – At this age a child should have a repertoire of over 50 words...is it ok that all of Zak's involve Disney characters?!

You must understand, my dear: On the stroke of twelve, the spell will be broken, and everything will be as it was before...
To set the scene, this trip to Disneyland was an unexpected surprise. We were gearing ourselves up for the Big One to Florida next year, when Merryweather, or was it Flora, waved her magic wand in our direction and granted us a holiday competition win (with £500 spending money) to France.
We spent the first few days at Key Camp in Berny Riviere sunning ourselves on the beach by the lake, and swimming in the outdoor pool...but hey, when you're that close to Disney, it just has to be done, doesn't it! So on Sunday night, we packed up the duvets, said Adieu to the mobile home...and set out in the afternoon sun to the Kyriad hotel...
We arrived at about 3pm and drove on to Disney Village to get in to the Disney spirit! We'd never driven before, and it was interesting seeing the layout from the road. After our longish drive we stopped for a snack at the Sports Bar before hitting the shops at full thrust! Zak picked out a dinosaur..and an alien, while Jemima chose a case ready for Florida!
A leisurely walk around the lake ensured that the little people (and us big people) were tired enough to head back to the hotel, in readiness for the day ahead...Zak couldn't resist the pull of Rocky though...
So Monday was to be our day in Disney having bought a hopper ticket online weeks before at a good discount price. We would be attempting to visit both parks in just one day with a 3 and a 2 year old. James of the DLP Trip Planning thread warned us of our madness, but we decided to carry on regardless...
After a hearty breakfast of pain au chocolats and plenty of caffeine, we set out bright and early at 9am on the pink shuttle bus. Weather was looking good, and with just the buggy and a child's rucksack in hand (oh plus the kids of course!), we arrived with a spring in our step. Yeehah!
First stop... MGM Studios... oh hold that... who forgot to print the tickets, mummy?! First stop... Guest Relations...and oh my, oh my, we were actually moved aside to the new woman who was in training! So a full 20 minutes later we finally emerged with our tickets.
Not discouraged though, with just 5 minutes to spare before opening, we raced over to the Studios, to the sound of Zorro. Up and right towards ToyStory Playland and we were not disappointed. "BUZZ LIGHTYEAR" cried Zak and Jemima in unison as the huge figure came into view.
For a few minutes, as we walked through the area, we were all 'ooh' and 'ahh' and 'oh look' as every direction held a different amazing sight to behold. But slinky dog won out and we all bundled on...twice!
We then bumped into Rex...
...before wandering around a bit more taking it all in and thinking about how we would definitely be coming back when the children are bigger to go on the bigger rides!
Just on our way out of ToyStory Land...who should turn up...but... "I think the word you're searching for is "space ranger". That's right, Buzz himself, so we all got acquainted before getting his signature.
We actually didn't intend to spend any more time in MGM, having been there a good hour already. DH and I had done it all before, and given we had only a day, we wanted to crack on to the Magic Kingdom. But, as is always the way, we got distracted on our route out! First here with the Monsters Inc crowd:
Then by a random little parade float that was passing by, so we just had to watch that – well it had the Incredibles on board!
And then...after a trip into the shop to buy a Toy Story book...our final distraction was just impossible to resist!
Back on track, we entered the Magic Kingdom at about 11.30am! Our aim here was to spend most of the time in Adventure/ Fantasy Land, so after the classic and necessary castle photo...
...we headed over to Pirates of the Caribbean! En route... Zak suddenly cried out..."Captain Hook", and lo and behold there he was!
The pirates ride is one of my absolute favourites, so it was a little disappointing to be sat behind two people who evidently had come straight out of the dark ages and into the digital world – they spent the entire ride, the two of them, flashing cameras at literally everything.
I came out blinded and a little disorientated! Luckily DH was able to guide us back through the park...and all the way to the other end of Festival Disney to Cafe Mickey where we had a reservation for lunch with the characters.
And it was a fabulous lunch. Zak ate all his food, while we were visited by about 6 different characters. At the end, Jemima decided to give Pluto one of her sweets from the dessert buffet and he took it, through it in the air and caught it in his mouth, before giving his belly a big rub, and Jemima a big cuddle. We had an amazing lunch and meeting Mickey Mouse and the others was just what dreams are made of!
Onwards and back into the park, Jemima had a quick driving lesson
before she and I took a detour round Sleeping Beauty's castle to read the story on the stained glass window. Then on to Dumbo and It's A Small World...twice! We like that one!
Time was pushing on, so we took our places at the beginning of the parade and sat down for a brief rest before watching the floats go past on the Princess Parade. DH and I got clubbed by the 10 of Clubs, we waved relentlessly at Jesse, Woody, Buzz and Bullseye! And then Jemima's favourite, Princess Tiana, came down to dance with Prince Naveen, and all the other Princesses, and we knew we had one very happy little girl!
So happy in fact, that after a flight with Peter Pan and a final ride on Pirates of the Caribbean (with no flash photography this time) both children just made it through Aladdin's enchanted story passage, and out to Main Street before... zzzzzzzz.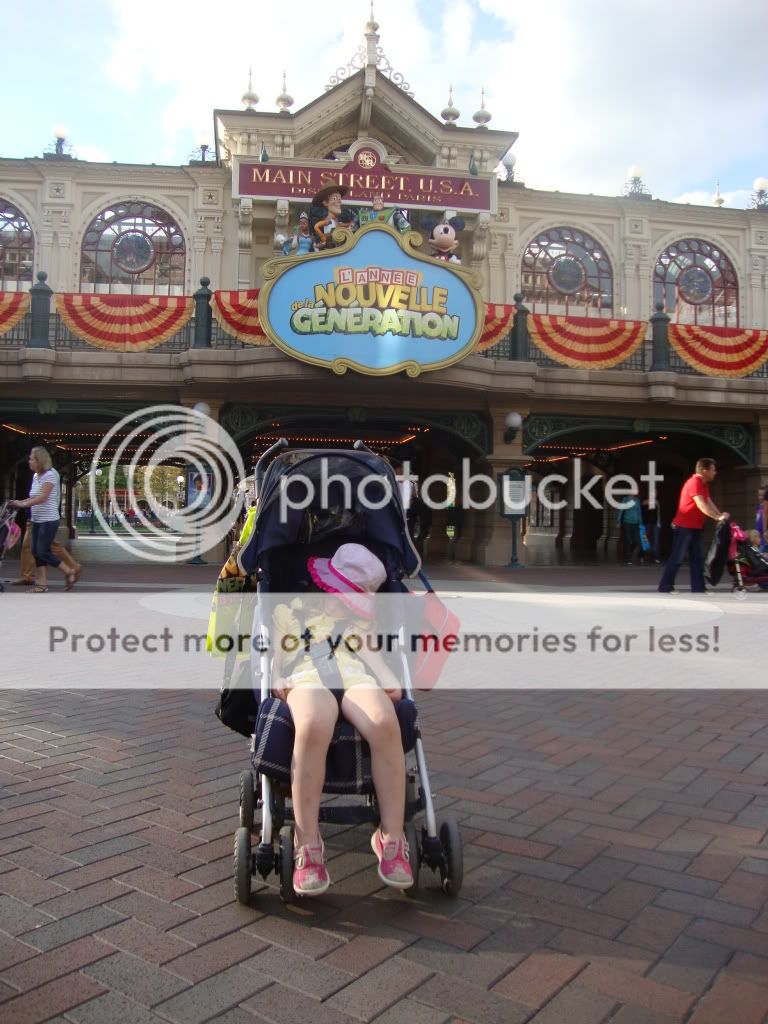 The clock had struck midnight... well 6.30pm in this case...
We had a fabulous day, and were very sad to leave... but as Woody himself said... when it all ends I'll have old Buzz Lightyear to keep me company - For infinity and beyond.