Wednesday 26 October 2011
Today we were off to Typhoon Lagoon and it was another scorcher of a day!
The park opened at 10 so there was no mad rush to get there..
There aren't loads of photos today as it's a water park and we didn;t have our own private space today..
we arrived at 10 and found some loungers, it was really quite empty apart from all the brits!
[IMG]
[/IMG]
[IMG]
[/IMG]
i think this is a prettier park then BB but as a family, attractions wise I think we prefer Blizzard Beach, there seemed to be more for Jess to do at BB
[IMG]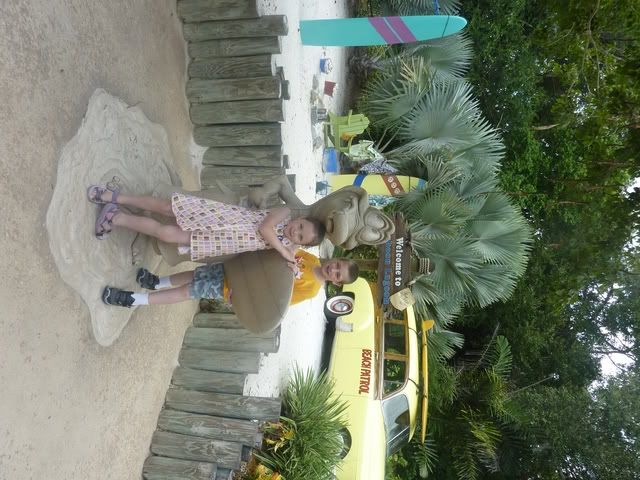 [/IMG]
we did all the usual, lazy river, family rafts rides, Chris did some slides on his own and we spent lots of time in the Wave pool, boy were those waves big, Jess and I had to stay right at the shallow end and even then, with me holding her arms, her legs went out from under her with the force...
It really was hot hot hot today and it still amazes me how many times I see people who are red raw with sunburn, makes me feel ill as I know how painful it can be and why I stick to sun block in Florida. Mind you, had 30 on today and still caught the sun...
Lunch was at the Leaning Palm. bit naughty really, they had no kids options so just charged the same for all meals...
i know it's just a wrap but short on photos today!
[IMG]
[/IMG]
[IMG]
[/IMG]
[IMG]
[/IMG]
Back to the wave pool after lunch and then I took Jess in the liittle kids area so she could go on the tube slides, she had a great time here...
I was ready to go though, think it was about 3pm.
[IMG]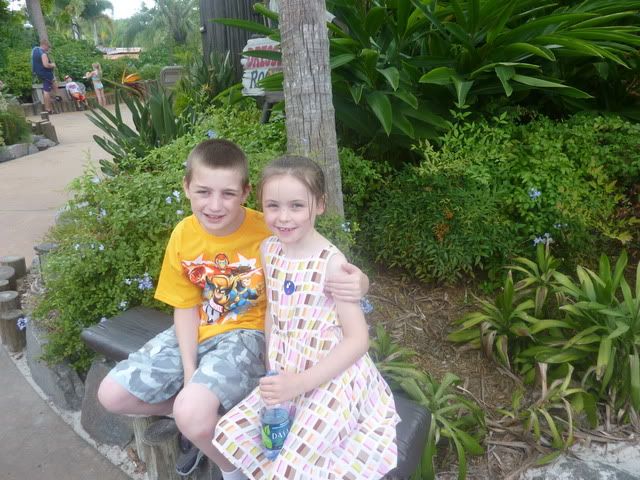 [/IMG]
We spent the rest of the afternoon in our pool at home, had so much fun with the kids and Brandon's swimming has improved so so much!
We had an
ADR
at Narcoossees whilst the kids are booked into the mouseketeers club for a couple of hours..
The club itself is tiny, there were only about 5 kids in there including ours but Brandon was just so excited as they had consoles to play on! I know from on here that other clubs are better but I wasn't willing to even entertain the thought of the kids in a different resort to where we were eating (it took me long enough to convince Chris to book them in there in the first place! )
Chris and I wandered through the Grand Floridian - Wow! Chris asked me how much it is to stay here and I answered with, far too much, lets wait for that lotto win...
We even saw a bride and groom wandering through the grounds in all their finery, was just beautiful!
[IMG]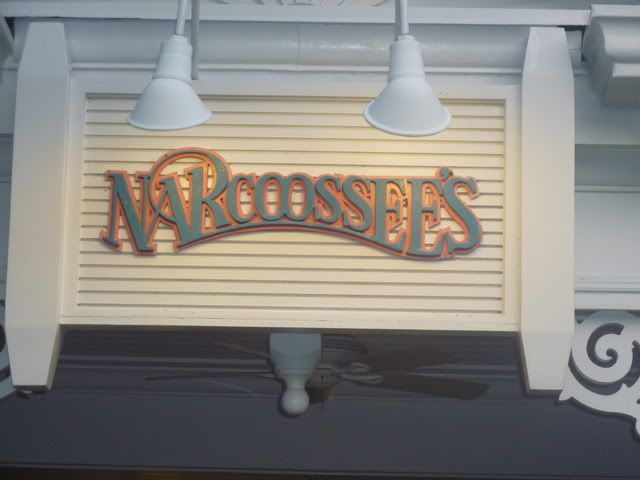 [/IMG]
I LOVE it here - we were sat at the bar first to have a drink, I normally have cocktails on holiday but I just had pinot tonight and loved every mouthful! The bar man was great, very chatty and funny and then before we knew it we were seated!
our server was Chevy (as in Chase) which is how he introduced himself and was just lovely all night, he mentioned our honeymoon and gave us our personalised menus that we got to keep!
[IMG]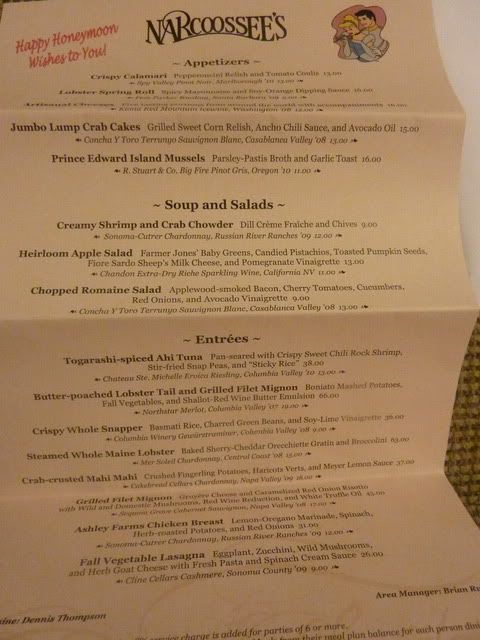 [/IMG]
our view
[IMG]
[/IMG]
The food here was divine, I loved it all..
I had crab cakes to start
[IMG]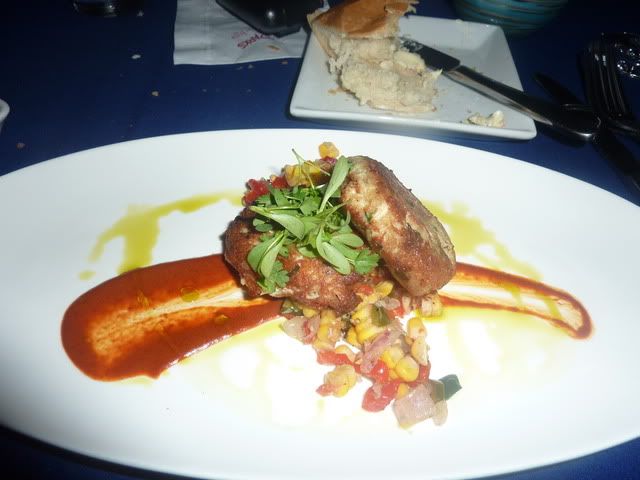 [/IMG]
Chris had calamari
[IMG]
[/IMG]
I had the Spiced Ahi Tuna for main
[IMG]
[/IMG]
Chris had the Chicken in a lemon and oregano sauce
[IMG]
[/IMG]
I had my all time favourite for desert, cheescake! this was almond crusted too, complete with a candle and congratulations!
[IMG]
[/IMG]
Chris had a chocolate mousse
[IMG]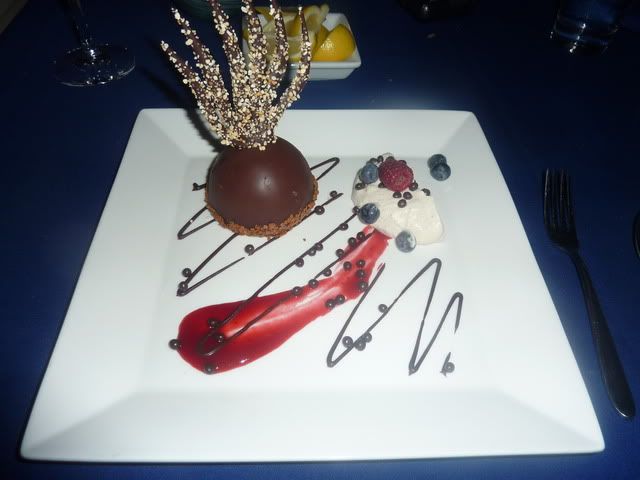 [/IMG]
[IMG]
[/IMG]
We just loved it here, I had a mountain of wine though, evident by my trip report notes, which is more like scrawl all over the page and the photos I took a little later in the GF, most of them blurred..
we had a fabulous evening in a beautiful location and it was nice to have some us time at a signature reaturant
[IMG]
[/IMG]
The kids had a really good time here, they were given mickey straws, a signed postcard of the characters, they had tea and then a cookie and Jessica made a fridge magnet that she was thrilled with!
[IMG]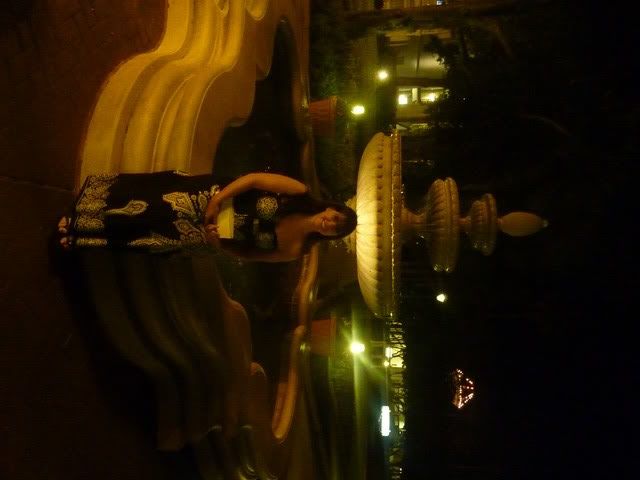 [/IMG]
[IMG]
[/IMG]
Home at almost 11, all to bed ready for another day at Animal Kingdom Tomorrow...