Hello!
Well, it's only a few years late, but I've decided to do our Honeymoon trippie! As it's been a while, I'm mainly just doing photos and won't separate the days since I can't remember what we did on which day!
Pre-trippie introduction
Me- Adele
DH- Matt
Our twin daughters aged 2 – Missy and Matilda
After many years together and a lot of time planning, our wedding was upon us. We were getting married on the Bank Holiday Sunday at the end of August, allowing Monday to make our way to the Radisson at Manchester and Tuesday to fly. We were getting married in a hotel and having the whole day there. The week before the wedding, Missy had been ill and we were told she had croup. The doctor told us on the Tuesday that if she worsened she would have to be hospitalised, and so I made an appointment on Friday with him to see if she had improved. Fortunately she had, but she still wasn't a happy girl on the day of the wedding! It had rained almost solid for the two weeks before the wedding, and so I had prepared myself to get married indoors despite having had my heart set on the beautiful garden outside. I was happy that it was all going ahead after panicking about Missy. Yet on the day, the sun came out and stayed glorious all day. Everything went perfectly and we had a fantastic day. We had a bit of a Disney theme for the wedding, the tables were named after places in Disney and the table plan was a map of Disneyworld. The centrepieces had Mickey coins in it, and we had put together little packs for the guest children which were Disneyfied! Here are a few pictures for those who want to see!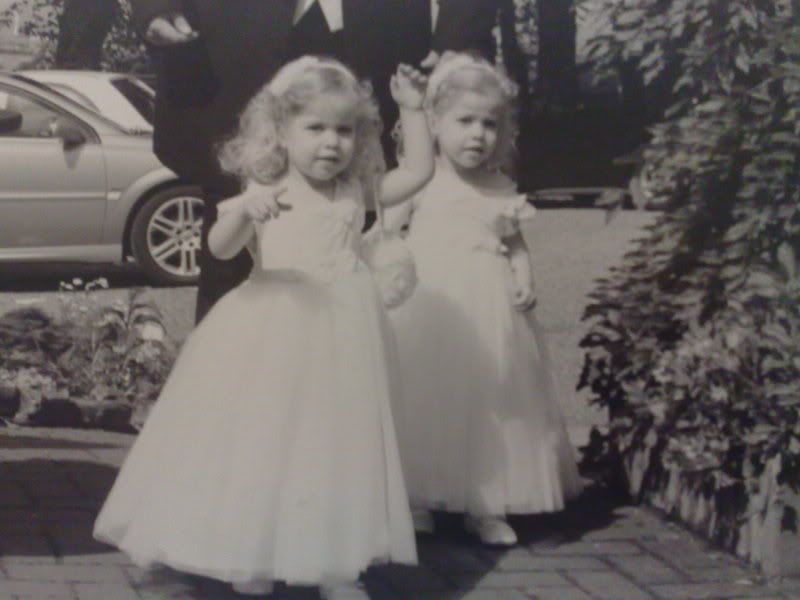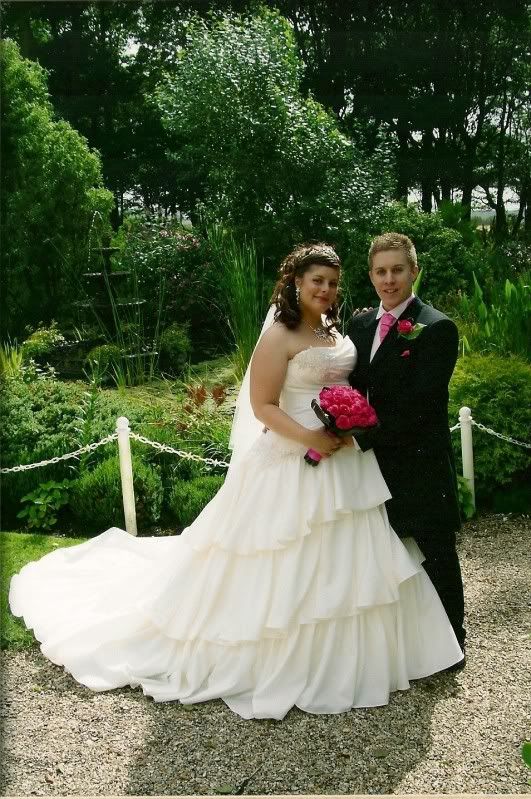 The day after, we ran around and packed (we hadn't had chance before the wedding!) and made our way to the Radisson at Manchester Airport. Strangely, I didn't take any photos here. I recorded a lot on the video though, including the bathrooms and inside the fridge. I've no idea why. The hotel was fab, and it was so easy the next morning to check in. We walked over to check in, and then went back to the hotel for breakfast, which meant we didn't hang around the airport for too long. It was the girls' first time flying and they were great, playing with the games and watching tv, they were easily entertained. When we arrived, an American man in the seat behind us told us they'd been wonderful and gave them $2 each telling them 'welcome to America!'
We got the magical express to All Star Movies resort nice and easily, and checked in. We got to our room and there was one double bed between the 4 of us, not what we wanted on our honeymoon! So we called reception and they relocated us with no problems. The resort was fab, although one of the value resorts, it did the job. The girls loved the theming of it and it had everything we needed.
We hadn't been on the Dibb long before we went, and so hadn't booked anything. We'd pre-paid for the photopass, but that was about it. We managed to eat wherever we wanted though, including Akershus, Rose & Crown, Mama Melrose, Crystal Palace, Tusker House, Planet Hollywood, Tony's and Rainforest Cafe. Once we'd had a look around and decided where we wanted to eat, we'd just go to the desk in the hotel and they'd find us a reservation. It worked out rather well for us.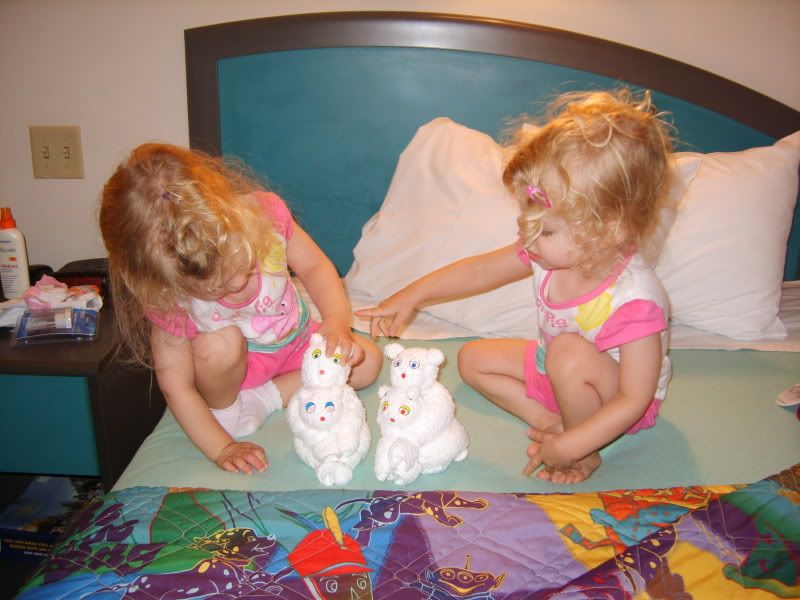 Here are some photos of various places!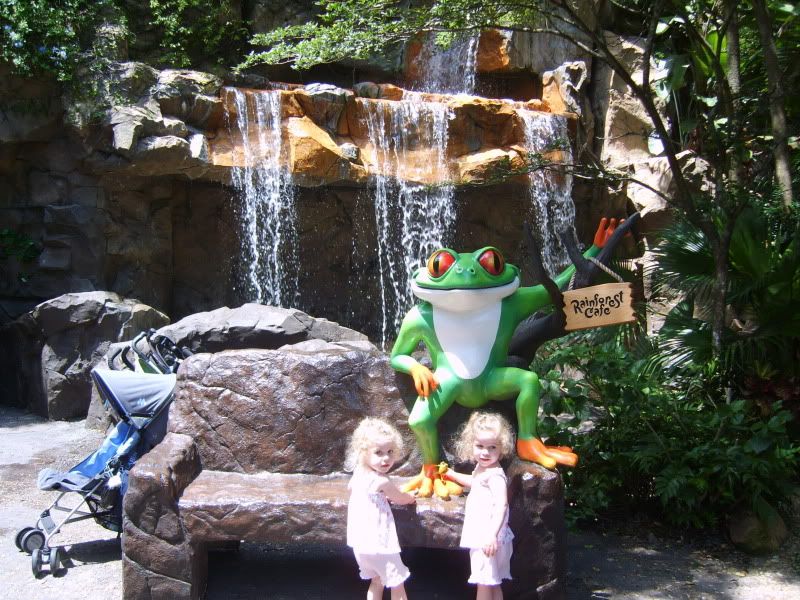 Rainforest cafe
Matilda loved the characters at Crystal Palace
Missy did not!
Cinderella at Akershus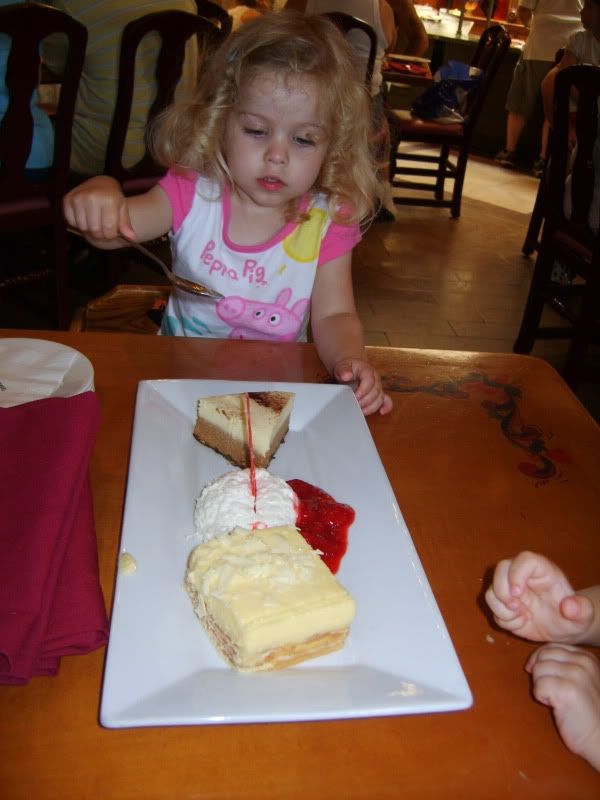 Tucking in at Akershus
Milkshakes at Rainforest Cafe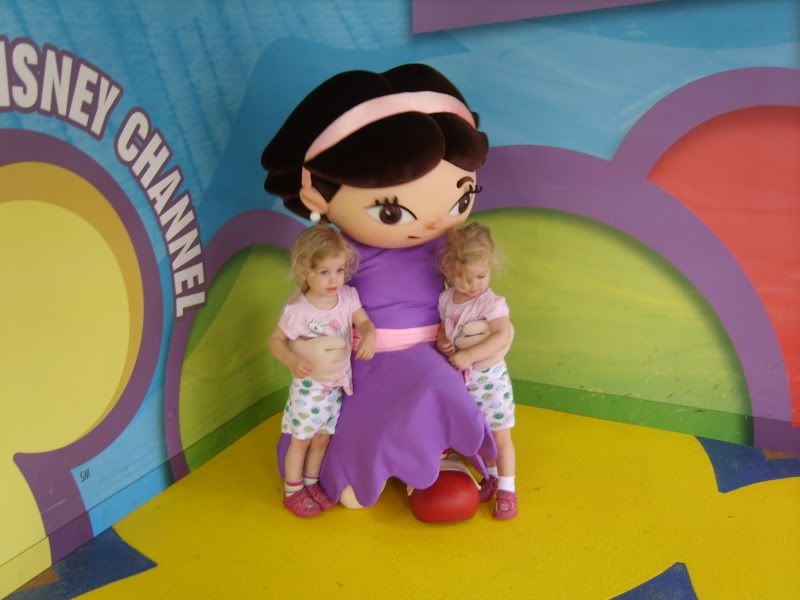 Missy finally joined the characters
Shopping
More shopping
The pram was worth taking
We (I!) left our changing bag under the table at the Rose and Crown at Epcot. I thought it was on the back of the pram. We got down to the exit of Epcot before we remembered, so DH ran all the way back whilst I waited with the girls. I had my handbag with our passes and money in, but the change bag had our camera and video camera with other things. I was most worried about the video camera, knowing all of our memories were on it. The photos weren't so bad as I knew we had photopass. I wasn't worried it would be stolen, I was thinking if it was taken to lost property and went missing from there. DH ran back and there were people on our table, but the waitress came over and asked if he was looking for it, she'd moved it for safekeeping. Was so pleased when he came strolling back with it!
On our last full day, we decided to go back to Magic Kingdom. We were having a mooch around the sweet shop on Main Street USA, when we were approached by one of the women who had been making the giant candy apples we'd been drooling over. She started talking to the girls and told them that she had the special job of choosing todays 'chef of the day' and she wanted the twins to be her chefs. Another girl rolled out a workstation, and they put aprons, gloves and chef hats on the twins. On the trolley was two giant marshmallow crispie Mickey heads, along with melted chocolate and different kinds of sweets and sprinkles. The women helped the girls decorate the Mickey heads and then they boxed them up for them and put them in a bag along with lots of free candy and lollipops, as well as a certificate each. It was a really lovely thing for the girls to do, and they love watching the video back now. We've got the video
here
.