Previously on this tour...
Premature Pretripulation
Day One - Travel
Day Two - Magic Kingdom
Day Three - Rest & MK
Day Four - Epcot & DTD
Day Five - Celebration & DHS
Day Six - Golf and Epcot with Dibbers
Day Seven - Typhoon Lagoon
Day Eight - Sunday 26th August
Isaac's arrival was edging ever closer, in terms of time, but simultaneously moving further away in terms of geography. A sharp detour to the west was going to be bad news for those in New Orleans and the surrounding states, but for us all we had to deal with was the crushing disappointment etched upon the faces of the seventeen different weather experts on Channel 13.
So rather than Isaac forcing us to spend two days in a bathtub under a mattress it just meant that we had skies like this for a bit.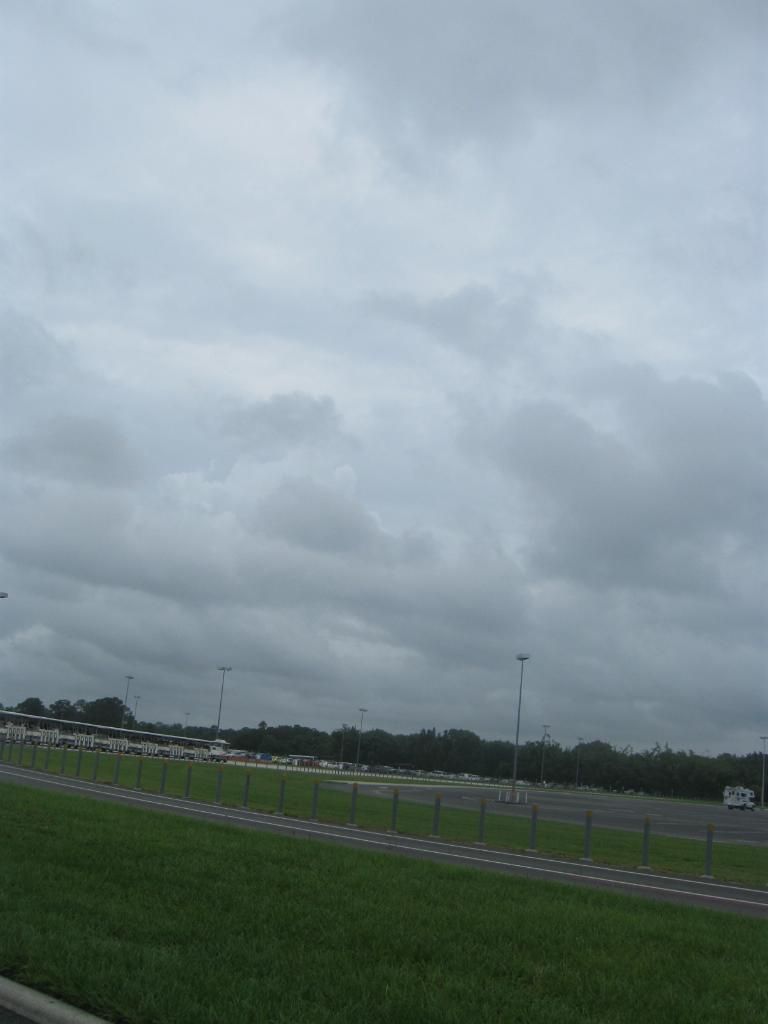 It was until 8.40 that I awoke today. As anyone who has ever read a WDW guidebook will tell you, that meant we were already too late and may as well write the whole day off right now. Instead, I rose majestically, consulted Channel 13, and decided that Isaac would not be disrupting our plans, and Operation Animal Kingdom was on!
Plan B had been to spend the entire storm in the cinema, moving from one film to another in a sugar induced haze. Some other time maybe, as that sounds like a cracking day if I'm honest.
We didn't leave the villa until 10am, but it only took us twenty minutes to get to the AK car park.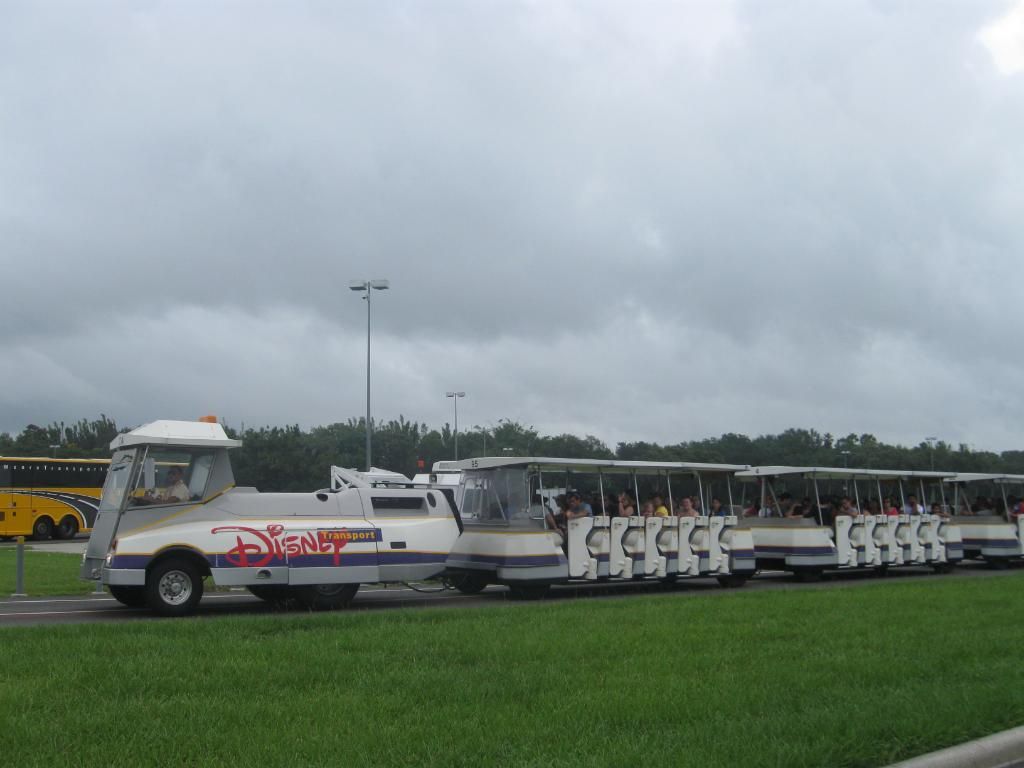 Dinosaur 34 welcomed us, and we quickly boarded a tram (not the one above, as how could I have taken its photograph!) and headed for the entrance.
Being so late, I am loathed to stop for any photos of the family at the entrance so I just quickly record the fact that we passed through as we speed towards the gate. Speed is a relative term, as Louise is having ankle trouble. It is a recurring problem and today would be bad, but not the worst of the trip I'm afraid.
As usual, we separate as I head for a sack inspection. My record for picking the best/shortest queue is 100%. I always pick the slowest moving one, without fail, all of the time. Today I use reverse phycology and join one of the longer lines, as I unzip stuff ready for the bloke with the cold hands and pointy stick.
Well, that didn't work either. The reason for the long line was that this chap was going the extra mile. Whilst his colleagues at adjacent tables were waving their stick Harry Potter style over bags and declaring them safe, my guard was having us assume the position to make sure no one had anything they shouldn't in a body cavity.
He took forever! With poor Ryan feeling invaded and violated we wander off trying to regain our dignity.
First job here used to be Fastpasses for the safari but that was before Everest, so we all head off in that direction. The girls see the Up characters and want a photo, so I leave them with Louise queuing for that as I march off to Everest for the Fastpasses.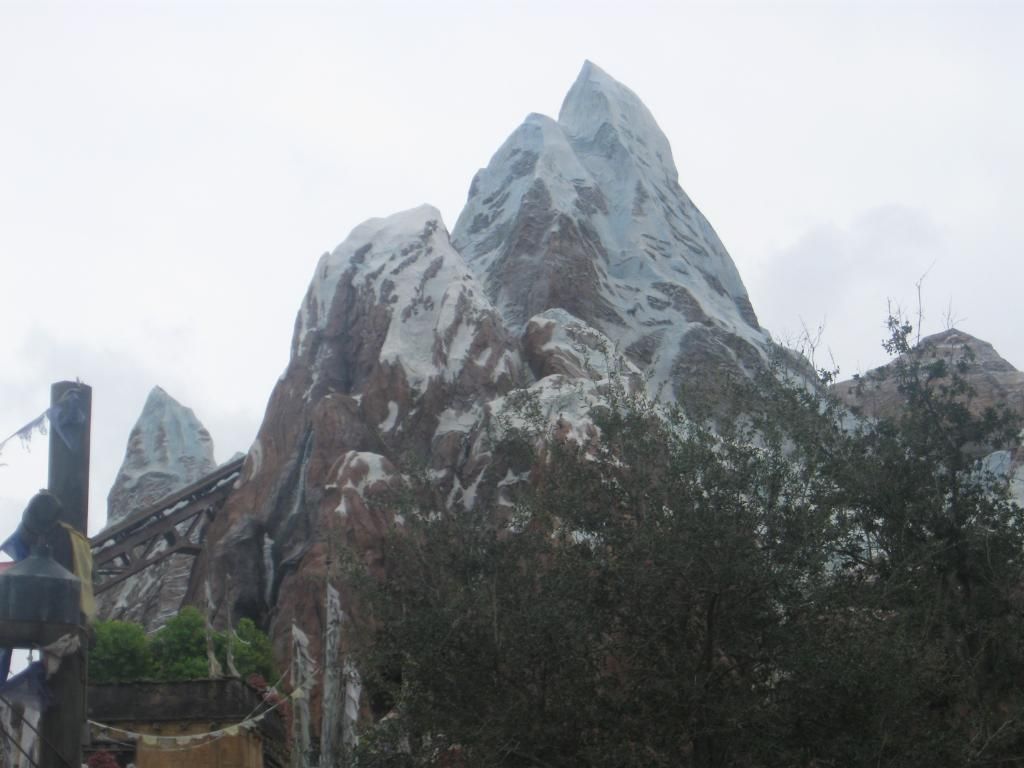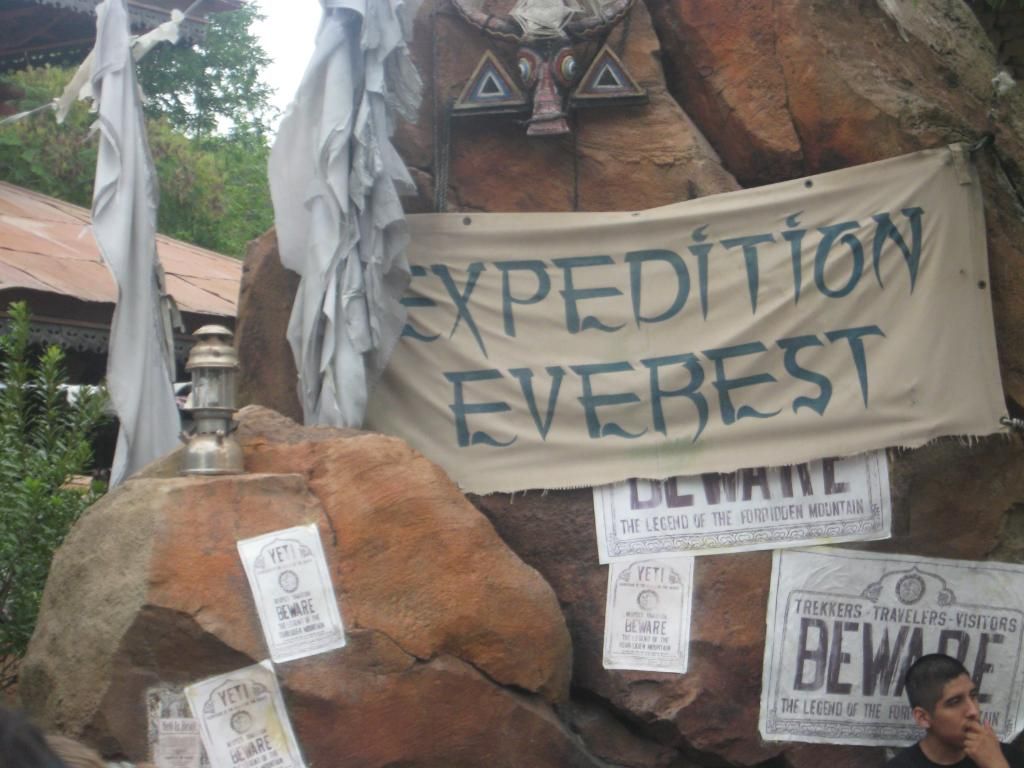 Despite the late hour, I am pleased to get a return time of 11.45. By the time I get back to where I left the girls and Louise they are almost at the front of the queue, and once done we can all move on.
Right next to us was the entrance to ITTBAB so we thought we may as well do this now. We time things perfectly again and literally walk in, pick up glasses and take our seats in one sweeping movement.
We enjoyed the show, despite its familiarity. These days Emily has taken to actually wearing her 3D glasses, but it may be some years before she will actually put her feet down on the floor. On that note, I did see a bloke a few rows in front of us jump up as if he'd sat on a red hot poker when the bugs "leave". Once he'd regained his composure, he did look suitably embarrassed.
Upon leaving it was more or less time for EE, so we wandered that way. The park was busy or maybe it is just the narrow paths, but we felt as if we were always stepping around people and found it hard to get around. This was leading to a feeling of frustration and tiredness that sometimes happens a few days into a trip, when the travel, pace and heat start to catch up.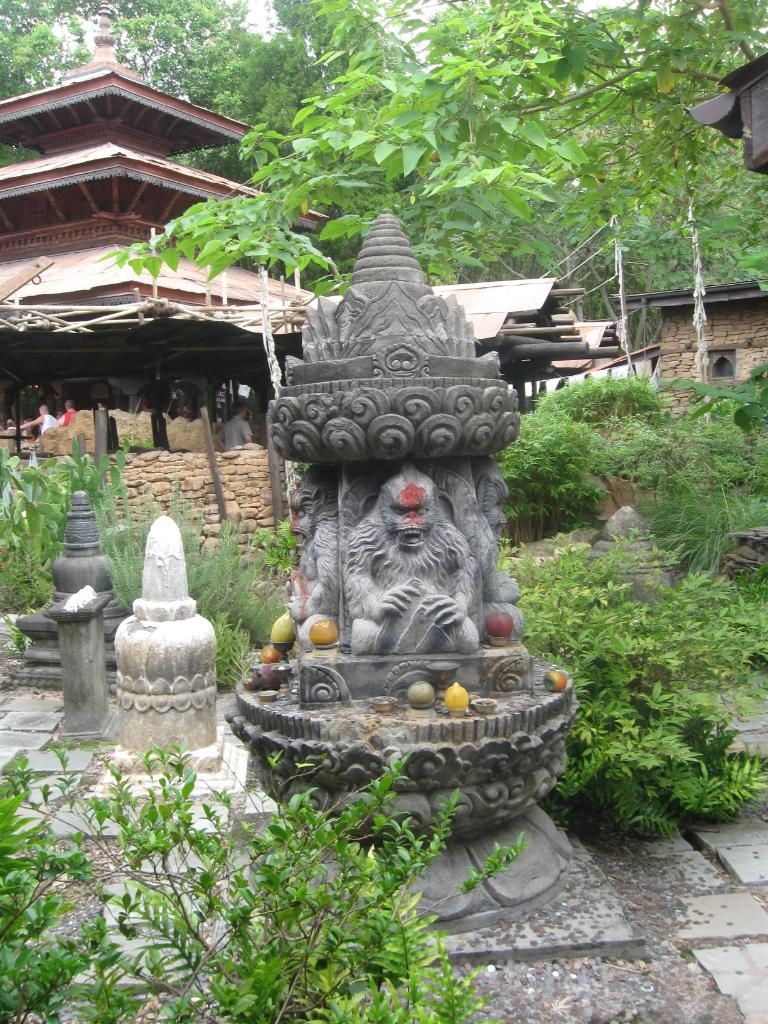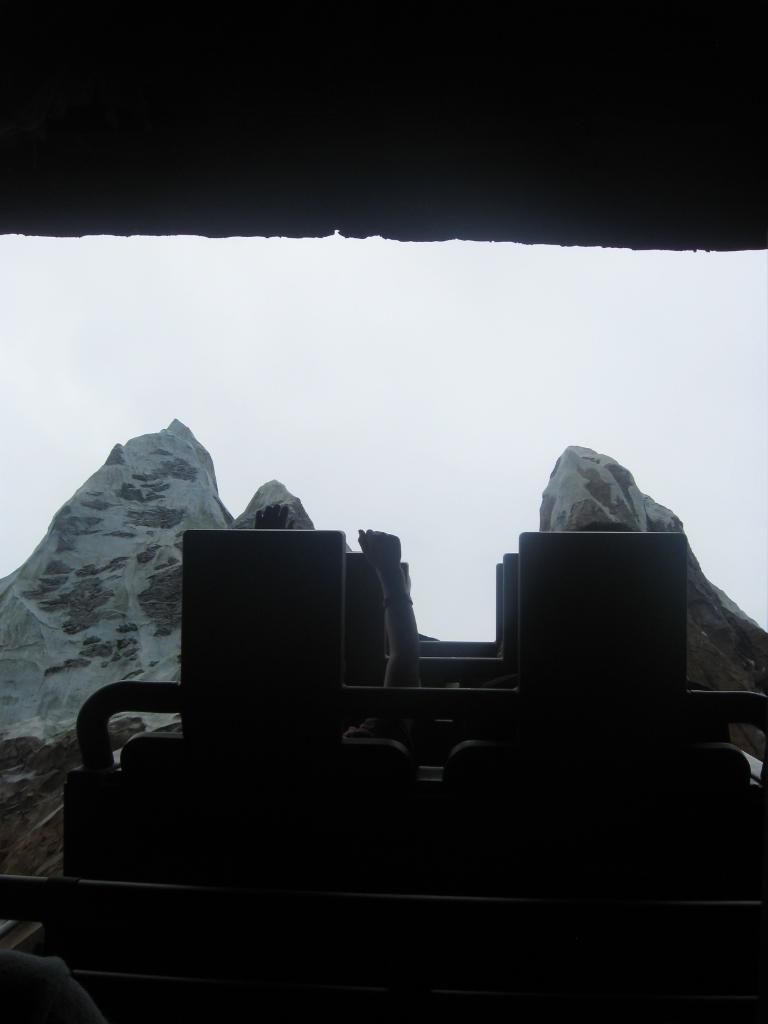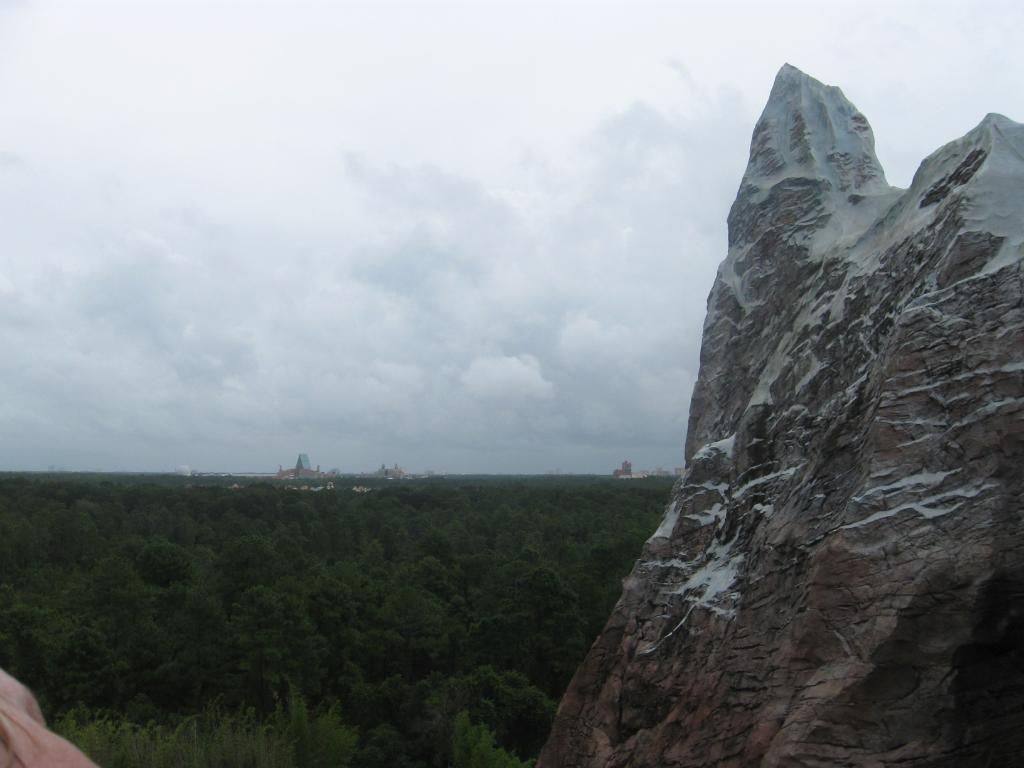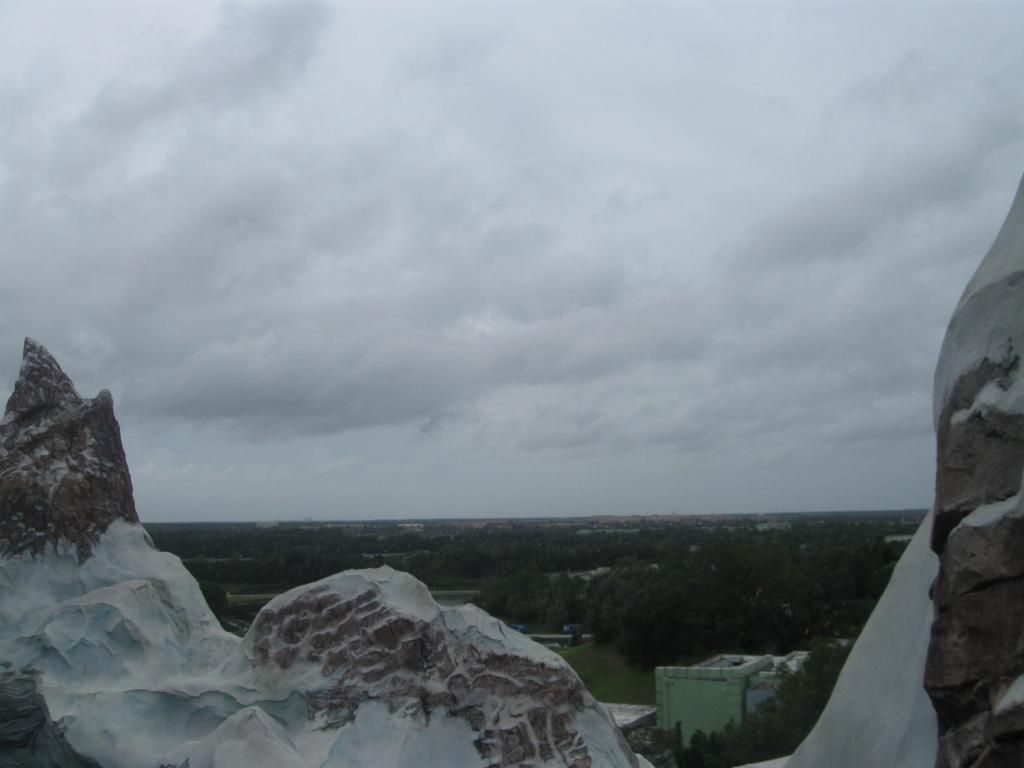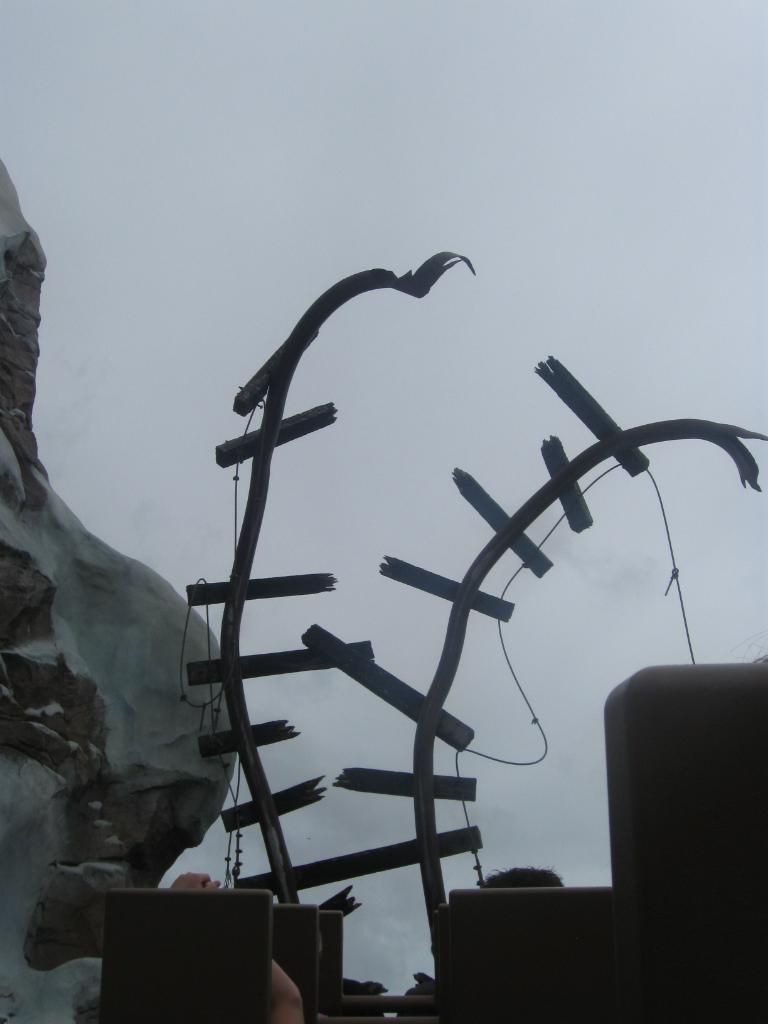 The ride itself is fab. Both Louise and I thought it more extreme than our worsening middle aged memories have told us, but we put it down to simply getting old!
I think my expression on the ride photo speaks volumes.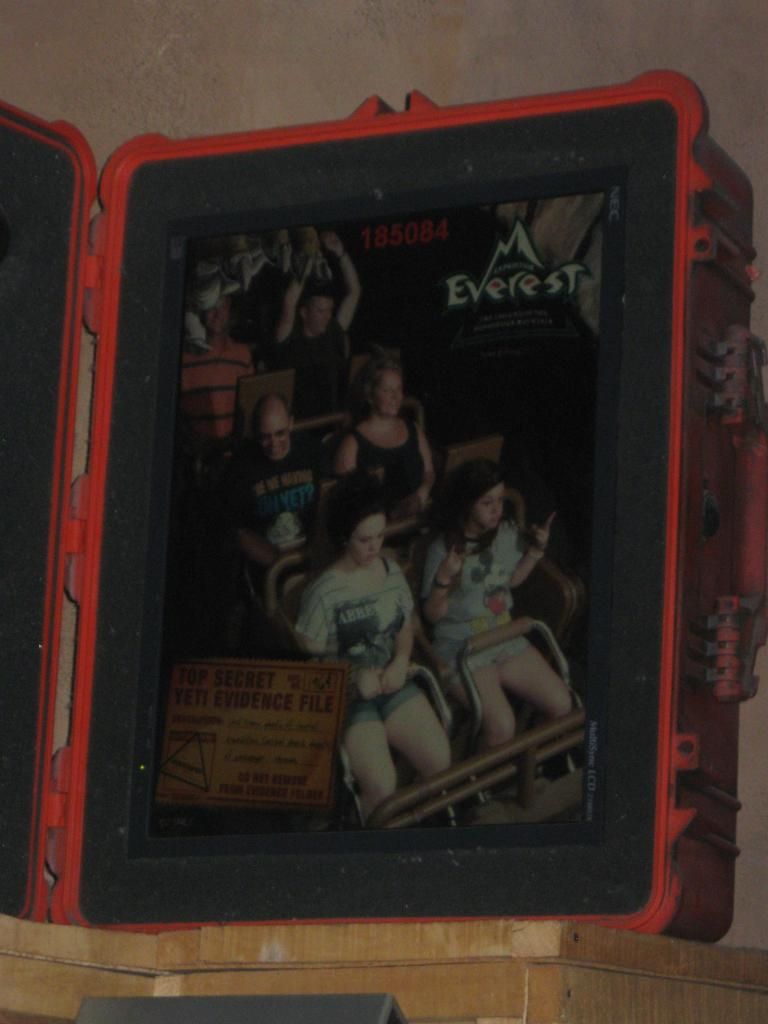 As we leave I grab some new fastpasses for 12.45.
OK, so for those of you who are sick to death of seeing loads of blurry animal photos, feel free to skip the next little bit. It is safari time. So we walk pretty much all the way across the park to the safari, which Louise, in her raging pain, loves.
At least there is no queue, and we are soon seated right at the front of the truck. The driver is a girl of about 11. How she controlled that huge truck I have no idea. Perhaps they are all on tracks after all?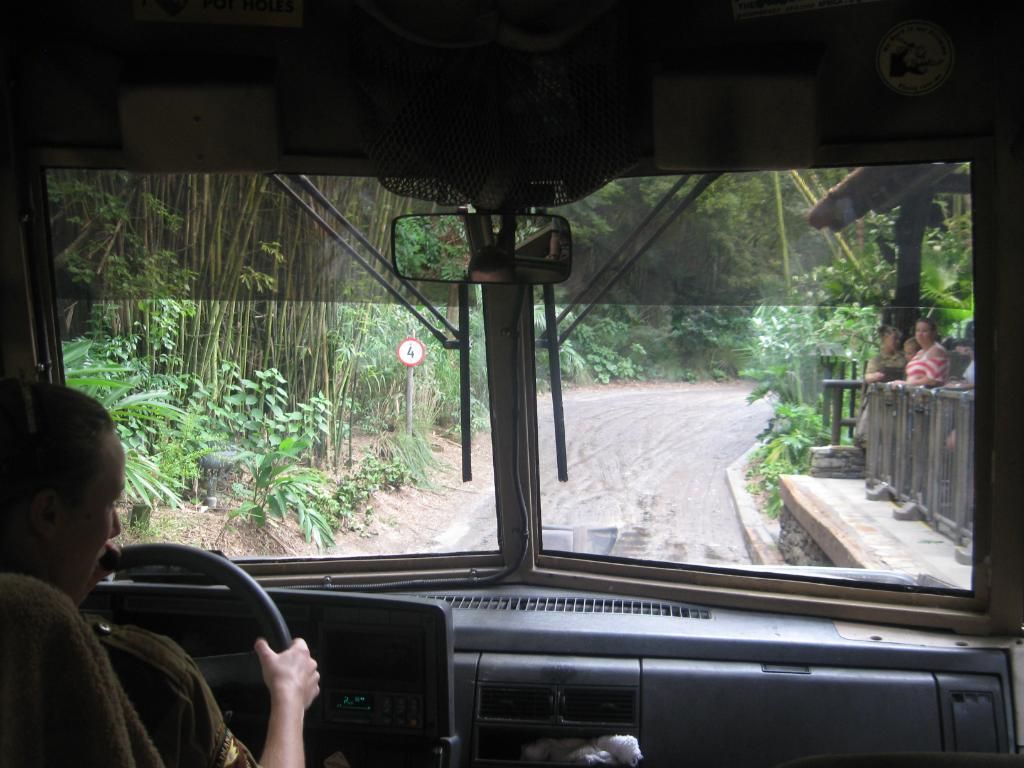 I have found a new obsession to add to my "Please move all the way to the end of the row". It is simply this. When the driver says please remain seated at all times, that doesn't mean, everyone apart from you on the back seat who proceeded to stand up every time she stopped to get that extra three inches closer to the animal we are all trying to photograph.
The driver did say that as soon as someone stands up she has to move on, so for everyone else's benefit please remain seated. Nope, every time, up they got, and so every time, off we drove.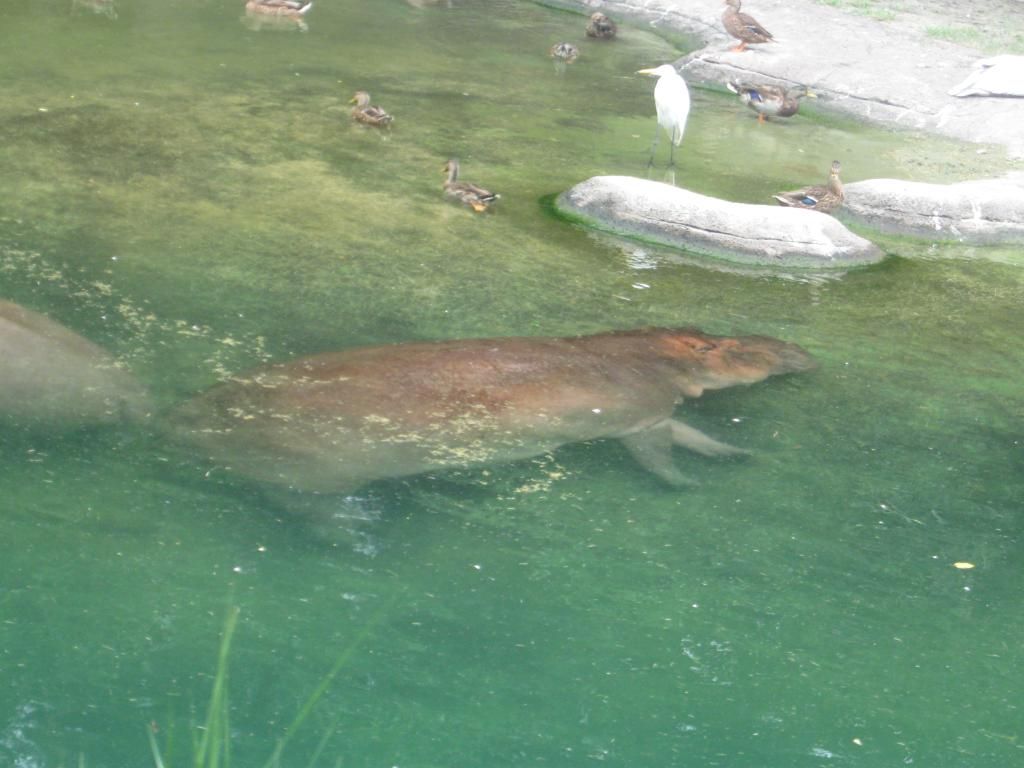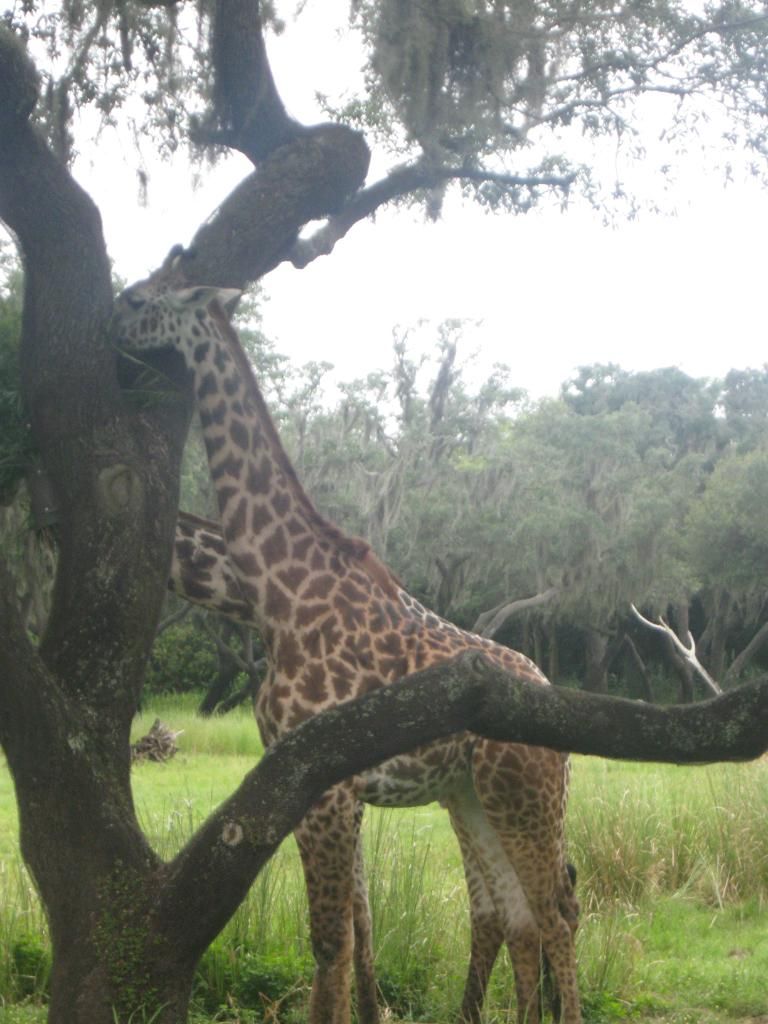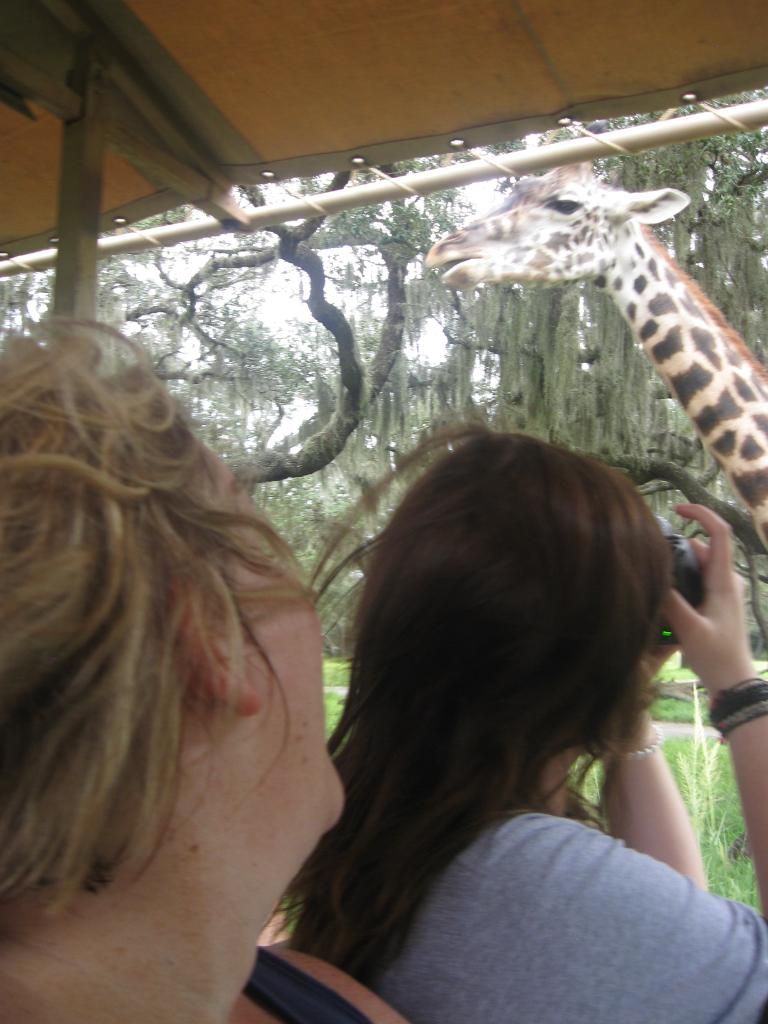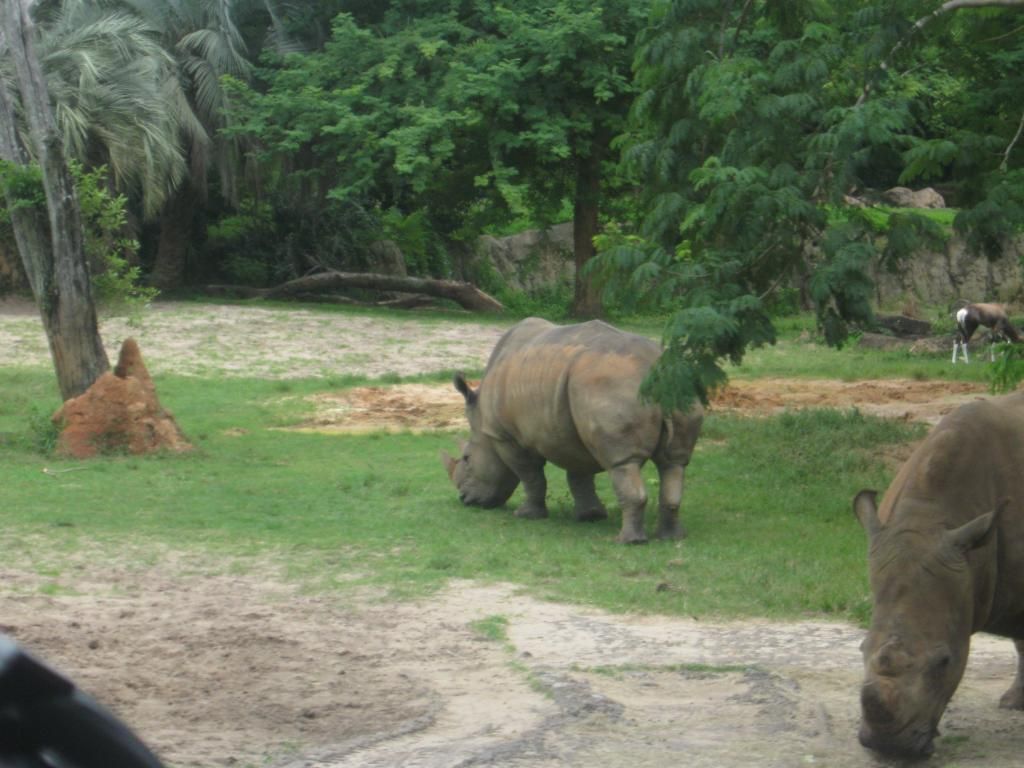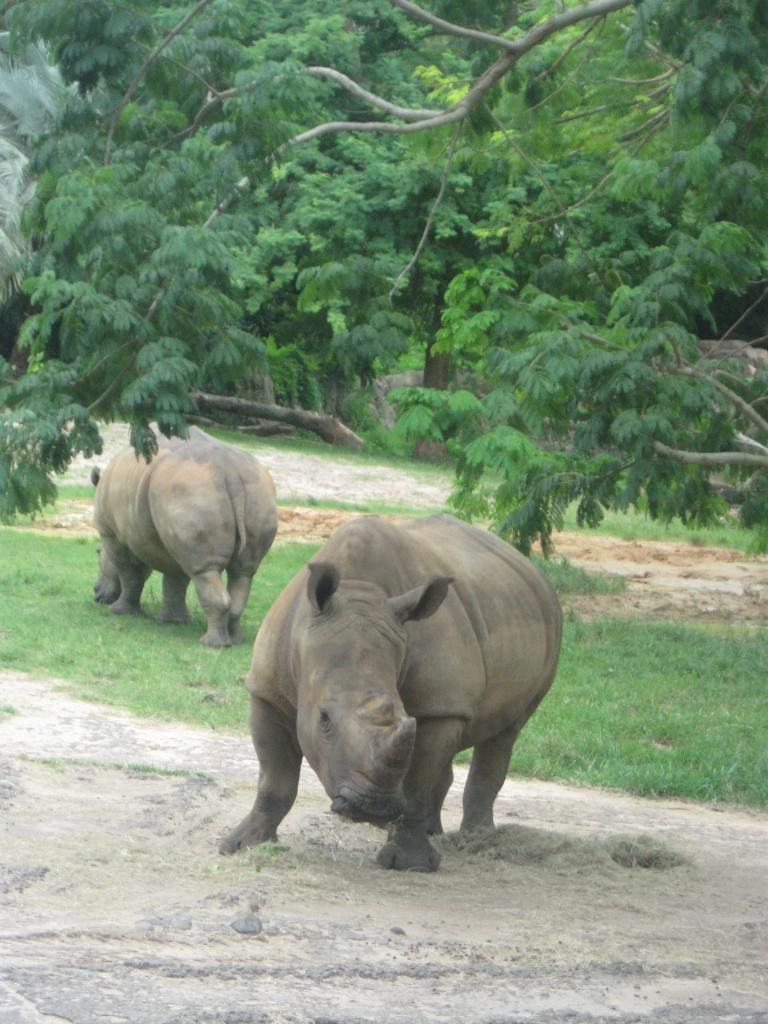 Despite the best efforts of our friend here, he's never going to find Rod Hull I'm afraid.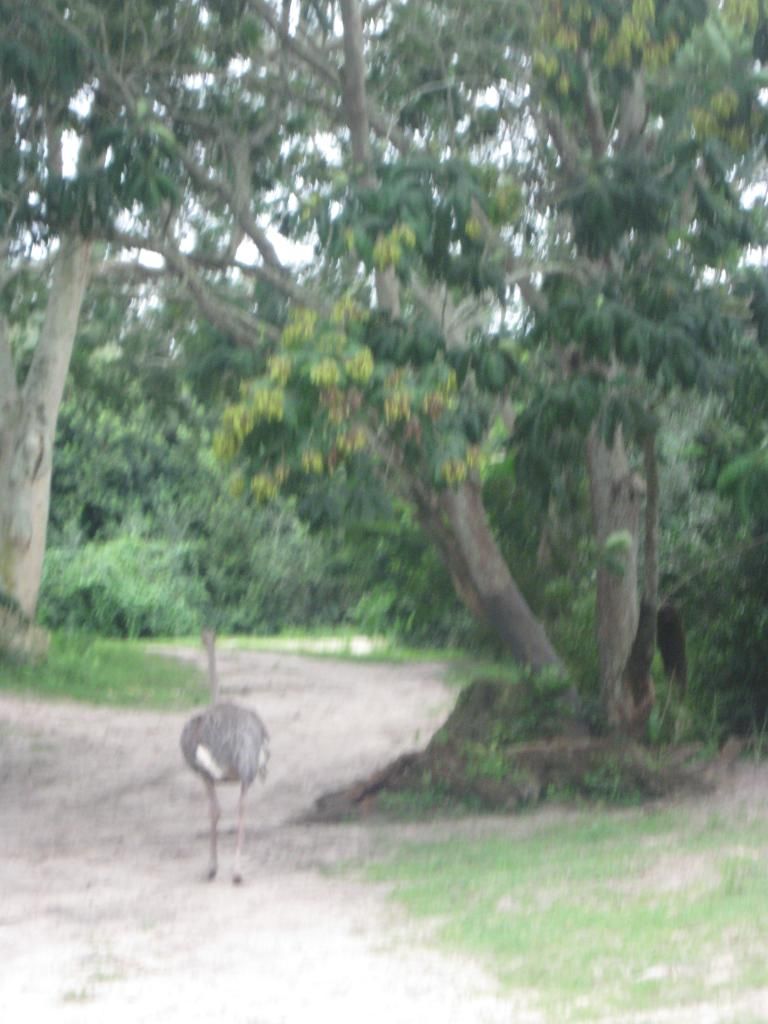 (Yes I do know it's an ostrich, but just go with it!)
All that bumping around leads me to impressive amounts of horn.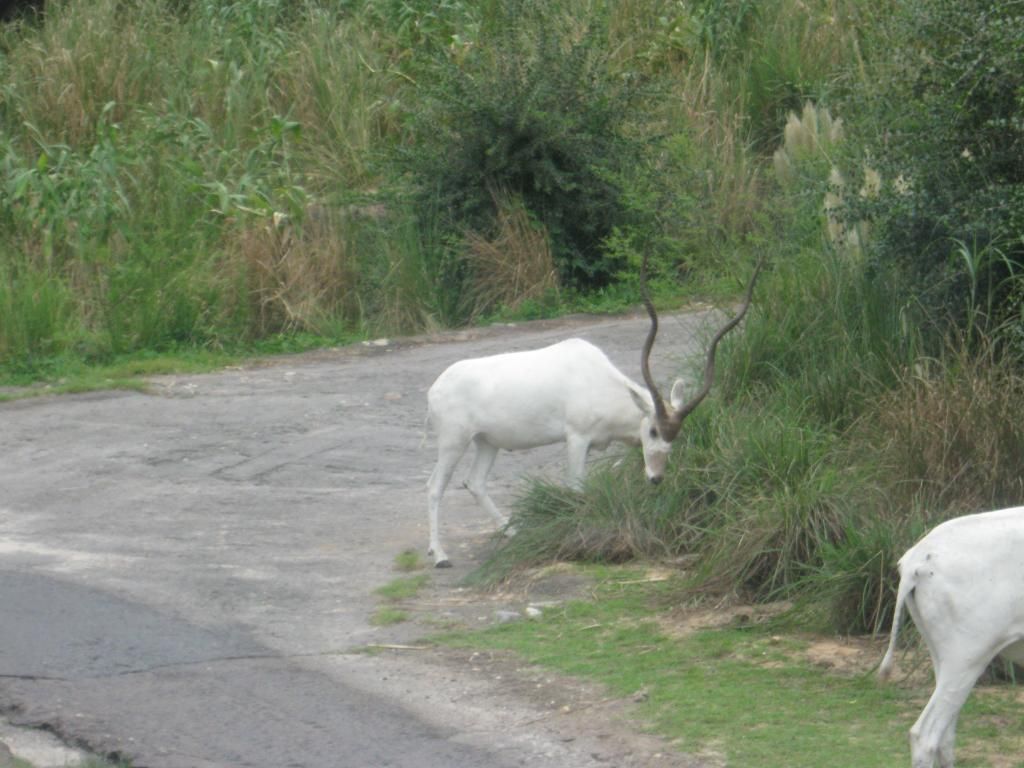 And no, I'm not lion.
Unexpectedly next we come across some huge bird, who looked absolutely legless.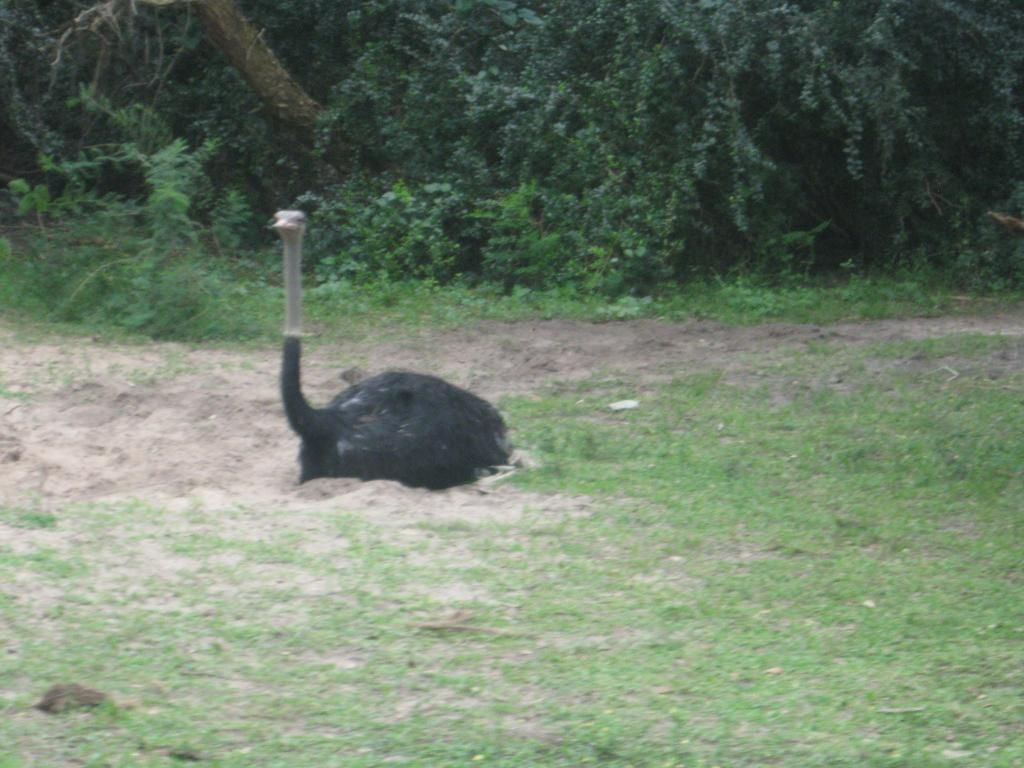 You'd think it was Spring Break or something.
Continued...