Previously on this tour...
Premature Pretripulation
Day One - Travel
Day Two - Magic Kingdom
Day Three - Rest & MK
Day Four - Epcot & DTD
Day Five - Celebration & DHS
Day Six - Golf and Epcot with Dibbers
Day Seven - Typhoon Lagoon
Day Eight - Animal Kingdom
Day Nine - Mall, DTD and AMC
Day Ten - Hollywood Studios
Day Eleven - Disney Quest
Day Twelve - Thursday 30th August
It is quite some time since today's events happened. There is a telling line that begins my notes for this day. "Bad night". My memory is vague on this point, but I do have some distant recollection of interesting internal bodily fireworks occurring for large parts of the evening. These intestinal trials seem to have kept me in bed until the crazily late hour of 9am.
I am still the first to be ready, and I spend a little while on Th'iphone looking for stuff to do today, as we are going to be in Daytona this evening for a baseball game. So the plan is to spend the day doing "something" in Daytona, and it was down to me to come up with that something.
So after a quick Google of "Things to do in Daytona….for little money….with two hard to impress teens and a wife who wants to be in the sun the entire day" returned a few options. I chose
Go Kart City
.
This was a gamble of course, as the web site gave little away, but promised mini golf, go karts (I assume you guessed that bit) and baseball batter's cages. So that was me sorted. I'm sure there would be a gift shop for the women folk to enjoy.
So at 10.30 we set off, only to stop again at about 10.33 at Wal-Mart for what I only described as bits in my notes.
Eventually we get onto the I4, sat nav loaded, and heading for the City of Go Karts. You will have noticed no eating of any note yet? So by the time we got to Sanford the kids were sucking on their seat belts trying to gain any nutrients they could. I don't like to stop on a journey. Once I'm on the way, I like to stay that way until arrival.
Over the years this has led to lots of crossed legs for me on the way home from business trips, and a few rows with Louise as her mention of needing a wee has been handily "unheard" by me, and us sailing past the next service station quickly followed by actual bodily harm.
However, on this occasion the lure of food convinced me that coming off the I4 was the right thing to do. That and the Paddington stares I was getting from the passenger seat.
We left the I4 in search of an eatery, and soon enough came across a Bob Evans. That isn't a scene from a porn film, even though it may sound like one.
The place wasn't at all busy, and so we were thankfully seated and served quickly. As we were effectively having two meals in one (breakfast and lunch) we ordered suitably big.
Me and Rebecca – Big Pancake Breakfast. Are there three better words to be found on a menu?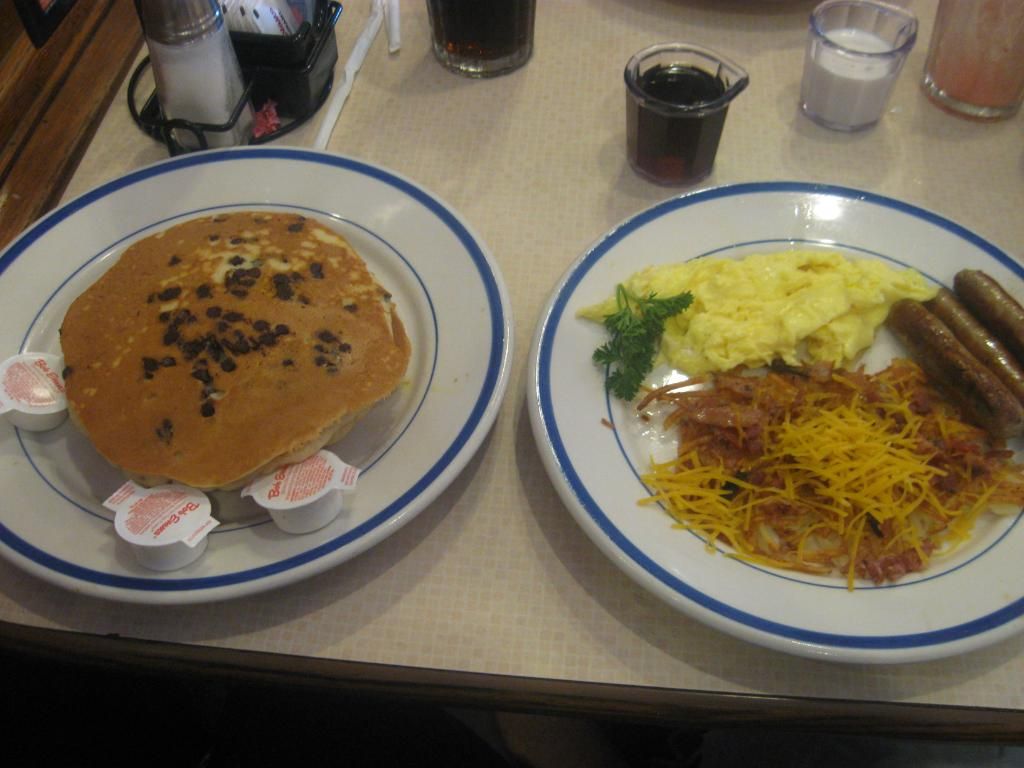 Louise – Burger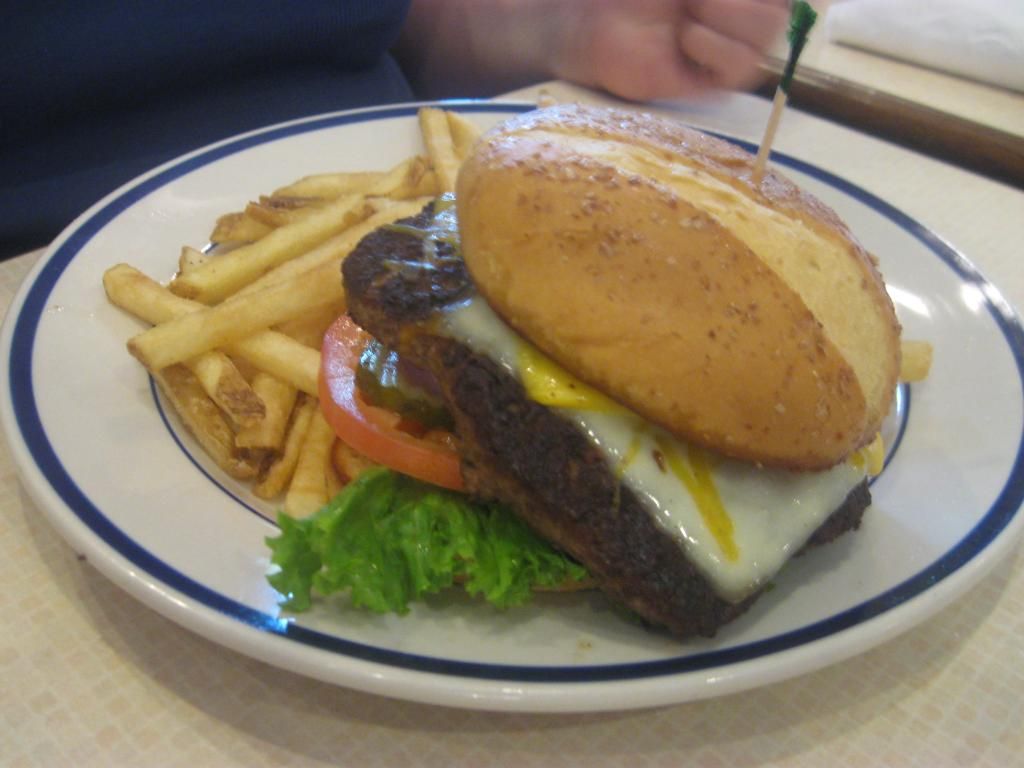 Emily – Fried Chicken Sandwich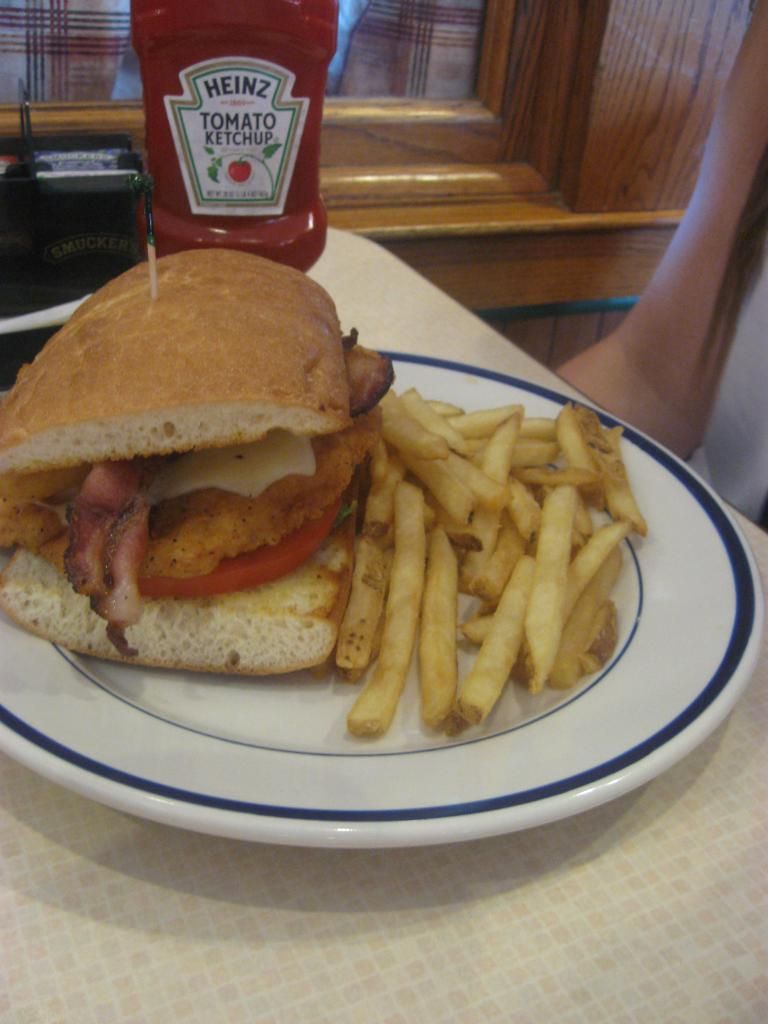 Mine was astonishing both in terms of volume and taste. This particular dish came with an unlimited pancakes option. It was only a head shaking disdain filled Louise that prevented me from taking them up on their offer. It is hard to explain how full I was at this point, but if you do something silly like tell me that pancakes are all you can eat, it is just going to lead to trouble.
Louise and common sense prevailed though, and I took my stomach out to the car, too full to remember how much I paid. Whatever it was, it was worth it, even without the second (and third) helpings of pancakes. We drove on.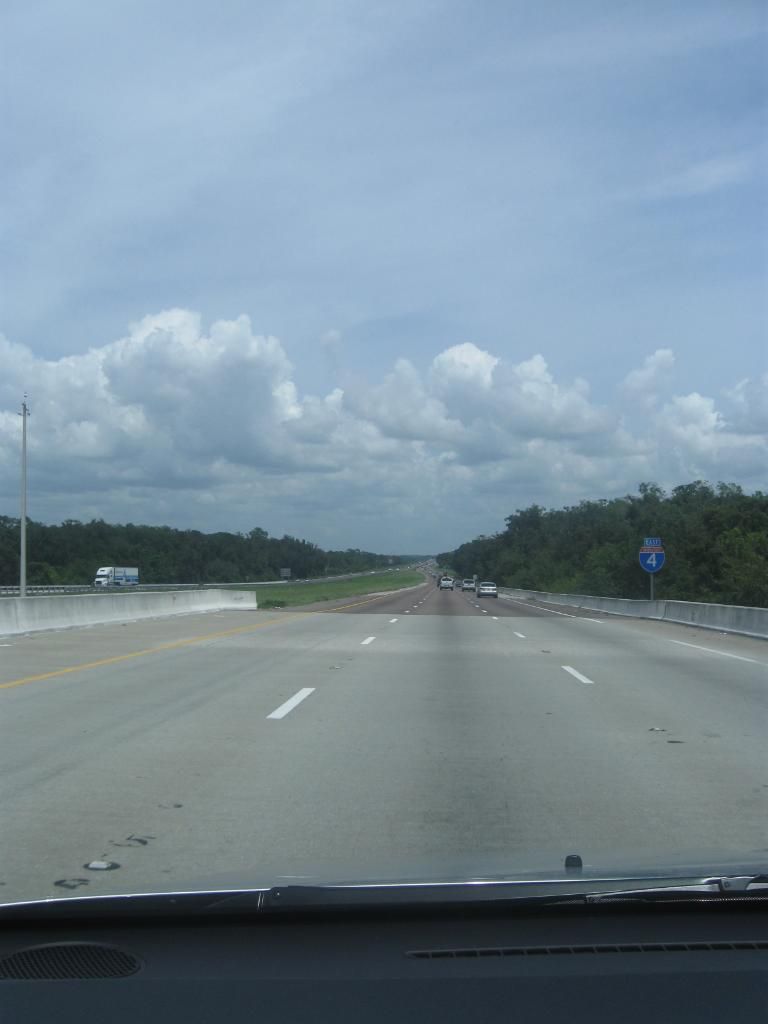 We finished our journey and arrived at the tourist mecca of North Florida that is Go Kart City at 2.15, which seemed to be sign posted as something else entirely.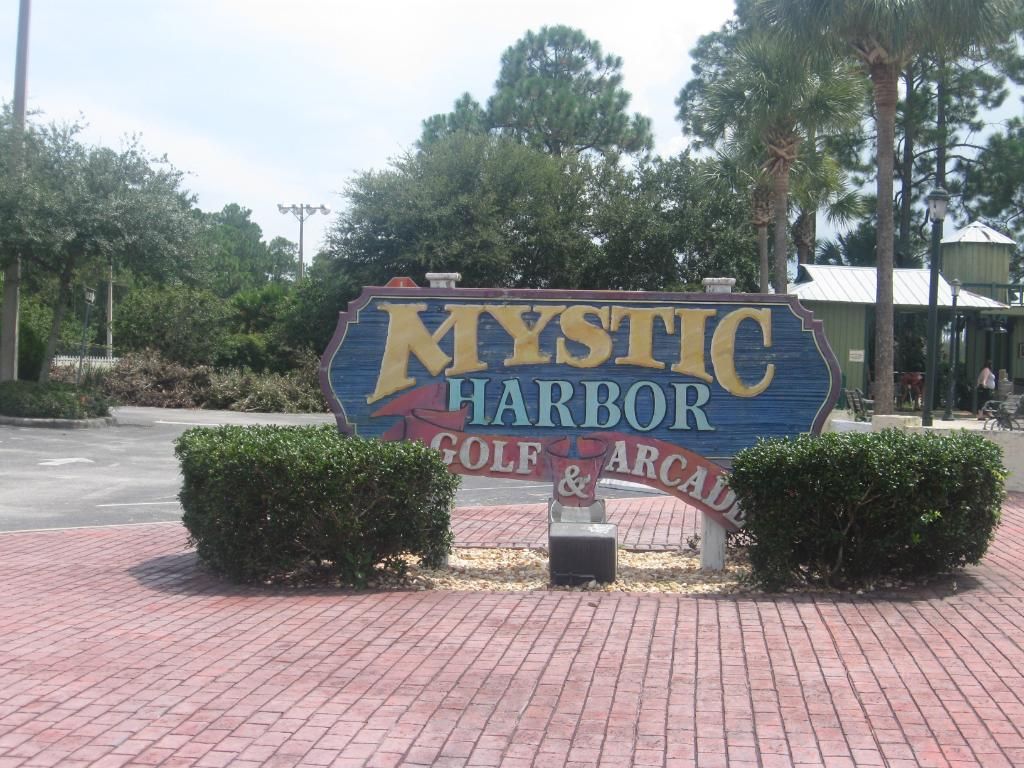 As we pulled into the (empty) car park, my gut reaction was, "This looks a bit crap", but we were here now so we got out of the car into the blistering heat and went to see what it was like.
We started with mini golf, and had the course to ourselves. It had seen better days for sure, but it was good fun. At some point during the round Louise lost her sunglasses, and Rebecca lost her will to live.
This was no doubt brought on by my inevitable march to victory. As we ended the round, there was sweat trickling into every crevice, but nothing could diminish the enormity of the defeat that I inflicted upon my opponents.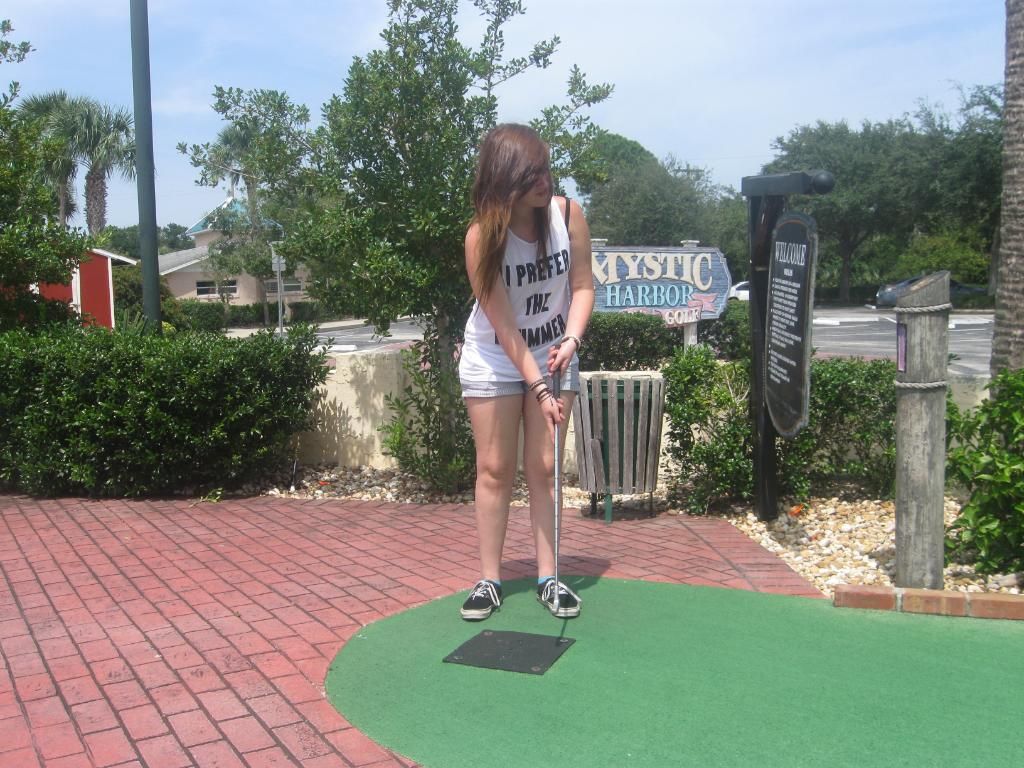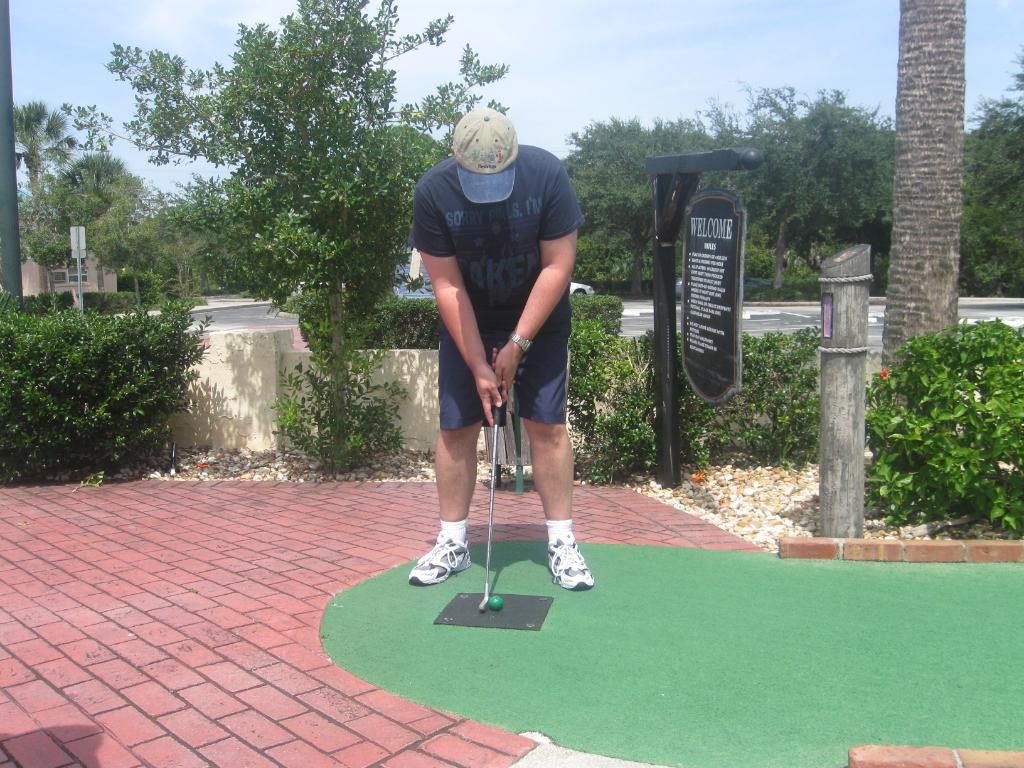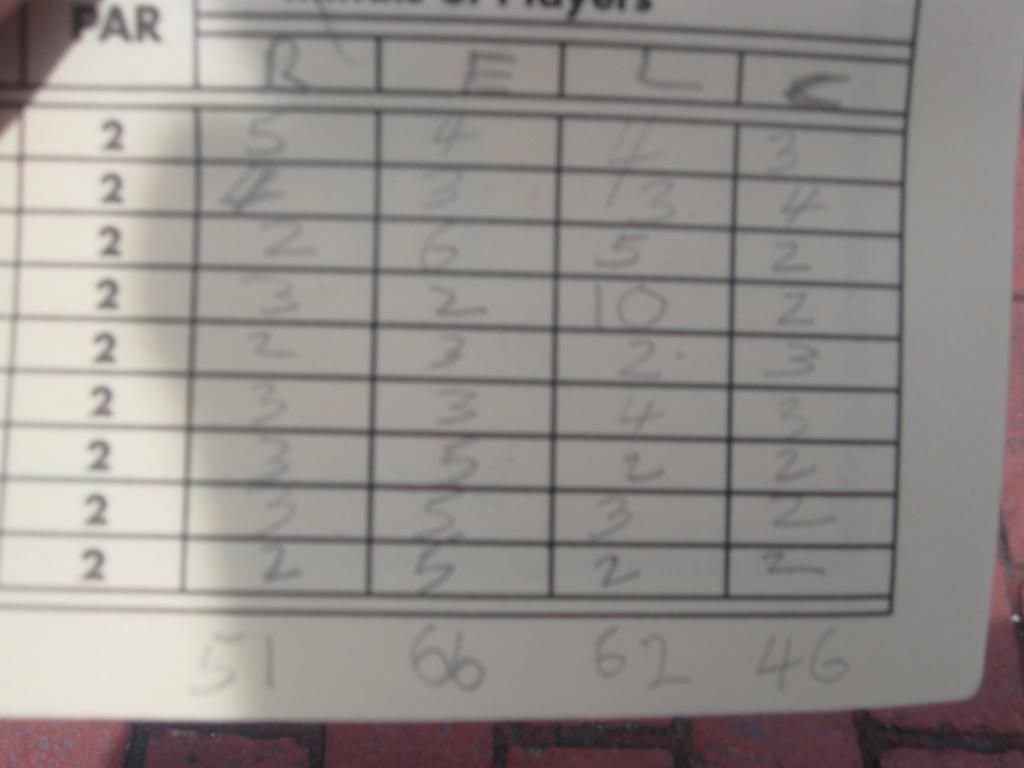 We retired to the shop/ticket office/amusement arcade/shack to cool off and get a drink. Next up was baseball. I hadn't done this since 1980 at Boardwalk and Baseball, and I was looking forward to it.
Tokens purchased we headed for the cages. Look at my impressive helmet!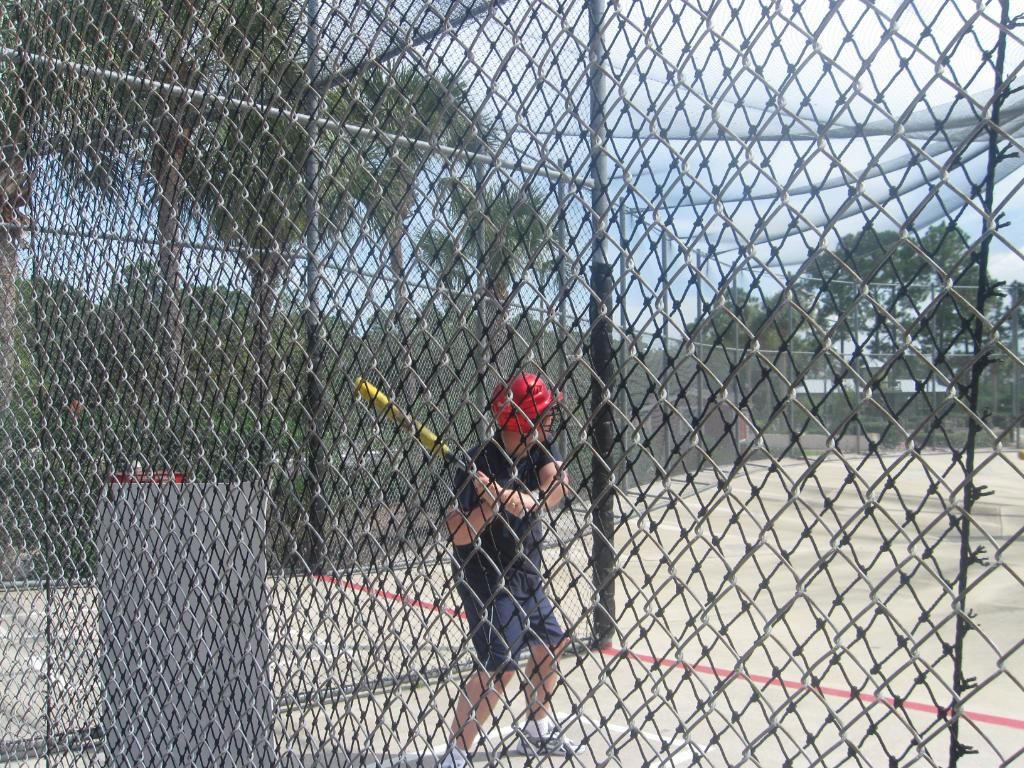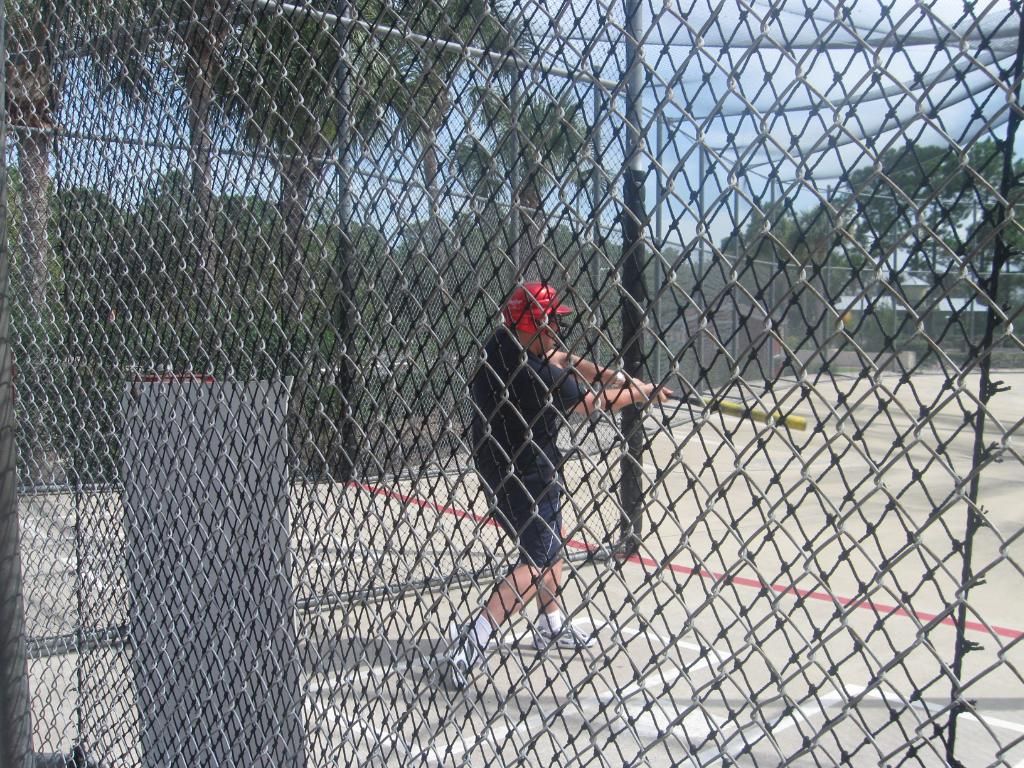 I tried it first, and I was bloody marvellous. I was wondering if someone the wrong side of forty could take up the sport professionally, as I was smashing balls left right and centre. Just as I was going into ego overload, I read the sign on the fence that told me I was in the 40mph cage, which was the slowest on offer, and should I wish to try a man's speed I should move up a few cages.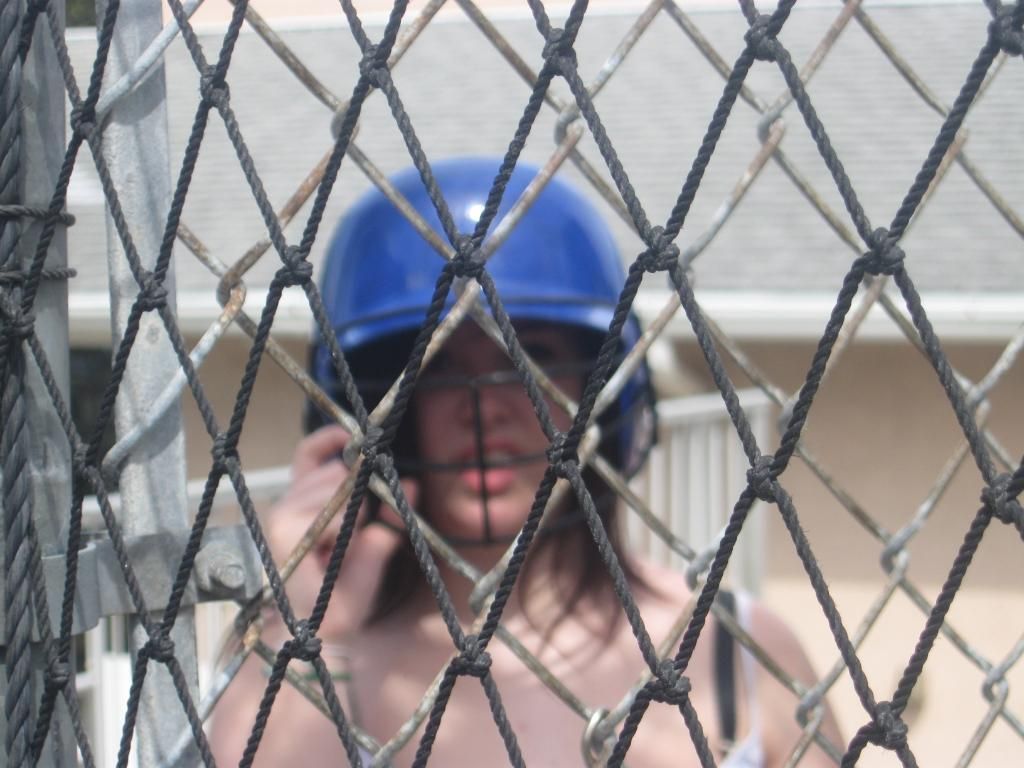 Well, I was settled now, so didn't bother. As I was now 99% sweat and 1% molten fat at this point I let the girls and Louise have a go.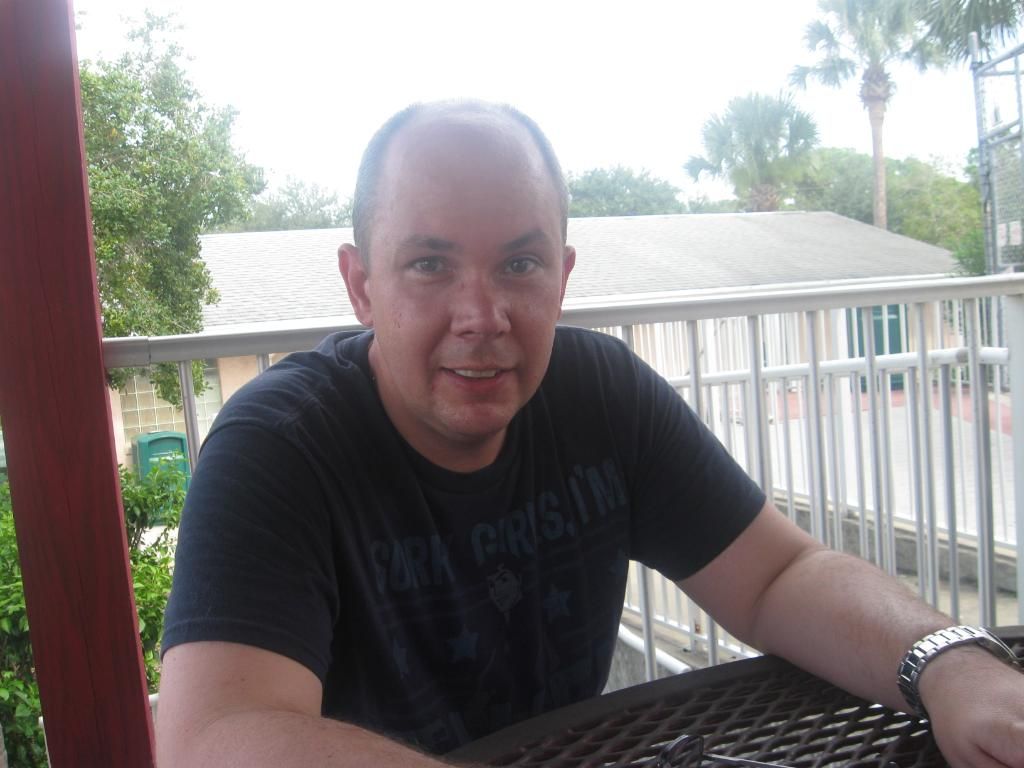 They hit a few, but mainly just moaned about it hurting their hands.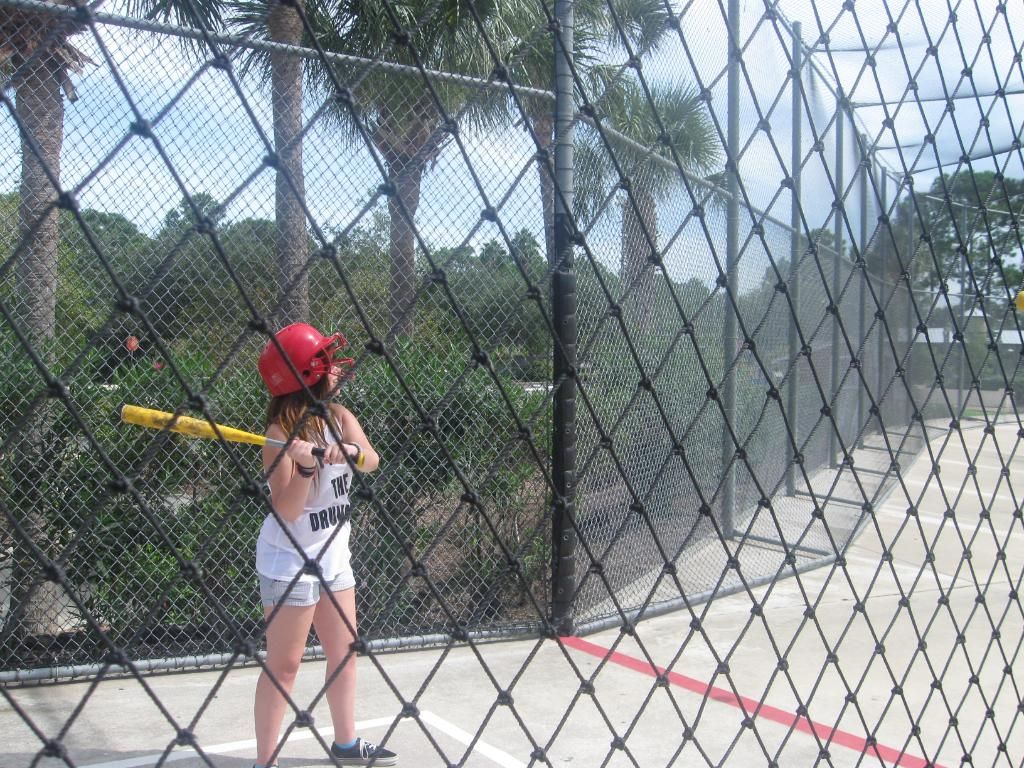 With our tokens spent we sat in our sweat in the shade for a bit before moving on to the go karts. I bought tickets for two goes, but after I had once again inflicted a defeat of enormous proportions onto my family, nobody wanted the second go. So we left.
Go Kart City was good fun, and something a bit different if you are in that area. WDW it ain't, but it was empty so we had the run of the place, and apart from the Go Kart bit which wasn't cheap everything else was decent value.
As it was now late afternoon we headed for the stadium area. It was too early to actually go to the baseball game so we were looking for somewhere to have a drink and a rest ideally on the beachfront. After a bit of driving up and down the "front", past the Sun Viking Lodge (you need to read earlier trippies for that tale), we settled on a Holiday Inn that advertised a beachfront bar.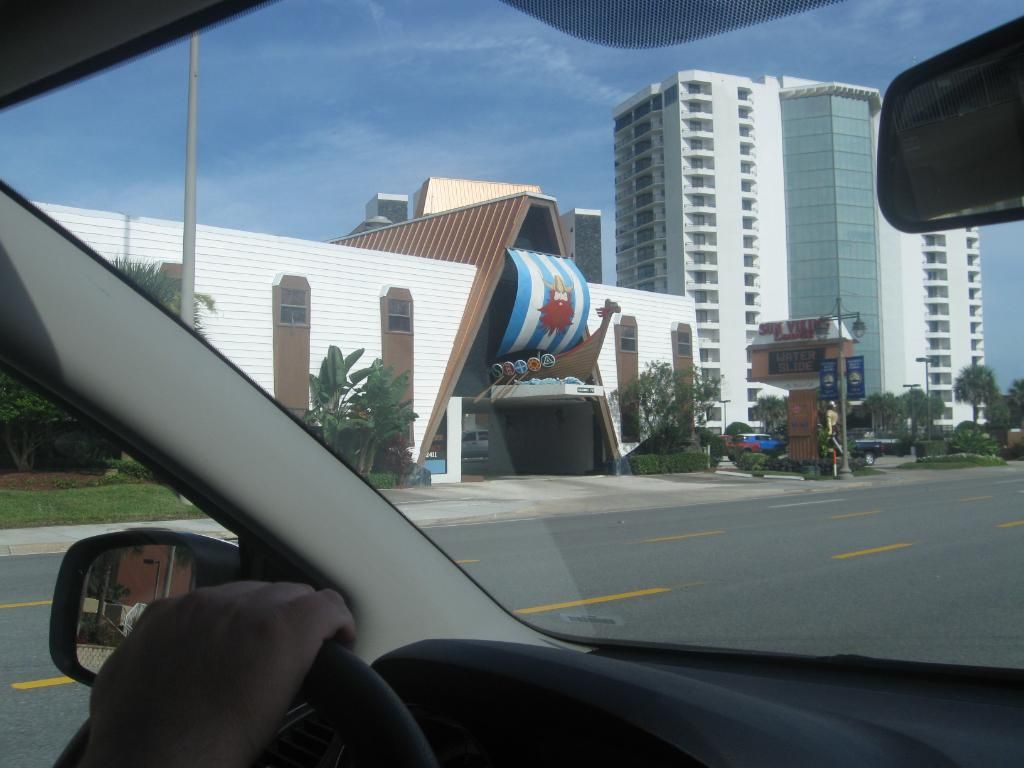 I enjoyed a few diet cokes, as we sat by the pool overlooking the ocean. It was during this time that Louise told me what my surprise birthday present was to be. A behind the scenes Disney tour, tomorrow, as it would be my birthday (I forgot to mention that bit). I'd heard a lot about these so was very excited to finally be doing one.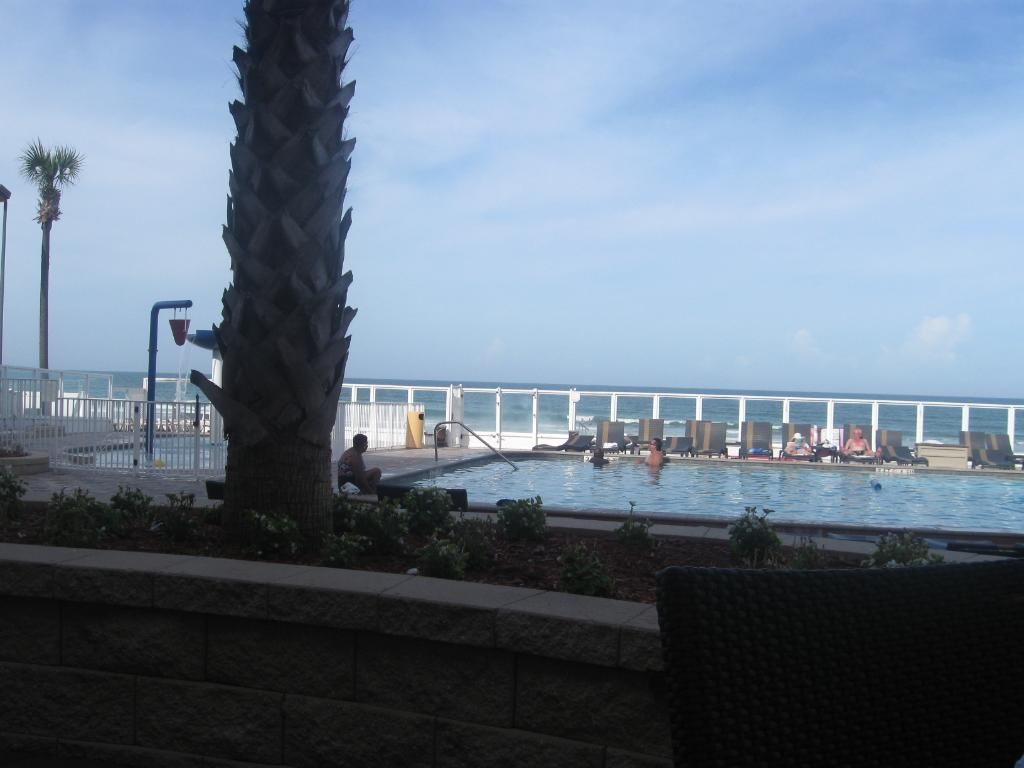 We left the bar at 6.15, and I decided to fill up on petrol now to save us having to do it as we left the baseball late tonight. It wasn't that simple. What a palaver. We firstly couldn't find a petrol station at all, then two were closed, and the one we finally filled up at was in some sort of ghetto. I have never filled up and paid for petrol so quickly in my life.
We entered the stadium at 6.45, and as we entered and spoke to the various ticket people, programme vendors, and some women doing a raffle, our accents made us the centre of attention. After being pretty much the norm in Disney, a British accent at a minor league game a little away from the bright lights of the 192 pretty much turns you into a mix of a freak show and a celebrity…..you know, like Kerry Katona.
We settled into our seats more or less behind the mound (somebody really should have cleaned that up) and watched the game. I made no notes whatsoever on the visiting team, the score or anything else a man should when at a sporting event.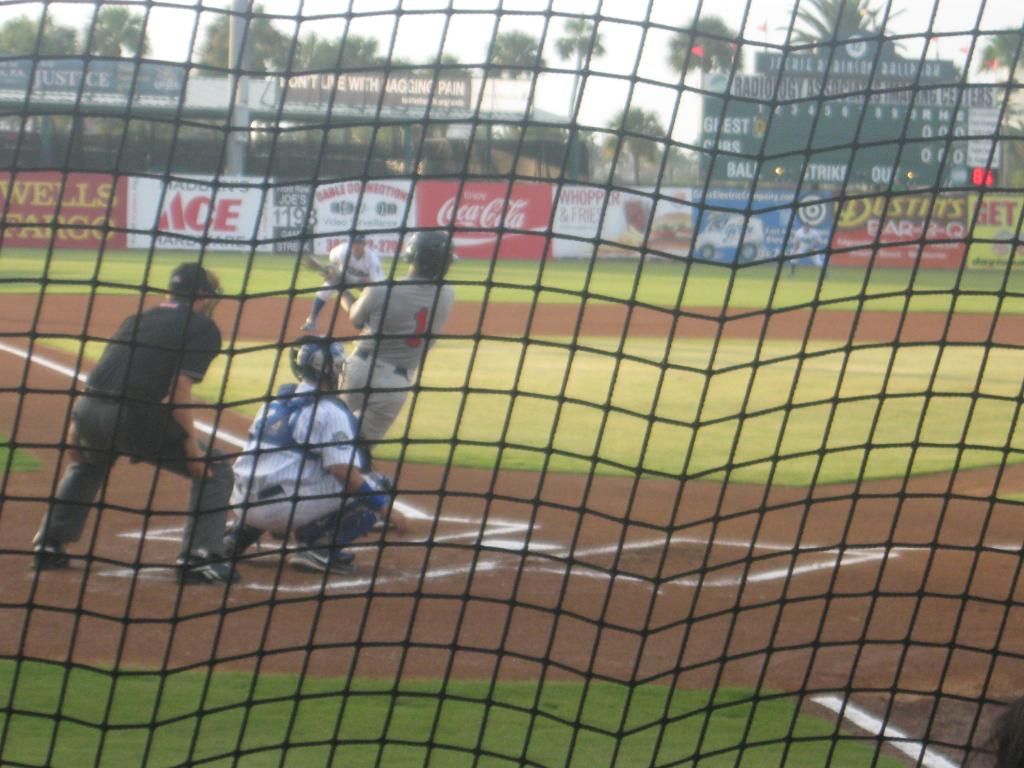 I was more concerned with the food we'd be having. We lasted until about 8pm, and wandered up to one of the food counters to order. We appear to uncover a server who had, just a few seconds before, been beamed behind the counter, and fitted with a team T shirt.
Everything I chose saw him recoil in horror and come out with phrases like "Oh, that one is new, I'll have to ask". He then wandered off for a bit to ask someone in possession of some competence, and then pressed a few buttons on his till.
This continued for a while. Eventually, after a long battle with his stupidity we returned to our seats with what you see here.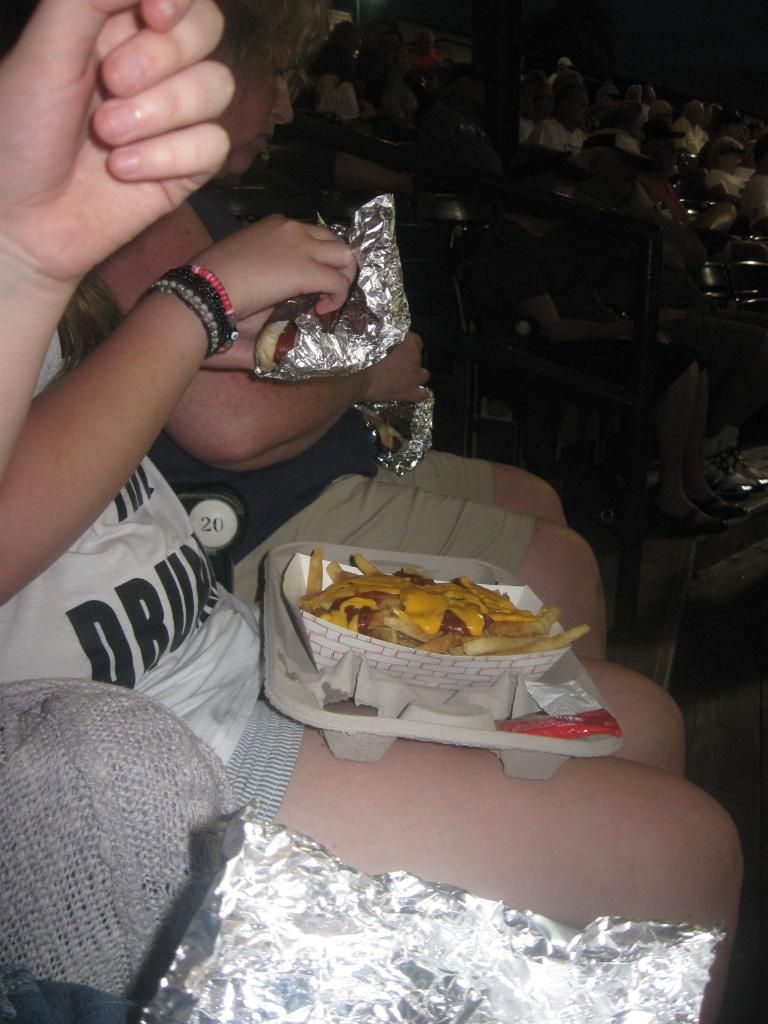 Mine was just about OK to be honest, and not as good as I'd hoped. Everyone seemed to eat everything, but that probably doesn't surprise you.
The in between innings games were not as entertaining as on our last visit, but it was a nice evening all the same.
We left at around 9.30, as I now knew I had an early start in the morning for my behind the scenes tour. I foolishly trusted the sat nav, but somehow ended up on a road that didn't exist. In real life it did, of course, but despite the sat nav telling me to turn onto it, it then denied all knowledge of it, and showed us ploughing through endless grasslands.
It turns out that this road was the 429. Two things you need to know about the 429. It was the road we incorrectly went on just before meeting Jakki and family at Applebees, and it has a lot of tolls on it. This is quite stressful when you have to keep finding the right coinage from your fanny, whilst driving in the pitch black a midst a chorus of snoring.
I didn't note down what time we got home but I do know it was later than I wanted to. Bed was immediate and welcome.
Tomorrow – My birthday and a behind the scenes tour