Hi everyone, So Its been a busy couple of months since I finally became Mrs Wood! Hence the very late report on my wedding day.
Just to pre warn you it wont be the most detailed due to me having the world most shocking memory - but thank goodness I have so many wedding pictures to help prompt me! and if you have any questions about anything please ask and I'll do my best to answer and hopefully help out any future Dibb brides.
I have decided to do this in a few installments as I've been at it all afternoon and I'm only up to the ceremony he he - how all you lovely peeps do full trip reports I'll never know!
I'll make a start on the day before the wedding.
Seb and I had the most stressful day getting things together, we had a very early start as I had arranged a shoot for my bridesmaids as a pre wedding treat. We had reduced an hour of our photography with Randy on the wedding day so I had organised this shoot instead. We wanted something fun, so picked Art of Animation.
Right from the word go that morning the kids were playing up; they didn't want their hair done, didn't want to wear that dress, didn't want this for breakfast bla bla bla. The weather forecast was not looking great - not good for an outdoor shoot!
We finally arrived a little late and I had difficulties finding Randy, I think we just kept missing each other in the lobby. We couldn't contact Randy as stupidly we hadn't set up our new phones for international use doh! Seb had gone off to collect the best man's girlfriend and daughter for the shoot so there I was in very humid weather, trying to stay calm and collected whilst my grumpy kids ran riot.
When I eventually found Randy I was not looking my best as you can imagine! We went straight into the shoot as the clouds were closing in but it was still dry at that point! We managed to get a few shots around the cars.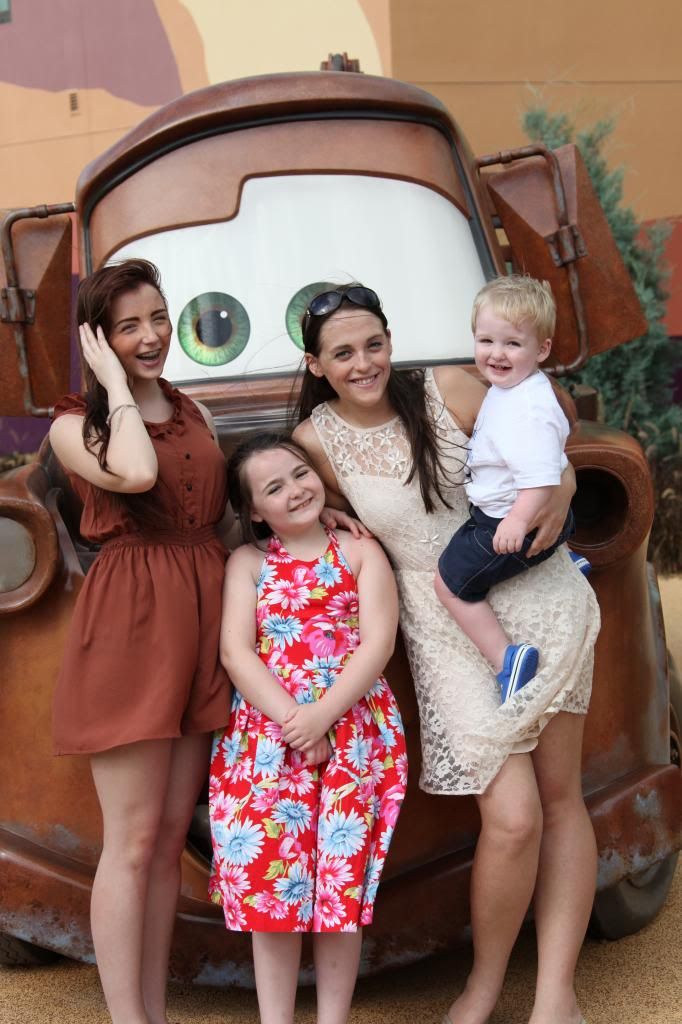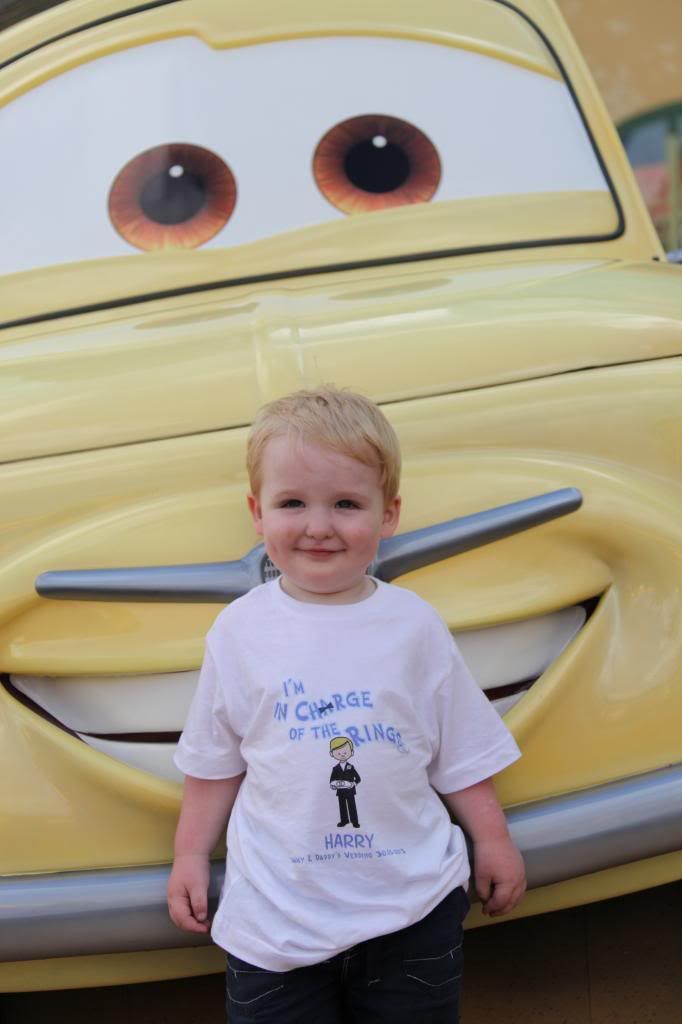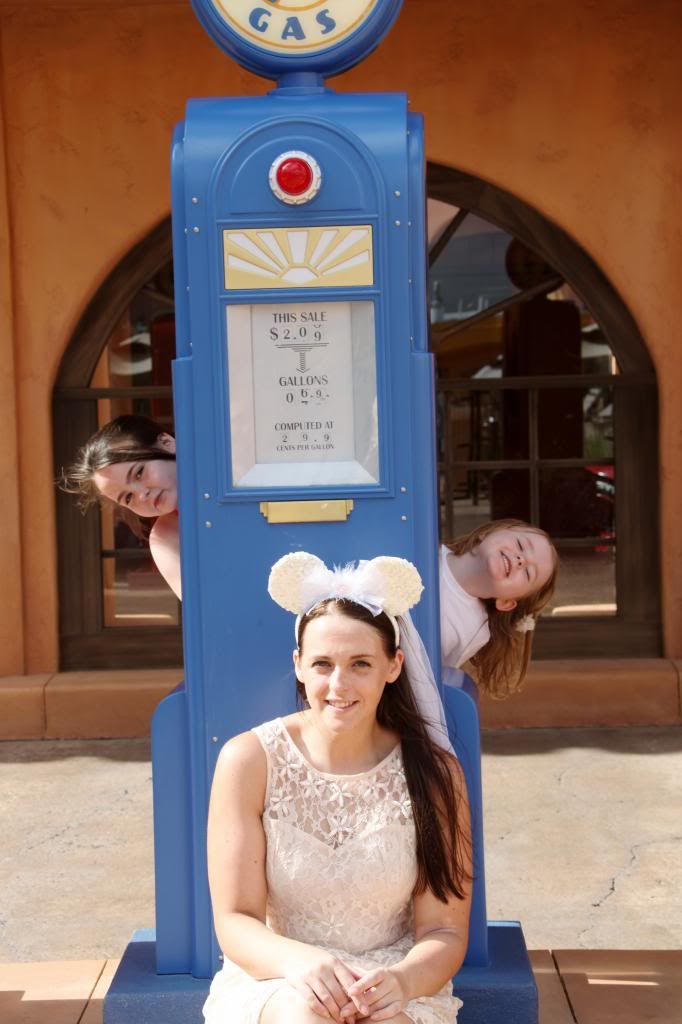 We were heading over to the lion king areas/little mermaid areas and the heat was getting the best of me, seb still hadn't turned up so I was trying to organise everyone to have pictures whilst trying to run after Harry - not good. Then an anticipated the heavens opened...
and basically didn't stop!
We had to take shelter in a corridor leading to the accommodation, not the best backdrop for piccys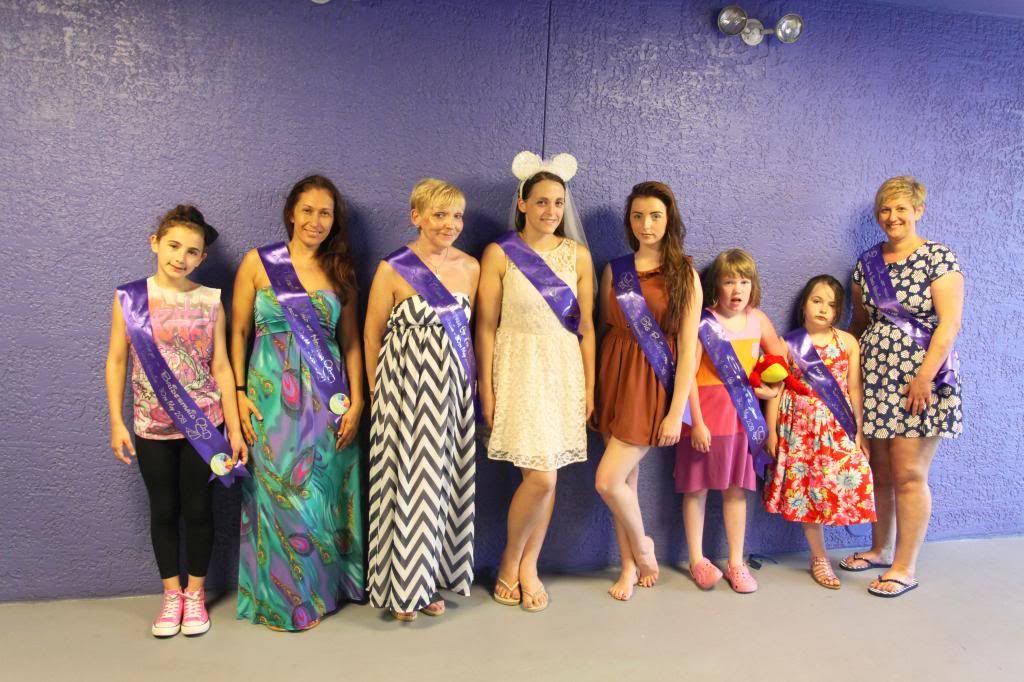 My mad head had sister decided to brave the rain, (Randy called her a rebel!).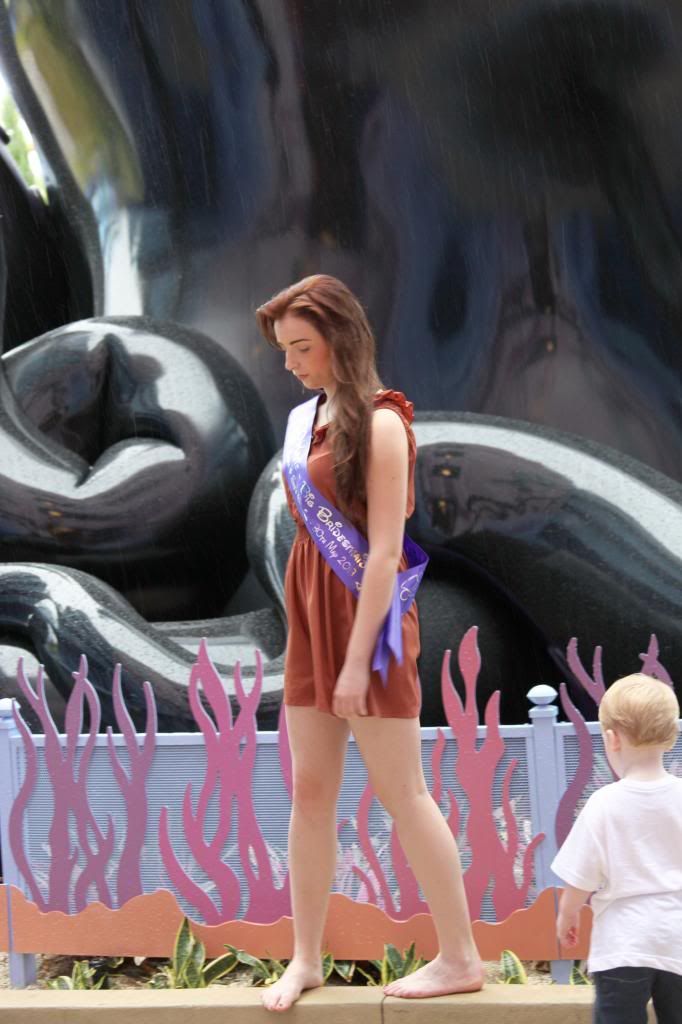 so I though what the heck and joined her.
I tried to get a few fun shots using the sashes I'd had made for our 'hen day' but that didn't work out great - can't believe nobody told me you couldn't read it properly!
Classy mature girl she is, her tongue was yellow from eating a lolly!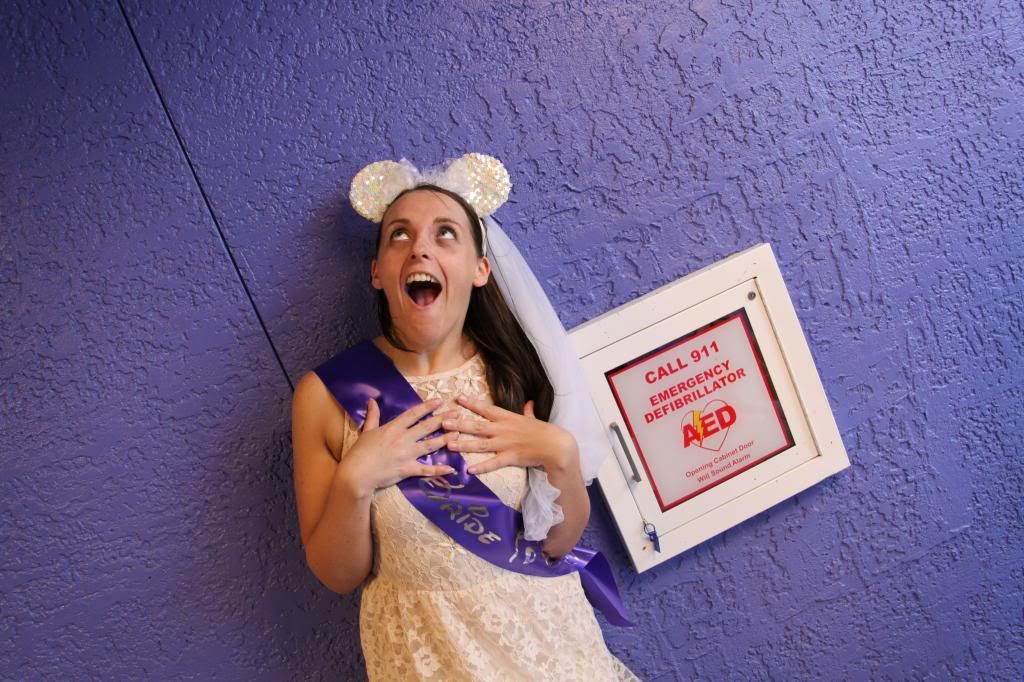 Finally the rain stopped and we got some group photos.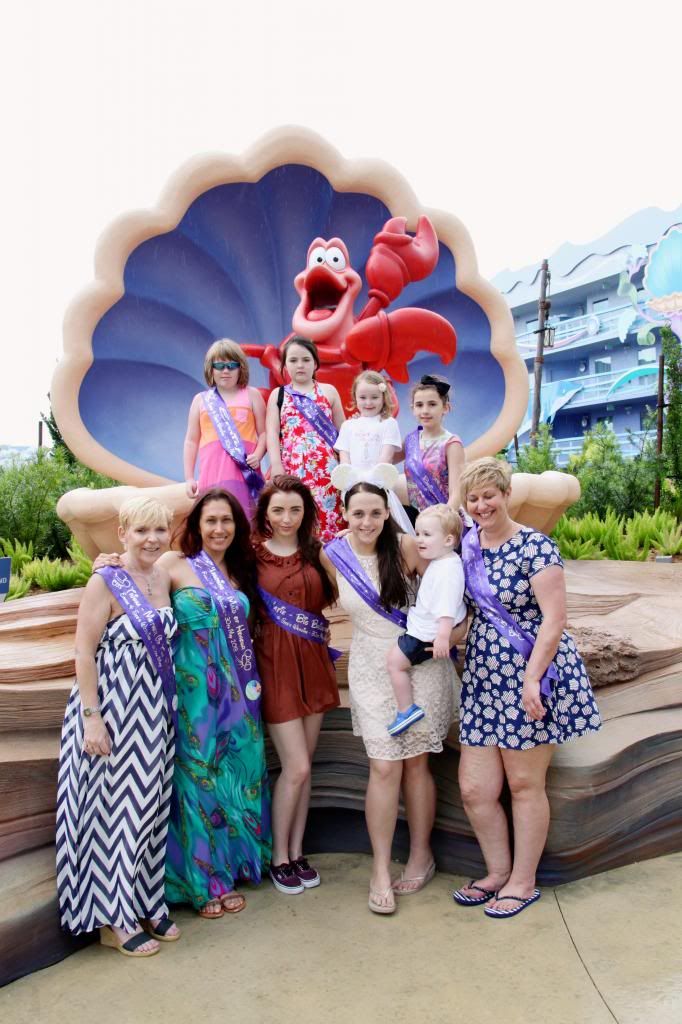 Even though I was miffed with the weather on the day looking back Randy got some fabulous shots of the kids, (even with messy hair!), but as you can imagine at the time I was just dreading that this was a sign of what was to come on my wedding day!
If I had the time again I think I would have either just done a shoot with the older bridesmaids or a family shoot with us 5 - there were just too many people to get a decent shot of us all, and far too much stress the day before the wedding!
Sorry for the lack of piccys on the next part but if you carry on reading you'll see why I wasn't quite snap happy!
Following the shoot we headed over for our nails done at Image nails. The pedicures were fabulous and the massage chairs were amazing! When it came to my nails I wanted a shellac manicure as I think they look so much more natural, the man who did my nails kept saying how short my nails were and I hate to say it I felt a little pressured into having acrylics. I will say one thing I asked him not to file my natural nail too much so as to not cause damage as I am a nurse I would have to remove them when we got home. He did do this, and they are in fairly good shape now I've had them removed. On the other hand I hated them!
I had the pink with white tips and the pink was almost red, I was really upset as I couldn't change them - they did put a white over the top to reduce the colour but I still wasn't keen. In the end I had to just accept them as I so much more left to do.
We had originally planned to go for a meal after this with the hens, but as I had left it a bit late in the day to arrange my dress steaming I had to scrap that idea and settle for Mc Donalds, as I still had to drop off my favours at Citricos and get back to meet one of Lori's colleagues from Loftis Productions (she was booked up so couldn't steam the dress herself).
We got to Citricos and dropped off the favours no problems and had about half an hour to get back to Animal Kingdom Lodge - easy peasy or so we thought... I had seen the sign to turn right out of the car park for all guest areas, evidently Seb had not. I wasn't looking as we were driving out as I was too busy looking in the mirror stressing about the 3 spots I had suddenly developed (I never get spots, I usually have eczema) and about how much weight I'd put on that week and how I wasn't going to get in my dress - Lesson learnt vanity gets you nowhere (or in a whole load of traffic it would seem).
To cut a very very long car drive short we arrived at AKL almost an hour late! Lori's colleague was lovely and very understanding, she steamed my dress and we left her extra tip to say sorry.
There were a few bits we had left at the villa by accident so poor Seb had to go back and get them, we said our goodbyes then but he told me the next day he didn't get back to the Villa until around 10.30pm after picking up his best man and delivering all our stuff, bless him. One of the thing he was supposed to bring back was my bracelet, he forgot it (or that was his excuse), he said he would get his Step Dad to drop it off the next morning.
We had booked a value 2 bed villa at AKL on DVC points. I was really disappointed we hadn't been given a Savannah view or even a pool view room as I had researched it before and you only had 20% chance of a car park view and with it being noted on the booking it was the night before my wedding I had high hopes I would get at least a pool view. Obviously, I know these rooms are cheaper as you don't get a guaranteed view, but I still took my chances and tried to get us moved - but was told as it was a DVC we couldn't
There goes my getting ready phtots with Savannah backdrop
the disappointment of this was soon over shadowed by my obsession that would develop with the weather. Carrie had emailed me to say that there was a chance that it was going to be raining the next day and that they would make a decision about if the ceremony would be held outside an hour before the ceremony.
I promised myself I wouldn't worry about the weather but I so wanted that gazebo wedding, I had also paid for gazebo fabric and arrangements so these would have gone to waste if it was held inside. All night I was constantly checking the weather on my phone - thank God for the free wifi!
Then my Mum and Jas came to the rescue with a bottle of wine and I eventually came to the conclusion that whatever the weather I was getting married to the man I loved and we would have a fabulous time!
Finally, at a little past midnight we got in bed. I am surprised at how quickly I got to sleep given all the things running through my head, but the last time I looked at the clock it was around 00.30 zzzzz