We went to Chef Mickey's for breakfast on day 1. We had an 8:40am
ADR
and on the morning we woke really early and were starving, so I'd wished I'd booked it for earlier.
It was hard to get photos here as the plates were a mix and didn't look too appetising, plus we were getting photos of the girls and Mickey, Minnie, Goofy and co.
I believe this is mushrooms, egg, french toast, hash browns and cheese sauce. Oh and a Mickey waffle!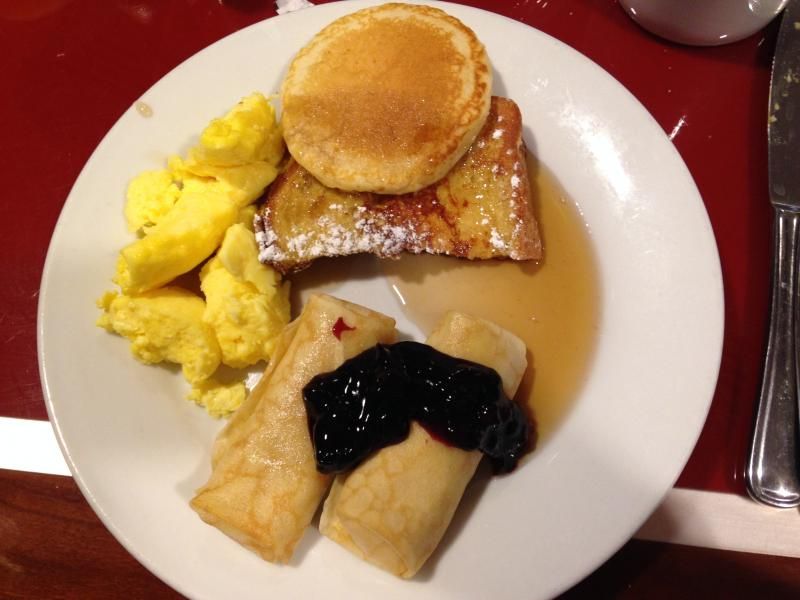 And this is more french toast, pancakes and cheese blintzes with blueberries.
We were on the DDP but this would have been over $200 if we'd paid.
We went to Magic Kingdom and went on the 7DMT and the girls met Anna and Elsa, and then it started raining. As we were up in that area we went to Pinocchio's Village Haus for a late lunch. Because of the rain, it was packed in here and quite stressful. I was left on my own at the counter while they were all looking for a table, and I had three trays to carry. Fortunately the staff helped me carry them and took me off to a reserved area where I managed to bag a table.
We got a lot from here, the girls shared an adult's nuggets, dad and Matt got BBQ chicken flatbread, mam and I shared a mozzarella flatbread and we all shared some breadsticks. It was nice and when we went back out, the rain had stopped!
We went for a wander for Walmart, which took two hours! We also went later the next week. But here are some of the treats that we bought: