The plan so far
**FYI there's a lot of reading in this post so as not to bore my lovely audience too much (if anyone does make it to the end lol) I've added some random piks of previous trips in this post to make it a bit more interesting hehe.**
As if I haven't got anything else to plan in my life like, moving house and new job and a wedding I now have this mini disney holiday to plan and that has made me happier than ever !
As soon as it was booked I dove into planning! But DLP isn't really my forte I'm not gunna lie! I've been to DLP 5 times but only for short breaks, the first two I was a lot younger and the previous two only for a couple of days so we ran round doing everything we could (one of those times was NYE so we didn't get to do hardly anything it was so busy !) but our trip in 2013 I started getting the hang of things a little, that was the first time we stayed onsite and we booked a few restaurants so I felt I can use my knowledge from then to help me plan!
One of my favourite piks from that trip !
I will be home in Seaham (up north) before we travel and my mam and dad will just have returned from there holiday in Maderia, so the plan on the 11th of August is to be up nice and early (thinking possibly 5) and for James to drive us down to London to the airport for our flight at 15.20pm. We will stop closer to the airport to eat and when James has us safely delivered he will head to his Parents in Kent and spend a few days with them before picking us up again.
We will arrive and head straight to Disney from Charles De Gaulle, we haven't booked our transfer yet but from reading a lot on the trusty Dibb I think we will brave the TGV, neither me or my mam have a good sense of direction or any french speaking abilities but it looks pretty straight forward, so I will be following the picture in the handy step by step guide!
We are booked into the Park and Suites Prestige Val D'Europe for two nights now we have two choices here, the original plan was to drop our cases off and head back to the Disney Village, but on further discovery I found that the bus stop for the hotel is the other side of the Disney Village so upon further thought I planned to store the cases at the luggage storage in the train station and head on into the village for food.
My plan here is to try and secure a later sitting for Cafe Mickey, this means we will be fed and have most of the character meet and greets done at the same time, meaning the next two days we can focus more on rides and less on securing some great character photos!
Unfortunately I am aware that the world and its wife will have arrived at disney in August all the whole of Europe practically is on summer holidays, so the more we can do in the less time the better!
I know we will have been up pretty early but hopefully we will have got some sleeps time on our journey and will be all Disney Hyped to enjoy our first night.
We will arrive at 5.45pm at CDG we don't have any hold luggage to wait for, so by the time we figure out where we are going we should make the 6.48pm arriving at Disney just before 7pm!
With this in mind I will try and book Cafe Mickey for 8.30pm giving us time to drop our bags and grab ourselves a drink and have a slow wander round Disney Village, but more importantly will give us some time to play with if "God forbid" we are delayed!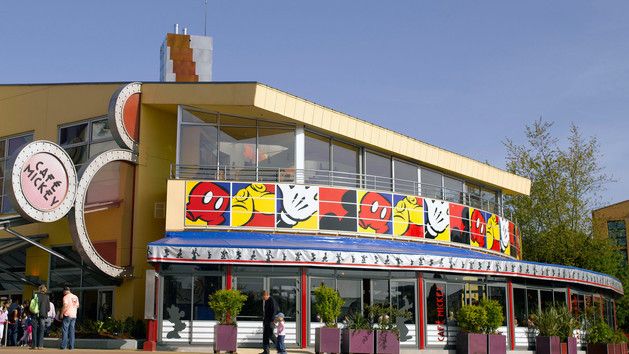 Day 1 will arrive and we will be up and into Disney village for breakfast ! The last time we stayed on site with James in 2013 I remember going to Earl of Sandwich for there Breakfast selection and throughly enjoying it or does anybody know if Annette's do breakfast?
We then head over to Hollywood Studios Park with one mission and one only and that is Ratatouille!
Now this is unheard of on the first day I like to go nowhere other than MK that's in WDW and DLP but needs must and I've read a lot of trippies that have mentioned ratatouille "going tech" and being down for hours at a time and as we only have effectively a day and a half here we need to maximise it !
One ride will be good enough for us so we will head over to the studios 9.30am and wait when we get let in we will charge straight over and either queue or grab two fast pass's with (hopefully) early return times! After this we will head back out of the park and onto MK the crowning glory!
Not too many plans here, firm favourites are BTMR (we will probably head straight over for FP's) and then onto POC another favourite of ours.
My mam loves IASW so we will be likely doing that at some point and although It's not a priority Peter pans flight would be great but we all know how the queues get for that!
I know Space Mountain is down over summer which is a huge shame it's a great ride that we both love, but it is one less to cram into our short time frame, and upon discovery as my Mam gets a little older (I know she won't mind me saying this :p) she has started to enjoy faster rollercoasters less and less (exceptions for RNR she seems to still LOVE this ride lol) so we will probably also skip Indiana Jones for this reason.
We love the parade and the shows so we will try and see as much of them as we can, we aim to spend all day on the park and we really want to do the most we can.
Now food ... on the first day I'm slightly undecided, on our 2013 trip me and James ate in both Blue Lagoon and also Walts, this is our only night in the park so we will try and have an "earlyish" dinner here and then end the day with Dreams.
If possible I don't really want to take time out for an afternoon nap! This will be hard for me as my stamina is not great in the parks and I'm quite accustomed to my half days but as we aren't here long and it is August so I know the queues are going to be mad I'm hoping we can hang on in there!
Day 2 we will check out and head for some breakfast again, maybe just a coffee and a croissant this time as i'm contemplating booking a slightly later lunch.
We will head to luggage storage at the studios and drop our bags here and head straight in and hopefully onto Crush's Coaster, my mam hasn't been to DLP for about 10 years and I know she will love this ride, and I must admit I do too, it's so fun!
Favourites here include TOT and RNR we are both not fussed on the stars in cars parade (we have both seen the similar version that was at WDW years ago) so we can skip that and possibly got in some shows.
Food here is possibly going to be Bistrot Chez Rémy. I was slightly undecided here, the theming looks fantastic and the menu is really appealing to both of us but after having an investigation on trip advisor the reviews weren't' pleasant. A lot complained of dirty tables, cold food and very rude servers, but having read Gill H trippie on here over the Welsh weekend at DLP I was swayed.
I will try and book in here for around 2pm.
The rest of the day is free to finish whatever we have left to do, our flight home isn't until 9.50pm so we aim to arrive at the airport around 3 hours before we fly just incase.
I've just checked the TGV to CDG and one leaves Disney at 6.52pm arriving at the airport at 7.02pm so we will leave the studios at latest 6pm collect our luggage and back to Marne la Vallee.
As an extra thought i think I might book a cheap premier inn or hotel at Luton, we have a longgggggg 6 hour drive back home and although James doesn't mind driving through the night I think it would be better if we all had a fresh nights sleep and then travel the next morning.
Hope I haven't bored you all too much ! I know it's a lot of info but I do feel now that I have my plans all ready to roll.