Today we were off to Epcot.
I'd booked a Kitchen Sink for around 3pm and it was also the Garden & Food Festival so
just fruit salad for breakfast, again in our room.
Which looked a bit like this...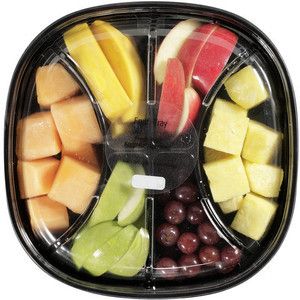 For the record, you can buy a much nicer one in Publix but this was ok.
I can't remember much about the morning. I did introduce them to Beverly though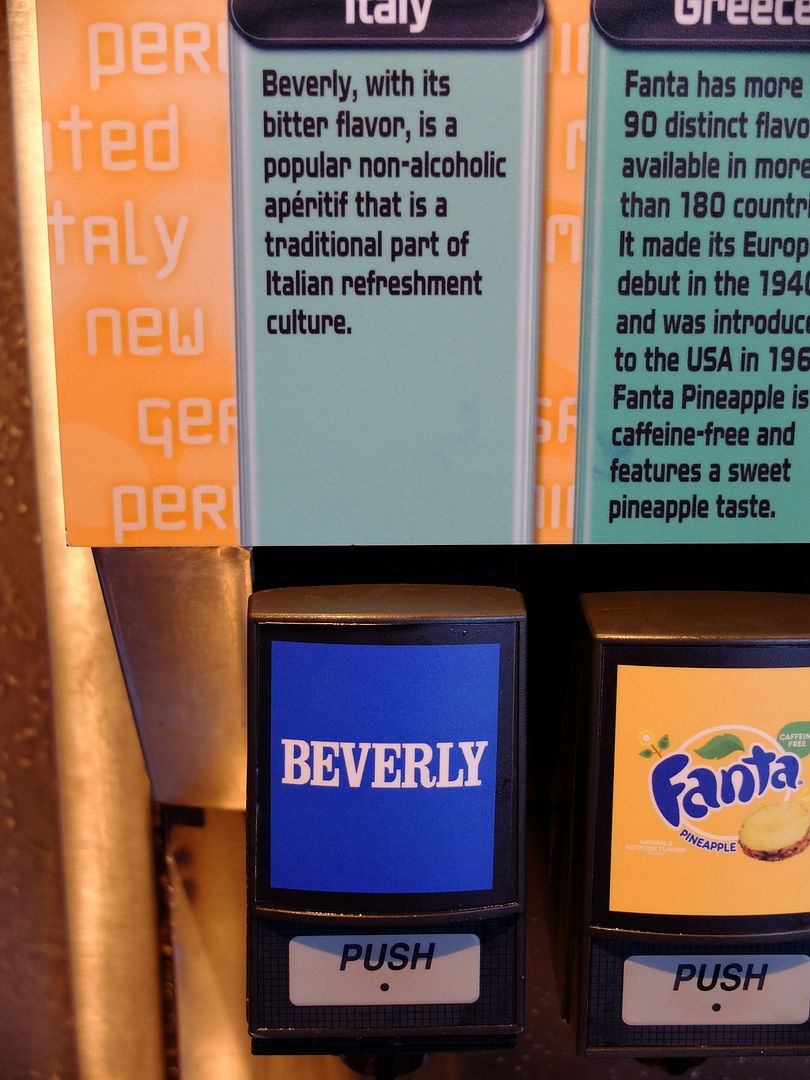 I'm amazed they went for it. I'm a useless practical joker. Absolutely rubbish!
With huge tears in my eyes and through giggles I told them it was "lovely" and they still tried it!
OH called me a jerk afterwards! It's truly vile. Do the Italians really like it?!
Onto Soarin!
After which we had a toilet stop.
This was when I noticed a message on my phone from OH's stepsister with the terrible news that his dad had passed away. Whilst this wasn't out of the blue, it was still a shock.
I really didn't know what to do. I knew we'd not be telling DS but I obviously needed to tell OH. I sort of gathered myself together and went to find them both.
I sent DS off to buy some drinks. I pointed to the place with the longest queue and had to break the news to OH.
He had a little wobble but was amazing. Asked me a few things about how it had happened, took a deep breath and said "right, drink"
DS came running around the corner at this point with 3 bottles of water so seemed a little perplexed by this suggestion.
We wandered over to France, set DS up with an Agent P Challenge, told him not to leave France and gave him strict instructions of where we'd be.
He was absolutely delighted to be afforded this level of freedom so off he went feeling very grown up!
We bought 2 slushies.
1 Grey Goose and 1 Grand Marnier, sat on a wall in the sun and made a toast.
That really was that. (until we got home) OH's dad had been very clear that if the worst happened we were not to come home.
I won't post the photo of us making our toast because it was a personal picture sent to his step mum. OH's dad liked a drink so it was a fitting tribute.
However, they are delicious so for those of you who haven't seen or had one, you absolutely must.
Here they are!
**$9.95 each**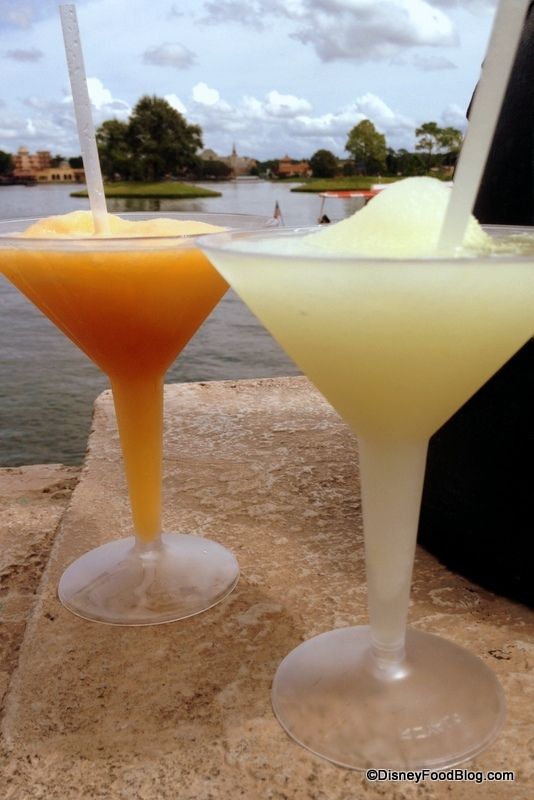 We had a few
Anyway, onwards and upwards.
A very smiley DS appeared waving a massive ice cream he'd bought for himself and the phone from his challenge.
He'd really enjoyed hunting for Perry so we all went off to do another one together.
*If you haven't done this before I'd really recommend it.
He loved his ice cream which came from the place next to Monsieur Paul. L'artisan des Glaces? (Clearly the kitchen sink wasn't going to be enough ice cream for one day?!)
It looked a bit like this one. It was salted caramel from memory
**$3.99 for 1 scoop, $6.10 for 2**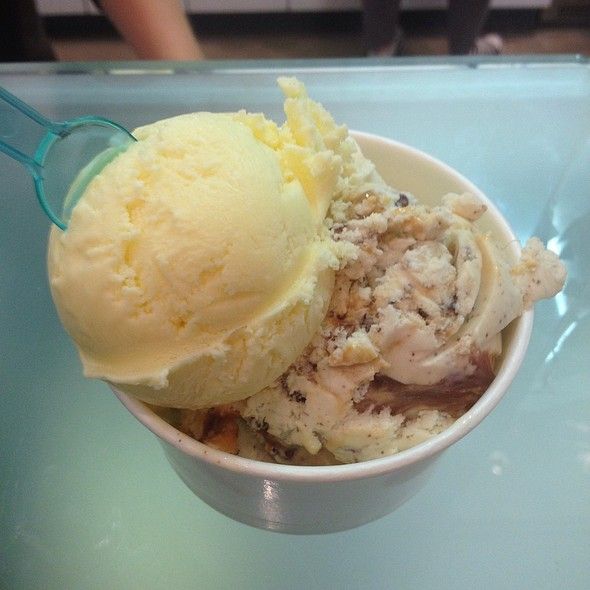 DS was a bit hungry before it was time for The Sink so he chose this snack from one of the food stalls.
Pineapple Dog – Spicy Hot Dog with Pineapple Chutney and Sriracha Mayo
**$4.00**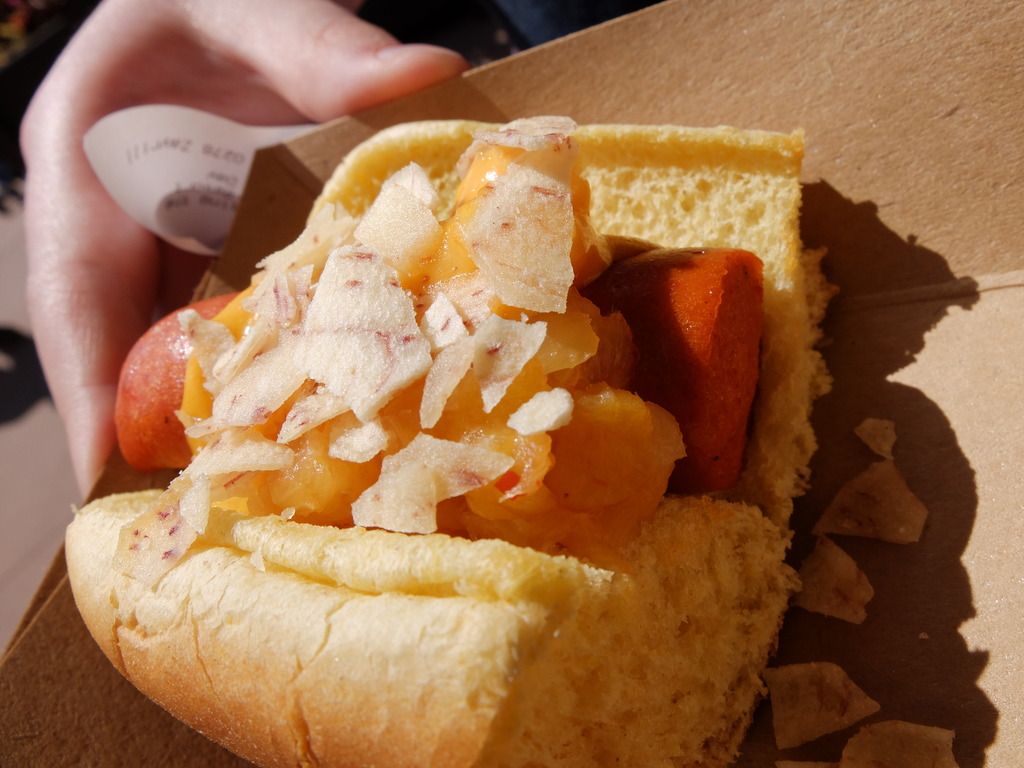 He loved this. Particularly with the crunch from the pineapple bits on top
Right, the moment we'd been waiting for...
The Kitchen Sink!
For those of you who haven't done this, it's a silly amount of stuff in a bucket. Mainly ice cream but also huge chunks of cake, biscuits, some fruit and a lot of toppings!
People often mention sirens on here but we didn't experience that. Just flashing lights and the announcement by the server to everyone else that you're basically a very greedy bunch!
**$28.99**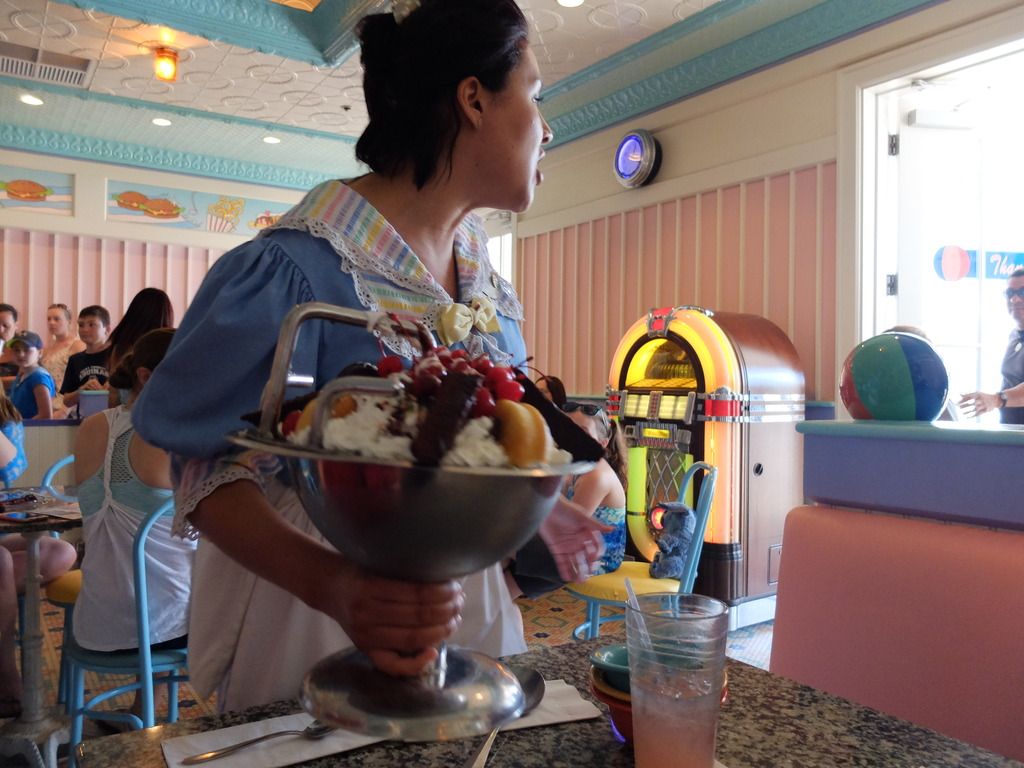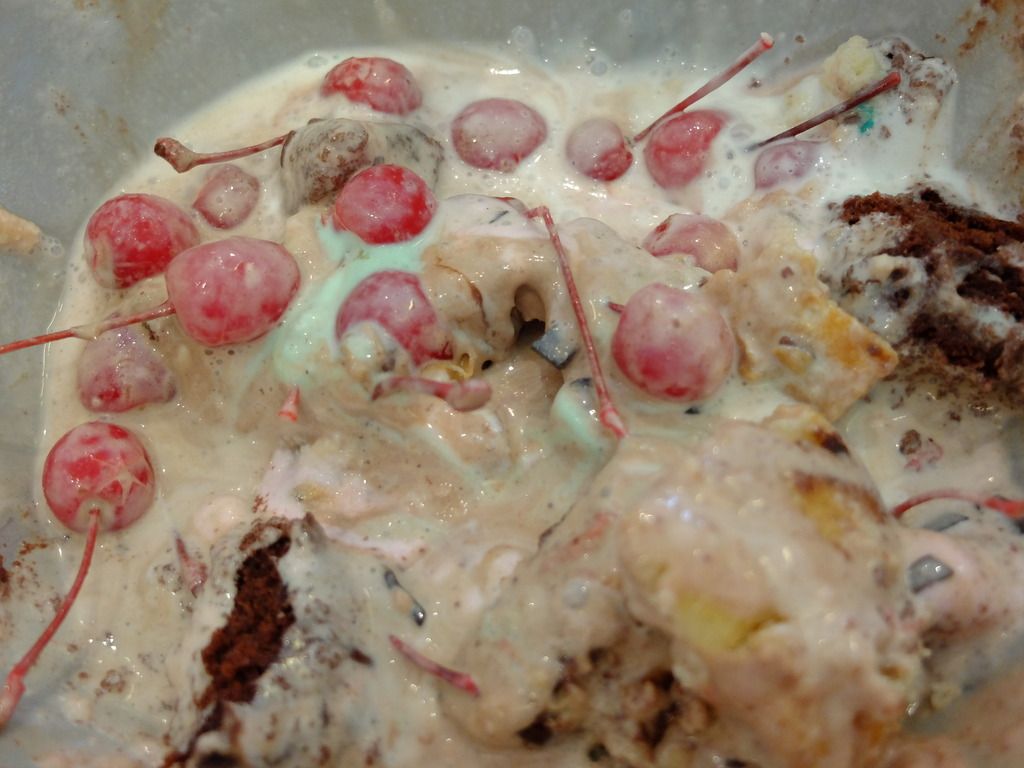 As you can see, between 3 we did an embarrassingly good job of it!
It's a fun thing to do and we enjoyed the spectacle of it. However, it's not the best ice cream or the best cake and it is squirty cream so there are better sweet things available.
I'd definitely recommend it though. We all laughed and had fun which is what was needed.
Well we walked that lot off for about 4 hours and then decided we needed some savouries.
We tried something (between 3) from almost every stall.
I have found the menus so I'll do my best to name each photo.
*I'll continue in the next box because this one's becoming a pain to edit!