pixie81's Guidebook Reviews & Comments (8)
To view a review on the Guidebook page, just click the Page Title.
---
Date Submitted: 11-06-2012
Page:
Islands of Adventure Restaurants
->
Mythos Restaurant
---
We went to Mythos at Islands of Adventure in May 2012 and it was one of the best meals we had whilst in Orlando. I booked a table for 12:30pm 180 days before through
OpenTable
and had a reservation number which I took with us, although we didn't need it.
We arrived in the Lost Continent at 12pm and decided to go into Mythos and see if we could be seated early. The lady on the front desk said it wouldn?t be a problem and gave us a pager and asked us to wait a few minutes while they got a table was ready.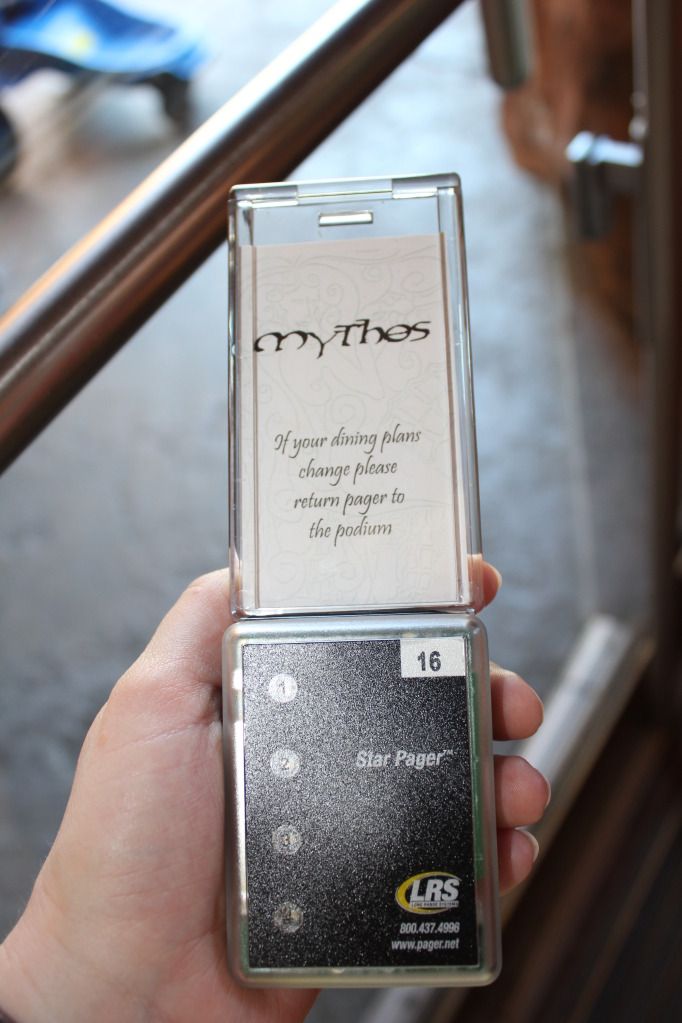 It was SO hot outside, so the air conditioned lobby was bliss. However it was really busy and the lobby was full of people waiting for a table who didn?t have a reservation. 40 minutes went by and we had still not been seated. Mythos only opens for lunch and some people were being turned away.
I was just about to go and have a word and find out what was happening when our buzzer went off. We were taken through and were wowed by the theming. It really is spectacular.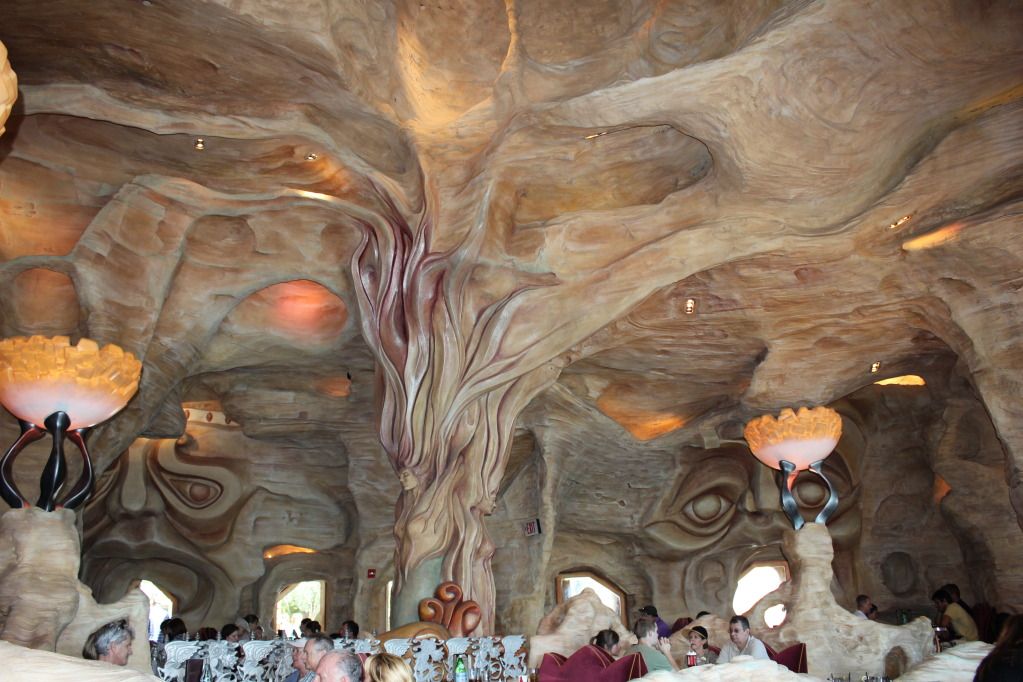 We were seated at a great booth table tucked away in a little cove almost.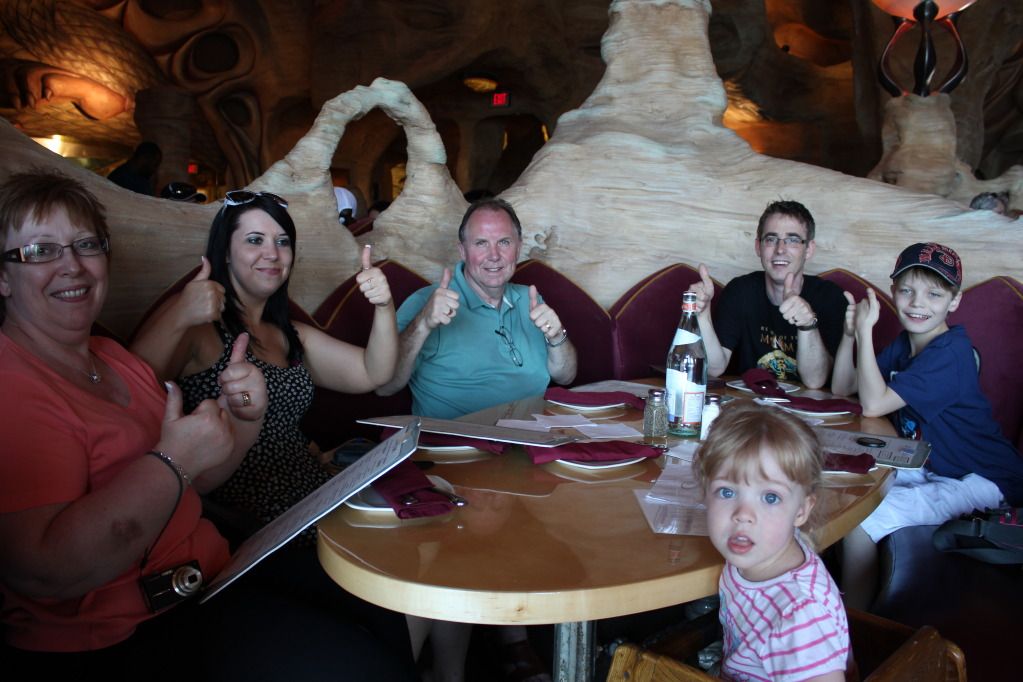 Our server was nice enough, although he looked rushed off his feet. He brought us a basket of bread and took our drinks and food orders.
We had:
Mythos Burger cooked medium well
It was the best burger we?d ever eaten. It was so delicious and juicy.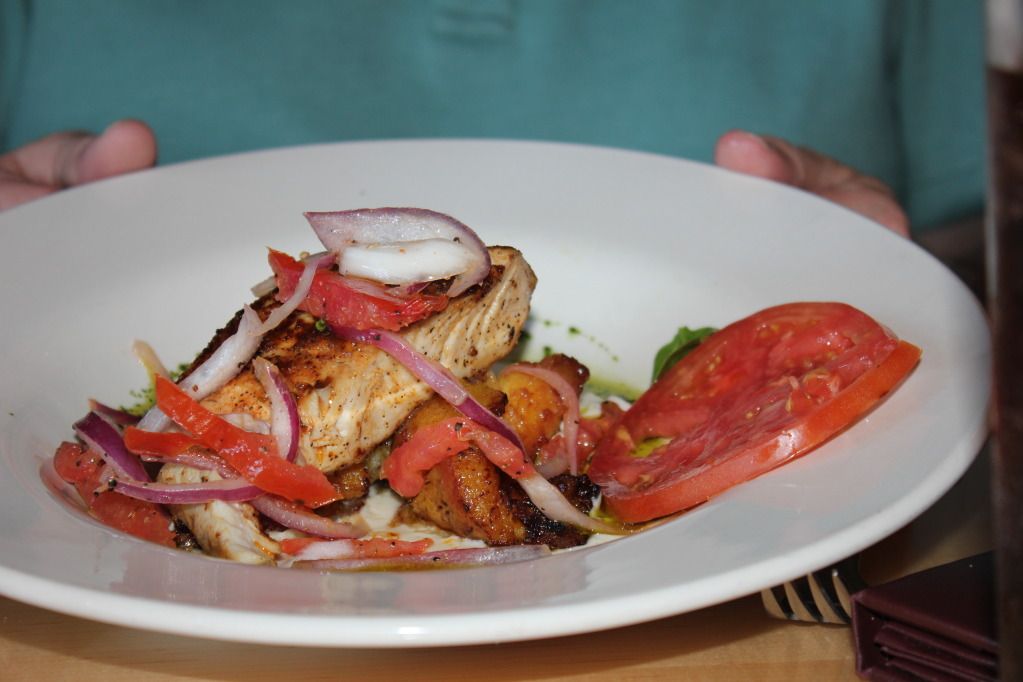 Blackened Mahi Mahi.
My Mum had the Mythos Pad Thai with BBQ plum roasted pork. She said it was nice, but a little too spicy for her (she doesn?t like anything remotely spicy). She polished it off though so can?t have been too bad!
Mythos Pad Thai with BBQ plum roasted pork.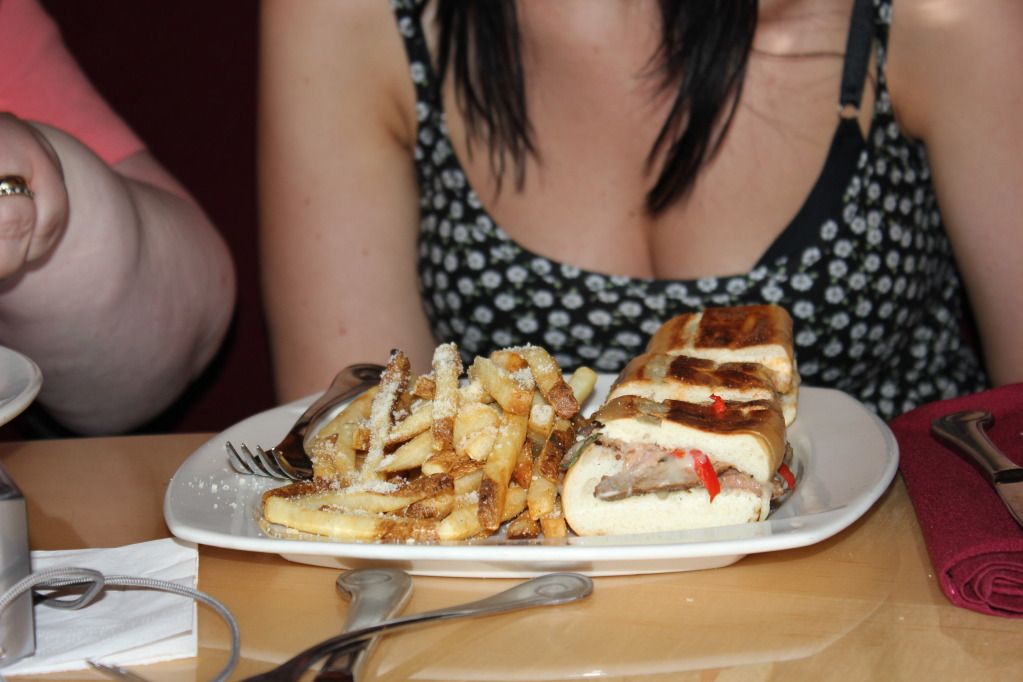 The Roman Panini with parmesan fries.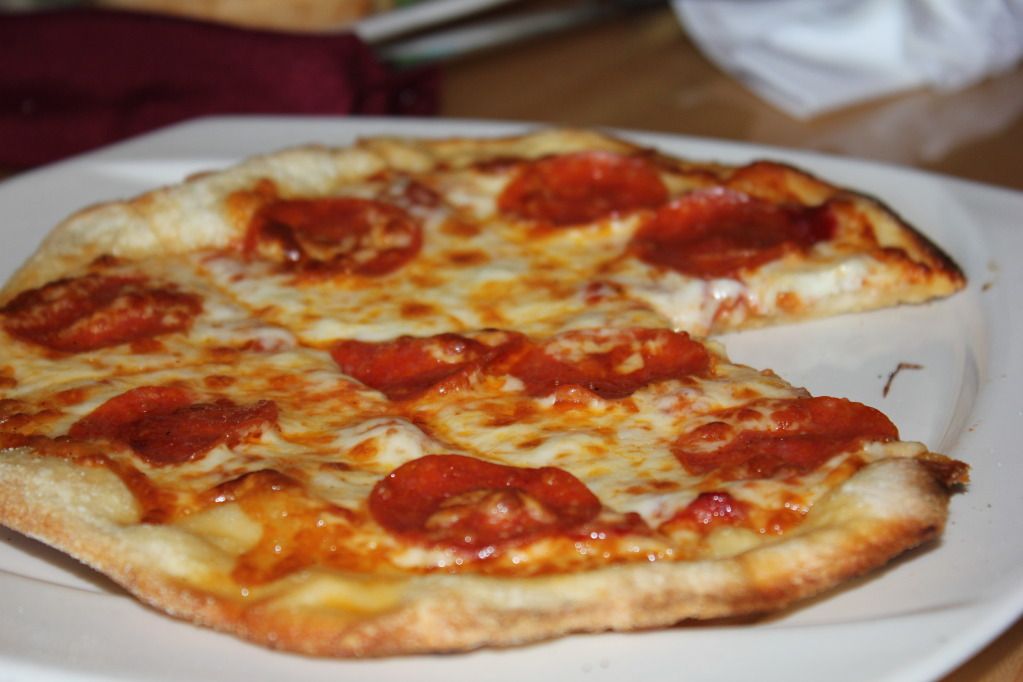 Pepperoni pizza.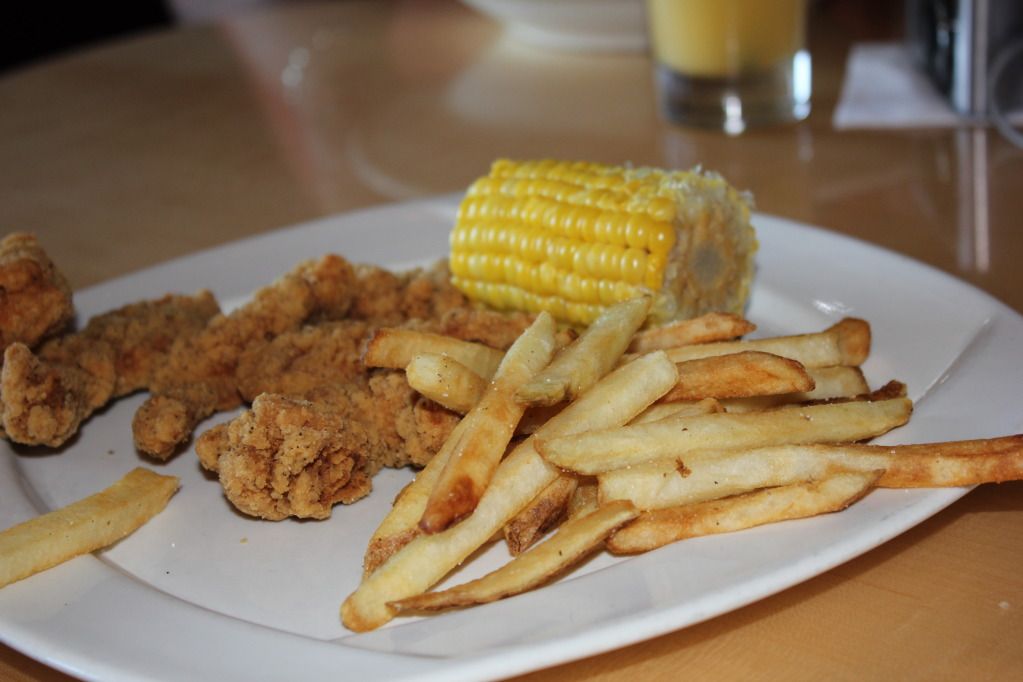 Child's Chicken Fingers with fries.
Comfortably stuffed, we considered the dessert menu. I didn?t think I could fit anything else in. That is until I saw the dessert shots on the menu! My Dad and DH had a Key Lime Pie dessert shot and I had the same but Raspberry Cheesecake. Unfortunately I didn?t get a photo of these, but I have borrowed this pic from Google images...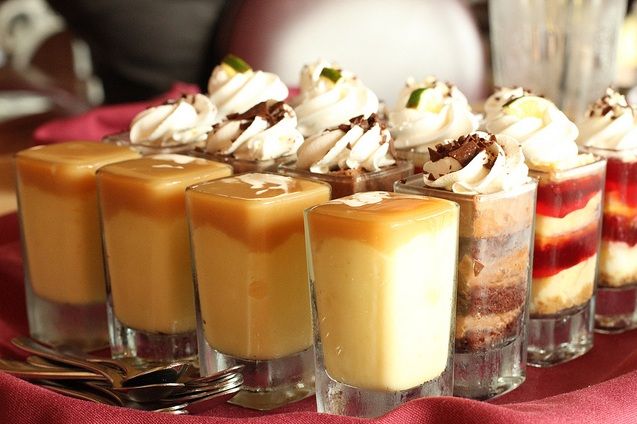 They were just the right size. Often when I eat out I find the puddings to be too big and I always end up wasting half of it. I thought these were such a good idea. They were only $1.75 each too which was fantastic!
My sister and Mum shared a Warm Chocolate Banana Gooey Cake...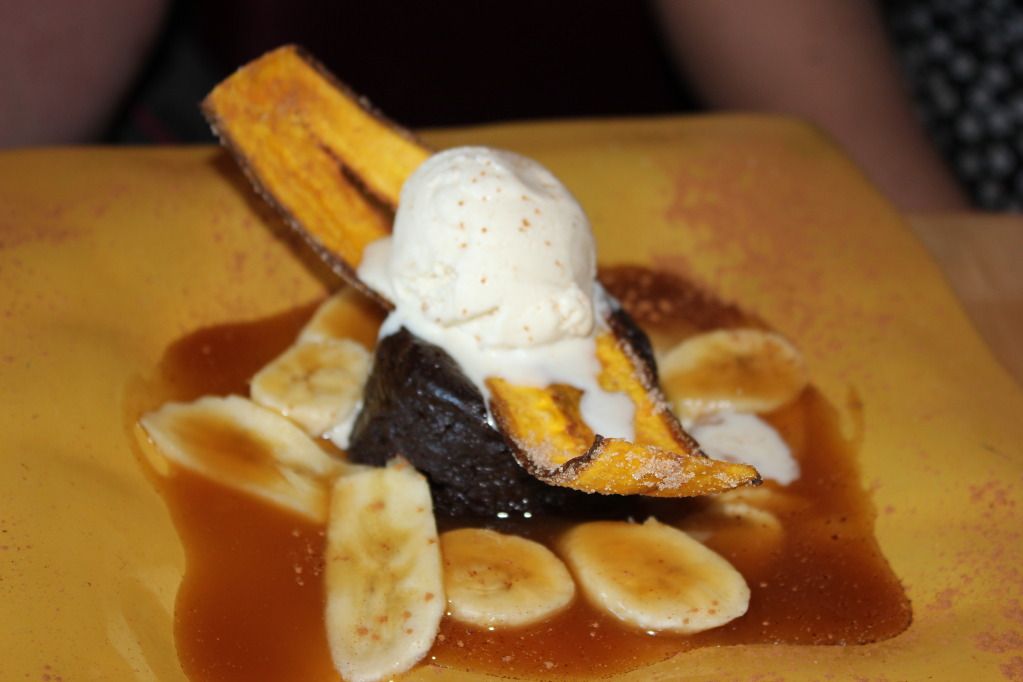 Verdict: Delicious!
The kids both had Rice Crispy Sushi Treats. These were only $1.99, and I assumed they would be quite small so ordered them one each, but really they could have done with one to share as they were really big!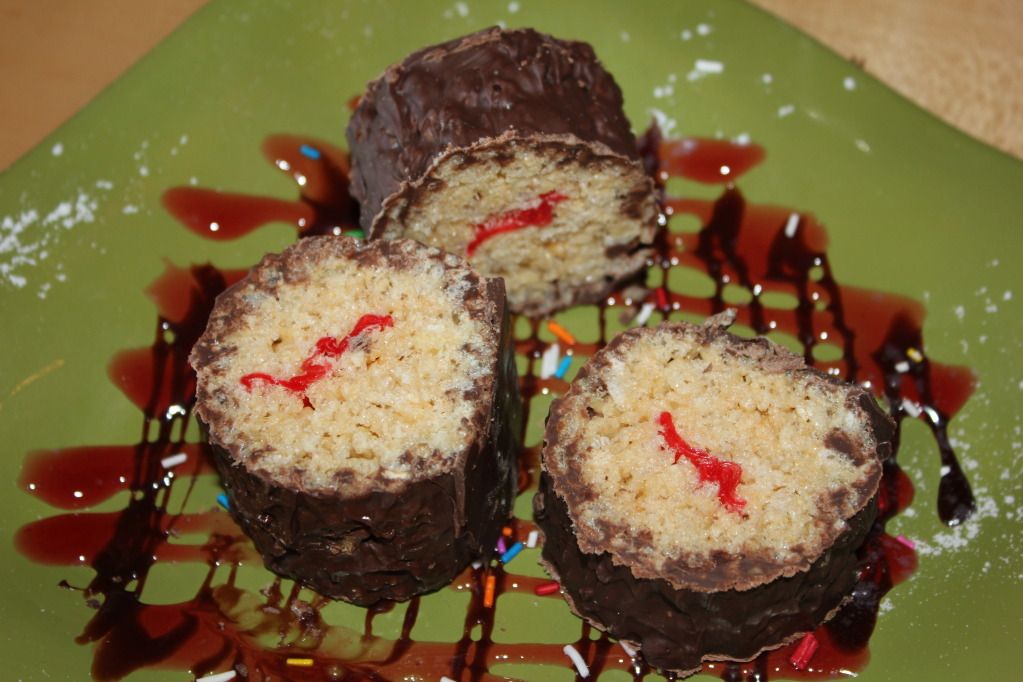 Despite the slow service, the meal was perfect and the atmosphere was brilliant. We will definitely be going back next time.
---
Date Submitted: 26-09-2012
Page:
Services
->
Baby Care Centers
---
I used the Babycare centres in Magic Kingdom and Epcot in May 2012 to change my Daughter and they were FANTASTIC! If you need to feed and change your baby/toddler or just want to get them out of the sun for a bit, the baby care centres are invaluable.
We entered through a small waiting room that contained a small sofa, an arm chair and a cabinet which displayed all the items that are available to purchase. If you need to buy any baby care items, you could do so in the kitchen. The centre offered baby formulas, baby foods and juices, nappies and wipes, bottles, teats, baby lotions, sunscreen, and some children?s over-the-counter medicines.
In the one in MK, there were four rooms dedicated to the many different needs of your baby; The kitchen was equipped with a microwave, work top space and a sink.
There was a private nursing room that could accommodate up to four mothers at a time. It had 4 rocking chairs, a few tables and electrical outlets available for mummies needing to use a breast pump.
The changing room had 5 or 6 padded changing tables and a unisex restroom.There were sheets of tissue paper underneath to protect the table/baby from cross infection. The feeding area had several highchairs, as well as chairs for parents to use whilst feeding. There was a TV, small table and chairs for older children to use and lots of toys so you can just chill out and take the weight off for a bit, out of the sun outside.
Guests are asked to park their strollers outside of the main entrance.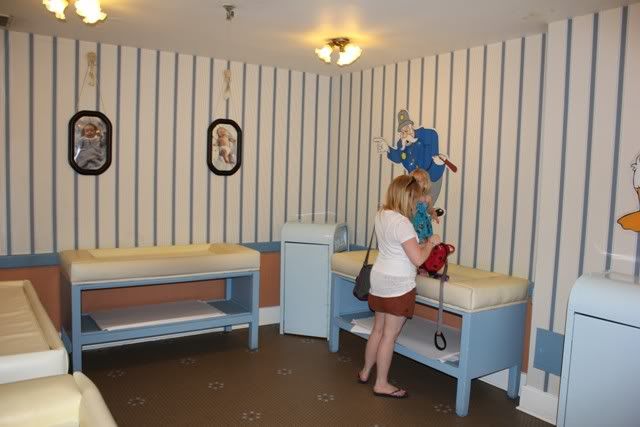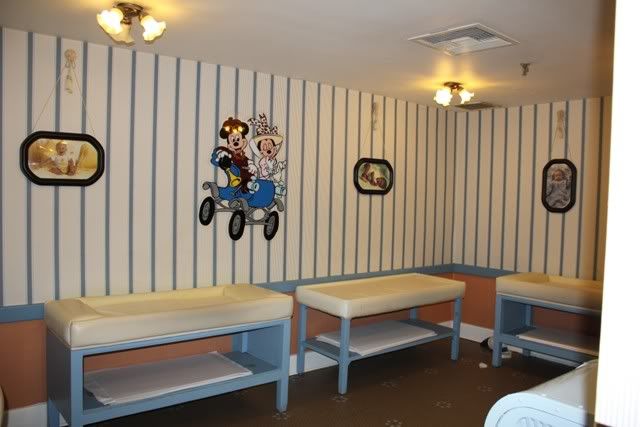 ---
Date Submitted: 26-09-2012
Page:
I-Drive Dining
->
Bahama Breeze Orlando
---
I phoned Bahama Breeze and asked them to put us on the list for a table about 30 minutes before we were leaving.
We arrived on time and were shown to a large table in the centre of the restaurant more or less straight away. Our server, Annette, was fantastic. She knew everything about the menu. My Mum asked if one of the cocktails was very alcoholic and she told her exactly what was in it. We all ordered some drinks; a Bahama sunset, Batida de Coco, a Mojito, orange juice, pink lemonade and some Cokes. The orange juice was fresh and so delicious. The best I had ever drank by far. The cokes and pink lemonade were all refillable.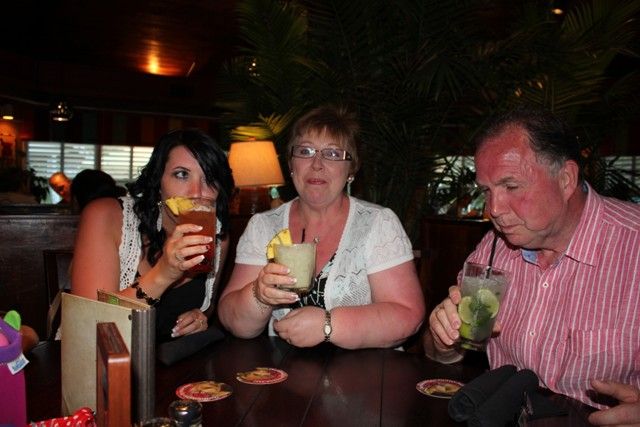 Anette was fantastic and didn't write anything down. She remembered everything which was impressive seeing as we were a party of 7, all eating and drinking different things.
The menu was huge and I had trouble deciding what to have. Shortly before we came away I started a thread on Bahama Breeze on The Dibb asking the best branch to go to and I remembered someone telling me to try the Buttermilk Fried Chicken. So that?s what I ordered...
I think it's probably one of the best things i've ever eaten! The mashed potatoes were so creamy with a hint of cheese and the chicken was succulent and cooked perfectly and the sauce was gorgeous.
My mum ordered the Chef?s Special Salmon and Tiger shrimp with Chimichurri sauce. She asked Annette again about the sauce as she was afraid it would be hot, but she described it perfectly (and not at all spicy-hot) so Mum went ahead and ordered. She said it was lovely.
My Dad had the Shrimp Linguine which he said was lovely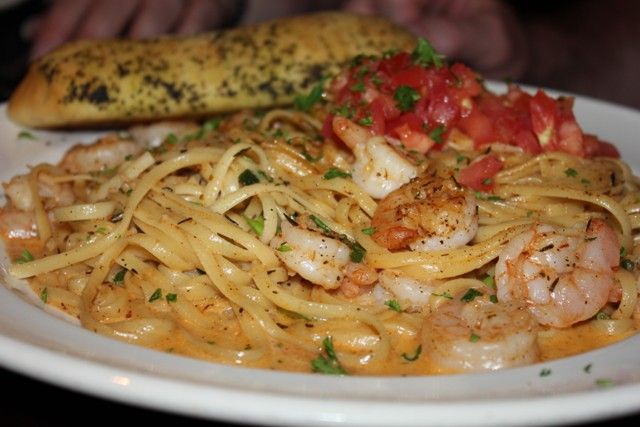 My sister had the Jerk Chicken Salad which she said was really nice.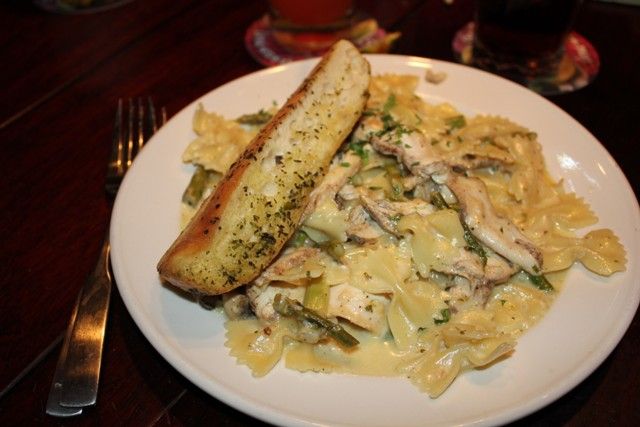 We were struggling after dinner but decided we would have a quick peek at the dessert menu. It would be rude not to!
My Dad and DH both had a Key Lime pie which was HUGE. This photo doesn't do it justice!
My mum and sister shared a Bananas Supreme
And DD and I shared a Chocolate Island, although I ended up eating most of it. She was more intent on feeding my DH his pudding! DS12 had the same all to himself!
After dessert we all had coffees and hot tea and got the check. Ouch! £173.97 + tip! It was a little expensive, but the meal was absolutely amazing and we couldn?t fault a thing. And I guess since some of us had cocktails and we all had desserts, it?s not so bad really. Without tip it worked out about £16 each; Worth every penny in my opinion. It was the best meal we?d had so far. We will definitely come back here again next time.
---
Date Submitted: 02-03-2013
Page:
Disney Restaurant Pages
->
Teppan Edo Restaurant
---
Teppan Edo is located on the upper floor of the Mitsukoshi building in the Japan Pavillion at Epcot. We had to leave our stroller outside under the stairs which was a bit annoying as our Daughter had just fallen asleep.
Upon entering the restaurant we were given a pager and were asked to wait in the seating area which was really busy. We had a reservation but still waited for about 20 minutes.
We were eventually shown to our table in a little room. The server didn?t stop smiling and she bowed at the end of almost every sentence! They were all so happy and friendly! The tables seat 9 and as we were a party of 6, another family joined our table.
Our server bought out some drinks, took our food order and came back and tied our chop sticks together which was most welcome since we can't use them!
Then our chef came out who was the most enthusiastic, smiley person I?ve ever met! He was literally beaming! He set about preparing our food, giving us little dishes of a variety of sauces to go with the different meats and shrimp we had ordered. I ordered the Ebi, my Dad had the Kajiki Maguro, my Mum had the Ueno, my Sister had the Tori and DS ordered a child Tori.
The meal was really nice but there wasn?t much of it to be honest and for what we got I thought it was really over-priced. For the 5 meals, 2 cokes, 3 orange juices and an ice cream it came to $170 with tax and tip. It was a great experience though and I do recommend it. I just don?t think we would go again if there was a large group of us because of the 18% gratuity which adds to the cost!
---
Date Submitted: 02-03-2013
Page:
Disney Restaurant Pages
->
Main Street Bakery
---
The most delicious pastries and cakes I have ever eaten... EVER!
We went to the Main Street Bakery to get everyone some drinks and something to eat one evening just before Wishes started. After hearing so much hype about Cinnamon rolls I was determined to try one! Oh my god! How delicious are they? They reay didn't disappoint and I managed to eat the whole thing which was an acheivement as it was HUGE! My Dad also had one. DH had an apple turnover, my sister had a muffin and my Mum and DS had carrot cake. We also got coffees and some chocolate milk. Everyone said it was delicious. We loved it so much that we has breakfast here on our last day
---
Date Submitted: 02-03-2013
Page:
Disney Restaurant Pages
->
'Ohana
---
We made a reservation at Ohana 180 days before our trip in May 2012 and were so glad that we did! There were people waiting for a table at 8pm when we got there and the wait for a table was about an hour long, so I really recommend booking first.
Ohana is set on the second floor of the very beautiful Polynesian resort. Upon arrival we were given a pager and after 20 minutes We were then shown to a table in the centre of the restaurant (table 42) with Cinderella?s Castle visible through the huge window in the distance. We were told we?d have a good view of the fireworks later on.
The restaurant is amazing with the huge wood grill stove, the kind of cabana ceiling over our table complete with turtles and dolphins and the tiki-style pillars and foliage all around the room. It had such a lovely, calming atmosphere.
Our server, Houda, looked rushed off her feet, but we were never kept waiting throughout the whole meal. She explained how everything worked; we were their guests and would be waited on all night and could have as much of everything as we wanted. She also called us Cousins. She gave us a platter of Pineapple-Coconut Bread which was out of this world!
We ordered drinks and they were brought over followed by some mixed greens with mango-poppy seed dressing, honey coriander chicken wings and pork fried dumplings. I couldn?t get enough of the wings and dumplings. They were delicious! Just writing about them is making my mouth water!
After a while we were asked if we wanted more so we asked for more chicken wings and dumplings and then she came around with skewers loaded with oak grilled chicken, barbecued pork loin, marinated sirloin steak and grilled peel - n - eat Shrimp. It was all so delicious! If there was one thing I could have changed it would be that the shrimp was already peeled as I find it so fiddly and it takes the enjoyment out of the food a bit. I do love my shrimp! Maybe i'm just lazy. The steak was also a bit too peppery for me but the rest of my family loved it.
As we waited for our dinner to go down, a lady came out in Hawaiian dress and was talking to a couple on the next table to us who?s Anniversary it was. She got all the kids up and they paraded around the restaurant shaking maracas and were each given a lei. Then the couple joined in at the end and did the limbo
We all managed to force down a bit of warm banana bread pudding which again, was delicious! I did leave quite a bit though.
Most of the tables were emptying out now and it was almost time for the fireworks so we asked for the check. We didn?t have to pay for DD as she was under 3. We were charged for 6 adult meals and it came to $246.44 which included 18% gratuity as we were a party of 6 ($35.63) and $12.87 tax. So it roughly worked out $41 (£27) each. It was a great meal and a fantastic atmosphere. I couldn?t fault anything and have put it on my list of places to eat again for our next trip.
We went outside onto the Polynesian Resort's beach to watch the Wishes fireworks. The music is piped onto the beach and it made a lovely end to the evening.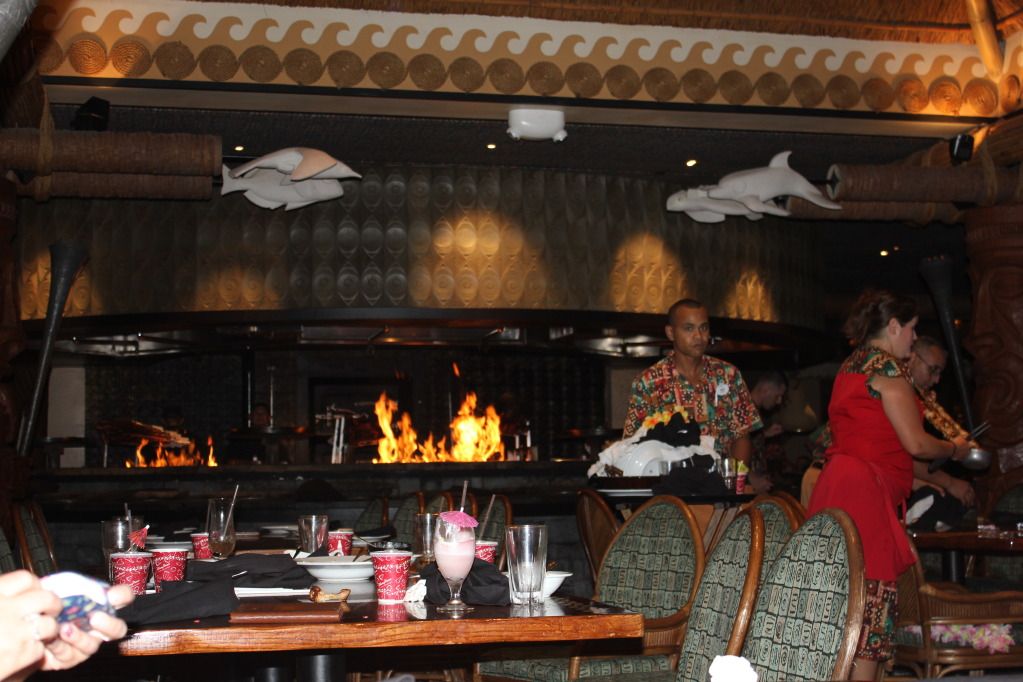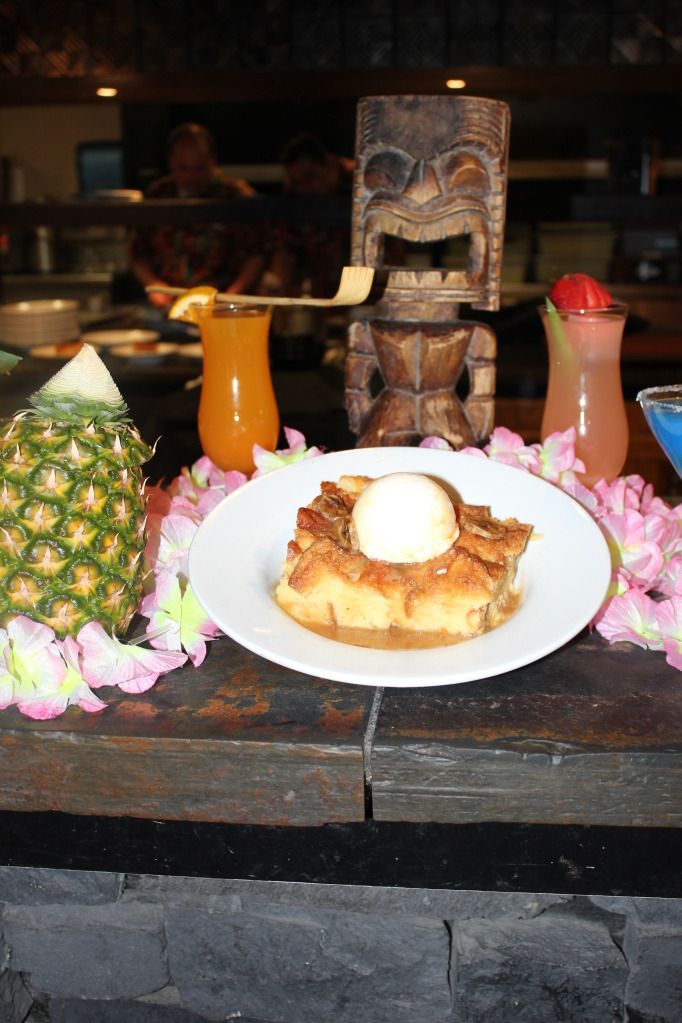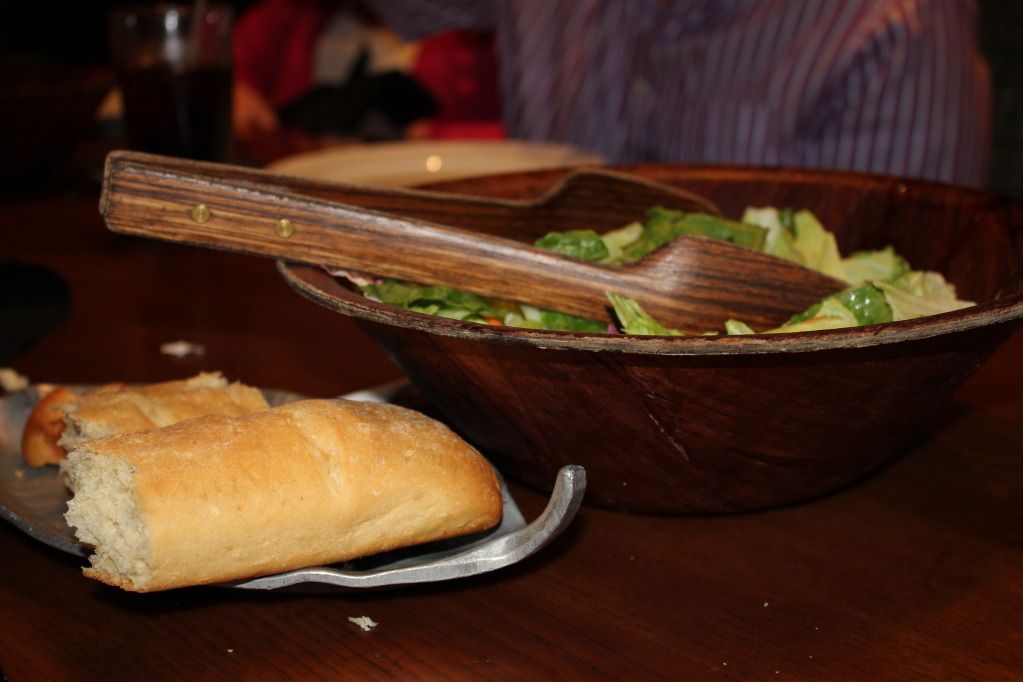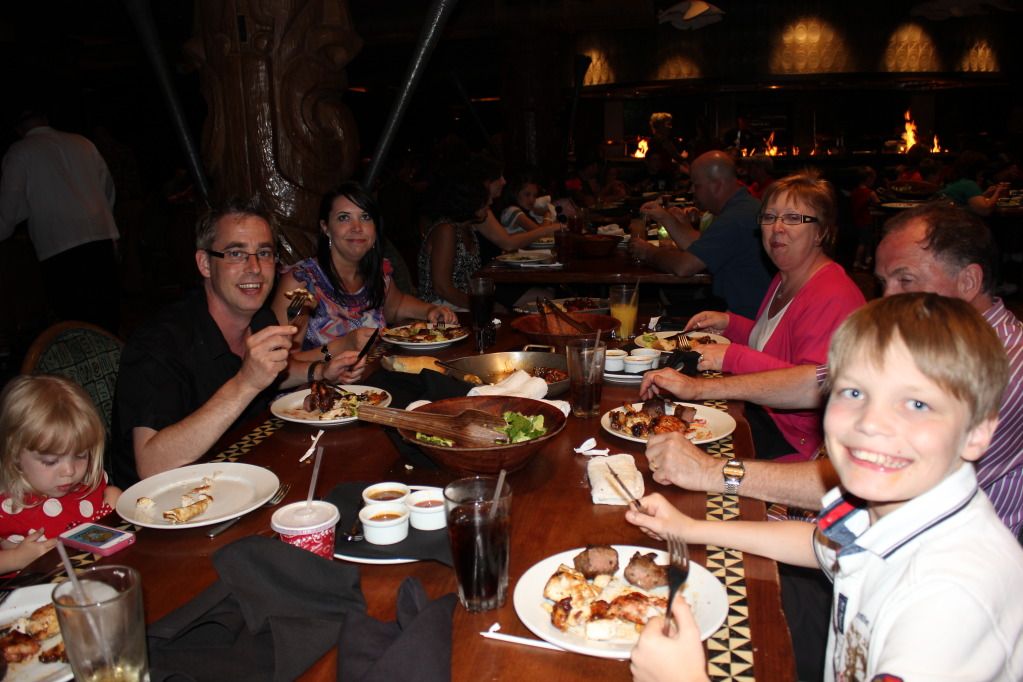 ---
Date Submitted: 20-08-2013
Page:
192 Area Hotels
->
Vacation Village at Parkway
---
We stayed at The Vacation Village at Parkway in June 2009 which is an RCI Gold Crown resort. This hotel was a timeshare apartment which was kindly given to us by my mum and dad as a wedding present. They used to holiday in Tenerife and Malta most years but changed their week for us so we could use it for our honeymoon.

The main bedroom was spacious and we could have got lost in the bed it was so huge, not to mention comfortable! There was a hot tub in the bathroom with an open hatch/window to the bedroom. There was also another bathroom with a toilet, sink and large double shower which led on to the kitchen with an inter-connecting door to the hot tub/bedroom.

Plenty of space in the wardrobe and a good sized dresser and bed side tables with drawers for clothes.

The sofa bed in the lounge area was very comfortable. My 9 year old son slept on this for the whole 14 nights and slept like a baby. Plenty of bedding was provided.

The kitchen was well equip and we made use of the microwave, fridge and cooker daily for cooking.

The balcony was great, but the view wasn't up to much. It over-looked the car park and small pool and a building site as they were adding another apartment block to the resort. My photos of the resort can be found here: http://www.thedibb.co.uk/forums/album.php?albumid=2815

---
Date Submitted: 28-11-2014
Page:
Disney Restaurant Pages
->
Wolfgang Puck Cafe - Express
---
We visited Wolfgang Puck Express at West side on the evening of our first day in Orlando. The wood -fired oven pizzas are delicious, although needs a knife and fork to eat (which is how I like to eat pizza anyway). Fantastic use of a quick service credit and will definitely go back.