JaneSi's Guidebook Reviews & Comments (3)
To view a review on the Guidebook page, just click the Page Title.
---
Date Submitted: 02-03-2012
Page:
Disney Restaurant Pages
->
Bluezoo
---
It is some time since I visited Blue Zoo, but I have been twice and cannot wait to return in September. Both visits were excellent and the food was just as good the 2nd time around.
On both occasions I had the same starter:
Teppan Seared Jumbo Sea Scallops - braised beef short rib, silky cauliflower puree.
This was just to die for in my opinion. the beef just fell apart and were so tasty. The scallops were lovely too and the whole lot complimented each other. I will be having it again in September.
The others in my party had the flatbread and the poached jumbo shrimp - both looked lovely and tasted equally as good I am assured.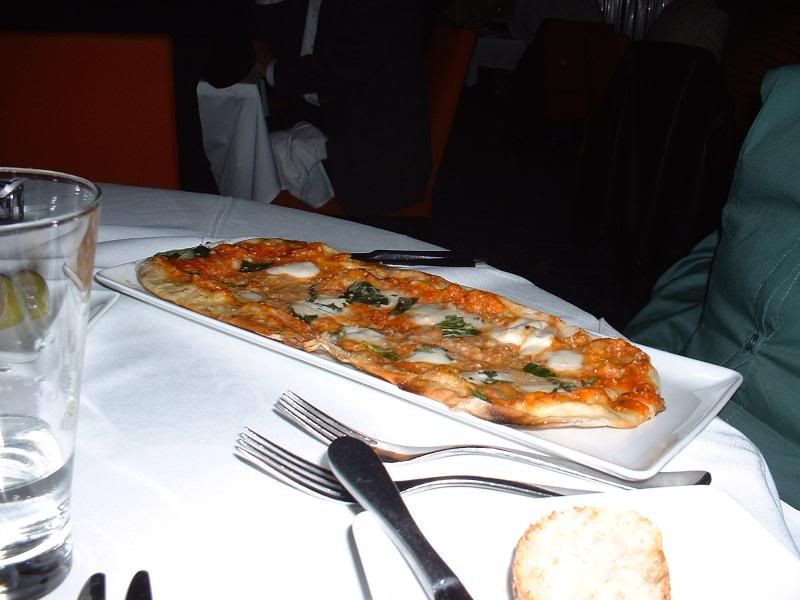 For my main course I chose:
Our daily selection of finest fresh fish selected from coastal waters around the world, simply grilled on our teppanyaki grill, served with your selection of sauce below - I went for the crab one
Selection of sauces
Red curry coconut
Cucumber vinaigrette
Warm crabmeat, dijon mustard, chives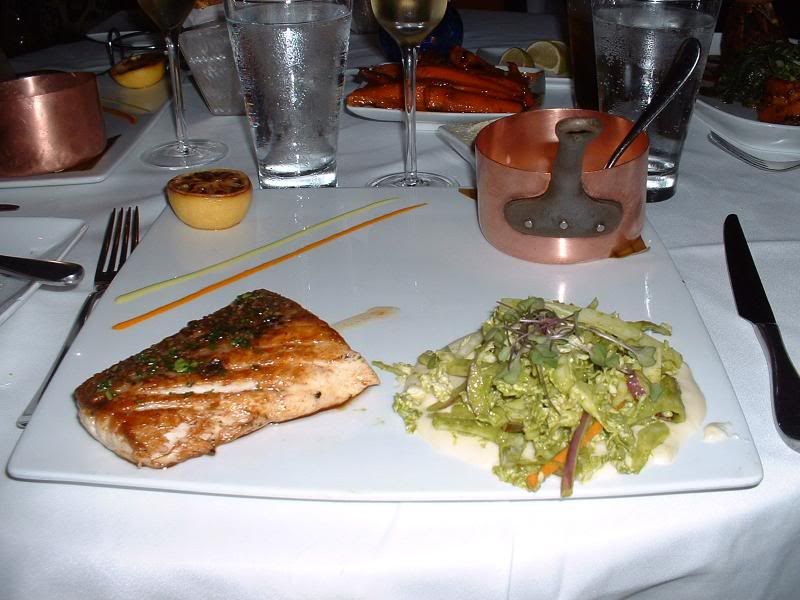 Again I had nothing to complain about - the dish was delicious and no doubt I might chose this again.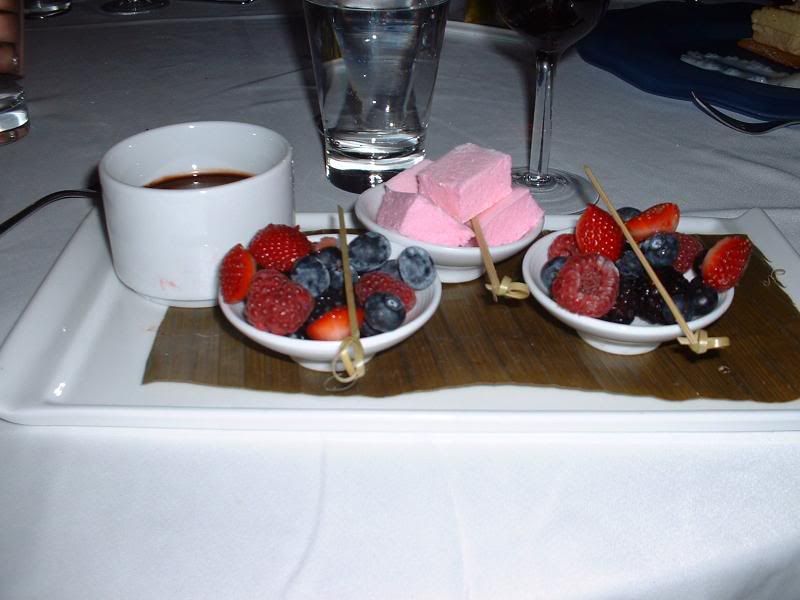 This was my pudding - a chocolate fondue, but I am not sure they do this anymore.
The 2nd time I visited, we were sat by a large very noisy party, but we asked to be moved, which we were, without any problem at all. The staff were very helpful and the ambience was fine.
---
Date Submitted: 02-03-2012
Page:
Disney Restaurant Pages
->
Teppan Edo Restaurant
---
Another one of my favourite restaurants and one I shall be adding to my trip this September.
The Teppan grills sit up to 8 people, so unless you are a party of 8, be prepared to share your meal with others. On the two meals I have had, we have had nice eating companions.
Here are some of my pictures: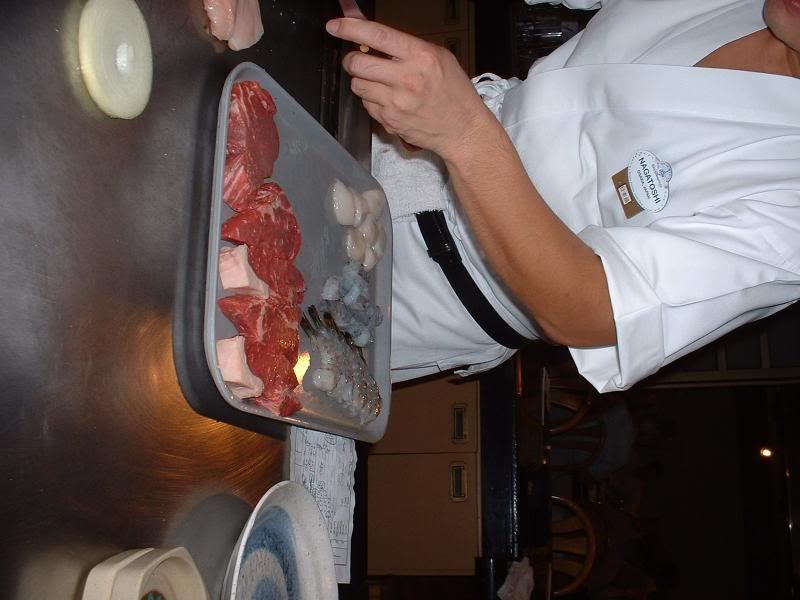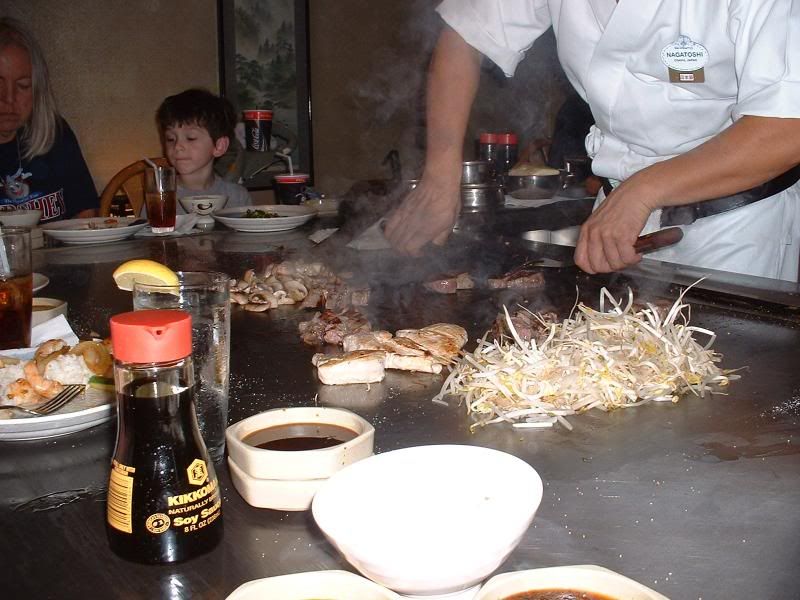 I consider this to be a fun meal - the chefs are very proficient and I love the smoking onion.
Definitely worth a visit.
---
Date Submitted: 07-03-2012
Page:
Dinner Shows
->
Hoop-Dee-Doo Musical Revue
---
We visited the Hoop de Doo back in 2005, when our son was 10. Now we were in 2 minds as to whether he would enjoy himself - but he said he did.

We did have a time finding the place as although we were staying on Disney property, we decided to drive - not the wisest of options as we drove round MK car park before eventually finding a small car park by a bus stop, in the woods so to speak. We did wonder if we would find the car still there when we got back, if we got back. A bus turned up and took us to Fort Wilderness. We had booked the 2nd sitting of the evening and had to collect our tickets at the office.

I remember having to sit around for sometime until we were let in. As I had booked so early we were seated downstairs right near the front, where we were able to appreciate the ambience totally.

On the table was a bucket (literally) of dressed salad. We had tin plates to eat off and jam jars for glasses. There were two small loaves on the table, a little like brioche, very sweet. Our server was Betty, and I felt very sorry for her, she was elderly and had shaky hands. I thought she should have been at home putting her feet up. The free drinks were beer, wine and sangria and of course soft drinks. I ordered a sangria and Ian a beer. The sangria was so strong so I passed it to Ian, who drank that along with his beer and ended up with a pitcher of beer too! The entertainment started with the "troupe" arriving at the hall. They were all very talented and we had a real laugh. The next course was a bucket of ribs and a bucket of chicken, along with a bowl of corn and a bowl of beans. The chicken was delicious, and the ribs a little chewy but the sauce excellent. The pudding was strawberry shortcake, we had 2 bowls on the table but only managed to finish one.

At the end they gave out "instruments" to play and Jack ended up wtih the washboard! He was a little shy and didn't want his birthday mentioned. All in all we had a fabulous evening and came out on a real high. It finsihed at 9pm. We caught the bus back to the car park and I had to drive as Ian had too much to drink!