Previously on this tour...
Premature Pretripulation
Day One - Sunday 19th August 2012
Welcome to this year's version of the usual trip report. It shall be named The Disney Do Minus Two Tour 2012. This of course relates to the fact that we are only doing Disney this time after foolishly forsaking it last year, and that we should have been a party of six, but due to illness my Mum & Dad weren't able to come along.
Preparations for these holidays are hard work sometimes, and things normally reach fever pitch on the day before travel. So we had a busy Saturday, dashing round doing stuff. This particular day before also involved going to see my Mum in hospital and saying bye to my Dad. Both of those activities were classed firmly in the "things I don't want to do again" category. My Dad especially was upset at not being able to come, and I don't want to have say goodbye like that again thanks!
With a flight time of 10.20am, the girls were making threats of a 2.30am alarm call to ensure there would be enough getting ready time. When the time actually came it seems that sleep and sense prevailed, and when I first woke at around 3.15 the house was as quiet as a Gary Glitter children's book signing. The space next to me in bed was empty, which is not unusual when I awake on holiday morning, as Louise's morbid fear of flying usually means that she doesn't get any sleep at all. This year was to be no different. Add to that lack of sleep, some prescription drugs and several red wines, and remind me later to let you know what state that leaves her in when we land!
It can be no fun being so afraid of the flight though, so whatever gets her through.
Readying commenced shortly after I woke up. Not mine, as I had no chance of getting anywhere near running water for a while yet. I waited for a brief gap and a sign of the bathroom door being opened, and I dived in, seizing my forty seconds of readying time to shower and shave. With that done, a few more moments saw me dressed and ready for the off.
Leaving the females to straighten, dry and powder all the relevant bits I went downstairs and made a brew. Noticing that we had some crumpets and bread left that would otherwise be thrown away, I toasted the lot and wandered about upstairs trying to interest anyone in some. Nobody wanted any, which was bloody marvellous having spent all those minutes making it. So the only thing to do was to take it back downstairs, and eat the lot myself. Start as you mean to go on. To be fair, Oli had some too.
Once we had been through the annual tradition of me shutting all the cases, only to be presented moments later with three sets of hair straighteners, each hotter than the surface of the sun, opening the cases up again, and look like a right div, wafting the GHDs around trying to cool them down, we were ready.
Repacked, I then spend a few sweaty minutes trying to fit all the cases into my newly acquired super economical, dead cheap to insure, but ever so tiny car. I manage it, but then remember I also have two kids that need to go in too, and have to rearrange everything to give them a fighting chance.
At 5.39, we are all aboard. We've said another painful goodbye to Oli who was being taken to kennels for the first time later by my Dad, and we set off. We did manage to take the usual photo, but of course with a new back drop this year.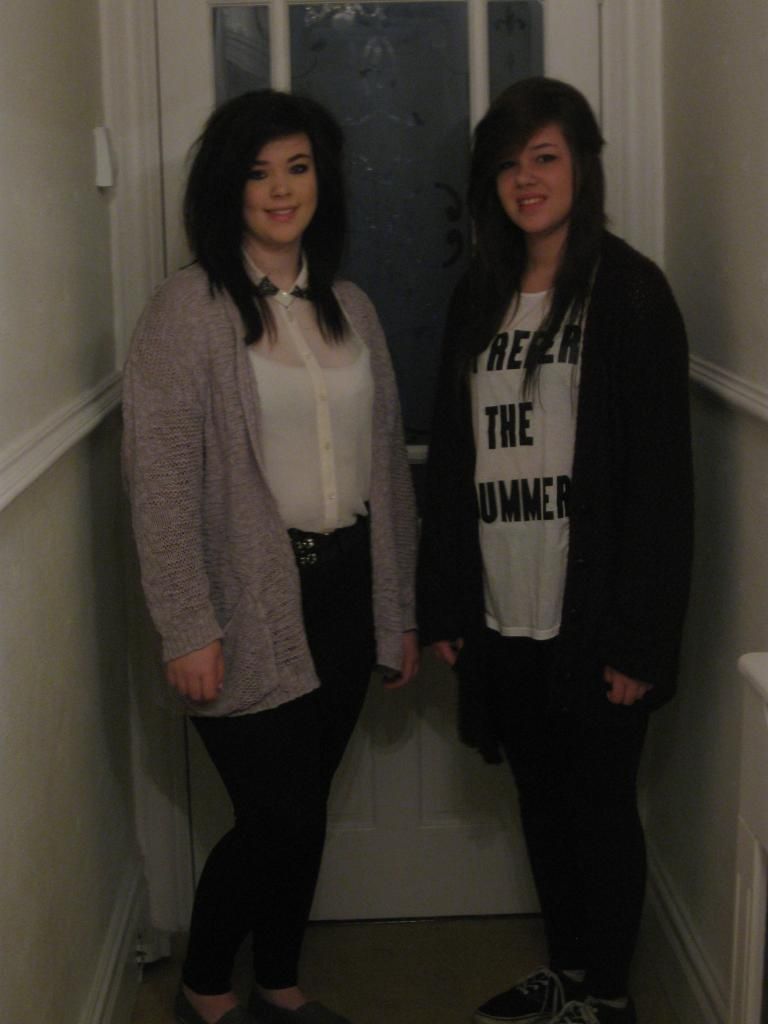 We are a few minutes later then I would have wanted, but not to worry.
Ah but, right at this moment, at 5.39 on the first day of our holiday, en route to the airport, Louise decides that this is the perfect time to post off all the letters that are for the previous owner of our house so that they will be redirected to their new address. So we stop at the local post box. Really. It. Isn't. A .Problem! Right, we're off. Well, not quite, Louise now wants to stop at the petrol station to get a drink.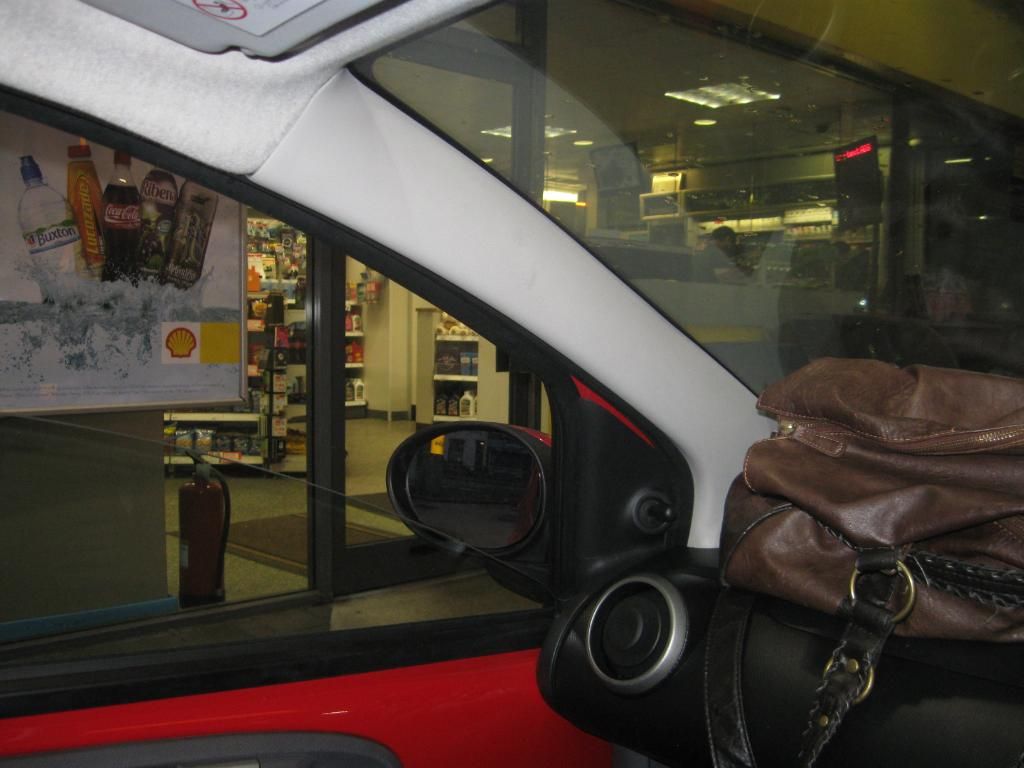 So we do. The girls are loving it in the spacious back seat.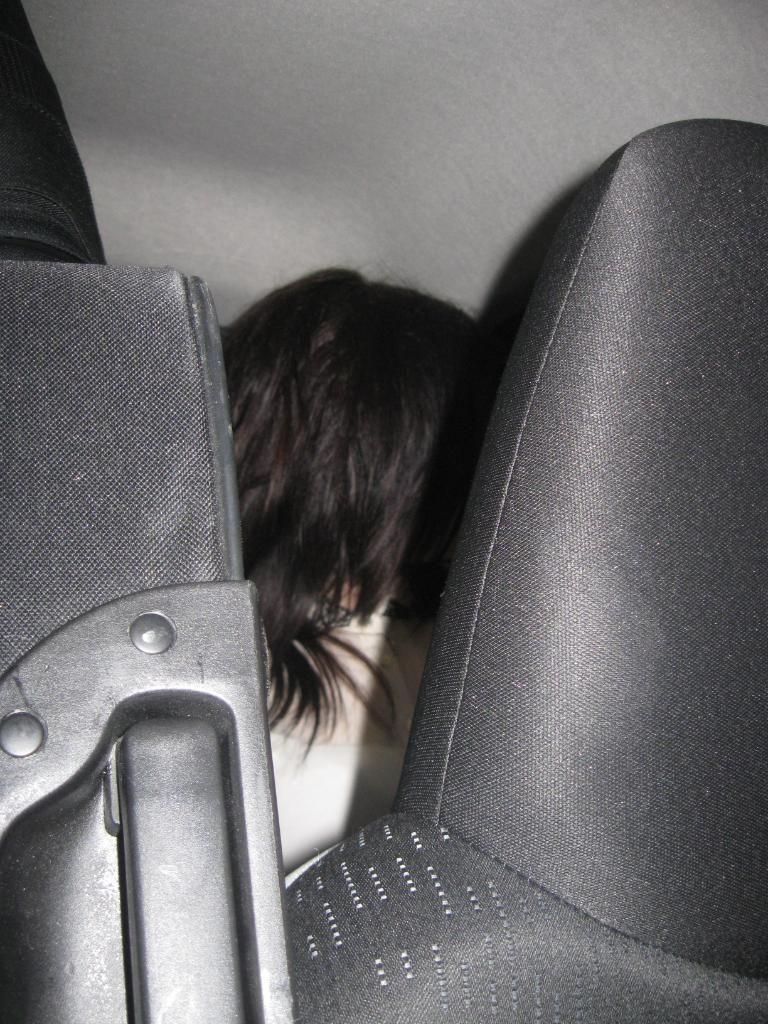 I fear the car may buckle at any moment under the strain, but it manages to get us to the airport in one piece. We meet and greet our parking chap, and we are into departures. It is now about 6.15, but unfortunately check in does not open until 6.50. Drat!
So we find some seats, and just sit and people watch for a bit.
We spot the signs changing to Delta above the allocated desks, so we move on over, and assume our position right at the front of the soon to be open queue. We are approached by a tall man, smartly dressed with an interesting proposition. We simply don't have the time or gymnastic ability to oblige, and send him on his way, only to be propositioned again by another similar gent, this time from Delta, telling us that the flight is overbooked and they are looking for volunteers to not travel today.
In return he mentions £500 each, an upgrade to Premium Economy, a hotel for the night and travel tomorrow. I am tempted. Really tempted. By the time we get to the desk however, we have decided against it. The girls cannot contemplate waiting one second longer to start the holiday having waited so long, and threaten full scale sulkage should we do anything silly.
Having thought about it, had we accepted, and then something were to go wrong the next day (as they have with our previous indirect adventures) which meant we suffered further delay, then you are looking at missing 2 days of a holiday, and that's a big chunk. So we push thoughts of £2000 and upgrades away, and get checked in.
Having only two days ago decided against investing about £3 each to get a Security Fastpass when booking the airport car parking, as it "won't be that busy at 6.30am", I am delighted to note a queue longer than a Genesis album. So we wait for a longish while watching the Fastpass line whiz through with gay abandon, who I'm told are the latest Louis Walsh boy band.
Once securitized, we do the only sensible thing and head for food. It has been at least an hour since I took on three crumpets and half a loaf. Frankie and Bennys have us seated immediately, and we order.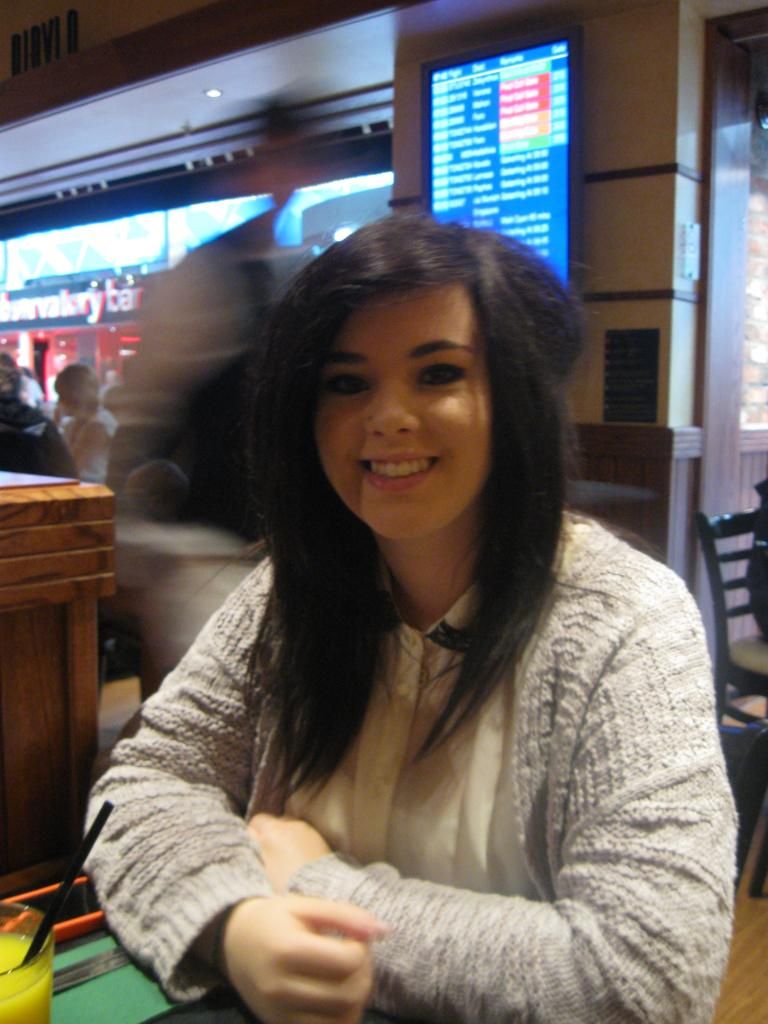 Me and Louise – A blurred Fruit Knickerbocker Glory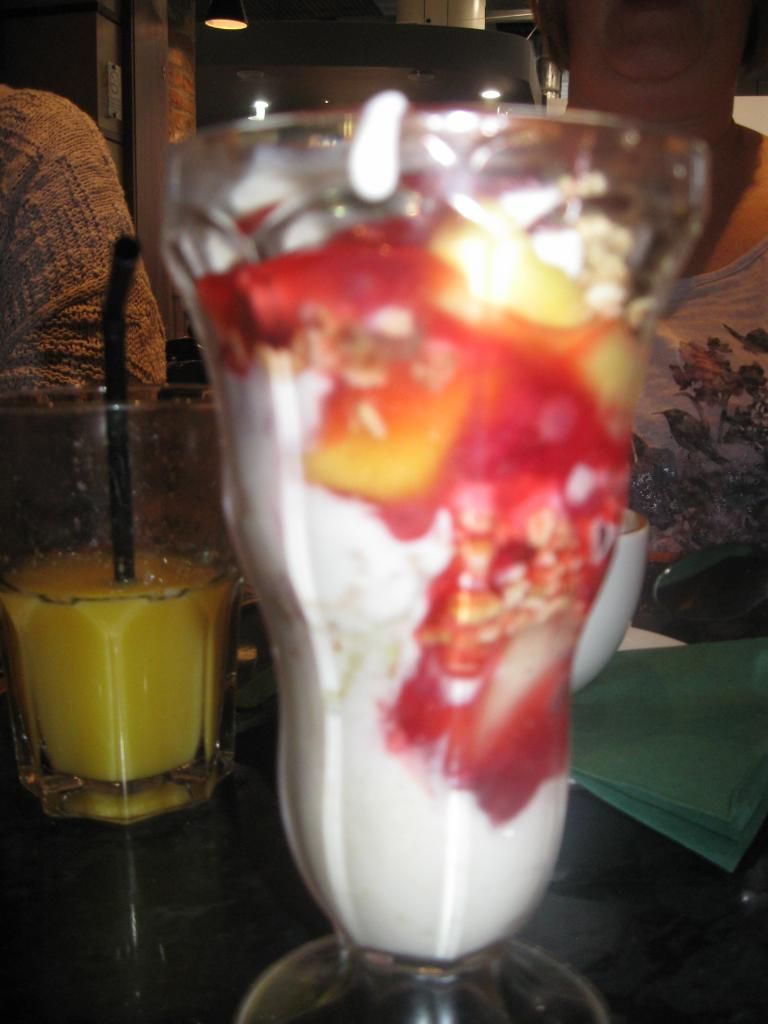 Emily – Breakfast Burger
Rebecca – Pancakes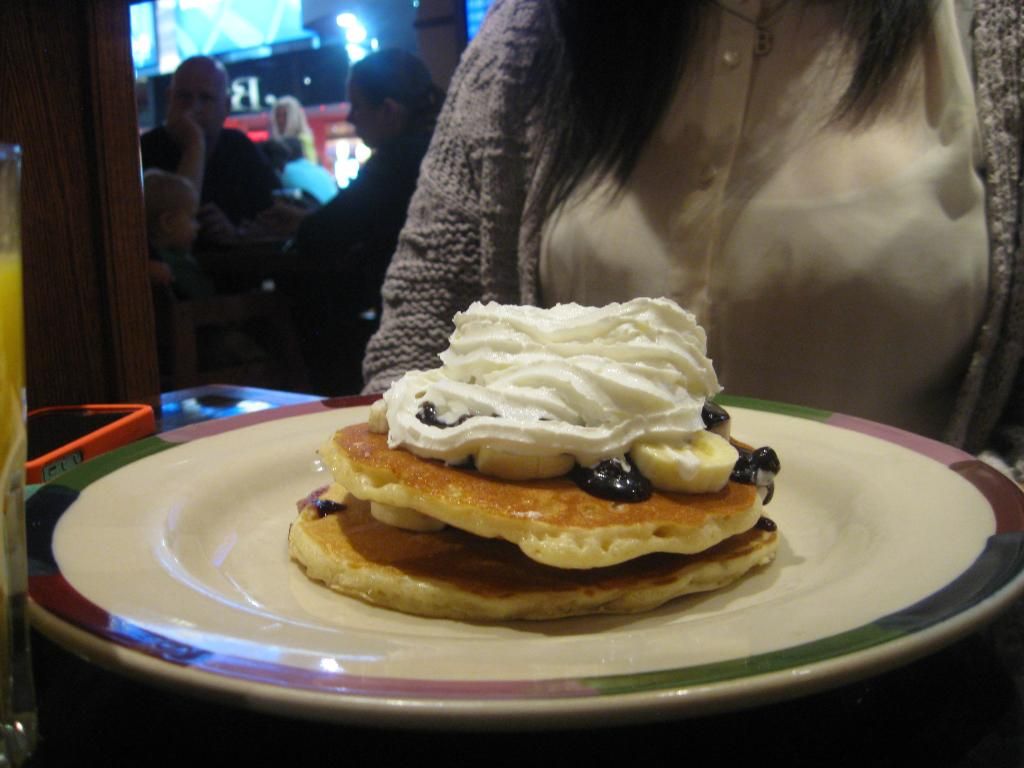 It was all acceptable, apart from the realisation that I had actually ordered fruit! £36 plus tip was required before we were allowed to leave.
We wander across the way to WH Smith where Louise once again wasted vast amounts on crappy celeb mags, and I made a sound investment in my trip report notebook and a James Patterson novel I hadn't yet read. We then made our way to some seats in an area that looked empty, unlike all the other seating areas.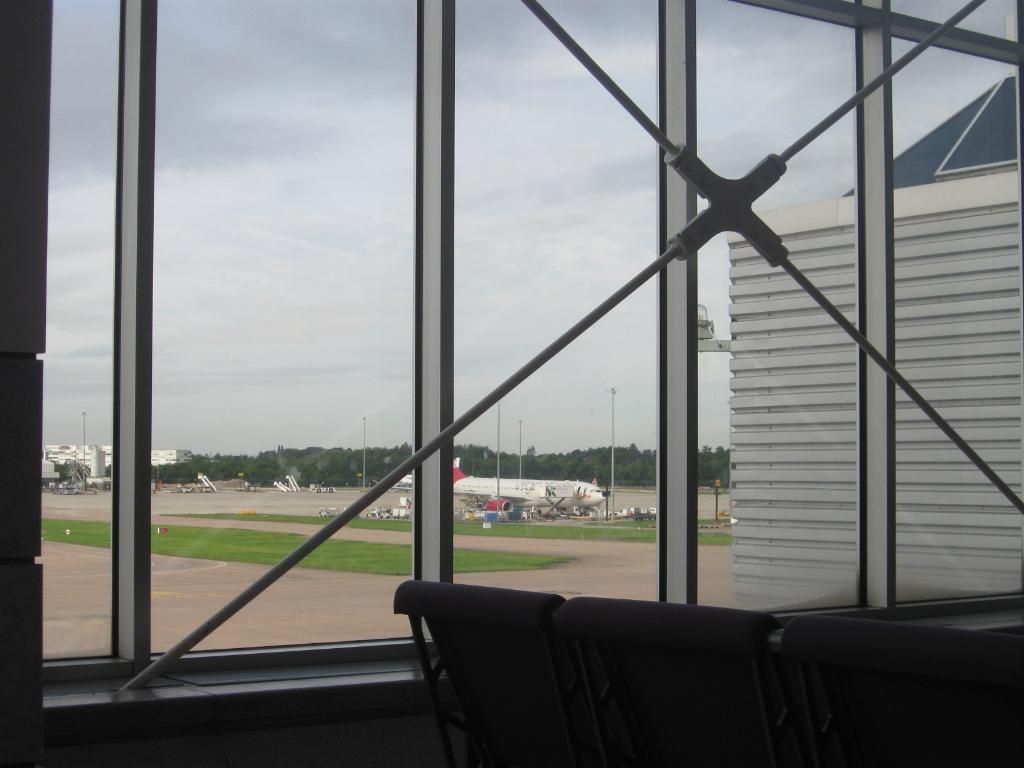 We soon realised why.
The seats were next to the amusement arcade, and every thirty seconds, a dance mat game in said arcade played a song clip called "Don't try to stop it". The first one hundred times were bearable. For relief, Emily and I went to the coffee shop and got some drinks rather than pop next door to batter the game in question to death with my rucksack.
Soon enough it was time to board, and therefore it made sense for Louise to go to the toilet (not a restroom yet) at this exact moment. We were therefore the very last to board, and incredibly popular with the ground staff.
For the first time in, well, ever, a flight we are on actually pulls away from the gate exactly on time. This was a sign of things to come, as we enjoyed great service from here on in on this flight. The flight crew were in High School when Bobby Charlton had hair, but we couldn't knock them in any way.
The plane had no seat back TVs which was not unexpected but still a bit of a blow having got used to them in recent years. The films played on the overheads sort of passed us by, as you always get some blurt stood up in front of the screen trying to wrestle his Puzzler from his man bag, and then the cabin crew announce the duty free trolley just as the film reaches its crucial twist in the plot. So instead I read, a lot.